Find out what to plant along with knock out rose bushes in this guide where we discuss the best companions for your flower garden.
Knock Out® Roses (Rosa 'Knock Out') are a superb alternative for those who adore roses but cannot cope with these plant species' maintenance requirements. Unlike average roses, knockout roses are much hardier and not as vulnerable to pests or diseases, and yet, they still produce impressive blooms from spring to late fall.
Despite their tougher nature, these florals also need a bit of help to keep them in good shape. One of the best ways to keep these rose bushes in good condition while keeping your maintenance low is by pairing them with companion plants that will benefit these roses in some way.
In this guide, we are going to share some of the best knockout rose companion plants to include in your garden if you want to boost these beautiful florals.
What to Plant With Knockout Roses
The most important thing to keep in mind when you are selecting companion plants is the growing requirement. Not all plants will survive in the same conditions that knock-out roses can tolerate.
These flower bushes are hardy to zones 4 – 9, they thrive in full sun and they are relatively drought tolerant. It is always best to focus on ornamental plants that have a similar growing need.
It is also good to include plants that will benefit your roses in some way. Let's explore some of the best plants to include in your flower garden.
Marigolds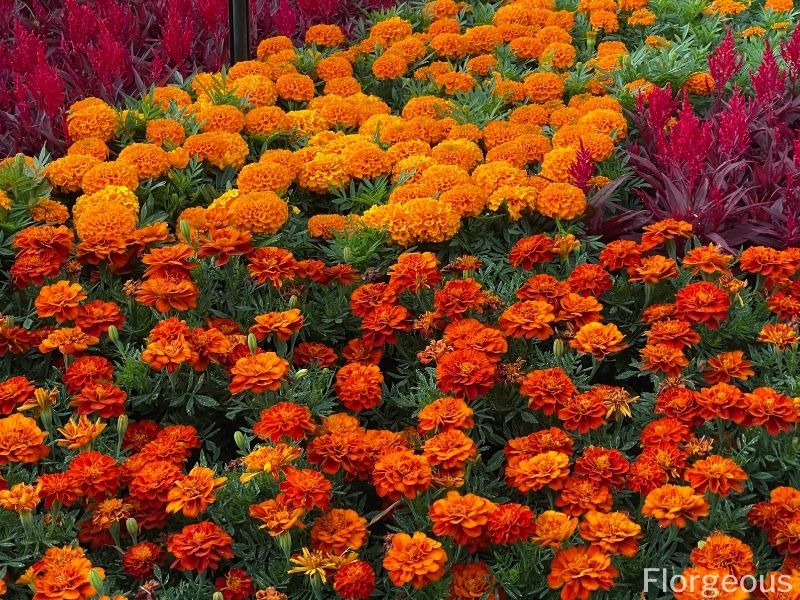 Botanical name – Tagetes
Height – 6 inches to 3 feet (15 – 91 centimeters)
Colors – Yellow, gold, orange, red, and mahogany flowers with dark green foliage
Bloom Season – Early summer to late fall
Pairing Benefits – Attract pollinators, enhance aesthetics, weed control, barrier or filler plant, control pests
Marigold flowers (Tagetes) are frequently used for companion planting in agricultural, ornamental, and formal garden styles because these flowers look attractive and they offer lots of benefits.
They are a great addition to warm-toned rose gardens because the vivid yellow or orange blooms can add lots of visual interest to your roses.
These fragrant plants will protect your rose bush from pests by drawing insects toward them and away from other plants in your garden. They also act as garden fillers and will keep weeds from sprouting in open patches in your rose bed.
Marigolds are easy growers that flourish in hardy zones 2 – 11. They love plenty of sun, can survive in any type of well-draining soil, and don't need a lot of watering.
Because marigolds are shorter, it is usually best to plant in front of knockout roses so they will receive the sunlight they need to flourish.
Related: What to plant marigolds with in garden
Creeping Thyme
Botanical name – Thymus serpyllum
Height – 2.7 inches (7 centimeters)
Colors – Pink-purple, magenta, or lilac flowers with dark green foliage
Bloom Season – Late spring to early summer
Pairing Benefits – Weed control, ground cover, deter pests, aesthetic appeal
Creeping thyme (Thymus serpyllum), also called Breckland thyme, wild time, or elfin thyme, are excellent plants to consider if you want a ground cover in front of or around your rose bushes.
These useful herbs also act as a natural pest repellent because they deter Japanese beetles, aphids, and other pests. When these delicate bushes are in full bloom, they will also offer lots of aesthetic charm to your garden bed.
Thyme is a great candidate for rose gardens because the herb grows well in zones 5 – 9 in well-draining soil and it can tolerate full sun. This plant might need a little bit more watering than your roses but they are still good companions.
You can add thyme all around the base of the rose bushes and especially in the front where the herbs will get lots of direct sun.
Shasta Daisies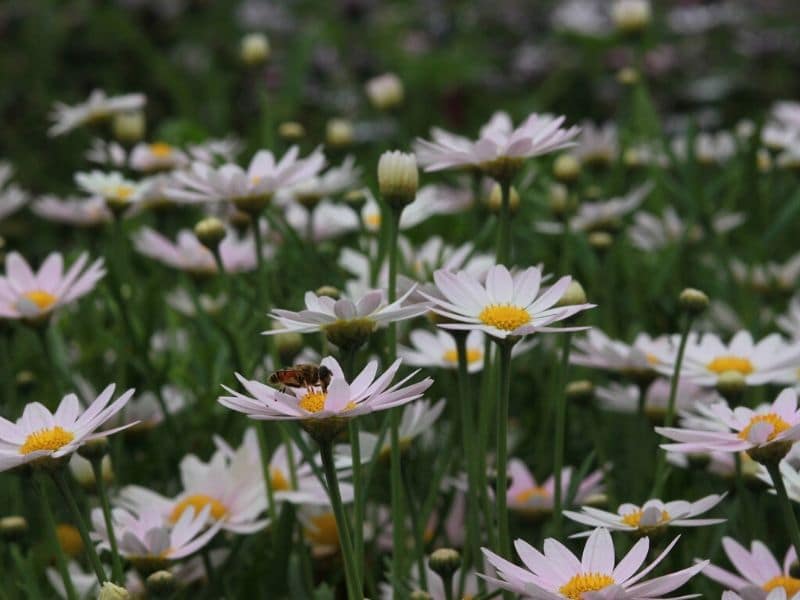 Botanical name – Leucanthemum x superbum
Height – 2 – 3 Feet (60 – 91 centimeters)
Colors – White flowers with dark green leaves
Bloom Season – Summer
Pairing Benefits – Aesthetic appeal, garden filler, attract beneficial insects
Shasta daisies (Leucanthemum x superbum), also called May Daisies, are great additions to rose gardens because these neutral white flowers can be paired with any color rose.
These bushy florals are ideal for filling gaps in your garden bed or can be used to conceal the leggy lower branches of the rose bush. The gorgeous white flowers will also create an impressive display in front of or alongside the more colorful flowers of the knockout roses.
May daisies are pretty easy to grow since they are hardy in zones 5 – 9 and they flourish in direct sunlight as long as they are established in well-draining soil.
It is best to establish these flowers beside or in front of your rose bushes because they are a little bit shorter in stature with a maximum height of 91 centimeters.
Lavender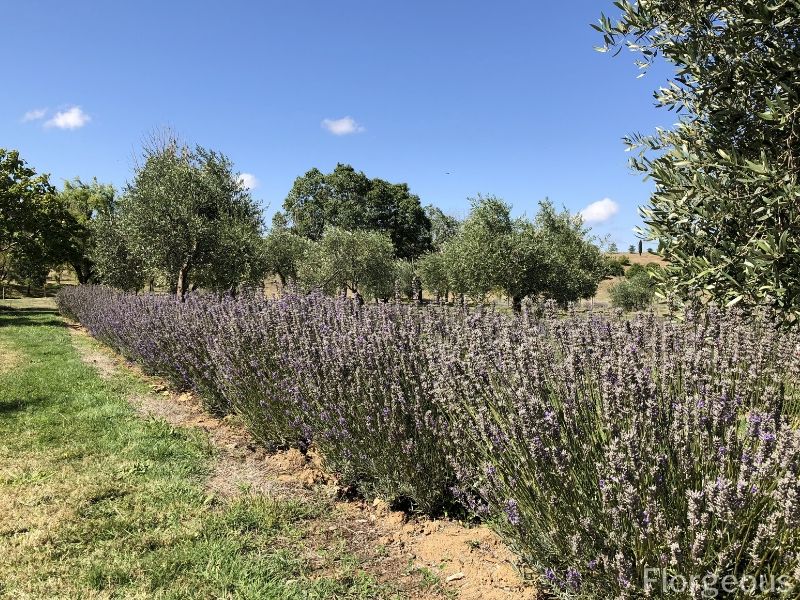 Botanical name – Lavandula
Height – 20 – 24 inches (50 – 60 centimeters)
Colors – White, pink, blue-violet, and purple with vibrant green or blue-green foliage
Bloom Season – Summer
Pairing Benefits – Aesthetic appeal, fragrance, deter pests, border plant, weed control
Lavender (Lavandula) is a good plant to add to any full-sun garden and can be a great addition to your rose bed if you want to enhance its visual appeal and deter pests like rabbits or deer.
These aromatic flowers will also attract lots of pollinators to your garden and are ideal border or barrier plants to use if you want to create some contrast between your roses and your lawn.
Lavender will grow well in the same hot and sunny beds as roses and they don't need a lot of watering. The purple flowers will complement many rose shades very well and are useful for hiding away some of the unsightly bases of these rose bushes.
These perennials need plenty of direct sunlight which means it is best to establish them in a row in front of the taller rose bushes.
See more: Plants that go well with lavender
What NOT to Plant with Knockout Roses
Some garden plants won't grow well when paired in the same bed as knockout roses.
Pairing issues mostly occur when certain plants don't grow well in the same USDA zones or under the same growing conditions as knockout roses.
Let's take a look at garden plants that will wreak havoc if included in the same bed as roses.
Hostas
Most shade-loving plants will have a tough time growing in a knock out rose garden. Hostas (Hosta), also called plantain Lillies, are perfect examples of foliage that won't take well to your knock out rose bed.
Hostas can grow in full shade, they need rich soil and lots of watering to survive. These plants are very likely to wilt and die if you grow them with your sun-loving perennials.
Large Trees and Shrubs
Large trees and shrubs will draw lots of nutrients and water from the soil and these plants will also block out some of that needed light.
It isn't a good idea to grow roses underneath these larger perennials. You can instead try to grow lower compact hedges like boxwood hedges behind your roses if you want to create a backdrop.
Hydrangeas
Hydrangeas (Hydrangea) are also shade-loving plants that don't grow well with knockout roses.
This is mostly because these impressive flowers need lots of shade, moisture, and humidity to flourish. In a dry and sunny area, hydrangeas aren't likely to survive for too long.
Final Thoughts
Adding companions like marigolds, creeping thyme, Shasta daisies, or other drought-tolerant plants to your garden can help you create a much more beautiful rose bed and could even result in a lot more vivid blooms. We hope that our guide made it easier for you to find some great companion plants for knockout roses for your landscaping ideas so your garden can grow and flourish.
See more: Best companion plants for roses