If you want to add a romantic, elegant aesthetic to your home and garden, there's no better way to do it than by adding vines with purple flowers.
Most of these purple flowering vines are not only beautiful, but they are incredibly easy to grow and care for, too.
If you want your garden to grow to gorgeous heights, consider growing these purple flowering vines and creepers, which will amble up and over fences, trellises, and arbors. They'll add color and interest in places where other plants just cannot grow.
#1. Morning Glory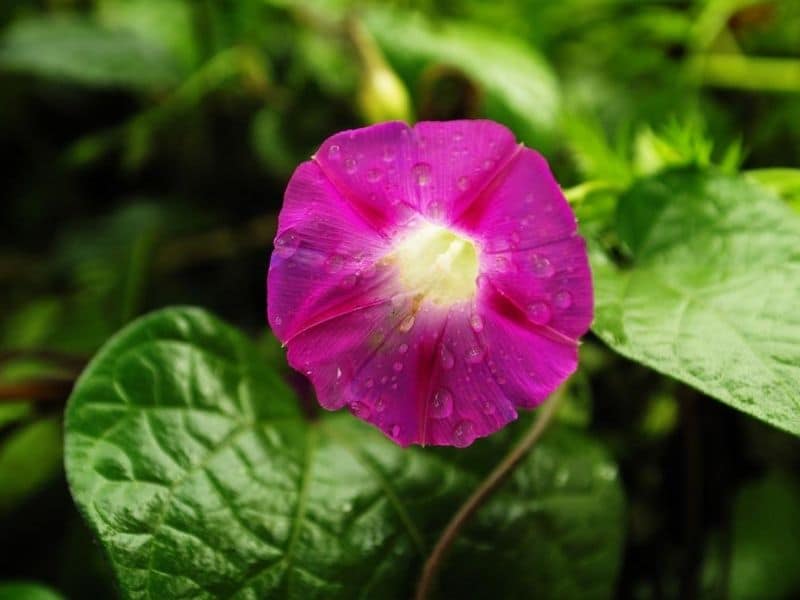 Morning glory flowers can be just about any color, but the beautiful purple flowers are truly worth mentioning. This flowering vine grows quickly with equally fast-growing fragrant flowers. The morning glory purple flowering vine can spread up to ten feet! Keep in mind that morning glory performs best in sites with full sun.
These plants grow best in the subtropical and temperate regions of the United States. If you like the shape of these flowers, but prefer a different vine with purple flowers, check out the lavender trumpet vine with it's stunning lavender flowers. Keep in mind that trumpet vines are fast-growing. It's also a perennial vine. You'll be surprised how many flowering vines exist.
#2. Bougainvillea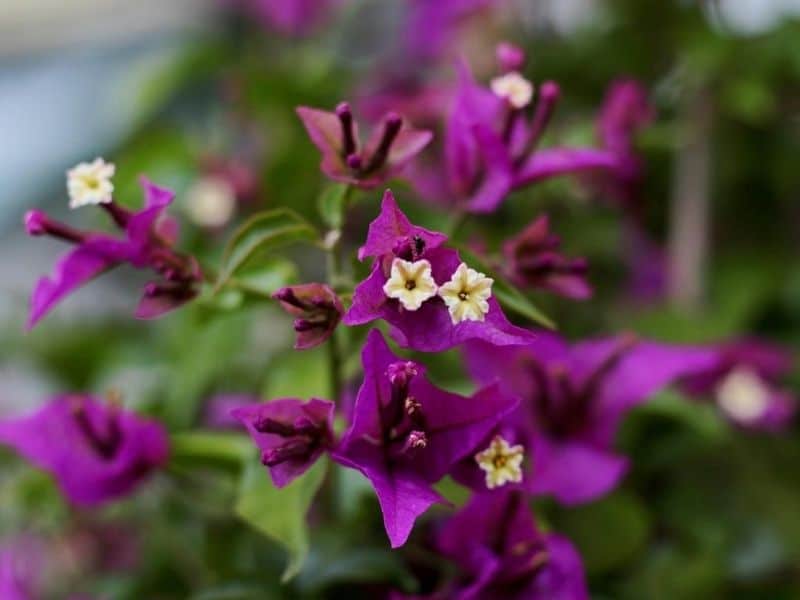 Bougainvillea plant is a vining plant that produces dense, woody growth—and some of the most gorgeously colored flowers in the plant world.
Although you can find these plants with flowers in red, pink, gold, and orange, it's the stunning purple flowers that are the most show-stopping. These flowers bloom first thing in the spring and last all the way until fall covering the dense foliage in stunning colors.
Hardy in zones 9 to 11, these climbing vines are often grown as an annual in cooler climates. The average bougainvillea vine can spread to more than 40 feet tall and 10 feet wide. Be careful, though, as some varieties of this woody vine have sharp thorns. This climbing vine does well enough in full sun or partial shade.
#3. Clematis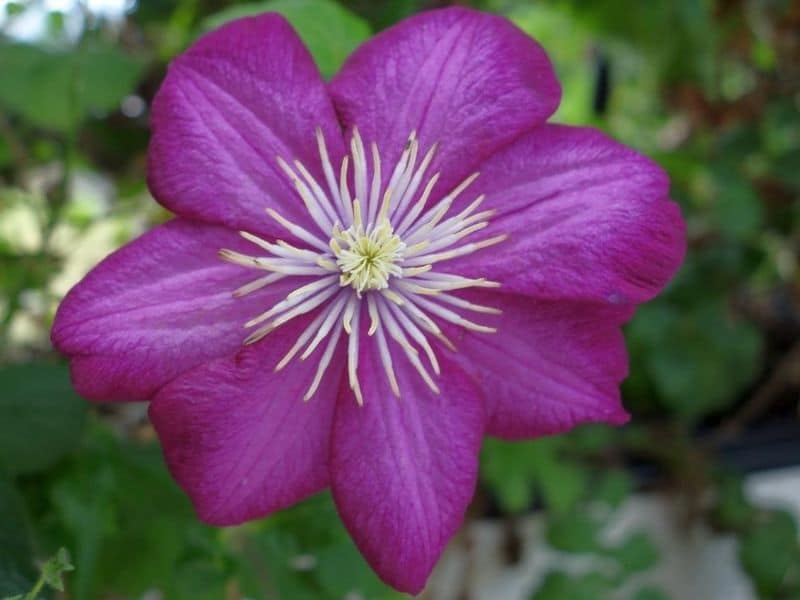 Clematis is a hardy purple-flowered vine among other varieties. Although clematis vines can be found with flowers in all kinds of shapes and colors, the purple varieties are some of the most stunning. Jackman Clematis climbing plants are one example. It produces showy purple blooms at the height of blossom time in the summer. Just like purple vining roses. This is also a vine that can be grown in partial shade.
Other types of clematis you should pay particular attention to is the Etoile Violette Clematis. This plant is perfect for warm areas where large clematis plants won't grow. It's hardy in zones 4 through 9. Clematis vines grow well in partial shade.
#4. Passion Vine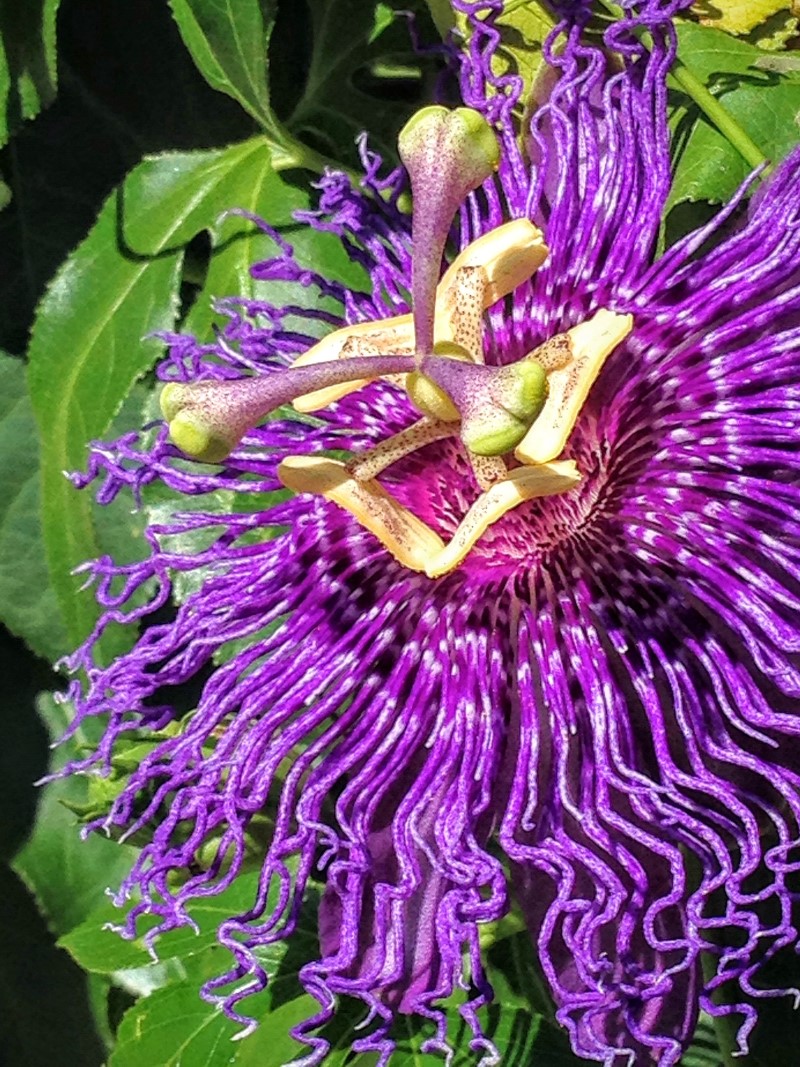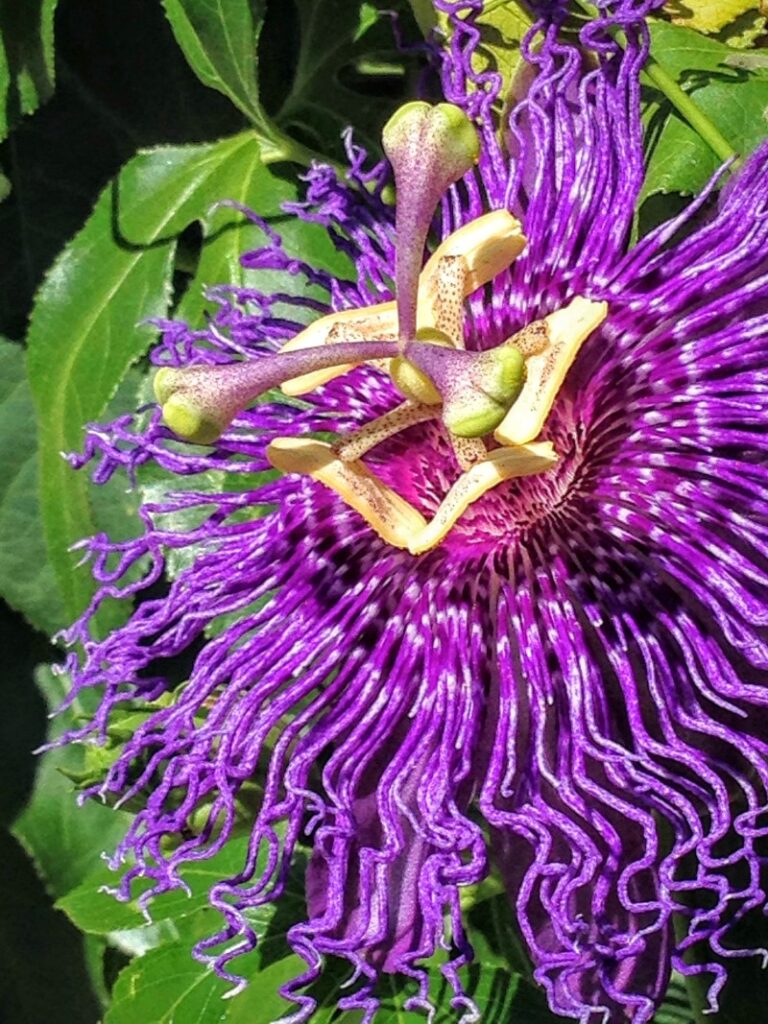 The passionflower, or the passion vine, has purple petals with white segments. This tropical vine tends to be an evergreen vine with light green to medium green foliage, but some varieties of passion flowers can be decidious as well.
These vines with purple flowers looks quite exotic and grows best in a tropical climate. Passion vine blooms all the way from May to September, though. This tropical climbing vine needs to be protected when grown outside of its climate range. This vine plant needs full sun to partial shade to look its best.
#5. Hyacinth Bean Vine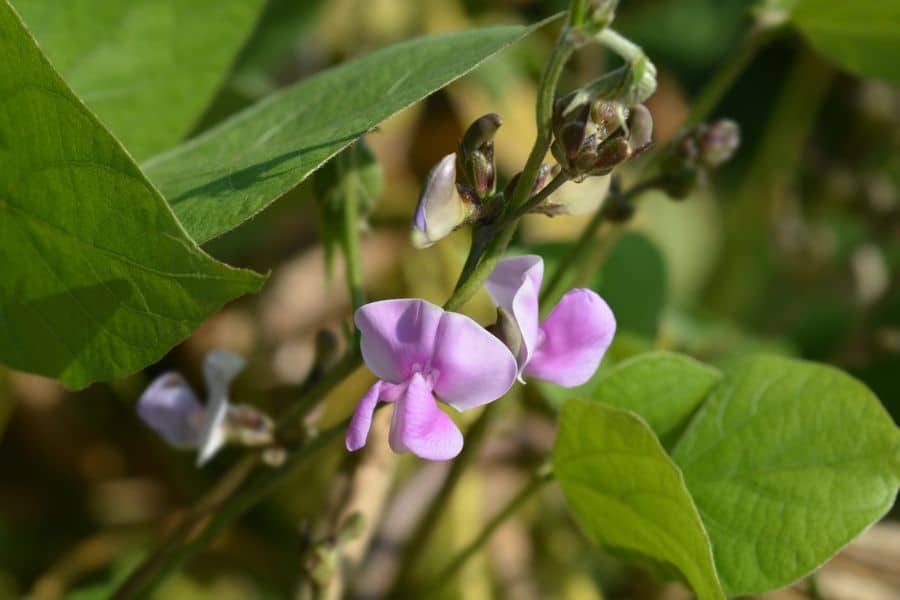 This unique hyacinth bean vine has gorgeous dark green and purple foliage and dark stems along with spectacular heads of purple-pink, lilac colored blossoms. These flowers generally appear late in the summer and last long into fall.
Once the flowers of the purple hyacinth bean vine die back, each plant develops pods like seed heads. This sun-loving annual vine is a great choice if you need a canopy over a trellis or arbor. This climbing plant closely resembles sweet pea when flowering and should not be confused.
Don't get too excited about the showy purple seeds (which look like beans), though, they might look like edible fruit, but you really don't want to try them. They're toxic, just like sweet pea, unless they are cooked properly, so you're best off just using this vining plant as a decorative ornamental plant with stunning purple, pink flowers.
#6. Blue Sky Vine
Distantly related to the black-eyed Susan vine, the blue sky vine produces large, cuplike flowers. Although the pretty purple flowers often appear blue, some cultivars produce flowers that are closer to purple with a bluish purple hue. The plant is also known as the Bengal clock vine and is an extremely vigorous vine. You can easily grow more than 20 feet in just one growing season. Take care where you plant these flowering plants, they prefer locations with access to full sun.
Don't confuse the blue sky vine with its close relative the blue glory vine. They may look quite similar, but the blue glory doesn't have the purple tint to its flowers that blue sky has.
#7. Wisteria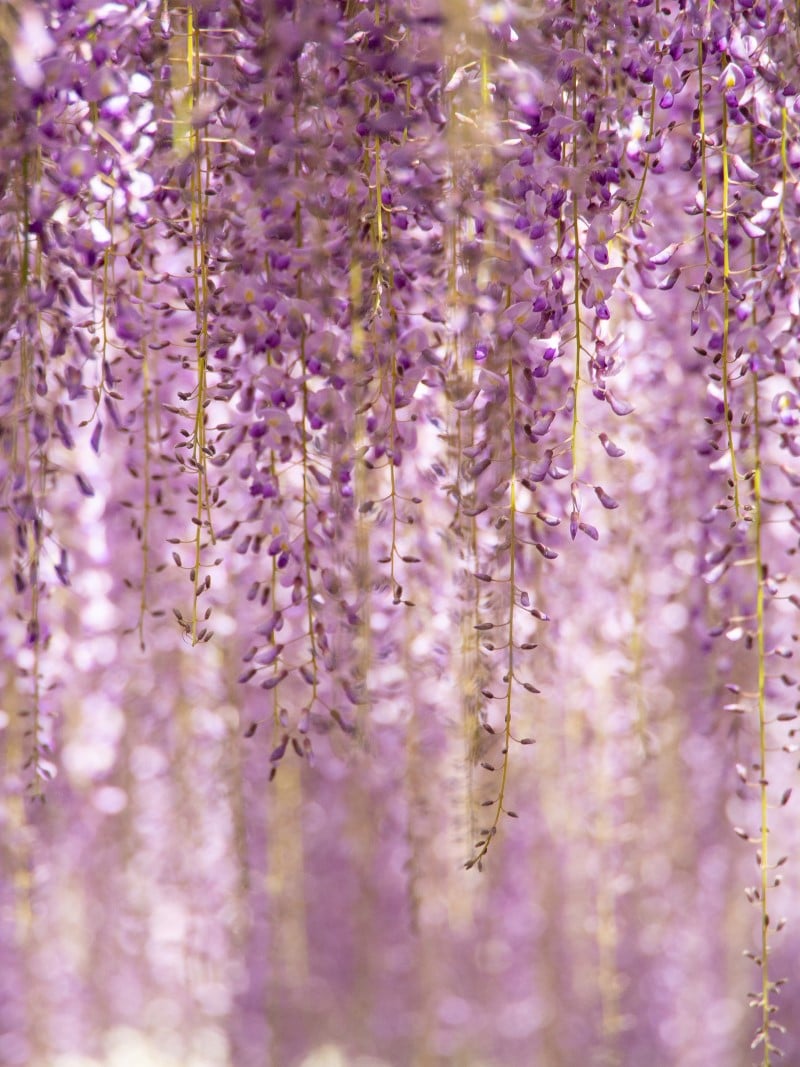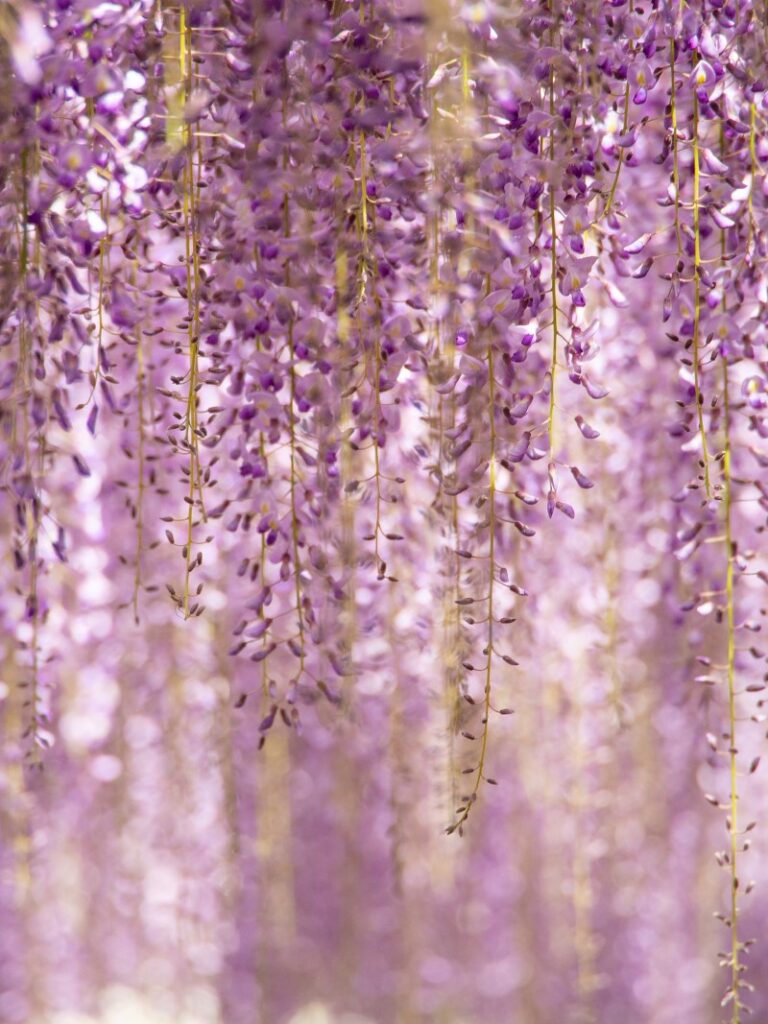 Wisteria vine is perhaps one of the most attractive purple flowered vines. This plant looks great crawling up a picket fence or pergola, producing dropping clumps of pale purple flowers that grow best in the early summer. Besides the light purple flowers. the plant has attractive foliage, too, which turns yellow as the autumn months approach.
Wisteria tree can spread up to 30 feet tall and wide, so you'll want to be careful where you plant it—it is technically invasive. It grows best in zones 4 to 9 and prefers to be planted in full sun.
#8. Dutchman's Pipe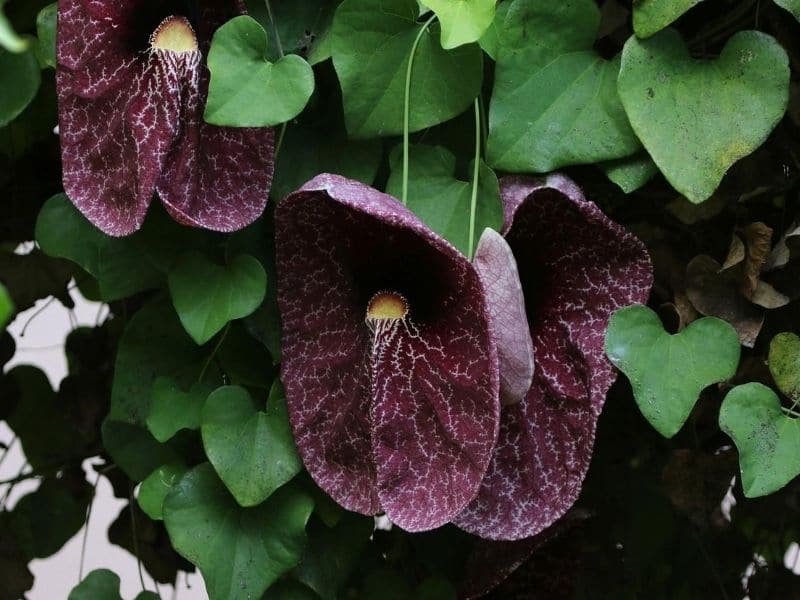 This unique climbing plant called Dutchman's pipe vine produces deep purple flowers shaped – just like you guessed it – little pipes. The leaves are interesting to look at, too, growing in a heart shape with a deep purple color. Unfortunately, this vine with purple flowers is only hardy in zones 8 through 10. If you can grow it, however, you won't be disapointed by the showy blooms with multi colored petals and attrative leaves. Keep in mind that this is a deciduous vine so the funnel shaped flowers and stunning leaves won't always be present.
#9. Chocolate Vine
This gorgeous chocolate vine produces flowers with a sweet, somewhat spicy, aroma of chocolate. The flowers are a dark red to purple in color, with the vine itself growing to 30 feet or higher in height. These climbing vines are hardy in zones 4 through 9.
If you love vining and climbing plants, check these types of climbing vines to learn more. You can also look into the lavender trumpet vine, garlic vine, butterfly pea and climbing purple roses.
*image by nahhan/depositphotos