Aralia Sun King (Aralia cordata 'Sun King'), also known as Japanese spikenard or mountain asparagus is the perfect shrub to add to your garden if you want to quickly add a lot of vibrancy to your spaces.
The best companion plants for Aralia Sun King are coral bells, plantain lilies, astilbes, columbines, bleeding hearts, and ferns because these neighboring species are also vivid in color and will add lots of contrast to your garden.
Young shoots of this plant are edible and are considered a culinary delicacy in Japan because it gives food a delicious asparagus lemony fragrance.
This perennial shrub is known for its rapid growth and bright lime-green foliage. It can grow up to 6 feet tall in just one season and will quickly lighten up any dull and dark space in your yard.
Let's take a closer look at these aralia sun king companion plants and find out how to use them to create show-stopping spaces.
What to Grow With Aralia Sun King
The right companion plants for Aralia sun king are usually bright-colored plants that will grow well in the same environment as these shrubs.
Japanese spikenard prefers a part to light shade position but it can also grow well in full sun if the soil is consistently moist. It is best to grow mountain asparagus in organic-rich soil and it prefers loamy soil types that drain well. The more direct sunlight this plant receives, the more vibrant and yellowy its foliage will become. In more shaded areas, the shrubs will become more chartreuse or lime green.
These Aralia shrubs can be evergreen in warmer regions but in colder regions, it is very likely to die back to the ground and re-emerge again in early spring.
Here is a quick look at some of the best aralia sun king companions to grow in the same garden space.
Coral Bells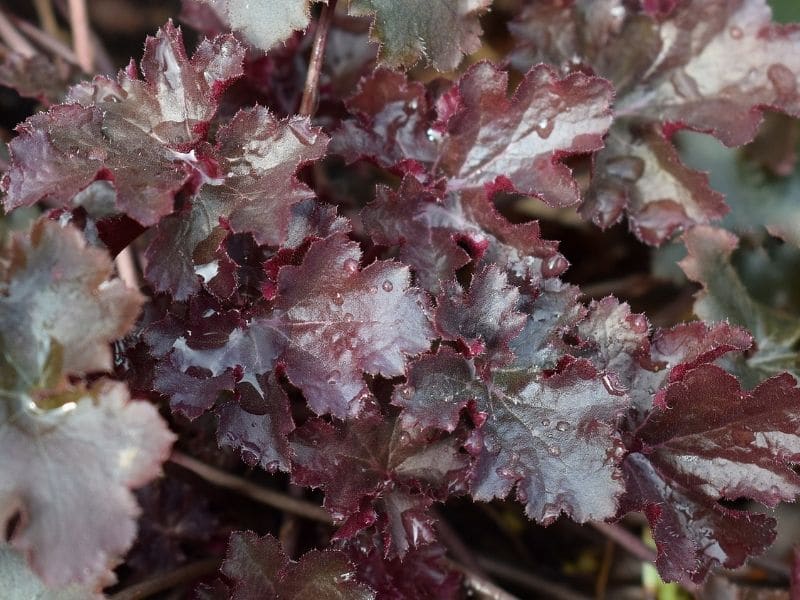 Coral bells (Heuchera) or alumroot are perfect companions to pair with mountain asparagus because this plant also produces vivid colored foliage. There are 31 different varieties of heuchera which include species with different foliage colors like silver, green, chartreuse, yellow, peach, copper, purple, and almost black. These colorful plants also produce striking flowers on tall stems and the flower colors usually include hues like coral, red, white, and pink.
As you can imagine, these bright-colored leaves and flowers should look charming next to the vivid green or yellow leaves of aralia shrubs. For optimal results, you should try to combine a contrasting variety of coral bells like deep purple, copper, or pinkish red with the bright green plant.
Heuchera will grow well in a partial shade position but can tolerate more sunlight in colder climates. They should be planted in well-drained soil with a neutral to slightly acidic pH level.
These plants will only grow up to 18 inches tall and are perfect ground covers to grow in front of the taller shrubs. They can also be used as garden fillers or border plants to edge your garden beds.
Also check my guide to see what not to plant with Coral bells.
Plantain Lilies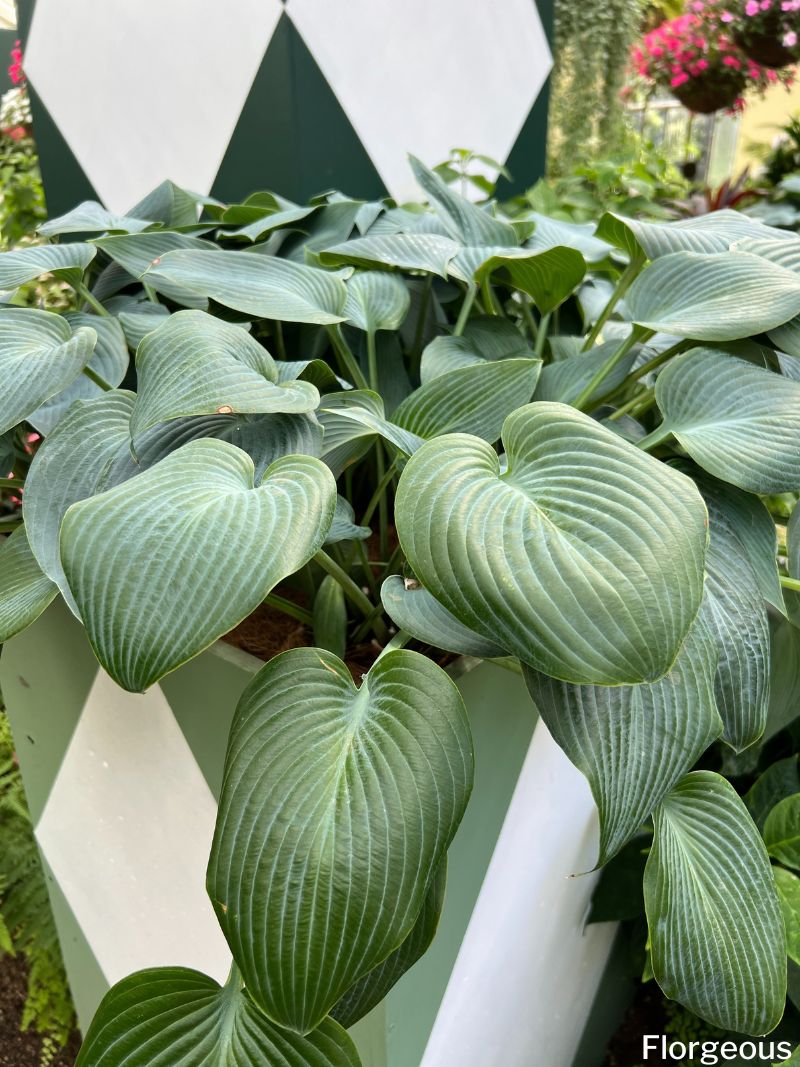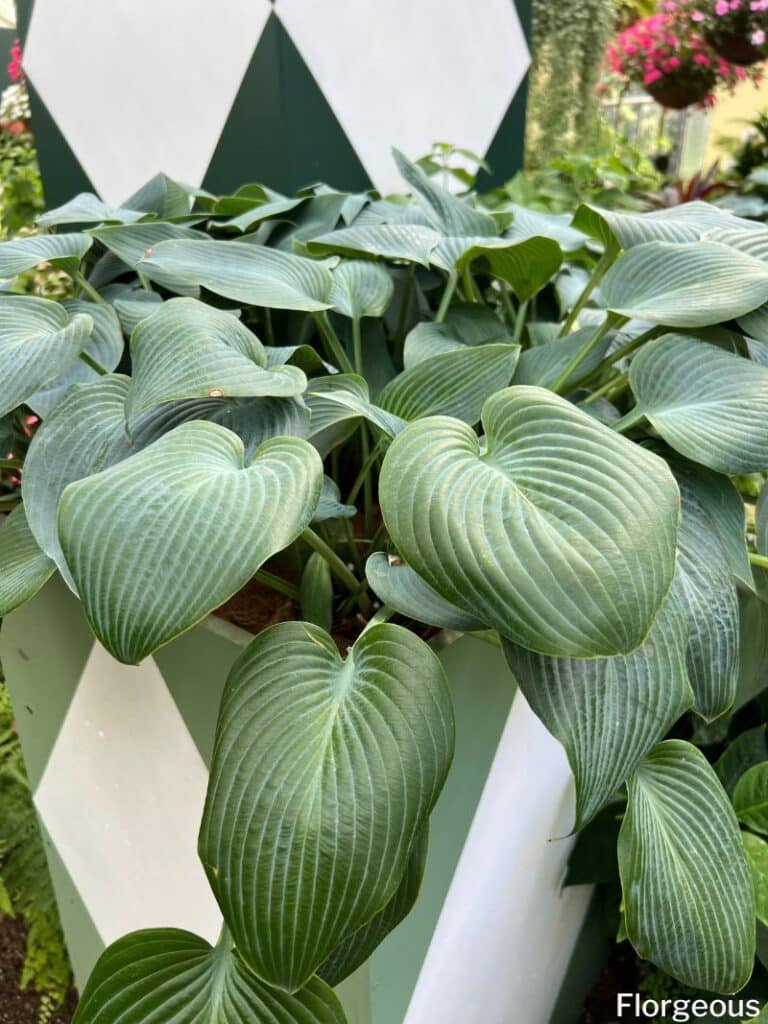 Plantain lilies (Hosta) are very popular in shaded or partial-shade gardens because they can brighten up any dark or shaded space with their vivid foliage colors. These plants are ideal for creating low-maintenance spaces because they don't require much care at all.
Hostas can be perfect aralia sun king neighbors because they will fill out your garden bed nicely with their dense growth. Some varieties can grow up to four feet tall but most of these plants tend to be a little bit shorter and are ideal as a ground cover for your taller shrubs. Different varieties also have different foliage colors and they can range from variegated with white and green to dark green to light lime green.
These plants can grow well in partial shade but darker varieties are very shade tolerant and can even survive in deep shade positions. In full sun, their leaves can become scorched. They should be planted in soil that is rich in organic matter and grows best in free-draining soil that is consistently moist.
Astilbe Flowers
Astilbe flowers (Astilbe), also known as false goat's beard or false spirea is an ideal neighboring plant to include in your garden if you want to add lots of contrast and color to your spaces.
These flowering plants produce bright feathery blooms in a range of colors like dark purple, white, pink, deep red, soft lavender, violet, and various pastel hues. The blooms are quite brilliant during midsummer and usually stand out tall above the dark green foliage of the plant.
These flowers prefer a partial shade or dapple shade position and they should be kept moist. They can tolerate a little bit more direct sun if they are kept moist but won't tolerate dry conditions at all.
For a striking effect, you can combine these flowers in the front of your garden with the vivid green mountain asparagus as a backdrop behind them.
Columbine Flowers
Columbine flowers (Aquilegia) are also known as European crowfoot or granny's bonnet. There are about 70 different varieties of this bright flower and they can vary quite a bit in flower design and color. The most distinctive feature of these flowers is that they tend to form double-petal designs with contrasting centers.
These flowers grow best if they are planted in partial shade but can handle more sun in cooler regions. The flowers can grow well in sandy or loam soil types that drain well and they need lots of mulch to keep the roots nice and cool.
Columbines are known to form upright clumps and can look rather striking next to a vibrant bush of aralia sun king. They usually only grow up to 20 inches tall and can also be planted in front of taller shrubs.
Bleeding Hearts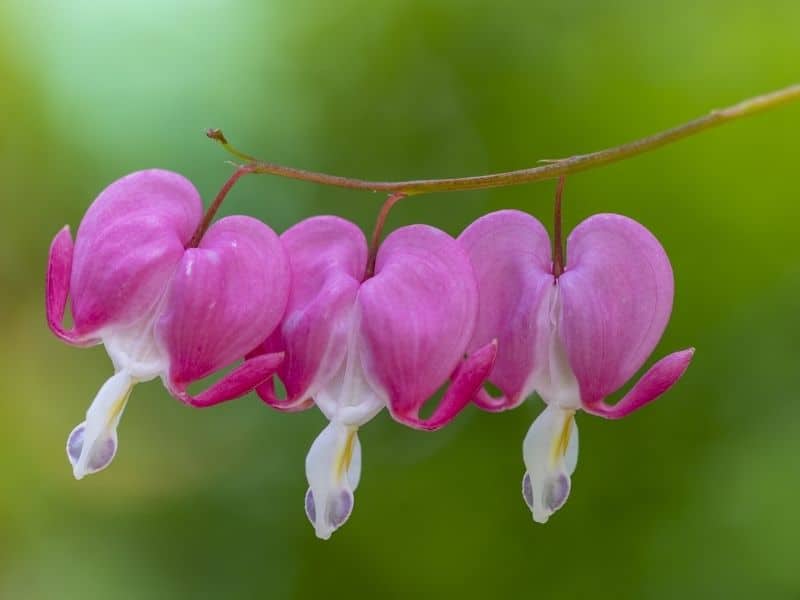 Bleeding hearts (Dicentra) can be a good companion species for mountain asparagus if you want to add more shrubs to your garden. These flowering shrubs also have bright green foliage and will add lots of color to your garden with their bright pink heart-shaped flowers.
The flowering shrubs prefer mild temperatures and moist soil that is rich in organic matter. The plant needs plenty of shade to survive and can be grown in a partial shade position.
These vibrant perennial shrubs will grow up to three feet tall and can be grown alongside or in front of the colorful Aralia sun kings.
Ferns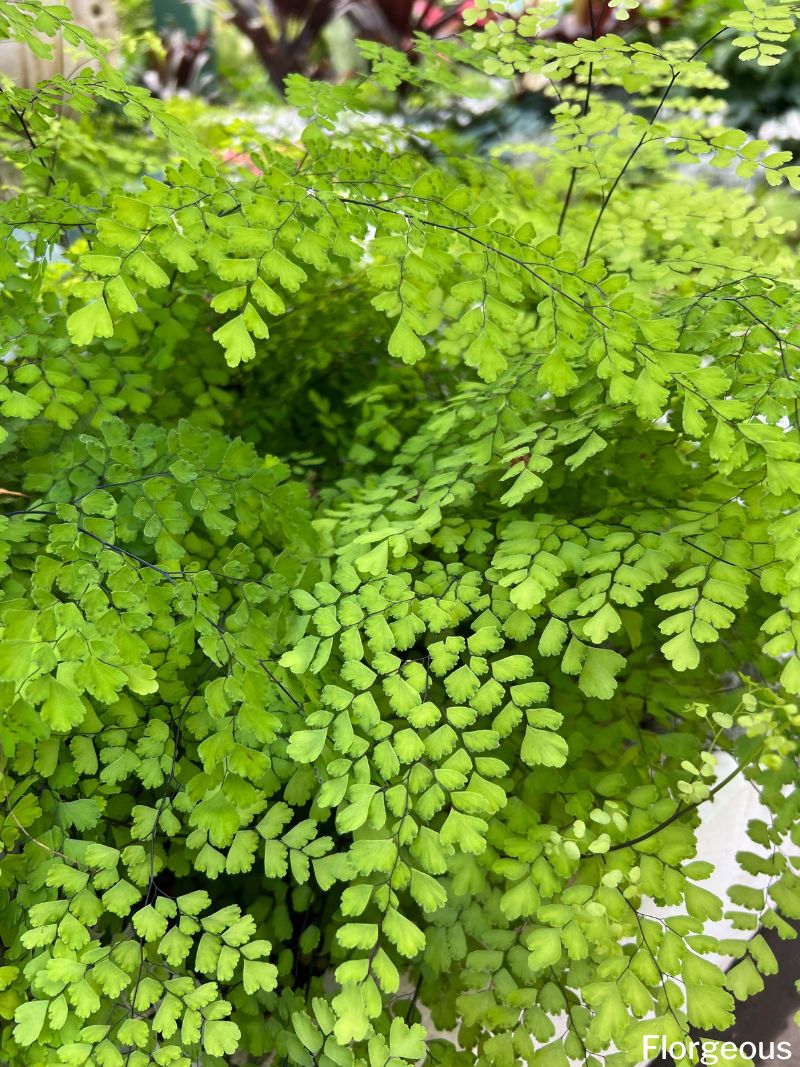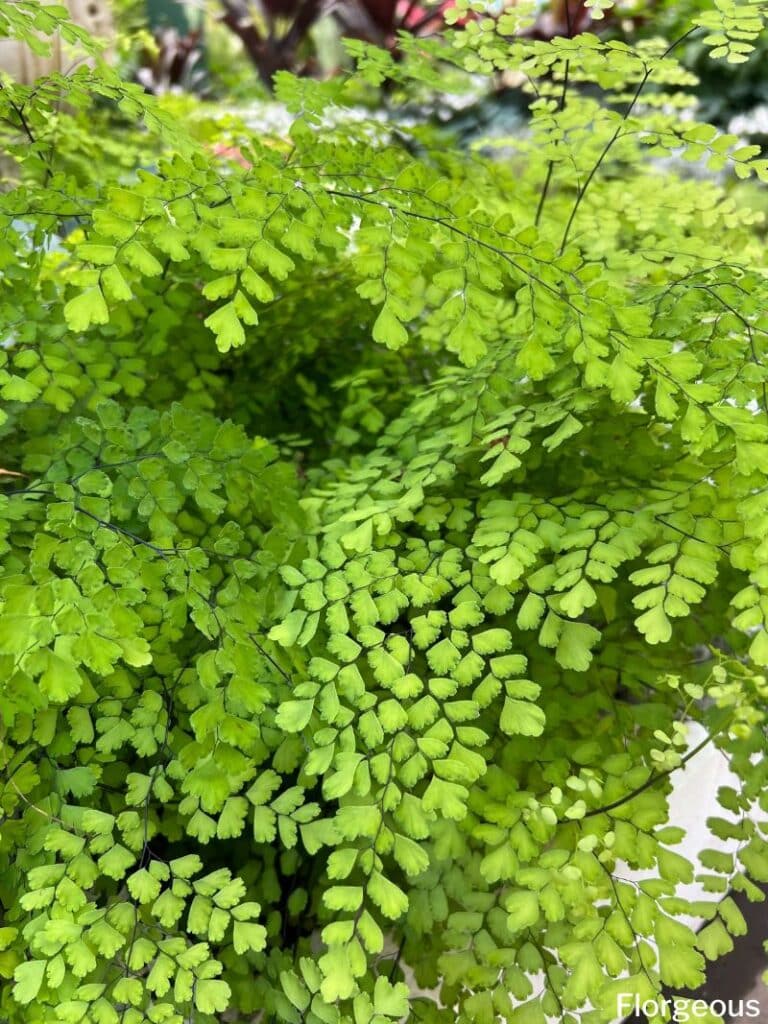 Most fern (Tracheophyta) varieties will grow very well in the moist soil and partial shade position that mountain asparagus loves so much. Ferns are always handy for filling out garden spaces and they add lots of texture to your garden with their delicate leaves and interesting growth patterns.
Any colorful fern variety should look attractive next to a bright aralia sun king shrub. Varieties like Japanese-painted ferns (Athyrium niponicum), delta maidenhair ferns (Adiantum raddianum), and Kimberly queen ferns (Nephrolepis obliterata) are especially popular because their foliage tends to be so dramatic.
What NOT to Grow With Aralia Sun King
Aralia sun kings need lots of moisture and they prefer partial shade positions. It is usually best not to grow them in hot, sunny, and dry spaces and you should avoid planting them with drought-tolerant species like lavender, bee balm, stonecrop, blanket of flowers, or yarrow.
These shrubs look their best if they receive a lot of direct sun. They can look attractive in shaded areas but won't be as vibrant. To keep the shrubs nice and bright you should try to avoid planting them under a thick canopy of taller trees.
Landscaping Ideas for Aralia Sun King and Companions
Mountain asparagus and the companion plants we discussed in this guide can be used to create all sorts of interesting landscape features. Here is a quick look at some of the best ways to use and pair these different plants in your garden.
Mixed Containers
Aralia sun king will grow well in containers as long as they are filled with suitable but well-drained soil. These flowers can be paired with other interesting plants like coral bells, ferns, or astilbe flowers to create interesting mixed containers filled with lots of texture and charm.
Borders or Mixed Hedges
Bright foliage plants like mountain asparagus, coral bells, bleeding hearts, and plantain lilies are always handy for interesting borders alongside walkways or along the edges of your garden wall. You can combine these different plant species for vibrant shaded borders or mixed hedges in your garden.
Rocky Woodland Gardens
With just a couple of large boulders and interesting plants like hostas, astilbes, bleeding hearts, ferns, and coral bells, you can create a wonderful woodland effect in your garden. The bright foliage will look striking next to large rocky boulders and are great for creating a lush effect in your landscape.
Final Thoughts
Aralia sun kings and all of the companion plants we discussed in our guide are ideal for perking up dull gardens. With plants like coral bells, plantain lilies, astilbes, columbines, bleeding hearts, and ferns, you can create a wonderful woodland garden effect filled with lots of lush growth or grow textured hedges and borders alongside driveways or walkways.
We hope that you enjoyed this companion plant guide and that you will have lots of fun combining these plants with other aralia varieties while you work on improving your garden.
*image by vodolej/depositphotos