Cast iron plants are some of the most beautiful and lively plants that anyone can possibly have. Whether you put them in your home or in your garden, these plants can add a tone of beauty and excitement wherever they go.
Cast iron plants are perennial plants that are suitable for an indoor or outdoor environment. They can handle hot or cold temperatures and the maintenance that is required to take care of them takes little to no effort at all!
There is, however, more to this gorgeous plant than just its admirable qualities of versatility.
Even though it may seem simple to take care of this houseplant, it is always good to know where to start and how you should care for it.
Plant Facts
| | |
| --- | --- |
| Scientific name | Aspidistra elatior |
| Common names | Cast-iron plant, bar-room plant, haran or baran |
| Family | Liliaceae |
| Plant Type | Houseplant |
| Height and Width | 1-2 feet; 2-3 wide |
| Origin | Asia |
| Flower colors | N/A |
| Foliage color | Variegated brown and green |
| Sun Exposure | Full to partial shade (no direct sun) |
| Soil Type & pH | Can tolerate a range of very rich to very poor soils |
| Special features | N/A |
How to Grow Cast Iron Plants
The best place to start with knowing how to grow cast iron plants is by knowing where you should plant them.
Remember that it can be positioned in areas of either hot or warm temperatures. Also, they do well when planted in a container. If your plant is variegated, however, just keep in mind that they need an even more dimly lit spot than plants that are plain-leaved species.
Propagation
The process of propagating these plants is fairly simple. They can be propagated by the division of the main stem of the plant, which is the rhizome.
There are different ways that you can go about propagating these plants aside from dividing them. Other cutting methods you can use include:
Cutting-rooting the severed piece of the plant.
Layering-rooting a part of the plant and then severing it afterwards.
Budding and grafting-when you join two plant parts that are of different types.
It's good to keep these other methods in mind in case you find yourself struggling with dividing the plant, which will make the task a whole lot easier.
Soil
Cast-iron plants can survive with various types of soils, but it's best to stick with something simple to help the plant growth. Any soil-based potting mixture should do the trick.
Cast iron plants grow best with soils that are organically rich that are just a tad bit acidic to neutral soil pH.
For plants that are in containers, you can simply use a basic quality potting mix.
When the plant is outdoors, the soil you can use can either be loamy, sandy, and even clay-based. Ultimately, as long as the soil has exceptional drainage, any kind of soil will work just fine.
Pruning
Even though you don't have to do it all the time, there are exceptional advantages that can come out of pruning cast iron plants. All you have to do is prune near the base of the plant (you'll want to do this two to three inches above where the soil line is).
The best time to prune your plant is either at the end of winter, or sometime in the early spring. The plant will be dormant at this time and just be starting to enter its period of growth.
Once you're done with pruning the plant, the leaves will unfurl on its own from the soil. Because the cast iron plant requires such low maintenance, you don't have to do this very often. One time every two to four years will be enough for the plant to flourish and grow the way it needs to.
Repotting and Transplanting
Repotting and transplanting your plant takes little to no effort at all. These plants seldom need to be repotted. In fact, you're best just to top-dress them with additional soil and/or fertilizer once they reach the ideal size. They can stay in the same pot for years.
Fortunately, should you need to transplant, it's not that complicated. Transplanting a houseplant is another simple step that doesn't require too much work. You can simply prepare the next pot or another area in your garden.
Take the original specimen that you dug out from its previous space and move it to the new home. Add in the soil to cover the roots and water it deeply to saturate both the soil and roots.
When transplanting your plants, it is recommended that you only do it if they are newer, NOT older. Keep them in their original pots for them to grow in. Even though the process of growing these particular plants may seem easy, it can still be tedious at times, especially for those of you who are doing this for the first time.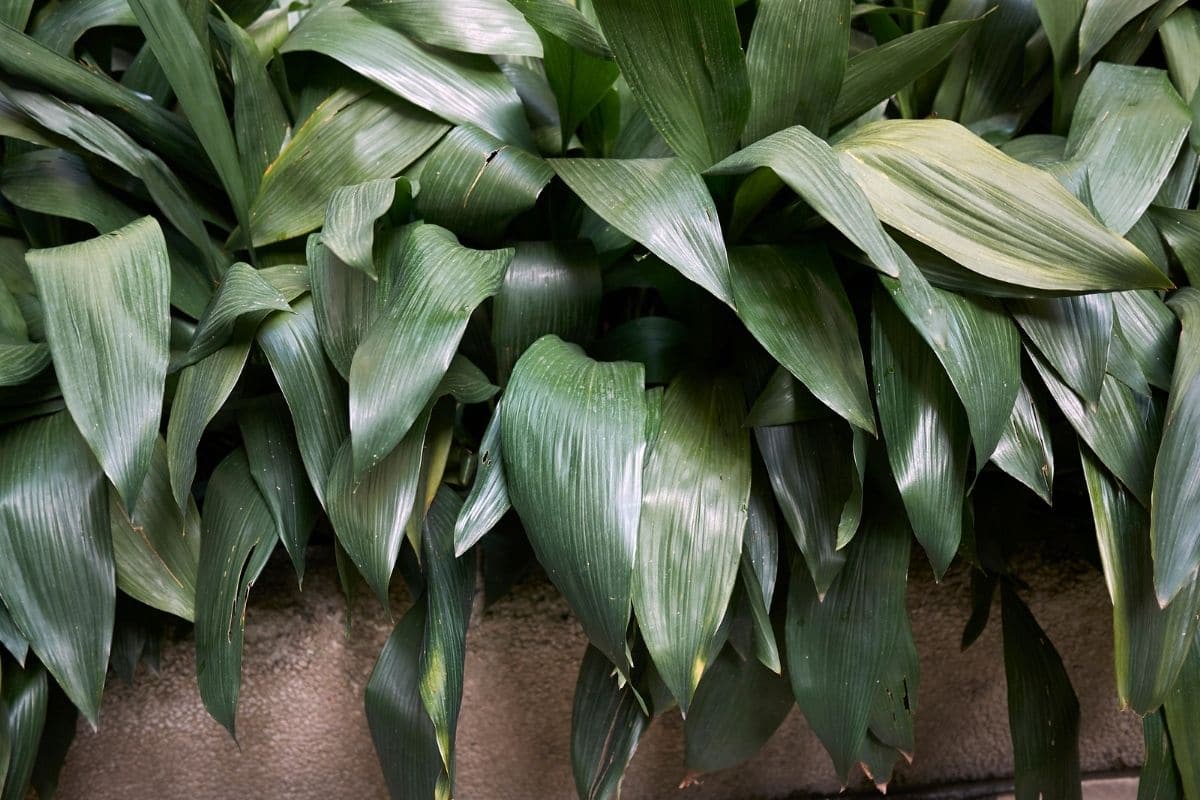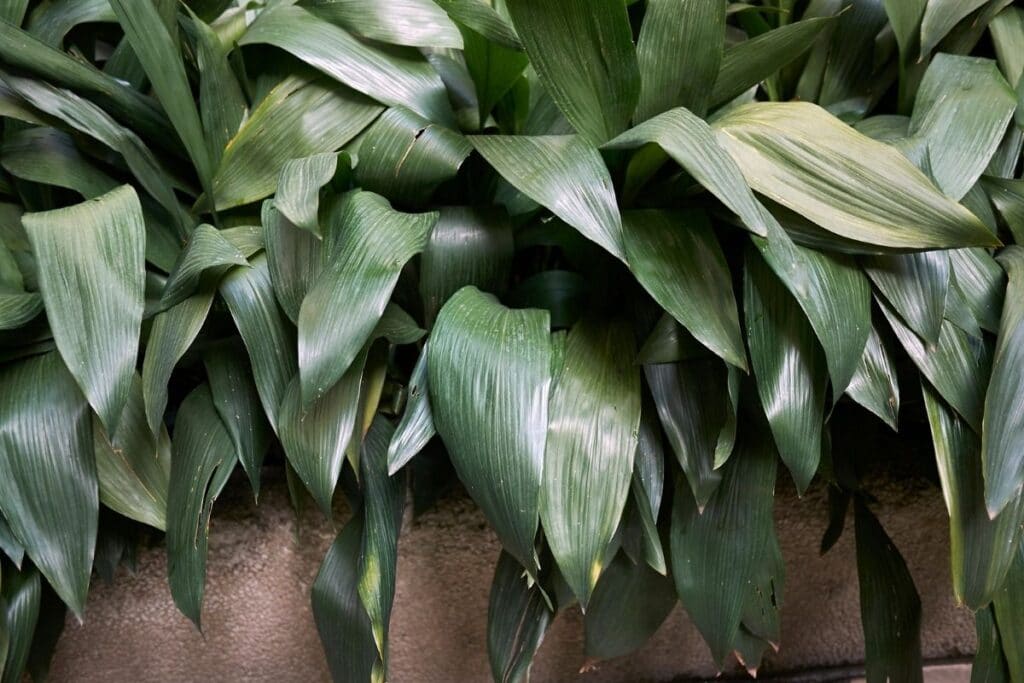 How to Care for Cast Iron Plants
Like any other plant, the best way to care for cast iron types is by making sure they are getting the right amount of water, sunlight, temperature and humidity, and fertilizer. We will elaborate under each of these elements on how you should properly take care of it so it can flourish correctly.
Water
Believe it or not, you don't have to water your houseplant so often due to its incredibly slow growth rate. Basically, because it doesn't grow at faster rates than most plants, you won't have to water it as much.
Watering the plant once a week will be enough to keep this plant standing strong. An inch or so of water is all that is needed.
Sunlight
To get the best source of energy from the sun, it is recommended to place it where there is bright and indirect sunlight, (i.e. an office or a spot near a north or east window).
For those of you who have the striped kind of this species, those require a little bit more sunlight. Other than that, the plant staying in moderate sunlight will suffice.
Temperature and Humidity
These plants can survive a variety of temperatures. Any temperature that's between 55-70 degrees Fahrenheit will be enough to keep these plants strong and stable.
Humidity for a cast iron plant isn't necessarily required, but it won't do the plant any harm if it's in an area where it's high.
Fertilizer
When it comes to fertilizing cast iron plants, there isn't too much that comes along with it. Regular fertilization is not necessary, but you can just do it as needed (generally when the foliage appears pale or unhealthy) in the active part of the growing season. Don't fertilize when the plant is dormant in the winter or late fall.
Keep things simple by using an all-purpose fertilizer for your plant. It's one less worry that you'll have by keeping things easy.
Pests and Diseases
When it comes to pests or diseases, you have no need to worry. These particular plants are incredibly resistant to pests. They can be susceptible to leaf-spotting diseases but providing them with appropriate levels of moisture, humidity, and shade can help prevent these problems.
Common Varieties and Cultivars
There are various cast iron plant varieties that you can use to accent both your home and garden. Each one comes with its own features and traits that make each one unique and special.
'Variegata'
One of the different types is one that was mentioned earlier: the variegated variety. This variety is a cultivar that has green leaves with white stripes. It grows in a variegated fashion and requires less light, as is common with many other variegated versions of many popular houseplants.
'Asahi'
Another to consider is the asahi tip. The features for this variety are similar to the varigata's features. The only difference between the two is that the leaves develop white tips at the grow.
'Hoshi-Zora'
The next variety has a very intricate and tranquil meaning to its name: the hoshi-zora. The name means "starry sky," and the dots on the lots are translucent colors of yellow and white.
'Lennon's Song'
The last type is called Lennon's song. The features of the species are simple, but the colors are shockingly different from those of the other types.
The leaves on this kind of cast iron species have light green and yellow stripes, complementing a variety with beautiful and unique features.
Conclusion
The cast iron plant requires little-to-no maintenance, and you hardly have to look after it when needed.
These species are even better for those who forget to look after their plants, especially if you're busy during the day. Having these plants will help you save time and effort to ensure that it stays healthy.
Remember your key takeaways: water once a week, make sure it's in indirect sunlight, and make sure it's in an area with an average temperature. Keep this information in mind and your houseplant will stay stable and lively for a long time!
*image by simonapavan/depositphotos