Deutzias have long been a popular choice for gardens in zones 5 to 8 that need a little brightness in the spring or summer months.
If you're looking for a new low-maintenance deciduous shrub, this might be just what you're looking for. Read on to learn more about how to grow and care for these showy flowering plants.
What Is A Deutzia Shrub?
Deutzia is a genus of flowering shrubs of the Hydrangeaceae family that occur in Asia, Europe, and South America. The popularity of these ornamental deciduous shrubs is on the rise, although they are no strangers to the gardening world.
The two most popular species of deutzias for gardeners are the Fuzzy deutzia (D. scabra), and the slender deutzia (D. Gracilis), and these are the species covered in this guide.
The slender deutzia is the favorite, and smaller of the two. These rounded and graceful plants grow to about 5 feet (1.5 m) tall or more, but usually mature at 2 to 4 feet (0.6 to 1.2 m) tall and wide.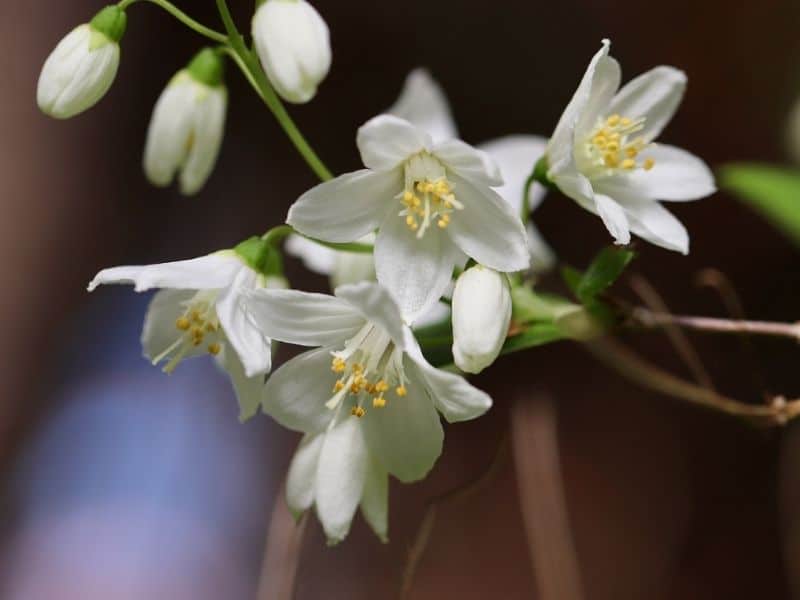 In fact, the plant's specific name, gracilis means graceful, and with its fine branchlets, this name suits it well.
The fuzzy deutzia is named for its roughly textured leaves and is a larger, more upright plant that can reach heights of up to 10 feet (3 m). The specific name for this plant is equally appropriate since the word scabra translates as rough in English.
These plants are native to China and Japan, a region where the bulk of the 60 or so species in this genus originate.
The foliage of these deciduous shrubs consists of oppositely arranged green leaves with slightly serrated margins. The leaves of the slender deutzia grow to about 3 inches (7.5 cm) long and around half an inch (13 mm) across. Its larger relation has slightly larger, roughly hairy leaves.
The leaves drop in fall after providing no real color, although the plants often have attractive gray-brown peeling bark.
Deutzia Varieties/ Cultivars
'Nikko' is a dwarf cultivar of D. gracilis that is very popular. This showy selection typically reaches only about 2 feet (0.6 m) tall and spreads as wide as 5 feet (1.5 m). Unlike other forms, the leaves of this plant turn a lovely shade of burgundy in the fall.
'Nikko Blush' is a cross between 'Nikko' and a cultivar of another deutzia hybrid selection known as D. x rosea 'Carminea'. The result is a fantastic, showy pink and white flowering form that reaches about 3 feet (0.9 m) tall and 4 feet (1.2 m) wide.
'Variegata' is a form of D. scabra with attractive, subtly variegated foliage that reaches 4 to 6ft (1.2 to 1.8 m) tall.
Deutzia Flowers
Deutzia shrubs produce a mass of white, or occasionally pink flowers in the spring and summer months. The Slender species is the first to flower, in the months of April to May, while the Fuzzy deutzia takes over in the early summer months of May to June.
The blossoming period is relatively short-lived, lasting only two weeks or so, although this is extended somewhat in some cultivars.
The bell-shaped flowers occur in racemes and are up to about ¾ inches (2 cm) long. Each flower has 5 petals that, when looked at from the front, create a star shape.
Deutzia flowers are pleasantly fragrant and make way for non-ornamental small brown capsules.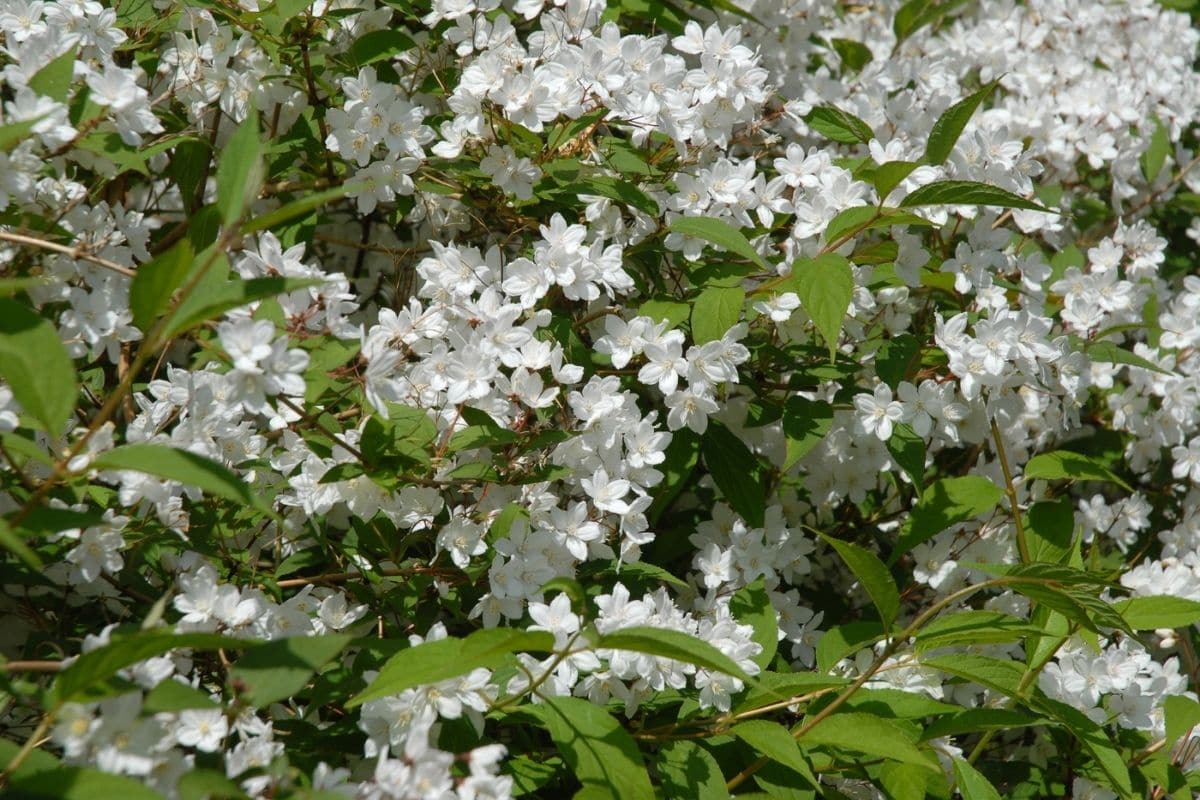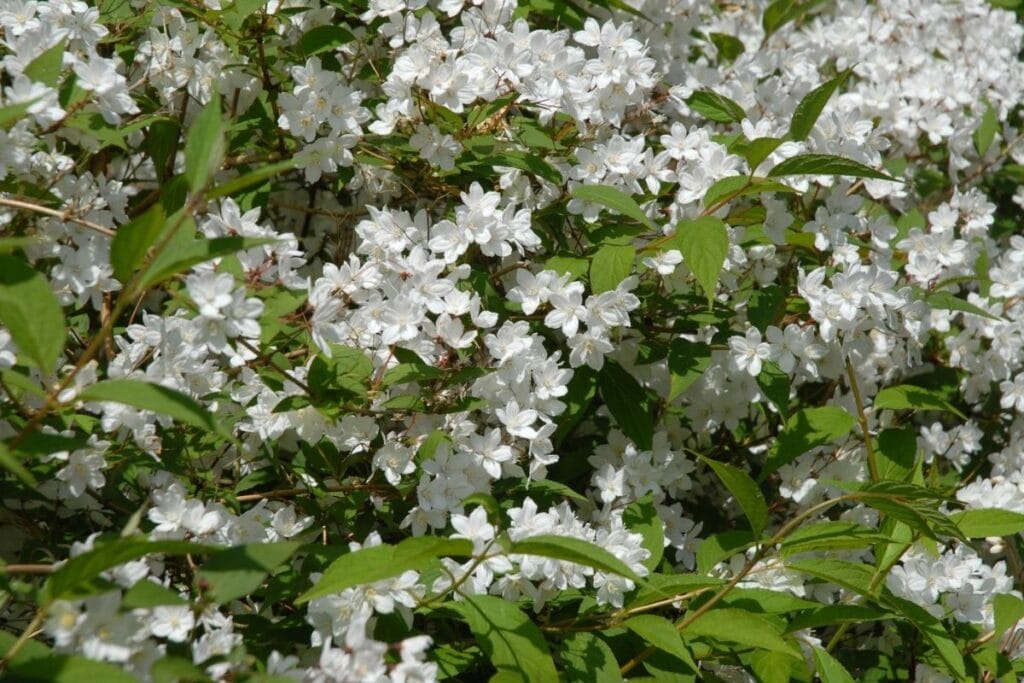 How To Grow A Deutzia Shrub
Deutzias can be grown from softwood cuttings in summer and fortunately, these plants tend to be quite hardy and are easily transplanted.
Moist, well-drained soil that is rich in organic material is favored and will produce the best growth in these plants. They are not overly particular about soil, however, and can be grown in a variety of soil pHs and will even tolerate heavier clay soils.
These plants have average water needs but are quite drought tolerant once established and growing well. They can be grown in full sun to partial shade and, as with many flowering shrubs, will often bloom better in full sun.
One caveat to this rule is the deutzias reported sensitivity to high heat, and you are therefore advised to site these plants in a spot that receives some afternoon shade in hotter areas. These plants are best suited for gardens in USDA zones 5 to 8.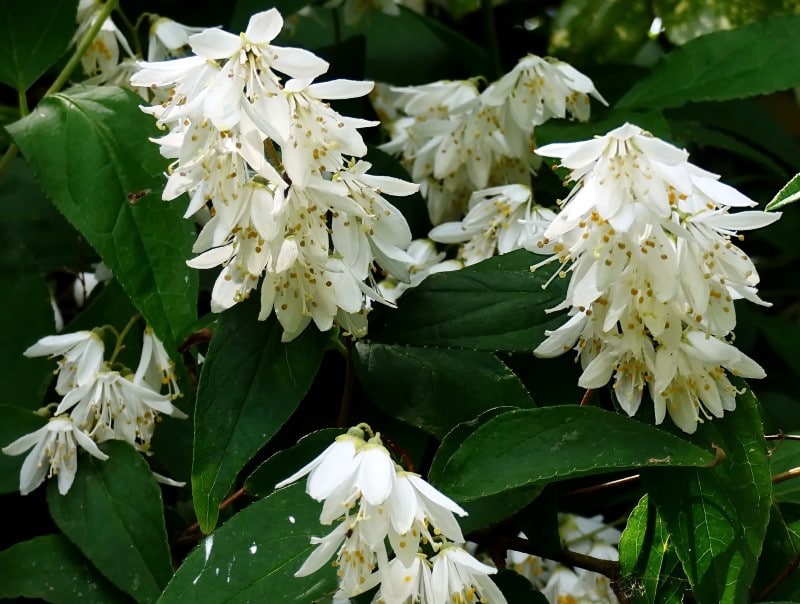 Care and Maintenance
Deutzia shrubs are hardy, low-maintenance plants that are relatively slow-growing. The graceful branches of these plants tend to be pretty short-lived and so removal of dead stems should be done every year or two to keep the shrub looking neat and healthy. Cutting back old, woody stems to ground level on mature plants will help to promote new growth (1).
It is best to prune these plants after flowering is complete, but an important point to note is that these plants flower from the previous year's growth. For that reason, heavy pruning may delay flowering by a year.
These plants are largely pest and disease resistant, although cases of leafspot and aphid infestations have been reported. The slender deutzia may be prone to leaf bleaching if grown in hot, full sun positions.
Unfortunately, the fuzzy deutzia has been reported to grow invasively in some parts of the United States and gardeners are urged to be responsible when growing potentially invasive plants (2).
Possible precautions include not growing this plant in places adjacent to naturally vegetated areas and disposing of garden waste responsibly.
Uses
Horticultural uses
Deutzia shrubs make lovely deciduous borders and foundation plants or informal hedges. The dwarf cultivar of the slender deutzia known as 'Nikko' makes a good groundcover plant as well.
Furthermore, these plants can be grown in containers and make a potentially wonderful addition to perfume gardens.
Wildlife Uses
Deutzias attract pollinating insects like bees. These plants are not favored by deer and can be grown safely in areas where these animals are found.
---
FAQs
Conclusion
Deutzia plants are a great shrub for sunny or partial shade areas in zones  5 to 8. It is fair to say that their lovely fragrance, showy flowers, and hardiness trump their short flowering period and lack of fall colors, earning them a strong recommendation for your next gardening project.
For more shrubs to grow, check our list of garden shrubs.
*image by Josie Elias/depositphotos