Fuchsia flowers (Fuchsia magellanica), also known as hummingbird Fuchsia because these flowers are pollinated by hummingbirds, are some of the most beautiful flowers you can add to your garden.
These shrubs or small trees produce interesting bell-shaped showy flowers in vivid colors like orange, pink, purple, red, and white that look rather striking against the blue/green foliage of this plant.
The fuchsia plant is handy for adding lots of color to garden beds and it can be used as a border plant, inside window boxes, in containers and even hanging baskets.
If you want to add even more color and charm to your garden or to your containers then you can pair fuchsias with other plants. This hardy plant gets along well with a wide range of ornamental plant species like the ones we are going to discuss in this article.
What to Plant with Fuchsias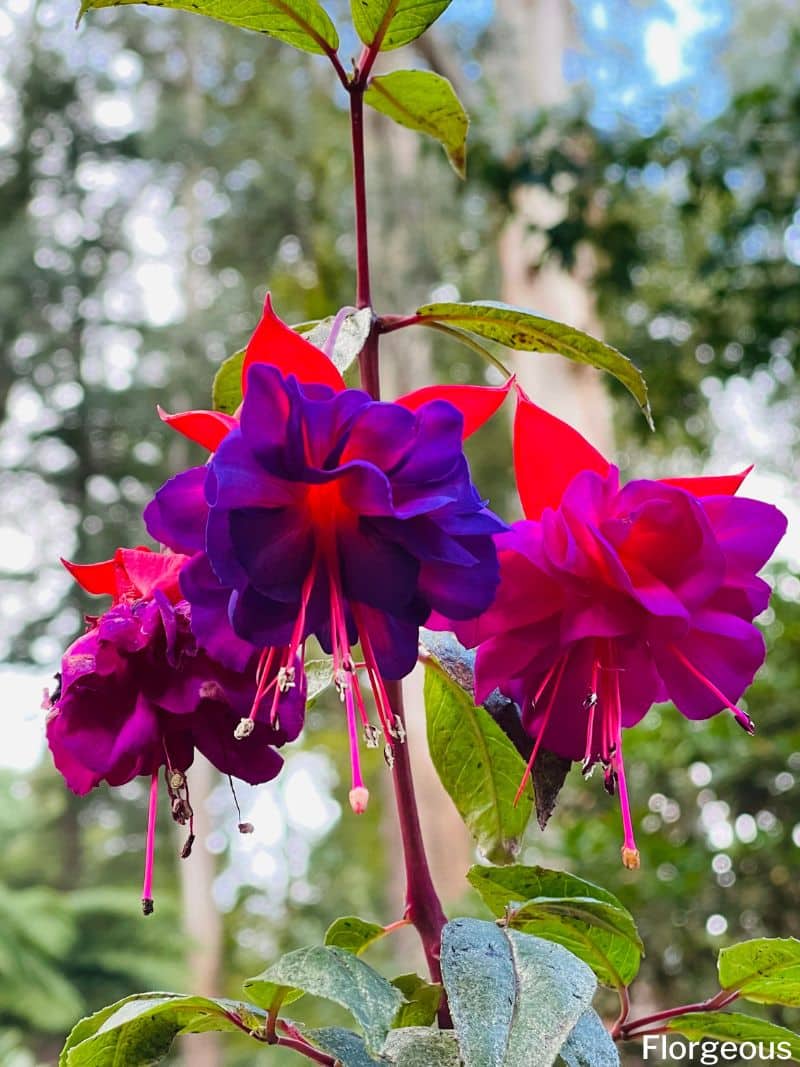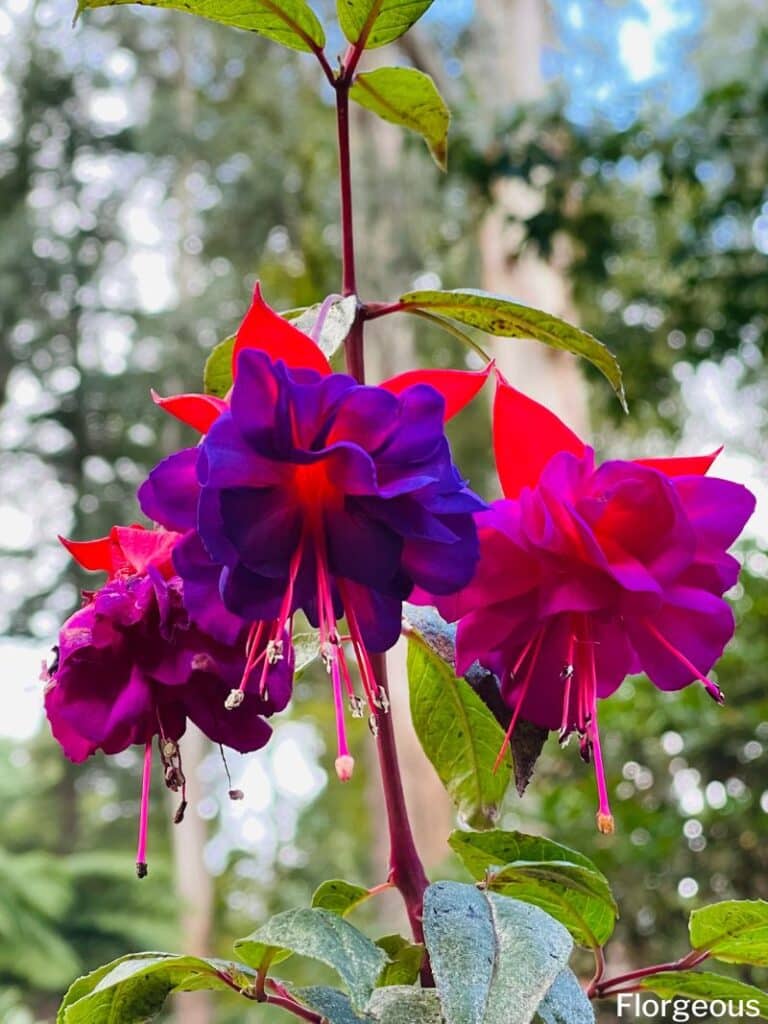 If you want to add companion plants for fuchsias then you should choose plants that have similar growing conditions.
Fuchsia plants require lots of airflow with plenty of protection from dry winds. These bushy plants prefer cool areas and soil that is relatively moist but not too wet.
The perennials will grow their absolute best if they are established under trees where they will get lots of dappled sun or other shady areas in your garden with lots of indirect light.
Here is a quick look at other shade-loving plants that will grow well in the same moist soil that fuchsias require.
Coral Bells
Coral bells (Heuchera), also known as alumroot or rock geraniums, are some of the best companion plants to pair with your fuchsia plants. This is because these shrubs produce foliage in shades like orange, cream, almond, green, lavender, and many others.
The colorful foliage can complement the vivid flowers of your fuchsia plant throughout its blooming season and will add multi-seasonal interest to your garden because it will keep your beds nice and vivid during the colder months.
Coral bells will also deter foraging animals and they attract pollinators and beautiful butterflies to your garden.
These shrubs grow well in dappled shade and require regular watering but should be established in well-drained soil.
The colorful shrubs should be positioned in the front of your garden so the taller fuchsia plant can create a beautiful backdrop behind them.
Begonias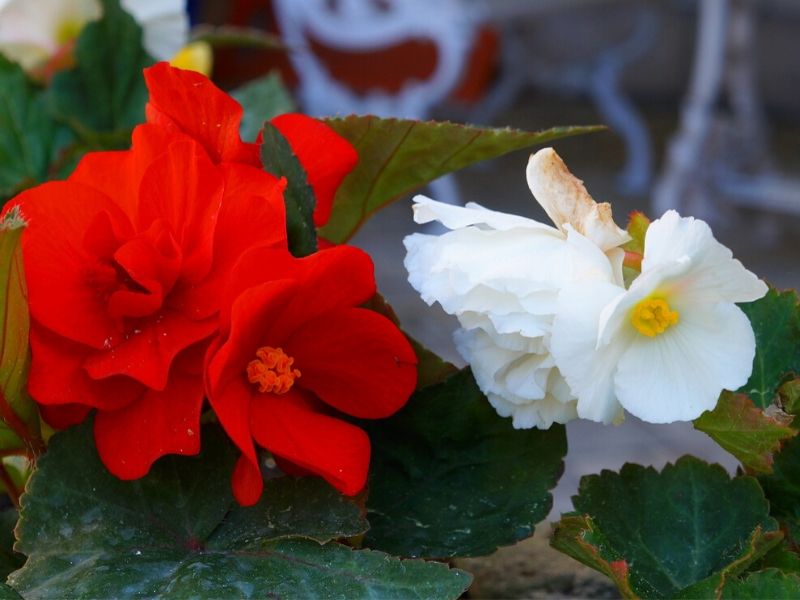 The begonia plant (Begonia) is a terrific shade-loving plant to grow next to your hardy fuchsias because they are great for filling out the garden bed and will add lots of color when they are in full bloom.
There are thousands of species of begonia and they come in just about any color under the sun including white, yellow, green, pink, purple, and red flowers.
Begonias will grow well in the same garden bed or containers as your fuchsias because they flourish in areas with lots of indirect sunlight and they also require moist but free-draining soil.
When you are pairing these companion plants with fuchsias, you should be mindful of their flower colors and heights. Dwarf varieties of fuchsia will grow up to three feet tall and can be grown amongst tall varieties of begonia because they can have a similar height. Most fuchsia species do however grow to become much taller plants and should be established behind your begonias.
Hostas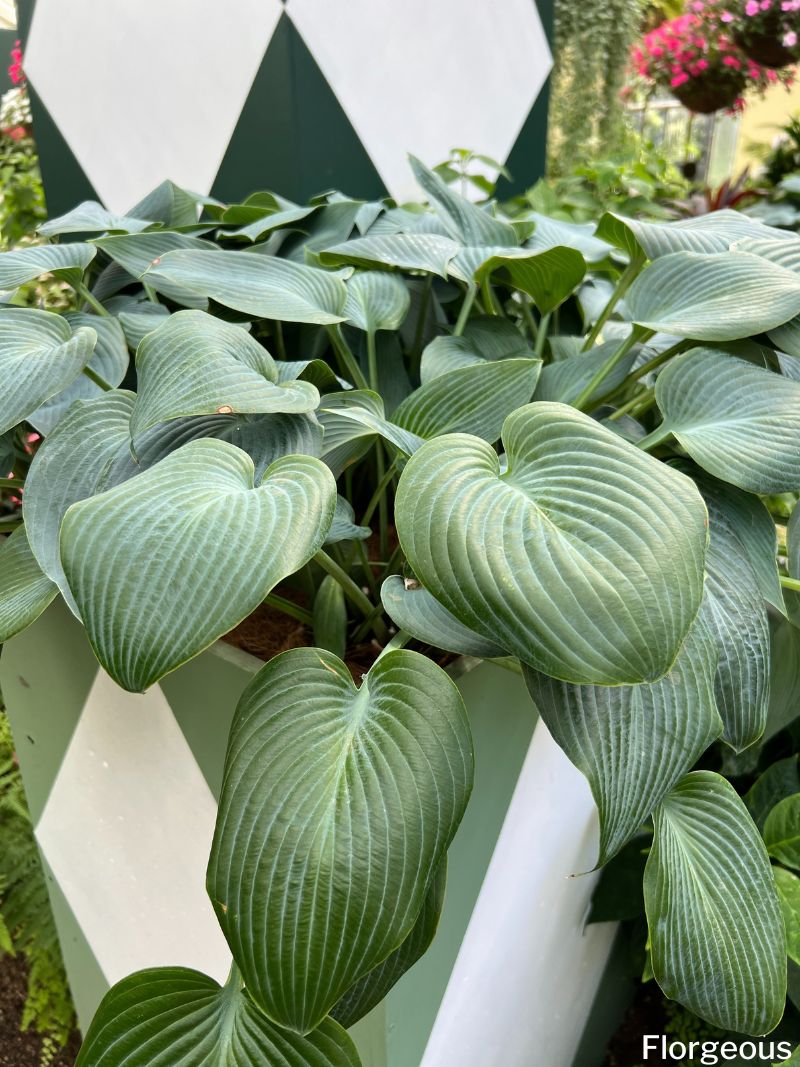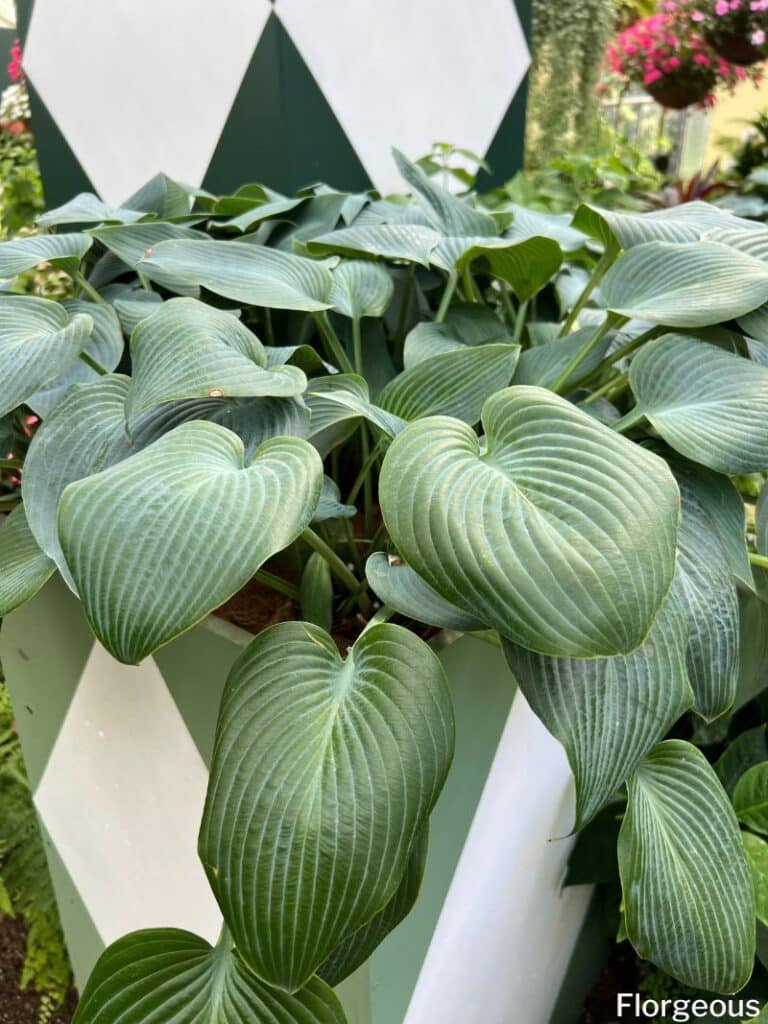 Hostas (Hosta), also known as plantain lilies, are every gardener's best friend because these foliage plants can grow so well in shaded garden areas. Some varieties of hostas can even survive and flourish in deep shade. But because fuchsia flowers require a little bit of sunlight, it is usually better to pair yellow-tinted varieties of hostas with your fuchsias.
Hostas are excellent for filling out your garden bed and they can also grow well in containers and are useful as border plants.
Hostas will grow well in any cool area with free-draining soil that is kept moist which is why they make such good companion plants.
Because hostas are generally shorter than genus fuchsia, it is usually best to grow them in the front of these shrubs or all around them.
Rhododendrons
Rhododendron flowers (Rhododendron catawbiense), also often called mountain rosebay or rose bay are terrific evergreens to include in your garden if you want to create some shade for your fuchsias.
These shrubs produce vivid clusters of white, red, pink, yellow, purple, magenta, orange, and blueish flowers that can add lots of color to your garden.
The flowering bushes should be planted in full sun or they won't produce as many beautiful blooms. They also grow well in moist, free-draining soil with lots of organic matter.
When you pair these two plants in the same garden bed, you should establish the taller rhododendrons in the center with lots of fuchsia plants all around them.
The fuchsias will benefit a great deal from the shade that the shrub produce and the combination of flowers will look absolutely stunning.
Creeping Jenny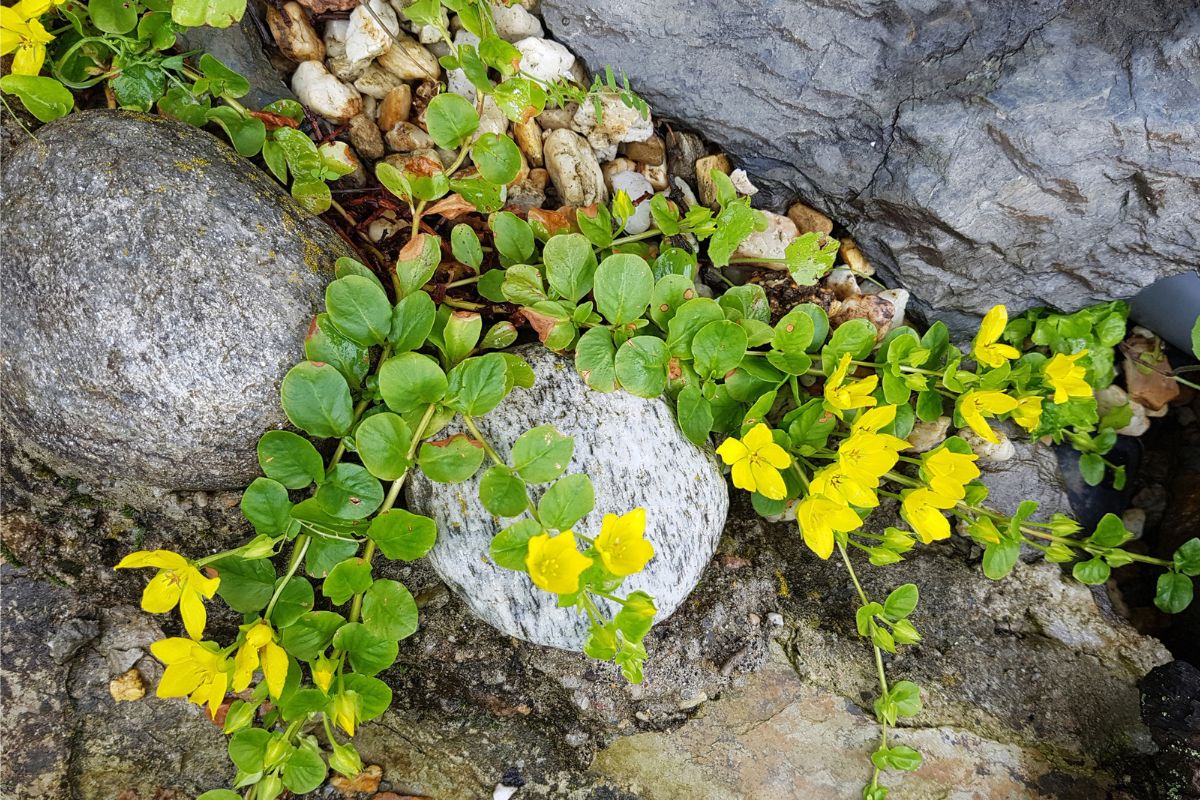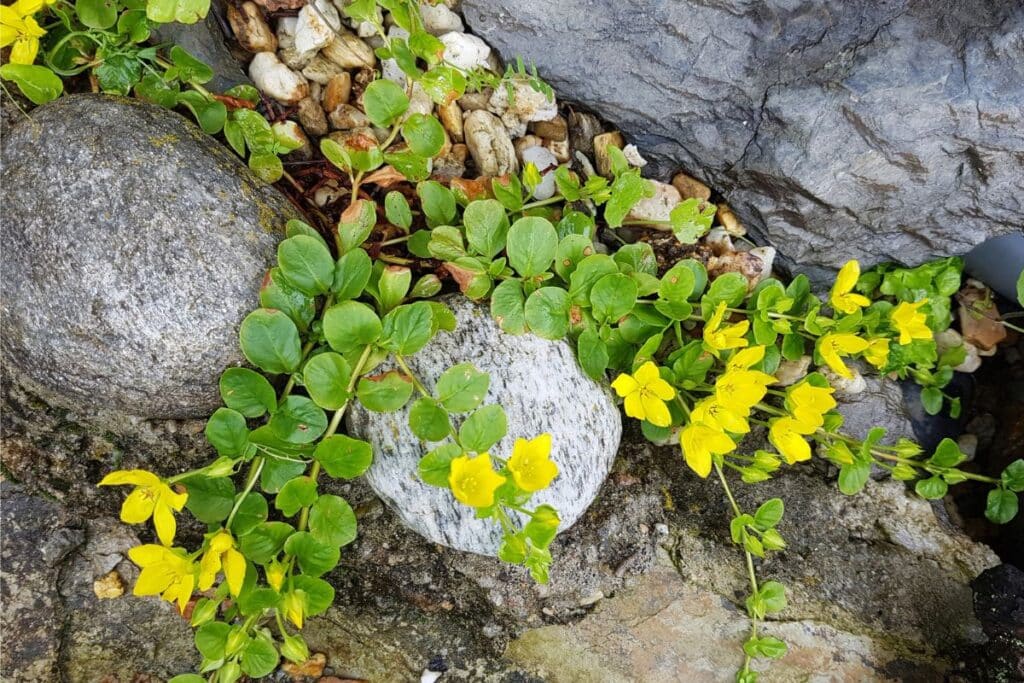 Creeping jennies (Lysimachia nummularia) can be wonderful companion plants to include in a hanging basket of fuchsias.
These vivid green creeping plants will look rather striking as they peek over the edges of your container and will add lots of contrast underneath the fuchsias and will keep your garden nice and vivid even in winter.
Creeping jennies can grow in full sun but they will also grow well in the light shade produced by your fuchsia plants. These foliage plants also need regular watering and should be established in moist, well-draining soil.
When you are doing companion planting in hanging basket arrangements it is best to pair dwarf varieties of fuchsia with jennies so the shrub won't become too large. Both of these plants can also be positioned indoors as long as you place them in a sunny window.
Gardeners also love to add lots of creeping jenny plants all around hardy fuchsia plants because they act as ground cover and will look rather striking underneath any larger plants.
What NOT to Plant with Fuchsias
Because fuchsias don't grow too well in sunny spots, it is usually best to avoid all sun-loving plants.
Just about all types of vegetable plants are not likely to grow too well in the shaded areas that fuchsias love so much. You should also avoid full sun varieties like bee balm, hibiscus, cardinal flowers, and rose mallow.
Fuchsias will also die out if their root systems become too dry. You should also try to avoid drought-tolerant plant species like lavender, coneflowers, or wild garlic next to your fuchsias because these plants are very prone to root rot if they are grown in moist conditions.
Final Thoughts
Fuchsias are shade-loving plants that can look even more striking if they are paired with other ornamental plants like begonias, hostas, coral bells, creeping jenny, rhododendrons, and many other low-maintenance species.
These cheerful flowers and all of the companion plants we mentioned in this list are sure to brighten up your garden and can bring lots of life as they lure plenty of bees, butterflies, and hummingbirds to your yard.
See more: Fuchsia Flower Meaning and Symbolism