The Japanese are known for their ergonomic and durable approach in designing materials and this is evident in their professional and cultural activities including gardening. Japanese garden tools are among the toughest and most efficient tools every gardener should have and one of them is the favorite, hori hori knife.
The word hori means "to dig" and hori hori is an onomatopoeia for the sound of digging (1). The Japanese originally created the hori hori knife as a digging tool used for extracting plants from the earth but it can also be used for other gardening activities like transplanting, pruning, and weeding. It's also known as a weeding knife or a soil knife.
A true hori hori has a concave 7 inch-long metal blade which is very sharp, serrated on one edge and straight on the other, with a pointed tip, and is attached to a straight wooden handle. It can be made from carbon steel, stainless steel, or aluminum, with varying strength and durability. There are also inch marks on the blade for measurement purposes.
The serrated edge is useful in sawing branches and pruning root overgrowth. The semi-sharp tip of the blade can dig through and pry earth, even tough clayey soil and can easily pull out shallow-rooted or tap-rooted weeds.
The concave shape of the blade provides a good hold of the plant during transplanting and the ruler aids in establishing planting distance or dig depth (2). A jack of all trades, the hori hori knife is definitely the ultimate multi-tool of gardening.
Read on to learn about our top picks for the best multipurpose hori hori knives that will make your gardening life easier and more satisfying!
#1. Truly Garden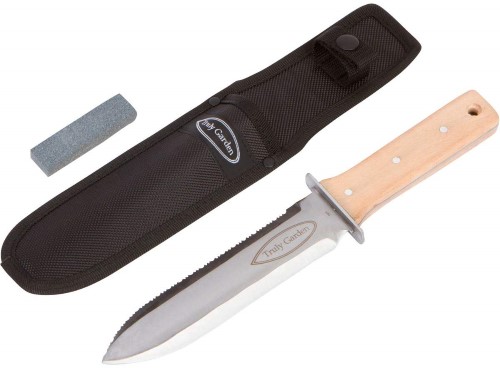 Made by experts of a family-owned business based in California, US, this hori hori is of higher quality than other digging knives. The wood used for the handle is sustainably harvested as certified by the Forest Stewardship Council (FSC). There is also a metal safety guard that will protect your hand from the extra sharp 7-in stainless steel.
You will never have a dull knife for they are including a free diamond sharpening knife rod and for extra protection and safekeeping, there is also a genuine leather sheath. As an added bonus, they have a 30-day money back guarantee and a 5 year warranty!
The only downside to this knife is the blade is kept straight instead of concave so it may not be efficient or useful when handling seedlings during transplanting.
#2. Nisaku NJP650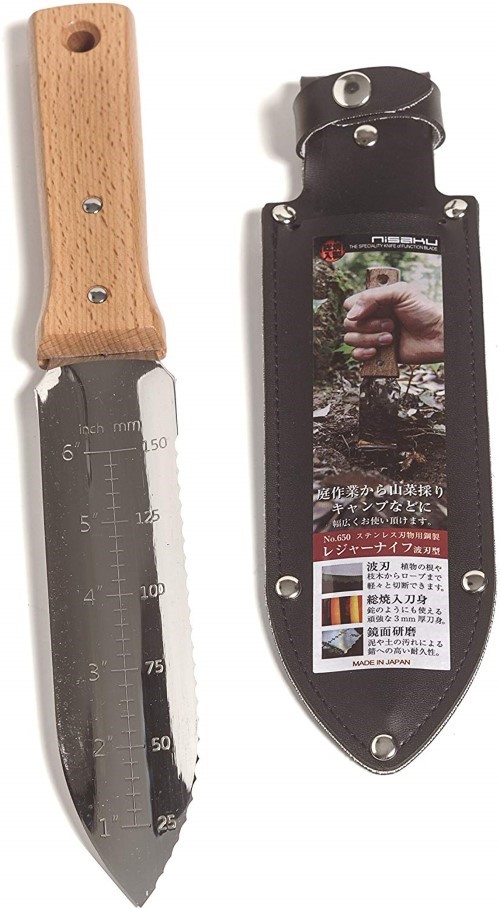 One of the most authentic and sought-after digging knives, the Nisaku NJP650 is considered the standard for hori hori knives. The company promises that the knife blade was made from the finest stainless steel using Japanese trademark manufacturing techniques.
The concave blade may be thicker but they constructed it with a full mid-tang, making the hori hori durable and bend-resistant without being too heavy. They also included a leather sheath which can be attached to your belt with the snap-loop.
This hori hori knife is definitely sharp and sturdy but unlike the Truly Garden hori hori, Nisaku NJP650 does not have a safety guard or sheath protecting the hand from the blade, so be cautious and don't let your hand slip. Also, Nisaku is only giving 2-year warranty for this product.
#3. Lesche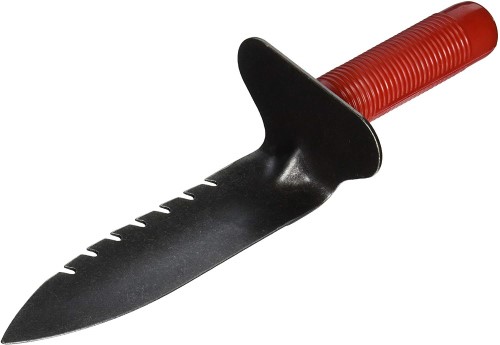 A tool derived from the Japanese hori hori, the Lesche digging tool is made in New Jersey, US but has been recommended in different parts of the world. Like most hori hori, its blade has the optimum 7-in length. Since it is also frequently used in metal detecting, the blade is guaranteed aircraft-quality steel so expect little to no dent at all when prying up rocks and gravel.
There is a blade guard between the blade and the handle and for added safety, the handle is ribbed, preventing your hand from sliding. This tool also comes with the serrated edge on the right side, favoring the left-handed gardener.
Because of its parallel metal-detecting property, the Lesche digging tool is higher priced. They also did not include the signature ruler on the blade of the tool.
#4. Sensei Tools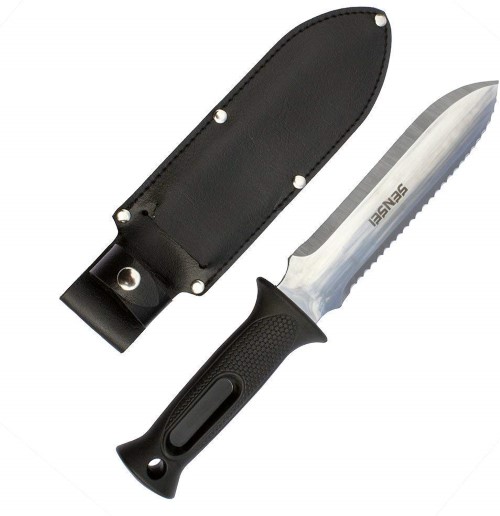 This hori hori knife from Sensei Tools deviates from the traditional look of a hori hori. Although the concave blade still has the signature smooth and serrated edges and depth scale, the total length of the blade is 7.5 inches, allowing you to dig deeper. Instead of a wooden handle, the tang is secured in a contoured plastic handle with a textured finish for a firm grip.
A hard-wearing leather sheath is included and Sensei Tools is also offering a full 90-day, 100% money back guarantee, which isn't necessary at all because this hori hori knife is a definite game-changer.
While the knife itself is of top-quality, the sheath tend to be flimsy and punctures easily with the sharpness of the blade. Aside from this, the knife is priced higher than most hori hori knives in the market.
#5. Black Iron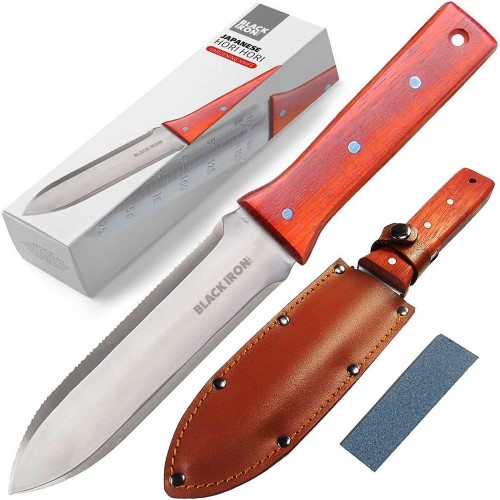 Made of stainless steel for the blade and hard wood for the handle, this Black Iron hori hori distributed by Attican is durable and versatile. Although ideally used for gardening, the knife can be utilized on camping and hunting trips too. This hori hori was constructed with full tang so the blade is secure and will not wobble while digging or weeding.
The knife can perfectly cut through grass sods so it's very helpful when regrassing small parts of your lawn. It comes with a sheath that has a loop securing the knife in place and another loop that can be attached to your belt for carrying.
There are some concerns about the handle of the Attican hori hori wherein some loose wooden fiber causes splinter and the tang along the handle protrudes thus nicking the hand.
#6. Nisaku NJP800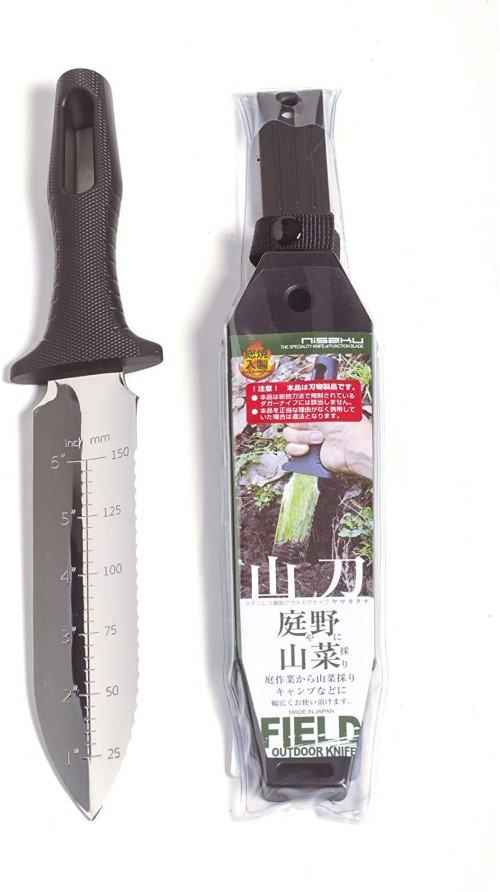 Another entry from the Japanese company, the Nisaku NJP800 is almost identical to the NJP650 with a modified feature. The remarkable stainless blade is still present but it is now attached to a slim black plastic hilt constructed with a guard and a long hole on the base, probably for hanging.
Instead of leather, the sheath is also made of hardened plastic to match the handle and to provide sturdier and longer-lasting blade protection. The overall slim design of this hori hori knife makes it light and more comfortable to use.
Although the handle proved to be ergonomically superior, there may be some concerns in the long run since the partial tang is quite short to provide strong support or balance, especially with a thin plastic handle causing breakage or deterioration over extensive usage.
#7. Garden Guru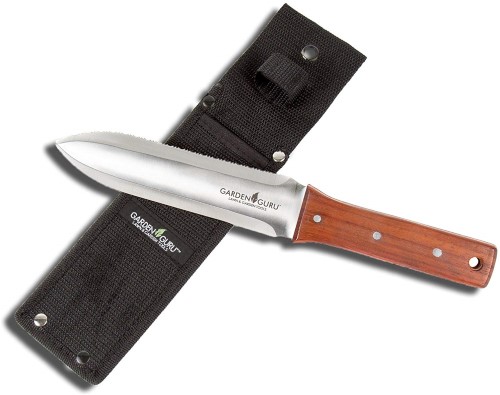 One of the cheaper priced hori hori knives in the market, the Garden Guru hori hori does not compensate with quality. Stainless steel will last for many years without rusting, very durable and less likely to break under pressure. The traditional look is still present thus very efficient in digging, weeding, and even scooping fertilizers!
The tropical rose hardwood handle is treated to resist decay and provide a stylish accent. Garden Guru offers a 30-day no questions asked return policy and this hori hori knife is covered by a lifetime guarantee.
The sheath provided with the knife is made of nylon, it does protect the blade but deteriorates fast, especially when the hori hori is constantly in use. Also, the red-colored handle may look elegant but the tang may not be as secure as it should be that over time, it will make a rattle when digging.
#8. Hedge Hunter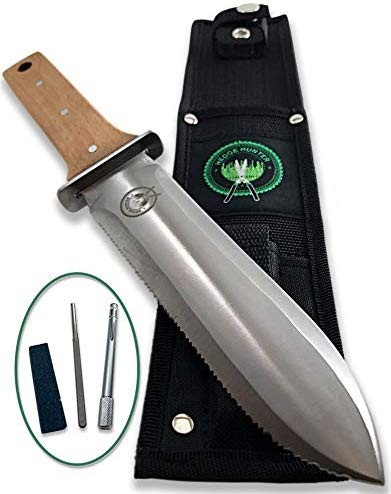 This Japanese inspired is made with heavy-duty stainless steel from the blade itself to the full tang. As the handle, Hedge Hunter used smooth beech and they also installed a stainless steel hand guard for protection!
Along with the knife are a waterproof black nylon sheath, a diamond sharpening rod, and a whetstone! The sheath has a small compartment for these extra tools so you can conveniently sharpen your hori hori on the go and with a clip attached to the back of the sheath, it can be carried on your waist belt too.
The Hegde Hunter hori hori sheath may seem perfect but it also has its drawbacks. Both smooth and serrated edges of the knife are sharp and since the sheath is made of nylon, the blade, especially the serrated side easily catches on and slices through the threads.
#9. A. M. Leonard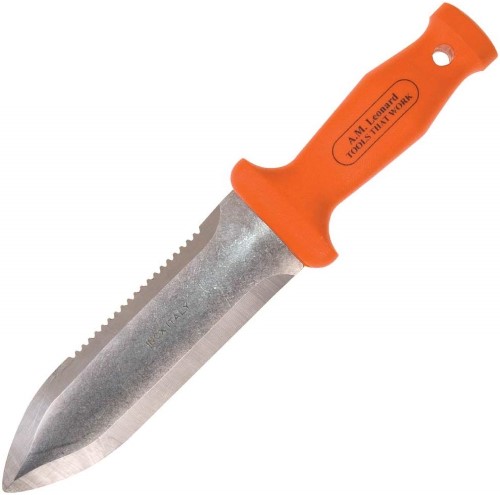 The A. M. Leonard Classic soil knife has a 6-in blade and may be shorter than most hori hori knives but it is one of the most durable and impressive ones. The blade is tough, being able to cut through any type of soil with its 300 lbs. pressure threshold.
The ergonomically contoured plastic handle is brightly colored too so you can easily find it among the mostly green and brown garden. The National Home Gardening Club is a fan of this hori hori and recommends it for rock removal, plant division, and cutting soft branches and woods.
Despite its efficiency in most gardening work, the blade of the knife, particularly the serrated side tends to be a bit dull. The fine serration does not work well on relatively thicker branches and roots.
#10. Cielcera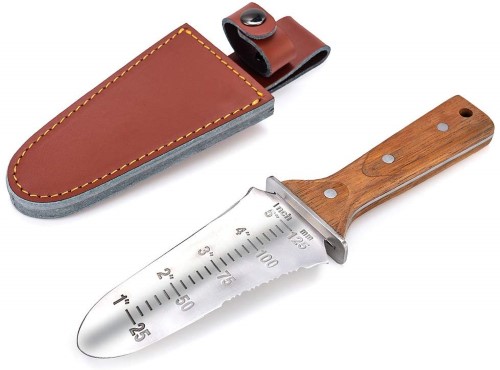 The Cielcera hori hori is very hand and light. It has a polished 420 stainless steel blade that efficiently digs and loosens the soil for cultivation and planting. Its full tang wooden handle is smooth and comfortable to hold and it comes with free leather sheath and sharpening rod.
This hori hori is the cheapest and shortest on the list. The working blade edges have one 5-inch serrated side and another 3-in sharp cutting side. It does not have a pointed tip so it definitely looks more like a trowel.
Since most gardeners are used to the traditional 7-inch blade that can dig deeper, the short blade on this hori hori may not be well-received. The rectangular handle may also feel awkward and does not offer slide resistance in the absence of ridges.
#11. BlizeTec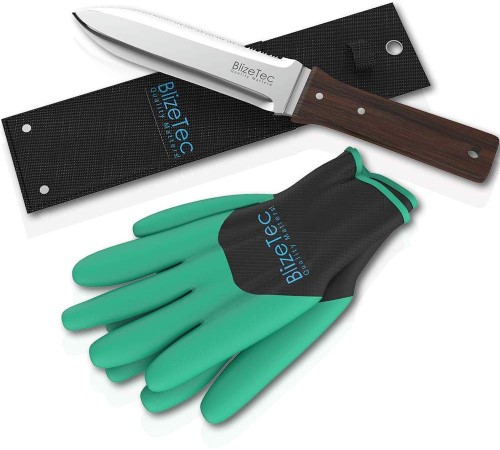 BlizeTech offers a decent hori hori knife at a cheaper price. It is made of anti-corrosive stainless steel and durable and stylistic wenge wood handle. The straight and traditional look of the knife works well for all types of gardeners, both left and right-handed.
There is an included heavy duty nylon sheath that fits the hori hori snugly and a pair of durable gardening gloves to protect your hands from dirt and chemicals. BlizeTech is also offering a lifetime warranty for this digging tool, just bring your proof of purchase.
This hori hori is designed with a partial-tang only so it is not advisable to use in extreme digging activities. It may lead to snapping of the blade or it will loosen the rivets causing an irritating rattle. As with most nylon sheaths, cuts on fibers leading to hole are inevitable through time.
See more: How to prevent weeds in flower beds
References
Reference List:
(1) Gattone, T. "The Lifelong Gardener@ Garden with Ease and Joy at Any Age." Timber Press. 2019. P. 216.
(2) Rugg, J. "Turning that Thumb Green." Creators Publishing. 2015. P. 79.

Close