There is absolutely nothing creepy about Creeping Jenny (Lysimachia nummularia). This gorgeous creeping plant with its delicate golden yellow foliage is very popular in ornamental gardens. The plant will add plenty of contrast to your garden and is very useful as ground covers to keep the soil cool and moist.
When this foliage flowers it will produce plenty of bright yellow flowers that can add lots of visual interest to your garden.
Creeping Jenny looks its absolute best if it is paired with other plants such as begonias and coral bells that can make the vivid yellow foliage stand out or that can complement this creeping plant in some way.
In this guide, we are going to discuss some of the best companion plants to grow along with golden creeping jenny if you want to create a vivid and striking garden.
What to Plant with Creeping Jenny
Creeping Jenny, also known as herb twopence, moneywort, and twopenny grass, is quite a versatile plant that is frequently used around fish ponds, amongst stepping stones, in hanging baskets, or inside mixed containers as spillers.
This ornamental plant thrives in high-rainfall locations and it can grow well in damp areas. It will grow well in semi-shade but can also tolerate full sun and it will survive in any soil type that is kept moist.
If you are looking for plants that can grow well with this creeping foliage then you should keep an eye out for species that can flourish in the same dark and wet conditions that Lysimachia nummularia requires.
Let's explore some of the best plant species that can grow well in moist soils, survive with limited sunlight, and will look great alongside creeping jennys.
Tickseed
Tickseed (Coreopsis verticillata), also known as moonbeam coreopsis is a good plant to include if you want to add lots of color to your garden bed.
This plant produces white flowers with yellow centers that compliment the vivid leaves and yellow flowers of creeping jenny very well. Other varieties of Coreopsis with rose-colored, lavender-tinted, or yellow flowers, can also look quite striking next to creeping jenny.
Coreopsis grows well in full sun and well-draining soil. They can tolerate dry conditions but will also grow well in moist soil that creeping jenny rely on.
Some tickseed varieties can get rather tall with a height of up to 1.2 meters. Their taller stature makes them ideal companions because these taller flowers will create plenty of shade to keep the creeping jenny plants around the base of the tickseed protected.
Dwarf tickseed varieties will only grow 2.5 feet tall but even this height is ideal for creating dappled shade to shield your creeping plants.
Japanese Blood Grass
Japanese blood grass (Imperata cylindrica), also known as cogon grass, is a perfect companion to consider when planting creeping jenny because the vivid red grass blades will create a striking contrast behind the yellow foliage of your creeping jenny.
These perennials produce light red foliage that turns blood red as it matures. This blood-red tint will look striking in containers with lots of creeping jenny flowing over the side.
This ornamental grass variety grows very well in the same moist and well-drained soil conditions that creeping jenny requires. Even though cogon grass prefers plenty of direct sun, it can also grow well in light shade.
To grow creeping jenny and Japanese blood grass together, you should establish them close by in the same container or in the same bed. The vivid red stalks paired with yellow foliage will provide year-round interest and is perfect for creating a vivid garden.
Begonias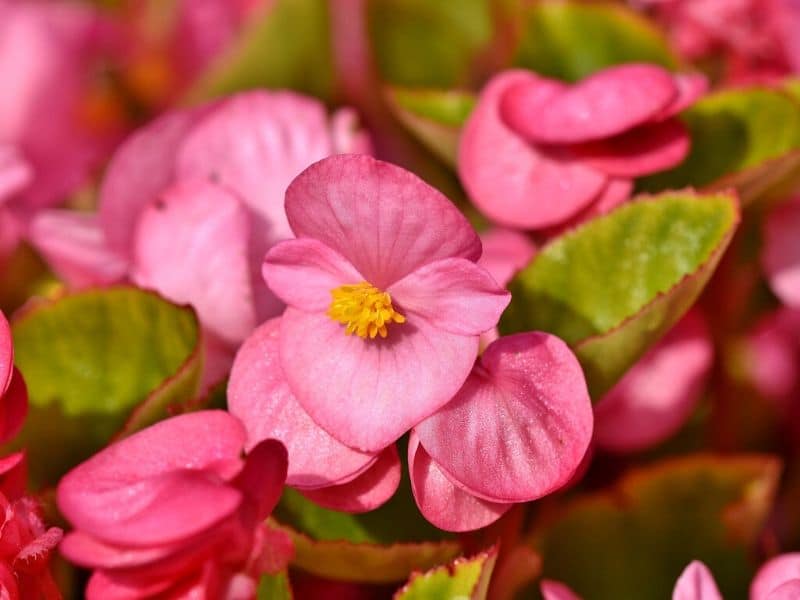 Begonias (Begonia) are a good option if you want to add lots of vivid flowers to your garden. There are over 1000 species of begonias to choose from including flowers of just about any color imaginable.
Most varieties of begonias will start to bloom in early summer until late winter. Some species can however bloom in early spring. These perennials will add lots of color to your garden during the flowering season. 
The evergreen perennial plants will also add lots of winter interest when the bright yellow creeping jenny foliage peeks out from underneath the dark green foliage of begonias.
Begonias have a very similar growing requirement as creeping jenny. They require semi-shade with lots of indirect light and they require moist but well-draining soil.
Begonias and creeping jenny are good companions because the creeping plants will create a dense mat around the base of your begonias and act as a groundcover to keep the soil moist.
Coral Bells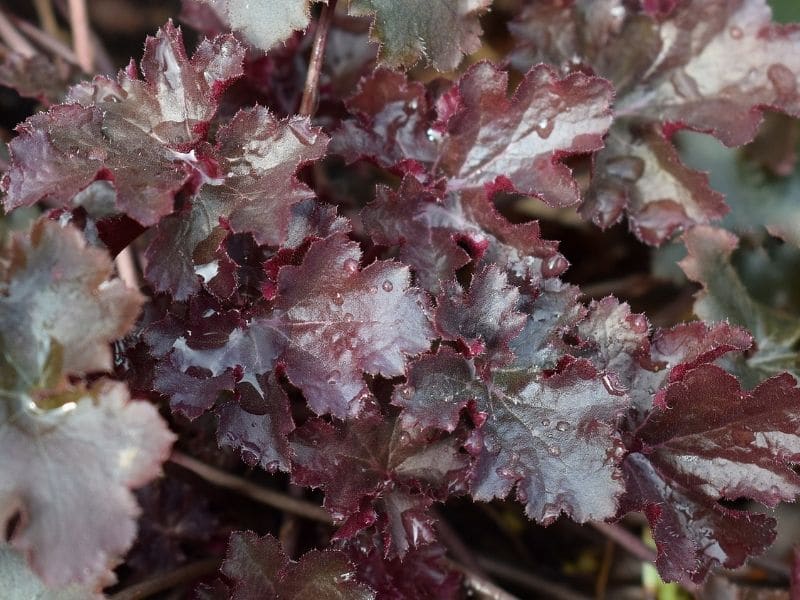 Coral bells (Heuchera) are terrific perennials to select if you want to create more contrast in your garden. These evergreen perennial plants produce colorful foliage in shades that include dark green, vivid red, dark purple, and even brown tones.
The combination of these colorful leaves will look rather striking with bright yellow creeping jennies underneath them.
Coral bells can handle the heat and high humidity levels very well but they prefer partial shade and grow their best in well-draining moist soil. They can survive spells of drought but it is best to keep them, and your creeping jenny plants nice and moist.
Coral bells are bushy plants that can reach a height of 6 – 16 inches tall. They are not very tall but are still much taller than the low-growing jenny plants. The best way to pair these two plants is by adding lots of creeping jenny plants around the base of your coral bells.
Coral bells and creeping jenny plants can also be paired in containers with the coral bells as filler plants and the creeping jennys as spillers. This is ideal for creating striking container arrangements.
See more: Companion plants for coral bells
Coleus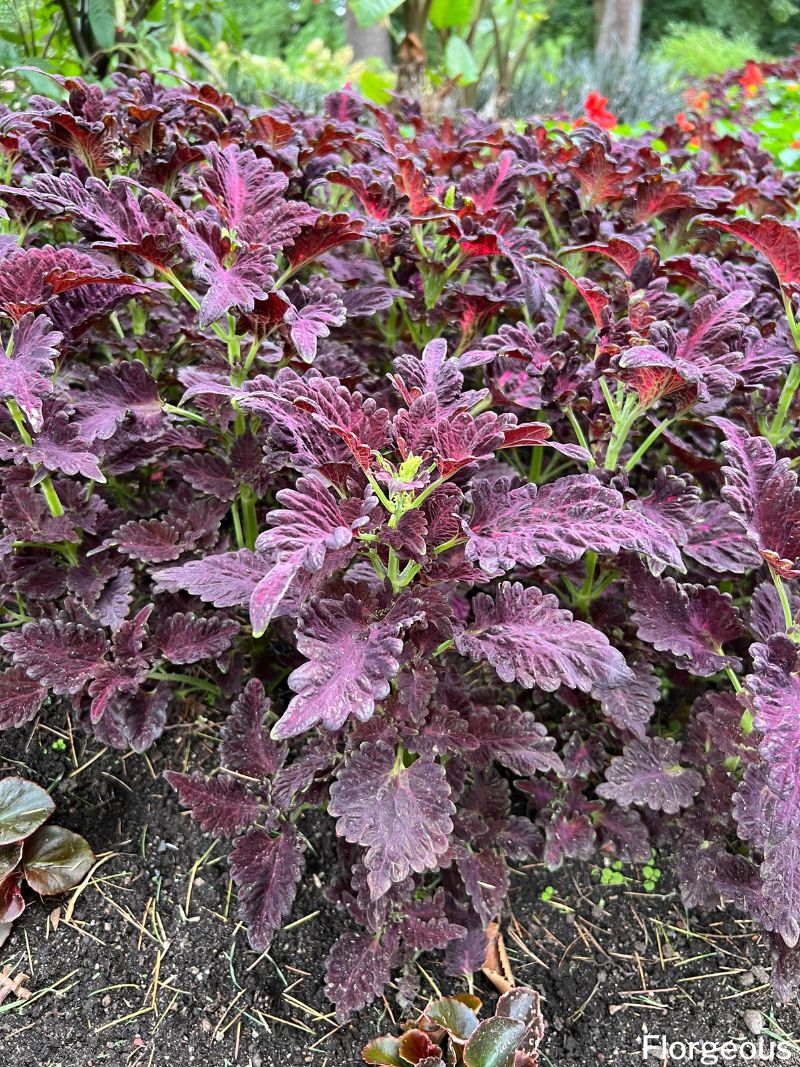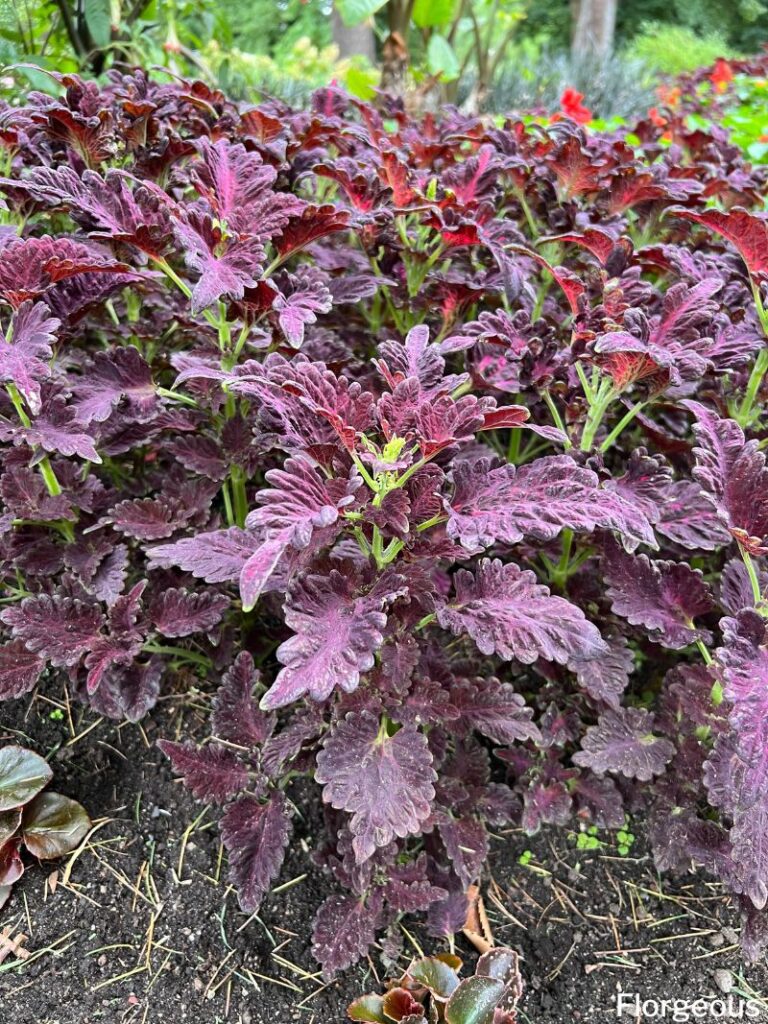 Coleus (Coleus scutellarioides) is also a good foliage plant to consider if you want to add lots of color to your garden. These bold plants produce vivid green leaves and bright red centers. The vivid colors can look rather striking alongside other bright plants like jenny plants.
Coleus foliage can grow well in the direct sun if kept moist but it can also grow healthy in shaded areas. They require moist but well-draining soil and can look terrific as a border plant or in containers.
In sunny garden beds, it is best to add lots of coleus plants all over the garden bed so you can create plenty of shade for the creeping jenny plants. In shaded areas, you can add this foliage a little bit more sparingly so it will still get plenty of indirect light.
These two plants are ideal for cottage gardens and are helpful in creating attractive containers with the coleus as the filler plant and creeping jenny as the spiller plant.
Ferns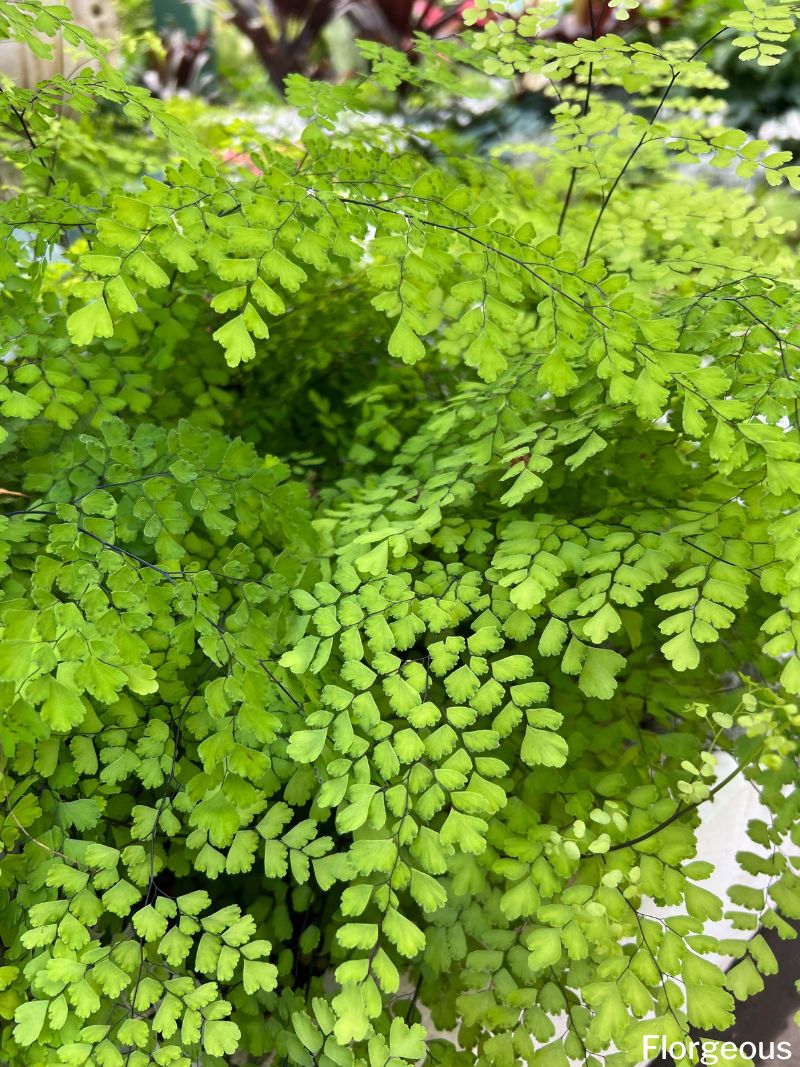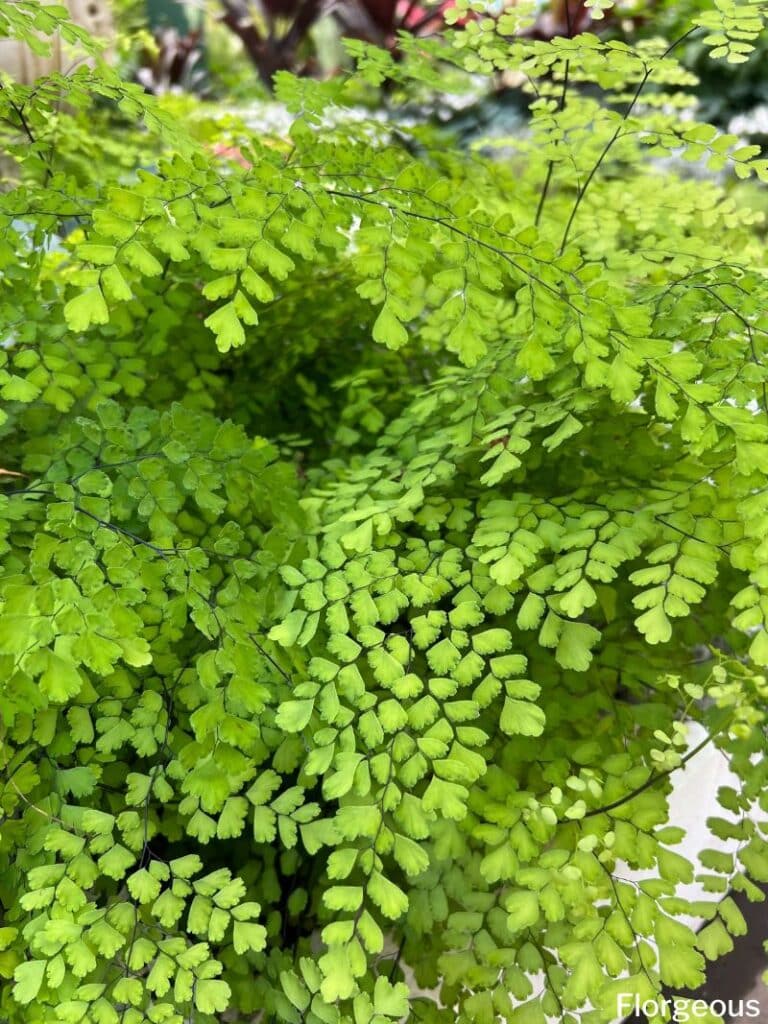 Most fern species (Tracheophyta) can be successfully established in the same area as creeping jenny foliage. The delicate and wavy leaves of ferns will add lots of texture to your garden while the striking golden creeping jenny leaves can keep the soil around the base of your ferns cool and moist.
You can also grow ferns in garden pots with creeping jenny as filler and spiller plants to enhance the aesthetics of your container displays.
Most fern species prefer shaded environments with lots of natural light. These plants tend to die in direct sun and they also require moist soil and humid environments.
You can pair all sorts of striking fern varieties with creeping jenny plants. Taller varieties like ostrich fern or medium-height varieties like cinnamon fern will look rather striking with the vivid creeping jenny plants underneath them.
It might be best to avoid pairing dwarfed fern varieties like lemon button fern or fluffy ruffle fern in the same area because ferns are slow growers that might be overpowered by the creeping jenny plants.
If you do pair shorter ferns in the same garden bed then you will need to take care to leave plenty of space so both of these plants can get enough indirect natural light.
What NOT to Plant with Creeping Jenny
Not all plant species will develop well in the moist and humid conditions that the golden creeping jenny requires and some are poor companions because the fast-growing creeping jenny foliage can easily overpower other plants that might have a slower growth rate.
Here is a quick look at some plant species that you shouldn't pair in the same garden.
Sun-Loving Drought Tolerant Plants
Any plant that requires lots of sun and sandy dry soil won't grow well in the same container or garden as creeping jenny plants.
It is best not to add species like yarrow, lavender, coneflower, sage, or other drought-tolerant ornamental grasses in this type of garden bed.
Other Ground Cover Plants
Creeping jenny is a rapid-growing plant that reaches a maximum height of 4 inches tall. If you pair other types of ground covers in the same garden bed the creeping jenny can easily overpower them.
Plant varieties like archangels will quickly start to compete for space which can affect the health of both plants.
Final Thoughts
Creeping jenny plants are very useful as ground protectors to keep the soil moist so other plants like tickseed, Japanese blood grass, begonias, ferns, coleus, and coral bells can stay nice and healthy even in extreme heat. This plant will also add plenty of color to your garden bed, especially if you pair it with vivid flowers or colorful foliage.
We hope that this creeping jenny companion plants guide made it a little bit easier to choose suitable companions for your garden bed or containers. And if you are also growing other plant species in your garden and need some complementary species for these other plants then you should have a look at some of our other companion planting guides.
With our site, you can find the best-growing advice for all types of gardens and plant species.
*image by PantherMediaSeller/depositphotos