No one wants to spend hours weeding their garden. The best groundcover plants are ones that offer a low-maintenance alternative to traditional lawns and flowerbeds. These plants can be used in nearly any area of the yard, and some even have edible parts!
Groundcovers are versatile and come in a variety of shapes, sizes, and textures. With so many options to choose from, it can be difficult to decide which ones will best suit your needs.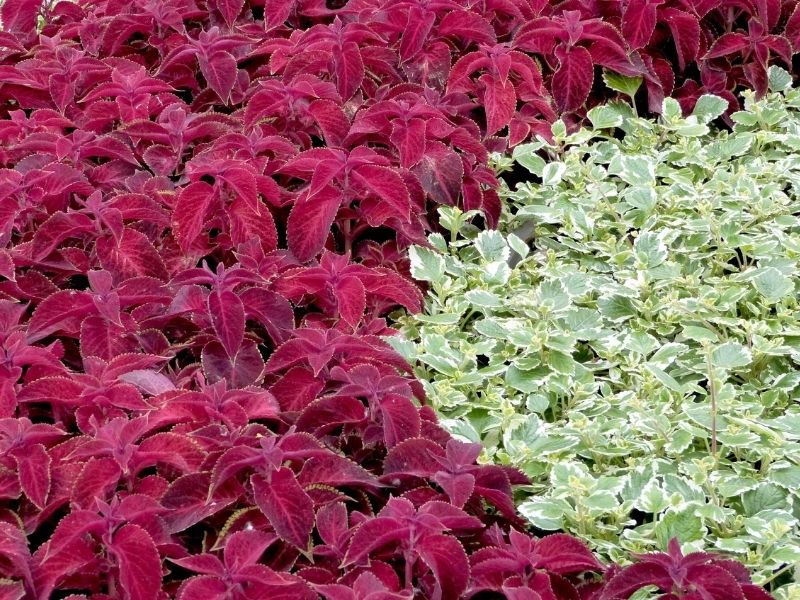 Here are some of the best choices so that you can narrow down your list—and start growing some gorgeous groundcovers ASAP.
How to Find the Best Groundcover Plants
Technically, a plant isn't designated as a "groundcover plant." What makes it a good groundcover species is its ability to grow low (usually less than 24 inches) and spread easily.
Otherwise, consider where you will be planting your groundcover plants. You will want it to grow dense enough, so you don't have to worry about weeds but also consider those that best suit the planting location.
Think carefully about whether you have a south, west, north, or east exposure and whether it's hot and dry or cool and moist (or a combination).
Of course, think about how much sun reaches the area, too!
#1. Nepeta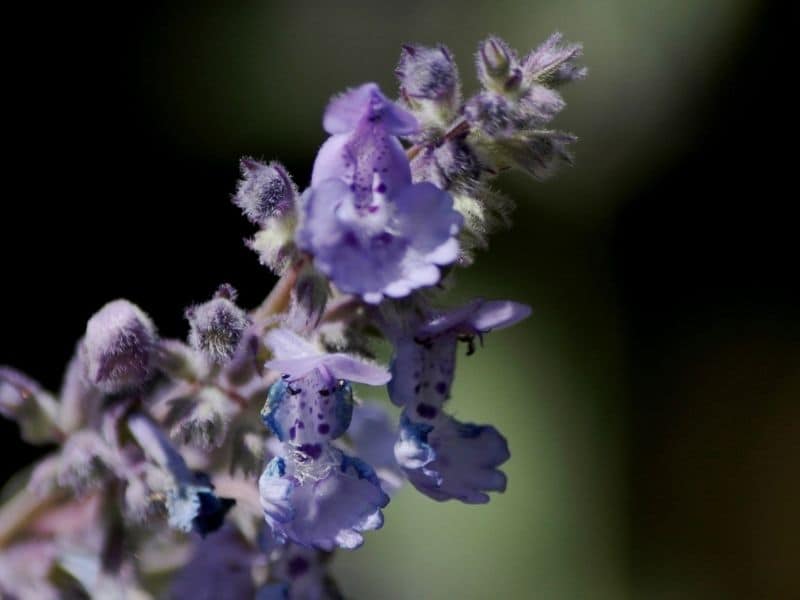 Nepeta is not the most common groundcover plant, but it's one you need to consider if you want to make a sharp statement. This plant, sometimes called nepeta catmint, is a hybrid that is sterile. The genus is large, containing about 250 different species, most of which are perennials.
If you're looking for a good groundcover, the best option will be Nepeta x faassenii, since it can crowd out weeds.
It grows best in full sun to partial shade and prefers soil that is a bit on the dry side.
#2. Creeping Juniper
One of the best evergreen ground covering plants, this plant can be found in all kinds of sizes and shapes. It is tough and tolerant of most conditions, including poor soil, drought, and the hot sun. It forms a dense mat, making it tough for weeds to break through. It grows best in full sunlight.
#3. Wall Germander
A highly unusual plant, wall germander is a broadleaf woody-stemmed evergreen that is easy to grow en masse. Because of this, it's often grown as a hedge and can reach up to 12 inches tall with a 24-inch spread.
#4. Lily of the Valley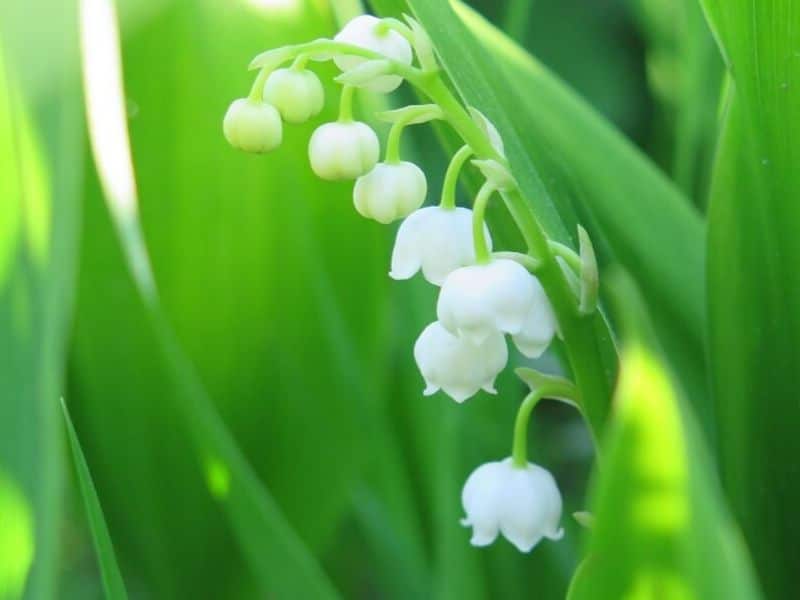 Lily of the valley is the ideal groundcover flower to consider growing if you prefer gardening in the shade. This sweet-scented perennial spreads rapidly and will quickly grow to fill in any areas you need it to. It has lovely white bell-shaped flowers surrounded by strappy green leaves and can handle a bit of morning sun if necessary, too.
#5. Lavender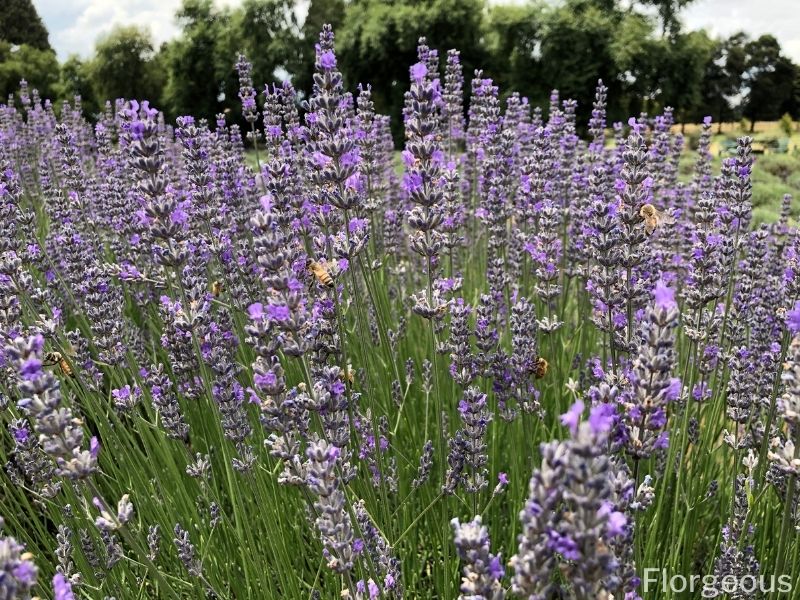 Looking for an herb that can be grown as a groundcover? Consider lavender! This sweet-scented perennial will lend your landscape a more calming effect, and it looks fantastic planted in large groups. Though admittedly not low-growing, this plant prefers well-draining soil and full sunlight to thrive.
#6. Dead Nettle
Also known as Lamium, this low-growing perennial has lovely purple, white, and pink flowers along with silver-speckled leaves. It grows best in the spring but will keep blooming all the way into early summer. It is another shade-tolerant plant.
#7. Aronia
A great groundcover plant for full sun, Aronia is technically a shrub. It is a native plant that produces lovely white flowers and glossy green foliage. It forms a dense hedge that thrives in all kinds of soil as well as in full sunlight.
#8. Ajuga
This plant is a groundcover option that is prized for its foliage! It has glossy leaves that can be found in a variety of shades, including bronze, deep green, and even chocolate brown. It grows low to the ground, making it a good alternative to grass in just about any climate. It also produces lovely purple, white, blue, or pink flowers in the summer.
#9. Creeping Phlox
Creeping phlox is the quintessential ground cover plant. In fact, this short, squat plant is often seen dotting hillsides or banks. It needs occasional watering during dry spells and is hardy in USDA zones 3 to 9.
#10. Sedum
Sedum is an easy-to-grow plant that grows well as a groundcover. It has fleshy leaves that hold water easily through dry spells. While it sometimes produces nice-looking flowers, it is best known for its colorful foliage, which can be found in a diversity of shades ranging from bronze to chartreuse.
#11. Creeping Thyme
Creeping thyme produces low-growing mats of tiny purple (or sometimes white) flowers in the late spring. Perfect for pollinators, this plant can easily be grown as an alternative to regular grass.
These purple ground cover flowers thrive in full sun, grows well in poor soil, and is even drought-tolerant once it is established, making it the ideal plant for the low-maintenance garden.
#12. Amethyst in Snow
Another popular plant to grow is Amethyst in Snow. This groundcover is an upright perennial, bearing attractive and highly unique flowers that are sure to catch your eye. It's easy to care for and can be controlled simply by pulling stray shoots.
#13. Oregano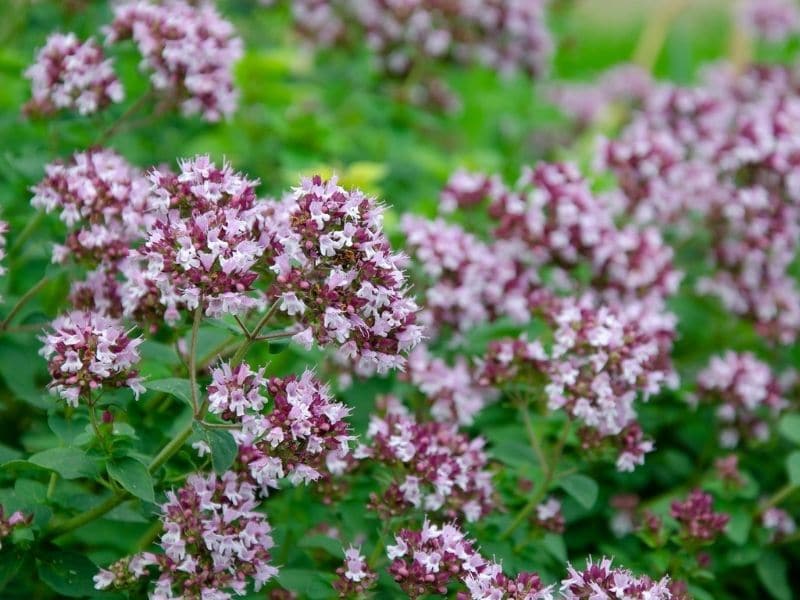 Another herb you might consider growing as a full-sun ground cover is oregano. This plant forms dense clumps of heavenly-scented foliage that you can also harvest and use in your kitchen. Oregano grows best in full sun and will attract all kinds of pollinators to your lawn and repel mosquitoes at the same time.
#14. Thrift
A relatively uncommon perennial, thrift grows in tiny mounds of grass-like foliage. In the late spring, small ball-shaped blossoms will appear. It grows best in partial to full sun.
#15. Sweet Alyssum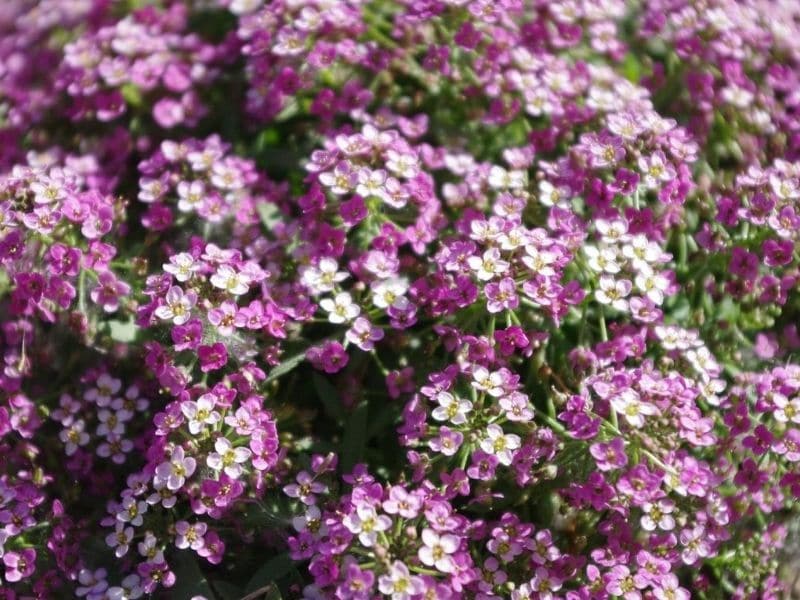 An annual that grows remarkably fast, sweet alyssum will look lovely tumbling over a rock wall or when used as an edging plant. It grows rapidly, spreading into a mound that will attract all kinds of pollinators to your property. 
#16. Mondo Grass
Mondo grass is a glossy, strappy-looking green that grows best in southern states, though it can technically be grown just about anywhere. It grows in small clumps up to 16 inches high and in moist soil, preferring full to partial sun in most cases. 
#17. Epimedium
Also known as Bishop's cap, this plant thrives in dry conditions and is remarkably cold hardy. It can be grown in partial shade and produces lovely purple flower ground cover and green leaves along with early spring flowers that look just like the wings of fairies.
#18. Siberian Cypress
This plant is cold-hardy, yet another evergreen that you can grow as a garden cover plant. You can plant it in large groups and use it to prevent erosion, or really plant it as a groundcovers just about anywhere in your full-sun garden.
#19. Ferns
Although ferns are known for being more on the statewide size, there are plenty of low-growing ferns that you can grow as ground cover alternatives to grass.
When planted in groups, fern looks absolutely lovely as a low ground cover and will be easy to care for, especially if you have moist soil and full shade.
#20. Irish Moss
Irish moss is an attractive groundcover plant that produces elegant moss-like foliage along with tiny white flowers in the spring. It grows best in full sun but requires consistent moisture in order to stay healthy.
#21. Lamb's Ears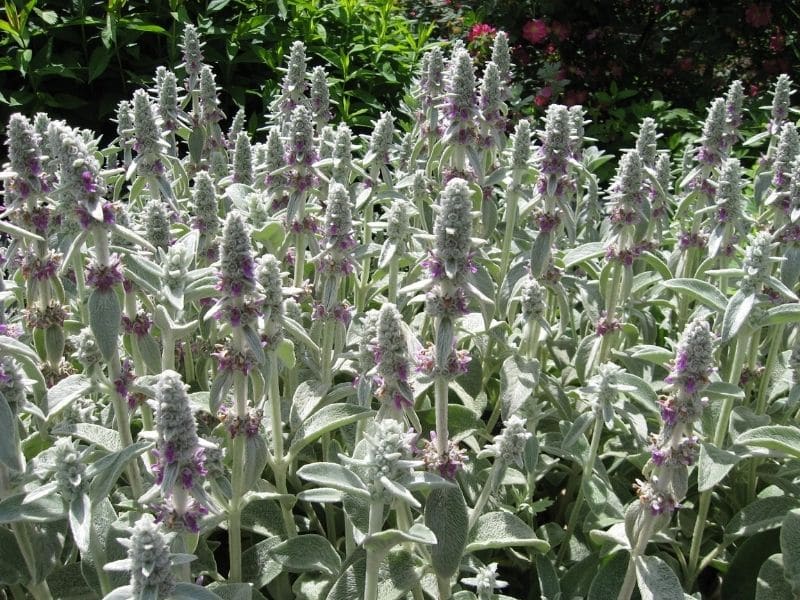 This is a low-maintenance ground cover plant that is so common that it is viewed as a weed by some gardeners. However, you'll love the soft texture and fuzzy appearance of this classic flowering ground cover plant. Lamb's ears have pale green leaves that are adorned with lovely purple-pink flowers later on in the summer.
#22. Basket-of-Gold
A low-maintenance drought-tolerant ground cover, Basket-of-Gold, or Aurinia saxatilis, is perfect for growing at the edge of a rock garden. You can more or less plant it and forget it, providing just a splash of water in the summertime. It is sometimes referred to as yellow alyssum, a reference to the similarities the flowers this plant shares with sweet alyssum.
#23. Sweet Woodruff
A delicate-looking plant, sweet woodruff offers bright white star-shaped flowers. It grows easily in the shade, like under trees, and spreads quickly. It can be mowed, just as many of the other popular fast-growing ground cover species on this list can.
#24. Chamomile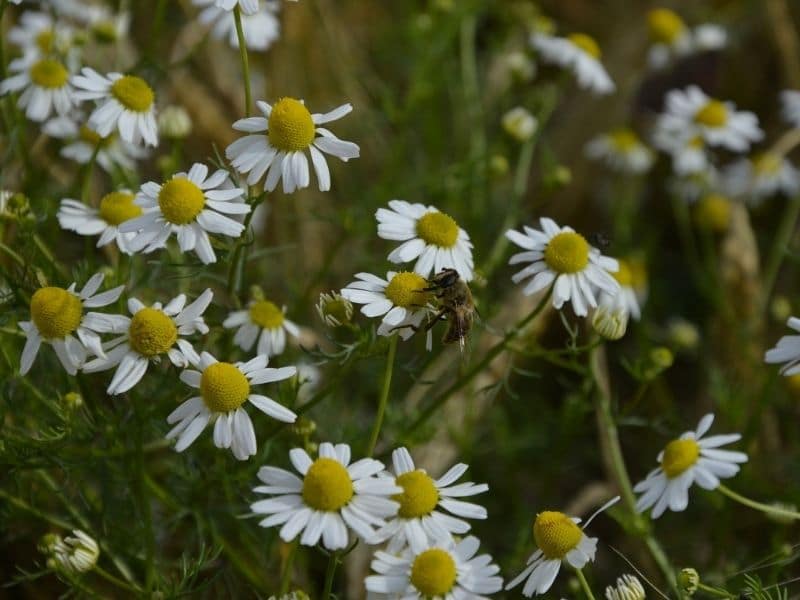 One final herb to consider growing as a groundcover is chamomile. This plant can be grown as a perennial or as an annual and has lovely daisy-like flowers. It needs to be grown in full sun and requires regular trimmings to keep it in check. 
#25. Dianthus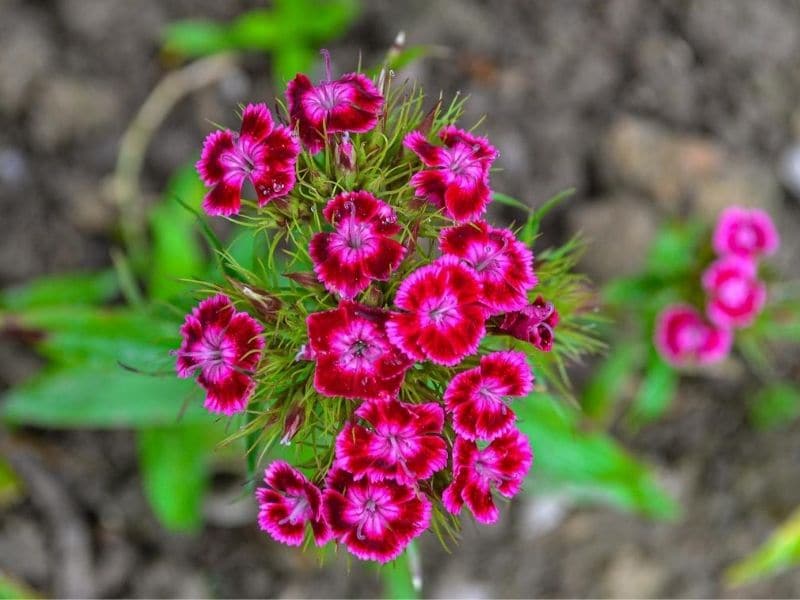 Dianthus is a classic perennial ground cover with a heavenly scent that is reminiscent of vanilla. These flowers are often referred to as pinks and can be found in all kinds of heights, from low-growing to two or more feet tall. Of course, the lower, the better when you're thinking about growing this plant to cover your front and backyard.
Grow These Groundcover Plants for Broad Appeal
When the weather is getting warmer, you might start to think about your garden in anticipation of growing more flowers and vegetables. However, if you don't want to take up all your yard space with plants that grow too tall or wide, there are many other options for ground covering flowers and plants.
These types of ground covers come in a variety of sizes and colors, so you can easily find one that fits perfectly into your garden!