Daffodils (Narcissus pseudonarcissus) are one of the most loved spring-blooming bulbs in ornamental gardens. There are 50 different daffodil species, including varieties with white, orange, pink, and bright yellow flowers.
These flowering plants can bring lots of joy and color when they bloom and are terrific for attracting pollinators to your garden.
Daffodils look their absolute best if you pair them with other plants that can bring out their color and fill out the garden bed.
In this guide, we are going to take a look at some of the best daffodil companion plants to add to your garden or containers if you want a gorgeous early spring garden.
What to Plant with Daffodils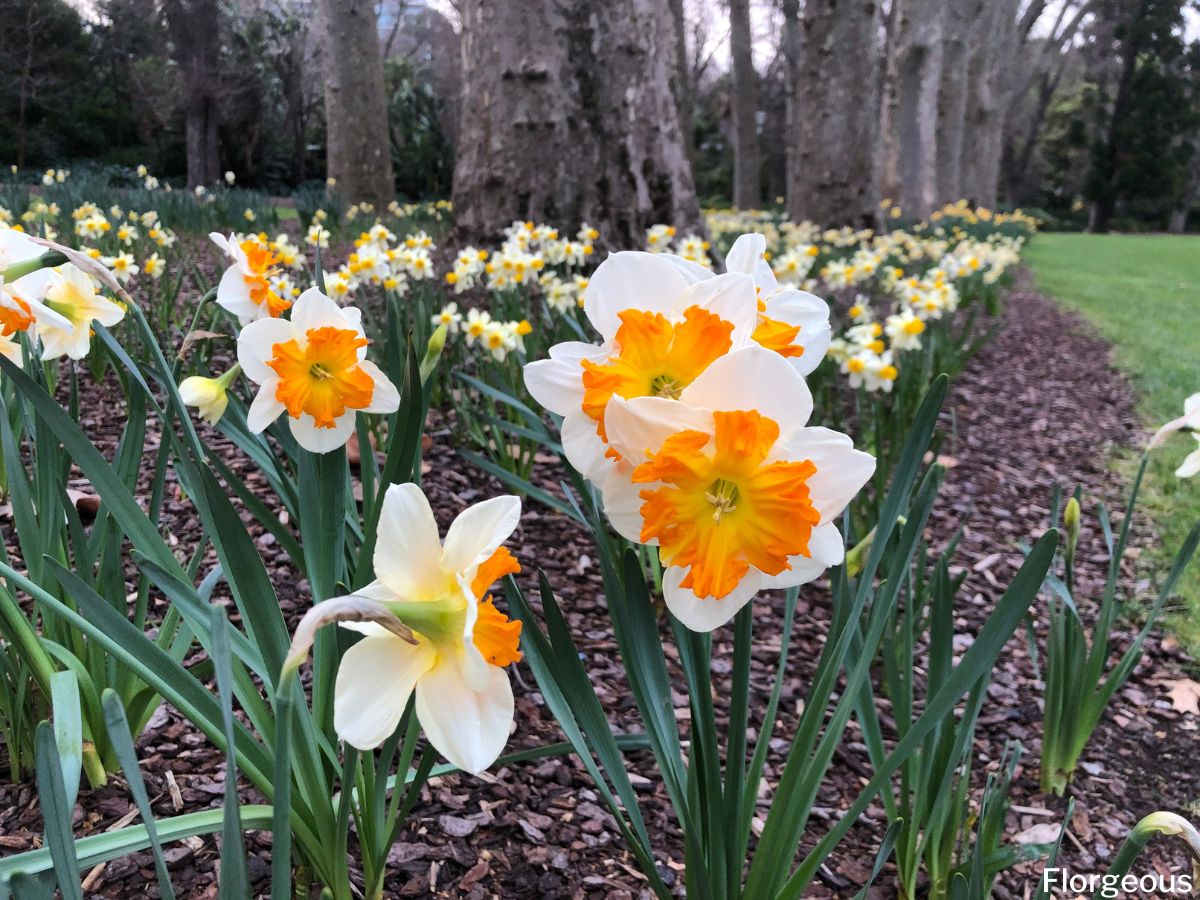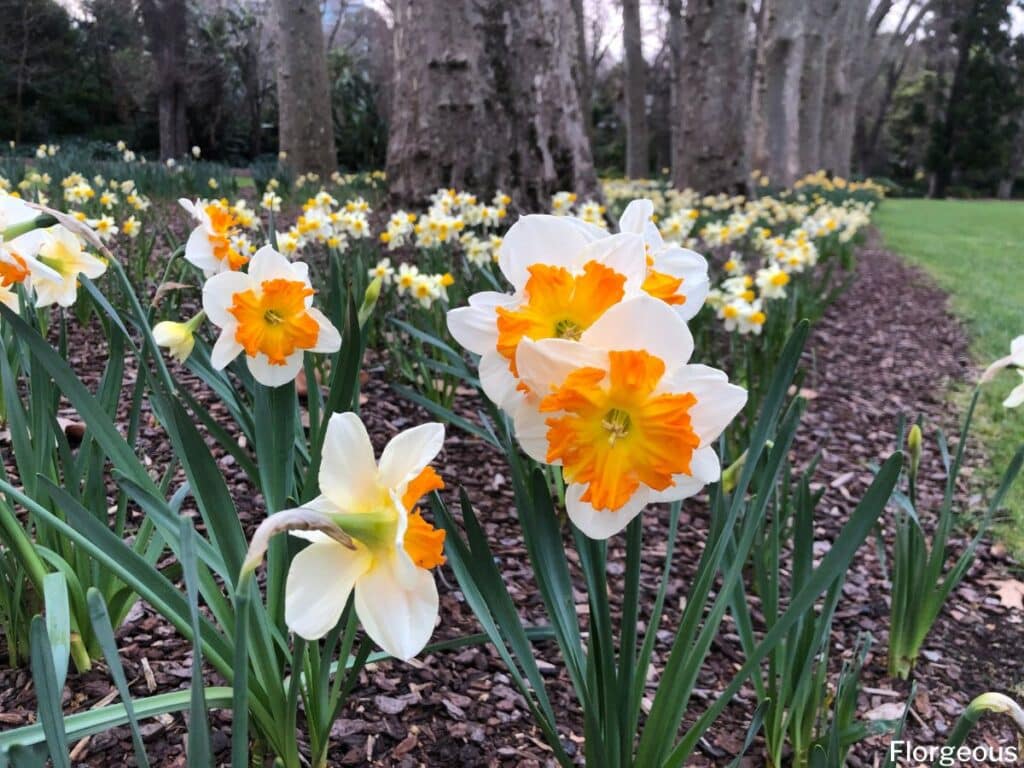 When you are busy selecting the best companion plants for daffodils, you should take care to find plants that have similar growing conditions as these bulbs because this will make it much easier to care for your garden.
Daffodils will flourish if they are planted in dappled shade with full morning sun. They grow very well in rich soil types that drain well and require deep watering because the bulbs are positioned 4 – 6 inches below the surface of the soil.
You can also be strategic with your flowers by pairing species with a similar blooming season as daffodils in the same garden bed. This can help you create a delightful spring garden.
Some gardeners do, however, pair daffodils with blooming plants that have a different blooming season so they can create multi-seasonal interest and help conceal the dying leaves of daffodils when they are no longer in season.
Let's take a look at some plants that are often paired when growing daffodils.
Tulips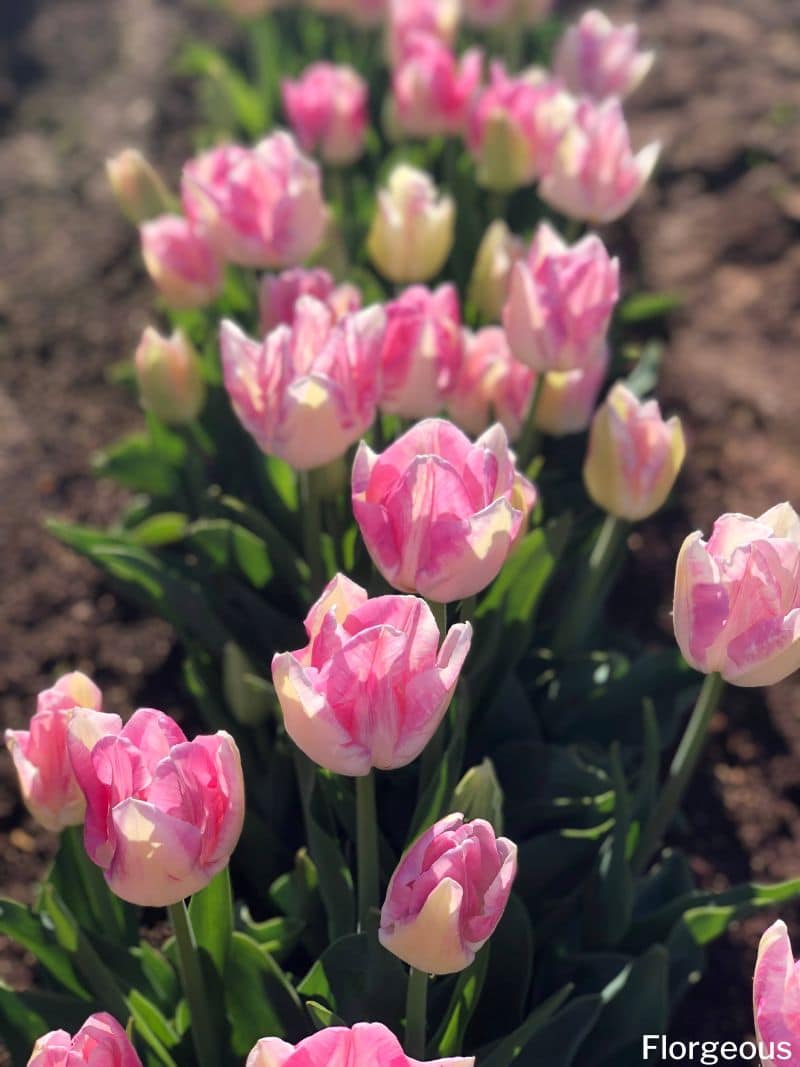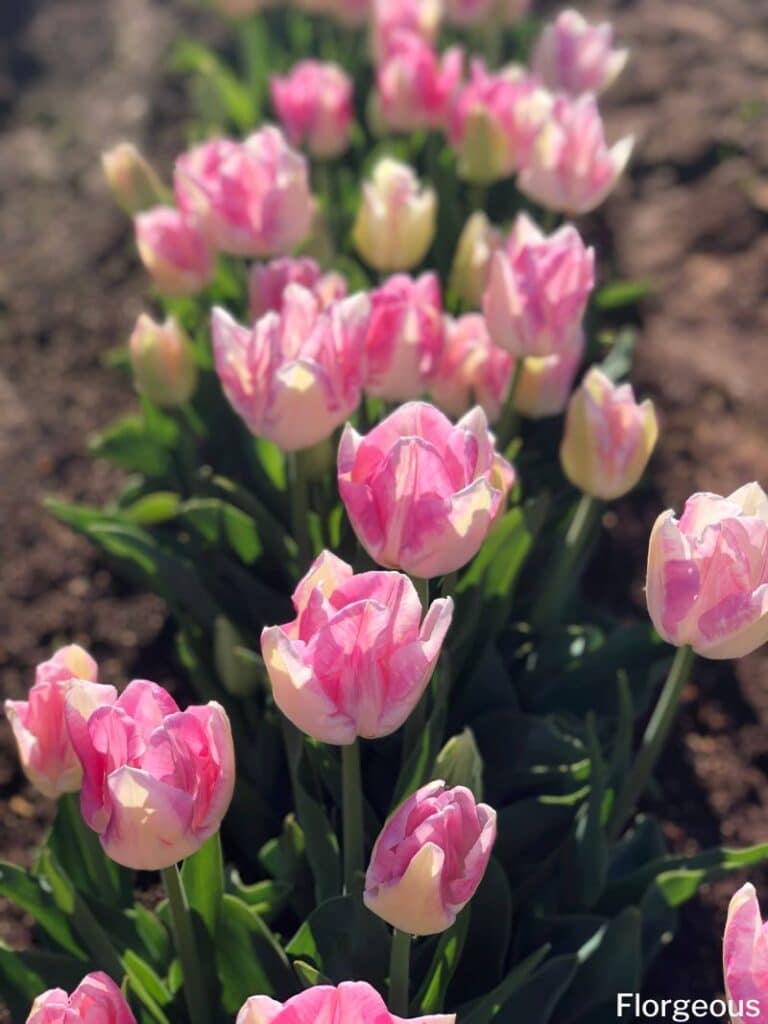 Tulips (Tulipa) are often seen in daffodil gardens because these colorful flower bulbs complement the look and bright colors of daffodils so well. There are 100 different species of tulip and they come in various vivid colors like red, pink, yellow, or white.
Daffodils and tulips grow very well together in the same garden bed or containers because both love cool soil and dappled shade with the morning sun. Tulips should also be planted in well-draining soil with a neutral to slightly acidic nature and lots of organic matter. You only need to water these flowers once a week during the first month after planting and it will be all set to produce vivid flowers in early spring.
When gardeners pair daffodils and tulips together, they usually cluster a bunch of mixed bulbs together and plant them 12 inches apart. This will create a striking effect in about six weeks when both of these flowers start to bloom.
Grape Hyacinth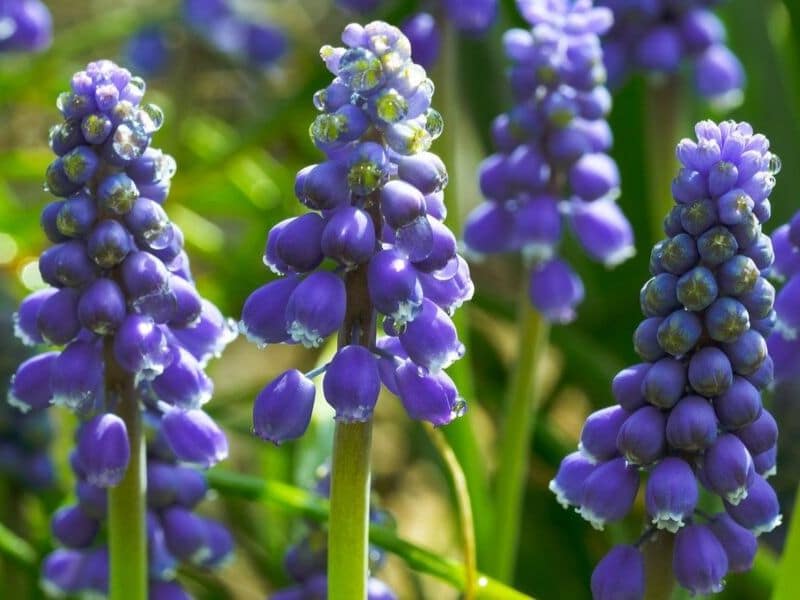 Grape hyacinths (Muscari) will add lots of color and texture to your daffodil garden when they produce vivid purple flowers in the shape of grapes on tall stems. These vivid blooms are especially charming when they are paired with yellow flowers because this will form a striking contrast next to the vivid blue flowers.
Grape hyacinths grow very well in full sun but their flowers last a lot longer if they are grown in partial shade. They need to be established in free-draining soil and they do need a fair amount of moisture.
Because grape hyacinth flowers are shorter with a maximum height of 6 inches tall, it is best to grow classic yellow daffodils and tulips in a row behind them. Alternatively, you can also add miniature daffodils (Narcissus Tete-a-Tete) next to your grape hyacinths.
Coral Bells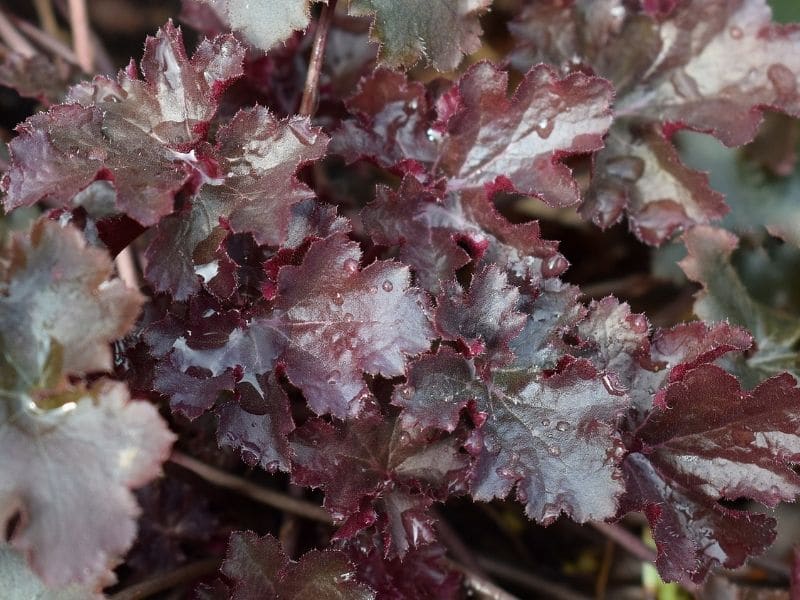 Coral bells (Heuchera) are a great option for your garden if you want to create multi-seasonal interest and especially if you want to keep your garden bed full and beautiful when your daffodils are no longer in bloom. They are also great for concealing the fading foliage of daffodils.
These spring-blooming perennials can add lots of charm with their gorgeous flowers. But their colorful foliage is what attracts most gardeners. Coral bells are available in varieties with different foliage colors like burgundy, green, chartreuse, yellow, peach, pinkish-red, purple, copper, and others that can add lots of color and contrast to your garden.
These shrubs grow very well in dappled shade but they do need to be established in moist free draining soil.
Coral bells are typically a bit shorter than daffodils which makes them perfect garden bed filler plants. It is best to mass plant coral bells all over your garden with lots of daffodil bulbs all around these plants. You should also take care to add daffodils of a contrasting color to your garden bed. Bright yellow daffodils or even white flowers will look especially striking if you pair them with a darker coral bell variety like purple coral bells.
Dutch Crocus
Dutch crocus flowers (Grand maitre giant crocus) are terrific for companion planting with daffodils because these purple flowers with their yellow centers will look rather striking when you pair them with yellow flowers. Many gardeners also love to add red impression tulips to these two plants because it will create such a complementary and striking effect.
Dutch crocus flowers grow very well in colder climates and can be planted in full sun in dappled shade areas. They need to be established in well-drained soil and you should be careful not to water them too often.
It is usually best to establish these flowers in front of the area where you plant daffodils because they tend to be shorter with a height of just 6 inches tall.
Bleeding Hearts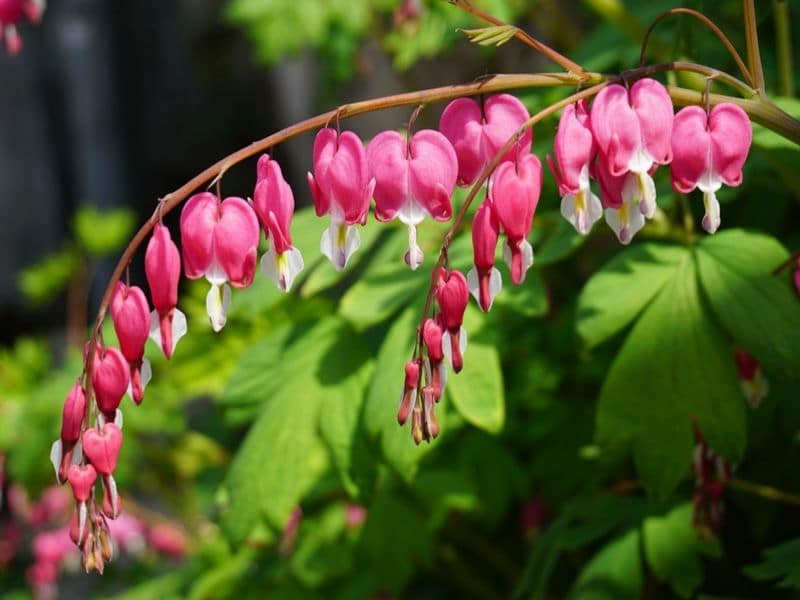 Bleeding hearts flowers (Lamprocapnos) are great companion plants to select if you want to create a striking backdrop behind your daffodils. These spring flowering plants will add lots of interest to your garden with their heart-shaped white or pink flowers.
The vivid pink flowers will look beautiful next to yellow or pink daffodils and are perfect for creating a vivid spring landscape.
These woodland plants will grow well in medium to bright light and should be established in well-draining soil that is kept moist.
The bushy flowering plant can grow up to three feet tall. Because of its height and bushy nature, it is always best to establish this larger plant behind your daffodils.
Ice dance
It is always good to choose plants that stay green and vibrant throughout the year when you are adding lots of bulbs to your garden bed. Plant species like ice dance (Carex morrowii), also known as Japanese sedge, is a plant that looks a lot like an ornamental grass. The tall spiky leaves of this plant will add lots of texture to your garden and can conceal the daffodil foliage when they start to die back during the warmer months.
Japanese sedge is a slow-spreading brush that acts as a natural ground cover to keep the soil moist. This plant can be grown in full sun but it flourishes in shade with moist, fertile, and well-draining soil.
The sedge can grow up to 12 inches tall and is perfect for filling out garden beds or creating borders in the front of a garden. You can plant daffodils amongst these grassy sedges they will produce lots of vivid flowers amongst the long leaf blades. The dark green leaves will create a terrific backdrop so your daffodils can stand out in your garden.
What NOT to Plant with Daffodils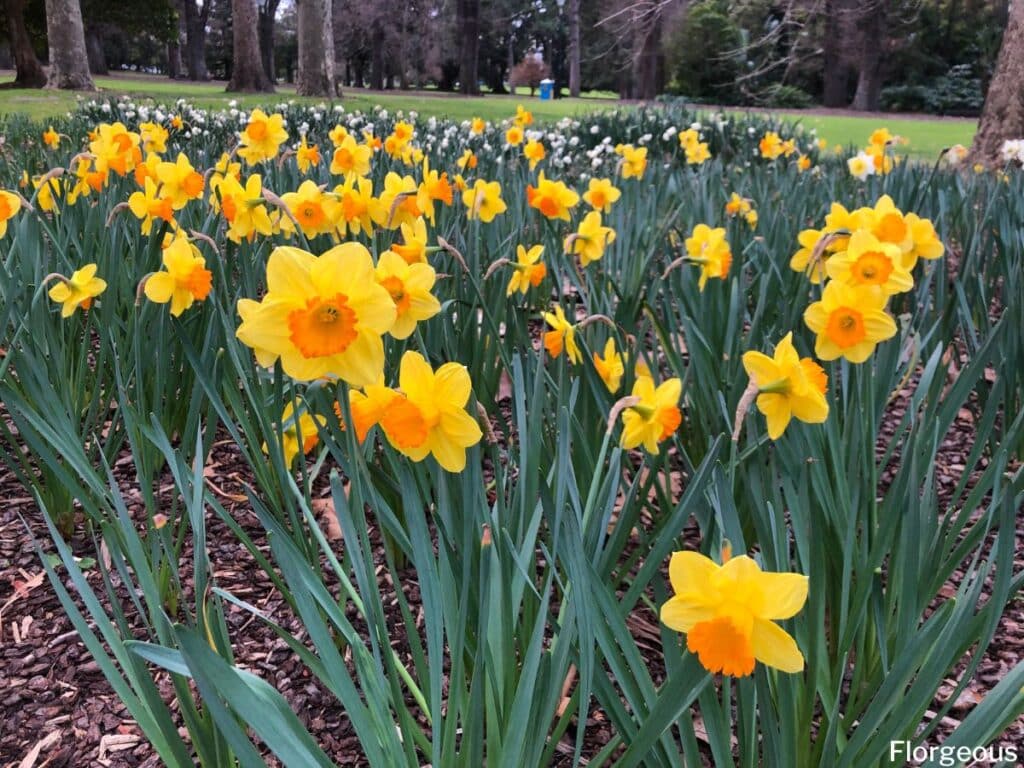 Daffodils don't get along with all plant species because some plants will compete for nutrients or sunlight and others might simply not grow in the same shaded areas as daffodils. Here is a quick look at plant combinations to avoid when you plant daffodils.
Annuals and Vegetables
Daffodils don't like it when their bulbs are disturbed during their growing stage. They can easily become damaged or die if you disturb the bulbs while tending to some of the annuals like vegetables or herbs in your garden. It is best to pair them with perennials that don't require replanting or maintenance.
Trees with Shallow Roots
Daffodils don't grow well around trees with shallow roots. Plants like beeches, dogwoods, or maple trees tend to absorb too much water that the bulbs normally require to flourish. These root systems will also make it difficult to harvest your bulbs should you want to store them during dormancy.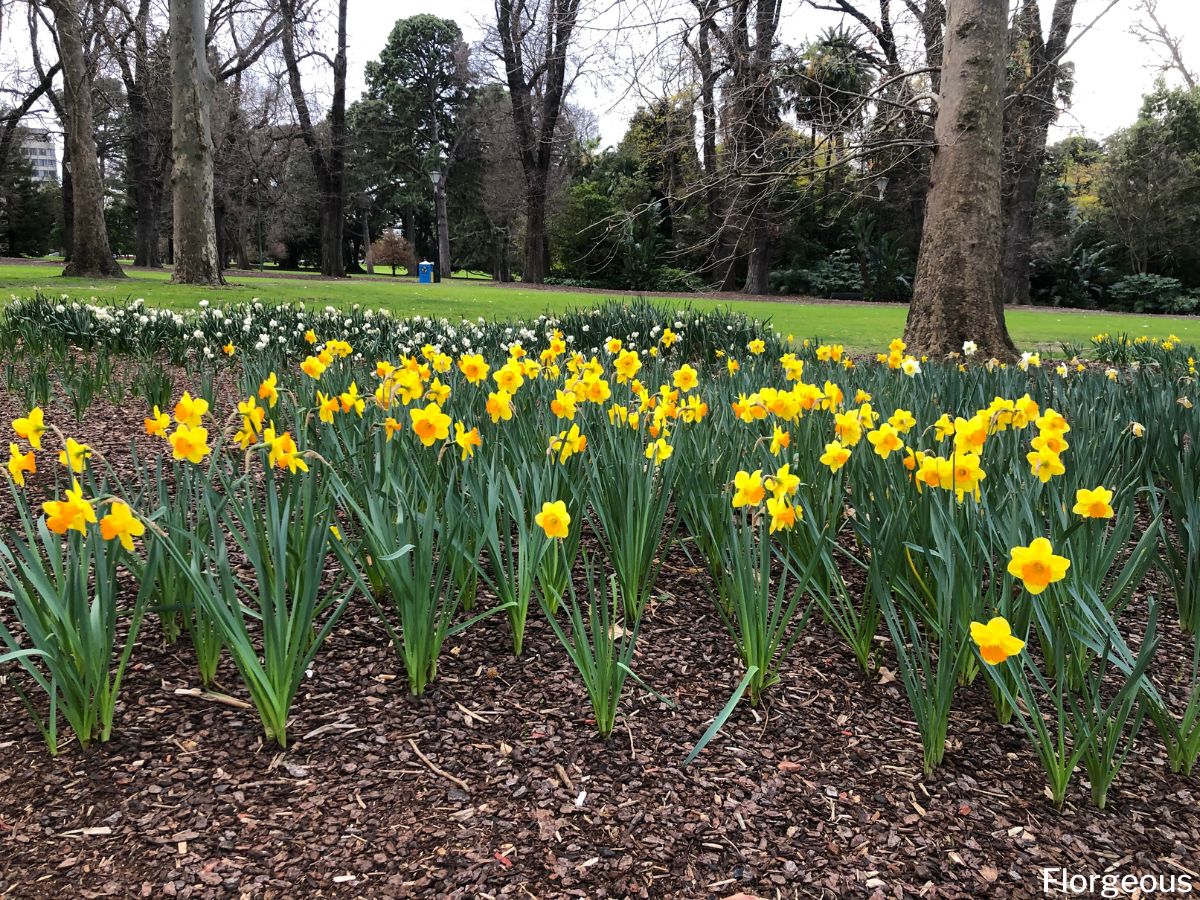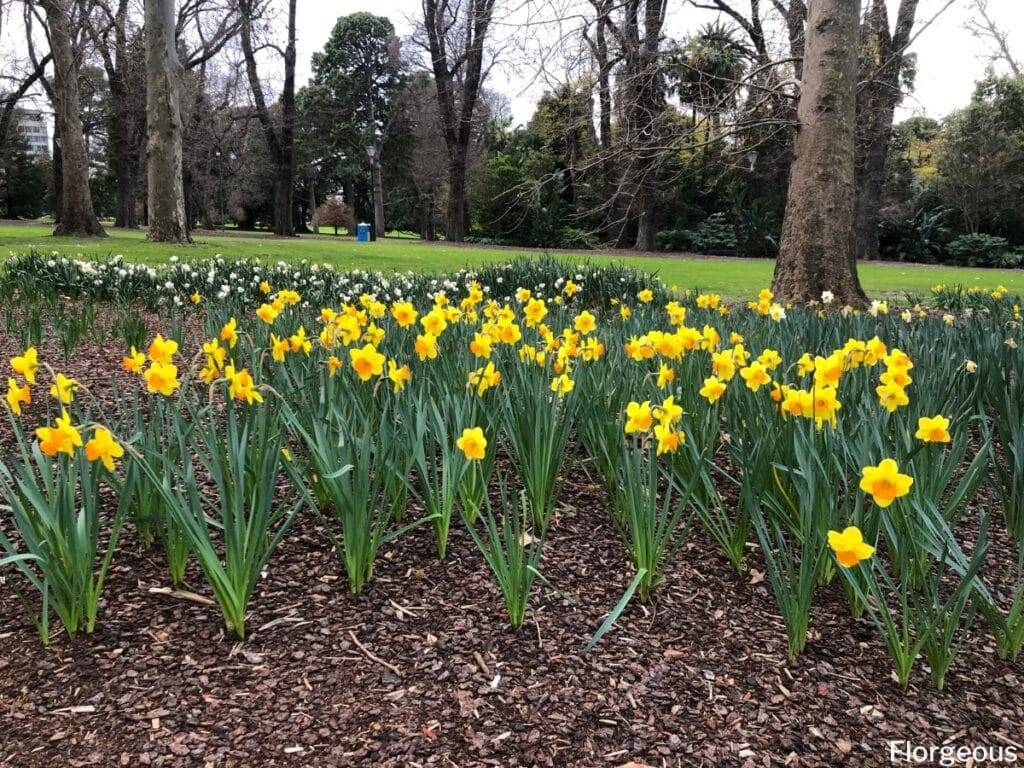 What to Plant after Daffodils Die
After daffodils die, you can plant a variety of perennials, annuals, or biennials that will continue providing colorful flowers for your garden.
Some flowering plants you can grow are peonies, irises, tulips, petunias, zinnias, marigolds, and impatiens.
For summer blooms, you can try growing zinnia, dahlia, gloriosa daisy, peonies and sunflowers.
Final Thoughts
If you want a great-looking early spring garden then you can pair daffodils with all sorts of ornamental plants like tulips, hyacinths, heuchera, dutch crocus, bleeding hearts, or Japanese sedge. Keep these daffodil landscaping ideas in mind when designing your garden and front yard. All of these combinations will help you create a very beautiful garden setup.
We also welcome you to have a look at some of our other guides so you can learn more about companion planting and find other creative combinations that can help you create a more beautiful landscape.
If you love this flower, check our article about daffodil flower meaning to see why gardeners love growing this plant.