Flowers make a garden or the interior of a home more attractive and alive. May it is on a growing plant or a water-filled vase, flowers provide vibrant colors and remarkable structures that turn any space stylistic but still natural. Each plant bears its own unique flowers and one of the most valued flowers with an exceptional form is the tulip.
The tulip is known for its striking flowers that create spectacular landscapes when planted en masse and stunning flower arrangement when used as cut flowers. The plant has been cultivated for centuries and is an important part of the floriculture industry.
Tulips are also intertwined with various cultures that they became a symbol of perfect and passionate love as well as prosperity and abundance. People from different parts of the world celebrate festivities for this flower.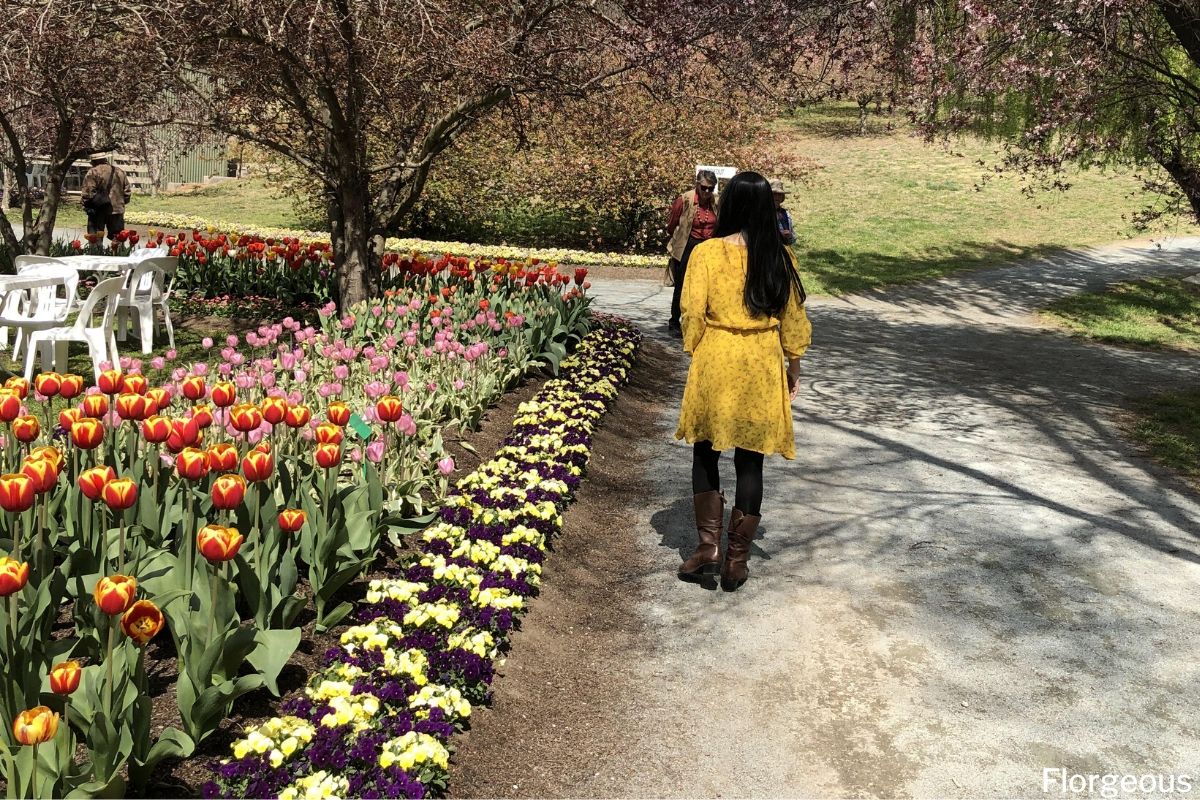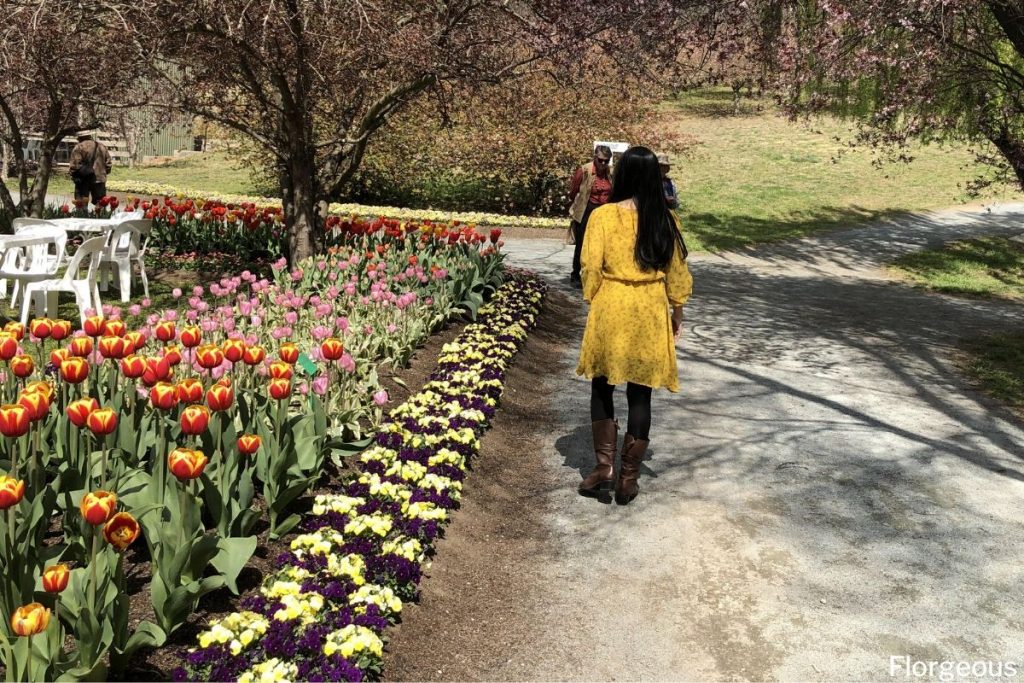 Since the tulip is among the highly cultivated flowering plants, many varieties with more diverse colors and forms now exist. Large production sites are dedicated to tulips since it is one of the favorite garden bedding plants and is the main cut flower for bouquets.
If you want to learn more about this flower, here is our guide to the different kinds of tulips and how you can grow and take care of them.
Tulip Divisions and Classifications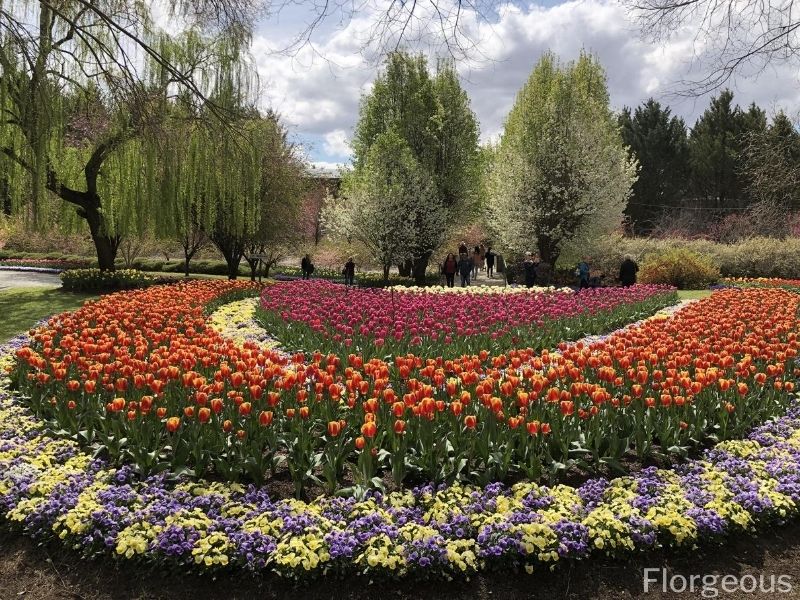 Tulip, botanically known as Tulipa is a member of the lily family that grows from a bulb and usually blooms a rainbow of color during spring. It is native to Europe, Asia, and North Africa. It was first cultivated in Persia but only gained popularity upon its introduction in Western Europe in the 1600s (1).
A typical tulip has sword-like grey-green or bluish-green leaves that sprout from the underground fleshy bulb. A tulip produces a new bulb every year as well as stolons that are responsible for the growth of new plants (2).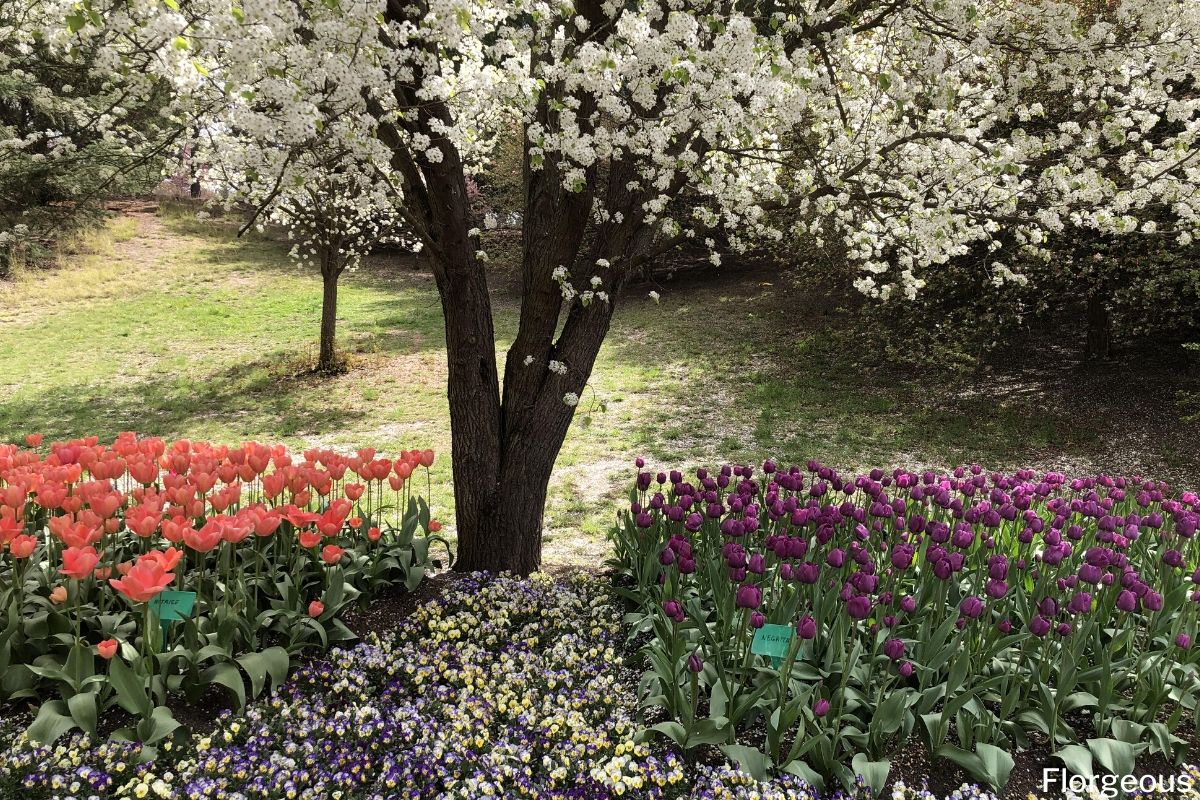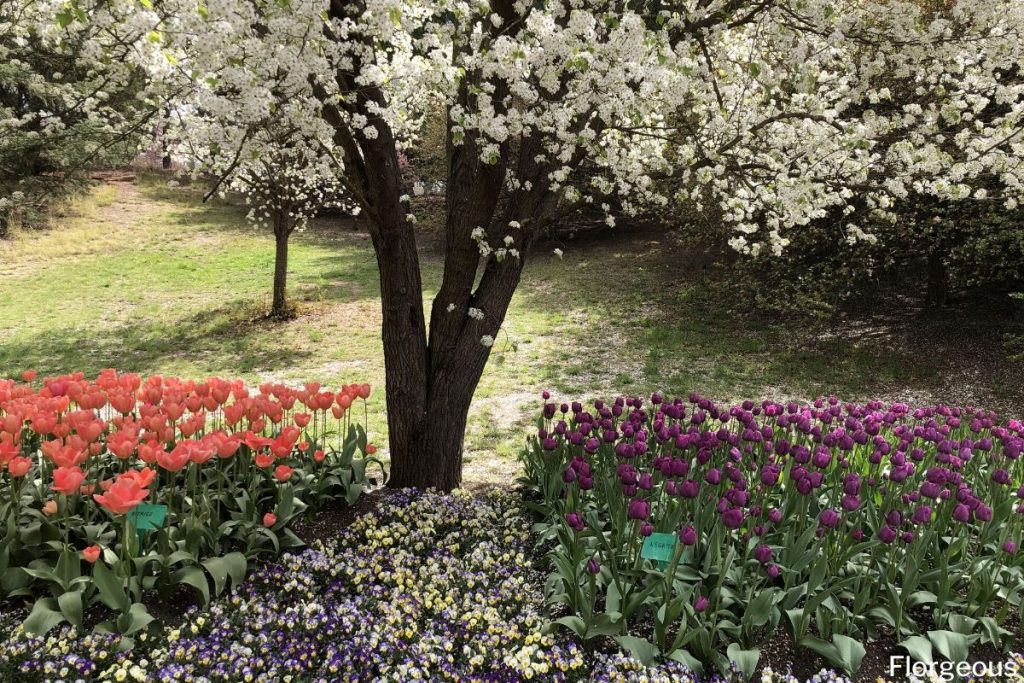 The plant signals the end of winter by producing a cup-shaped single or double, often six-petalled flower on top of an upright green stalk. The flower colors include white, red, pink, orange, yellow, and purple. The overlapping petals resemble a turban from which the name of the plant was derived.
Centuries of cultivation gave birth to new tulip varieties in different foliage and floral shapes and colors. Today, there are 15 recognized divisions based on floral characteristics (3).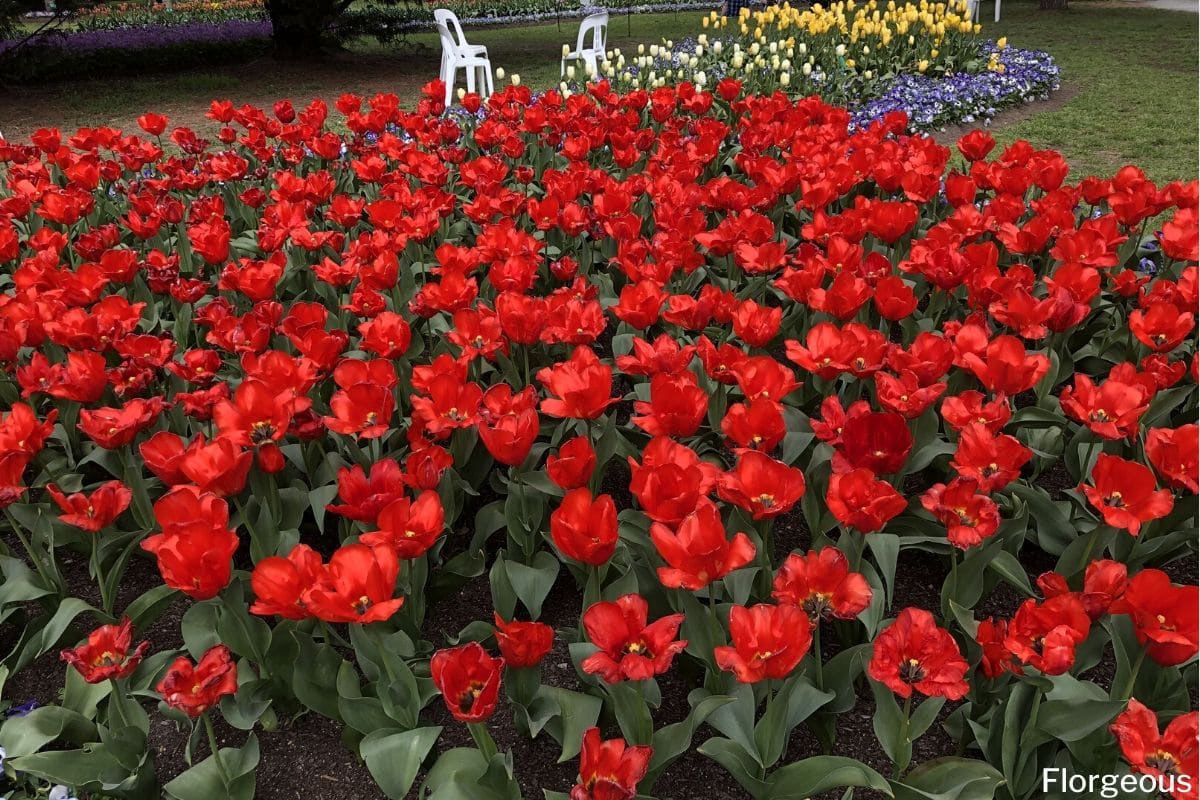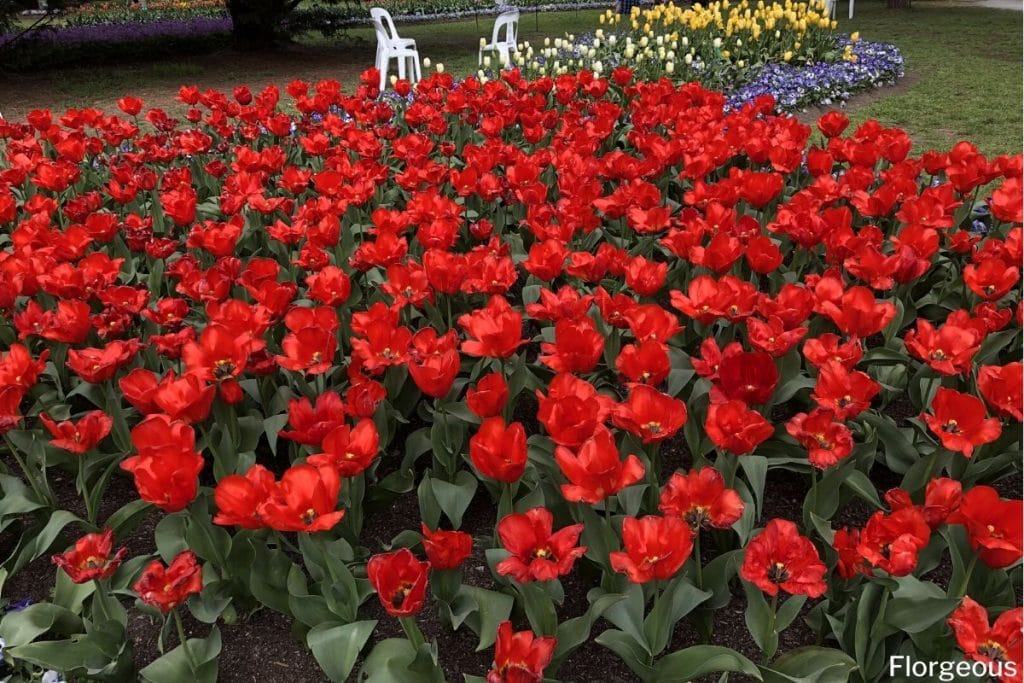 Division I. Single Early Group
Single early tulips are those that bloom at the onset of spring. The wide-based, rounded-petalled flowers are either solid or bicolored and they make good bedding and cut flowers.
Division II. Double Early Group
Double early tulips have broad cupped-shaped flowers with multiple petals. The sturdy stems are short but they make perfect cut flowers as well.
Division III. Triumph Group
Triumph is the classic-looking tulip with a narrow base and wider top. The rounded petals come in all shades of colors in stripes and bi-colors with apparent venations.
Division IV. Darwin Hybrid Group
These tulips have solid or bicolored flowers that are tall and broad at the base. The foliage is rich green and the stem is strong and upright.
Division V. Single Late Group
Single late tulips look like single early but gigantic. They can reach double the size and are often used as cut flowers. The flowers are heat-tolerant and last-longer than most tulip varieties.
"French" single late tulips have long-lasting unique flowers that are oblong-shaped. They are perennial in nature and do well under warm conditions.
Division VI. Lily-flowered Group
This tulip is reminiscent of a lily flower with its narrow petals tapering to a point at the top. Upon maturing, the flower flares out with some revealing blushes on the margin of the petals. The elegant flowers bloom late but are excellent for both bedding and cutting.
Division VII. Fringed Group
The fringes on the top part of the petals of this tulip are said to be a form of adaptation for the plant to catch more light. The single petals are brightly colored and fade toward the fringes.
Division VIII. Viridiflora Group
As the name suggests, the flowers show hints of green on the petals but do not overpower the pastel two-toned colors that they often have. Mature tulips have pointed petals that flare out from the center.
Division IX. Rembrandt Group
Rembrandt tulips are single-flowered shaped like a cup with different colors that have a striped pattern. This group is rarely found and sold nowadays since the stripes are actually caused by a virus called Tulip Breaking Virus. It breaks down the pigment of the flowers causing the brushstroke patterns but these beautiful flowers wilt sooner and fewer bulbs are produced year after year.
Division X. Parrot Group
This wide-based tulip flower is large with fancy ruffled petals that twist upon maturity. The flowers provide a variety of colors as they bloom in late spring.
Division XI. Double Late Group
The loose multiple layers of petals make this flower look like a peony. It is lightly scented and long-lasting which makes for a good cut flower.
Division XII. Kaufmanniana Group
Kaufmanniana tulips are early blooming with petals flaring out at the top. The water lily-looking flowers are often bicolored and look appealing in beddings as the plant grows compact. The striped or mottled patterns make the leaves attractive too.
Division XIII. Fosteriana Group
Also called Emperor Tulips, these flowers are tall, goblet-shaped with petals tapering to a point. They bloom during sunny days and most varieties are in white, yellow, orange, and red.
Division XIV. Greigii Group
Greigii tulips have bulbs that produce one large flower and two smaller offshoots. The pointed petals are flared at the top and they come in warm colors either in bold solid or stripes. They are popular in Europe where they are seen planted in compact beds, showing off their vibrant colors.
Division XV. Miscellaneous Group
Miscellaneous tulips include all the species tulips that grow in the wild as well as other hybrids that have not been categorized under the previous divisions. Most of the tulips under this division perform well in the natural setting and are often used in rock gardens.
Cultivation and Production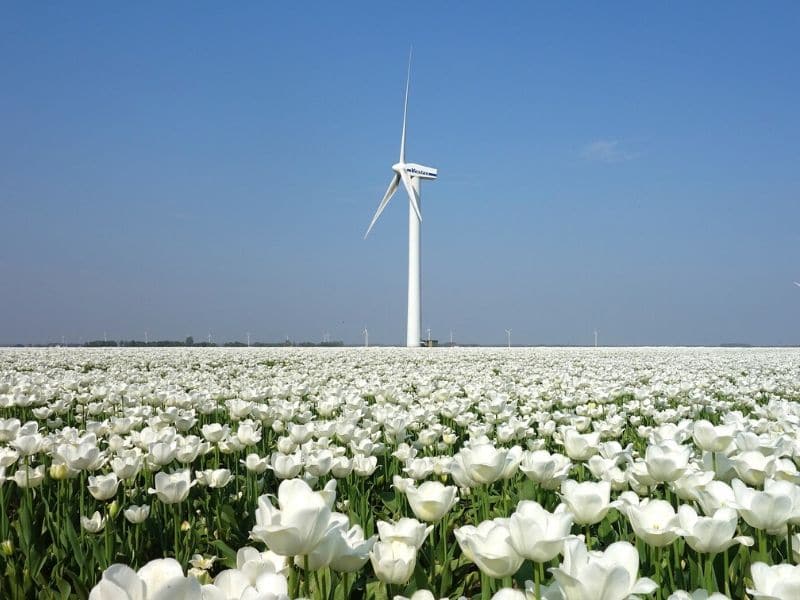 Although tulips were initially found in several parts of the world, it was in Constantinople, the old Turkey that they were first cultivated for ornamental use.
In the 16th century, they were imported into Holland and became so popular, and an economic bubble called "Tulip Mania" started. The demand for tulips grew until such a time that they became so expensive, they were given monetary value to buy goods (4).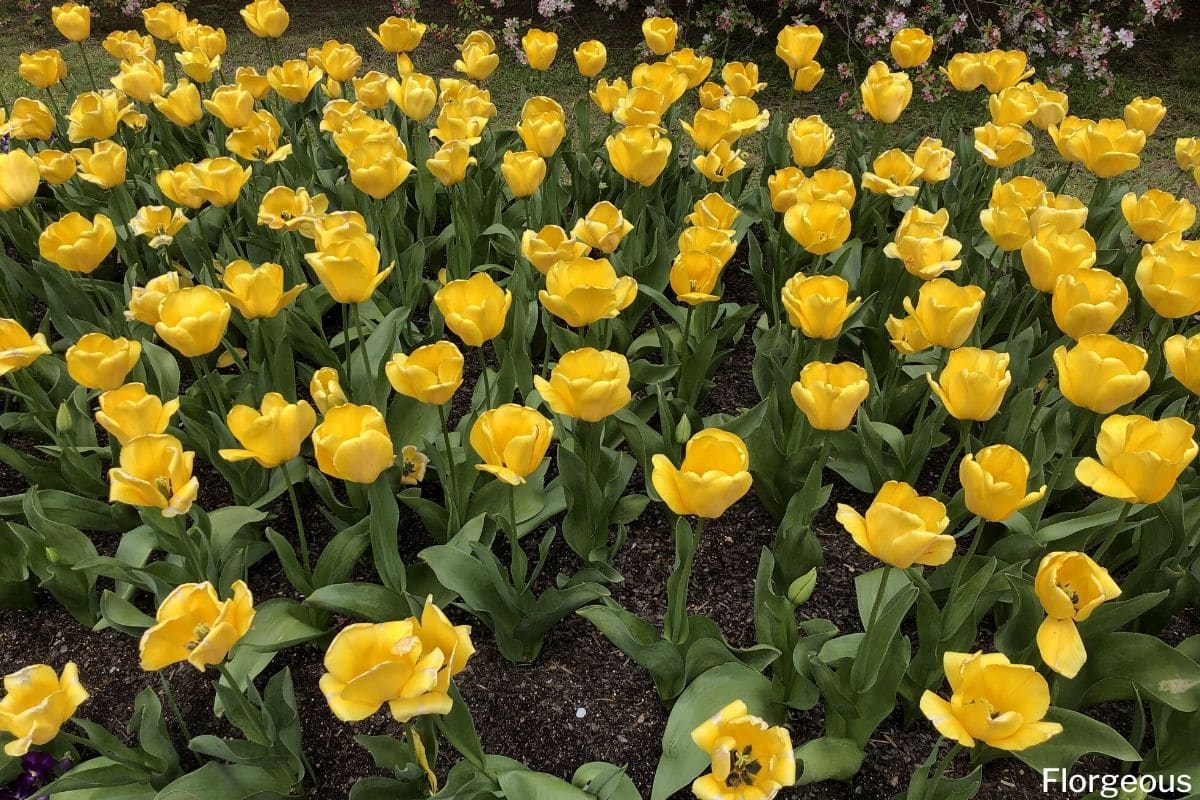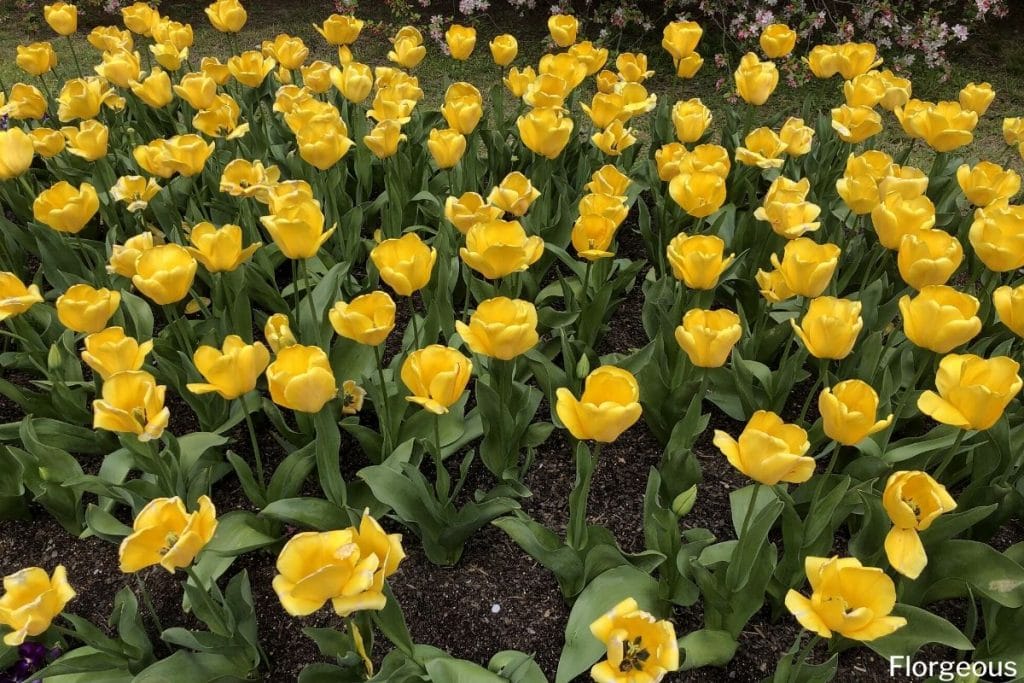 The plant is perennial but ornamentally grown as annual since flowering tends to decline during the successive years. However, over centuries of hybridizing tulips, the Dutch have perfected the cultivation process and gave life to new varieties and cultivars with a wider range of colors and growth habits (2).
The Netherlands became the center of tulip commercialization and in spring, vast fields are covered with colorful lines of flowers that supply the majority of tulips in the world market. Other major players are Japan, France, and Poland.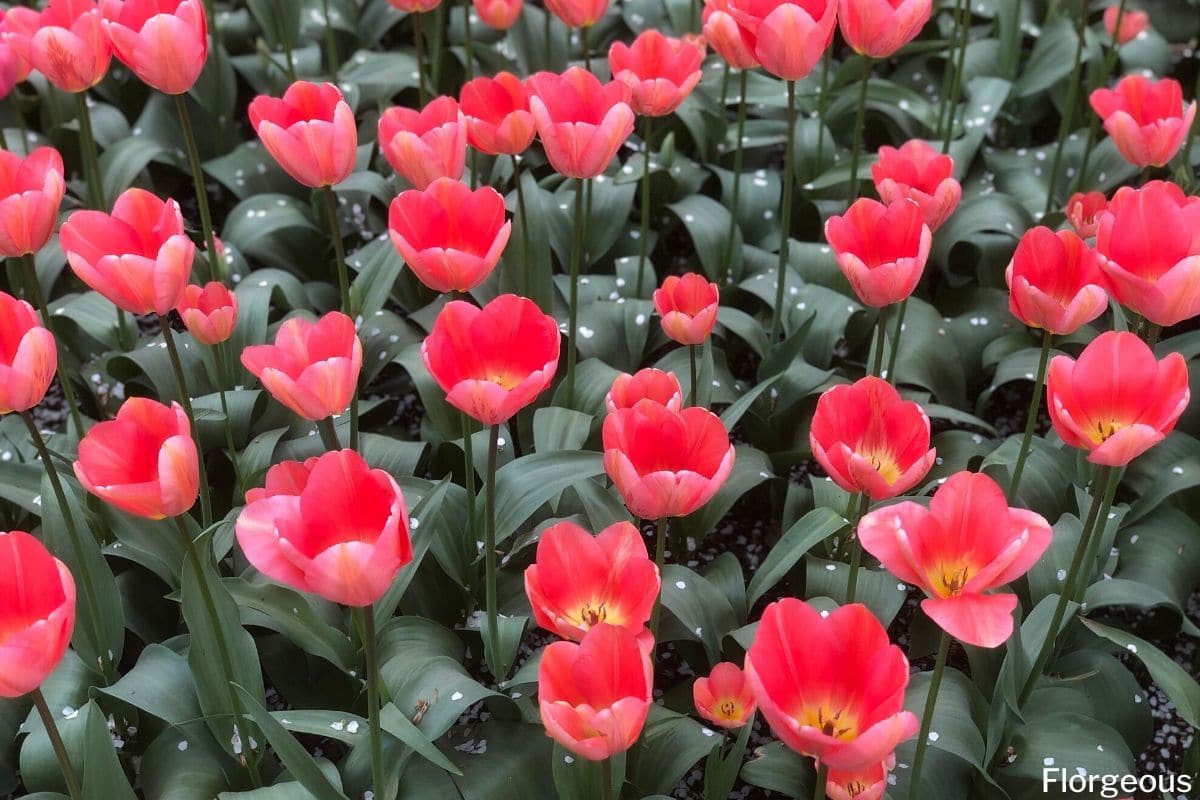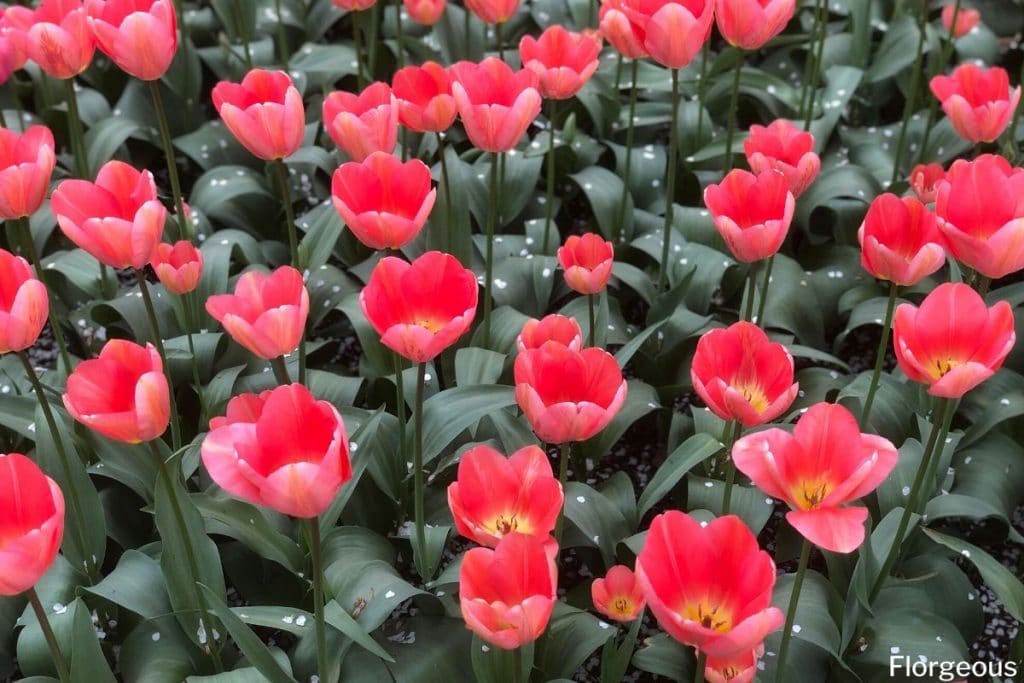 ---
Tulip Festivals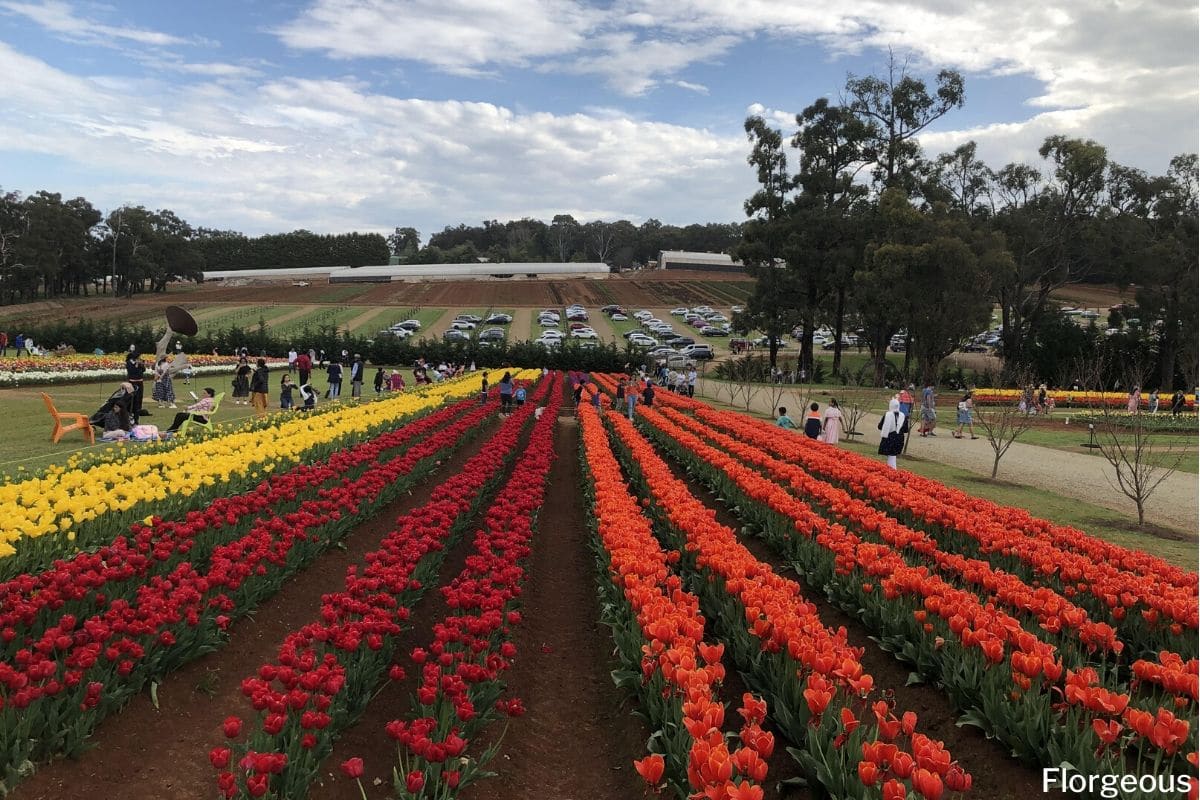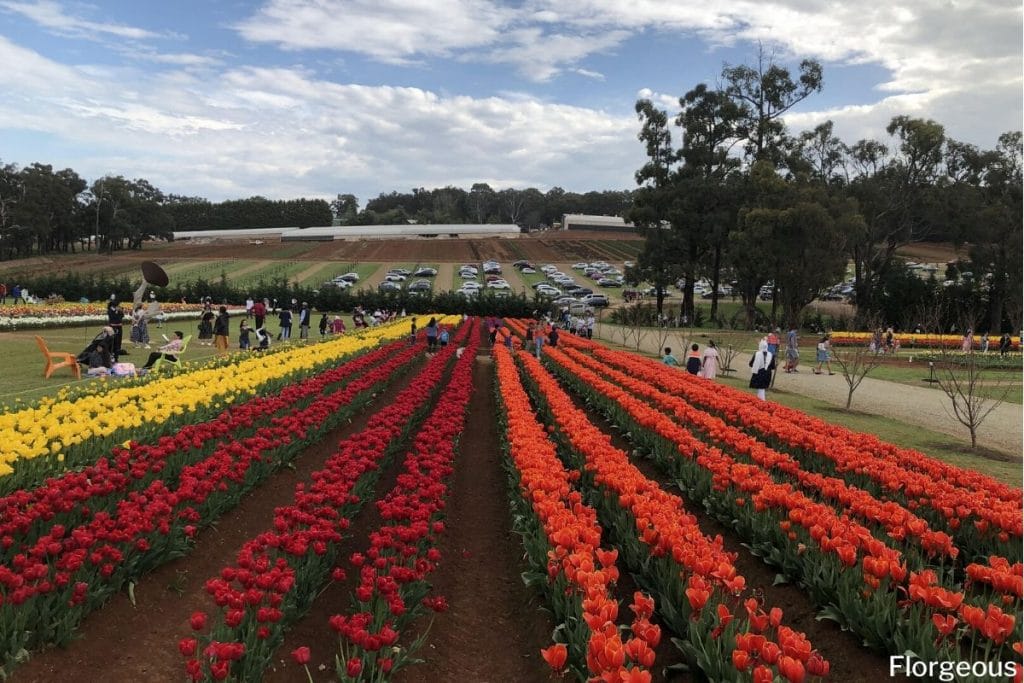 The love for tulips is shared all over the world. Countries like Holland, Hungary, and Turkey chose the tulip flower as a national symbol.
Large floral fields are dedicated to the propagation of tulips and people from these areas who moved to different cities abroad brought with them the passion to grow tulips (4). Festivals dedicated to tulips are celebrated in many places like New York, Michigan, Canada, and Australia.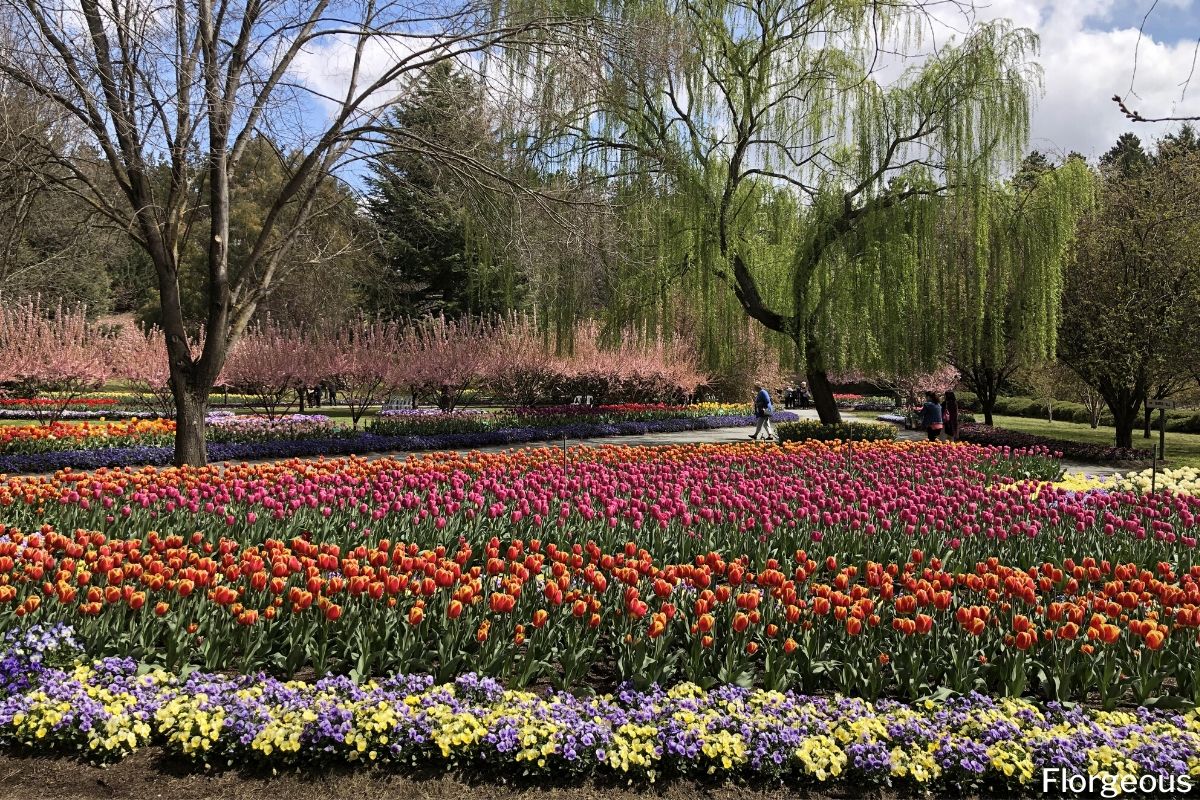 The biggest tulip celebration is the Canadian Tulip Festival held annually in Ottawa, Canada. The first celebration was held in 1953 to commemorate Canada's role in liberating the Dutch during WWII. The Dutch Royal family gifted the Canadian people with tulips and since then, the flower has become symbolic for the capital, it eventually became their emblem.
Every year for ten days in May, Canadians and visitors get to take a stroll through seas of colorful tulips. Over a million tulips are planted and installed in Canada's capital region and fun activities are organized for the people to enjoy. Artists also gather together to create works of art using tulips which are exhibited at the Commissioners Park (5).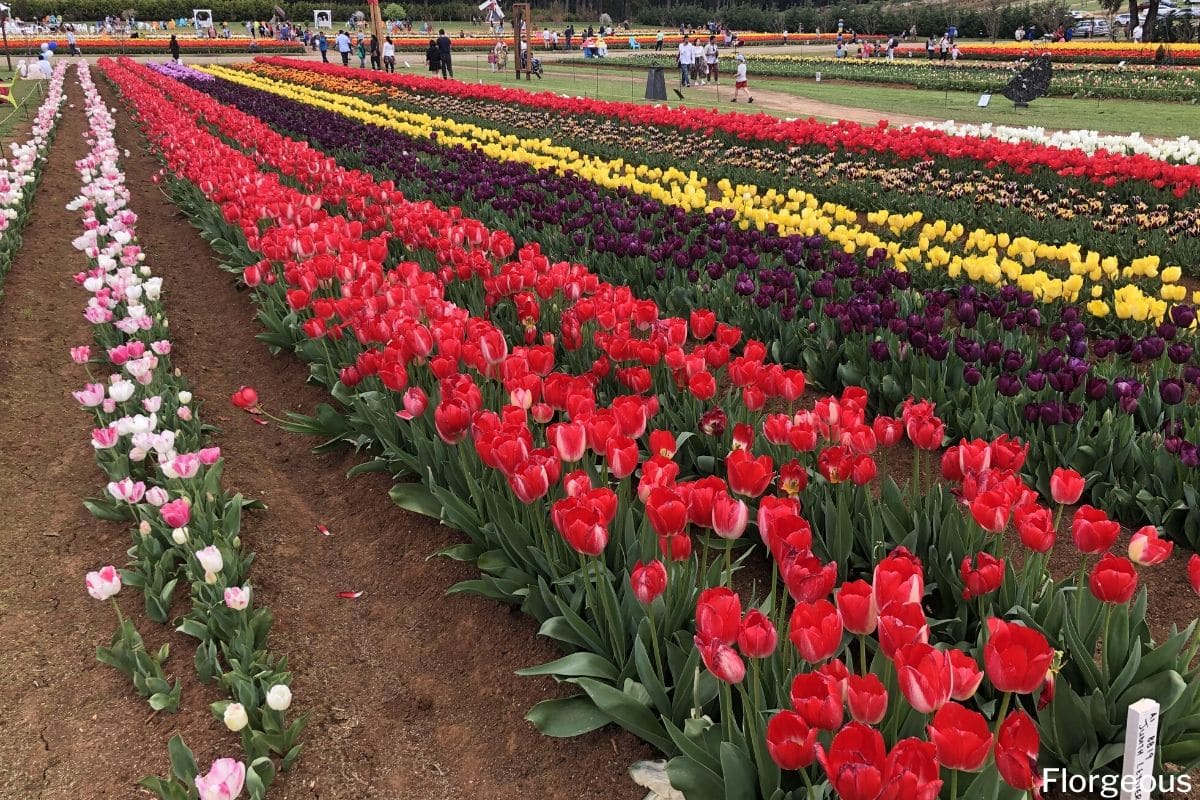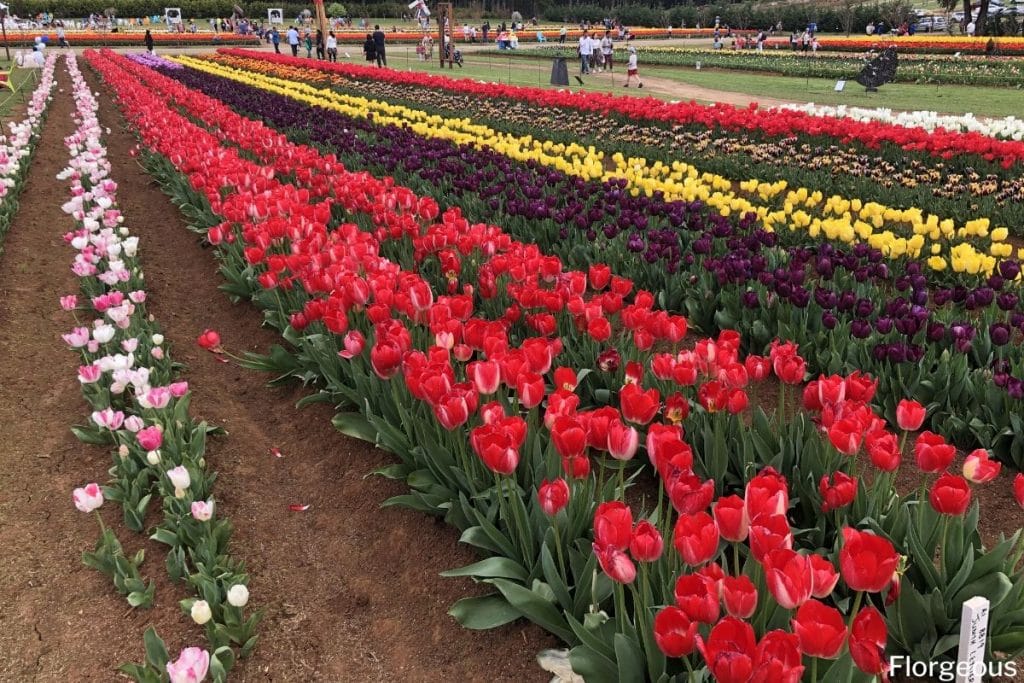 Aside from tours and event programs, the festival also serves as a venue for enthusiasts and breeders to showcase new varieties of tulips. More and more color combinations and flower forms are added to the growing list of tulips each year.
Top 50 Beautiful Tulip Varieties
Single Early
1. Purple Prince
This tall and large tulip bears lilac-purple flowers that have internal yellow blotch. The cup-shaped blooms sit atop the long mauve stalks surrounded with long green leaves. This tulip is well-suited for open areas with full sun that intensifies the color of the flowers. The strong stems help the flowers withstand windy conditions too.
2. Princess Irene
Named after the Dutch Princess, this tulip is stunning with its bright orange flowers with splashes of purple. Blooming from mid to late spring, the flowers are long-lasting, providing color throughout the season. They make excellent cut flowers too. This orange tulip complements Purple Prince in garden designs and flower arrangements.
3. Flair
Flair is an excellent choice for a bold-colored tulip. The cup-like orange-red flowers are accented with yellow margins. The broad grey-green leaves serve as a pleasing backdrop together with the slightly purple-tinged stems.
4. Van der Neer
This tulip has egg-shaped dark purple flowers with a hint of orange towards the petal tips. The short but sturdy stalk is tinged with purple too and the pointed leaves are bluish-green. Because the plant has short stems, it can withstand strong winds and make good beddings. The long-lasting flowers look perfect in containers by the patio too.
Double Early
5. Abba
Abba has double layers of petals making it look like a peony. The bright red flowers have a yellow center borne on top of long green stalks lined with alternate layers of grey-green leaves. An attractive cut flower, the long stalks are ideal for carrying and the blossoms emit sweet fragrance too.
6. Foxtrot
This tulip is a favorite bouquet component. The layers of rose pink and white petals house the yellow center of the flower. As the flowers mature, the colors become deeper and they produce a soft fragrance.
7. Margarita
The pinkish-purple round flower of this tulip sits on top of long purple-green stalks. The height of the plant makes it an interesting backdrop to other low-growing species. The plant is also commonly used in borders and beddings.
Triumph
8. Negrita
Although more deep purple than black, this flower is one of the rich-colored to bloom in early spring. The large flowers or born on short but sturdy mauve-tinged green stems. This makes the plant popularly grown in pots and raised borders.
9. Salmon Pearl
This bright peach flower with hints of gold is one of the most beautiful Triumph tulips. Because of the colors, the flower appears like its glowing which attracts both growers and pollinators. It blooms in mid-spring and thrives under full sun.
10. Grand Perfection
Another winner of the Award of Garden Merit, this tulip showcases dark red streaking on light yellow petals that mature into creamy white. The plant is hardy and grows tall which makes it a favorable cut flower source.
11. Gavota
The striking flowers of this tulip is a mixture of bold yellow margins and reddish-purple base. They easily stand out against the blue-green leaves and tall slender stems. It quickly gained popularity upon introduction in 1995 and later received the Award of Garden Merit. This statement plant is perfect in light-colored containers.
Darwin Hybrid
12. Pink Impression
This award-winning tulip was introduced in 1979 and has gained popularity since then. The typical tulip shape is bright pink with tinges of yellow. A bed of this tulip can be artistically layered with deeper-colored varieties for an attractive ombre effect.
13. Ad Rem
Ad Rem features soft orange flowers lined with delicate gold on the petal margins. They definitely brighten a space both in the garden and indoors. The tall height of the green stalks creates an overall regal effect on the plant.
14. Oxford
This classic tulip is well-loved by enthusiasts and gardeners alike. The large blood-red with flowers yellow base atop strong and long green stalks remain one of the most popular tulips today.
Single Late
15. Queen of Nights
Tulip lovers seeking black varieties will definitely fall in love with Queen of Nights. The stunning flowers are deep maroon to almost black. The green leaves and stems serve good backdrops for the popping color of this flower.
16. Sky High Scarlet
This tulip is probably the tallest of all tulips, reaching up to 36 inches high. Under full sun, the bright red flowers appear glowing. They are often used as cut flowers because of the long-lasting bloom and slender stems.
17. Menton
This elegant tulip is a blend of pastel pink and orange with darker hues at the base. The initially egg-shaped flower opens up to reveal a rose-red surface. Because of the light colored-flowers, Menton blends well with both soft and bright-colored varieties in bedding. The plant is a recipient of Award Garden Merit and is considered as a noble single late tulip.
Lily-Flowered
18. Elegant Lady
The flowers of this tulip appear delicate with the creamy yellow flowers that mature into creamy-white and pinkish-lilac tapering tips. Depending on their growing locations, some flowers even develop purple flowers all throughout.
19. Pieter de Leur
The pointed petals of this tulip are deep red that is pleasing to the eye. They are so red they can replace roses in symbolizing love. The flowers do not bloom openly but one can get a peek of the bluish-black interior.
20. Sapporo
Sapporo is a simple and elegant tulip that has shapely petals that start as buttery yellow turning whiter over time. The flowers prefer the shade in the garden but not for long for they are usually harvested as cut flowers.
Fringed
21. Red Wing
The satin-textured flower is red all over with darker edges and fringes. The award-winning striking flowers look appealing in gardens when used in borders and containers and they make perfect bouquets too.
22. Lambada
This tulip is named after a popular Brazilian dance for it has a bold and energetic appeal. The fringed petals are a mixture of coral-red on the outside and yellow-orange on the inside and along the margins. From the top, the inside can be seen with a dark bluish center.
23. Fancy Frills
The creamy white flowers are brushed pink towards the fringes. They are complemented with yellow-tinged green stalks surrounded with several thick pointed grey-green leaves. This tall tulip is cultivated for garden edge and borders.
Viridiflora
24. Flaming Spring Green
This tulip may be mistaken as Grand Perfection from afar but upon closer inspection, green brushstroke-like markings on the red and white flowers can be seen. It was introduced in 1999 and has been planted in borders and beddings since.
25. Artist
The complementary salmon-orange and green petals are what make this tulip remarkable and popular. This award-winning exotic flower is quite expensive but is definitely a good investment for the garden.
26. Virichic
Virichic is actually a very chic tulip. It is known for its pale to deep pink flowers with an upward streak of green on each petal. The plant is often mixed with purple and white-flowering tulips.
Rembrandt
27. Absalon
Absalon is one of the rarest tulips nowadays. The flowers are a mixture of feathery patterns in rich brown, dark maroon and gold. They are borne on a slender stalk surrounded with upright pointed leaves.
28. Columbine
Another rare and expensive tulip, this plant has beautiful swirls of lilac, deep purple and creamy white. The petals open to reveal a yellow center. It was named after a popular character in a traditional Italian pantomime.
29. Rembrandt's Favorite
Rem's Favorite is a more modern and stable broken tulip that showcases bowl-shaped flowers in wine-purple over pure white. Aside from the long-lasting flowers, this tulip is hardy and able to withstand strong windy conditions.
Parrot
30. Black Parrot
This perennial tulip stuns with the frilled velvety deep purple, almost black flowers. The tall stalks make the plant reliable backdrops and borders, especially since the plant is able to return every year.
31. Parrot King
One of the well-received tulips, this plant bears soft feathers of gold, orange, rose, and green. The colors intensify when the plant is placed under full sun. It is commonly planted in containers and used as cut flowers.
32. Estella Rijnveld
This large flower comes in different patterns of red and white, often blooming in late spring. Also called Gay Pesto and Destiny tulip, it is favorite to grow in North Holland and mesmerizes when hundreds of bulbs are grown en masse.
Double Late
33. Charming Beauty
Charming Beauty is a ruffled tulip that resembles a full-blooming garden rose. The multiple petals come in shades of orange, peach, and pink. In the garden, the showy plant prefers full sun to partial shade.
34. Carnaval de Nice
This attractive tulip boasts large white with deep red streaks flowers and maroon-tinged stalks. Its pointed grey-green leaves are also lined with matching white margins. Flowering in late spring, this plant lengthens the blooming season of tulips.
35. Mt. Tacoma
Mt. Tacoma makes an excellent cut flower with its fragrant peony-like bright white petals with slight hints of green. This award-winning tulip is a favorite among brides to use in stunning classic white bouquets.
Kaufmanniana
36. Early Harvest
Blooming early in spring, the flower is a mixture of orange and yellow in varying hues. The rounded petals are held together on a maroon-tinge short stem covered by compactly growing broad green leaves.
37. Stresa
There is no doubt about the multiple awards that this tulip has received ever since its introduction in 1942. The short plant has mottled grey-green foliage and light green stalks. The flowers are bright yellow with triangular patterns of fiery red.
38. Heart's Delight
Heart's Delight is a rather dwarf tulip, growing up to 20 8 inches tall only. But this only adds to the charm of the plant. The outer petals are reddish-pink and lighten toward the inner petals. As the flower blooms, the textured golden center is revealed.
Fosteriana
39. Red Emperor
The upturned petals of this flower are made even more striking with the solid red color and yellow black interior. It beautifully stands out against the stout grey-green leaves and stalks.
40. Exotic Emperor
Otherwise known as White Valley, this double tulip is a creamy white that blooms into milky white with yellow highlights. The outer petals look like green pointed sepals that hold together the flower as it droops upon maturing.
41. Yellow Purissima
Yellow Purissima is a sport or mutation of the White Emperor. The bright yellow flowers have hints of a lighter shade. It is one of the earliest blooms of spring which is commonly found growing along path walks and decorative pots.
Greigii
42. Quebec
This showy tulip is all about the rosy petals with creamy edges and yellow base. A single plant can produce up to 8 flowers creating an instant bouquet when cut at the base. Broad grey-green leaves enclose the flowers together.
43. Red Riding Hood
This goblet-shaped tulip is a dramatic scarlet red with lighter margins. As it blooms in mid-spring, yellow stamens with dark undertones are revealed. The purple and green variegations on the broad leaves make this plant even more interesting.
44. Casa Grande
This bold tulip has loose rounded petals that are tomato-red in color a slight maroon brushed up from the base. During sunny days, the flower opens up and a black center emphasizing the yellow stamens is revealed. The grey leaves are covered in dark purple spots.
Miscellaneous
45. Tulipa turkestanica
This star-like wild tulip was discovered around 1875. Its pointed petals are ivory white with bright yellow base and center. The spindly grey stems are complemented by the thick green foliage.
46. Tulipa aucheriana
This species bears small star-like flowers with purplish-pink petals and brown center. The pointed open petals are not typical of popular tulips but equally create a stunning appeal. The shorts stems are slender and the dark green leaves are narrow and arching. It grows clusters of bulbs over time and performs well in rocky areas.
47. Tulipa saxatilis 'Lilac Wonder'
'Lilac Wonder' is a species tulip loved for its beautiful light purple color. It looks like a daffodil with the pointed petals that fully opens up revealing a bright yellow center. The stalks are short and the leaves are shiny green. It is native to south-western Turkey and a deeper pink form is found on the island of Crete.
48. Little Beauty
A true beauty, this tulip won the Award of Garden Merit for its bloom made of bright purple-red petals with blue and white center atop short thin stalks. The unruly curved leaves also add character to the plant. Potted or directly planted in the garden, the plant thrives well and stands out among other plants.
49. Tulipa urumiensis
Also called T. tarda, this tulip blooms late into the season but the wait is worth it. The flowers open flat and look like a star with the bright yellow center and white pointed tips. 8 flowers are born on a short light green stem surrounded with several narrow leaves. The plant does not like to be crowded and it prefers growing in a rather rocky area.
50. Tulipa acuminata
This tulip is definitely different among the rest. An heirloom species, it has thin spidery-like bicolor flowers of yellow and red petals. From afar, it may actually pass as a bird of paradise flower but it comes in different warm colors too. The plant looks good in containers and is striking as a border in the garden, especially with a dark background.
---
Growing and Caring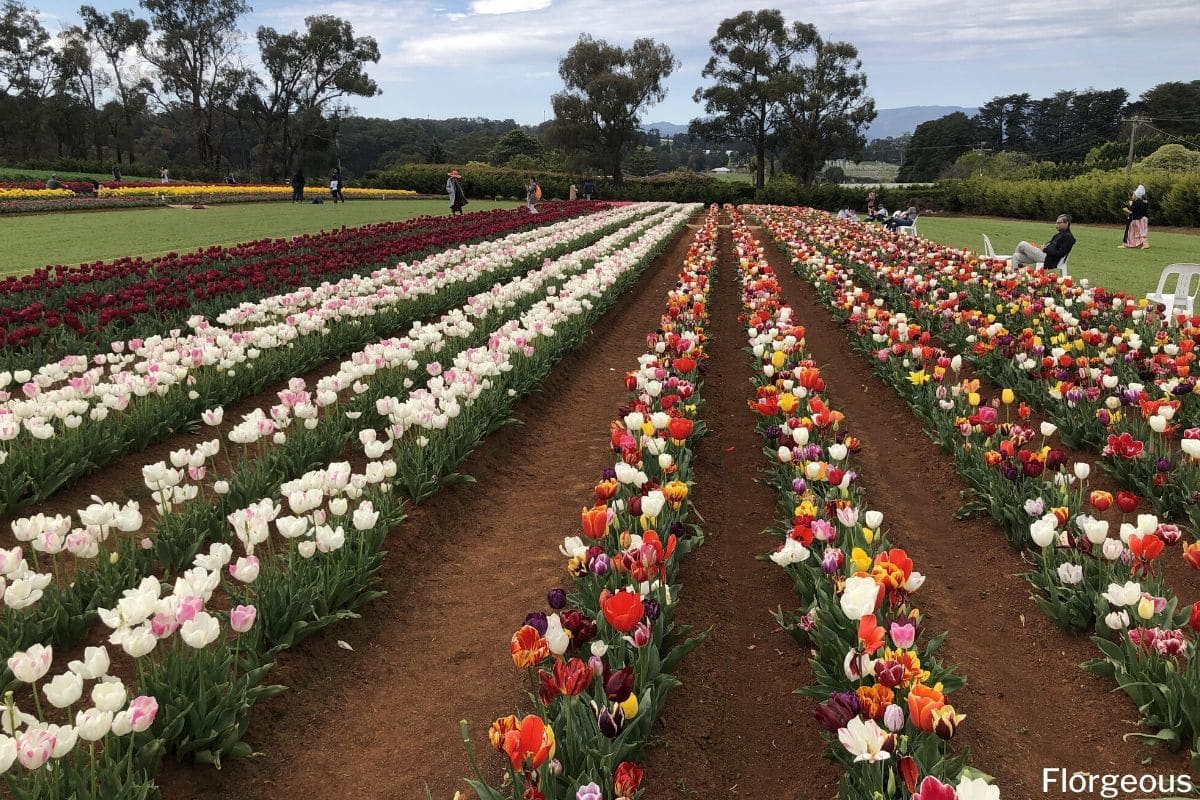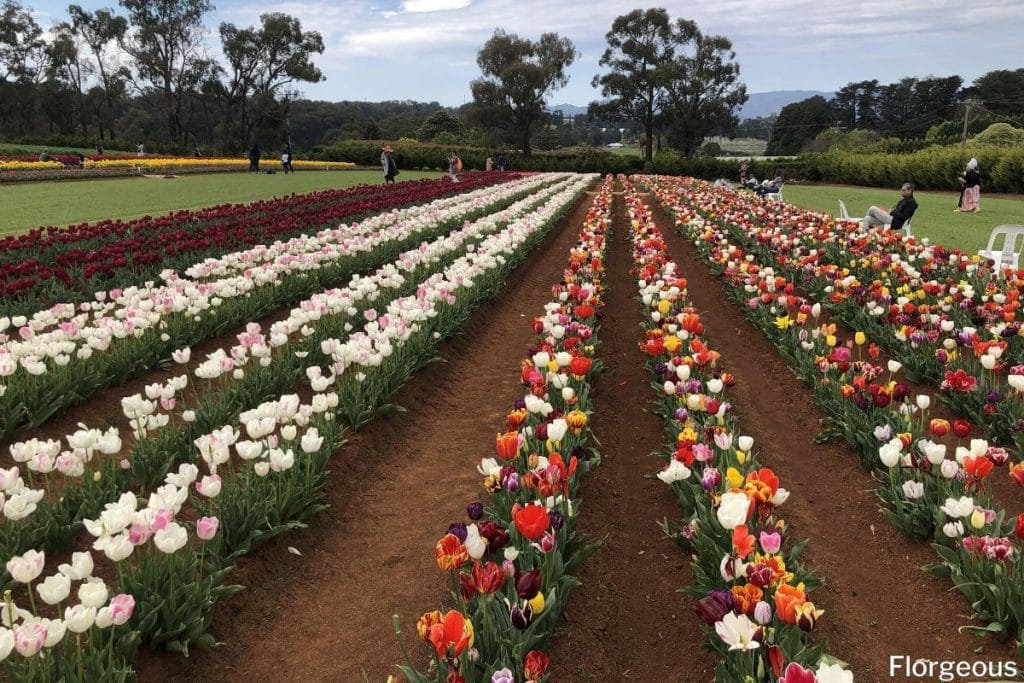 Tulips are one of the most reliable sources of color and character during spring for almost all kinds of gardens. Although they will require certain conditions to flourish, tulips are relatively easy to grow and will provide long-lasting bloom with just the right care.
Once the type of tulip to plant has been decided, the next step is to take note of the specific plant that has any other requirement. Most tulips need exposure to cool, moist winter and warm, dry summer. Temperate regions are ideal for growing this plant but in some locations that do not experience enough cold temperature, precooled bulbs can be purchased (3).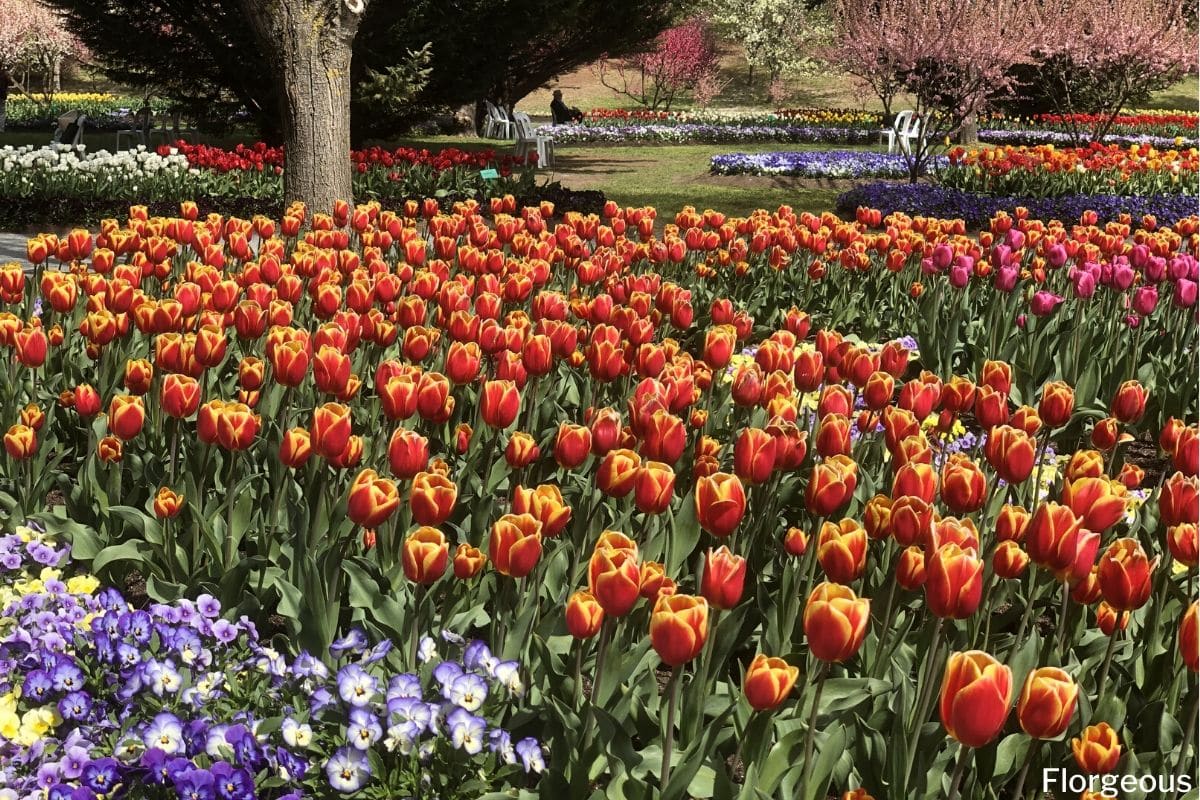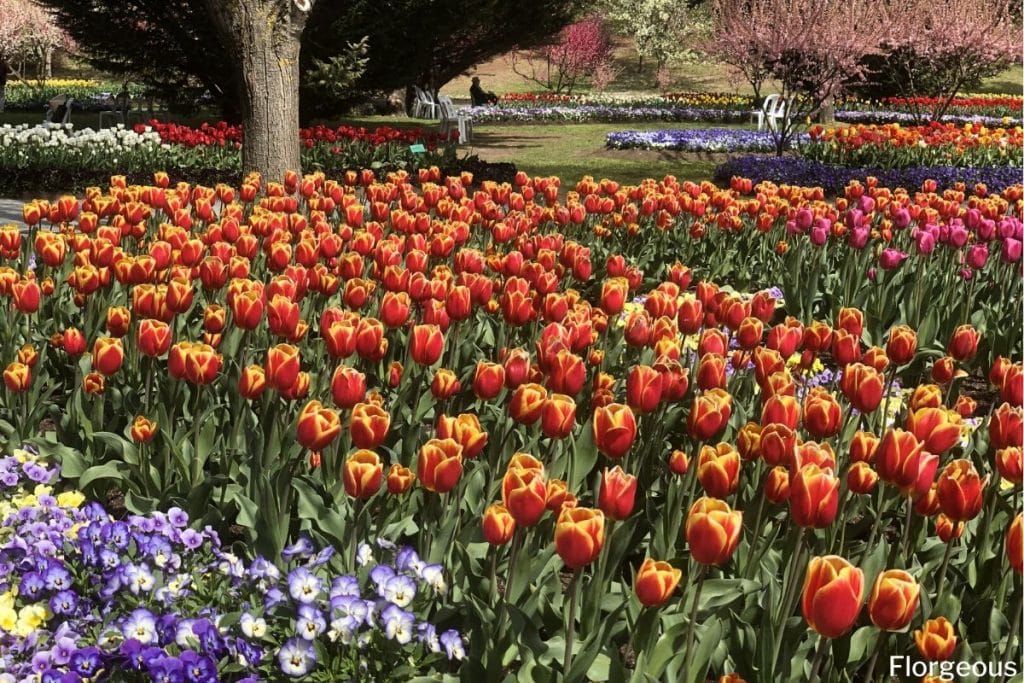 Tulips are perennials but bloom in the following years become fewer and less superior so they are treated as annuals. Some varieties like Negrita, Stresa, and Purissima have been developed to perform for years so these are some of the best options for people who do not want to replant every year (2).
Bulbs from the previous plants can be harvested and stored at optimum temperatures, usually from 40 to 45 degrees Fahrenheit for 8 to 10 weeks (3). Higher temperatures will destroy the bulb and flower quality. For new varieties, most nurseries and garden stores have available bulbs for sale but beware of those with molds or blotches.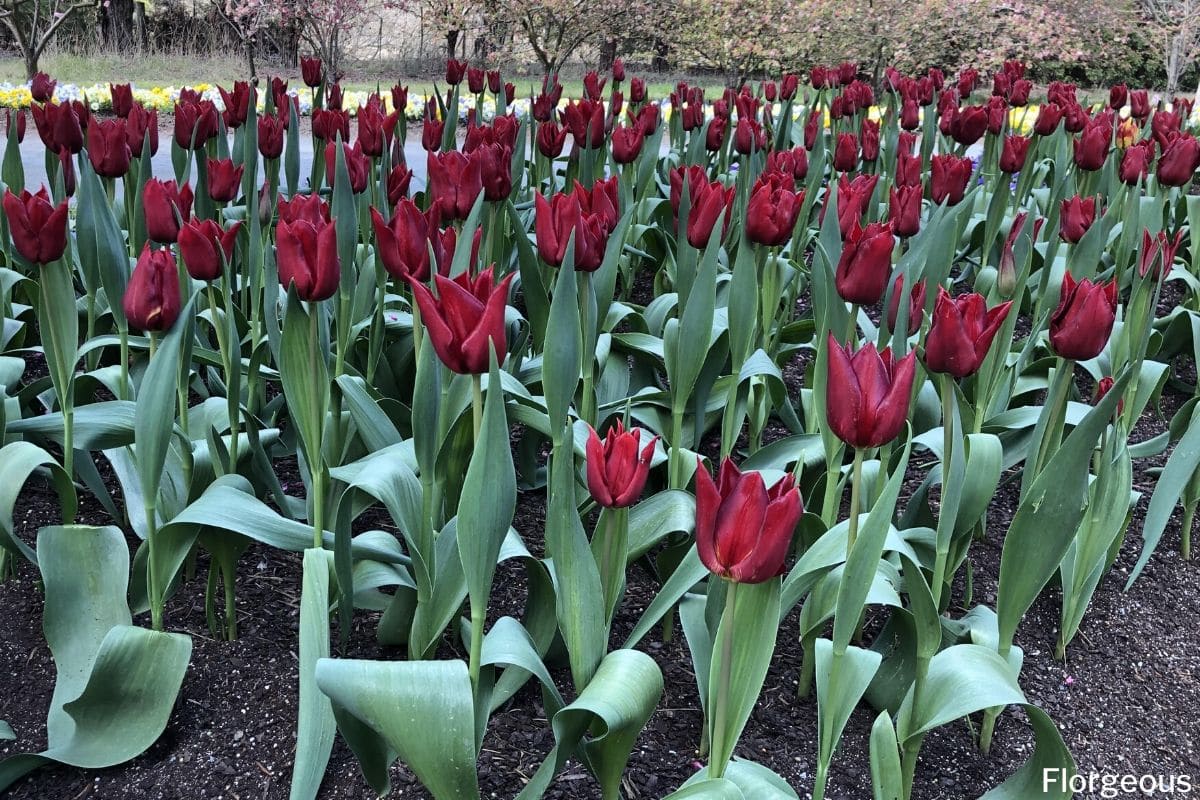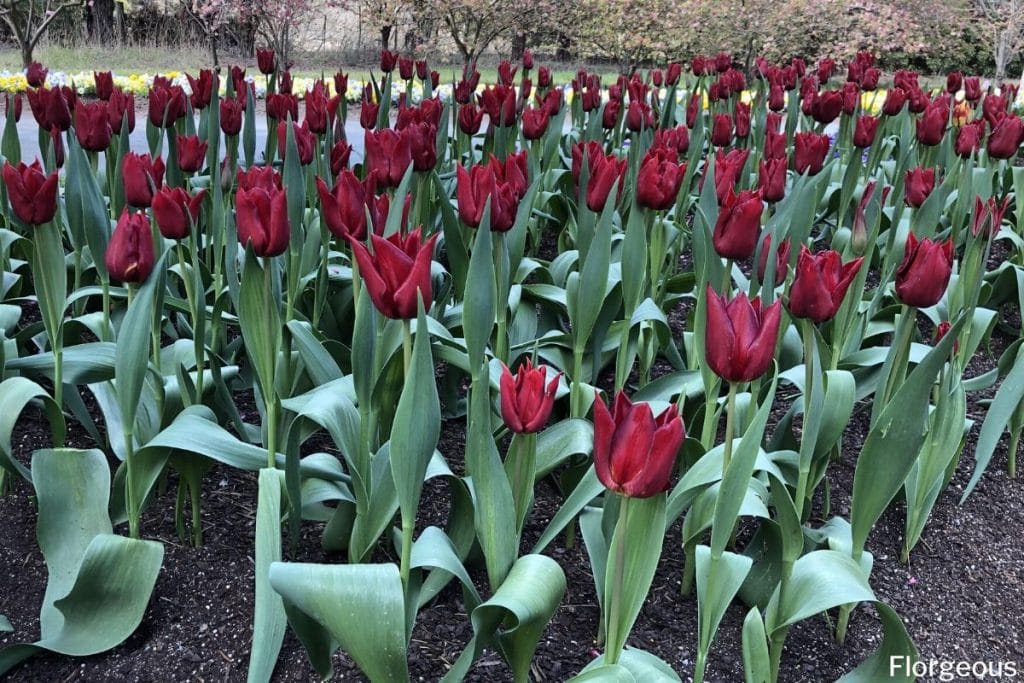 The best time to plant tulip bulbs is during autumn before the freezing winter months. Select a location where full sun exposure is at least 5 hours as the future flowers and leaves will need the shade for protection as well. Species tulips are excellent in rocky areas but most tulips need well-drained soil with high organic matter content (4).
Bulbs should be planted 10 inches deep into the soil for protection during the winter but still cool and conducive in summer. Even depth will allow the plants to bloom altogether during spring but for continuous bloom throughout the season, some bulbs can be planted shallower.
You can check our guide how to plant tulips for more details.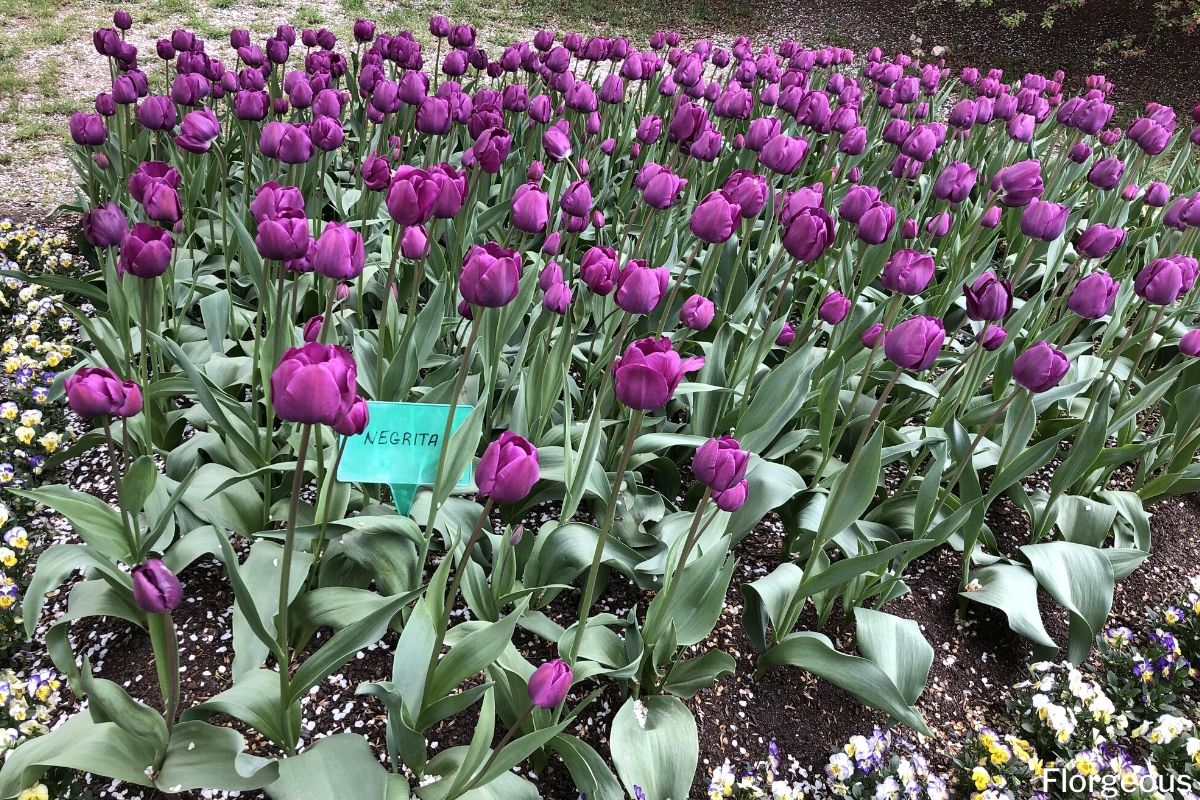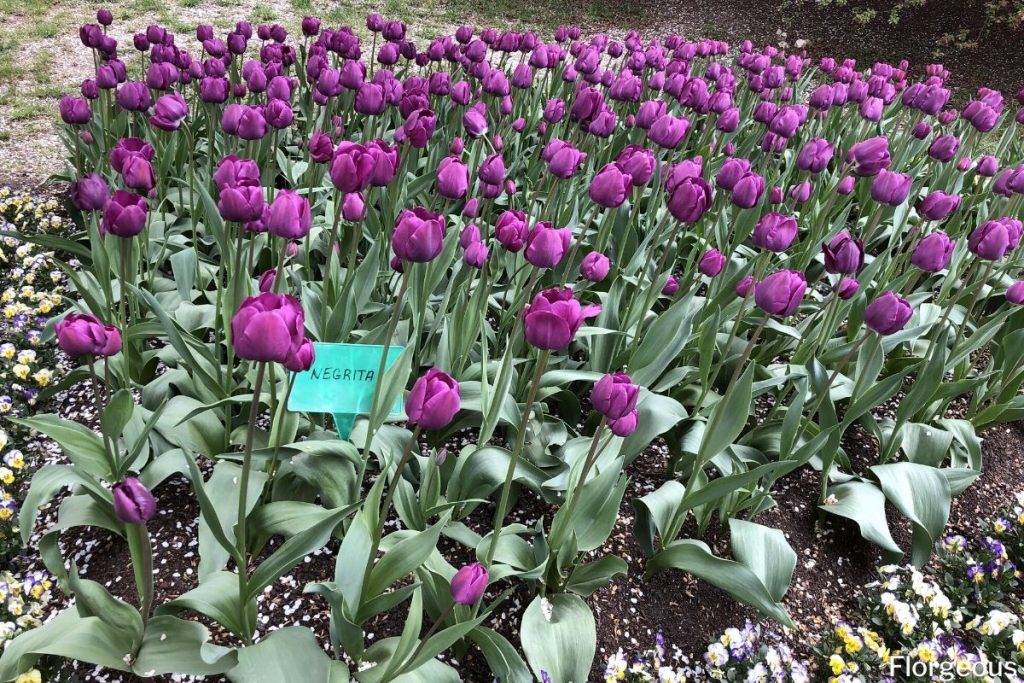 Once they start blooming, they will not need much attention, just watering when it gets too dry. The flowers and foliage will maintain their healthy color for weeks but will eventually wilt and turn yellow. It is important to allow them to completely ripen so that the bulbs can still bloom next year (3).
For tulips that are grown for cutting, fertilization is necessary to keep the plant healthy and the resulting bloom vigorous. Although the bulbs are already rich in nutrient supply, slow-release fertilization is recommended since the flowers will be harvested before the plant uses up the stored materials.
Nitrogen is still required higher than other nutrients but test the soil from time to time with a handy soil test kit to determine if other nutrients are lacking (5).
Pests and Diseases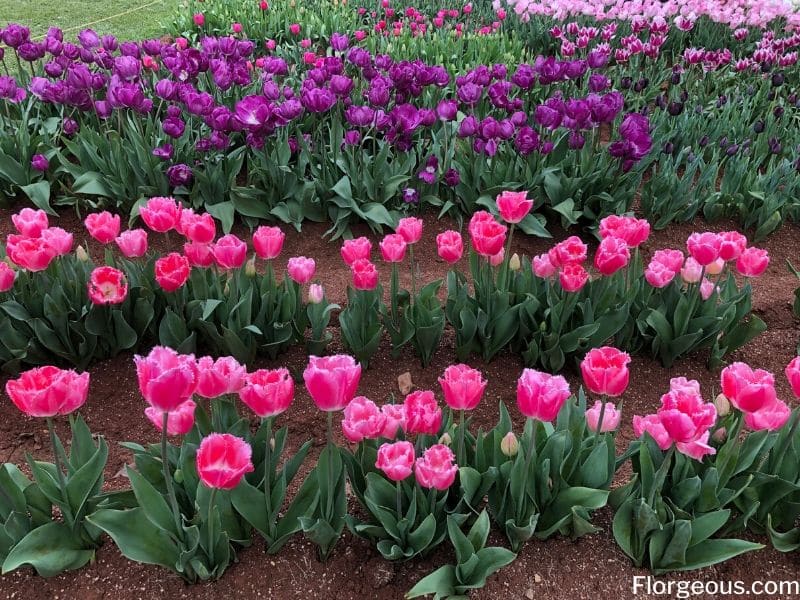 Although there are no known serious pests of tulips, they are still susceptible to common ornamental pests and diseases. Since the plant is herbaceous in nature, it is prone to sucking insects like aphids (5).
These insects thrive on the juicy leaves and stalks of the plant and often excrete honeydew on the plant surface on which sooty mold fungus grows.
Insecticidal soaps are usually enough to control small infestation but the application should be regular to totally rid of the pests (4).
Since tulip bulbs are stored, they are prone to fungal and bacterial diseases. If the storage conditions are not met, the bulbs may form yellow lesions, black spots, and apparent fungal colonies. Stored bulbs should be regularly inspected and infected ones should be discarded immediately. Bulbs can be dipped or dusted with fungicides to prevent further diseases (3).
Always maintain the tools used to dig or cut through the plants by cleaning and sterilizing to avoid contamination.
Tulips are also exposed to virus infection. Several kinds like tulip breaking virus and tobacco mosaic virus are some of the most common. They often cause streaking and mottling patterns on the leaves, stems, and flowers. Some viruses cause the plants to be more attractive like Rembrandt Tulip but production is halted due to the effects it may cause on other varieties and the decline of the host plant (4).
Aphids are usually the carrier of the virus so it is important to eradicate them. Infected plants should be destroyed immediately as well as the weeds growing with them in the same container or area which will harbor the diseases.
Tulip is undeniably an amazing flower. Don't forget to check our guide for more flower names beginning with t.
Up Next:
References
Reference List:
(1) Montgomery, M. "Tulips". North Dakota State University.
(2) Wilford, R. "The Plant Lover's Guide to Tulips". Timber Press. 2015. P. 224.
(3) Ellis, B. "Taylor's Guide to Growing North America's Favorite Plants". HoughtonMifflin Harcourt. 2000. P. 342.
(4) Gill, Stanton, et. al. "Production of Tulips as Cut Flowers". Maryland Cooperative Extension. P. 12.
(5) "Tulips: Plant Care and Collection of Varieties." National Gardening Association.
Close