Abelia is a very tough and hardy flowering shrub that has a long flowering period and needs very little attention from the gardener. If you're looking for a virtually maintenance-free, fragrant plant with a multitude of uses in the landscape, this might be just the plant for you.
Read on to learn more about how to grow and care for the glossy abelia.
What Is A Glossy Abelia Shrub?
Glossy abelia is a hybrid shrub species from the Caprifoliaceae family that is technically known as Linnaea x grandiflora (previously Abelia x grandiflora). (1) These popular plants are a cross between two east Asian species, L. chinensis and L. uniflora.
This is a broadleaf multistemmed shrub that has a mounding growth form. Depending on the severity of the winter temperatures, this plant may be evergreen, semi-evergreen, deciduous or even a resprouting perennial.
There are many cultivars available that come in varying sizes, but the largest glossy abelias reach a height of about 8 feet (2.4 m).
The foliage consists of glossy green leaves that are oppositely arranged. The leaves are typically a little over an inch (2.5 cm) long and dark green. New growth has pinkish hues, and fall foliage turns a beautiful bronzy shade.
Mature plants have attractive, peeling bark, and reddish young stems.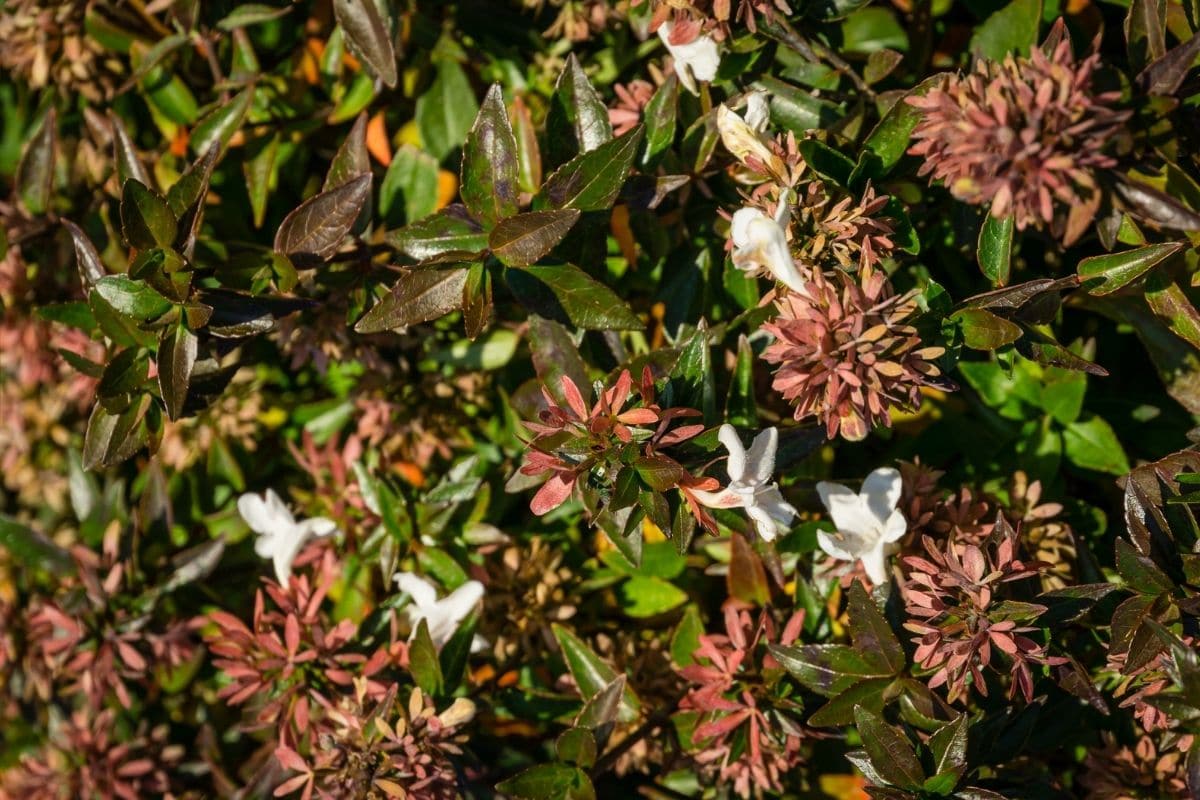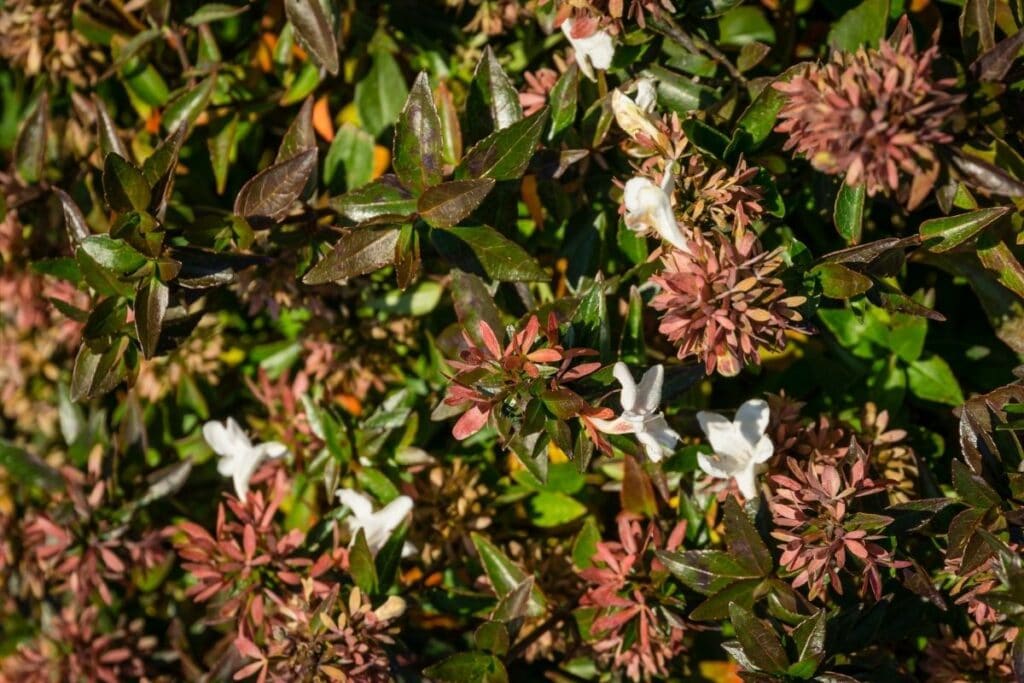 Glossy Abelia Flowers
This shrub puts on quite a floral show, providing a long, continuous flowering period that may begin as early as late spring, and run on into the start of winter.
The fragrant blossoms measure ½ to ¾ inch (13 to 19 mm) in length and are usually white in color. Each flower has a pinkish calyx consisting of 5 sepals that persist well after the flowers have fallen.
Cultivars
There is a wide variety of glossy abelia cultivars available. Some of the most popular options include:
'Edward Goucher' – This compact form grows from 3 to 5 feet (0.9 to 1.5 m) tall and is popular for its bronze fall foliage and pink-colored flowers.
'Kaleidoscope' – With an extra-long bloom-time and variegated foliage that changes color from golden yellow, through bright green to rich orange-red, this cultivar makes a fine specimen. These are small shrubs that grow to about 2 ½ feet (0.75 m) tall and a little wider.
'Little Richard'- This cultivar grows to about 3 feet (0.9 m) tall and produces fragrant white flowers. The foliage is variegated and dark green, becoming a beautiful shade of purple in the fall.
'Rose Creek' – This cultivar has beautiful pink-tinted new growth and a compact, low-growing form of 3 feet (0.9 m) or less. It produces white flowers about ½ inch (13 mm) long.
How To Grow A Glossy Abelia
Being a hybrid, you will need to grow this plant from cuttings to keep the most desirable features. Fortunately for gardeners, roots develop easily from softwood, greenwood, or semi-ripe cuttings taken from spring to late summer. (2)
These plants are tolerant of a variety of soil types, including clay. As with so many shrubs, they do best in moist, well-drained, and mildly acidic soils, however.
One of the key benefits of this shrub is its well-known tolerance for drought. That being said, if possible, these plants do enjoy a moist substrate and can be watered moderately.
Glossy Abelia plant can be grown in full sun to partial shade, but will definitely flower better in full sun. Grow this plant in USDA hardiness zones 6 to 9.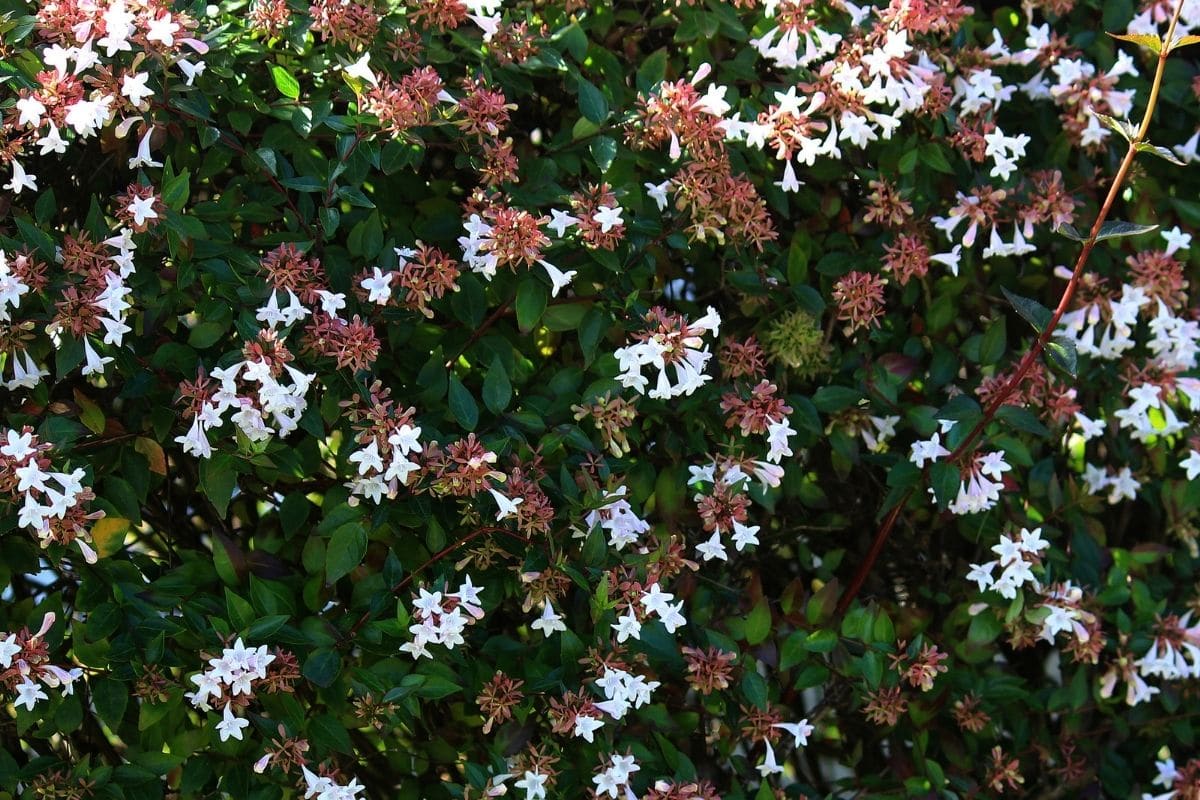 Care and Maintenance
Glossy Abelia shrub is easy to grow and will thrive without much attention. These plants look beautiful if left unpruned to develop their typical arching form. They can be neatened up, however, if you prefer. These plants bloom on new growth so do your trimming in early spring, before new flowering growth develops.
In decent soil, fertilizing is not strictly necessary, but this plant can be fed in the spring and summer for more vigorous growth. Just be careful about feeding too late in cooler areas where new growth might be damaged before it gets time to harden off.
Abelia X Grandiflora is generally pest and disease resistant. Some plants, however, may be affected by aphids. (3)
Uses
Horticultural Uses
Glossy abelia makes a great foundation plant, particularly the smaller cultivars. These shrubs have so many uses in the landscape, however. You can learn more about kaleidoscope abelia companion plants to get more landscaping ideas.
They are showy enough to use as an accent plant but sturdy enough for more utilitarian uses like hedging, borders, and screens. The smaller cultivars also make great container plants.
Wildlife Uses
The long-lasting, fragrant blossoms of this plant are highly attractive to pollinators like bees, butterflies, and hummingbirds. Deer, however, tend to leave this plant alone.
---
FAQs
Conclusion
What could be better than a compact, showy and fragrant flowering shrub that is tough and needs very little maintenance? Glossy abelia ticks all the right boxes and is highly recommended for landscaping in zones 6 to 9.
*image by Marinodenisenko&Wirestock/depositphotos