When flowers are in bloom, it also means bees and butterflies will be out and closer with flowers, gardens, and wildflowers. You will see them gracefully flying as if they are dancing over the flowers, and that's the happiest moment of their lives.
In this guide, you will discover the types of flowers that attract these pollinators the most.
Bees and butterflies are one of the most welcomed additions to any garden or home landscape for apparent reasons. Butterflies come in all varieties of colors, shapes, and sizes.
In contrary to popular belief, bees are not bound to be black and yellow. They come in different colors, which include; white, red, orange, green, blue, and even purple. However, both of them add life to your landscape.
What Are Pollinators?
As you know, pollinators such as butterflies, bees, birds, bats, beetles, moths, flies, wasps, etc… are fabulously necessary for your garden, orchard, and especially for your entire homestead.
Bees and butterflies are probably more important. They like flowers because they feed on their nectar and pollen. The nectar is used by them as food and an energy source to get to and from their home.
They need flowers and flowers need them. Because of this, flowers have established a unique way to get their attention, and as humans, we can't see it. They have different types of eyes. In short, we view the world very differently because of how we process lights and colors.
Flowering plants are obliged to get pollen from one flower to another, either within a plant for self-pollination or cross-pollination. However, pollen can't move on its own, and there is a reason why they are so attractive to bees and butterflies.
Best Flowers To Grow For Pollinators
Here are great examples of attractive flowers for bees and butterflies that you probably have or can have in your garden.
1. Allium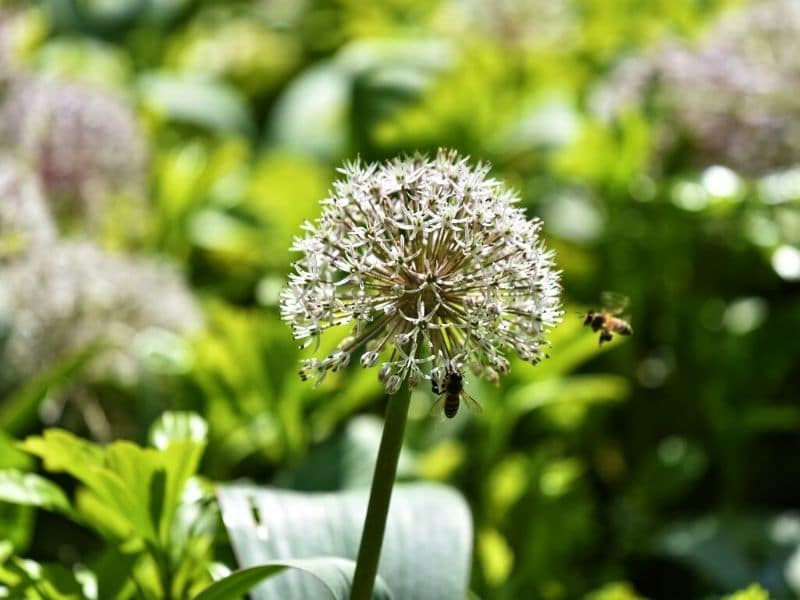 Allium (Allium giganteum) usually grows up to 5 feet high. Some of them are tall, and some of them are just short. They have a powdery aroma and come in different varieties. People name this flower a 'Giant Onion.' This flower is an Asian class of onion, primitive to central and southwestern Asia, yet they are cultivated in many countries as a flowering garden plant.
The Giant Alliums are like glowing lanterns for bees and butterflies. The flower captivates them to enhance garden pollination. They spread quickly in the garden, yet not so swift that they take over, so they can stand in the same area for years.
2. Aromatic Aster
Aromatic Aster (Symphyotrichum oblongifolium) are daisy-like perennials with a star-like shaped flower head. They are versatile, easy-to-grow ground cover for dry, sunny locations, and an indigenous perennial wildflower that grows from 1–3 feet tall.
The flowers turn reddish-purple as they develop. Contrary to its name, the flowers have no aroma, but the leaves do when squeezed. They bring amusing color to the garden in late summer and autumn when many of your other summer blooms may be fading. They are blooming until November, and they are a valuable late-season source of pollen for bees and nectar for butterflies.
3. Bee Balm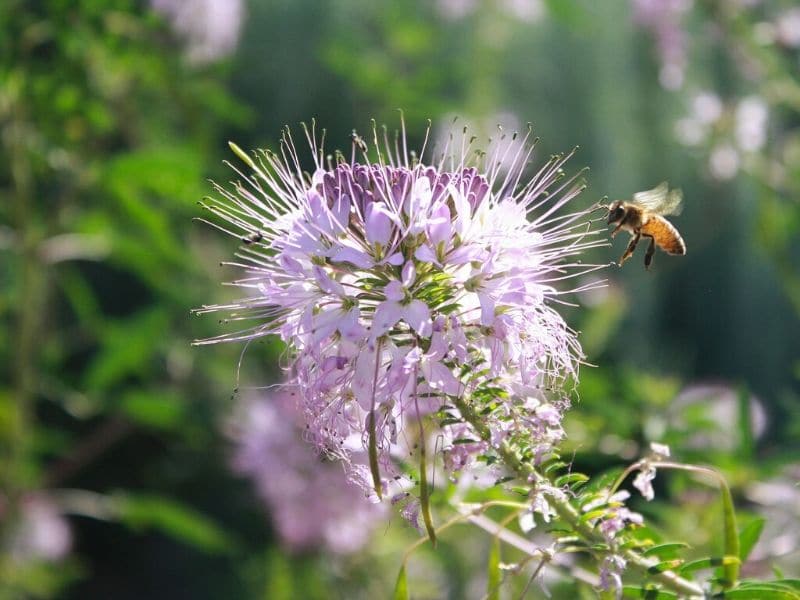 Their unique appearance can help you quickly identify a Bee Balm (Monarda didyma) plant. Basically, they are found in pink, red, and white colors. The plants are common herbaceous perennials.
Herbaceous plants are those that have non-woody stems. A "perennial" plant is a plant that endures the winter, even when its growth above the ground dies.
Butterflies and bees are fascinated by this plant because of its strong fragrance and nectar. The plant grows and spreads swiftly, so they need lots of spots to develop. Being a perennially growing plant, it will remain the beauty of your garden for a long time.
4. Blue Wild Indigo
Blue Wild Indigo (Baptisia australis) is a group of large, long-lived perennials. They add a long season of interest from flowers and foliage, and species modify their height and width. Some species grow no more than 1 to 2 feet tall.
Their fragrant blooms entice butterflies and bees to your yard. Flowers are held in exciting straight-up races. In other words, flower spikes with a short stem attaching each flower to the central stalk. Their flower spikes can be 12 to 24 inches tall, composed of typical pea-shaped flowers.
5. Buttonbush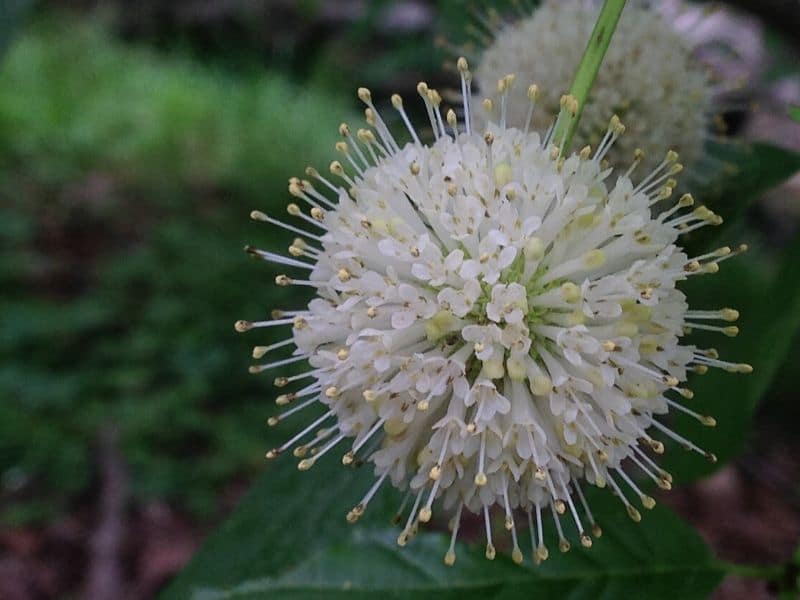 Common Buttonbush (Cephalanthus occidentalis) is a multi-stemmed shrub that grows 6-12 feet or periodically taller, and trunks are often twisted. Their polished and dark-green leaves lack vital fall color. Moreover, they are long-lasting, and its one-inch globes and bizarre blossoms are white or pale pink. Afterward, rounded masses of nutlets linger over the winter.
When these plants are blooming, they're sure to captivate honey bees as well as butterflies. When the bees are working on this plant, the apiary usually has a rich scent at night.
6. Butterfly Bush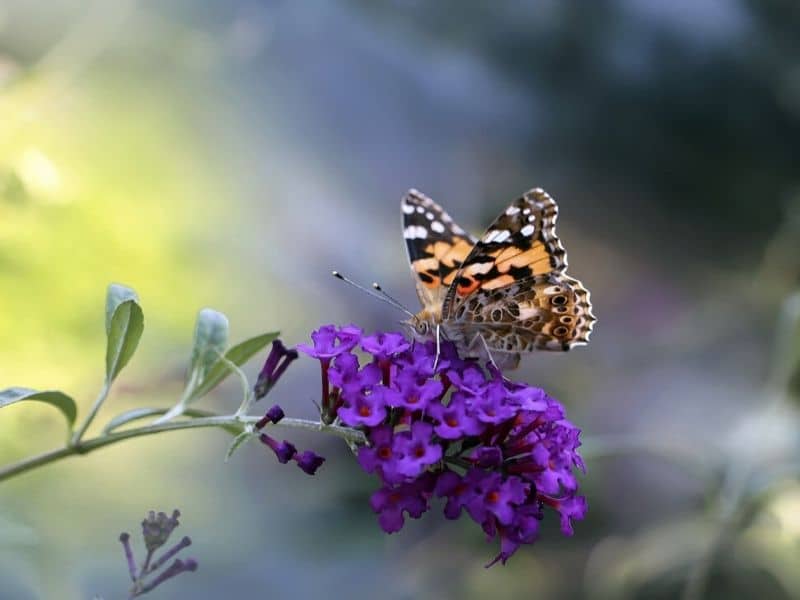 The butterfly bush (Buddleja davidii) is a choice among gardeners. The plant is uncomplicated to grow. In a well-drained ground, they can endure a full scope of climates, from very wet to intensely dry. They have a long flowering season, usually during spring and summer, reaching into the fall in warmer climates.
Butterflies and bees are commonly attracted to the plant's sweet scent and radiant colors, especially in locations where bee populations have been hard hit by colony collapse disorder. The Butterfly bush can give essential sustenance to recovering people and substitute pollinators.
7. Catmint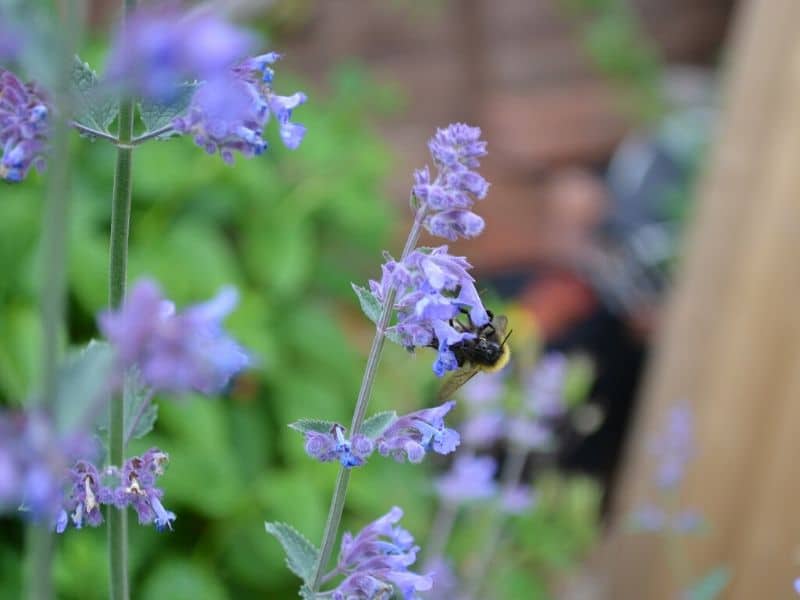 Catmint (faassen nepeta) is a member of the mint family, but please don't rapidly send away this attractive perennial if you've had a concern with invasive mint in the past. This plant is much more natural to grow and a bonus for being well-behaved.
The catmint adds beauty and food for profitable insects all summer long. They produce long-lasting flower spikes that are highly tempting to honey bees and also butterflies. They are fantastic plants for use in rock gardens, along with pathway points, or as buddy plants in rose gardens.
8. Clove Pink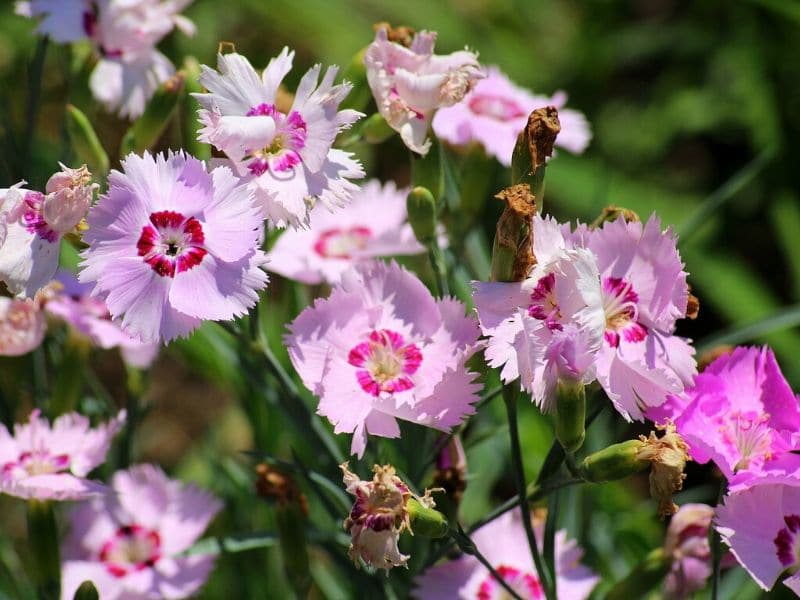 Gardeners with little areas to fill and sunny locations would do well to try growing Clove Pink (Dianthus caryophyllus) flowers. Not only do the plants have an opaque feathery form, but the alluring, scented flowers have a long herbal history – both in medicine and as edible ornament and flavoring.
The plant before blooming has an airy structure and organized arrangement, but once they flowers, they attain a stable condition decorated with tiny fragrant flowers that entice bees and butterflies.
Clove Pink is the native ancestor of today's garden carnation, which has been advanced into cultivars of various colors like yellow, white, and red.
9. Cornflower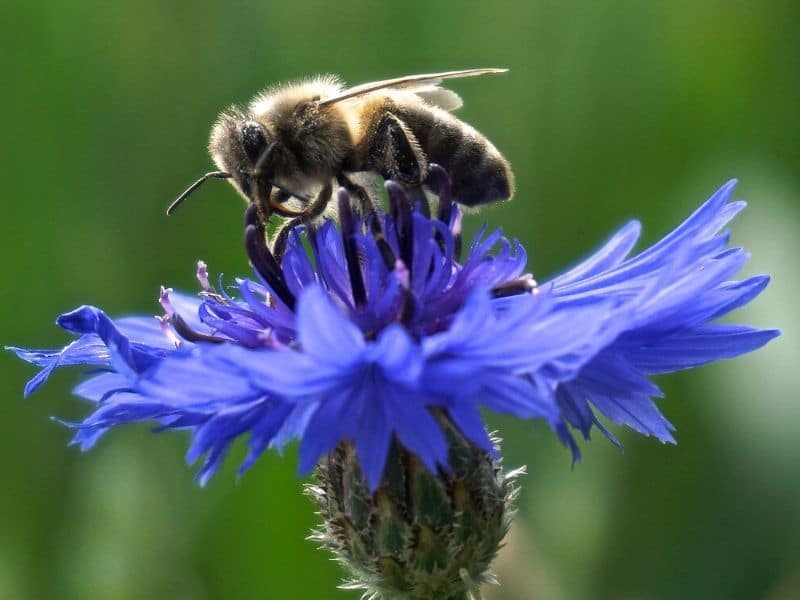 Cornflowers (Centaurea cyanus) are famous in wildflower gardens and would be fitting as borders in garden beds. These old-fashioned flowers are easy to bloom, drought-tolerant, and can thrive in most soil conditions. The flowering span is from June to September. Do not forget to plant in full sun and in well-drained soil.
Cornflowers are dependable and long-flowering. These are essential sources of nectar and pollen in most areas, and their flowers are typically blue, pink, yellow, white, or various tones of purple. Bees are specifically enticed to the blue and white-flowered ones.
10. Daylily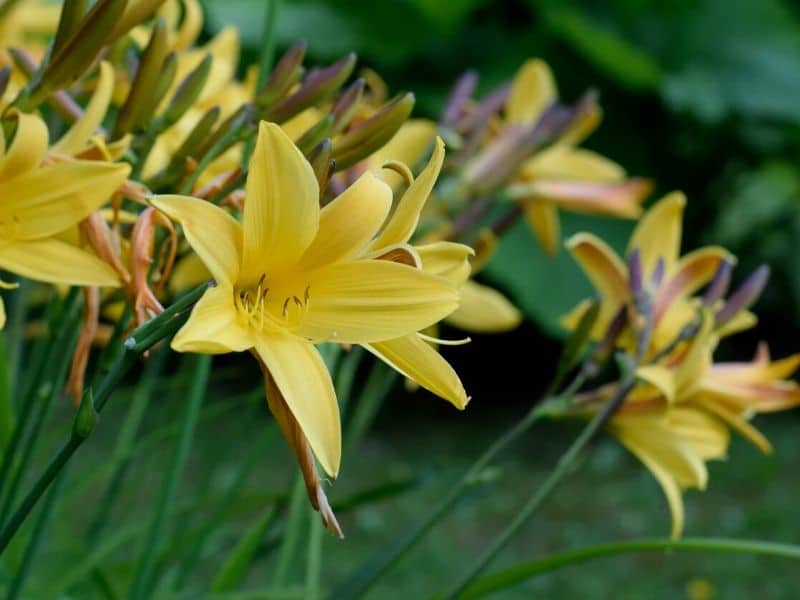 Daylilies (Hemerocallis citrina Baroni) may be the coolest of all blooming perennials. The plants grow swiftly and are long-lived. They bloom in almost several classes of soil, will grow in sun or shade, and are seldom troubled by insect pests or disease.
These flowers are known for their firmness and by their large and colorful flowers. Flowering begins in midsummer and endures into early fall, with new blossoms opening each day.
Daylilies are tempting to many pollinators, including butterflies and bees. Part of that fame is due to the cup-like shape that causes these tiny living creatures to gather up the nectar they need to bloom.
11. False Indigo
No other flower can load your garden with dazzling blue flowers like blue False Indigo (Baptisia australis). This beautiful flower is a native American allure. They are part of the pea family, and you will notice the similarity in its plant and flowers, as well as its tenderness for colder weather.
False Indigo has a vertical shrubby form. They give a long period of interest, with intensely-hued flower spikes, incredible seed pods, and growth that is seldom disturbed by pests or disease. They are essential for bumblebees and butterflies that can open or grasp into the pea-like flowers and approach the nectar.
12. Fleabane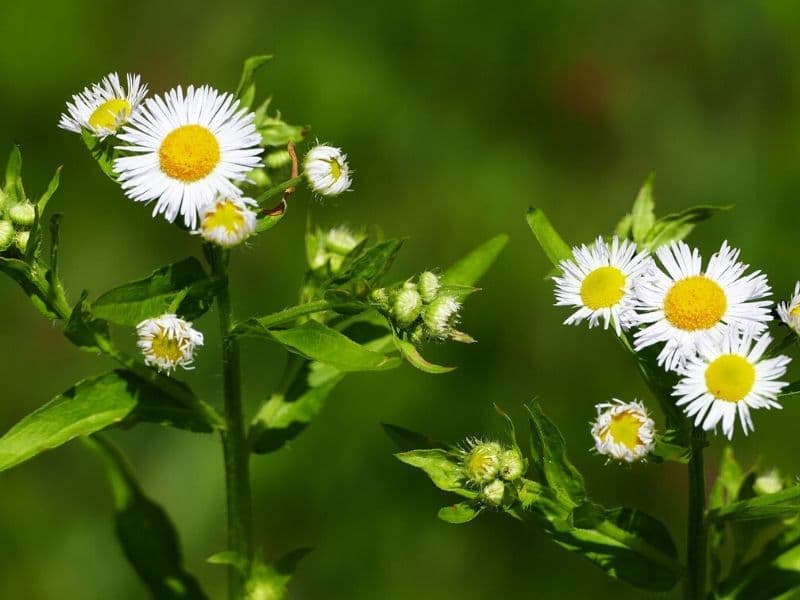 You may have seen this beautiful, daisy-like wildflower in the garden, against buildings and fences, and along roadsides in spring and early summer. Fleabane (Conyza bonariensis) flower heads sort from white to pinkish to pale purple. The plant is easy to control through trimming.
Their easy-going reproductive movements, along with its attractiveness, make it an optimal weed—also, a massive element for such pollinators like bees and butterflies.
13. Floss Flower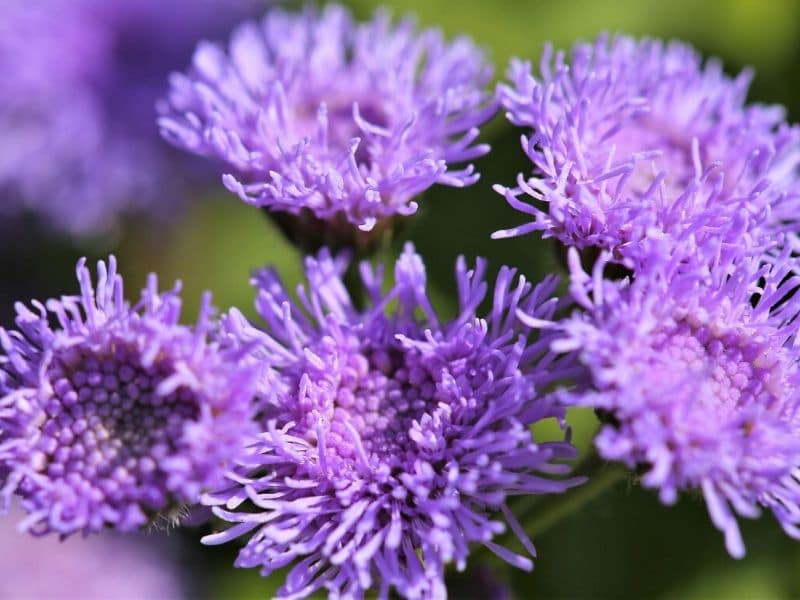 Floss Flower (Ageratum houstonianum) is a yearlong flowering plant native to Mexico. The floss flower plant gives furry flowers in rounded, compact flower heads, adding a fascinating blue flower color to the garden. With limited shade, they can develop from 12 to 39 inches tall.
The floss flower grows from late spring through summer, and all the exceeding characteristics make this species of flowering plants a refreshing choice for outdoor containers. They are excellent nectar origin for butterflies and bees in late autumn. They are one of the last meals that the pollinators can find before extreme cold puts everything to bed for the whole period.
14. Globe Thistle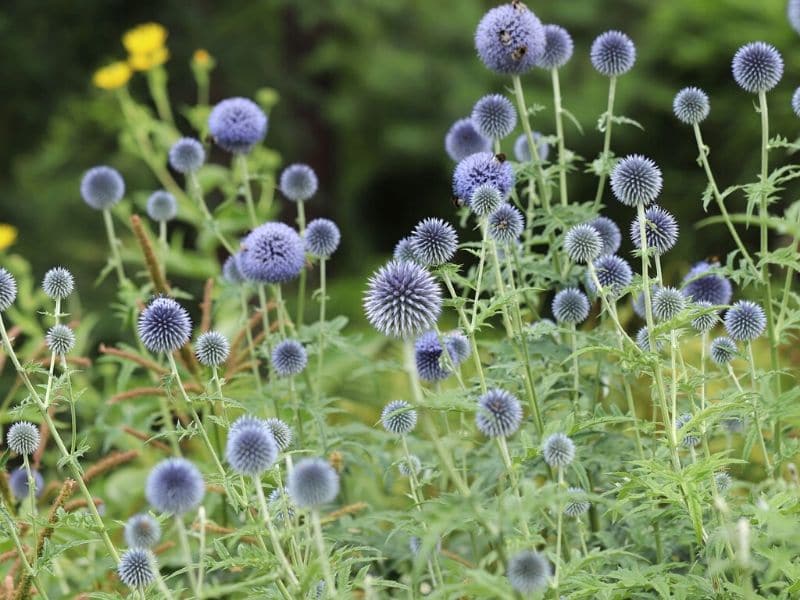 Globe thistle (Echinops ritro) is part of the Aster family. The immense spiky flowers pop up in early summer and last up to 8 weeks. They are gorgeous flowers with deep dark blue petals position in a spiky frame. The leaves are entirely notched – dark green on top and kind of silver underneath and somewhat fuzzy. The plants originate from Asia and Europe.
Bees and butterflies fall for Globe Thistle, which gives enough nectar. They are uncomplicated to grow from seed and will come back yearly. This mid-summer flower will have bees falling over themselves to work, and it is not uncommon to see numerous types of bees and butterflies working a single flower head in unity.
15. Goldenrod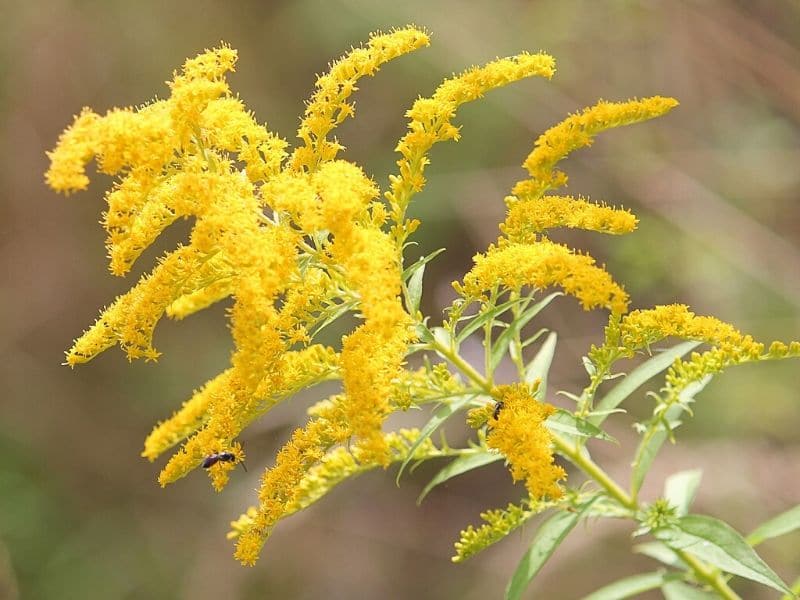 Goldenrod (Solidago) is an elegant plant only when they thrive, and their stalk and leaves have a "weedy" look to them. Their flower time changes from midsummer to late summer through fall, depending on the type. But overall speaking, this plant is tall and slim (occasionally growing as high as 10 feet tall) with soft, golden flower spikes.
Goldenrods are among the most necessary late-season pollinator plants. Honey bees and butterflies often assemble massive imports of goldenrod nectar earlier to winter. Other bees use the pollen to stock late-season nests. They are usually thick and somewhat sharp in aroma and fast to granulate. The average sugar absorption in the nectar of some goldenrod species has been stated at approximately 33%.
16. Helen's Flower
Many butterflies and bees visit the crowd of bright, one-inch flowers in late summer. Helen's Flower (Helenium amarum) is a glamorous and beneficial mid-sized native for wet or watery gardens. This flower is the namesake of a royal queen, and when you see how beautiful this flower is, you'll figure out why.
They flower late-season and second, and unremarkable until they bloom turn them into a boasting beauty. Helen's Flower task in the garden is to welcome fall with its fun autumn colors of bronze, russet, orange, gold, and yellows, or a blend of them all.
17. Hollyhock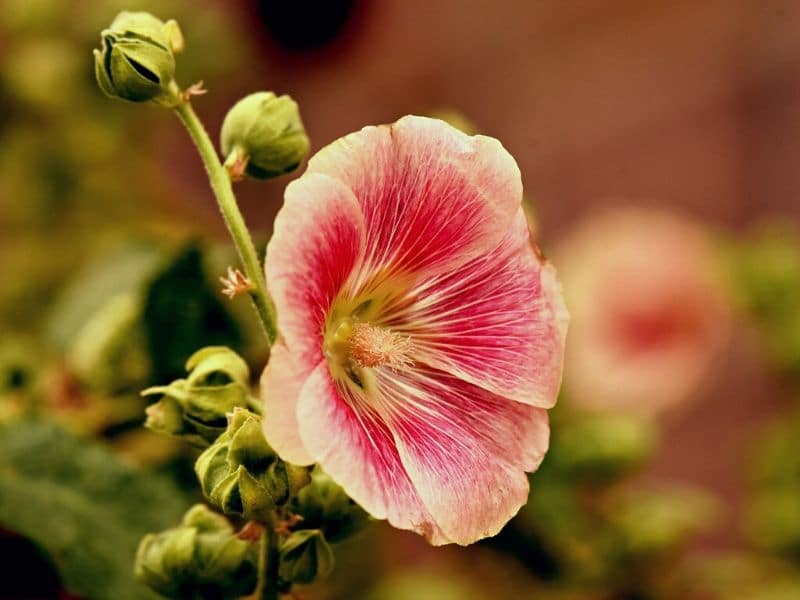 These easy-care plants come from China and the Mediterranean. Hollyhocks (Alcea rosea) give classy blossoms that entice butterflies and bees to the garden. Plant hollyhock seeds during winter to provide blooms by summer. Traditional spring-planted seeds won't flower until next summer. Hollyhocks reseed themselves annually.
Hollyhocks produce heart-shaped leaves that clump up into a hill below the flower stalks. Flower natures are single, semi-double, and double with blossoms of 3 to 6 inches wide. The large flowers top strong, tall stems. Hollyhock varieties are possible in white, pink, red, yellow, purple, chocolate, black, maroon, raspberry, and apricot colors.
18. Joe-Pye Weeds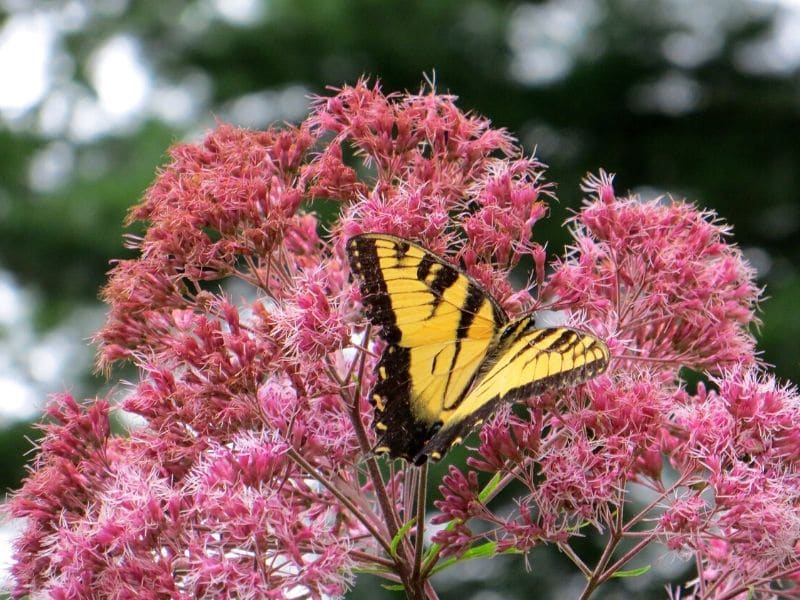 Joe-Pye Weeds (Eupatorium purpureum) do best in full sun to limited shade. They also admire to be kept relatively moist in moderate to fertile soil. Growing Joe-Pye weed will even endure wet soil conditions but not exceedingly dry sites. Therefore, in the field with hot, dry summers, plant these ornamental charms in limited shaded locales.
The flowers come in a range of colors from white to pink, to purple – depending on the variety – and attract butterflies and bees. Although others have never seen honey from Joe-Pye weed, it is stated to be a dark orange-amber color with a fruity essence.
19. Lavender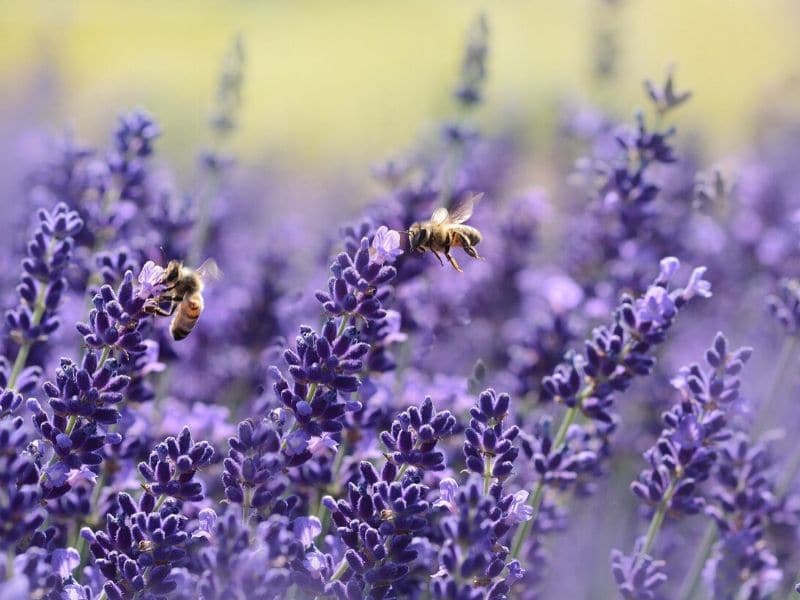 Lavender (Lavandula angustifolia) is common in herb gardens for their scented leaves and charming flowers. They are small evergreen shrubs with gray-green ancient linear leaves. The purple flowers are freely organized on spikes at the tips of long bare stalks.
The aroma of the plant is caused by dazzling oil glands planted in the middle of tiny star-shaped trichomes (plant hairs) that wrap the flowers, leaves, and stems and the other reason why such pollinators like bees and butterflies visit this plant regularly.
20. Lilac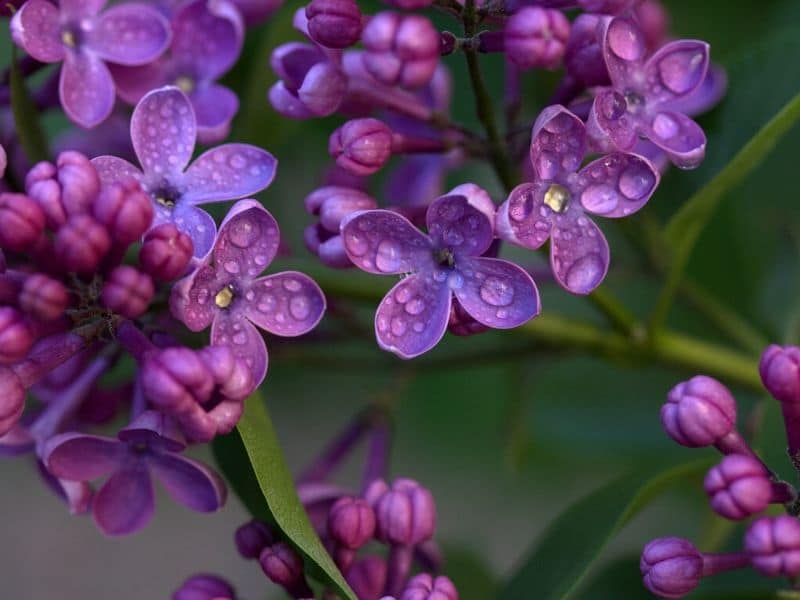 It's uncomplicated to find Lilacs (Syringa vulgaris) and lilac bushes in North America. They seem to have always been in America but are not native to the continent. They are native in Europe and Asia. Lilacs are hardy, uncomplicated to grow and low sustenance. They can rise from 5 to 15 feet tall, depending on the type.
The optimal lilac shrub has about ten canes. It gives flowers at eye-level all the better to appreciate that sweet and nostalgic fragrance that also affects bees and butterflies—the scent changes depending on the lilac variety from thrilling and sweet to spicy and extraordinary.
21. Lychnis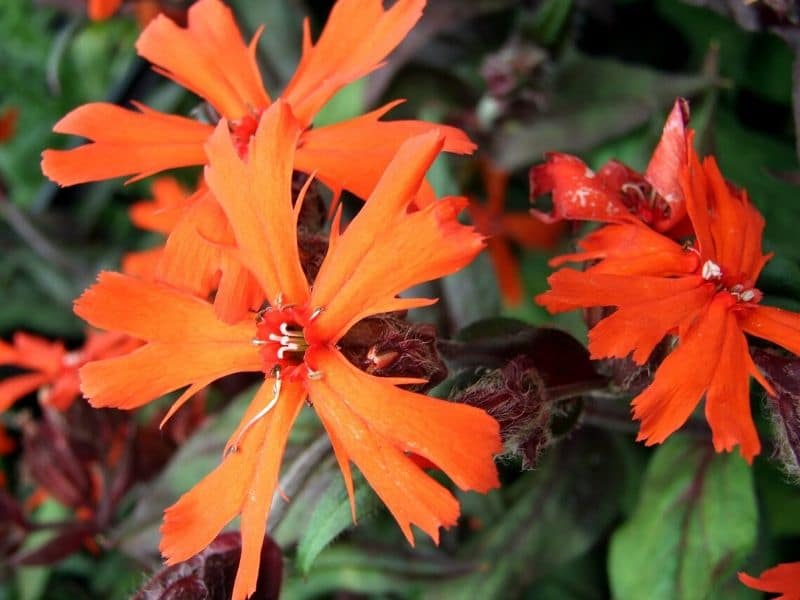 Lychnis (Lychnis coronaria), also well-known as 'Rose Champion', is an old-time favorite that boosts sparkling color to the flower garden in the tone of magenta, bright pink and white. Lychnis flowers can be found at home in tiny house garden locations and more. The plants favor full sun but tolerate limited shade, where they give fewer flowers.
This attractive and long-flowering perennial supports the bees engaged for the whole summer. This plant is marvelous for a sunny border. Lychnis is known for attracting bees and butterflies by its nectar pollen-rich flowers.
22. Mallow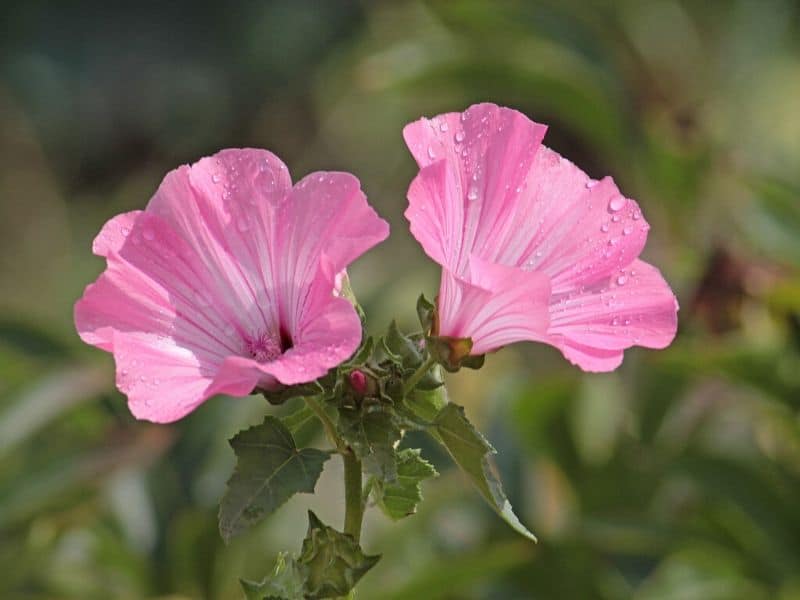 Few "weeds" create a smile on many faces like Mallow (Malva sylvestris) flowers do. Ofttimes treated a nuisance to many gardeners, Mallow Flowers is an exquisite wild rarely treasure.
They can grow from 6 to 24 inches tall. Mallow Flowers have pink or white hollyhock-like flowers on long stems enclosed in round, wavy-corner leaves. Its similarity to hollyhock is beyond doubt. Common mallow plants bloom from early spring to mid-fall.
These flowers are a distinct outstanding element of these unique plants, and the leaves are heart-shaped. They make a splendid addition to mixed flower gardens that bees and butterflies graciously fly above Mallow Flowers.
23. Milkweed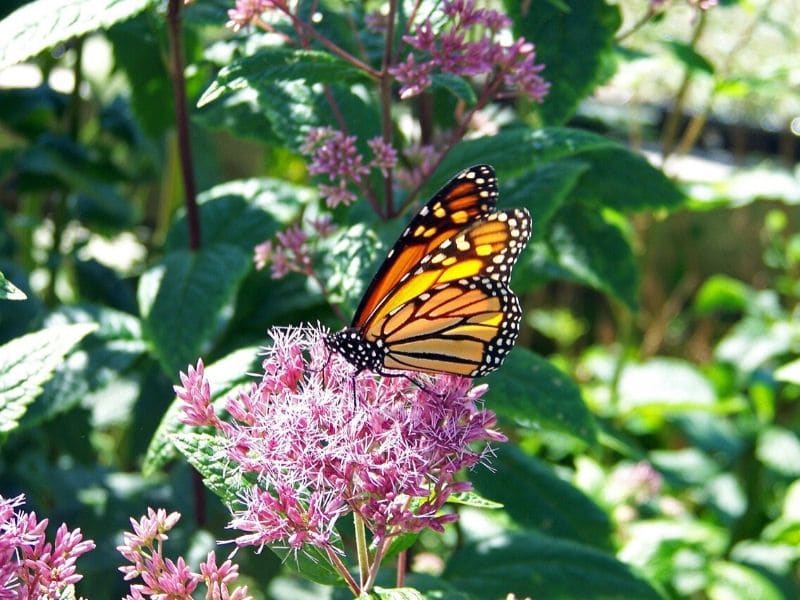 The milkweed flower (Asclepias syriaca) plant may be treated as a weed and are usually isolated from the garden by those unaware of its unique attribute. Indeed, they may be found growing roadsides simultaneously, in ditches, and may need removal from commercial areas. However, the cause for planting milkweed in the garden flies by in summer.
You can quickly grow milkweed plants to entice the Monarch and other flying creatures like bees to your garden. The seducing milkweed flower ranges in color from pink to purple to orange and blooms from June to August. These flowers give a lot of nutrients that help the Monarch caterpillars to change entirely into beautiful butterflies.
24. New York Ironweed
New York ironweed (Vernonia noveboracensis) is a towering, bundle-forming perennial, growing 5-8 ft. in height. They have little rough stems that bear lance-shaped, deep-green leaves. Its tall, erect stem branches approach the summit, with each branch bearing a bunch of deep blue and purple flower heads together. Its small flower heads develop in large flat-topped, loosely branched, and extreme bunch. Flowers are round and dark reddish-purple.
The vivid purple flowers bloom the best during the month of September. Butterflies and long-tongued bees energetically visit and pollinate these flowers. While adult bees consistently harvest food from flowers for their expenditure as well as their offspring, all food collected by adult butterflies is for their purpose.
25. Ninebark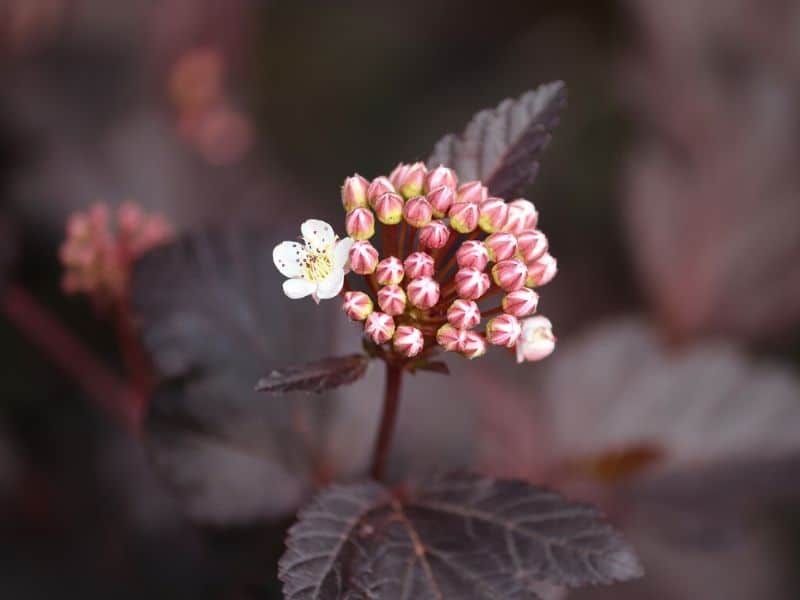 Ninebark (Physocarpus opulifolius) is an adaptable flowering shrub extensively used in landscaping. It gets its name from its bark, which can be peeled off in many (potentially nine) slim layers. Ninebark features dark green or reddish leaves that form an alluring overflowing hill.
They bloom in late spring with a bunch of white or pink flowers, which often attracts pollinators like bees and butterflies. Plant Ninebark in an area that gets full sun to limited shade, as it flowers best under full sun. They are usually tolerant of the different temperatures and humidity levels within their favored hardiness areas.
26. Pansy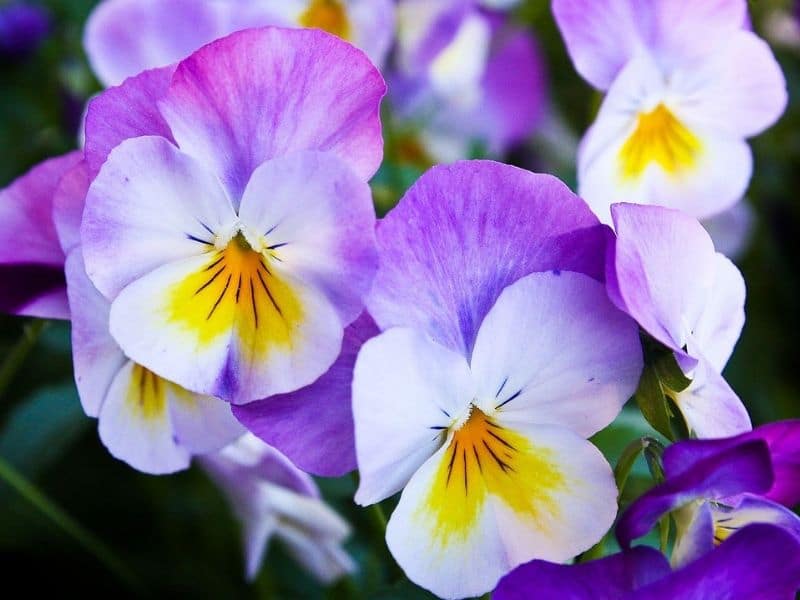 Pansies (Viola) are aromatic, and edible blooms enticing in gardens. The flowers are single with five petals that are spherical. Pansy plant popularity boost possibly due to its comfort of growth.
The flower of Pansies has a delicate perfume-like scent and no wonder why such bees and butterflies adore them. Once you have smelled and recognized the pansy aroma, it will be memorable. Pansies seem to radiate more fragrance in the early morning and sundown. The yellow or blue pansy flowers seem to have the strongest fragrant.
27. Purple Coneflower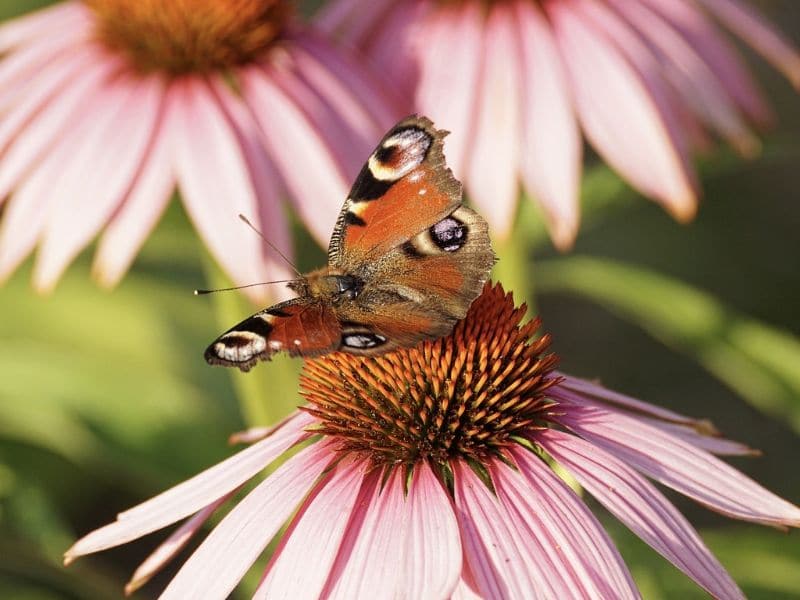 Purple coneflower (Echinacea purpurea) is a firm perennial wildflower that accommodates easily to a kind of growing environment, including the stage of heat and dryness.
This flowering plant has an intensely hued, daisy-like wildflower that develops on top of stiff, 2- to 4-feet stems and medium-green, lance-shaped leaves. The narrow, floppy petals, in shades roaming from lavender, pink and purple, scatter from coppery brown center cones.
Purple coneflower grows for about a month in midsummer, usually returning for repeat conduct in fall, and that's the time that bees and butterflies come right away in your garden. The plant is a welcome enhancement to a butterfly garden. Also, honey bees are attracted to the delight nectar of this flower.
28. Sea Holly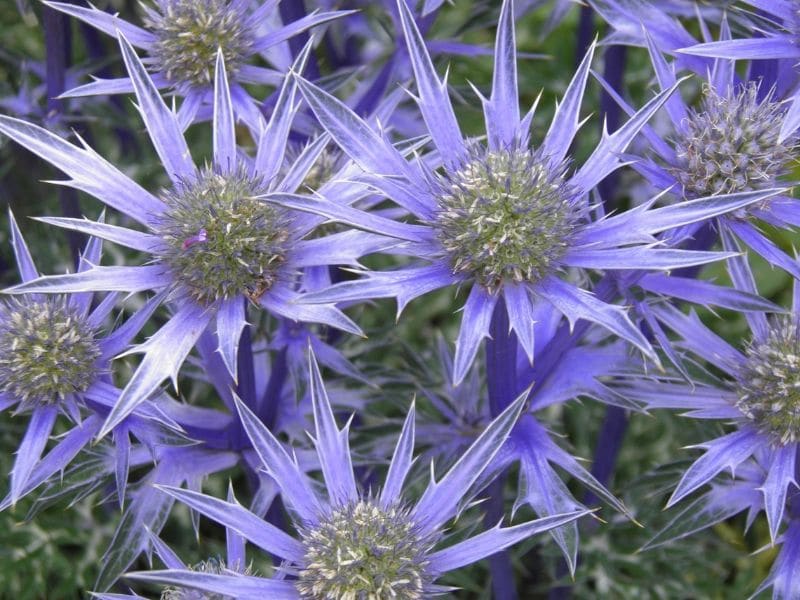 Are you looking for a captivating enhancement to the garden? Then why not consider growing Sea Holly flowers (Eryngium)? Sea hollies can give exclusive passion with their spiny-toothed leaves and a bunch of teasel-like blossoms. They also offer flexibility with their wide field of the growing environment and assorted uses in the garden.
Their green or silvery-blue stems give aspect to green or blue cones encircled by spiky silver, white, green, blue, or violet leaf, which bloom from summer through fall. Although they have no pleasant odor, Sea Holly attracts butterflies and bees. Their exotic beauty is fascinating.
29. Snapdragon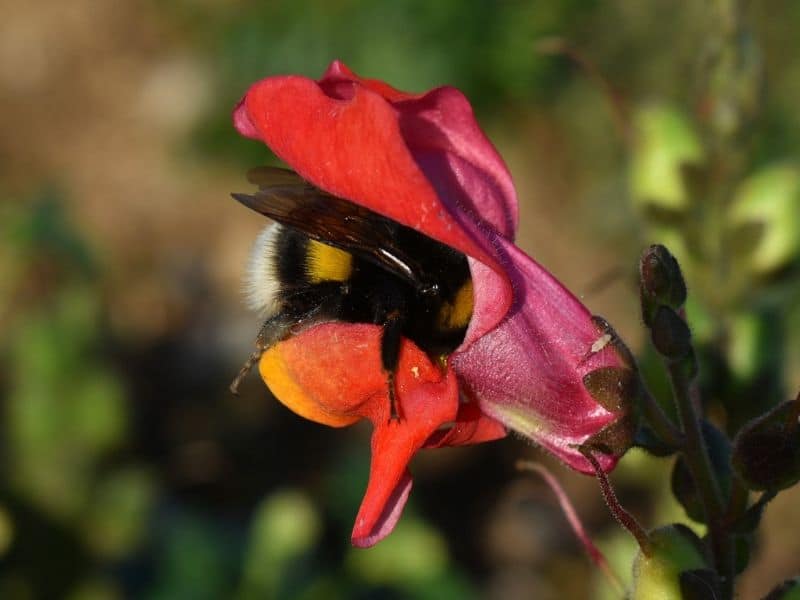 Bright snapdragon (Antirrhinum majus) flowers bloom extensively throughout frosty weather in profoundly saturated colors (almost every hue) and are rare in either the spring or fall garden.
The flowers start blooming at the ground of the stalk and work their way up, making for a long span of bloom. Although Snapdragons likely to cease blooming in the heat of mid-summer, if you keep them watered, they will benefit up and bear your garden through the fall.
The flowers feature opening mouths when they are pushed on their sides. The openings of the flowers come apart solidly shut and need more tension to open than a honeybee can provide, so snapdragons reckon on heavier bumblebees for their pollination. Butterflies are also a magnet to this flower because of its nectar.
30. Tulip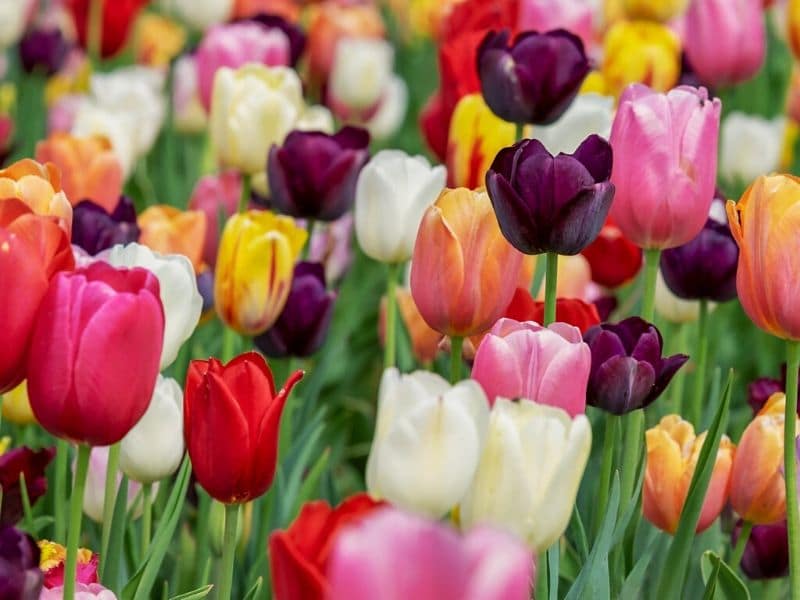 Tulips (Tulipa) are some of the most popular spring flowers of all time, and the third most famous flowers worldwide next only to the Rose and Chrysanthemum.
Tulips come in an incredible variety of height, colors, and flower forms. Some tulips are even fragrant, which can invite the bees and butterflies to come over.
Tulip flowers are well-known for being almost entirely well-proportioned. Most tulips sprout a single flower bud, but a few types have up to four on a single stem. Tulips are also said to cue the arrival of spring.
---
Common FAQs
Do bees and butterflies like the same flowers?
Butterflies and bees both have a sweet tooth. They need pollen and nectar from flowers to power their flight and sustain offspring. Bees enjoy various areas of flowers. Above all these helpful plants, some also advocate not using pesticides or herbicides. Most of the same plants that benefit bees, also help other pollinators like butterflies.
How do you create a pollinator-friendly garden?
You can create a pollinator-friendly garden when you keep your yard messy, grow a wild bee sanctuary, and create a butterfly garden. Also, planting a collection of ornamental flowering plants in the open areas around the perimeter or within the edge of a vegetable garden will invite native pollinator enterprise in the home garden.
How do I attract bees to my garden?
To attract honey bees, begin by planting single-petal flowers with yellow, white, blue, and purple blooms in your garden. You can also plant bee-friendly herbs like sage, rosemary, thyme, and lavender. A reminder, stop utilizing pesticides on your yard and let the plant grow a little intense to give shelter for the bees.
*Featured Photo by ekina1/depositphotos