Karl Foerster grass (Calamagrostis x acutiflora 'Karl Foerster'), also known as feather reed grass is a type of ornamental grass that is frequently seen in all sorts of landscaping projects. In fact, these are probably the most popular ornamental grasses that are used in landscaping projects.
In 2001, this grass variety was named the Plant of the Year by the Perennial Plant Association. Feather reed grass is popular and sought after because it is so versatile, visually appealing, and easy to maintain.
One of the reasons many gardeners love to include these perennial grasses in landscaping projects is because it gets along with a variety of other low-maintenance plant species. Pairing these ornamental grasses with other perennials can help you create garden scapes that are very easy to maintain and very beautiful to look at.
In this guide, we are going to have a look at some of the best companion plants to grow along with Karl Foerster grass.
What to Plant with Karl Foerster Grass
If you are looking for companion plants to grow alongside feather reed grass then it is best to focus on something that has similar growing requirements.
Foerster feather reed grass grows well in USDA zones 3 – 9 and produces lots of glossy green foliage from early spring to late fall or perhaps even late winter in warmer regions. In colder regions, these perennial grasses will turn into a golden-tan color that can add texture and color to your garden bed.
The grasses grow well in full sun or partial shade and need to be established n well-drained soil but they do need frequent watering.
Here is a quick look at some neighboring plants with similar growing needs that you can grow with Karl Foerster ornamental grasses.
Karley Rose Fountain Grass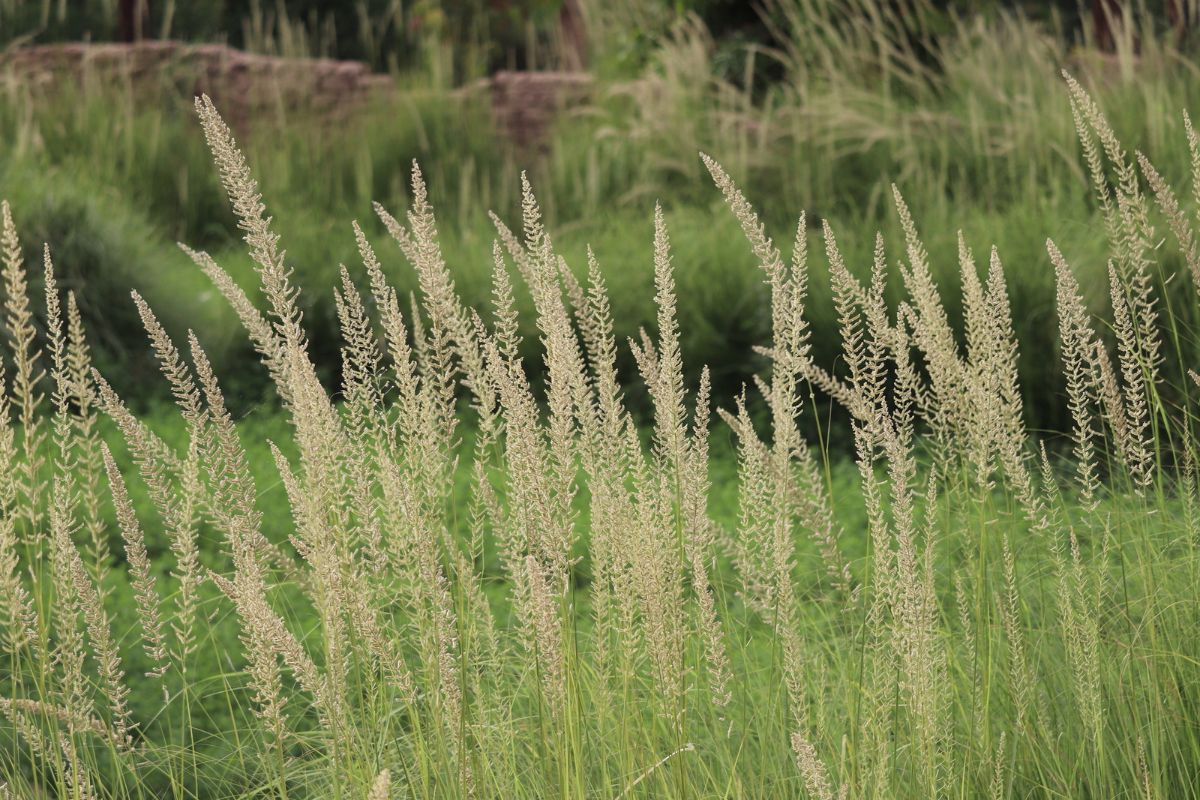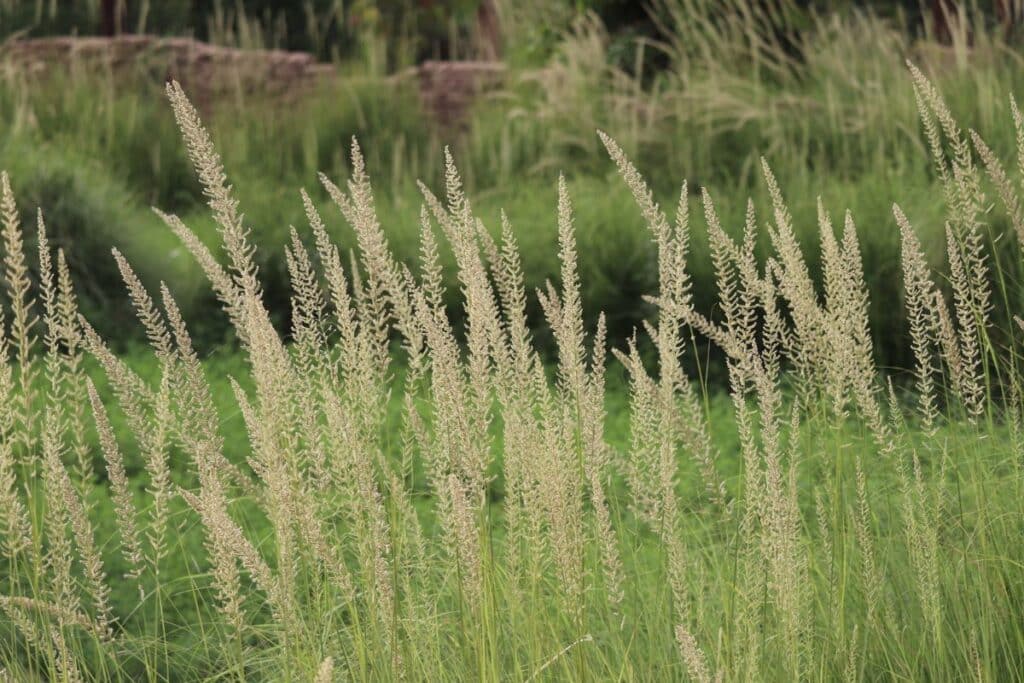 For gardeners that love ornamental grasses, one variety usually isn't enough. This is exactly why we included Karley Rose Ornamental Grass (Pennisetum Orientale) on our list.
Karley Rose grass is often used in ornamental gardens because it is functional for creating a vertical accent in your garden. The foliage is dark green and will add lots of interest during the warmer seasons, especially when the grass flowers and produce reddish feathery plumes. In the winter months, the oriental fountain grass will turn golden tan and these warmer colors will add plenty of winter charm.
This fountain grass species is a great companion for Karl Foerster grass because it also grows well in medium to moist soil types in soil that drains easily. These grasses prefer sandy soils and they need at least 6 hours of direct sunlight to flourish and flower but they can survive in partial sun.
This grass variety will grow up to 36 inches tall which is just about the same height as Karl Foerster feather reed grass. With these similar heights, you can easily pair the two grass varieties in the same garden bed to create an even more dramatic effect.
Elijah Blue Fescue
Elijah blue fescue (Festuca glauca 'Elijah Blue') is a terrific ornamental grass variety to consider if you want something a little bit shorter for the front part of your garden.
These evergreen grasses with their blue foliage are helpful for creating more contrast in your garden and can even add a little bit of color when it produces buff-colored flowers in summer.
To grow this beautiful grass, you will need to establish it in well-draining soil in a sunny spot in your garden.
Ideally, you should position Elijah blue grass in front of your Karl Foerster feather reed varieties because this clumpy grass will only grow up to 8 inches tall. It is a very handy border plant to use if you want to create a striking border or want to keep your ornamental plants separated from your lawn.
Blonde Ambition
Blonde ambition (Bouteloua Gracilis) is also a good foliage to add to your grassy landscape. This grass variety will add lots of texture to your garden when it produces its small flag-like flowers on tall spikes.
These other grasses will grow well in the same area as feather reed grass because they also need plenty of direct sun and well-draining soil. The foliage is quite hardy and very easy to maintain.
You can add both of these grasses to the same garden bed because they are relatively equal in height. The combination of grass varieties is helpful for filling out your garden bed and will give a very charming appearance when the slightest breeze sets these grassy stalks in motion.
Russian Sage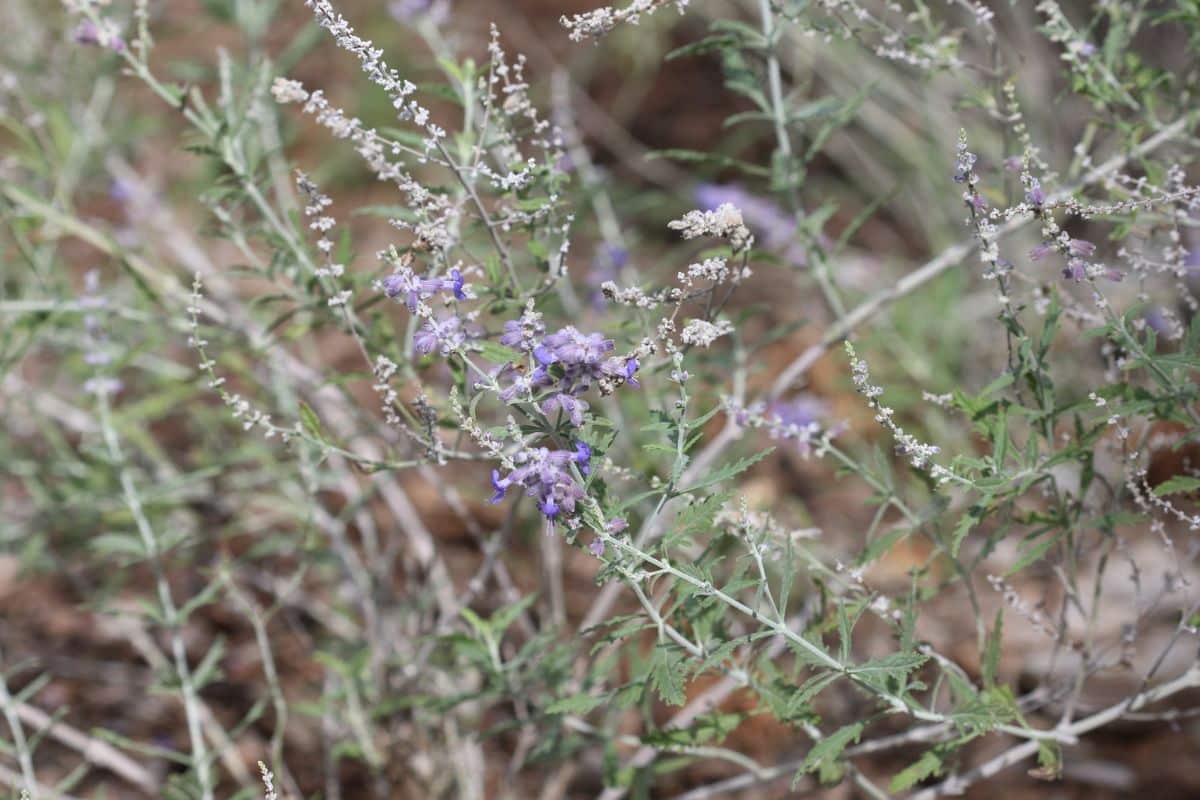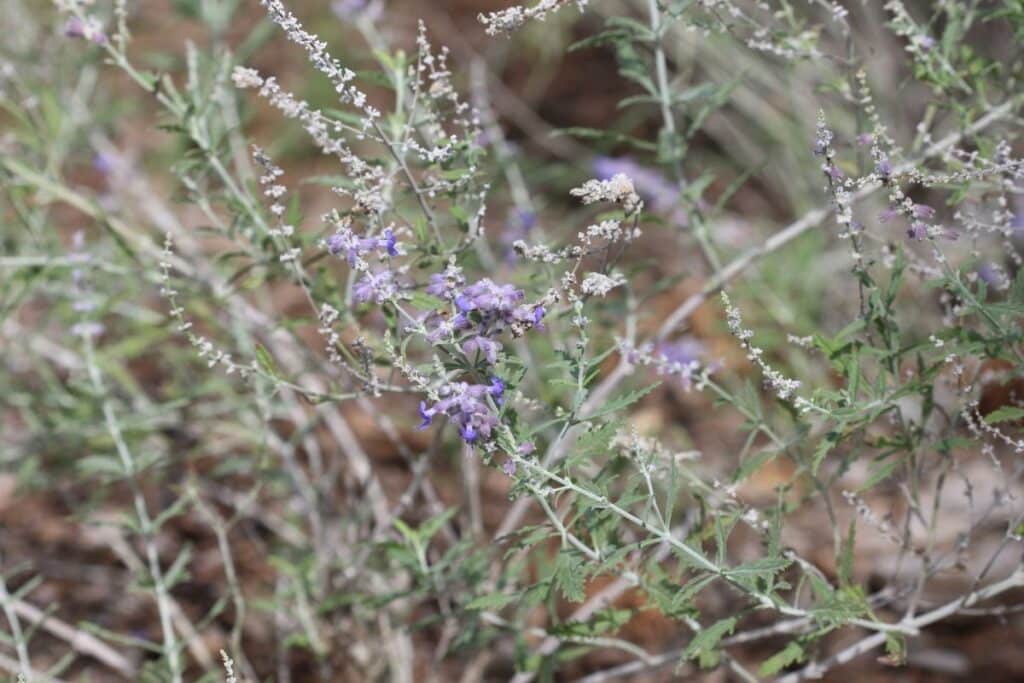 If you want to add more than just grasses to your garden then we recommend a herb like Russian sage (Perovskia atriplicifolia). This herb with its soft gray-green leaves will produce lots of tiny purple-blue flowers on long flower stalks during summertime. The vivid purple displays can look striking along with ornamental grass varieties.
These blooming perennials are very easy to grow and they can be established in just about any soil type that drains well. The herb flourishes in direct sunlight and it is quite drought tolerant but will grow well with Karl Foerster feather reed.
The perennial herb can grow quite a bit taller than feather reed grass. For this reason, it is best to establish the herb at the back of your garden or to grow it beside tall cool season grass varieties.
See more: Companion plants for Russian sage
Black-Eyed Susans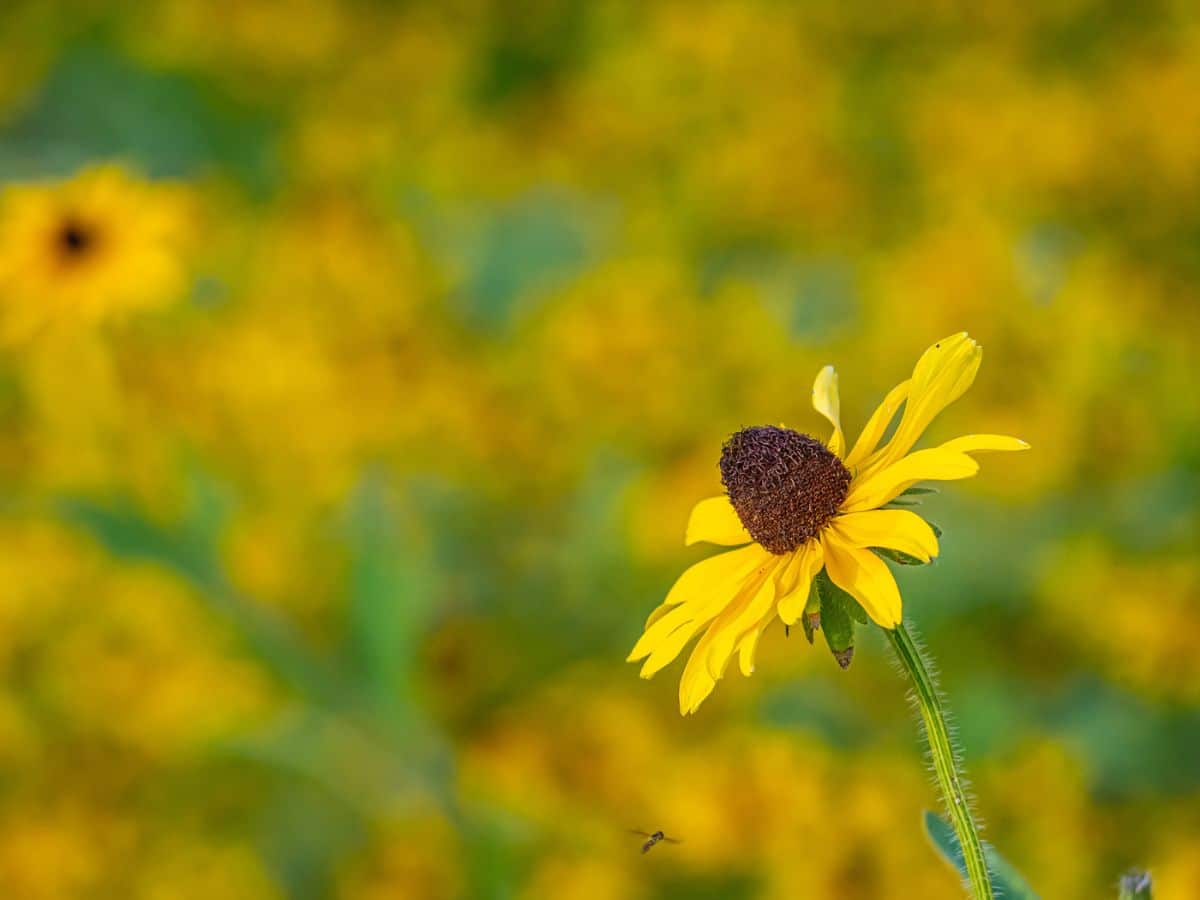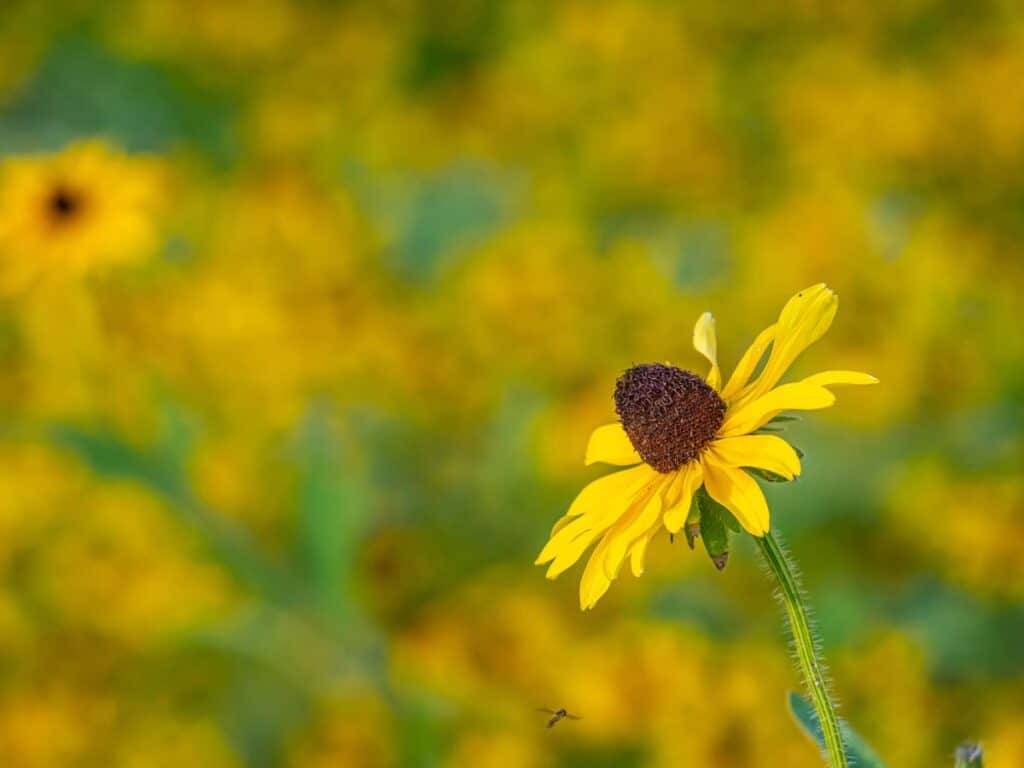 If you want to create a more colorful garden then you should try to add a couple of flowering companions like Black-Eyed Susans (Rudbeckia), also known as Brown-Eyed Susans to your garden.
These flowers are perfect for grassy xeriscape gardens because they require little maintenance, they grow well in the same conditions and they will add lots of color when they bloom from midsummer to autumn.
This plant will only produce lots of vivid flowers if it is established in direct sunlight and it can grow well in a variety of well-draining soil types.
Rudbeckia flowers have a similar height as feather reed grass and will reach a maximum height of 2 – 5 feet. This tall height makes it easy to pair with tall grass varieties because you can establish clumps of flowers behind and in front of your beautiful grasses.
New growth will gradually spread all over your garden because these flowers can self-seed. Within no time at all, you will have lots of vivid displays of yellow amongst your beautiful green foliage.
See more: What Grows Well with Black Eyed Susans
Bad Companion Plants for Karl Foerster Grass
Feather reed grass gets along with a great many plant varieties but there are some companions that shouldn't be grown too close to this grass with its deep green foliage.
Here is a quick look at some of the neighboring plants you should avoid if you have lots of Karl Foerster feather reed grass in your garden.
Rapid-Growing Plants
Rapid-growing plant varieties are not a good pairing because feather reed grass needs lots of space to grow and thrive. Vigorously growing plants can take over the garden bed during the growing season and can hinder the growth of your feather grass.
Shade-Loving Plants
Plants that flourish in shade usually don't grow well in full sun. You can establish feather reed grass in shaded gardens but this foliage variety can become diseased or its growth can be stunted if it has too much shade.
Final Thoughts
Karl Foerster feather reed grass is a very useful plant to add to your garden if you want to reduce maintenance. This plat is also ideal if you love to create your own fresh or dried arrangements for your home.
You can successfully pair the feathery grass with lots of other landscape grasses or you can pair this grass with flowering plants like Russian Sage or Black Eyed Susans if you want to add more color to your garden.
We hope that this guide made it a little bit easier for you to know the good and bad companion plants for Karl Foerster grass. If you are looking for more inspiration for other plant combinations then you should have a look at some of our other guides.
*image by [email protected], ismael_khalifa and Elena Tr./depositphotos