Looking for suggestions on some of the best outdoor patio plants? You've come to the right place.
When you're looking for plants that will thrive on your patio, it's important to consider the amount of sunlight and water they need. Some outside plants are great for shady patios while others need a lot of sunlight.
If you have a very shady patio, try planting ferns, succulents, or even herbs as these all do well with low light levels. On the hunt for some good choices that fall within those categories?
Here are the top outdoor plants and flowers to look for:
#1. Cuphea
If you want to attract hundreds of hummingbirds to your property, cuphea is the way to go. This lovely plant produces tubular flowers in shades such s red, orange, and purple and they'll bloom all season long. It prefers being grown in full sun.
#2. Bromeliad
Bromeliads have thick tropical leaves that can add a unique, interesting accent to your patio area. The bromeliad plant fades after blooming and do need to be brought indoors for the winter months but can add a ton of visual appeal during the warmer summer months.
#3. Begonia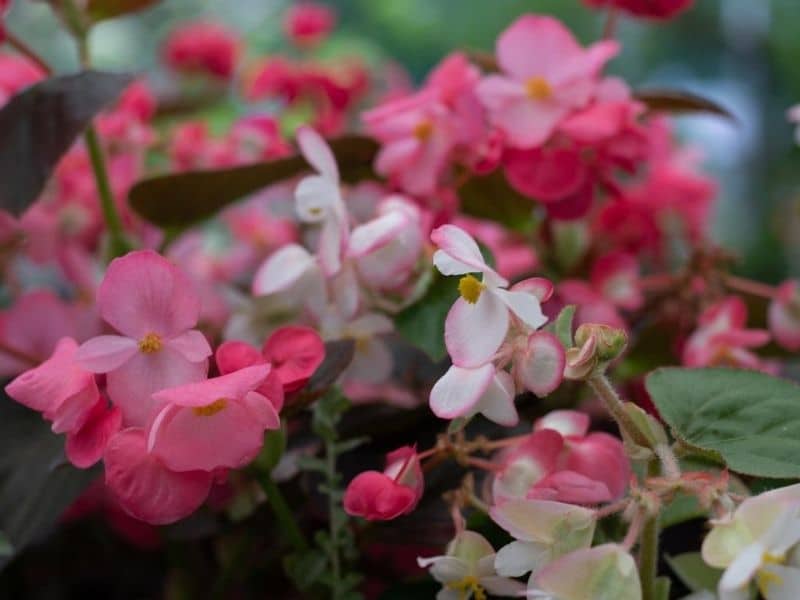 Begonias are outdoor flowers that do well with minimal interventions from you, the gardener.
As annuals, they offer long-lasting colors and can be found in just about every shade of the rainbow. They are low maintenance outdoor potted plants.
While some do best in full sun, others prefer a bit of shade. They offer flowers without the need for deadheading, too—another great piece of news for the more lackadaisical patio gardeners among us!
#4. Catmint
A tough-growing perennial herb, catmint offers visual appeal in its grayish-green foliage and tiny purple flowers. It's beloved by pollinators and can be found growing in both a low, mounded form as well as in an upright fashion. It grows best in full sunlight and can even be used as an edging plant on your patio.
#5. Coleus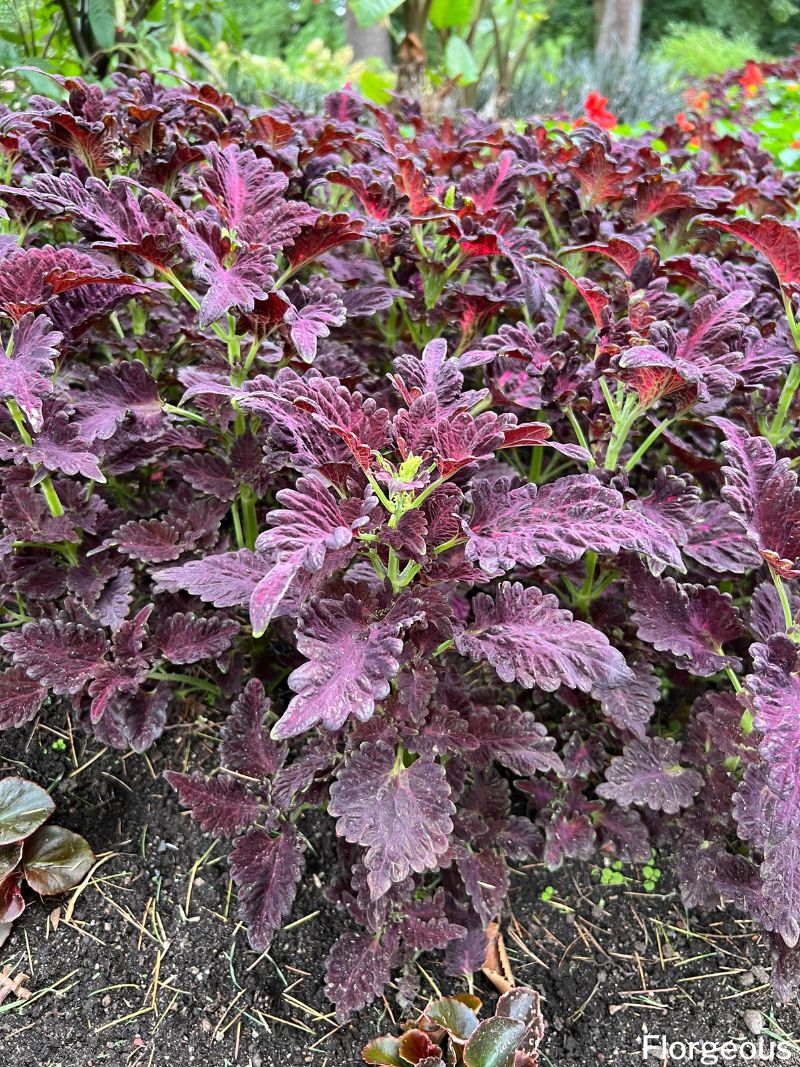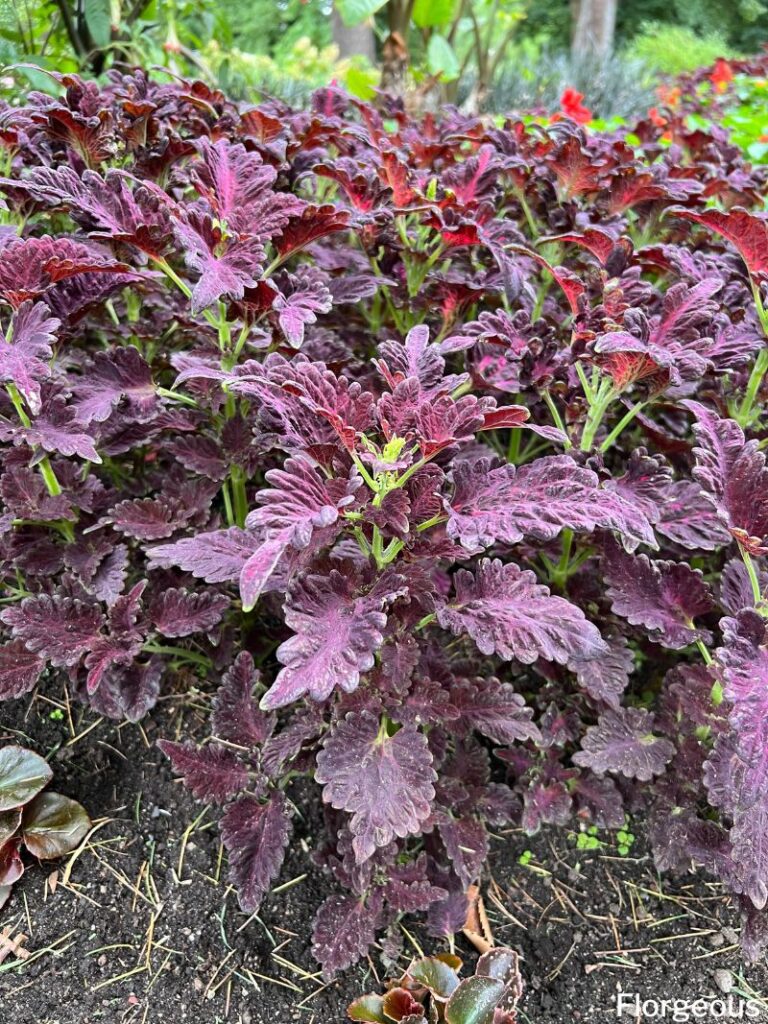 Coleus is a gorgeous easy outdoor plant that is best known for its foliage, but it is also grown for its flower spikes. There are so many varieties on the market that you can find a cultivar color to suit any design scheme! Keep it well watered and grow it either in the sun or the shade—the choice is yours!
#6. Hydrangea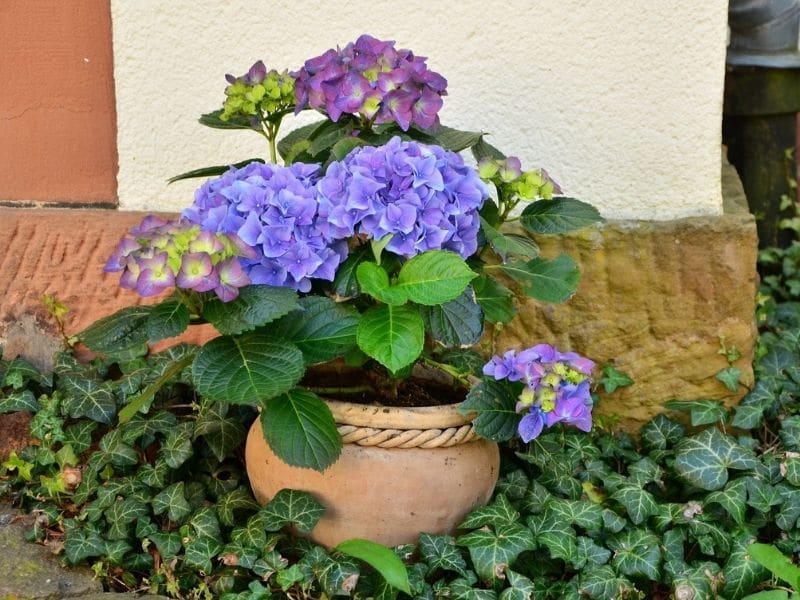 Lots of gardeners overlook this, but a hydrangea is actually a great option for a patio. The flowers of this gorgeous herb can be found in all kinds of sizes and colors, typically appearing early in the spring and remaining until the first hard freeze.
They do require some sun in order to push out their most beautiful blooms, but in most cases, can tolerate afternoon shade, especially in warm climates.
#7. Succulents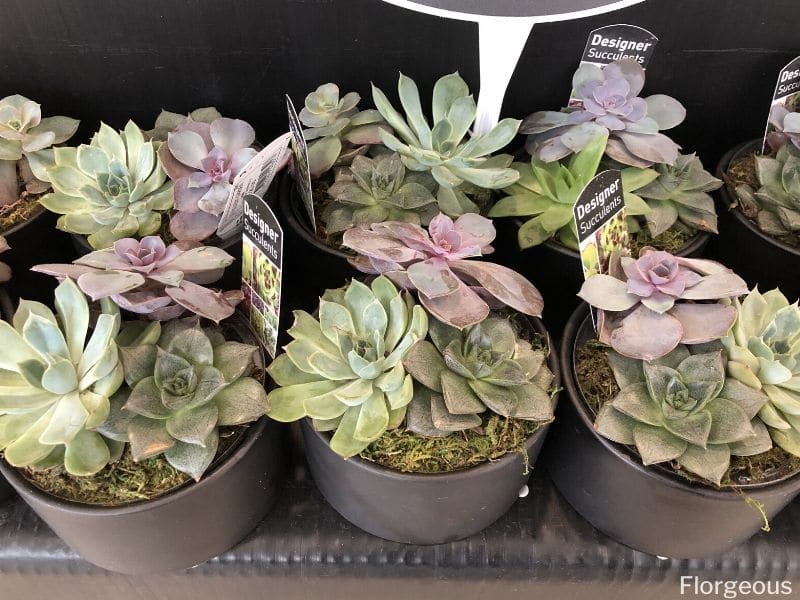 As long as you are lucky enough to have a garden patio with a bit of sun, you may want to consider growing succulents – they're some of the best patio plants! There are many succulent varieties that can be found in all kinds of shapes, sizes, and colors, and require little in the way of care from you.
Many are cold-hardy and can survive the winter, but if that's not the case with the variety you choose, feel free to bring a few indoors in a container to overwinter on a sunny windowsill.
#8. Fuschia
With a little bit of shade, fuschia plants will thrive. A gorgeous annual, it can be found in all kinds of colors including purple, red, and pink. It looks wonderful in baskets or containers and will attract hummingbirds to your patio garden in droves.
#9. Cherry Tomatoes
You can grow any kind of tomato in a container on your balcony or patio, but cherry tomatoes are particularly well suited for container life.
Most dwarf varieties are so compact that they grow exceptionally well in planters. They'll not only provide you with a harvest of tasty, edible little fruits, but they also add visual appeal. As you might expect, cherry tomatoes require full sunlight.
#10. Lobelia
Lobelia flower can be found in colors such as white, purple, or blue, and these flowers look great in containers or baskets. As annual plants, they thrive in shade—but can also handle a bit of morning sun. They produce their best blooms in colder weather!
#11. Angelonia
If you're looking for a patio plant that can really take the heat, angelonia is the annual you need to know about. This tiny, orchid-like plant produces gorgeous blooms in pastel shades.
There are numerous types available, most of which differ in their growth habit. Some are upright in form while others cascade down from containers or baskets. They grow best in partial to full sunlight.
#12. Lavender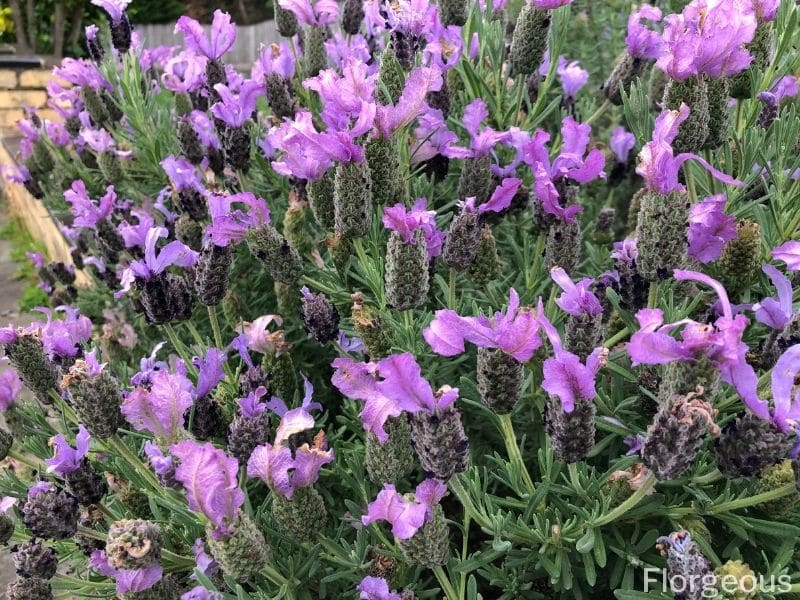 Lavender is a popular herb that thrives on neglect. Known for its gorgeous purple spikes and silvery foliage, it is drought tolerant once established and grows best in full sunlight. It can be used to edge your patio, grown in a basic container, or even planted right next to seating areas so that everyone can enjoy its calming, tranquil scent.
#13. Sweet Alyssum
A gorgeous and aromatic herb, sweet alyssum is the perfect outdoor plant for growing in a container. It will drape elegantly over the sides of your pots and will release a heavenly honey-sweet fragrance every time you brush by it. It does require a full sun location but can also be grown in small amounts of shade.
#14. Ornamental Grasses
Don't be afraid of veering away from traditional flowers and shrubs as you choose plants for your patio – feel free to consider things like ornamental grasses, too!
Consider growing short varieties that will add interest to pots or grow tall types for their screening abilities. Many ornamental grasses are perennials, meaning they will grow indefinitely when provided with the proper care.
#15. Caladium
Caladium is another annual that grows well in a container. It has gorgeous leaves in striking pinks and reds, making it a wonderful option if you want a plant prized for its foliage instead of just its flowers. It can be used as an accent plant and grows best in the shade.
#16. Troenia
Torenia isn't the most common patio plant, but it's one you should consider nonetheless. This flower produces gorgeous purple, pink, and white flowers that are known for their ability to attract pollinators. These flowers will hang on until the first frost and look wonderful cascading down from pots. They can even be grown in the shade!
#17. Heliotrope
Heliotrope flowers offer intense visual appeal with their gorgeous purple flower cluster, and they also offer a sweet scent that is reminiscent of vanilla. These flowers, native to Peru, grow best in full sun and partial shade, as long as the soil is moist.
#18. Mandevilla
The Mandevilla vine is a gorgeous flowering plant that does need a trellis or wall for support but will grow all season long with minimal care.
If you live in a colder climate, where nighttime temperatures regularly dip below 50 degrees, you can bring this plant indoors. It does tend to drop flowers and leaves in lower light conditions, so keep this in mind when selecting the ideal spot.
#19. Petnas
The free-flowering pentas plant, or Pentas lanceolata, is a great patio plant for several reasons. Not only does it do best in full sun, but it produces gorgeous star-shaped flowers that attract pollinators and last all summer long.
#20. Croton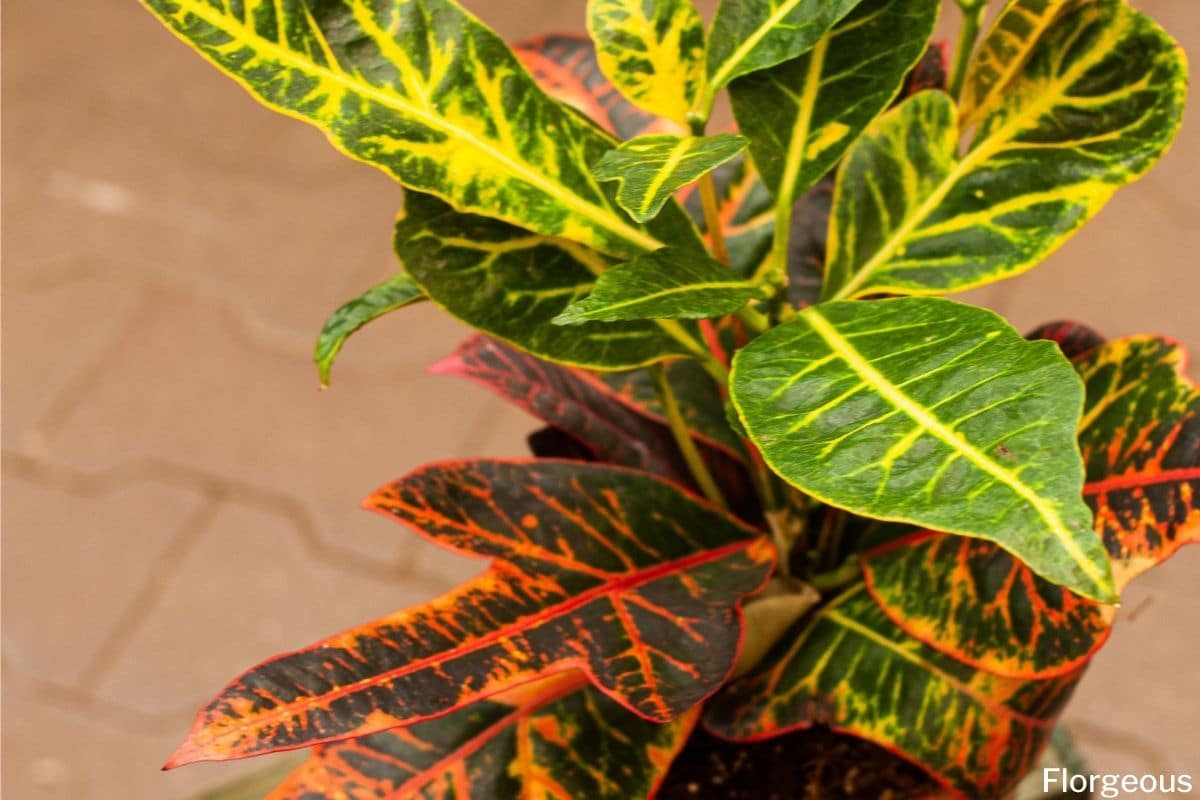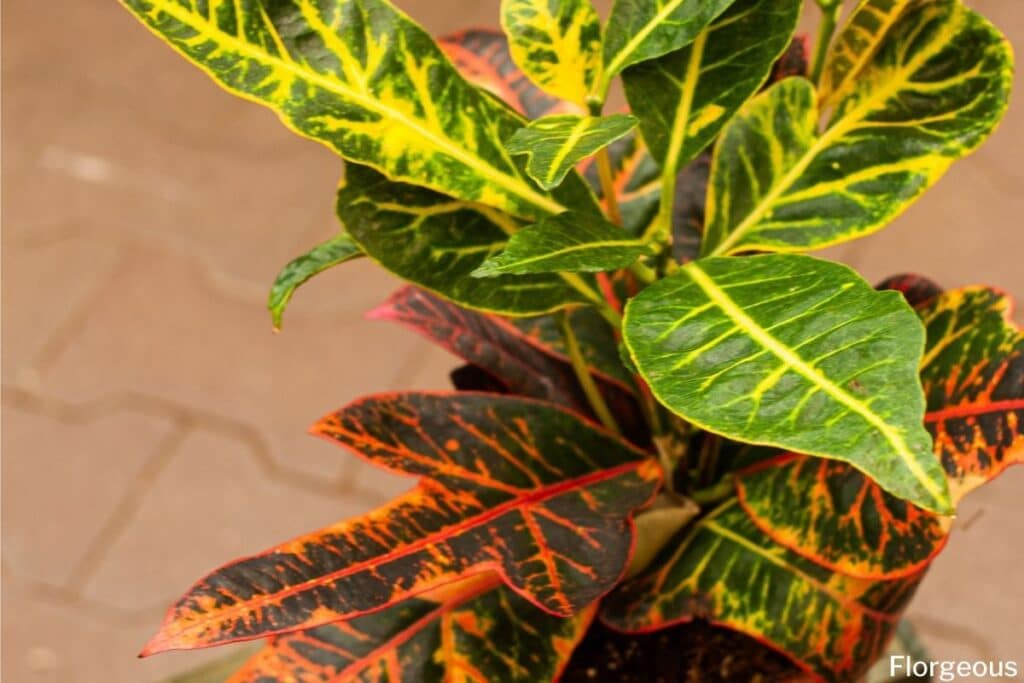 Croton plants are often grown as houseplants, but they also make fantastic patio plants. They grow larger when exposed to the natural sunlight and precipitation of the great outdoors, too. These leathery-leaved plants produce rainbow foliage and thrive in full sunlight.
#21. Lantana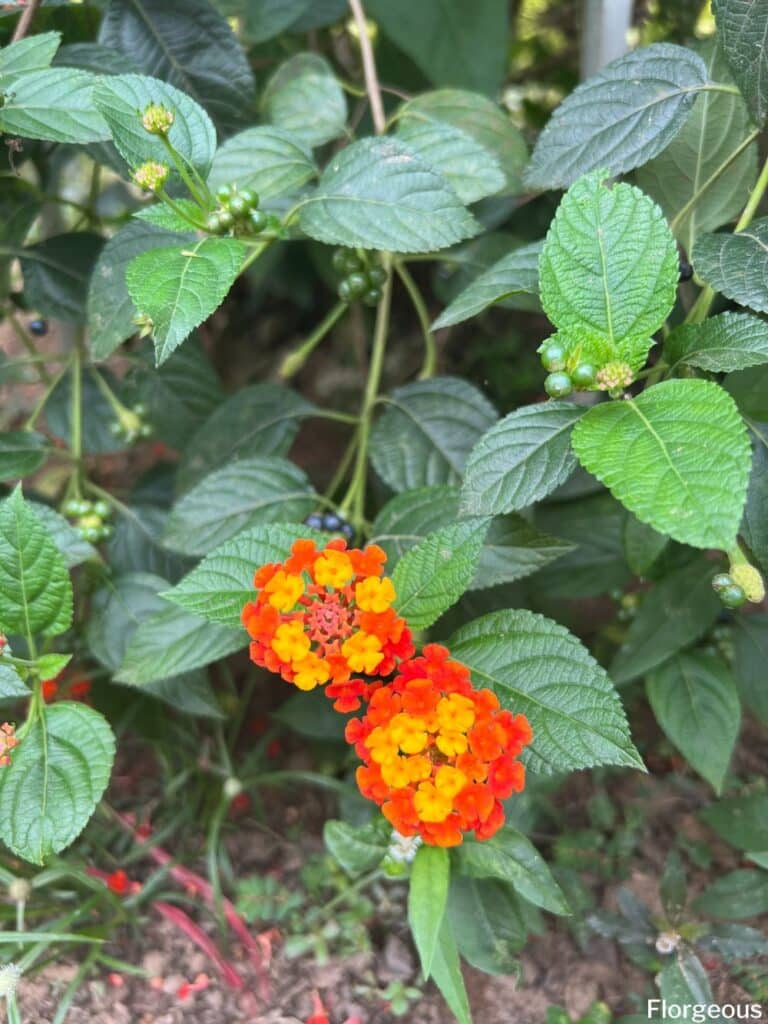 Lantana plants are considered invasive in some warmer regions, but as long as you grow a fruitless cultivar like 'New Gold' and in a container, you shouldn't have to worry.
That's good news because lantana is perfectly suited to life on a patio. It has great drought resistance and blooms continuously in warm, sunny conditions.
#22. Marigolds
Marigolds are favorites of gardeners of all kinds—including those growing on balconies and patios. This outdoor flower not only helps deter pests but can also take the heat with ease. Plus, the vibrant orange and yellow flowers look great right up until the first frost.
#23. Foxtail Fern
Even ferns can be grown on your patio! Choose an option like foxtail fern, which requires just a bit of parietal shade and moist soil to thrive.
#24. Ornamental Pepper
If you really want to take your patio gardening up a notch, consider growing ornamental peppers. These plants can be harvested and snacked on, but they also offer visual appeal. The peppers can be any color from purple to red and even orange! They grow well in large pots and can be grown in the same conditions that you might grow tomatoes.
#25. Creeping Jenny
This plant, also known as moneywort, will do quite well in a container as well as in a hanging basket. It has elegant chartreuse foliage and fares best in partial sun with consistent moisture.
#26. Million Bells
Million bells is a flower that produces lovely tubular blooms reminiscent of petunias. They bloom best in high temperatures and are best grown in containers or hanging baskets.
#27. Canna
Cannas are eye-catching plants that serve as wonderful screening plants for the tropical patio. They tend to need a lot of nutrients and water, so keep that in mind when choosing the best spot for your plants.
#28. Dwarf Alberta Spruce
You can even grow trees on your patio—it all comes down to choosing the right species. Picea glauca, or the Dwarf Alberta Spruce, is a good option. This plant is hardy in zone 2 when planted in the ground and requires minimal shaping or trimming. Of course, it can also be grown in a container.
#29. Boxwood
Another tree, sometimes considered a shrub, that you can grow on your patio is the boxwood shrub. It's great for lending a more formal aesthetic to your patio and maintains its shape easily in a container with occasional pruning and trimming.
#30. Bamboo
Here's another unique idea for plants for your patio—bamboo! This exotic plant can be grown as a screen but also is easy to grow in a container on your patio. Use a pot that is at least 18 inches deep and wide and water it frequently. A bit of shade is also recommended for the hotter periods of the day.
---
How to Choose the Right Patio Plant For Your Outdoor
Not sure how to find the ideal outdoor flowers and plants for your patio? Consider a few factors.
First, figure out how much sunlight your patio gets at various times of the day. Patio plants that thrive in full sun will need about six hours of light per day, with those that do best in partial sun or partial shade getting by on about three to four hours. Full shade conditions mean that the plants you grow on your patio will get less than two hours of sun per day.
Remember to check the USDA Hardiness zone for your area, too—this will limit you in terms of which plants you can and cannot grow on your patio. You can always bring some container-bound patio plants indoors for the winter, too!
Ultimately, there are hundreds of plants you can choose from when selecting the best plants for the patio, so choose wisely! You only have so much space, after all.
Up next:
*image by Bemidji/depositphotos