When you read about gardening principles and English garden designs, you will come across many articles or references discussing Gertrude Jekyll.
A lot is written about her influence on the landscaping industry since the late 18th century and there are quite a number of publications that she herself, wrote. Garden enthusiasts and professional horticulturists alike regard her as one of the most important figures in the field.
So who is Gertrude Jekyll and why do the people in the field of horticulture think highly of her ideas and works? Read on to learn about the woman who shaped the way we perceive gardens today and her contributions to the art and science of gardening.
Early Life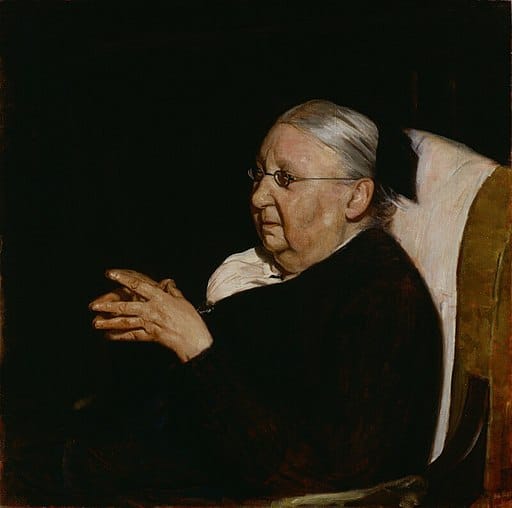 Gertrude Jekyll was born in 1843 in London to an affluent and artistic family. Her father was a soldier who kept a well-equipped workshop, her mother was a talented musician, and her brothers were musically and scientifically inclined as well. Theirs was an enlightened family who allowed each member to explore their talents and excel in their careers (1).
Young and receptive Jekyll began her interest in flowers and plants when, at the age of five, they moved to a country home in Surrey. In her own words, she found that "the place was a good one in which a child might gain early acquaintance with shrubs and I spent hours and hours in it, getting to know them intimately by sight and handling, and keenly inquisitive smelling" (2).
She also developed an interest in science and craftsmanship as she spent many of her childhood days in her father's workshop. From her father, she inherited a tactile approach at design creation (1).
The organic interaction with plants and the sense of "pleasure in working and seeing things grow under my hand" became the main theme of her achievements later in her career.
Growing up, Jekyll had been a talented artist and at the age of 18, she became one of the first female students to enroll in the Central School of Design in Kensington. She had a wide range of interests, both relating to arts and sciences and she took classes on optics, the science of color, anatomy, and botany. At the same time, she was rubbing elbows with prominent figures in the art scene such as John Ruskin, William Morris, Richard Dresser, and Hercules Brabazon (3).
Influences and Interests
It was John Ruskin who encouraged Jekyll to study J. M. W. Turner, the English painter known for his landscape paintings and his expressive use of color and light. The impact of this on Gertrude became evident in her harmonious use of colors, both in her paintings and designs.
William Morris, who was later recognized as a revolutionary contributor in Victorian Britain, had a profound effect on Jekyll as well (4). The leading member of the Arts and Crafts Movement that stands by the importance of art to life and the combination of heart, hand, and eye in the creative process, he was all about dyeing and printing, weaving and painting, and engraving and poetry.
The creative in Gertrude only intensified as her way of life was already parallel to the ideas of the Arts and Crafts Movement. As she travelled the world for her studies in the company of like-minded, intellectual colleagues, she also realized the value of traditional techniques and was determined to incorporate this into her approach to art, science, and life in general. Aside from painting, she explored many disciplines such as embroidery, carpentry, metalworking, and photography and she became an overall designer craftswoman.
On top of it all, she maintained a fondness for natural landscapes and the flora and made it a habit to take notes on plants she encountered in places she had been. She collected plants and drew them using different media.
As her family moved back to their home in the countryside after the death of her father in 1876, she grew more enthusiastic about plants and gardens and it was there that her garden design ambition came into fruition.
Gertrude Jekyll decorated their home and showcased her paintings, embroidery, and craftworks. But most importantly, she started building her own garden, experimenting with different kinds of plants and flowers (1).
Combining her formal training in art with gardening, she created a garden design that did not only make use of ordinary plants like old-fashioned roses, hostas, and lavenders but also incorporated hardscapes and water features, all the while preserving a natural appeal.
What she learned about color and texture in art school she methodically executed by using plants and the results are stunning massive herbaceous borders with a well-thought-out color scheme. She had a holistic approach to gardening and designing where all landscape aspects stand out on their own but are still complementary to one another.
Later on, Gertrude was diagnosed with progressive myopia and was advised by doctors to withdraw from eye-straining activities like painting and embroidery. However, this did not stop her from practicing her art and she channeled most of her creative drive towards gardening. Gertrude extensively studied the plants in her garden and was even able to breed new varieties like the compact lavender cultivar 'Munstead' and love-in-a-mist 'Miss Jekyll'. Soon enough, her neighbors and horticulture experts were lining up her doorstep to get a glimpse of her curated garden (5).
Everything she learned from her gardening endeavor, she shared with the community. She was good at harnessing words and through her writing, she was able to record her ideas and first-hand experiences for gardeners and enthusiasts' consumption. She became a prolific writer, authoring 15 gardening reference books and more than 1000 essays and articles on topics she had expertise on.
Because of her meticulous attention to detail, industrious design approach, and simple but effective garden execution, Jekyll became a reputable horticulturist. She collaborated with various designers and authors of her time including William Robinson, with whom she shared a vision for radical freedom in planting. They worked together in developing the garden for Robinson's house and on the book, English Flower Garden, published in 1870 (3).
Among the designers she worked with, Gertrude became most associated with Sir Edwin Lutyens, the architect who designed her house at Munstead Wood. They found coherence in their designs, Jekyll's soft and rhythmic color and texture against Lutyen's classical architecture (5).
Their individual design concepts were harmonious and together, they successfully worked on various house and garden projects. They developed a respect for each other's work as well as an earnest and lasting friendship.
Gertrude Jekyll produced over 400 garden designs, commissioned and executed in England, America, and Europe, many of which are still existing today. All of her projects were masterpieces, created with utmost enjoyment and as she so modestly put it, "looking back upon nearly 30 years of gardening, I can remember no part of it was not full of pleasure and encouragement." Jekyll was truly a successful polymath and up until her death in 1932, she stood by her artistic philosophy, leaving a lasting legacy in the field of horticulture (4).
---
Collaboration with Edwin Lutyens
After working together on her house and garden, horticulturist Gertrude Jekyll and architect Edwin Lutyens found their expertise and ideas complementary to one another. Despite a 27-year age gap, they communicated their visions very well and they influenced each other's design, one way or another.
Jekyll instilled in Lutyens the Arts and Crafts ideals while the architect further helped her understand the effects of her humble materials to the strong and formal architectural foundations of their projects together (4).
Many of their projects were in the format of houses by Lutyens and gardens by Jekyll. He provided the sharp foundation while she softened and filled it with flowers but they often discussed the cohesion of their designs, informing each other of their aesthetic during the planning stages which had been proven to produce well-received outcomes. Many of their project's processes were recorded in Jekyll's writings. Here are some of their famous collaborations that still exist today.
Hestercombe
Jekyll and Lutyens dedicated about 5 years in creating what could be the finest of all their collaborations. Hestercombe in Somerset is also known as the Edwardian Formal Garden, commissioned by E. W. B. Portman (1).
Lutyens were responsible for the architectural hardscapes, i.e. paths, walls, pools, and pergolas, all made from local stones. To soften these edged components, Jekyll used plants of varying foliage texture and leaf and flower colors. She avoided the use of annual bedding to create a longer-lasting effect.
Environmental factors such as light and season were considered in choosing the plants so that the garden is kept exciting and interesting all year round. Plants with architectural dimensions like tall grey-leaved thistle and cotton lavender complemented the formal gardens. In turn, Lutyens cleverly designed spaces in the hardscapes where plants have the freedom to grow.
Salutation Garden
Salutation Garden is an award-winning RHS Partner garden, considered as one of the finest in the United Kingdom. Jekyll and Lutyens painstakingly worked on this 3.7-acre piece of land in 1912. Their design was partitioning the area into symmetrical divisions, each with its own purpose but with a coherent connection with one another.
Of course, there is a recurring theme of colors and textures per season and there are hardy plants that make the garden unique. It also includes national collections for Dahlias and Plectranthus and today, the curation and maintenance of the property is being overseen by the renowned gardener, Steve Edney (1).
Plumpton Place and Gledstone Hall
The gardens of Plumpton Place and Gledstone Hall were the last ones Jekyll and Lutyens collaborated on. Plumpton Place is an Elizabethan Manor house in East Sussex is famous for the cottages and lakeside gardens built by the pair.
The main garden to which a paved axial path leads to was divided into 2 grassed plains surrounded with complementary mixed herbaceous borders. There's also an ornamental woodland with a mixture of trees and bulb under-plantings.
Gledstone Hall, on the other hand, is a country house in North Yorkshire built from local sandstone by Lutyens. The classical building is quite famous for its unusually tall and prominent roof. Retaining walls, pergolas, and terraces are also some of the defining features of the place. The gardens occupying these structures are filled with seasonal herbaceous shrubs and signature sprawling plants like wisteria and roses (1).
In their 36 years of informal partnership, Jekyll and Lutyens collaborated on over 53 successful designs. Their ideas may not be entirely dependent on each other but they definitely have a strong respect and a positive effect on one another.
Although the gardens they created eventually became fewer with the aging and almost blind Jekyll and evolving Lutyens, they still remained close friends until her death in 1932. The inscription on Gertrude Jekyll's gravestone by Edwin Lutyens reads: Artist, Gardener, and Craftswoman.
---
Garden Designs
Jekyll was an important figure in shaping the English gardening style. Even though it was later in life that she developed a passion for gardening, Gertrude Jekyll became a prolific gardener. Her designs were not just famous in the United Kingdom but in many parts of Europe and America as well. Whenever she could, she visited sites to personally do the surveying and she was indeed, hands-on in the gardening aspect of landscaping too. She owned sets of tools and did the hard-work in her gardens and her clients' (5).
To her, ordinary plants are valuable and a natural effect is still the most appealing. It is also important to acknowledge the sympathetic relationship between a building or infrastructure and its surroundings. Each component of the garden, may it be the plants, the soil, the environment, etc. must be understood individually in order to make them work together harmoniously.
She picked plants that have appealing blooms and foliage (3). She arranged them in such a way that there will be continuous growth and appeal despite the seasons or weather conditions. She made sure that texture would be felt not just by touching but by seeing as well. Her designs were generally practical with surprises in store and any gardener could mimic her style and create their own spaces tailor-fitted to their liking.
Some of the well-known gardens initially design by Jekyll include the following:
Durmast House
Owned by Jekyll's cousin, Nelly Baring, the Durmast House garden in Hampshire was designed in 1910 without Jekyll visiting the site. Jekyll was in her 60s during her peak garden designing career and like with the Durmast House, most of the commissioned projects were done only by correspondence with clients (1).
After receiving soil samples and the detailed ground plan of the site, Jekyll was able to assess the site conditions and provide a new garden plan that will give it shape and a refreshing look. Her signature use of hot and cool colors and seasonal plants were significant in the design. She also included long borders of herbaceous plants, a formal rose garden, as well as lavender edging.
The property is now owned by Mr. and Mrs. Daubeny and with a copy of the original plans in hand, they have been restoring the garden with a little bit of their own touch.
Munstead Wood
The former home in Surrey of the designer herself, Munstead Wood have a woodland garden with a wide range of plant species and varieties that Jekyll planted with the help of her gardeners.
It was always a work in progress as she added more plants with color and varying blooming seasons like tulips, peonies, azaleas, and irises. The garden also features her iconic color-graded shrub borders and rose-entwined pergolas as well as fragrant plants (1).
Barrington Court Garden
Jekyll was consulted by the wife of Colonel Lyle in the construction of this garden in Somerset. A sanctuary representing the Arts and Crafts movement, Barrington Court Garden has several divisions, each decorated with plants of harmonious colors and bordered with white-flowering and silver-leaved species (1).
Wisterias, honeysuckles, and clematis are growing freely, covering the pergolas. There are annual beds at the heart of the garden and there are sections dedicated to edible crops too. The garden is now a National Trust property and is open to the public.
The Manor House
Owned by the founder and editor of the Studio magazine, Charles Holme, the garden for The Manor House in Hampshire was designed in 1908. This was relatively smaller than most of Jekyll's projects at the time but her trademark use of colors and combinations of formal and wild gardens are still evident.
Over the years, the garden was left uncared for leading to its deterioration but upon the purchase of the property by Rosamund Wallinger in the 1970s, the garden was revived. She obtained a copy of Jekyll's original plans for the garden from the University of California and started working on and documenting the restoration process. The Manor House is considered as the most perfect restoration of a Jekyll's design in today's world (1).
Royal Horticultural Society Gardens
These experimental wild gardens situated in Wisley has a rich history and was once owed by George Ferguson Wilson, a businessman who was an avid grower of fruit crops and orchids. He worked with Jekyll in developing the initial garden plantings. The property was later acquired by the RHS via donation and the gardens have been growing and improving since then (1).
The gardens have their own theme but Jekyll made sure that there is cohesion in terms of color and texture. Some key portions of the property that is worth the visit today include the greenhouses of tropical plants, succulents, and orchids and the glasshouse with a view of the lake surrounded by a mixture of color-graded plantings.
Vann House
Vann is an English Heritage registered property in Surrey, owned by generations of the Caroe family. W. D. Caroe who initially owned the 5-acre area surrounded with bodies of water in 1907 was the neighbor of Jekyll. He turned to her for advice for a themed landscape. She made use of the existing features of the area and suggested a woodland water garden (1).
She introduced exotic species that dwell on the moist environment as well as easy to maintain plants such as marsh marigolds, hostas, and ferns among others. She also used plants that feature different forms depending on the season in order to sustain beauty throughout the year. Over 1500 plants were used for the project, all came for Jekyll's nursery. The garden still exists today with some additional new varieties of the existing flora.
---
Books and Articles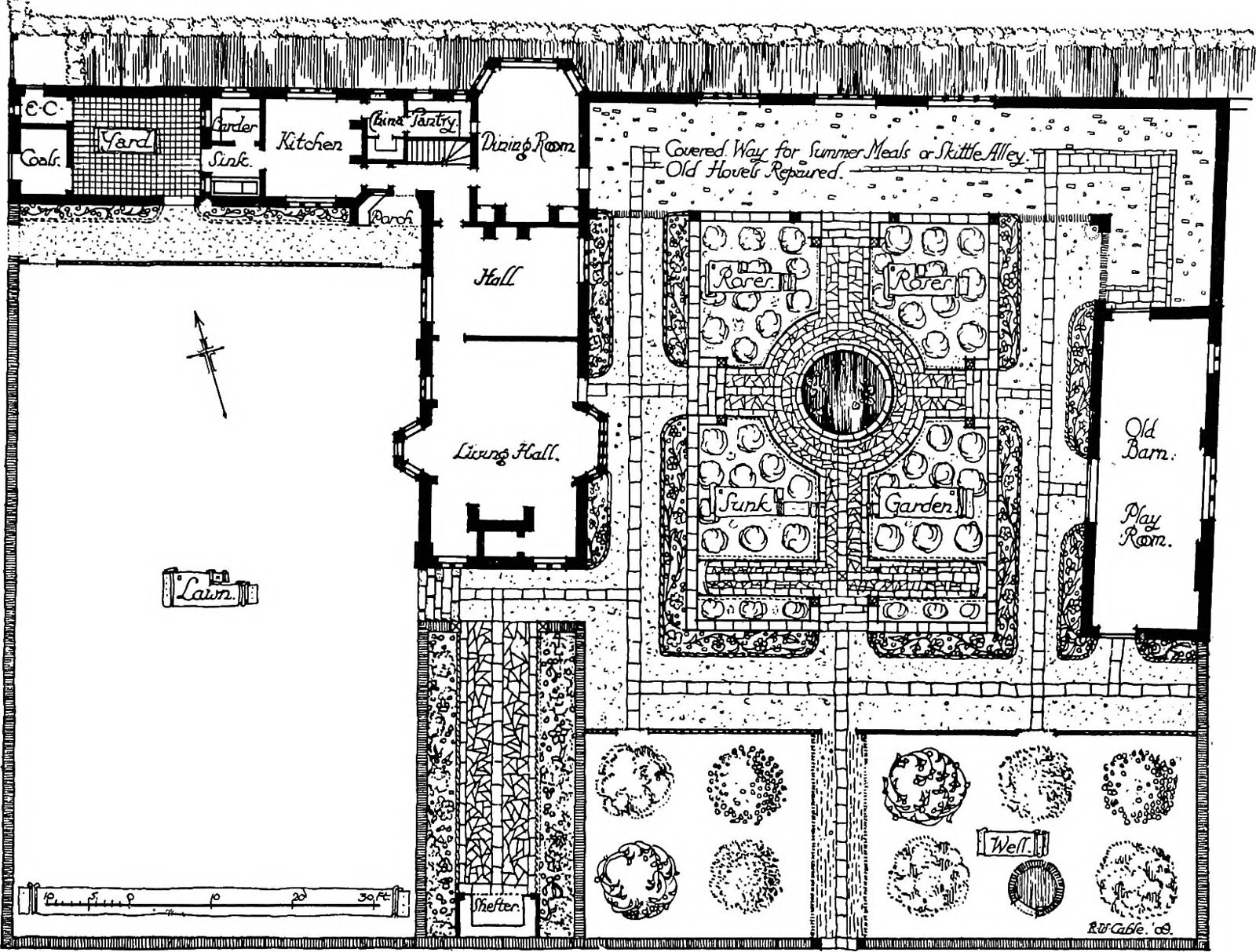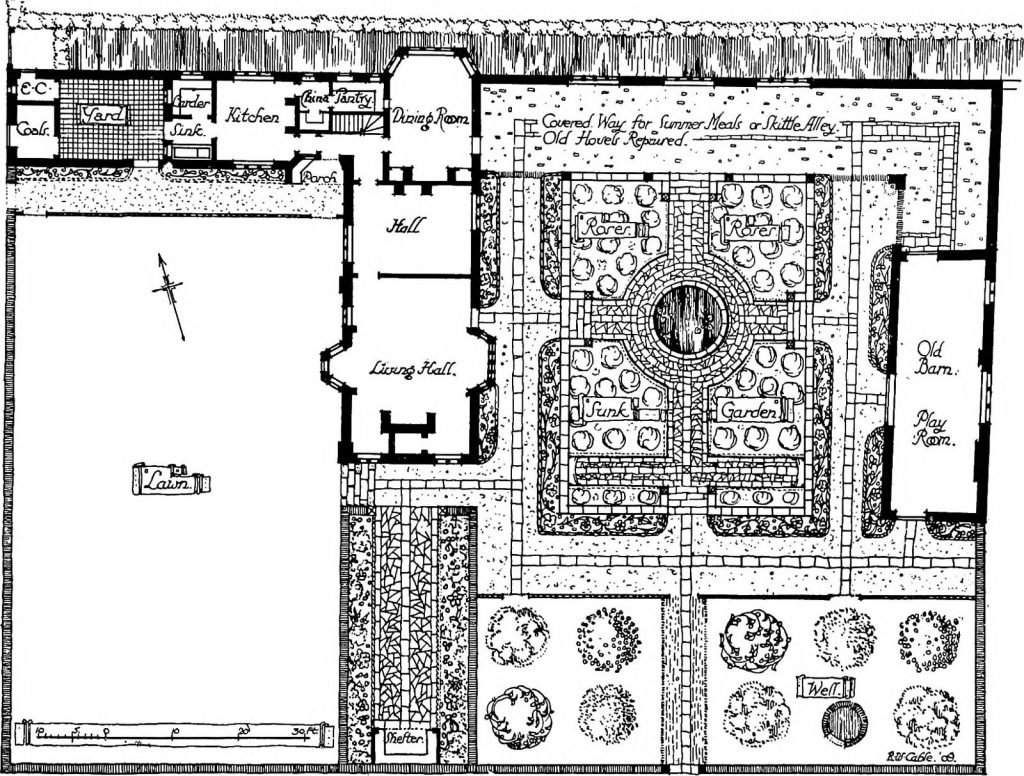 Gertrude Jekyll was a prolific writer. Having improved her horticultural competence, her words became credible and she started being a contributor to her good friend, William Robinson's publications called "The Wild Garden" and "The English Garden". She even became the editor for the "The Garden" starting in 1899 lasting for a couple of years.
Other publications she wrote for are "The Guardian Newspaper", "English Life", "Ladies Field", "Country Life", "Journal of the Royal Horticultural Society", "Daily Mail", "The World", "Gardening Illustrated", "Bulletin of the Garden Club of America", "Homes and Gardens", and "The Nineteenth Century and After" among others. There were over 1000 articles widely read in her time and even in modern days.
Jekyll authored many gardening books too like "Wood and Garden", "Home and Garden", "Roses for English Gardens", "Colours in the Flower Garden", "Annuals and Biennials", "Children and Gardens", and "Gardens for Small Country Houses".
She wrote with an artistic flair but she has strong attention to detail and made sure that she covered all of her findings and processes in her writings. Her solutions to garden problems, both common and unusual, were appropriate and not short-lived. Her first-hand experiences at gardening were rich and relatable and her timeless advice could be easily grasped, even by modern gardeners.
Gardener's Essential
The Gardener's Essential is basically an introduction to Jekyll's world of plants. A collection of passages from the garden books she had written, she discussed almost all the practical guides one needs to learn to create and maintain a flourishing garden.
The eight chapters of the book talked about the principles of design and ornament, the use and mixing of colors, scented and aromatic plants, and flowers in the house, giving wise advice and funny anecdotes along the way. She discussed the basic nature of some plant species and their effectiveness in the garden, with or without a companion.
Equally engaging are her personal illustrations detailing garden layouts to help readers visualize and carry out the designs should they decide to start working on or improving their gardens (6).
Other Works and Applied Arts
Gertrude Jekyll was a polymath. Throughout her lifetime she learned about multiple applied arts and practiced them. Her natural artistic talent combined with her curious nature allowed her to explore different disciplines, freeing her from the confinements of her time.
Paintings and Drawings
Before she ventured into garden design, she studied painting and produced numerous artworks inspired by J. M. W. Turner and other notable artists (1). She knew how to handle different media including oil, acrylic, soft pastel, ink and watercolour. Despite her weakening eyesight, she continued to paint alongside gardening.
She produced a series of paintings depicting the landscapes and buildings in England, Algiers, and Continental Europe, some titled masterpieces include Iron Lane and Mountain and Water in Surrey, Ancient Cemetery and House with Red Bougainvillea in Algiers, Italy Gateway at Panama, and Ile St. Honore in Cannes (1). She also painted her cat, Thomas, in oil. It is one of her famous paintings entitled, "Thomas in the Character of Puss in Boots."
Photography
Jekyll practiced photography in her early adult life too. Most of her black and white pictures were of her gardens as well as things, places, and buildings that caught her attention. Her Munstead Wood housed a lot of her design prototypes which she took pictures of and many were printed to be included in her books and articles.
There were studies of some specific plants from the garden, a picture of her nieces enjoying their time in her garden, and many of her cats. These photographs are now housed and organized by the curator, James Steward in the University Art Museum at the University of California (4).
Arts and Crafts
Jekyll was definitely a true jack-of-all-trade in terms of arts. Heavily influenced by the Arts and Crafts Movement, she was into embroidery, metal works, and carpentry, always keeping her hand busy.
She was commissioned to create a set of embroidery panels for Lord Leighton and the Duke of Westminster. She also built delicate miniature flower vases and plant pots for Queen Mary's doll house, one which was regarded as the biggest and most beautiful doll house in the world. In 2013, these memorabilia were exhibited at the Lightbox Museum and Gallery in Woking, the United Kingdom to celebrate the most notable craftswoman.
Recognition and Commemoration
Because of her numerous commendable works in the field of horticulture, Gertrude Jekyll deserved every award and acknowledgment she had received during her lifetime, as well as posthumously.
In 1897, she was one of the two women who were among the first recipients of the Victoria Medal of Honour by the Royal Horticultural Society, the highest award given to leading figures in UK horticulture. Later in 1929, she received the Veitch Memorial Medal and George Robert White Medal of Honor from the Massachusetts Horticultural Society (1).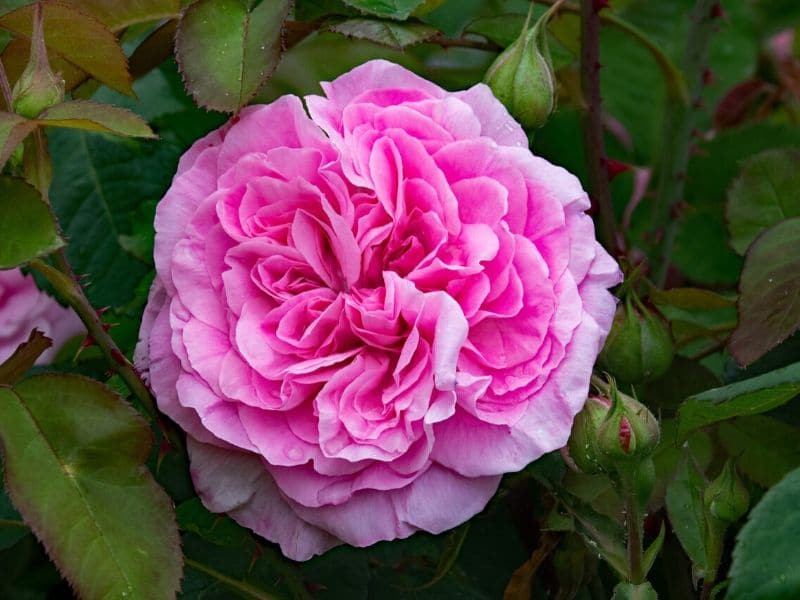 In 1986, plant breeder David Austin introduced a fragrant rose cultivar he named after the famous polymath. Rosa 'Gertrude Jekyll' is climbing rose that sports large rich pink, fully double flowers.
It grows up to 8 feet and with beautiful fragrant flowers blooming from spring to fall, this cultivar definitely makes the garden unique and magnificent. Like the woman it was named for, 'Gertrude Jekyll' is award-winning, twice voted Britain's favorite rose, the winner of the RNRS 2002 James Mason Award, and the recipient of the RHS Award of Garden Merit.
Gertrude Jekyll became iconic and was the subject of many reference materials too. Books were created detailing her life and her artistic gardening techniques. Some authors that wrote about her and her works are Sally Festing, Judith Tankard, and Richard Bisgrove. Her fans call her the Queen of Gardens and others to refer to her as the Goddess with a Green Thumb.
In 2017, Google celebrated Gertrude Jekyll's 174th birthday with a Google Doodle on its homepage. The doodle, created by the British artist, Ben Giles, featured drawings of plants and flowers in Jekyll's trademark hot and cool colors and the designer herself, looking as if proudly watching her creations (7).
Quotes
Gertrude Jekyll was an eloquent gardener who truly had her way with words. Here are 10 of our favorite timeless quotes from the great gardener herself.
"If you take any flower you please and look it over and turn it about and smell it and feel it and try to find out all its little secrets, not of flower only but leaf, bud and stem as well, you will discover many wonderful things. This is how you make friends with plants, and very good friends you will find them at the end of our lives".
"The lesson I have thoroughly learnt and wish to pass on to others is to know the enduring happiness that the love of a garden gives" (2).
"If you have a garden and a library, you have everything you need."
"There is no spot of ground, however arid, bare or ugly, that cannot be tamed into such a state as may give an impression of beauty and delight."
"Merely having plants or having them planted unassorted in garden spaces, is only like having a box of paints from the best colourman. This does not constitute a picture, and it seems to me that the duty we owe to our gardens and our own bettering of our gardens is so to use the plants that they shall form beautiful pictures; and that, while delighting to the eyes, they should be always training those eyes to a more exalted criticism"(8).
"There is a lovable quality about the actual tools. One feels so kindly to the thing that enables the hand to obey the brain. Moreover, one feels a good deal of respect for it; without it the brain and the hand would be helpless".
"It is no use asking me or anyone else how to dig… Better to go and watch a man digging and then take a spade and try to do it."
"A garden is a grand teacher. It teaches patience and careful watchfulness; it teaches industry and thrift; above all it teaches entire trust."
"I do not envy the owners of very large gardens. The garden should fit its owner or his or her tastes, just as one's clothes do; it should be neither too large nor too small, but just comfortable."
"The love of gardening is a seed that once sown never dies."