With their seasonal, fascinating, and large blooms, peonies have long been a favorite flower of many gardeners and florists from different parts of the world.
Although peonies are excellent cut flowers for bouquets, weddings, table centerpieces, and large floral arrangements, they are also a reliable ornamental plant for spring and summer gardens. Their abundant blooms and bold foliage make them outstanding perennial borders.
If you are you planning to add romance and colors in your garden with peonies but not quite sure how to start, then here's a quick peony guide for you. Know more about the facts, different types, and popular varieties of these fascinating flowering perennial plants by reading below.
Peonies Facts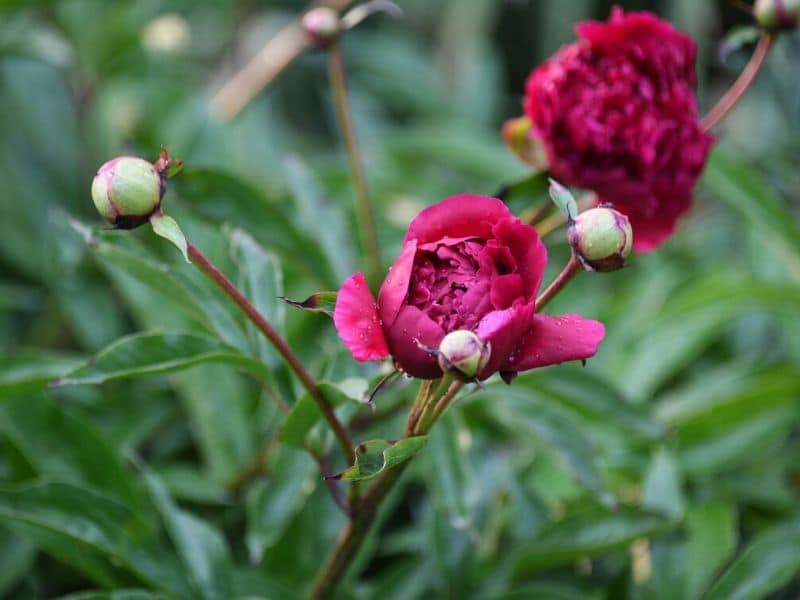 Plant Name and Origin
Peonies are easy-to-care flowering plants from the Paeonia genus in the botanical family Paeoniaceae.
There are a few stories about the name origin of peonies. According to Greek mythology, the botanical name Paeonia originated from the name of Paeon, a known Greek physician of the gods and a former student of Aesculapius.
Aesculapius, the Greek god of medicine and healing, became too envious of Paeon when he cured Hades' and Ares' wounds by using peony roots. Aesculapius wanted Paeon dead, but Zeus saved him by transforming him into a peony plant (1).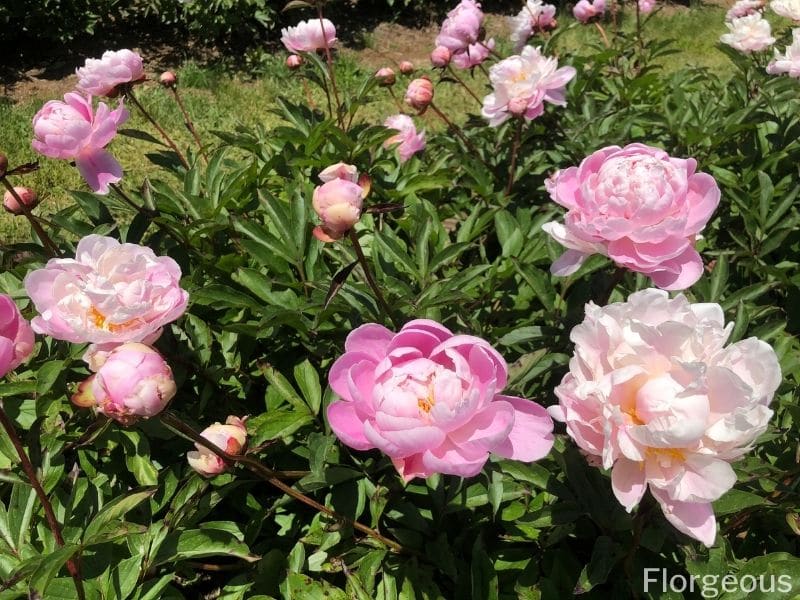 A different tale tells the origin of the name peony. A gorgeous nymph named Paeonia mesmerized Apollo, the son of Zeus. Because of this, ancient Greek goddess Aphrodite became furious with Paeonia and turned her into a peony plant.
Another known peony name origin comes from a Chinese myth. Gejin, a peony spirit, fell in love with a man and transformed into a human form. They got married and had two children. When her husband realized that she and the children are not mortal, Gejin brought the children with her back to the spirit world to avoid his rage. She then left two tree peonies, the Gejin's Purple and the Gejin's White, for him to remember their two children (1). These two tree peonies remain as popular peony varieties in China up to this day.
In Germany, peonies are called pfingstrose, which means "Pentecost Rose".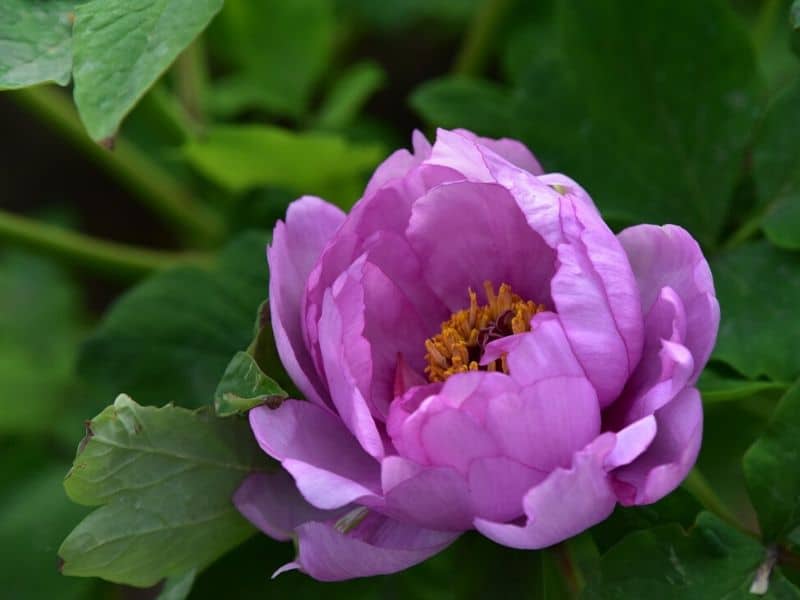 Did you know that Peony is the Birth Flower for November?
Brief History of Peony
The peony plant took a significant role during the early Chinese regimen. An imperial symbol, peony flowers were common in the Imperial Palace Gardens and referred to as "Sho Yo," which means "most beautiful."
During the early 8th century, peonies reached Japan, where they have been developed and hybridized to more than 300 cultivars (2). By the 19th century, the beautiful blooms of peony plants further made it to European gardens and revered for their landscape use and medicinal properties.
Uses of Peonies
Uses of peony plants are not limited to landscaping, gardening, nor floral arrangements. These perennial plants are also famous for their medicinal value.
In China and other countries, the roots, bark, flowers, and seeds of peonies are used to treat a variety of ailments such as night sweats, sores, abdominal pains, fevers, cracked skin, and muscle cramps (3).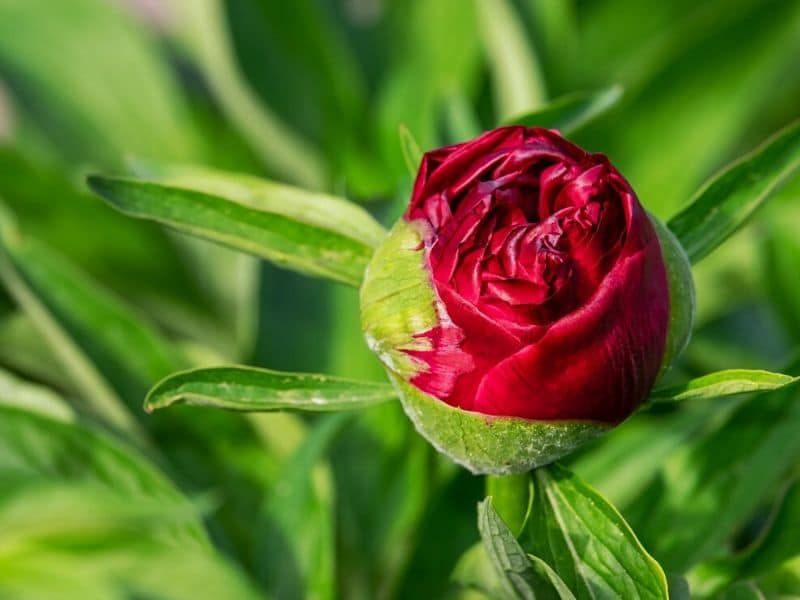 General Description and Characteristics
Peonies are low maintenance flowering perennial plants that add beauty and colors in gardens and landscapes, especially from spring to fall. Generally, mature peonies grow about 2 to 7 ft, depending on the type. Some are fragrant, while others are unscented.
The leaves of peonies vary depending on the type and variety of peony. Some peony leaves are glossy without any presence of hair. For some peonies, however, the leaves are dark green with some underside hairs.
Peony flowers also differ depending on the type and variety. Generally, regardless of flower forms, all peonies have five or more large outer petals and modified stamens at the center (4). Some peonies exhibit single flowers, while others have semi-double, double, bomb, Japanese, or anemone types. These types are discussed in detail below.
Types of Peonies
Peonies can be categorized into three groups: tree peonies, herbaceous peonies, and intersectional peonies.
Tree Peonies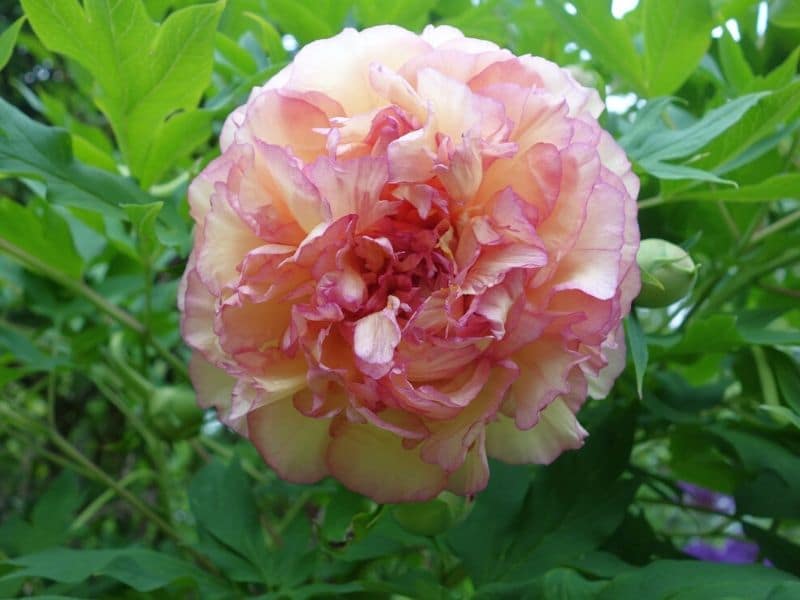 Tree peonies (Paeonia suffruticosa) are deciduous, multi-stemmed woody shrubs (6) that typically grow from 4 to 10 ft in height and spread up to 4 ft. The above-ground stem remains alive throughout the year (7).
Although these perennial plants grow slower than herbaceous peonies, they make excellent borders or accents, especially when planted in groups. They produce large flowers, which usually measure 6 to 8 inches across and are pink to white in color. However, cultivated varieties of tree peonies offer a more extensive range of flower colors, including red, purple, pink, white, and yellow.
Tree peonies are called Mudan in China (9).
'Shimane Sedai' is one of the most common tree peonies. It delivers attractive rose-pink semi-double blooms that further develop into a double type as the plant grows older. These tree peonies grow up to about 4 ft in height and spread up to 3 ft wide.
'Boreas' is another popular example of tree peonies. Known for its bright red color, boreas peony displays vivid burgundy-red semi-double flowers with ruffled petals. This plant reaches up to 5 ft tall at full maturity in five to eight years after planting.
Other tree peonies are the Paeonia lutea var. Ludlowii (with large yellow blooms), Duchess of Kent tree peonies, Duchess of Marlborough tree peonies, Reine Elizabeth tree peonies, and Shimanishiki tree peonies.
Herbaceous Peonies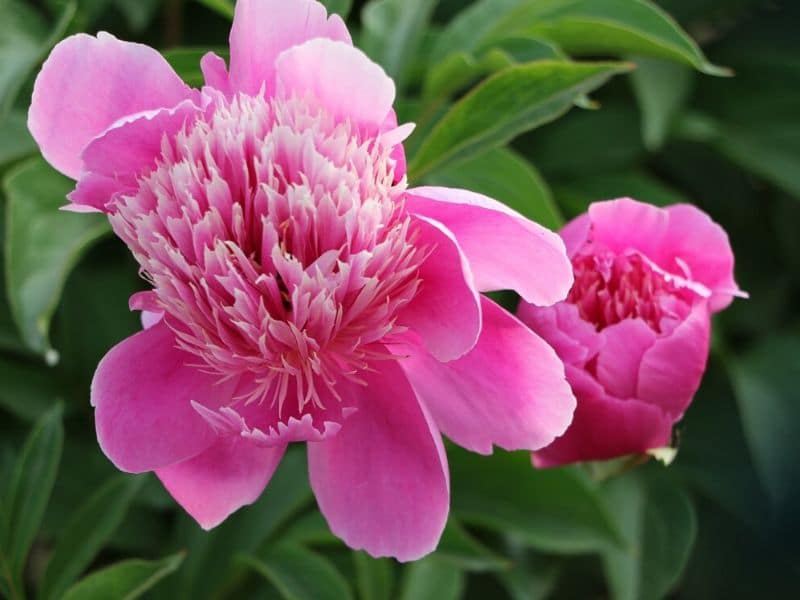 Unlike tree peonies, herbaceous peonies die to the ground in the fall and re-emerge in the next spring (6). They typically grow up to 2 to 4 ft in height. Herbaceous peonies are also called bush peonies.
This type of peony is most commonly used in gardens and as cut flowers. Herbaceous peonies offer a wide variety of flower types from single peonies to semi-double, double, bomb, Japanese, and Anemone peonies. The colors also vary, which range from deep red to yellow, white, cream, pink, rose, and more.
Intersectional or Itoh Peonies
Intersectional peonies are hybrid between tree peonies and herbaceous peonies (6). Also called Itoh peonies, this type was named after Toichi Itoh, who is a Japanese plant breeder that first succeeded crossing a tree peony with an herbaceous type in the 1960s (9).
Intersectional or Itoh peonies exhibit large flowers and woody stem similar to tree peonies, but they wither to the ground in the fall like herbaceous peonies (8).
---
Peony Flower Forms
As mentioned above, peony plants regardless of type can further be categorized depending on their flower forms. They can be single, semi-double, double, anemone, Japanese, and bomb form peonies.
Single Form Peonies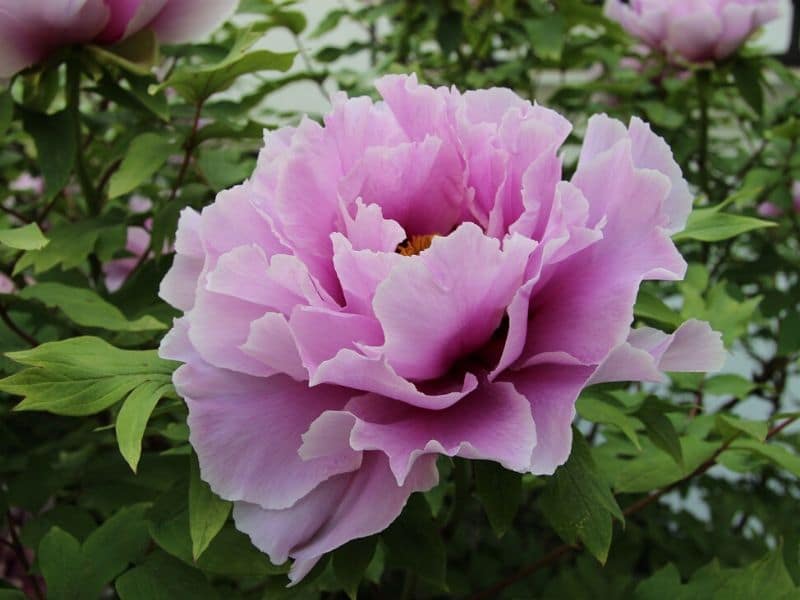 Some peony flowers have single forms and called single peonies. This kind has one or two rows of at least five prominent outer petals called guards. The guard petals enclose a center of golden pollen-bearing stamens (4). Some examples of single peonies are the Fairy Princess and Imperial Red peonies.
Semi-Double Form Peonies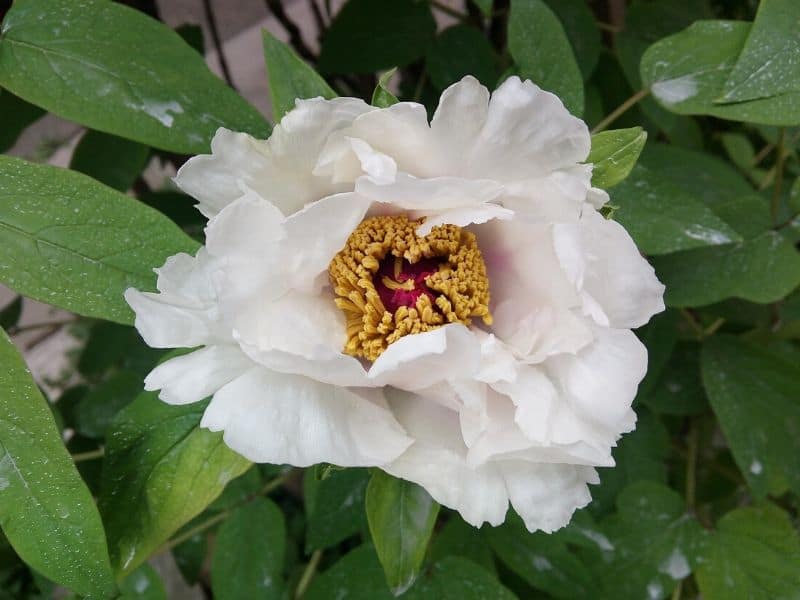 Semi-double peonies also have five or more guard petals with a prominent center of pollen-bearing stamens. They have more than one row of guard petals emerging from an exposed flower crown. Semi-double peonies can sometimes look like double peonies, except that they have visible anthers when the flowers are in full bloom (4).
Double Form Peonies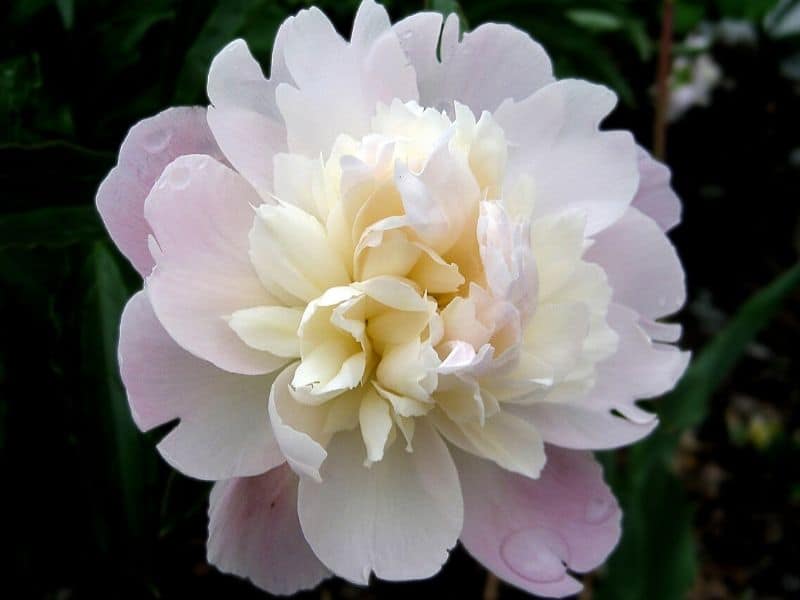 Double type peonies are the most popular type of peonies for cut flower production (5). They have dense clusters of broad petals that make up large and full blooms. Five or more outer guard petals surround the central petaloids or transformed stamens and stigmas(4).
Bomb Form Peonies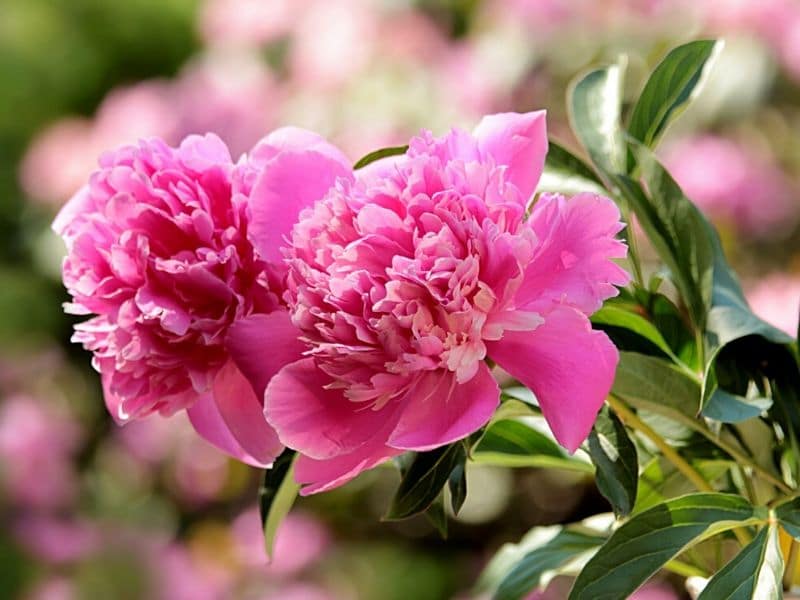 Bomb type, on the other hand, is the largest and fullest form of a peony flower. Peonies of this type have prominent petaloids that keep on developing until they nearly obliterate the guard petals. Bomb type peonies give out a globular, pompom-like bloom (5).
Japanese Form Peonies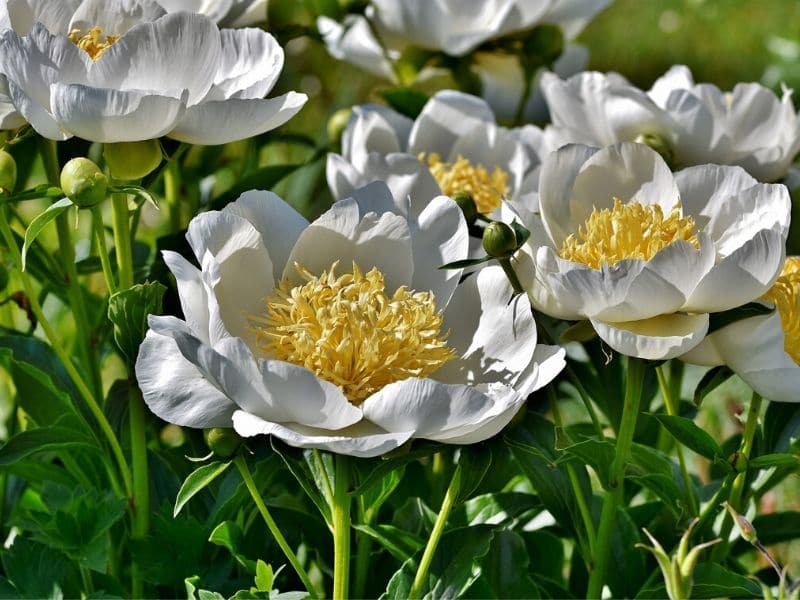 Japanese peonies are known for their decorative centers of staminodes or thin petaloids. The staminodes are partially transformed stamens that may or may not carry a trace of pollen.
Anemone Form Peonies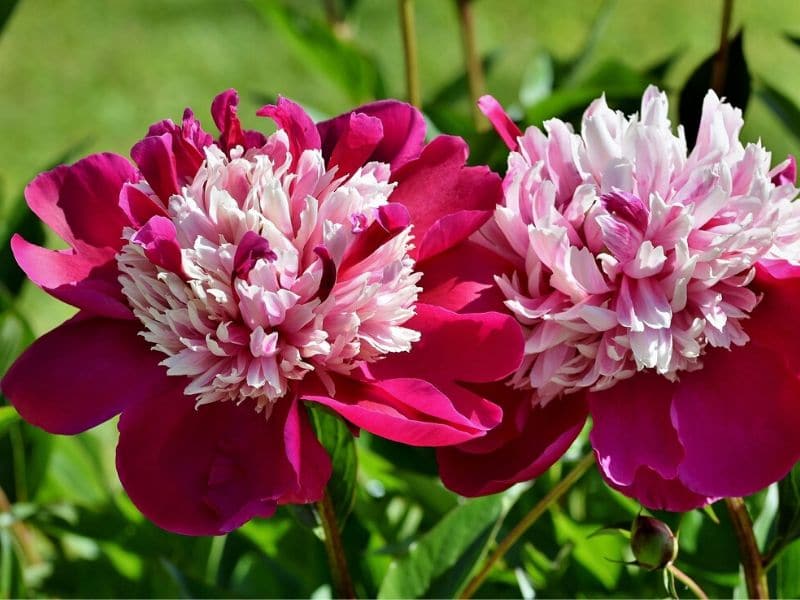 The anemone type is a more advanced type of Japanese peonies. Anemone peonies, which are often categorized under the semi-double type, have several rows of guard petals that surround a dense cluster of thin petaloids (4). Unlike Japanese peonies, anemone peonies do not flaunt anthers of any kind.
---
Popular Peony Varieties
'Cora Louise' Peony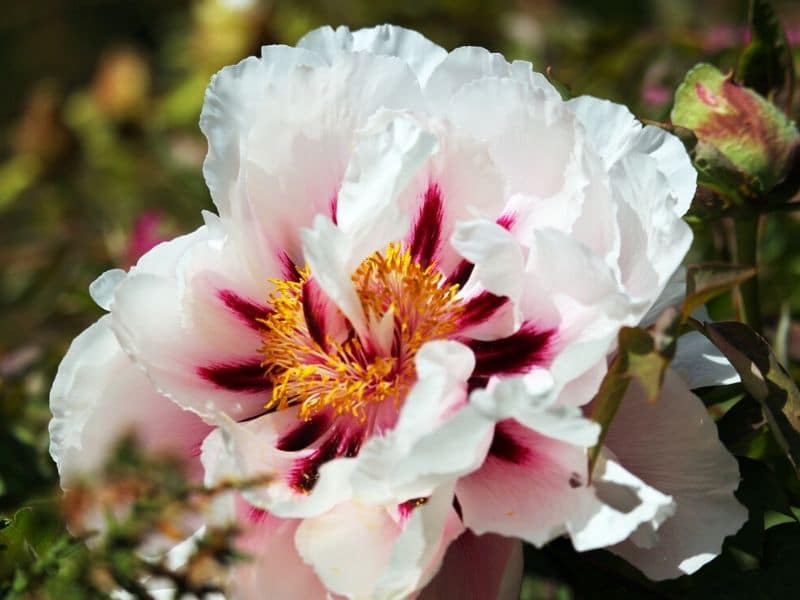 Paeonia 'Cora Louise' is an Itoh peony that forms semi-double flowers. This herbaceous perennial produces lightly fragrant white blooms with a burst of dark lavender hue from the center. The leaves are toothed.
Cora Louise Itoh peonies are vigorous, producing up to 50 flowers per plant in a single season. Fully mature plants grow about 2.5 ft in height and 3.5 ft in width. This variety makes excellent border plants or in containers, mass planting, and urban gardening.
'Scarlett O'Hara' Peony
Scarlet O'Hara peonies or Paeonia 'Scarlett O'Hara' showcase vivid and fiery scarlet red blooms with contrasting golden yellow anthers at the center.
These single-formed flowers are large and fragrant. Matching the attractive blossoms are rich green leaves that light up a spring garden.
This peony variety belongs in the herbaceous peony category and for its vigor, strong stems, and reliability.
'America' Peony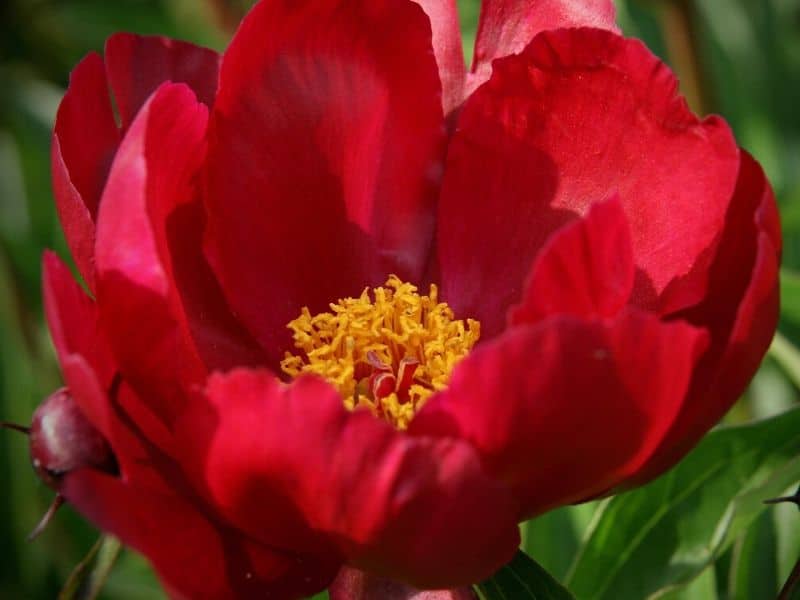 A highly-recognized single type peony, the 'America' variety never fails to fascinate its audience with its vivid scarlet red ruffled petals that emerge from a cup-shaped bud. At the center are golden yellow anthers that further enhance the blooms' appealing beauty.
'America' peonies are fragrant. Each plant typically produces eight to ten flowers in a single season. Mature plants reach up to 3 ft in height and spread up to about 1 ft.
'Bowl of Beauty' Peony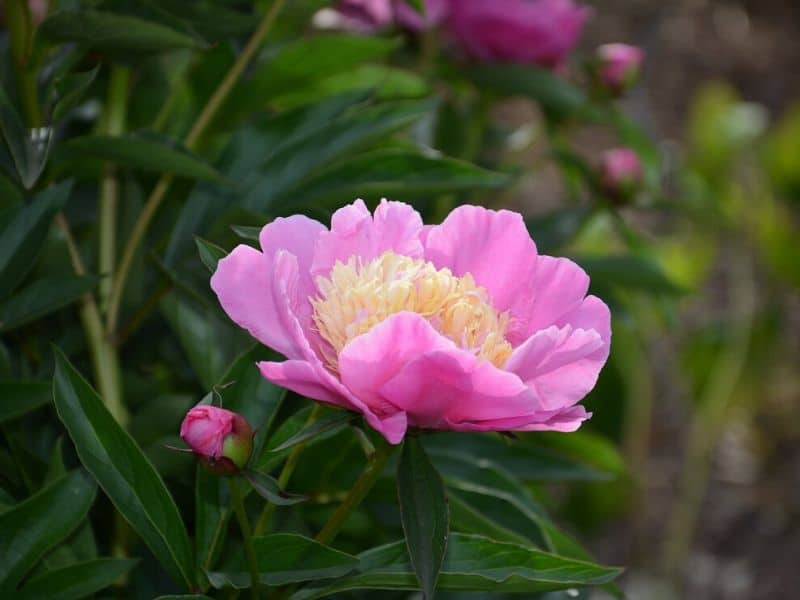 Claimed by many as one of the most beautiful peony cultivars is an herbaceous peony named Bowl of Beauty. This peony displays large anemone flowers that grow up to 8 inches in width. The outer petals are rose-pink in color, surrounding a dense cluster of light yellow petaloids at the center.
'Bowl of Beauty' peonies are fragrant. The flowers of this variety bloom in late spring to early summer last for 7 to 10 days. Each plant grows about 2 to 3 ft in height and spreads up to 3 ft.
'Nippon Beauty' Peony
The Nippon Beauty variety (Paeonia lactiflora 'Nippon Beauty') is recognized worldwide for its beautiful Japanese form flowers. It produces fragrant blooms with deep red guard petals that form a cup. The center part of each bloom deserves equal attention because of its feathery bright red staminodes edged with gold.
This herbaceous perennial grows up to 3 ft tall.
'Bartzella' Peony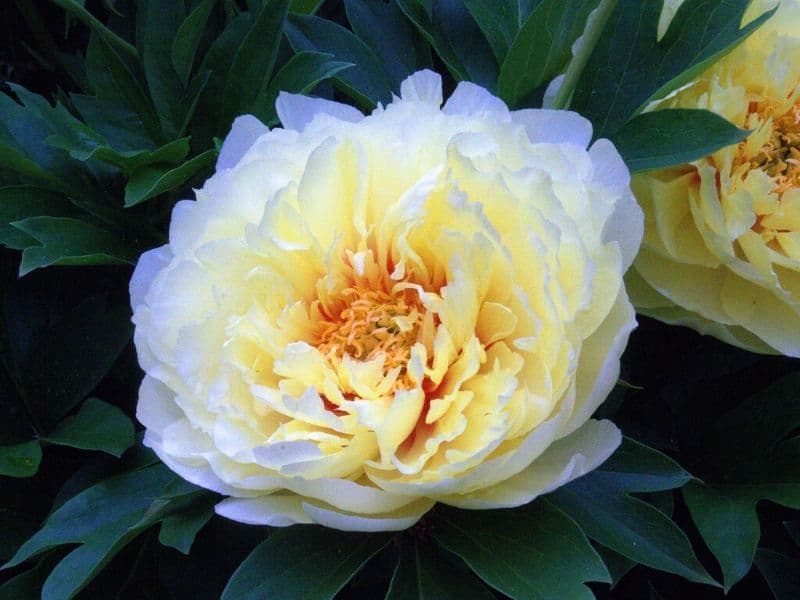 'Bartzella' peonies showcase semi-double to double form pastel yellow flowers. Part of the intersectional peonies or Itoh peonies category, this peony hybrid produces excellent cut flowers with sturdy stems. It is dubbed as one of the best yellow peonies available. The flowers have a spicy-sweet fragrance, with each flower averagely measuring 6-8 inches across.
Fully mature plants reach up to 2.5 to 3 ft tall and wide. They bloom vigorously in late spring.
'Kopper Kettle' Peony
Paeonia 'Kopper Kettle' is another famed Itoh type of peonies. Unlike most peonies, this cultivated variety displays semi-double to double flowers in unique hues of red, yellow, orange, and sometimes copper-pink petals. As the blooms open, they reveal a dark red center with bright yellow stamens.
Kopper Kettle peonies are vigorous plants that reach about 2.5 ft in height to 3.5 ft in width.
'Sea Shell' Peony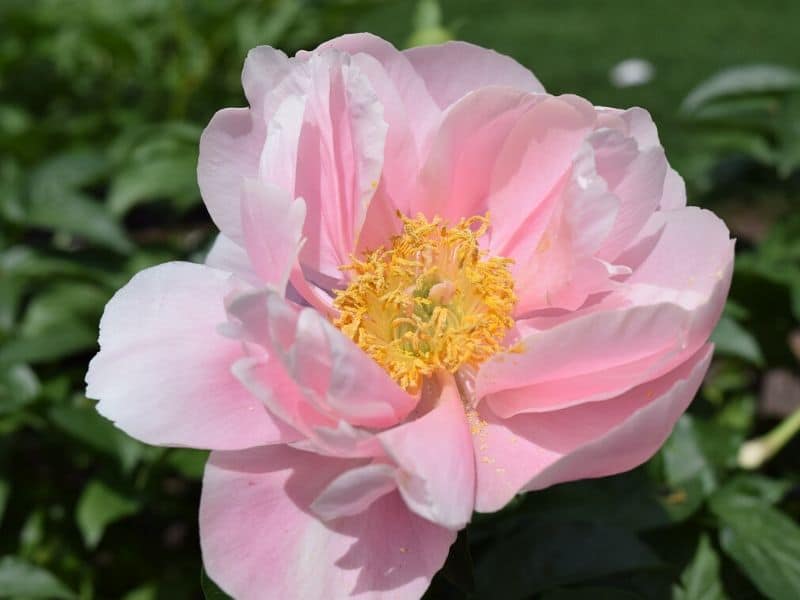 Paeonia lactiflora 'Sea Shell' or 'Sea Shell' peonies are eye-catching single form peonies with vibrant golden-yellow stamens and bright pink guard petals that fade to blush as the flower matures. A famous Chinese peony, this herbaceous perennial plant produces fragrant flowers on sturdy and erect stems.
This peony variety blooms vigorously in late spring to early summer for approximately 7 to 10 days. Each plant reaches up to 3 ft in height and wide.
'Paul M. Wild' Peony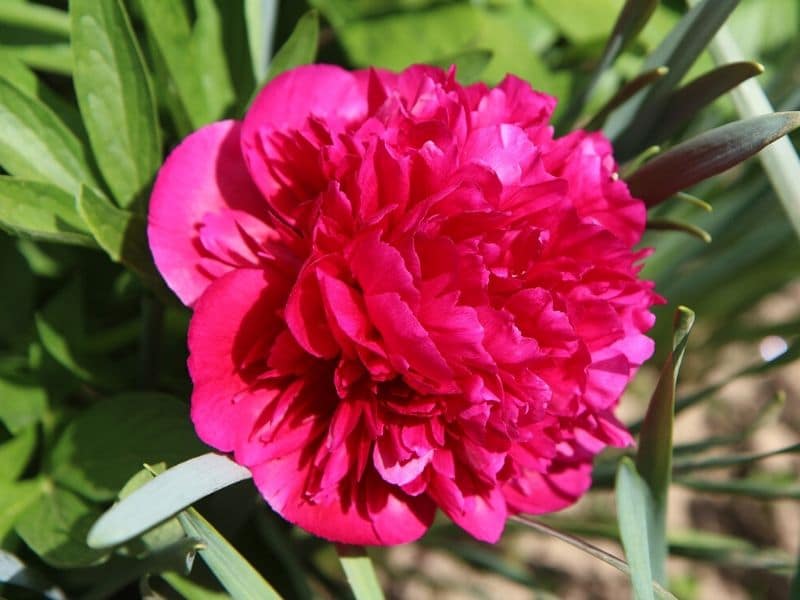 One word that describes this peony variety best is breathtaking. When in full bloom, the 'Paul M. Wild' peonies showcase beautiful full double form blooms in velvety cardinal red colors that do not fade. Individual flowers are enormous and slightly scented.
This peony variety is also known for its strong, erect stems. They make excellent cut flowers or as border plants in gardens. Fully established plants reach up to 1.5 to 2 ft tall and 2 to 3 ft wide.
'Krinkled White' Peony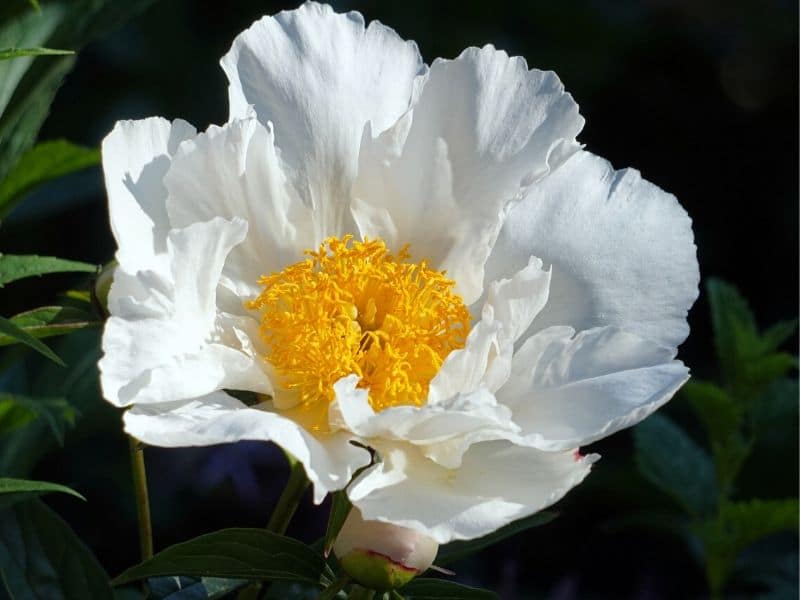 Paeonia lactiflora 'Krinkled White' is an award-winning single type, mid-blooming peony. Regarded as one of the best white peonies available, this Chinese peony variety flaunts prominent blooms with crinkled white petals surrounding a clump of golden-yellow stamens at the center.
The flowers of Krinkled White peonies are slightly scented. The sturdy and straight stems make this peony outstanding cut flowers.
---
Culture, Care, and Maintenance
How to Grow Peonies
Peonies are tough perennials. Known as one of the most floriferous garden plants, peonies produce attractive blooms even with minimal care.
Peonies grow best when planted in full sun and loamy, fertile, well-drained soil. They require 6 to 9 hrs of sunlight per day. Partial shade is tolerable as the plants will still produce good foliage, but flower production will be sparse or non-existent (7). Plant them away from other trees and shrubs to maximize moisture absorption from the soil.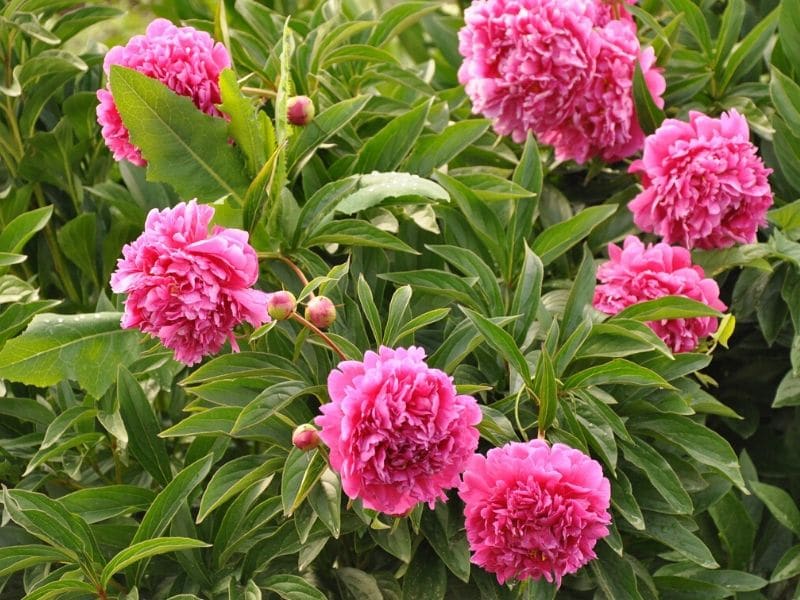 When planting peonies, allow ample spacing as these plants have different sizes and growing habits depending on the type.
Once established, keep peony plants undisturbed as they do not thrive well when replanted (10).
How to Care for Peonies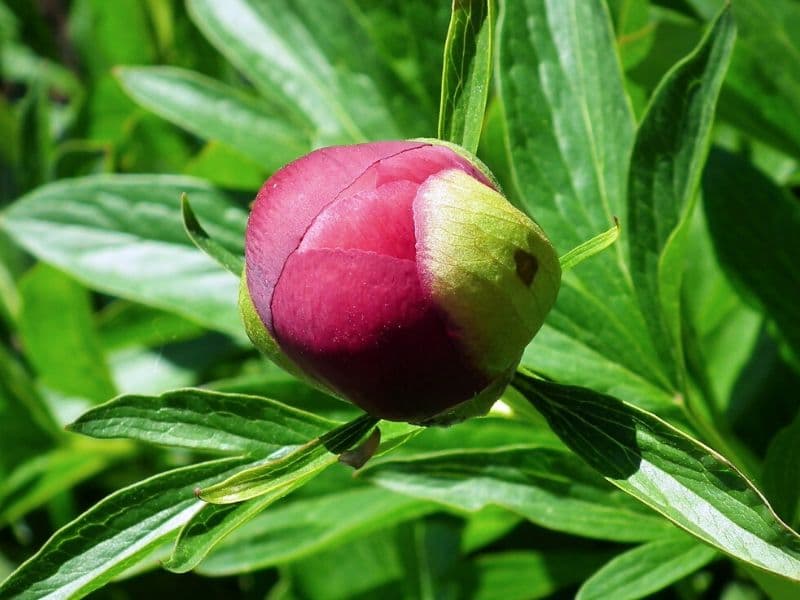 Caring for peonies is relatively easy as fully established plants require little maintenance. Although most peony varieties have sturdy stems, other herbaceous types have stems that need extra support in carrying the weight of their flowers.
Remove flowers as soon as they exhibit signs of withering to avoid the spread of diseases.
A practice called disbudding produces more abundant blooms. This can be done by removing all side buds and retaining just the terminal bud on each stem (4).
Pests and Diseases
Like other flowering plants, peonies can also be subjected to pests and diseases that may result in minimal to severe damage to the whole plant if left untreated.
Fungal diseases like Botrytis blight and Phytophthora blight are two of the most common diseases of peonies. Fuzzy, gray spores are often indications of Botrytis blight infestation, while a wet rot is a result of Phytophthora blight. Practicing proper sanitation helps in preventing these diseases.
Powdery mildew on peonies results in whitish powder on the surfaces of leaves, young stems, and flowers. Infested flowers may be deformed.
Other common diseases of peonies include Southern blight, mosaic virus, peony ringspot virus, and leaf curl.
Hoplia beetles, thrips, and scaled insects are the most common insect pests that infest peonies. Though ants frequent peony plants, particularly the buds because of the nectar, they do not cause any harm to the plant.
Hoplia beetles lay eggs in the soil and cause damage to the flowers' petals and buds. Thrips also damage the blooms by causing discoloration and disfiguration. These tiny insects also cause bleaching and withering of leaves.
Peonies can also be infested with scale insects. Symptoms of scale insect infestation include yellowing of leaves, reduced and stunted growth.
Toxicity
Common peonies are generally considered toxic to animals like cats, dogs, and horses. The bark contains a mildly poisonous compound called paeonol that may cause vomiting and diarrhea when consumed in large amounts.
What Do Peony Flowers Mean?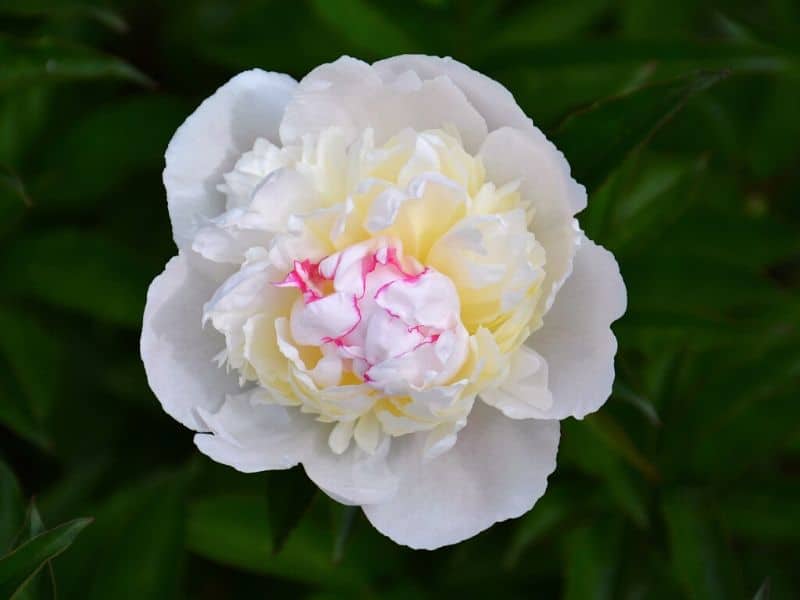 The peony flower is Indiana's state flower. It is fascinating to learn all about peony flower's meaning and symbolism.
Peonies play a significant role in many parts of the world. A native to Asia, Europe, and North America, these outstanding ornamentals symbolize mostly positive beliefs and connotations.
The flowers are also popularly used in weddings. In fact, peonies are the official 12th wedding anniversary flowers. They represent prosperous and romantic marriage (10).
Did you find this peony beginner's guide useful and informative? Check out our article on all flowering plants for more information about flowers similar to peonies.
See more: What Colors Do Peonies Come In?