Flowers have become an integral part of celebrating weddings. They are one of the first things to consider in planning a wedding, brides and wedding planners become meticulous in choosing the right flowers for the wedding as they can set the mood of the party and make the event even more memorable.
In this article, we discussed the brief history and other interesting facts about wedding flowers. If you are a bride to be or planning the wedding of your friend or client, we have gathered some of the beautiful flowers and design ideas you can use for the much-anticipated event.
In some cultures, the bride is not allowed to walk down the aisle without a bouquet in hand. Floral arrangements play several roles in the progression of a wedding ceremony and it is as if they are as important as the bride and groom, themselves.
Flower arrangements for weddings come in different forms. Aside from the traditional bouquets carried by the bride and the flower petals sprinkled along the aisle by the little flower girls, flowers and other plant materials are also used to decorate the wedding venues, props, and bridal cars.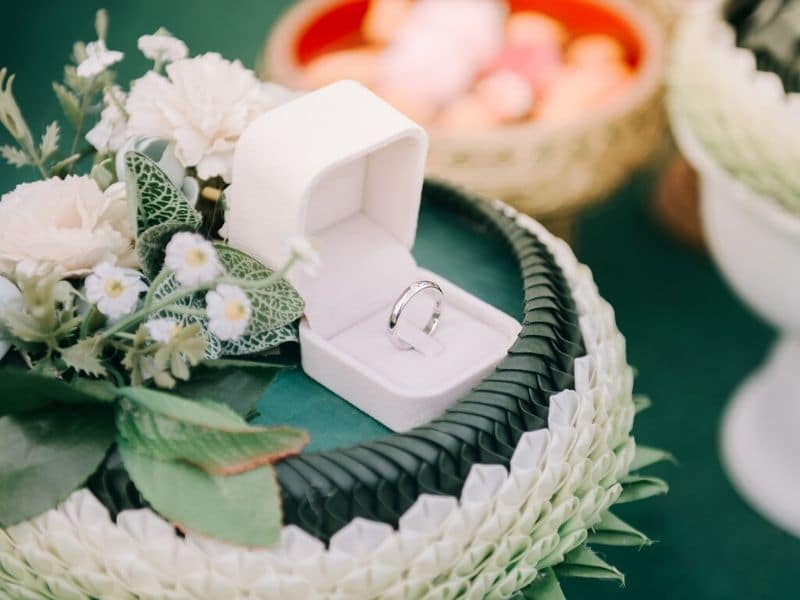 History of Wedding Flowers
The history of the use of plants and flowers during ceremonies dates back to 3000 B. C. in Egypt. The early Egyptians were agricultural people and they often associated plants and flowers with religious beliefs. Important agricultural commodities were used as offerings to their gods.
Osiris, the goddess of all growing things, was often offered flowers for happiness and long life. the women then wore chaplets and headbands of blue cornflower, white mayweed and pink flowers in association to this.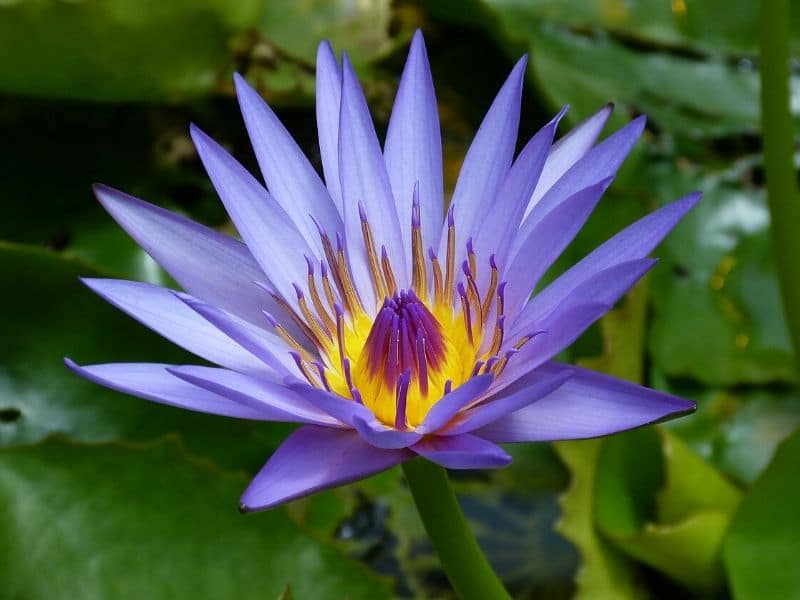 Although there is no record of flowers being offered during matrimonial ceremonies per se, it could be one of the important occasions celebrated with plant materials. Wax cones made up of blue water lily were worn by Egyptian women in the form of headbands. This would melt under the sun and would cover the wearer with the perfume of the lily which is a known sexual stimulus (1).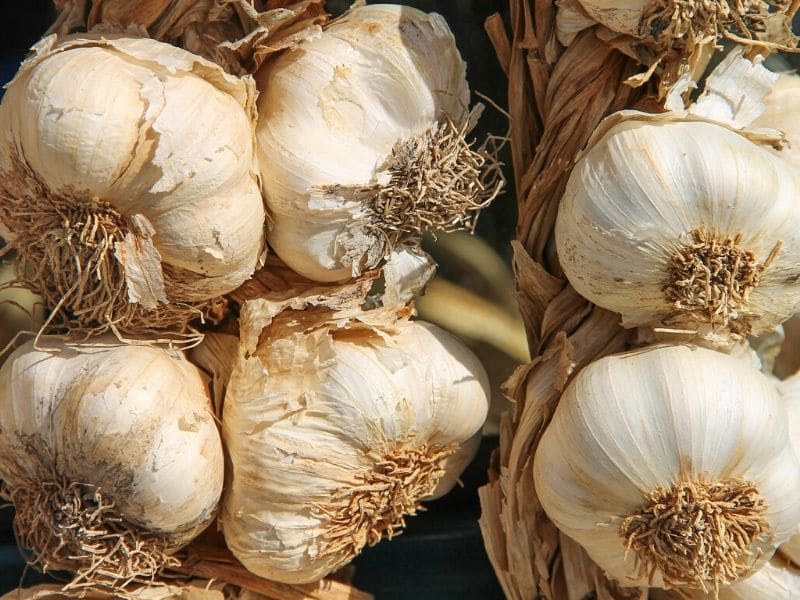 It was said that wedding plant decorations were not always pretty to look at. In the ancient times, instead of wedding bouquets, the bride and the groom wore garlands and wreaths made of herbs and bulbs of garlic as they were believed to ward off evil spirits that might plague the couple.
Also, rosemary and roses tied together to form a kissing knot were hung over the heads of the couple to bring good luck and abundance of love.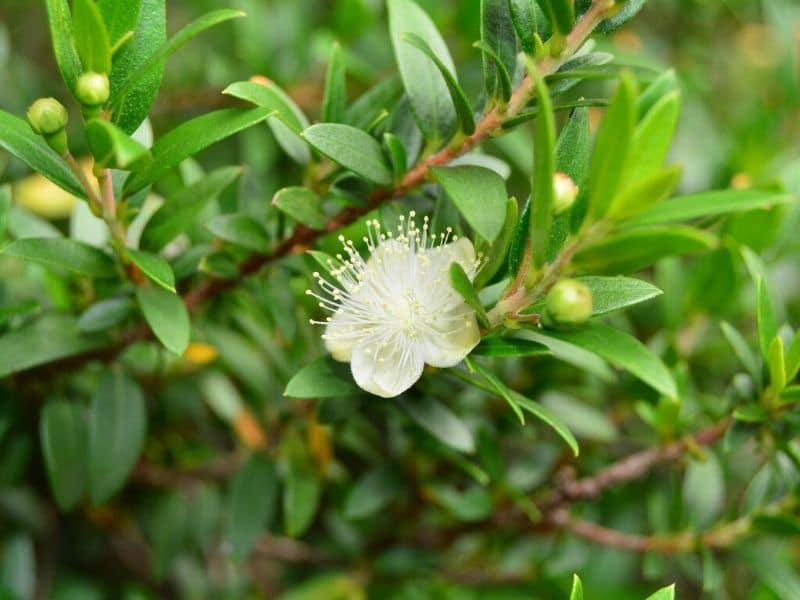 However, it was during the early Greek and Roman civilizations that the use of flowers for weddings was first recorded. Weddings during these times were performed at home and brides wore a crown of myrtle and orange blossom.
The doors of the groom's house and the bridal bed were decorated with myrtle and rose petals. The same set of plants were placed in vases as offering to the goddess of love, Venus. Ceres, the goddess of agriculture, crops, and flowers was also offered poppy flowers to ensure the bride's fertility (2).
Starting in the 1400s, Western cultures have become more refined but the use of flower garlands has become more aesthetic. People started decorating their dining tables with plant materials.
During special events, arrangements of flowers, leaves, and branches of trees were part of table settings. Production of porcelain and ceramics were also growing at the time hence vases in pairs adorn with flowers were often placed alongside white marble mantelpieces.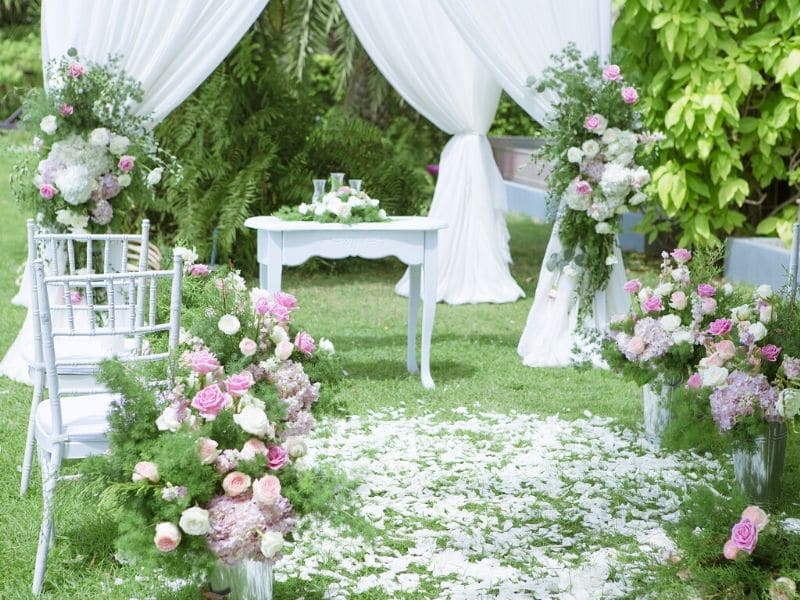 During the Victorian Era, flowers were of high importance and it was customary to showcase new plants among botanists, garden designers, and enthusiasts. It was trendy for brides to carry bouquets of contrasting colored flowers in tight circles of concentric rows with lace edgings. In floriography, orange flowers are symbolic of chastity so fresh or wax orange-blossoms were also worn in the bride's hair.
By the 1900s, bouquets of fern, roses, carnations, and mums, arranged such that they are flowing down to the hem of the wedding dress became popular. Bridesmaids also carried a similar buttoned-down bouquet and they wore large decorated hats. Men wore buttonholes or corsages made of orchids and fern (3).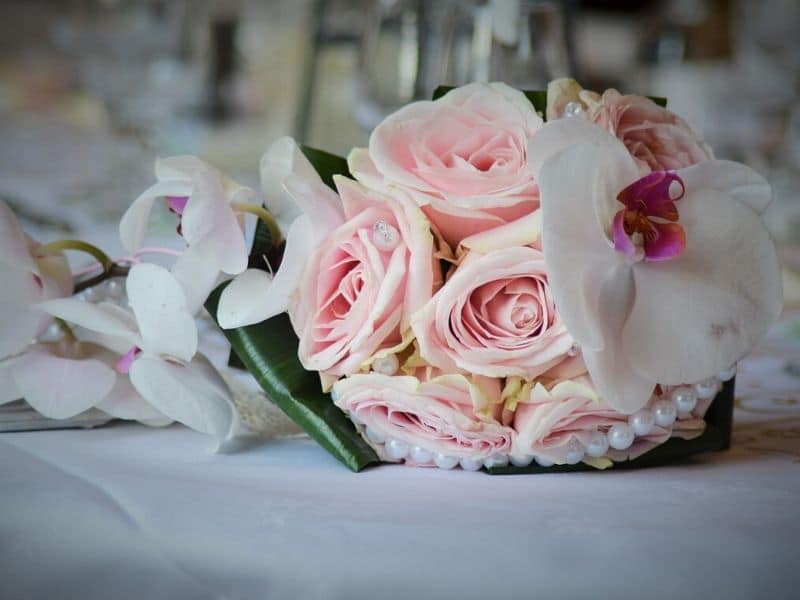 The use of lavish and decorative flowers for events like weddings almost came to a halt during wartime. Many ornamental plants became scarce since lands were needed to grow vegetables but many brides still found ways to grow their own flowers and the tradition lived on.
Orchids became popular since they do not need land for cultivation and became even more trendy when Queen Elizabeth used the flower in her bouquet when she married Prince Philip in 1947.
Wedding flower designs and arrangements came in many different forms and trends later on. Some bridesmaids carried flower balls of roses and daisies on long ribbons while other younger bridesmaids held baskets of dried flower petals.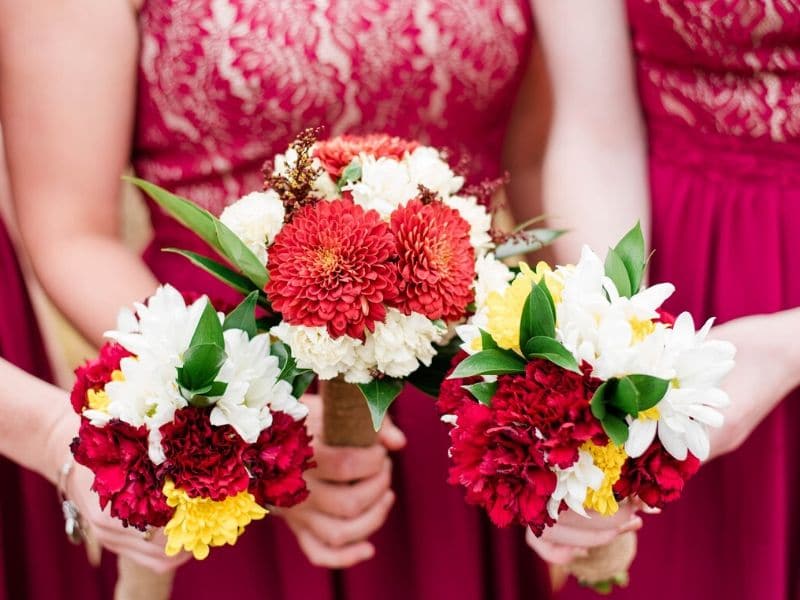 Other species of flowers were also used like freesias, stargazers, and gypsophila. Despite the changes in styles and preferences for wedding flowers due to economic, social, and religious factors, flowers will remain an important part of celebrating the union of two loving souls.
The Ultimate Guide For Choosing Wedding Flowers
Florists are the go-to when it comes to choosing and preparing flower arrangements for weddings. They are well-versed on the different plant materials and they usually have a wide range of flowers and plants to recommend and choose from. Many brides leave it to their capable florists to design their floral wedding decorations.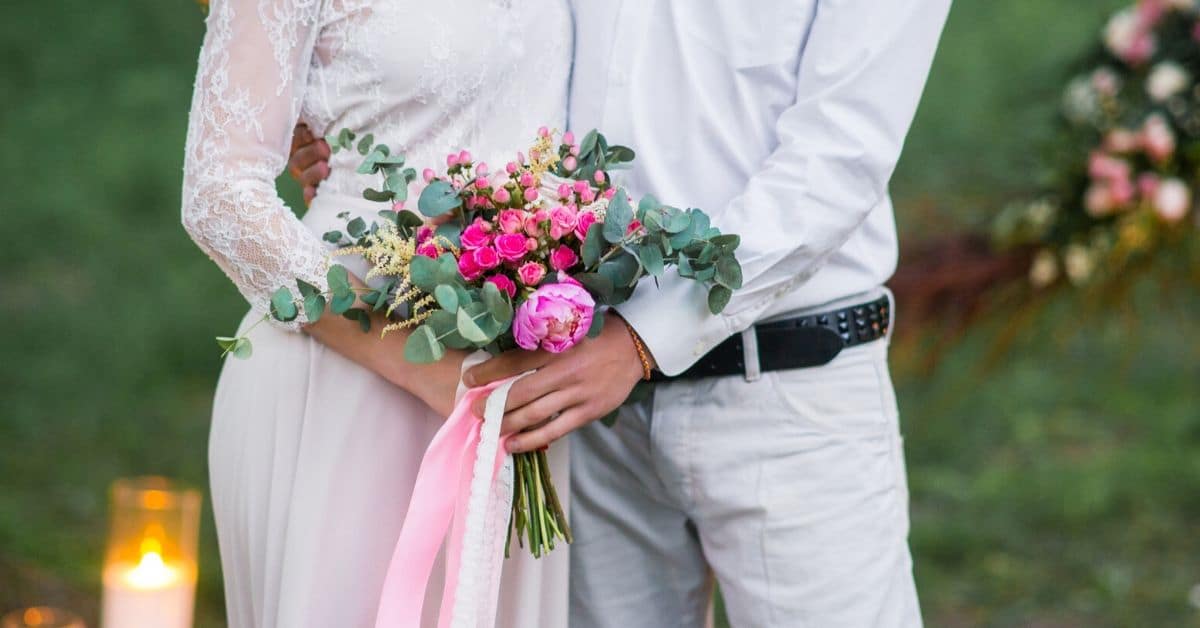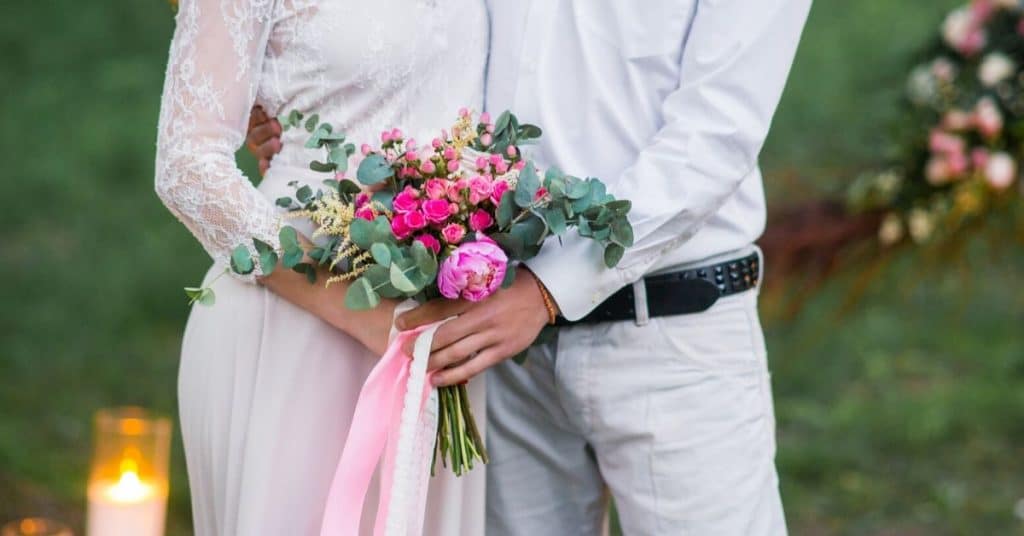 There are different flower arrangements prepared by the florist for the wedding, not just to decorate the venues and make them more elegant but they are also worn to recognize the important members of the wedding. Among the flower arrangements usually prepared for the ceremony are the following:
---
Personal Flowers
Personal flowers are the flowers worn or carried by the wedding entourage and other family members. They are considered the most important of the arrangements and the bulk of the wedding flower budget is dedicated to these (3).
Bouquet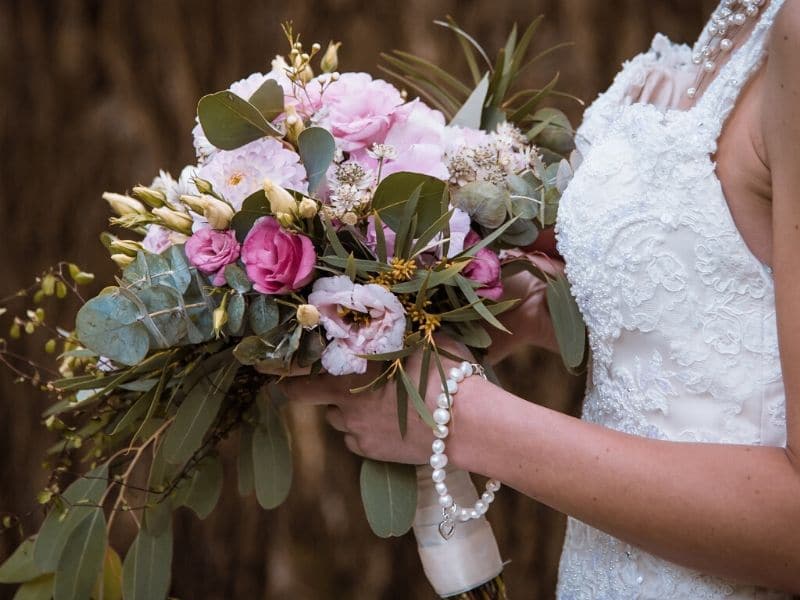 Bouquet is a small cluster of flowers often held by the bride. Most bouquets have a signature flower chosen by the bride and depending on her, the flowers may hold a special meaning. The bride usually has two bouquets, one to carry throughout the day and bring home to preserve and another one for the traditional "tossing of bouquet".
Bridesmaids also carry bouquets that are sometimes a smaller version of the bride's bouquet or made of totally different flowers. The bouquet for the maid of honor may be slightly larger or the same flower in a different shade.
Boutonniere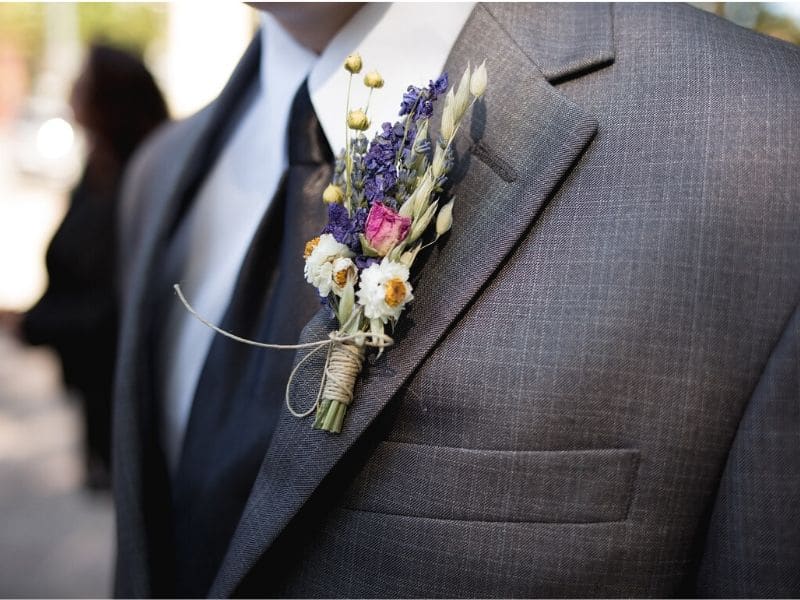 Boutonniere or buttonhole is a small flower arrangement worn on the lapel of the groom. It can be as simple as a single flower or a bunch of tiny flowers and greeneries tied together with a lace ribbon.
Usually, the groom's boutonniere is a mini version of the bride's dominant flower. All the other male members of the wedding party and family wear boutonnieres slightly different but patterned to the groom's (2).
Corsages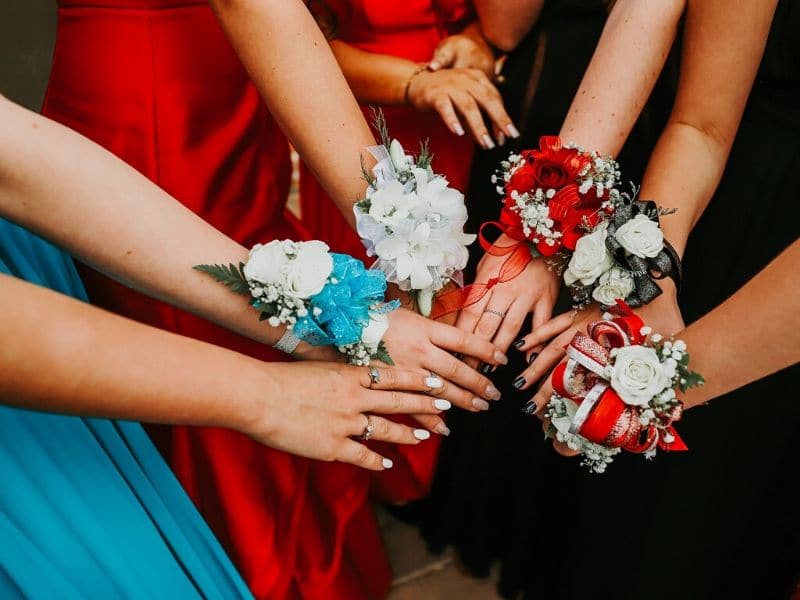 Corsage is a small bouquet that can be pinned to the clothes or worn on the wrist. This is traditionally worn by the female members of the bride and groom's family to distinguish them from other guests. Oftentimes the flowers used on corsage match the dress of the wearer or the wedding colors.
Flower Girl's Flower Basket
Young flower girls carry a basket full of flower petals which they sprinkle along the way before the bride walks down the aisle. If the bride opted for a DIY flower arrangement, many times the petals of cut flowers loosen during transport.
To avoid wastage, these can be used for the flower basket. Just keep them in the refrigerator to keep them fresh. Some flower girls carry a kissing ball instead. This is a ball-shaped bouquet with a ribbon handle carried over the wrist (2).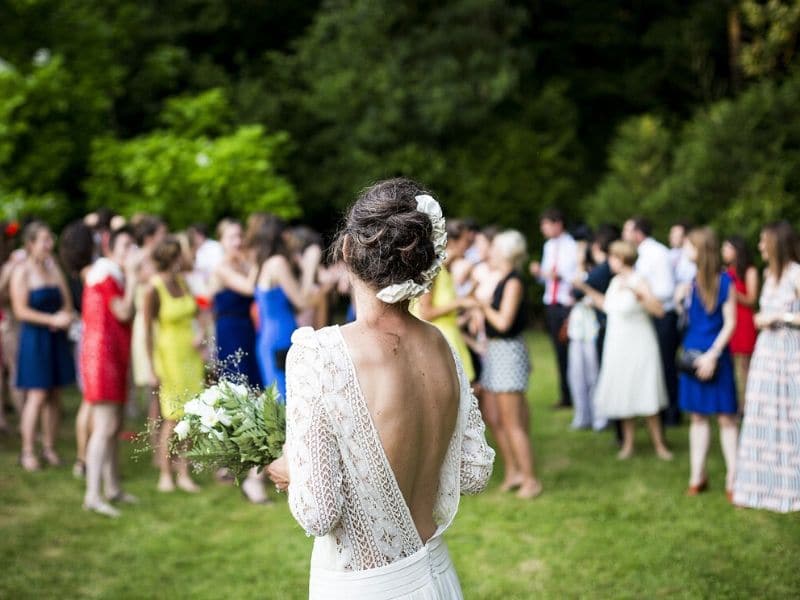 ---
Ceremony and Reception Flowers
Floral decorations on the ceremony and reception venues set the mood of the event and allow the guest to feel that they are in a special place, celebrating a very special occasion. Depending on the location, the installation of wedding flower arrangements varies.
Many weddings are held in gardens and other outdoor settings where the natural flora provides an instant decoration and therefore, additional flowers are minimal.
Indoors, flower installations are more welcome and make the place warmer and more personal. However, verify first the flower policies of the site. Some places like churches and temples have their floral staff who will charge a fee while others provide personnel who will help with the set-up.
Bridal Car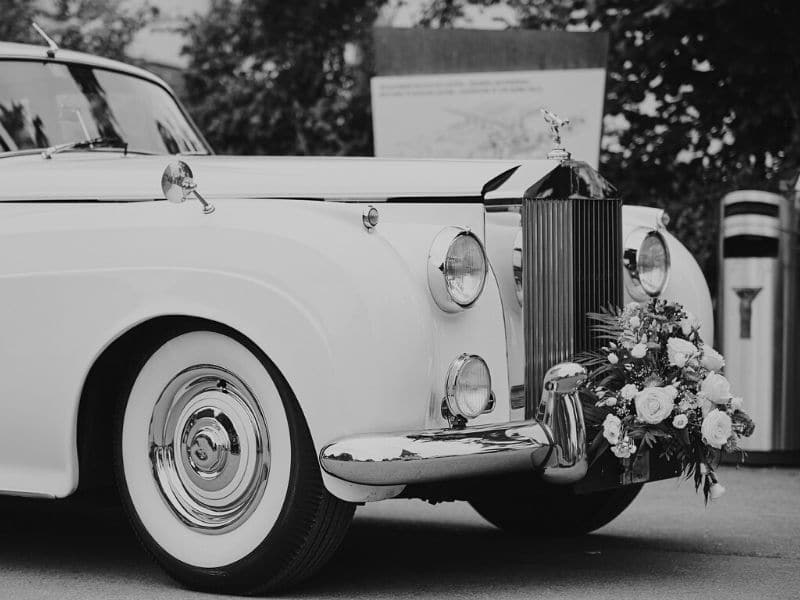 The car that transports the bride to the ceremony site is often decorated with a bouquet and ribbons at the front. Aside from being eye-catching, these flowers should be sturdy to withstand the weather and heat of the car and to avoid wind damage too.
Entryway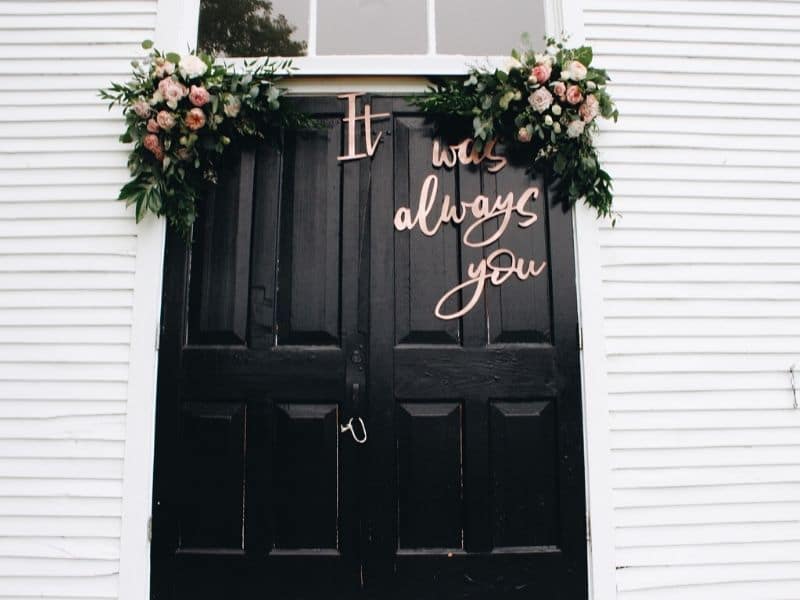 Flower arrangements by the entrance help define the site, welcoming guests and setting the mood of the occasion. These can be in the form of a wreath, garland, or flowers in small containers hung over the door handle (3).
Aisle and Seat Ends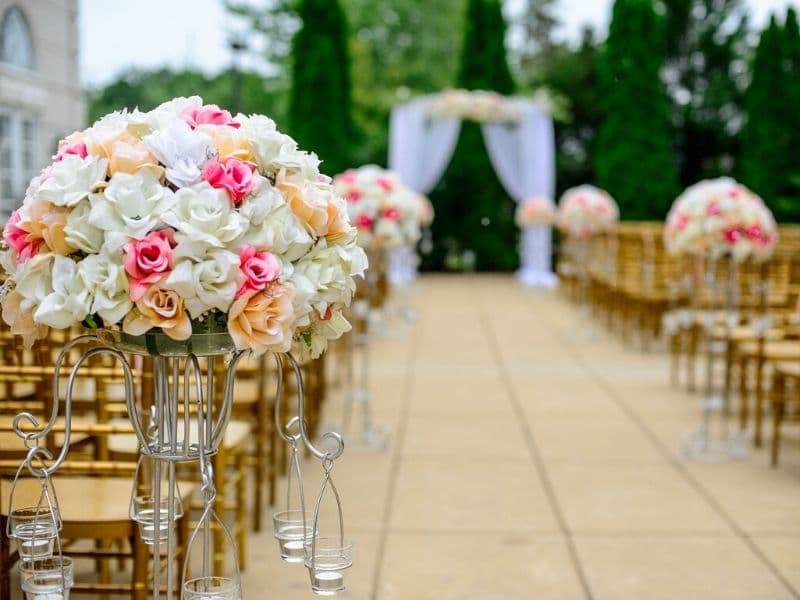 Aside from the petals thrown by the flower girl during the ceremony, the aisle can be decorated with rows of flowers arranged in baskets or containers. Normally, the flower arrangements and ribbon laces or curtains are placed at the end of each row of seats or pews.
Altar Area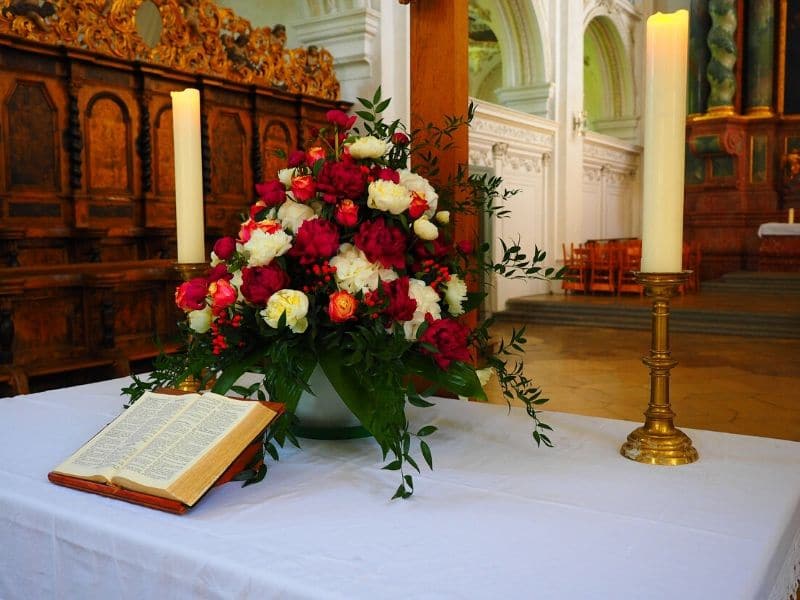 The altar area is of the most special locations in the ceremony site where the couple will exchange their vows. Naturally, it should be decorated with memorable flower installations to bring out the importance of the event. The altar area can be decorated with a flower-filled arbor, arch, canopy, or sets of flower arrangements in elegant containers.
Reception Flowers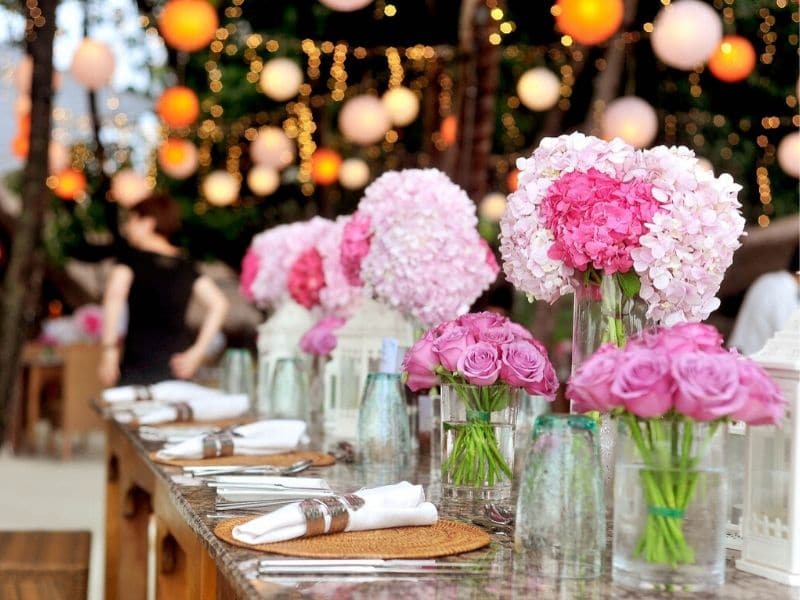 The flower arrangements at the reception site tend to have a big impact on the guests as they spend a lot of time here after the ceremony. Different tables are set up on-site so the majority of the flowers are installed are big and showy.
The entry table is where guests line up to check the guest book or table assignment cards. This is usually decorated with an eye-catching arrangement. On the other hand, smaller arrangements are placed on the buffet table to avoid clutter and make room for the food. Garlands are a good option for this table.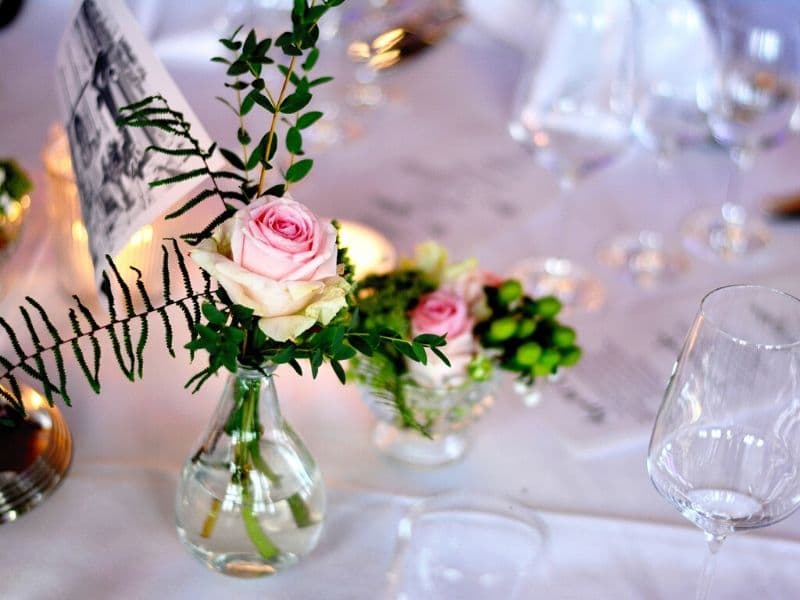 The head table is a separate table for the bridal party and should stand-out in the reception. Although the flower theme should be carried out in all other tables, the flower arrangement for the head table should be more elaborate and prominent. However, they should be installed in a way that's lower than eye-level so that guests can still see the bridal party (2).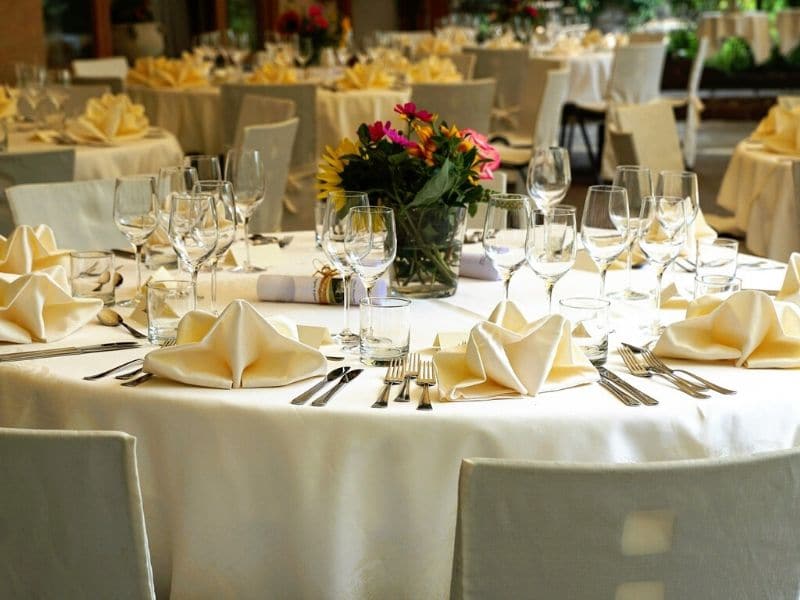 The same goes for guest tables. They should be decorated with flowers low enough so that guests can talk over. Sometimes a single flower or garland on top of each napkin will suffice. In sending off the newly-wed couple, flower petals can be used to shower them over in lieu of rice or birdseed (3).
---
Styles of Wedding Bouquets
Wedding bouquets come in different styles and brides have a lot to choose from, depending on their preferences, the florist's recommendations, what's trendy, etc. The style is all about the three-dimensional form or design of the bouquet that makes it unique. In floristry, bouquet styles include cascade, crescent, colonial, posy, nosegay, and arm (3).
Cascade
Cascade bouquet is a strong style created with draping flowers that produce a waterfall-like appearance. This can easily be achieved by using orchids and vines.
Crescent
As the name suggests, this bouquet style looks like a horizontal crescent moon. It is a tight arrangement of flowers and greens that slightly cascades on both ends. Some flowers perfect for this style are calla lily, tulips, and clematis.
Colonial
Colonial bouquet is arranged symmetrically in round or fan form. It may be made of a single flower species with some fillers or several kinds of flowers.
Posy
Posy is one of the popular choices for brides for it small enough to carry and can be composed of one or more flower species. It is rounded in shape and the stems are gathered together by a ribbon wrapping.
Nosegay
While mostly similar to a posy, nosegay is incorporated with foliage to accentuate the bouquet with the green color. It is relatively smaller and the simplicity makes it ideal as a bridesmaid's bouquet (4).
Hand-tied
Hand-tied looks like it was an effortless but elegant bouquet freshly picked from the garden. It can be made of an assortment of flowers and foliage and complementing color held together by a ribbon or twine.
Arm
Arm bouquet is also known as pageant bouquet because just like flowers given in beauty pageants, this bouquet is cradled in the arms. Long-stemmed flowers such as gladioli, freesias, and roses are some of the top choices for this bouquet style.
Aside from these, wedding bouquets can also be described as classic and traditional, conventional or contemporary (4).
Classic
Classic and traditional wedding bouquets are more formal and the design is structured. This style is specific to the flowers to be used. Calla lilies are preferred for a classic arm bouquet while white orchids and gardenias with trailing ivy strands are used in making classic cascade bouquet.
Conventional
Bouquets in conventional style are not as formal as the classic ones. They may be referred to as typical but they remain popular from generation to generation. Conventional bouquets may be made of white roses and carnations and white filler flowers but a bride can opt for a different color scheme but the same flower species.
Contemporary
As with contemporary paintings, contemporary bouquets deviate from the formal and traditional bouquets. Instead of a structured form, the design is more relaxed and airy, allowing the designer to use a variety of flower types, colors, and overall aesthetic.
For example, a contemporary hand bouquet may be made of several flowers that are in season or an arm bouquet may include pink roses and gerberas with a white lily at the center.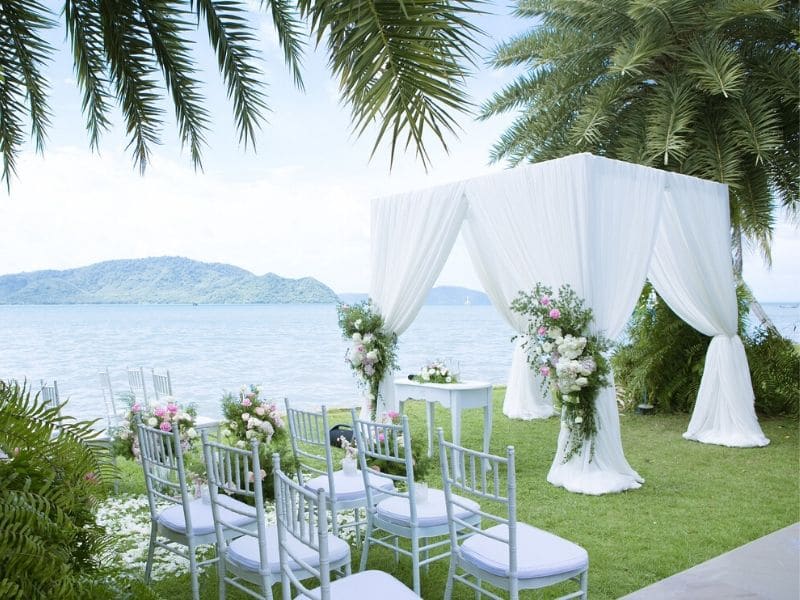 ---
Distinct Wedding Bouquets of Famous Personalities
1. Princess Diana
On her wedding to Prince Charles, Princess Diana carried a big bouquet of cascading orchids with a sprig of myrtle from the myrtle bush that was planted by Queen Victoria. Her wedding flower arrangements were comprised of gardenias, stephanotis, lily of the valley, freesias, ivy, and tradescantias.
2. Kate Middleton
Duchess Kate Middleton held a small elegant and airy bouquet of lily of the valley, hyacinth, and the traditional sprig of myrtle. Her bouquet became more meaningful as she added sweet william blooms as a nod to her husband.
3. Drew Barrymore
Drew Barrymore opted for a lush round bouquet of big peonies and garden roses in different shades of pink and white. Her wedding had a romantic vintage theme and she used hydrangeas, roses, and lavenders to decorate the aisle.
4. Miley Cyrus
Miley Cyrus carried a beautiful unique bridal bouquet on her wedding to Liam Hemsworth. Her bouquet is made of silver eucalyptus, thistle, white waxflower, and white zinnia. White carnations and white anemones were then added to fill in the spaces and the stems were held together by a white silk ribbon.
5. Alicia Keys
Alicia Keys looked stunning in her Grecian-inspired wedding gown accentuated with a bouquet of purple calla lilies in her hand. Purple calla lilies mean charm and passion, a fitting representation of the singer's personality. The bouquet also had an eye-catching structural appeal because of the long cascading stems of variegated ivy.
6. Grace Kelly
When she became the Princess of Monaco, Grace Kelly opted for a simple posy of lily of the valley. She carried the bouquet on top of a small bible while she walked down the aisle.
7. Blake Lively
Blake Lively held one of the most beautiful bouquets during her wedding to Ryan Reynolds. It consisted of pink jasmine, andromeda, dusty miller, and hydrangeas. Some of the petals were dipped in rose-gold glitter to match the embroidery on the bride's ball gown.
8. Kelly Clarkson
Kelly Clarkson used pops of color in her chic and rustic wedding theme. Her bouquet is a mixture of white, yellow, purple and other complementing shades. The use of sunflowers, dusty millers, tweedia, veronica, and purple asters make the bouquet appear as if it was made of natural wildflowers.
9. Chrissy Teigen
On her wedding to the singer, John Legend, Chrissy Teigen carried a simple nosegay. The timeless hand bouquet popped against her white wedding gown. She used olive branches, ranunculus, and garden roses. Her bridesmaids also carried matching flower bouquets.
10. Mariah Carey
When she wed Tommy Mottola in 1993, Mariah Carey had the most lavish ceremony. Her wedding design almost resembled that of Princess Diana's with her bouncy wedding dress and big bridal bouquet. The bouquet was made primarily of cascading ivy vines and white roses.
---
Flower Themes and Types
Deciding on how to start decorating the wedding with flowers does not only involve identifying the flower needs and arrangement design. One of the key wedding concepts the bride may have discussed with her designer as early as the first few days of the planning stage is the theme of the wedding.
Usually, the bride and the designer discuss their ideas using a mood board- a design inspiration that helps determine the appearance and vibe of the wedding.
The theme will dictate the general appearance and ambiance of the event, especially at the reception where the design will be more extensive. Most of the time, these themes are carried out by using plant materials (4). Here are some of the top wedding themes, both modern and traditional.
Bohemian
"Boho" is one of the most popular themes of modern times, probably due to its effortless and carefree vibe. It is characterized by airy and natural flower arrangements, flower crowns, and organic and earthy decors.
Rustic
Rustic weddings are a sustainable way of celebrating weddings. Unconventional materials are used such as bottles and jars instead of vases, hand-made souvenirs and decors, and hand-written signages on planks of wood. The reception is usually held outdoors, a laid back setting accentuated with monochromatic foliage and wildflowers.
Vintage
Vintage wedding is all about a nostalgic feeling of romantic old times. The design is inspired by black and whites, sparkling glamour or toned down colors. Flower arrangements can be made of a mixture of lightly colored flowers and greens or entirely of blossoms popping with color like anemones.
Whimsical
Whimsical weddings, on the other hand, look as if they are straight from a magical fantasy. The design is made of soft components, often with overhanging installations and tiny, fine-textured leaves and flowers. Flower arrangements are two-toned, playing with shades of green and white. Baby's breath flowers always take one's breath away when they are arranged en masse.
There are many plant materials available to the designer in creating these themed wedding decorations. Of course, flowers are the number one priority in bringing life to any wedding installation. Production of specific cut flowers depends on the season but nowadays, almost all kinds of flowers are available throughout the year (4).
Potted plants add an organic touch as wedding decorations. They are eco-friendly and may be cheaper than the fancy cut-flowers. Potted plants may be a little heavier to handle but they provide a more varied color and freshness to the overall wedding design.
The use of foliage has also become trendy. Aside from the naturally occurring plants that produce architecturally-appealing leaves, many plants have been bred for a more varied leaf structure. The foliage of plants has also become popular because they do not easily wilt like many flower petals.
Designers and brides can also opt for dried flowers for a more lasting color. Usually, cut flowers are bought and installed not until the day before the wedding to avoid decay and wastage. Dried and preserved flowers are easier to handle and if the installation process needs more time, they can be bought and set up even a few weeks before the event.
---
1. Rose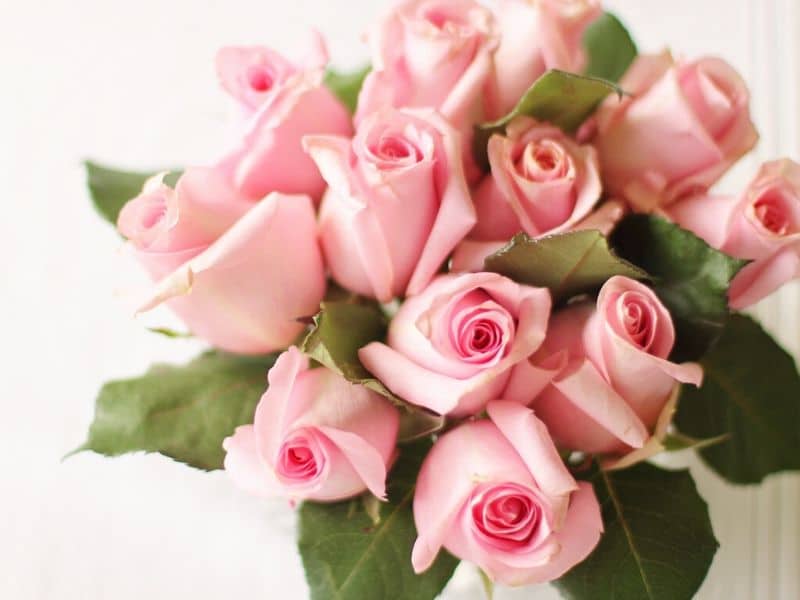 The all-time favorite flower is still the most sought-after wedding flower. Rose is the universal symbol of love and it is just fitting that brides opt for their bouquets to be filled with this classic flower. White is still the most preferred color but roses are available in all forms and colors so any type is suitable for any wedding flower arrangement.
2. Calla lily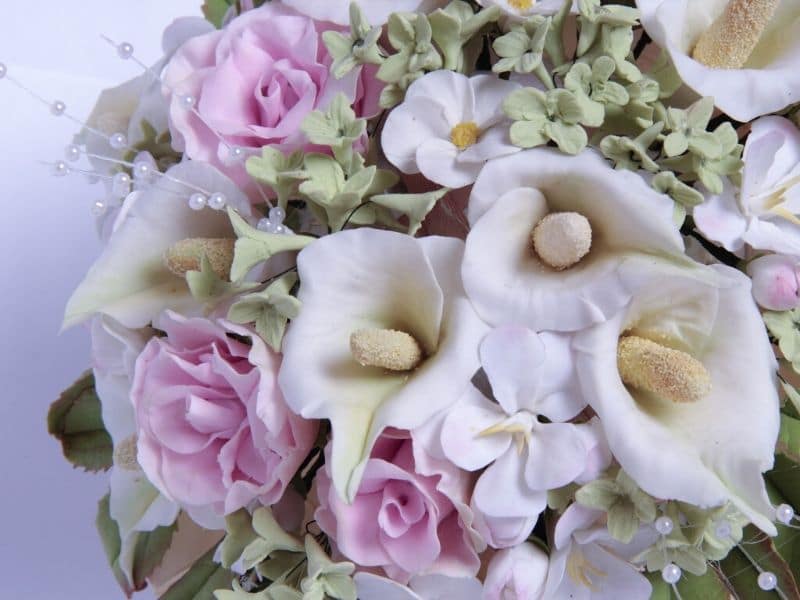 Calla lily is a trumpet-like blossom borne on a long thick stalk. The smooth curves of the flower are very tropical and feminine that brides often choose to carry an arrangement of calla lilies. Aside from its elegant appeal, the calla lily can easily be paired with other fine flowers and leaves, creating a one of a kind bouquet.
3. Tulip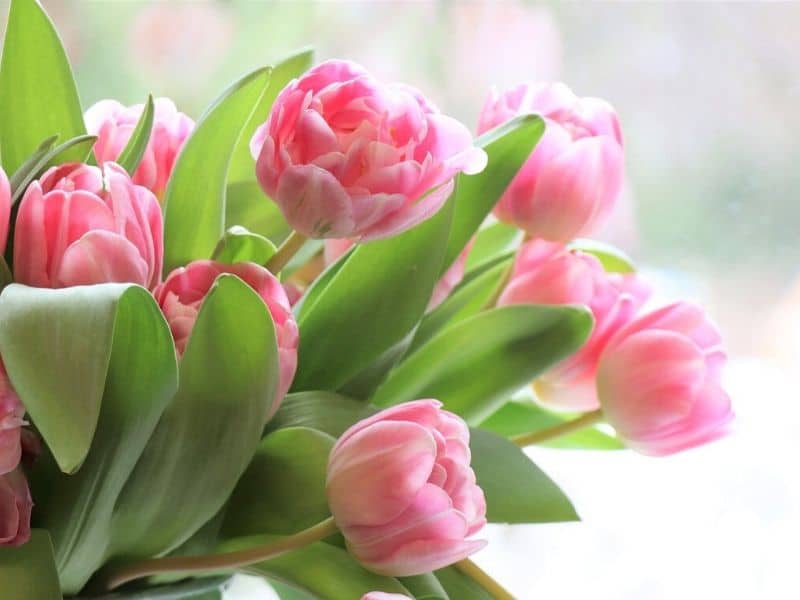 The tulip flower is symbolic of happiness and consuming love and coupled with its sophisticated beauty, this flower is perfect in a wedding bouquet. The buds are small and long-lasting and make great boutonnieres and corsages. The long stalks also allow the flowers to be used in tall vases and seat markers. Flower arrangements are customizable since tulips come in a wide range of colors.
4. Peony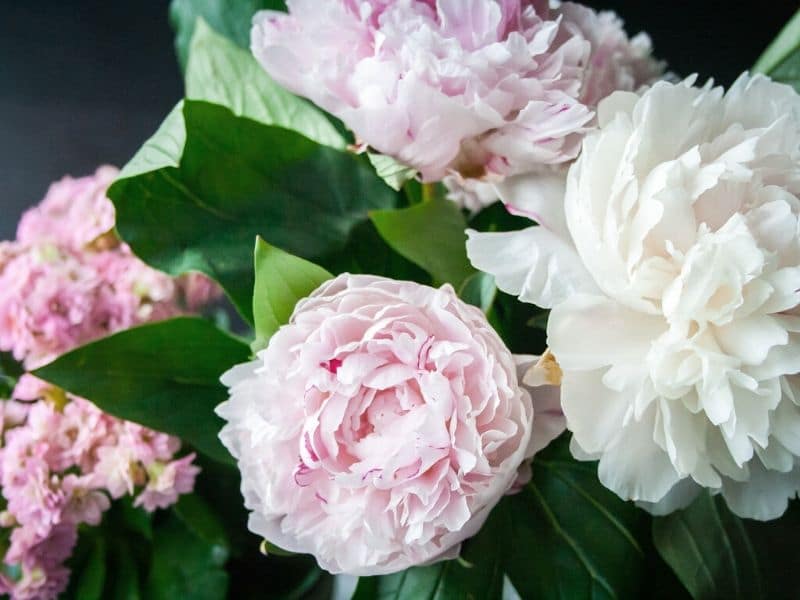 Peonies may be expensive but it is still one of the most popular wedding flowers. The bright flowers are strongly-scented and the numerous petals make the arrangement appear delicate but at the same time, spectacular. Peony is a symbol for a happy marriage and good fortune. Since the plant can live up to a hundred years, using the flowers in wedding bouquets connotes a lasting marriage.
5. Hydrangea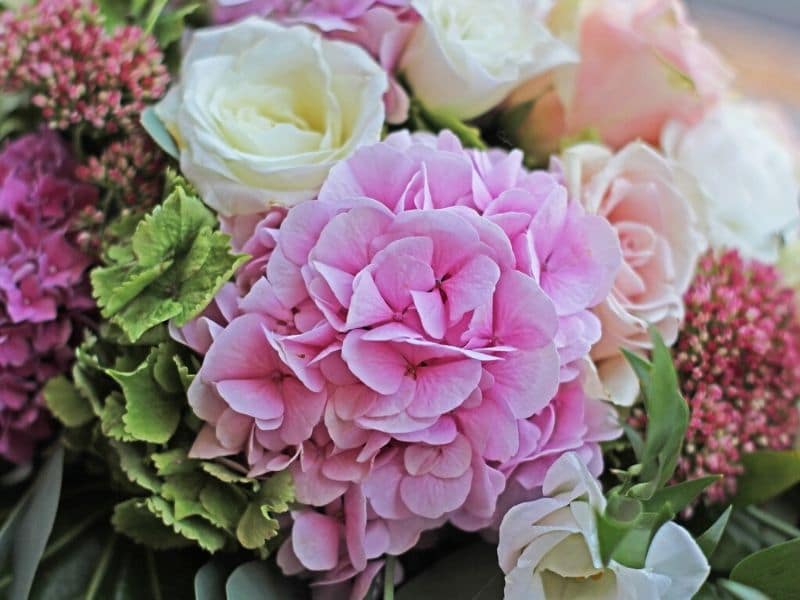 Hydrangeas are a no-brainer when it comes to wedding bouquets. Aside from the instant bouquet from the many petals a single flower head produces, they also look chic and charming and create a show at the hands of the bride. Hydrangeas come in light tones of blue, green, pink, and white and can be easily paired with other flowers and foliage.
6. Sweet Pea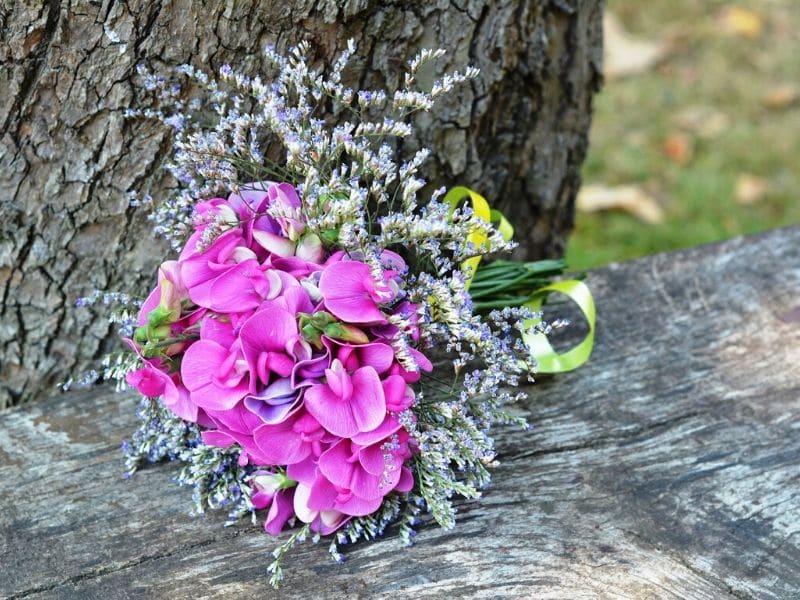 The sweet pea flowers are not just dainty-looking but are also sweet-scented, making them one of the easy options for wedding flower arrangements. They may be arranged as a monochromatic bouquet or a more natural bouquet with different colored petals altogether. They also make simple table flowers that do not unnecessarily distract the guests from engaging with one another.
7. Orchid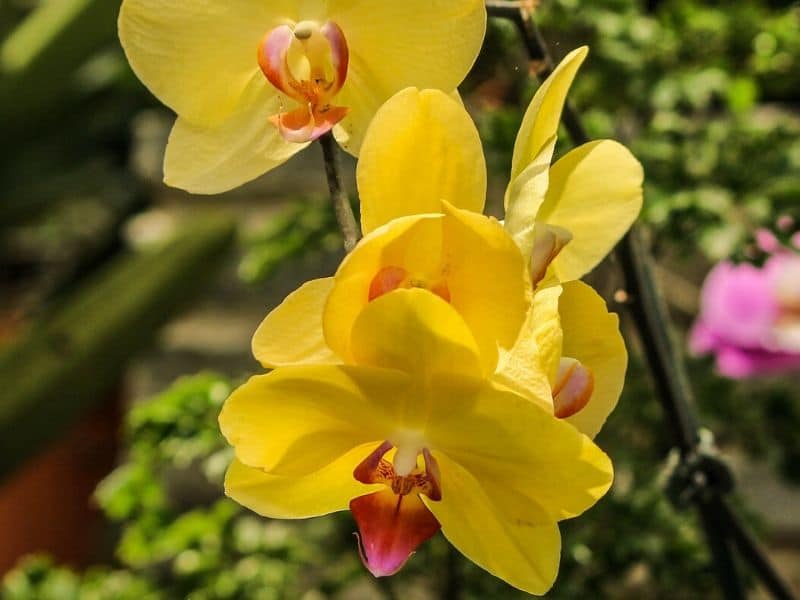 Orchid is considered a modern classic wedding flower. It has been used since the early 1800s because of its airy and sophisticated appeal. The orchid flower is a symbol of refinement and fertility. The white phalaenopsis or moth orchid is a timeless flower, especially when held in a cascading manner. It can also be used in corsages and boutonnieres.
8. Ranunculus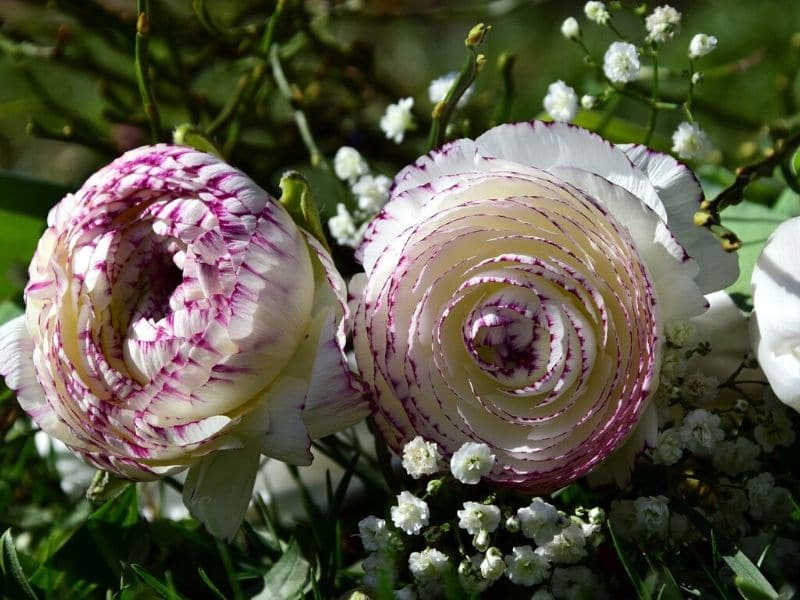 Ranunculus flowers are small blooms with a unique texture. They are best known for their beautiful petals which come in red, yellow, pink, orange, and white. They are easy to pair with other flowers but the most common mixture includes roses, anemones, and dahlias. Ranunculus looks perfect in nosegay, hand-tied or colonial bouquet style.
9. Stephanotis
Stephanotis is a favorite wedding flower symbolizing good fortune and marital harmony. It is commonly known as the bridal veil or bridal wreath and the white flowers are often used as bouquet fillers but a bouquet entirely made of stephanotis is exceptionally attractive. The flowers grow on a viney stem and some florists decorate reception tables with cuttings of the vine.
10. Gardenia
A symbol of happiness and purity, gardenia makes striking and meaningful bridal bouquets. The flowers are available almost all year round but they can be quite expensive so gardenias are often mixed with other flowers and foliage. The scented bright white flowers are still considered the most popular of gardenias but they also come in charming colors of yellow, pink, and orange.

References
Reference List:
(1) Brotherson, V. "Vintage Wedding Flowers." Hachete UK. 2018. P. 176.
(2) Woodall, J. "Wedding Bouquets and Flowers." The Crowood Press. 2007. P. 300.
(3) O'Sullivan, J. "The New Book of Wedding Flowers: Simple and Stylish Arrangements for the Creative Bride." Lark Books. 2004. P. 144.
(4) Hunter, N. T. "The Art of Floral Design." Cengage Learning. 2013. P. 592.
Close