Have you ever wondered about putting together a garden full of blooms that attract bees and butterflies? The Asteraceae or sunflower family has a lot of attractive flowers to offer, but one that probably stands out the most is the purple coneflowers.
Purple coneflower, which is recognized scientifically as Echinacea purpurea, is a perennial flowering plant native to the eastern part of North America.
Dubbed as the most popular Echinacea species cultivated for ornamental uses, purple coneflowers frequent commercial landscapes and home gardens with floriferous purple, pink, or white daisy-like blooms.
Keep reading below to know more about this herbaceous perennial.
Purple Coneflowers Facts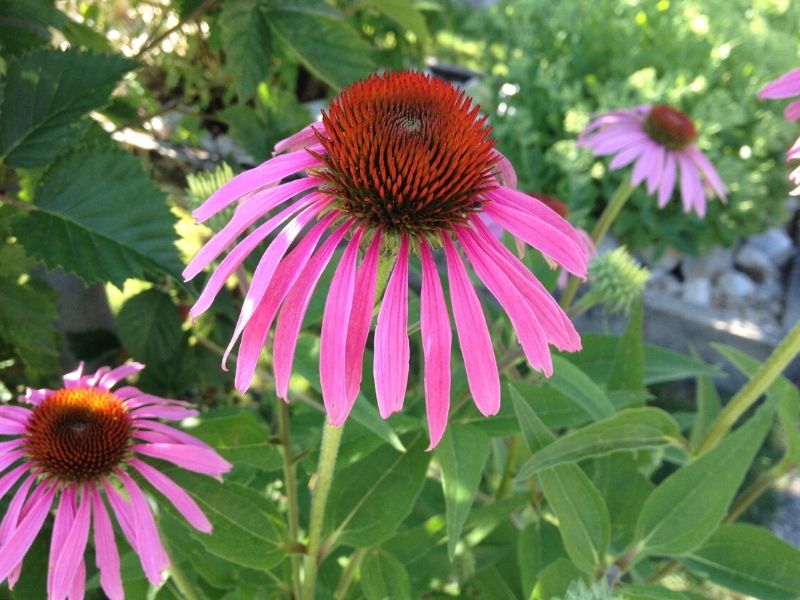 Plant Name and Origin
Purple coneflowers or Echinacea purpurea is part of the Asteraceae family and Echinacea genus.
The genus name Echinacea comes from the Greek word "echinos" which translates to a hedgehog or sea urchin – a reference to the flowerhead's resemblance to a hedgehog.
The species name purpurea, on the other hand, means purple, referring to the plant's purple flowers.
Other common names of purple coneflowers are eastern purple coneflower, Kansas snakeroot, hedgehog coneflower, echinacea, snakeroot, Indian head, scurvy root, and narrow-leaved purple coneflower.
Medicinal Uses
The indigenous people and tribes of the Great Plains are one of the known groups that recognize the medicinal values of the Echinacea plants. Purple coneflowers are popular as a painkiller. They are also used for treatment for various ailments, such as toothache, coughs, snakebite, colds, and sore throat (1).
Up to this day, the purple coneflowers are used as an herbal remedy against several health conditions and discomfort. It has immunostimulatory, anti-inflammatory, and therapeutic effects (2). The flowers are used to make tea for boosting the immune system.
Landscape Uses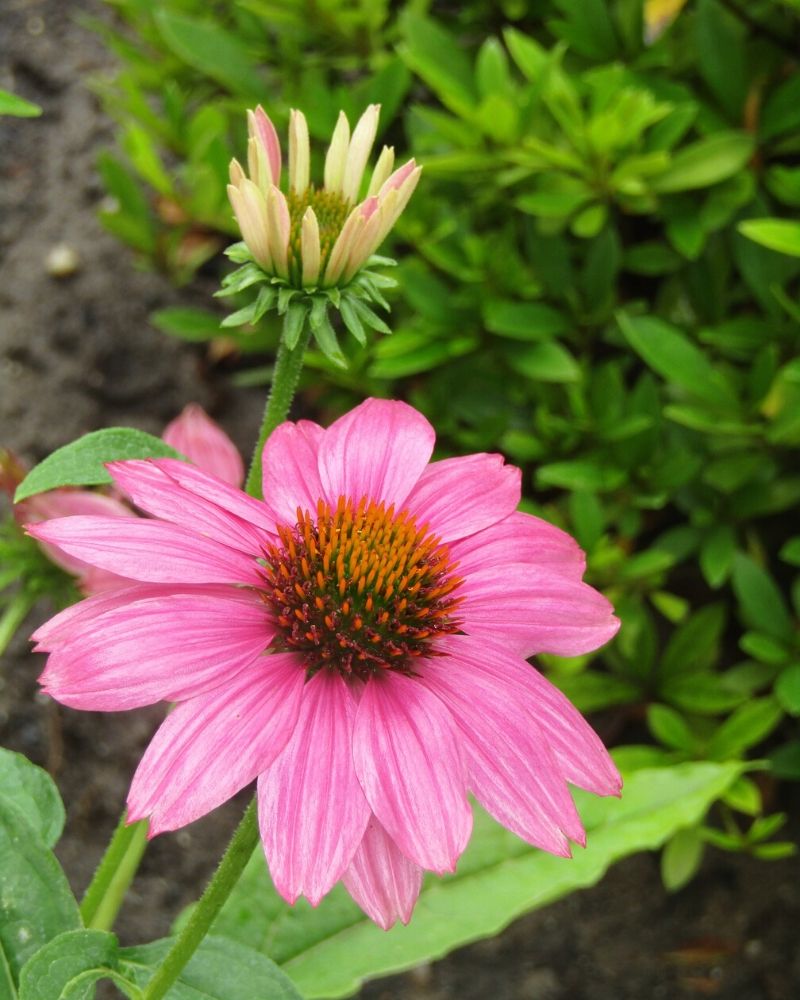 Highly-valued as ornamentals, purple coneflowers radiate beautiful blooms that give colors to home gardens and commercial landscapes. These plants are upright and coarse-textured, which blends well with fine-textured perennials in a mixed border. The flowers attract butterflies and birds and make excellent cut flowers for floral arrangements.
Because of their beauty and growth habit, purple coneflowers are often planted in groups for entranceways, perennial beds, naturalized prairie, or woodlands.
Echinacea Purpurea Plant Description
One of the easiest to grow and readily available perennials is the purple coneflower plant. It blooms for months and makes excellent cut flowers or landscape focal point when planted in clumps.
This perennial herb typically grows about 0.5 to 2 ft in height from a woody rhizome. The stems are mostly unbranched and rough-hairy textured.
Leaves
The leaves of purple coneflowers are green ovate to ovate-lanceolate, simple, and thin. Pinnate venation on the surface is evident, along with the leaves' serrated margins (3). Cauline leaves are slightly heart-shaped at the base. Leaf arrangement is alternate. Individual leaves are 4 to 8 inches long.
This plant's leaves are green and do not exhibit any color change during the fall. Some cultivars have lighter leaves, while others have darker green leaves.
Flowers
Purple coneflower flowers have a prominent spiny, brown cone of disk flowers at the center and attractive drooping petal-like rays that are typically purple, pink, or lavender, depending on the variety (3).
The long and linearly-veined rays emerge from the under portion of the cone. Flowering occurs from summer to fall. Each flower measures 2 to 4 inches in diameter.
For more flowering plants, check our complete list!
Purple Coneflower Cultivars
Purple coneflowers are native to the central region of the US. They are a favorite ornamental of many flower and garden enthusiasts for their attractive, easy-to-grow blooms. Below are some of the most popular purple coneflower cultivars.
Echinacea purpurea 'Magnus'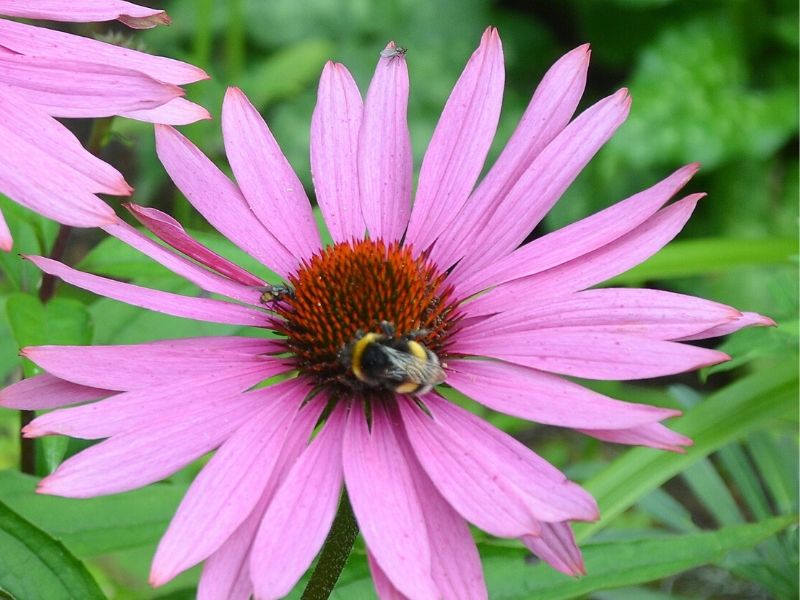 The 'Magnus' purple coneflower is an award-winning ornamental known for its giant rosy-pink flowers. Mature plants reach up to 30 to 36 inches. Unlike most purple coneflowers with drooping ray petal-like flowers, the Magnus variety has flat rays.
These plants have a long blooming time, which occurs from early summer to late summer. The 'Magnus' purple coneflower won as the Perennial Plant Association's Plant of the Year in 1998.
Echinacea purpurea 'Avalanche'
While most purple coneflowers have purple or pink blooms, the 'Avalanche' purple coneflowers flaunt white ray petal-like flowers with yellow-green center cones. This dwarf coneflower grows in an upright clump about 15 to 18 inches in height.
'Avalanche' purple coneflower is a patented coneflower variety bred by AB-Cultivars in The Netherlands.
Echinacea purpurea 'Superbrook's Crimson Star'
Springbrook Nurseries, from Mentor, Ohio, introduce this cultivar of purple coneflowers. Each plant grows up to 30 inches in height with distinguished crimson red ray flowers and flat copper-orange central cones. The leaves, which are 3 to 6 inches long, are dark green, coarse, and toothed.
Echinacea purpurea 'White Swan'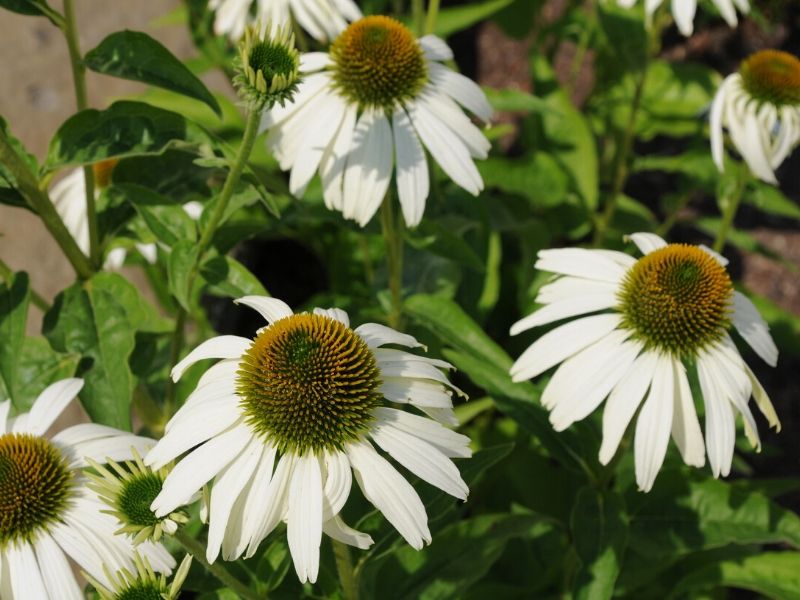 The 'White Swan' purple coneflowers are one of the few cultivars that don white blooms.
Though not as floriferous and vigorous as pink-purple coneflowers, the white swan coneflowers have showy white-cream ray petal-like flowers with golden green central cones. Flowering occurs from mid to late Summer. The leaves, peduncles, and petioles are light green (4).
These plants typically grow up to 29 to 35 inches tall and spread up to 18 to 23 inches.
Echinacea purpurea 'Greenline'
'Greenline' purple coneflowers are shorter than most of the other Echinacea purpurea cultivars. They reach up to 18 to 24 inches tall.
Matured flowers reach up to 3 to 4 inches in diameter, with drooping pale lime to white ray florets and a large, emerald green central cone. The leaves are narrow-ovate to lanceolate and green.
This coneflower cultivar works well as mid-borders or in signature pots.
Echinacea purpurea 'Fragrant Angel'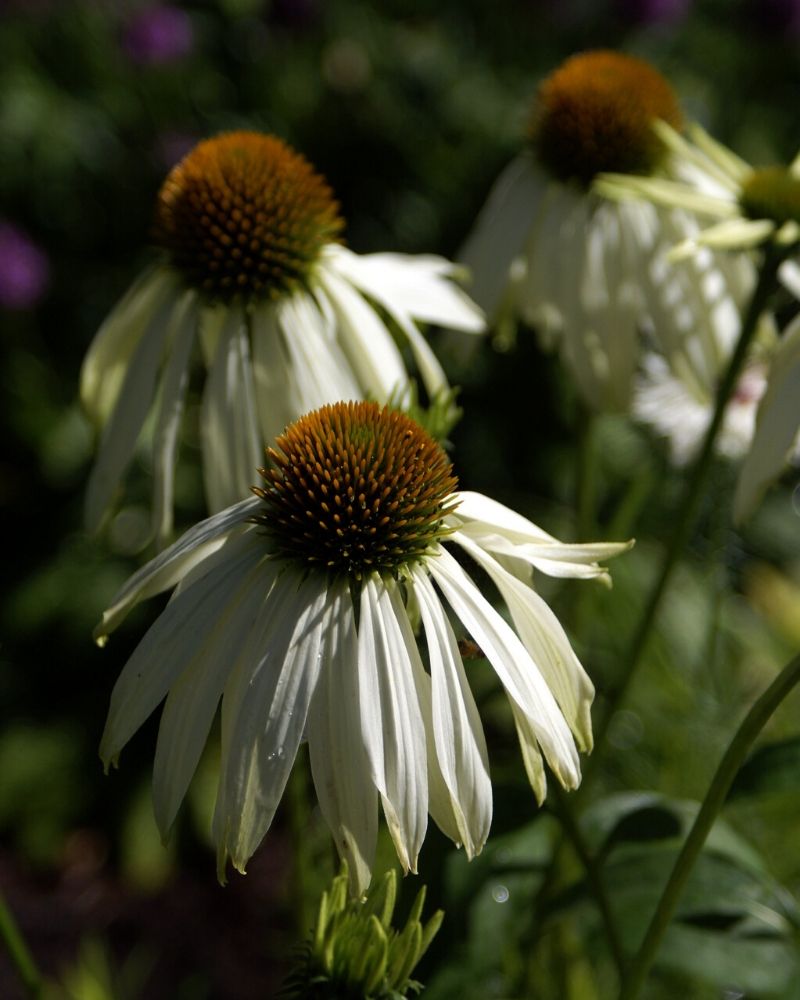 'Fragrant Angel' purple coneflowers wouldn't be named as such if not for their signature fragrance. It reaches up to 40 inches in height and 24 inches in width.
The flowers, which are about 4 to 5 inches in diameter, feature white overlapping rays in two rows and a prominent yellow-orange central cone. Flowering often occurs from late spring to late summer. The leaves are narrow-ovate and medium green.
Echinacea purpurea 'Fragrant Angel' was patented on October 18, 2005.
While it resembles the 'White Swan' cultivar of purple coneflowers, the 'Fragrant Angel' is taller and has bigger blooms with two rows of horizontal rays.
Echinacea purpurea 'Green Envy'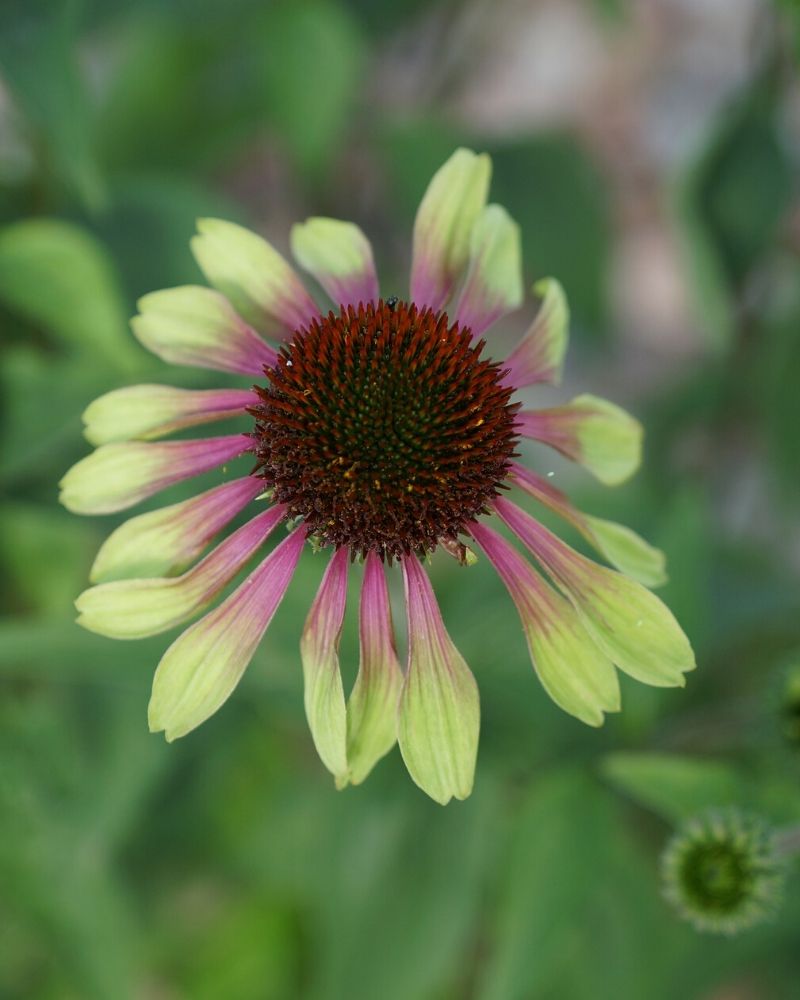 One best choice for warm climates is the 'Green Envy' purple coneflower. Although it has a shorter bloom period than the other cultivars, the green envy remains one of the most famous purple coneflowers.
The flowers start green, then eventually form a ring of magenta around the central cone as they mature. Each plant grows about 30 to 36 inches tall and spreads up to 40 inches.
Echinacea purpurea 'Kim's Knee High'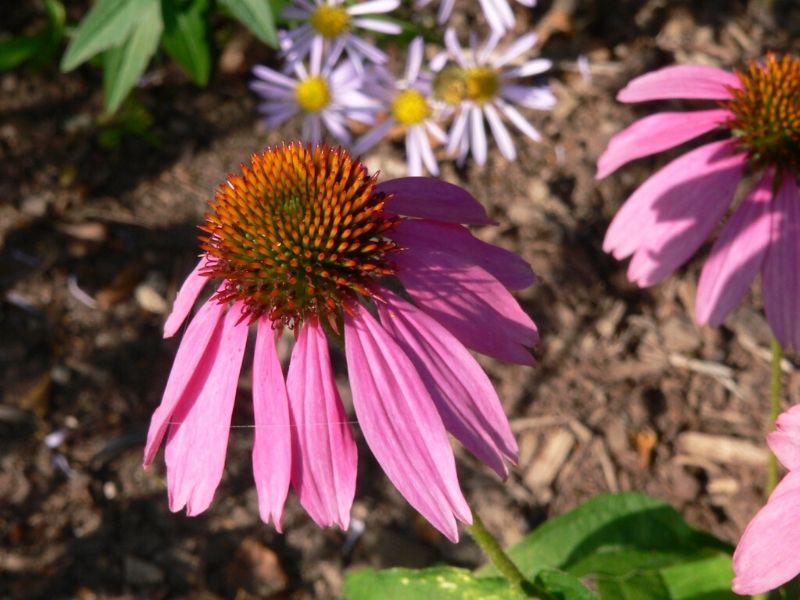 Kim's Knee High' is the smallest of purple coneflower cultivars, growing only about 12 to 24 inches. They resemble the traditional coneflowers with their attractive purple-pink blooms and copper-orange cone except that they are shorter in height (5). Because of their size, Kim's Knee High cultivars are ideal for small gardens or pots.
This cultivar blooms from midsummer to early autumn.
Echinacea purpurea 'Doubledecker'
'Doubledecker' purple coneflower, or also known as doubledecker coneflower, flaunts unique, two-layered pink blooms. The first tier of flowers appears during the first growing season, then the second tier of flowers emerges, shooting upward from the top of the central cone.
Mature plants reach up to 40 inches tall and spread up to 28 inches. The flowering of doubledecker purple coneflower starts in late spring and lasts until late summer.
---
How To Grow Purple Coneflowers
Purple coneflowers are easy to grow. The plants thrive best if planted in areas with full sun or part shade. They require well-drained, evenly moist, loam, clay soil, but they tolerate drought once fully established. These plants have poor tolerance to salt (6).
Ideal plant spacing of 18 to 24 inches is advised to allow proper air circulation between plants and keep leaves dry, hence minimize the occurrence of diseases.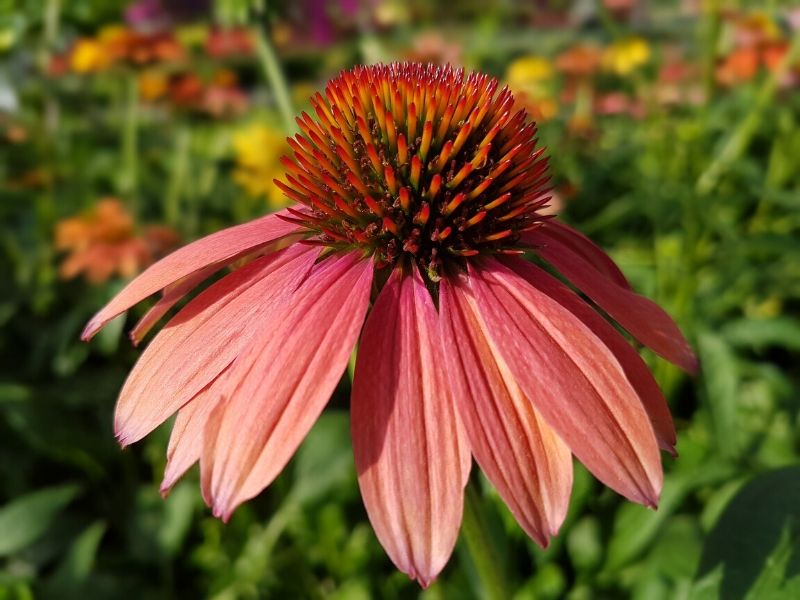 Propagation
There are two ways to propagate purple coneflowers – by seed or division.
Purple coneflower seeds self-sow in fields. Direct sowing in the field is ideal in spring or summer. You can also sow seeds indoors in early spring and transplant the seedlings to the ground in late spring (6).
When sowing seeds indoors, it is essential to keep the air temperature between 60 to 70°F and the seedbed misted until seed germination, typically within 10 to 20 days after sowing (7).
Another way to propagate coneflowers is by root cuttings. Purple coneflowers tend to form clumps once established.
Dividing these clumps every 3 to 4 years during spring or fall would avoid overcrowding and enhance flowering.
Care and Maintenance
Once the plants are fully established, it is best to remove dead foliage and stems of purple coneflowers during the fall, winter, or early spring. They could use 12-6-6 slow-release fertilizer (1 lb per 100 square feet) before the emergence of new leaves (7).
Pests and Diseases
Some of the most common plant diseases of purple coneflowers are powdery mildew, stem rot, anthracnose, and aster yellows. The manifestation of these diseases can be minimized by practicing proper plant spacing and sanitation, providing the plant with well-drained soil, and removing of affected plant parts and debris.
Insect pests like aphids, eriophyid mites, and Japanese beetles often cause damages to purple coneflower plants by feeding on the foliage and transmitting diseases.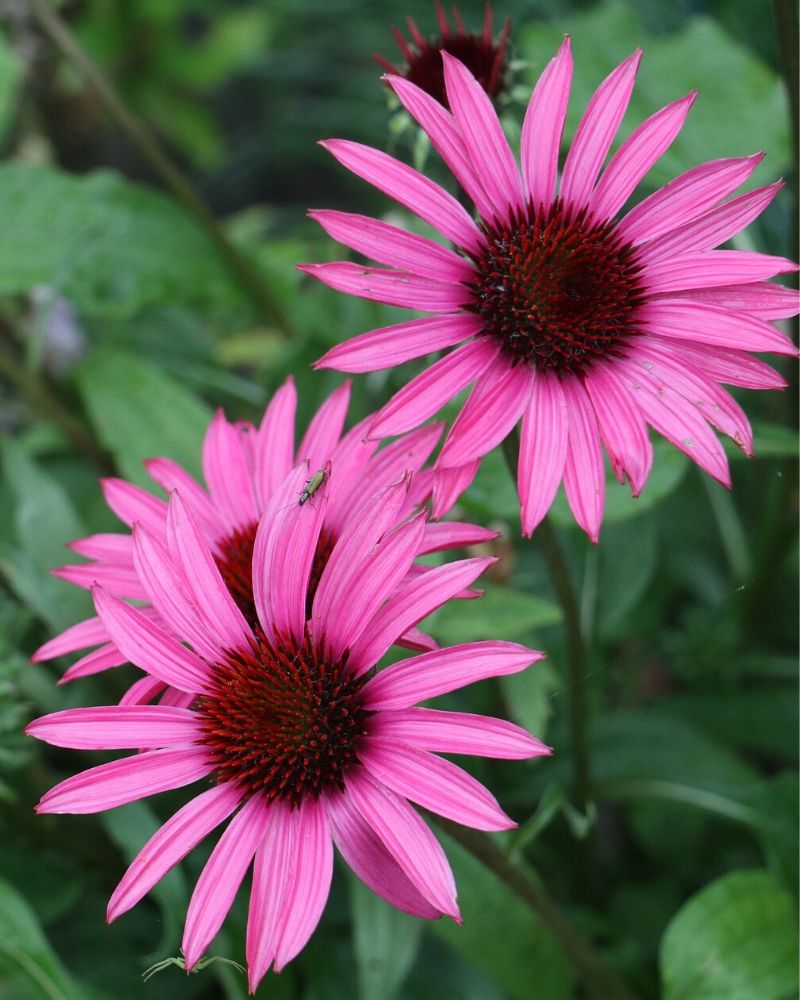 Meaning and Symbolism of Coneflower
Coneflower plants, in general, produce attractive and long-lasting blooms that survive two weeks after cutting. These perennials are also valued for their medicinal properties and widely used as herbal remedies. Because of such characteristics, these plants are often associated with strength and healing.
Conclusion
Purple coneflowers or Echinacea purpurea are one of the most dependable perennial plants for any garden. They produce eye-catching blossoms that bring out colors and beauty to sunny areas.
Did you find this purple coneflower beginner's guide useful and informative? Share your thoughts in the comment section below!
Also, check out our article on perennial plants and flowers for more information about flowers similar to purple coneflowers.