Summer has the warmest months of the year and is considered by many as the best of all seasons. People go out to swim and enjoy sports and animals are free to hunt and wander. Summer is definitely all about being active and fun and this is true for plants too.
Summer is the season when gardens explode in different vibrant colors. The regular green leaves lining the walkways and the potted plants by the patios suddenly become more attractive and textured as flowers start to bloom profusely.
We get to enjoy this display of varieties of colorful beauty and it's not just us who appreciate them, the bees and the birds are about, buzzing and chirping, seeking these gorgeous flowers too.
We have these summer flowers listed from A to Z for you to easily identify.
Wouldn't it be nice to have these summer beauty at the comforts of your home? A fun interaction with plants and their pollinators is a good way to spend the lazy days of summer. Gardens where summer parties and get-togethers can be held become more alive and enjoyable with the addition of the rich flowers and foliage.
If you want to start working on your garden for next summer's bloom, here are the top summer flowering plants and perennial flowers that bloom all summer that will surely give you that fun and vibrant appeal.
Amaranthus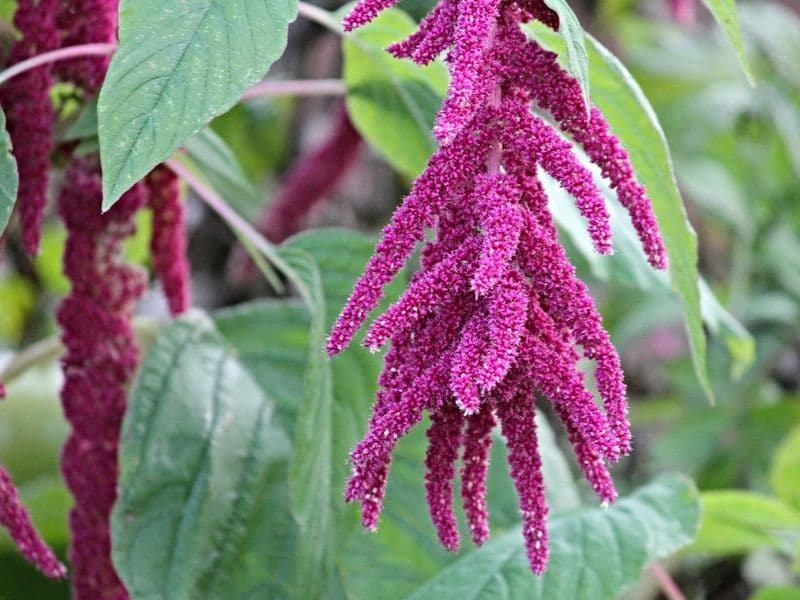 Amaranthus provides a dramatic effect to the garden. Aside from the spectacular leaves that turn red and yellow in summer, it produces one of a kind elongated rope-like maroon or green flowers in different forms. A. hypochondriacus or prince's feather has compact erect flowers while Amaranthus caudatus or love-lies-bleeding's flowers are drooping (1).
The amaranthus is a statement plant in the garden and the blossoms as cut flowers are not bad, usually lasting for up to 10 days in vases. To grow them, full sun and fertile soil are key but once established, they require minimal care.
Angelonia
Angelonia is another summer plant giving a continuous bloom to the garden as it produces a cluster of small snapdragon-like flowers in white, blue, and purple. Angelonias can grow tall but they are perfect beside walkways especially since the leaves provide a refreshing summer scent (2).
Newly planted angelonias require up to 8 hours of full sun exposure and two to three times a week watering but once they have developed a good root anchorage, they tend to become drought tolerant, still producing full blooms. They are usually planted from cuttings but newer varieties can now produce viable seeds for growing.
Astilbe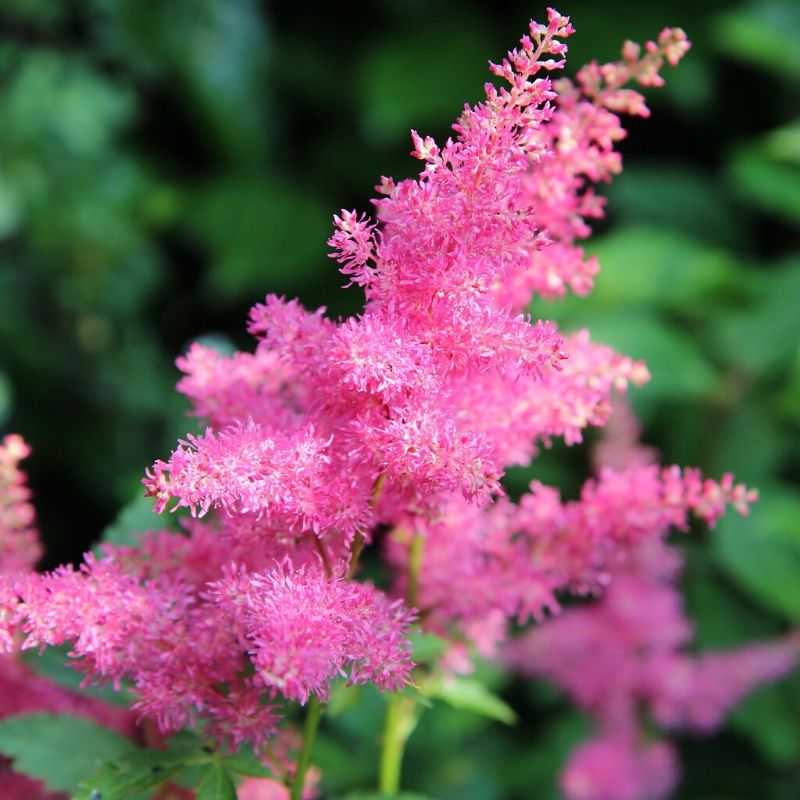 Astilbe is a small genus of summer plants, about 18 species belonging to the saxifrage family. They are perennial plants that grow from rhizomes producing small glossy serrated, rather ordinary leaves and extravagant clusters of flowers (3).
Some of the favorite varieties are 'Fanal' with dark green leaves and dark red flowers and 'Venus' with bright green leaves and hot pink flowers. To ensure lasting flowers throughout summer, astilbes should receive ample water and light just enough to not damage the leaves and flowers.
Beardtongue
This plant is scientifically called Penstemon and is one of the best perennial plants to grow in the garden. Depending on the variety beard tongues can grow up to a meter tall and usually sport small sword-like leaves growing on the same stalks as the flowers. The tubular flowers in raceme form are outstanding in every natural color possible (3).
Beard Tongues provide lasting flower year after year with minimal care but they start to decline after three or four years. They don't have any serious pests but the soft parts may be infested with snails from time to time.
Begonia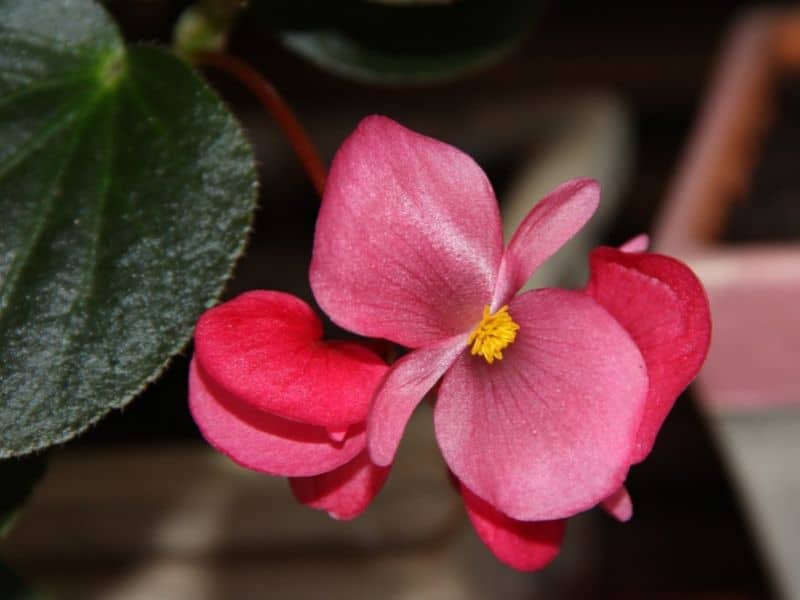 Begonias are unique plants popular for their colored foliage and the ability to bloom indoors. Begonias grow from underground tubers from which waxy sprout leaves that are green on the upper side and usually maroon under. In early summer, white, pink or red simple flowers emerge and continuously bloom until fall.
Some begonias have a trailing habit which beautifully cascade when planted in hanging containers. Others have more interesting leaves with spots and streaks that keep them attractive even when it is not blooming season (4).
Billy buttons
Billy buttons (also known as Craspedia or woollyheads) are characterized by a single golden ball of flowers borne on a thin long stem. It grows in the middle of a grass-like rosette of basal leaves. Low-maintenance, full sunlight and dry but cool acidic soil are the only key to a profusely blooming billy button. Mulches of straw and gravel can be applied to keep the soil cool.
Billy buttons are very decorative, aside from being used as borders, they grow well in pots and containers too. As cut flowers, they look chic in vases and bouquets when mixed with other pastel-colored flowers.
Black-eyed Susan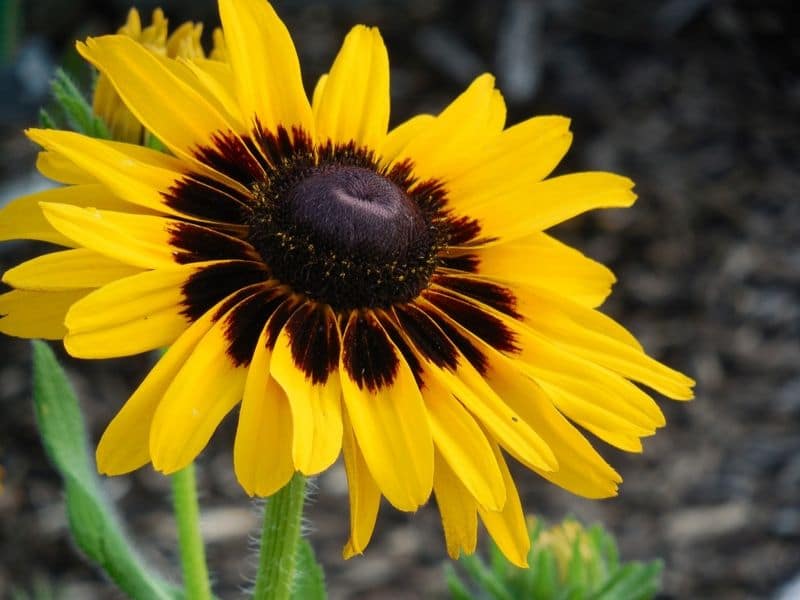 Another daisy-like blossoms, black-eyed Susan may sound horrible but the flower is actually astounding and was declared as the Plant of the Year in 2008 by the National Garden Bureau.
The plant starts out with lobed leaves in a spiral arrangement and then in summer, it produces bright yellow-orange petals collectively arranged with a black center.
Black-eyed Susan is scientifically known as Rudbeckia, named after the botanist Olof Rudbeck The Younger. It is native to North America and is found planted in gardens as border or seasonal screen. Black-eyed Susans are fairly maintenance free but the attack of powdery mildew has been recorded so best if they are planted in sunny, airy areas (3).
Blanket Flowers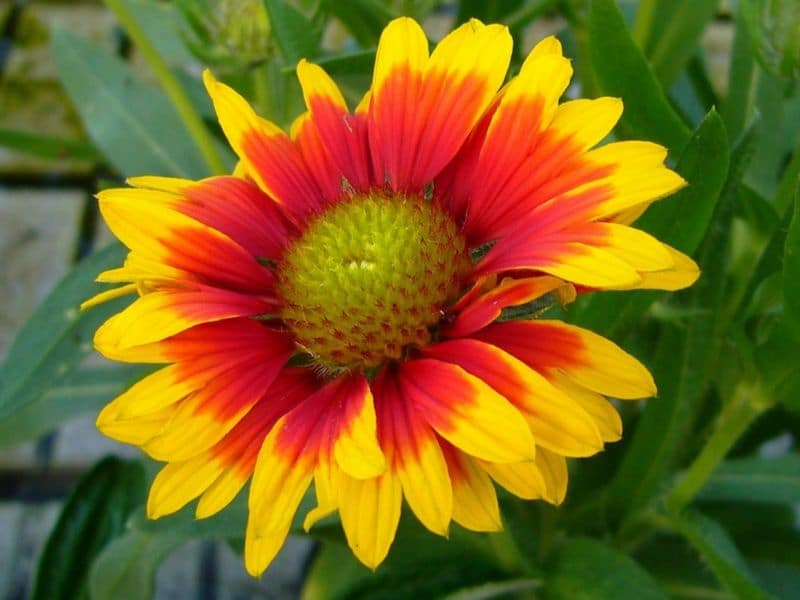 Another group of flowers from the Aster family, blanket flowers or Gaillardia have daisy-like blossoms in a mix of yellow and red and their variations since the plants are products of hybridization. They slowly form mounds of bright flowers against the dark green foliage and tend to "blanket" the garden (6).
Blanket flowers bloom all summer long and the flowers love the warm full sun. Although the flower itself is ephemeral, the blooming period may extend up until mid-fall. They grow well with other summer species in the garden without being invasive. Pest infestation is very rare but a virus-like disease renders the flowers stunted. This can only be controlled by removing the affected plant from the garden (3).
Bougainvillea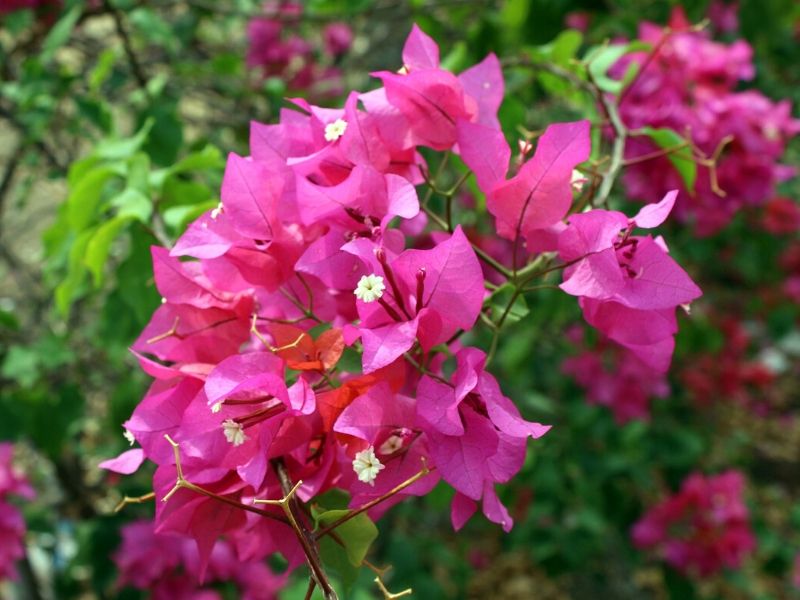 There are various types of bougainvillea, some are shrub-like, some grow as trees, others are sprawling but they all bear flamboyant clusters of flowers often found covering the entire plant. They are a definite statement in the garden may it be on the ground or potted.
Bougainvillea plants only bloom under full sunlight. Summer is just the perfect time for them to flaunt the brightly-colored summer flowers. Some plants wilt and die when they receive very little water but not the bougainvillea. It produces heavy flowers when water-stressed (5).
Canna lilies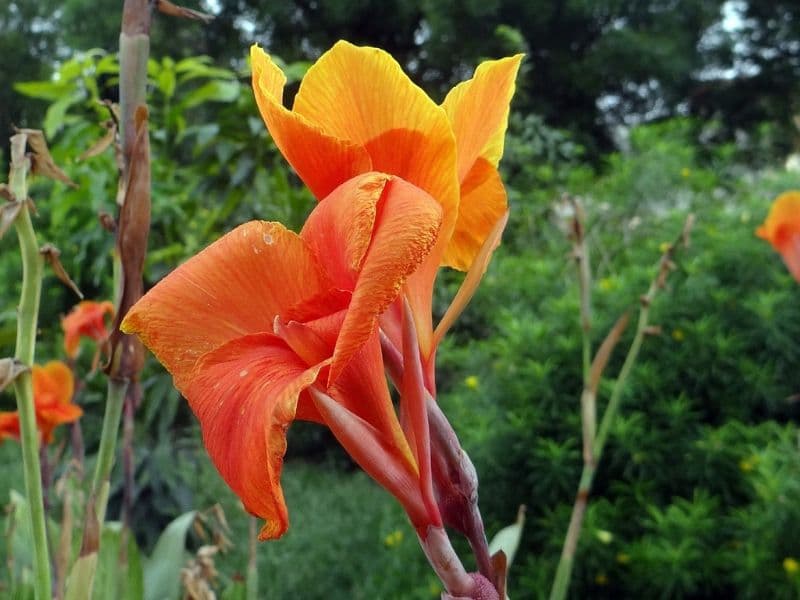 If you are aiming for a garden with a tropical vibe, canna lilies can surely deliver that. The broad foliage resembling banana leaves are usually green but other varieties have a tinge of bronze and maroon. The long-lasting showy flowers in pink, orange, yellow or red bloom on top of long stalks.
This herbaceous plant is native to tropical and subtropical areas where it tends to grow as perennial, flowering profusely year after year. In colder countries experiencing extreme winter, cannas are annuals. But as long as they receive plenty of sunshine and grows on slightly acidic moist soil, the plants will thrive (3).
Catmint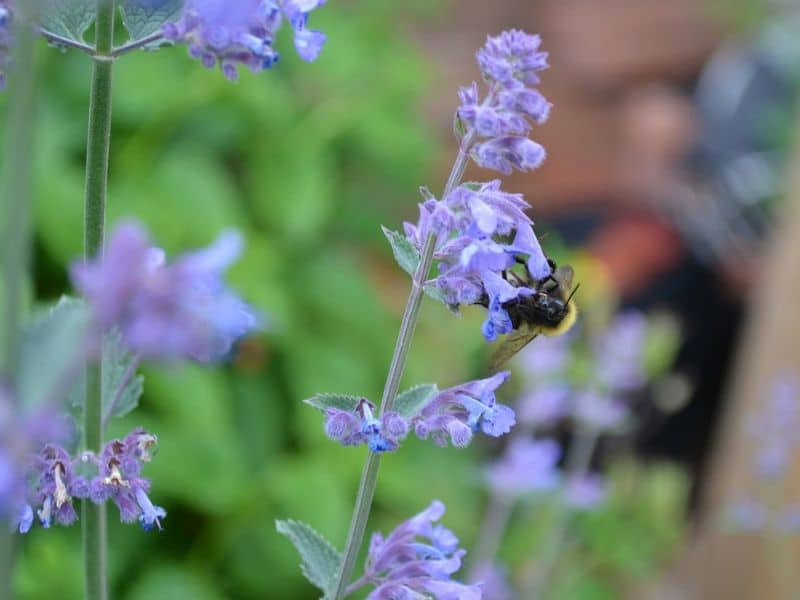 Catmint or Nepeta is a very easy to grow and easy to love herbaceous perennial plant. It forms a mound shape attractive as it is because of the fragrant grayish-green foliage. As the summer season approaches, long upward flower stalks form bearing lavender-blue blossoms. In the landscape, they are usually planted as edging and border (4).
Their heat tolerance and pest resistance only add to the beauty of this plant. It can even endure the winter season, still striking with the leaves that turn silvery gray instead. Catmint is named after a place in London but pet cats are observed to enjoy it, rolling on the plant whenever they see one!
Celosia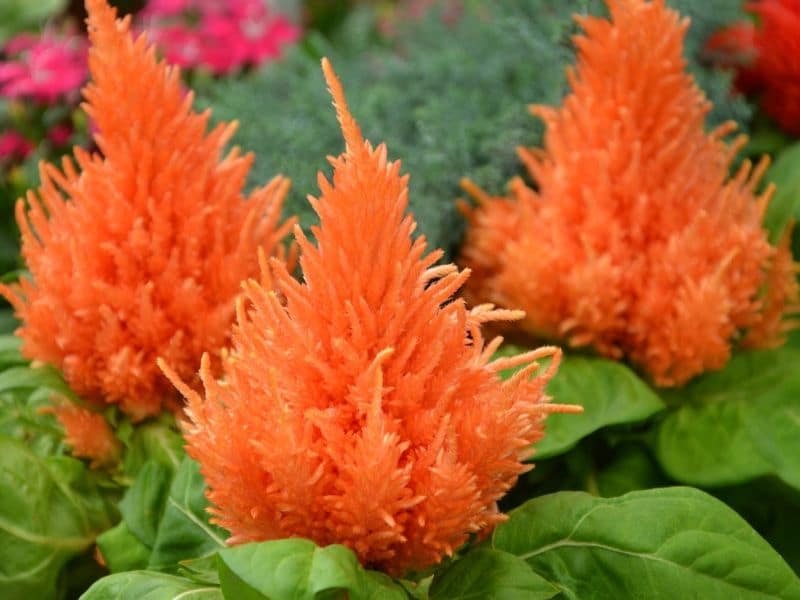 Celosias add a unique and charming flair to a collection of flowers in the garden. They have flowers that look like fluffy feathers and underwater corals, and they come in a rainbow of colors too. The most common celosias cultivated ornamentally are C. argentea, C. spicata, and C. cristata (4).
Celosias love warm weather and just enough water. They don't require a lot of fertilizer application but if they show signs of dull leaves and flowers, a good mix of compost will bring them back to life. Aside from growing them as a spectacular mass, they can also be potted and form a dense growth. They are beautiful cut flowers and they can be dried too.
Coneflowers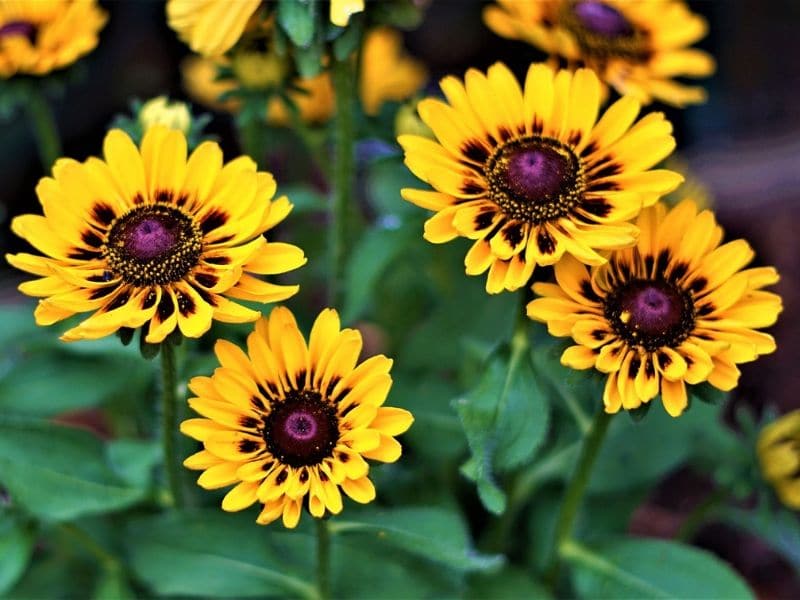 A typical coneflower has a single layer of long petals surrounding a tiny mound of florets and looks like a badminton shuttlecock. The attractive flowers bloom in shades of red, orange, yellow, and green and last all the months of summer (3).
Coneflowers are one of the low-maintenance plants but they are still susceptible to most pests and diseases. One serious problem is the virus disease called "aster yellows" causing deformed flowers and yellow leaves. There is no cure for this disease so immediate removal and disposal of the whole infected plant is the only recommendation.
Coreopsis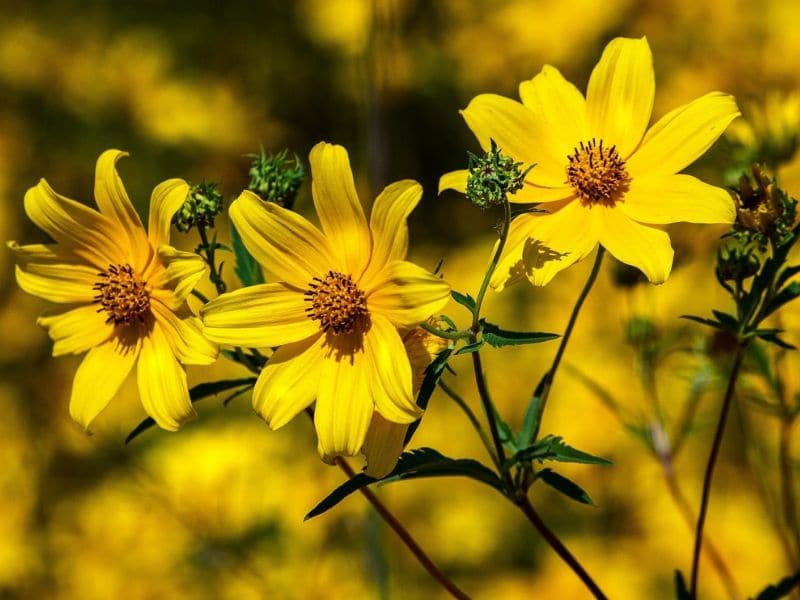 Coreopsis or tickseed is a daisy-like flower that produces more colorful blooms in summer. It is a very convenient plant to grow considering its drought resistance and unselective growth habit. As long as it receives good amount of sun and water at least twice a week, the plant will survive on its own (3).
The classic yellow varieties create an illusion of golden fields when in bloom but there are also other colorful varieties that are just as stunning. 'Cranberry Ice' is very attractive with deep pink flowers that fade to white on the edges. Bicolor 'Ruby Mist' is red and white that grows less than a meter high. 'Rum Punch' has a mounded form with striking scarlet flowers.
Cosmos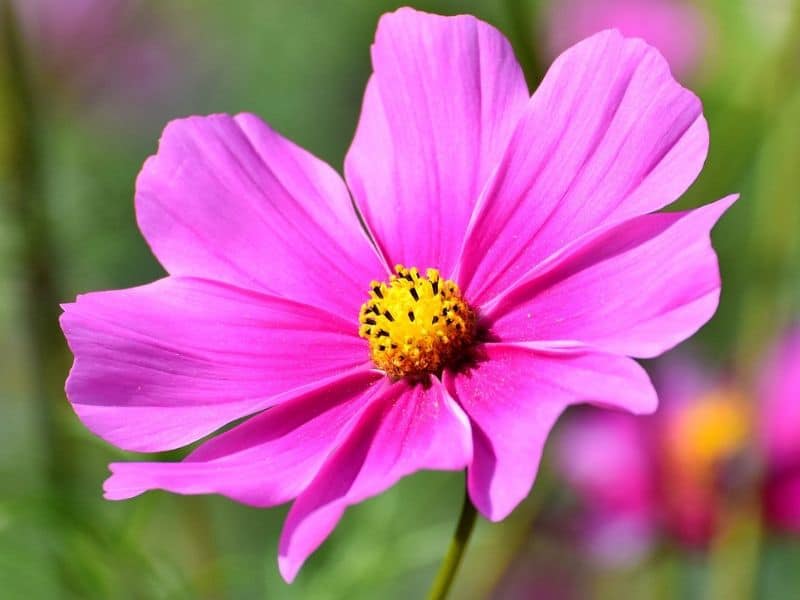 To plant cosmos en masse is to create harmony in the garden. Despite their unruly growth, the spray of balanced daisy-like flowers is calming especially when mingled with the pollinators attracted to the colorful blossoms (3). They are native to Mexico and Central America but their versatility allows them to thrive in places with varied weather conditions.
Cosmos is a tough plant and if you want to maximize their bloom, just let them be. Fertilizer application will improve the soil but may lessen the blossoms. You can plant them on the ground, in containers, and by the patio but always opt for a sunny location.
Did you know that cosmos is an October birth flower?
Culver's root
The long tapering white flowers of Veronicastrum virginicum, black root or Culver's root look like floating candles that sway with the wind. The contrasting dark green leaves around the stem make them stand out even more and in the garden, they are valued accent flowers (3).
Culver's root was named after Dr. Coulvert who recommended the plant as a laxative. But this is not the only medicinal use of the plant. It is a known remedy for liver disease and the extract is also used to treat malaria and typhoid fever.
Dahlia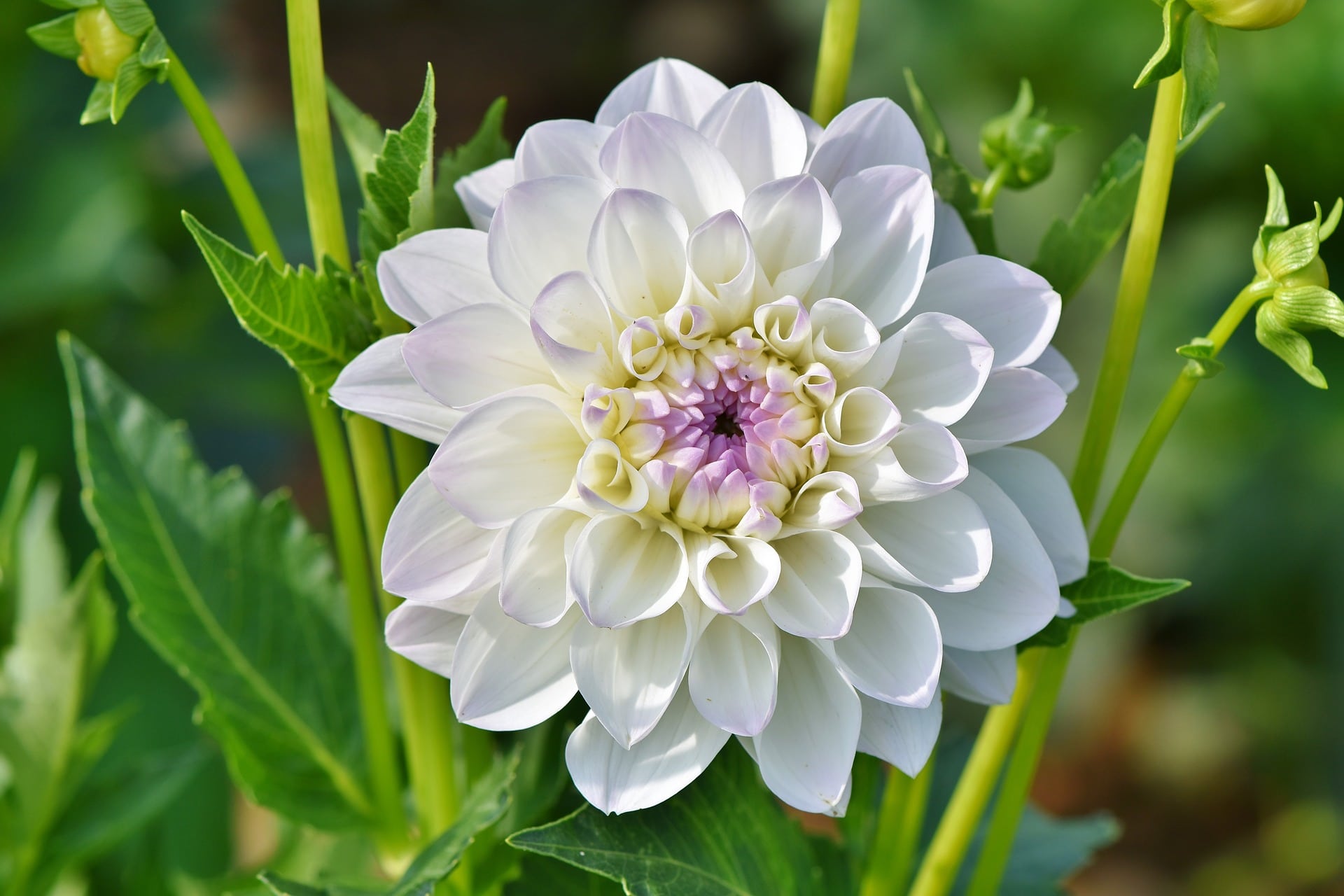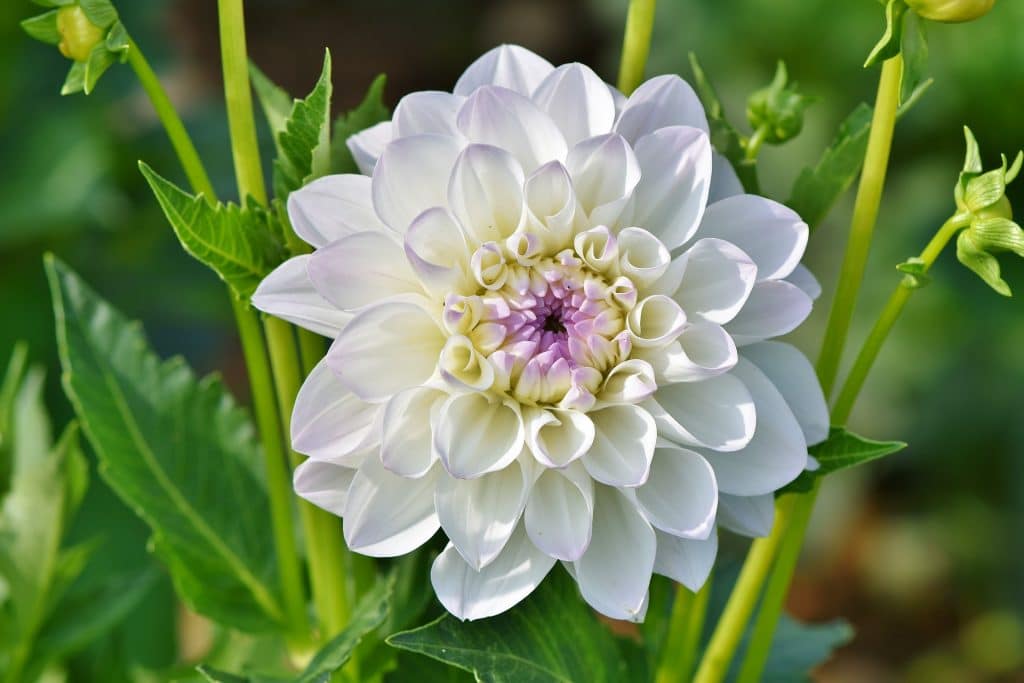 Dahlia is a genus of plants that bear remarkable flowers varying in shape from pompoms to curly to flat. They all love the sun and moist conditions. Although they cannot tolerate extreme hot weather, they bloom well when the sun shines upon them all three months of summer (6).
Some amazing varieties of dahlias include 'Bashful' sporting bright simple two-toned petals with yellow center, 'Myrtle's Folly' with a compact ball of twisted pink to light orange petals, and 'Honka' bearing golden star-like flowers with yellow-orange center.
Daisies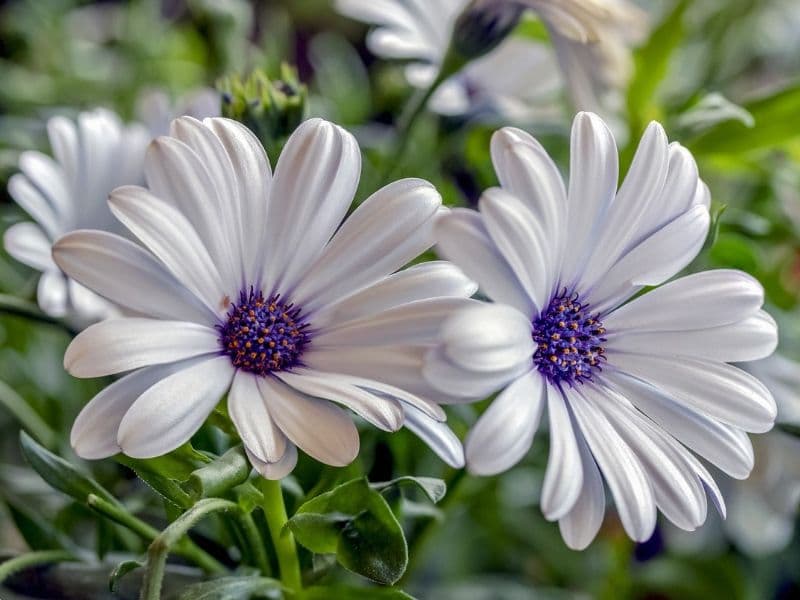 These are the iconic flowers of the Aster family. Daisies, particularly Bellis perennis are known to bloom in summer, producing a simple head of white petals and a yellow center. Short stalk bear these flowers growing in the middle of the basal spoon-like foliage. They naturally bloom in areas where they receive full sunlight and well-drained soils (5).
Daisies can be invasive but they are excellent ground covers so the only maintenance needed is to control their growth by trimming just within the desired space and avoid overcrowding.
Datura
Datura is a small genus of plants under the nightshade family. They bear beautiful erect and spreading flowers that look like trumpets facing the sky. They have the usual dark green broad leaves of nightshades but the white flower is striking in summer when they bloom profusely.
Daturas are not very common in gardens but what's interesting about this plant is its poisonous property. Ingesting any part of the plant causes hallucination and overdoses can lead to death. Smelling the flowers has its effects too and some plants that grow near datura die hence the common name devil's trumpet (6).
Daylily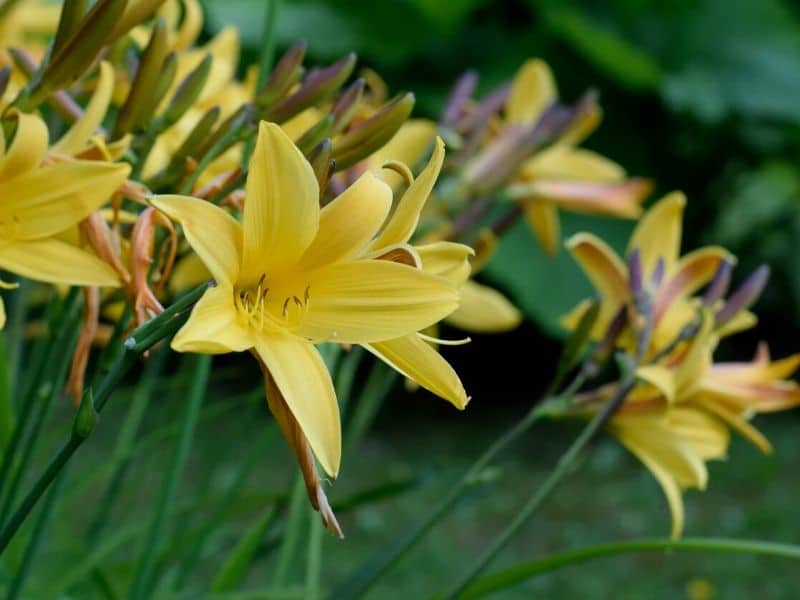 Daylilies are perfect flowers despite the ephemeral flowering habit where the blooms only last a day. But the plant produces new buds quickly so they are still remarkable throughout summer. They are often seen lining walkways or planted in masses along fences but for an appealing effect in the landscape, they are best paired with grassy and low-growing shrubs with broad leaves (4).
Daylilies love the sun so it's best to plant them without the bounds of tree canopies. They are resistant to pests and diseases but still get attacked by rust-causing fungus. To control this, best to monitor watering as fungi grow where there is moisture.
Evolvulus
Evolvulus glomeratus or dwarf morning glory is another member of the nightshade family. Unlike most morning glories, this species is non-vining but is still used in hanging containers because of its trailing habit. But they create wonderful groundcovers when planted in the ground.
Dwarf morning glories produce true blue flowers that bloom in the morning sun and close at night. These annual flowers are available from summer to fall. Dwarf morning glories are hardy plants that tolerate drought and have no serious pests or diseases.
Maintenance only involves the trimming of unwanted elongated stems to avoid overcrowding and nutrient competition with other garden plants.
Firetail Fleece
In summer, firetail fleece or the red bistort or Persicaria amplexicaulis are found as a mass planting of dark green broad leaves covered with straight tail-like maroon flowers. Some grow as wildflowers and spreads in bog and woodland gardens. They are very eye-catching both to passers-by and bees.
They tend to spread quickly, especially when there is standing water that they could be considered invasive. They are popularly grown in the city because firetail fleeces can withstand urban pollution and acidic soils. To avoid overcrowding, they should be regularly trimmed and watering should be monitored.
Foxglove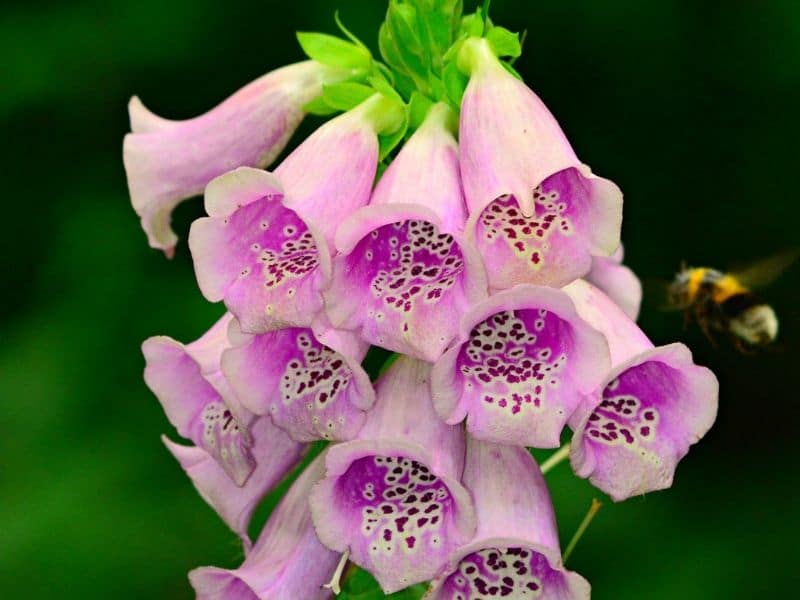 The scientific name Digitalis purpurea pertains to the purple flowers that look like tiny thimbles that could be fitted over the fingers. These flowers are clustered in a tall slender stalk that makes good vertical attraction in the garden. They work well at the back of finer or broader plants that grow low (3).
Foxgloves come in different shades of colors. 'Apricot Beauty' has pink flowers borne on tall stalks, 'Camelot Lavender' has lavender flowers with dark purple speckles on the inside. 'Illumination Flame' is creamy yellow with rose pink edges. All these flowers bloom in summer, sometimes lasting until the first weeks of fall.
Fuchsia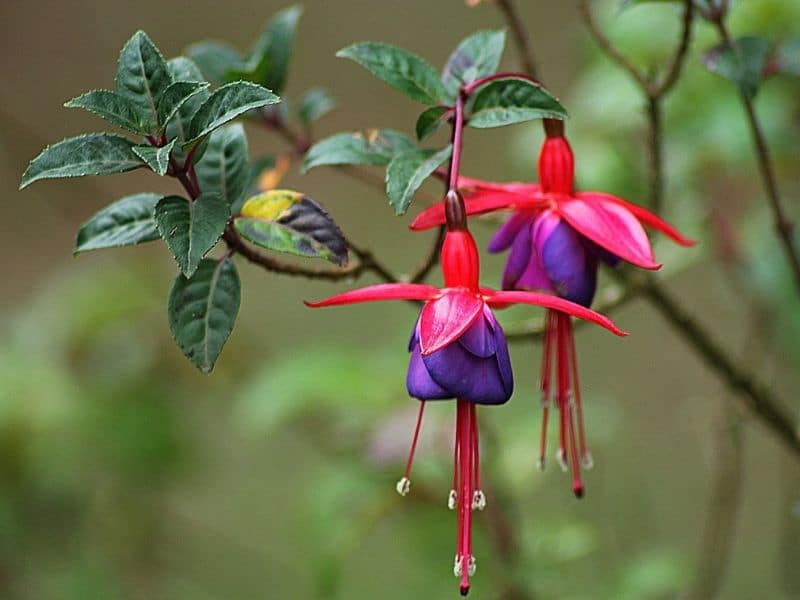 Fuchsias are exotic-looking flowers with unique light bulb-like flower buds dangling from their sprawling stems. They are perennials in Central and South America where they originated and are discarded after the blooming season in cooler areas. The dramatic display of flowers is best shown when they are hanged by the patios.
The best growing condition for fuchsias is when they receive partial shade and ample water. The flowers are delicate and easily damaged by direct sunlight and they also deteriorate fast when overwatered so as long as these are avoided, the plants will reward a fantastic bloom (4).
Gaura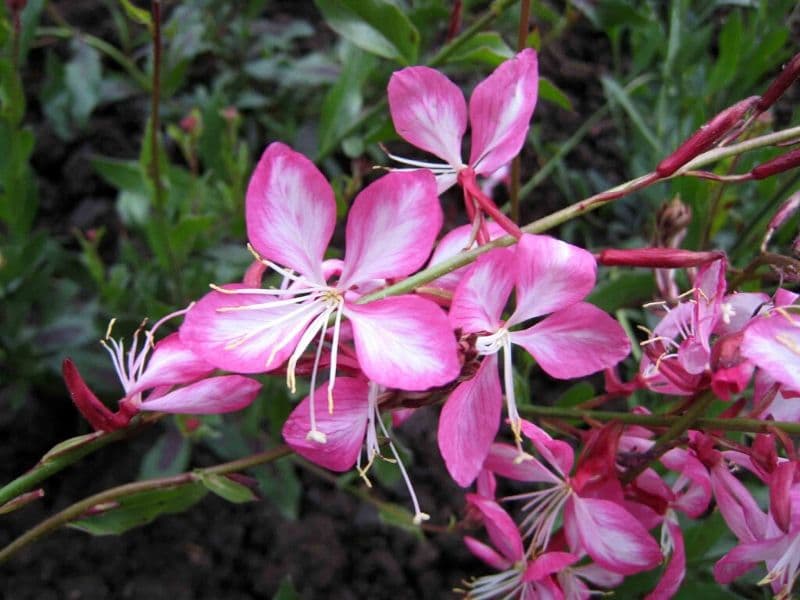 Gauras (commonly known as wand flowers or Beeblossom) are one of the preferred flowers for a summer garden. They are very easy to grow plants, they just need to be placed where they can bask in the sun and be watered for moist soil and then they will do the rest. They will provide long-lasting attractive stalks of flowers and they are perennials so they will stay in your garden to give you flowers every blooming season (3).
The common 'Wandflower' is known for its white flower that turns pink over time and the spoon-like leaves with reddish spots. 'Whirling Butterfly' is another variety bearing pinkish-white flower that sways with the wind like butterflies.
Gazania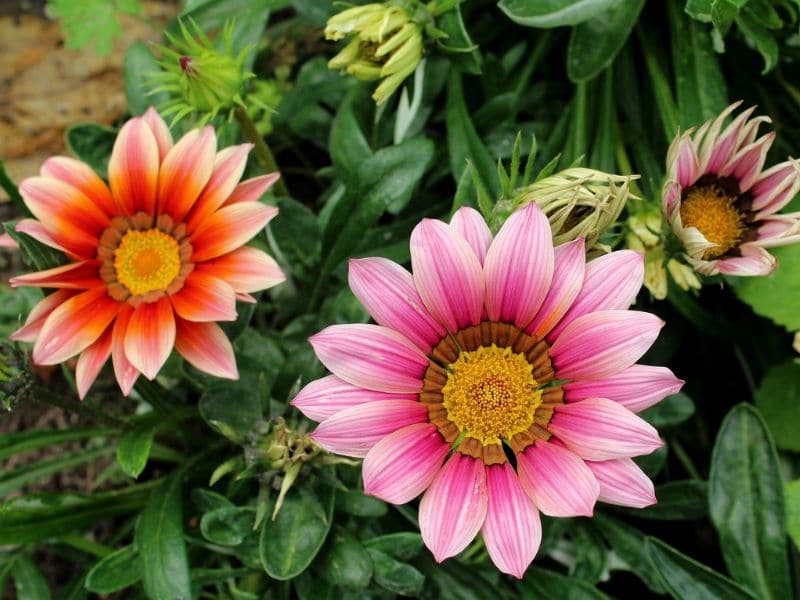 A lot of gorgeous plants under the daisy family bloom in summer and one of them is the gazania. It is an annual plant often planted in bedding and borders for it has a low, trailing growth habit. Caring for them is fairly easy since they are hardy under a full sun condition (4).
Gazania's daisy-like flowers come in shades of pink, yellow, and red and during the bloom season, they are a sight to see, hence they are called treasure flowers. In some parts of California and Australia, they tend to be weedy so spacing should be considered for each plant to maximize their spread.
Geranium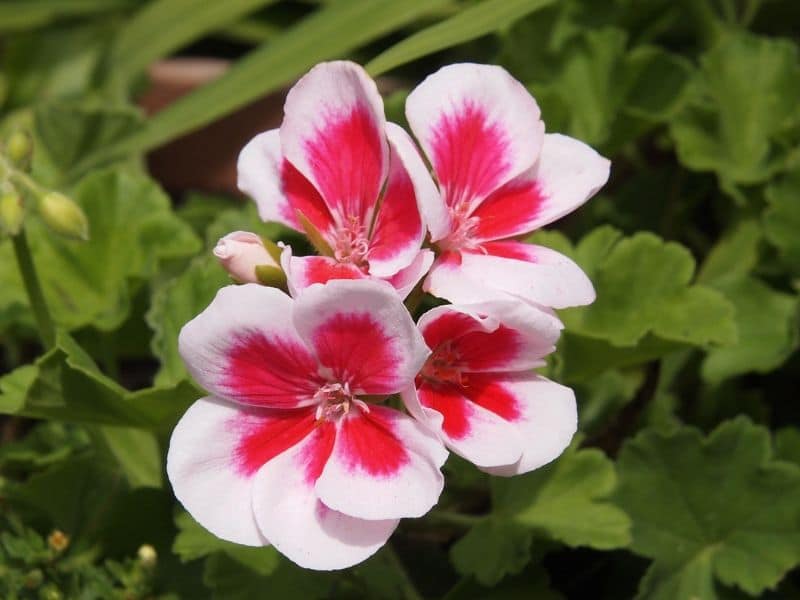 Geraniums are commonly called 'cranesbill' pertaining to the capsule that forms after the flower is fertilized. Growing in temperate areas, their popularity grew because of the striking five-petalled single flowers that cover the plant in summer. They also have attractive palmate leaves that form the mound of the herbaceous shrub (3).
Most of the time, geraniums are confused with Pelargoniums which were initially a member of the genus until they were separated in 1789. What differentiates true geraniums from pelargoniums is their hardy characteristics, enabling them to endure the cold of winter.
Gloriosa lily
The theatrical crimson flower with long curled petals and exposed anthers is truly a glorious sight, worthy of its name. The climbing characteristic adds to the unique exotic appeal of the plant. Gloriosa lily is an effective statement in the garden and performs well as a hanging plant too (4).
Despite growing from tuberous roots, Gloriosa lily (or fire lilies) is actually not a true lily. It belongs to the Colchicaceae family and is known to be toxic so careful planting should be administered. Gloriosa blooms are long-lasting and they make good cut flowers as corsage and vase flowers.
Hibiscus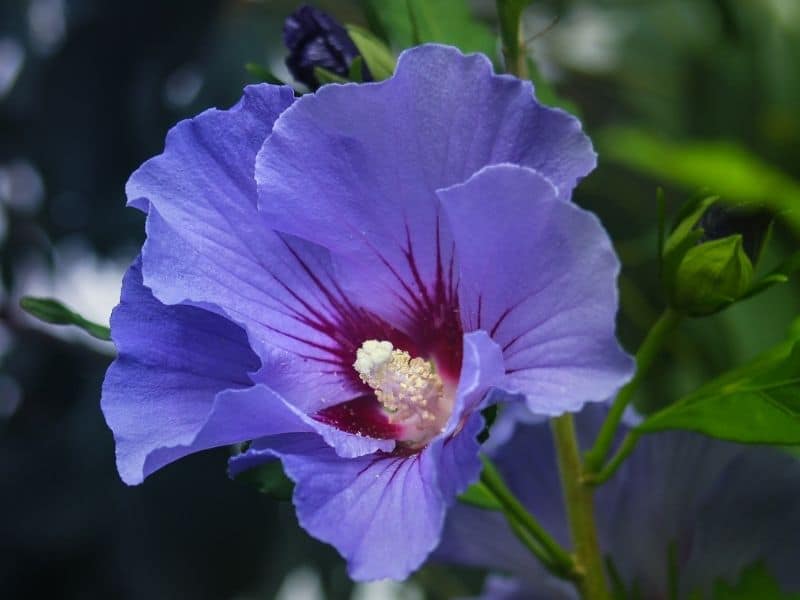 Hibiscus is a famous flower of the tropical regions. Showy and comes in all shades of colors, hibiscus serves well as a garden border, screen, and accent planted in groups. Over 200 species and even more varieties, hibiscus plants are so diverse, there are different types suited for different climates.
The most popular color of the simple hibiscus flowers is red but through breeding, there are flowers in all colors imaginable, some varieties are bicolor and some have compact multiple petals (3).
Aside from being a popular ornamental plant, hibiscus has medicinal properties too. It is a known treatment of mild liver and heart disease as well as constipation and skin irritation.
Hydrangea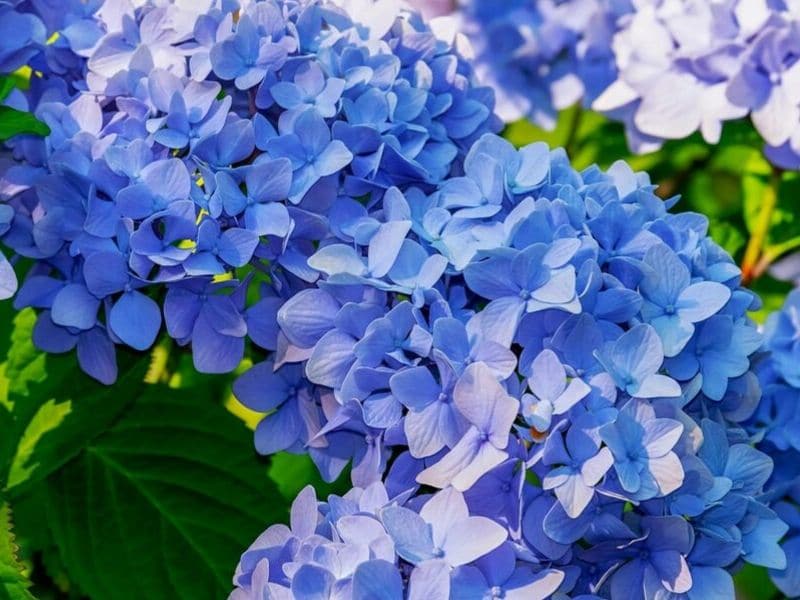 Hydrangeas are the lovely flowers known for the airy flower heads consisting of delicate florets. The plant bears 2 kinds of flowers, the fertile flowers which are tiny and insignificant and the more showy sterile ones we have come to associate with hydrangeas. They come in pastel shades of blue, purple, pink, and white.
Hydrangea is named as such because the plant quickly absorbs water. It is considered by many as a difficult plant to grow but as long as it receives the right amount of water and sunshine, the plant will thrive well (4).
Impatiens
Impatiens is a genus of over 1000 species common in North America. They are treated as both annuals and perennials depending on the area's climate and most of them have a succulent body. What's special about these plants is the stunning flowers in an explosion of colors in summer when they are planted en masse (4).
Impatiens are low maintenance and are good container plants are well. Although they prefer shaded areas, they can tolerate sunny conditions and any type of soil as long as it's well-drained. Watering can be tricky as they quickly wilt when left unwatered for several days. A hefty sprinkle will revive them right away.
Lantana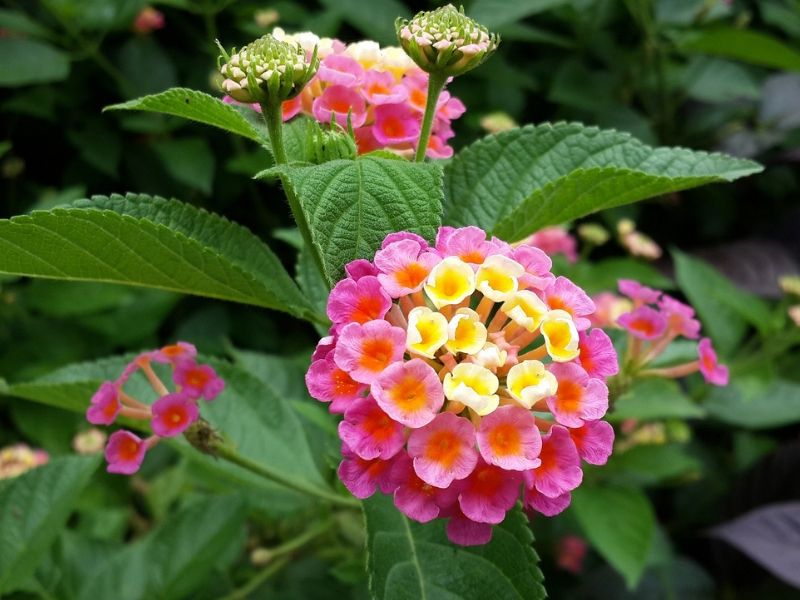 Lantana camara is a known tough plant, blooming from summer until the end of fall. Their tiny florets form small heads of flowers usually in yellow and pink. These flowers have a strong fragrance that some people would not prefer but the dainty flowers with vibrant colors still make them popular in the garden (4).
Because of how comfortable they can get in the garden, they become invasive in countries like Kenya and Uganda so growing them is controlled. Aside from its use in the landscape, the stems of lantana are utilized in making artisanal products like cages for chicken and organic bags.
Lavender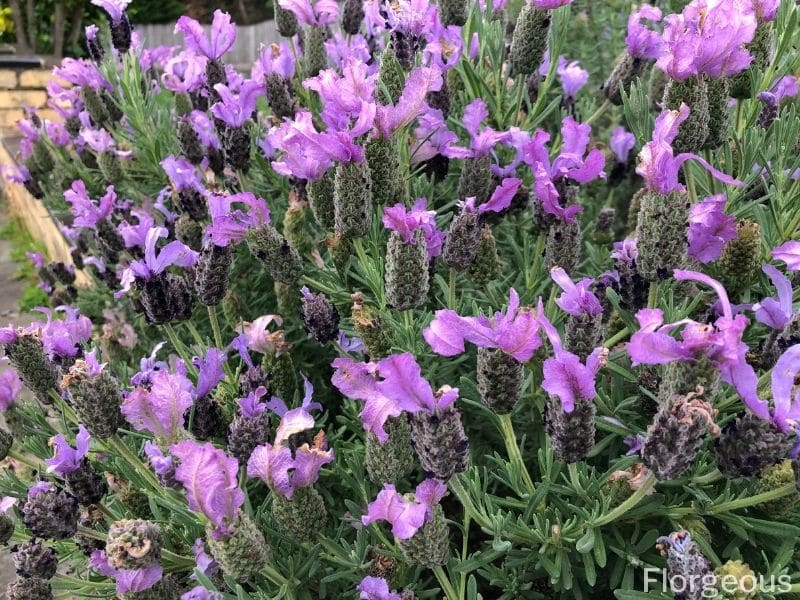 Lavender is a beautiful herbaceous plant famous for its long and upright cluster of light purple flowers with a very distinct refreshing fragrance. These flowers are actually borne on a mound of soft stems and silvery-green foliage which makes a good informal garden hedge (3).
Lavender plants prefer full sunlight and dry soil. Most of the problems encountered in the garden involve overwatering so it's important to check the moisture of the soil around the plant. During winter, lavenders in containers need to be brought indoors and place where it will receive sunlight.
Lily of the Nile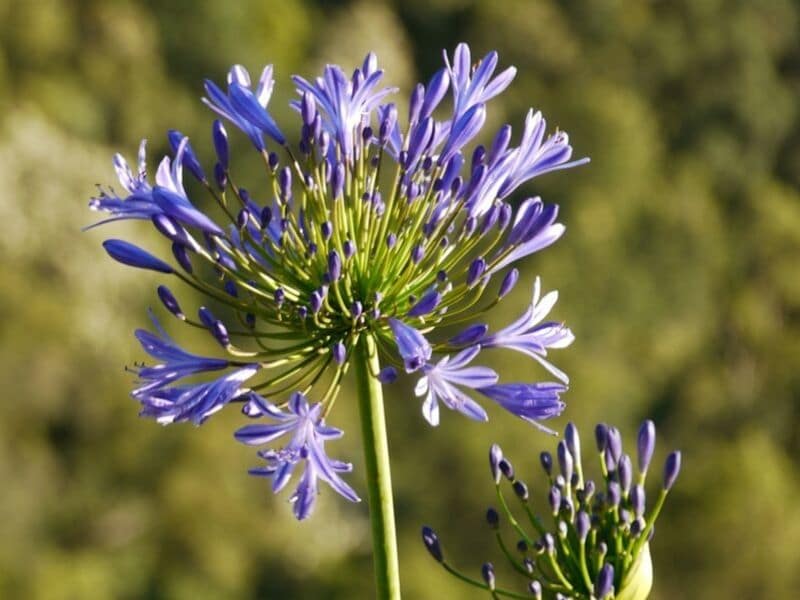 Agapanthus or lily of the Nile is an exotic summer flower. The leaves are strap-like and the clusters of flowers are pom pom shaped. The plant is overall tough, being able to withstand drought and shade. Although the full sun and compost amended soil are preferable for a longer-lasting plant (5).
Lily of the Nile is not a true lily, it belongs to the acanthus family. It neither originated from the Nile as it is said to have come from South Africa. There were only about 10 species of Agapanthus but they have such amazing flowers that many varieties have been developed over the past 20 years.
Lobelia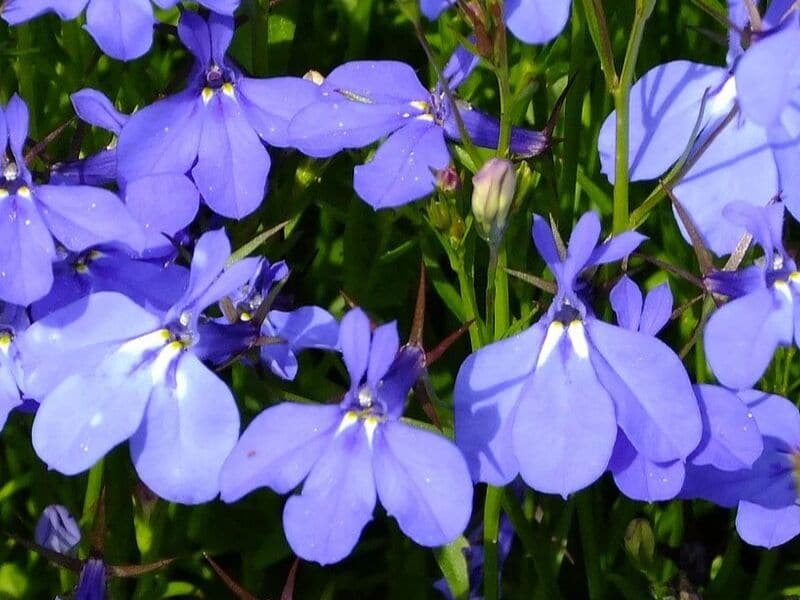 Common lobelias or particularly L. erinus are often seen as summer bedding plants with abundant tiny flowers of white, blue, purple, and red. Some varieties form mounds, others cascade so they could be seen sprawling from containers too. They do like the sun but overexposure does its damage (3).
Most lobelias are annuals in areas with extreme climates but this allows for a change of varieties each flowering season. Some of the astounding kinds are 'Blue Fountain' with dark blue petals and white center, 'Crystal Palace' with its royal blue flowers and reddish leaves, and 'Rosamund' with delicate crimson red blossoms.
Mandevilla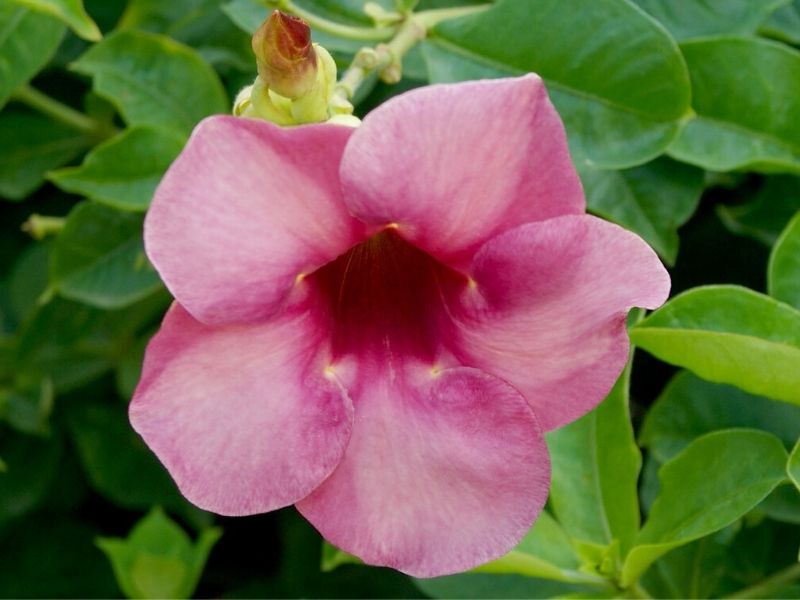 Mandevillas are among the summer plants that grow as vines and produce incredible tropical flowers. They came from South Africa where they can reach up to 6 meters in height but in colder areas of America and England, they only grow about 2 meters tall. Still, they produce showy trumpet-like flowers in various colors.
In order for a new mandevilla plant to grow fast, watering and fertilizer application must be regularly performed. When the weather is sunny and hot, water the plants until it soaks through. Fertilizer is preferably organic and applied every two or three weeks.
Marigold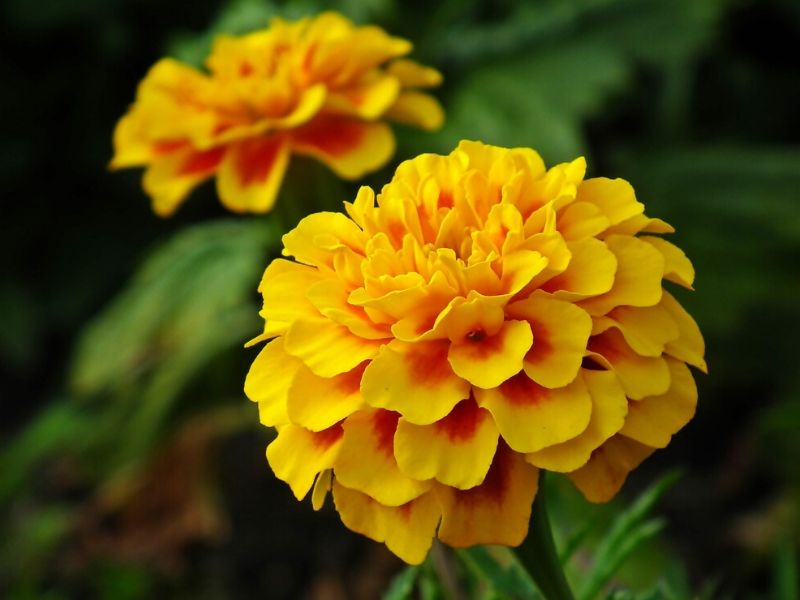 Marigolds originated from the old Mexico where they were a great part of spiritual and cultural traditions. When the Spaniards conquered the Aztecs, marigolds started to be distributed to different parts of the world and later on became an important ornamental plant used in decorating gardens and landscapes.
Marigolds are very hardy plants, they tolerate different kinds of conditions and resistant to many pests and diseases that they became very popular upon their introduction (4). They are known for their golden and reddish flowers but newer varieties today include white and hybrids.
Monkshood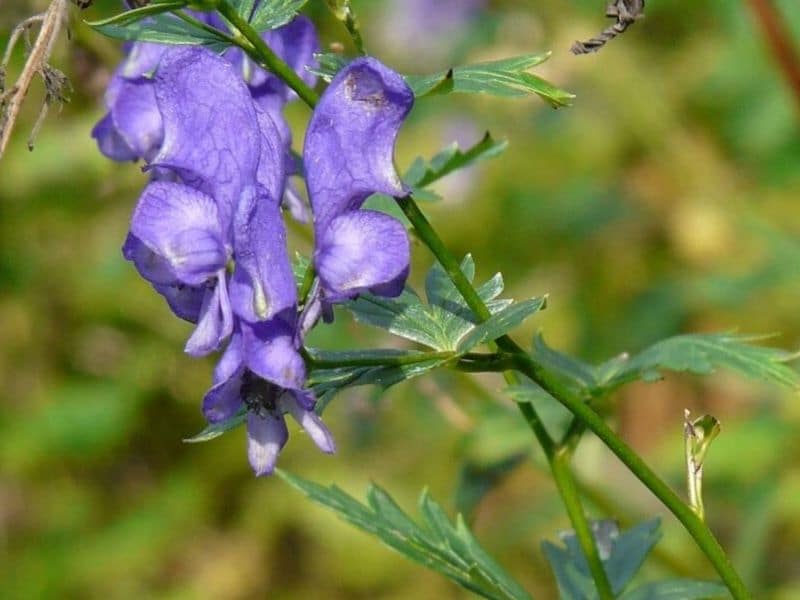 Blue is one of the colors considered precious by gardeners since select flowers produce this color naturally. Monkshood is scientifically known as Aconitum napellus and is one of the few plants that produce true blue flowers. The common name refers to the structure of the flower that resembles the hoods or cowls of monks (3).
Monkshoods handle full sun or partial shade well and will grow best in moist slightly acidic soil. Established plants are low-maintenance making them perfect in the garden but planting them takes great caution. They are very poisonous and will cause irritation when absorbed through the skin.
Moss Rose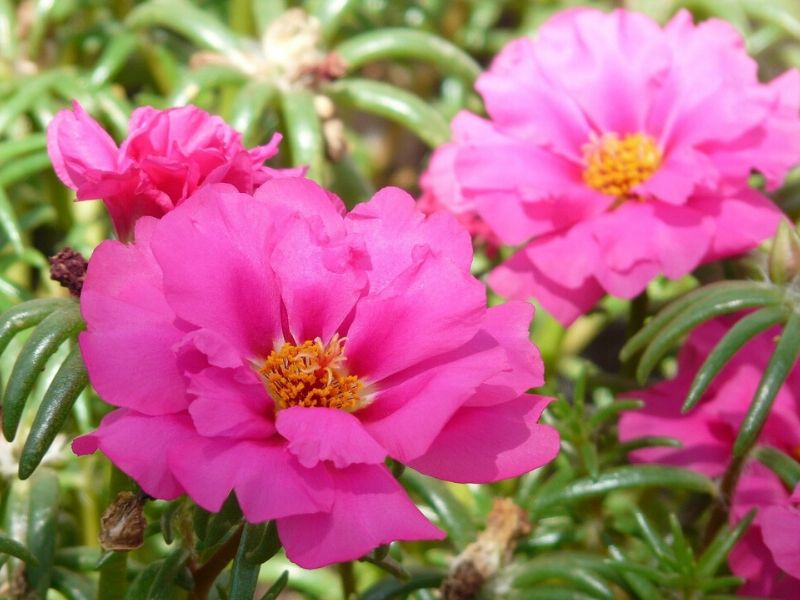 Moss rose is not an actual rose and should not be mistaken with the variety of rose plant bearing moss-like sepals. In fact, moss rose is actually scientifically called Portulaca grandiflora and is a member of the purslane family.
They produce flowers that look like species roses but their defining characteristics are the low creeping growth habit and succulent elongated leaves (6).
Moss roses drought tolerant and are popular as low maintenance annual bedding plants. The dense carpet of leaves serves as a fine background to the bright flowers in pink, yellow, white, red, and orange. Their trailing growth also looks perfect on hanging baskets.
Nicotiana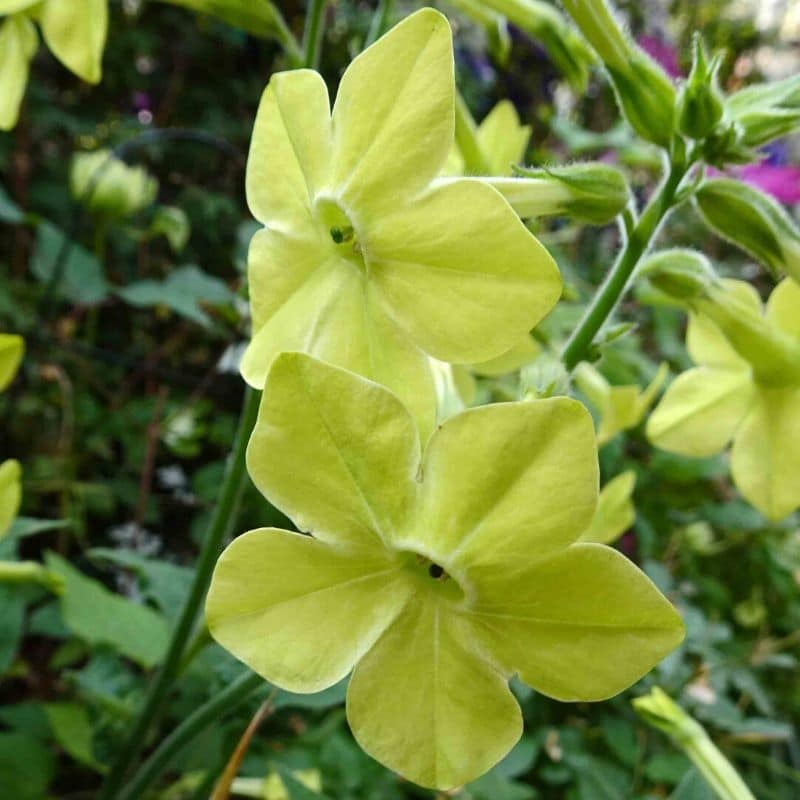 Nicotiana is commonly called flowering tobacco and is valued for the ornamental flower. Just like the other tobacco plants, nicotianas have a rosette of large flat leaves. The tall floral stalks are peppered with dainty star-shaped flowers in white, yellow, green, red, pink or purple.
In summer, walkways become alive as the flowering tobaccos lining the concrete burst into colors, especially if they are directly lit by the sun. Some varieties are short-lived, blooming only in the early parts of summer but hardy varieties can endure the cooler fall (6).
Oxalis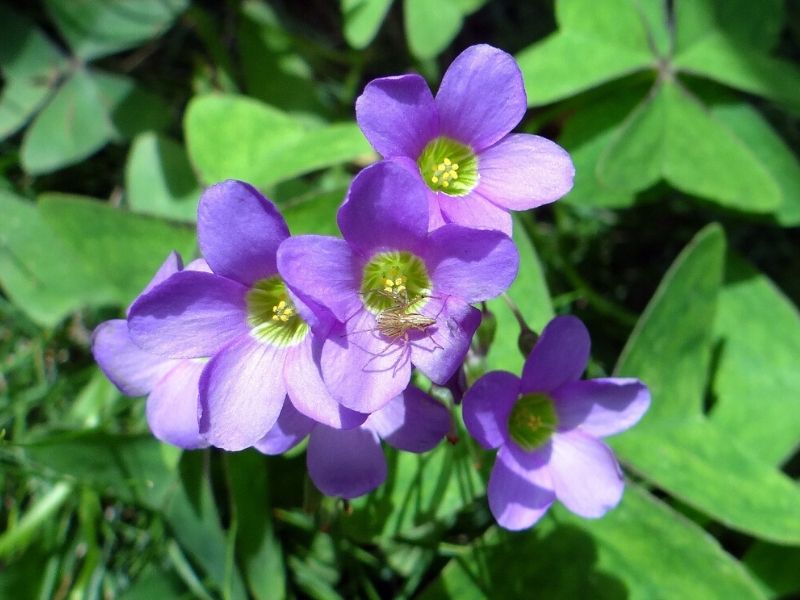 This plant is known to add color to the garden or patio even if it's not flowering season because they have vividly colorful foliage as well. Some leaves are green with light green patterns while others are deep purple (4). In some areas, this plant is called a butterfly plant for the way the compound triangular leaves of some species resemble butterfly wings.
In Ireland, oxalis is popular as a good luck plant for most species have leaves that look like a shamrock. In fact, it is also called false shamrock. The flowers that bloom in summer funnel or bowl-shaped and come in yellow, white, pink, and purple.
Pentas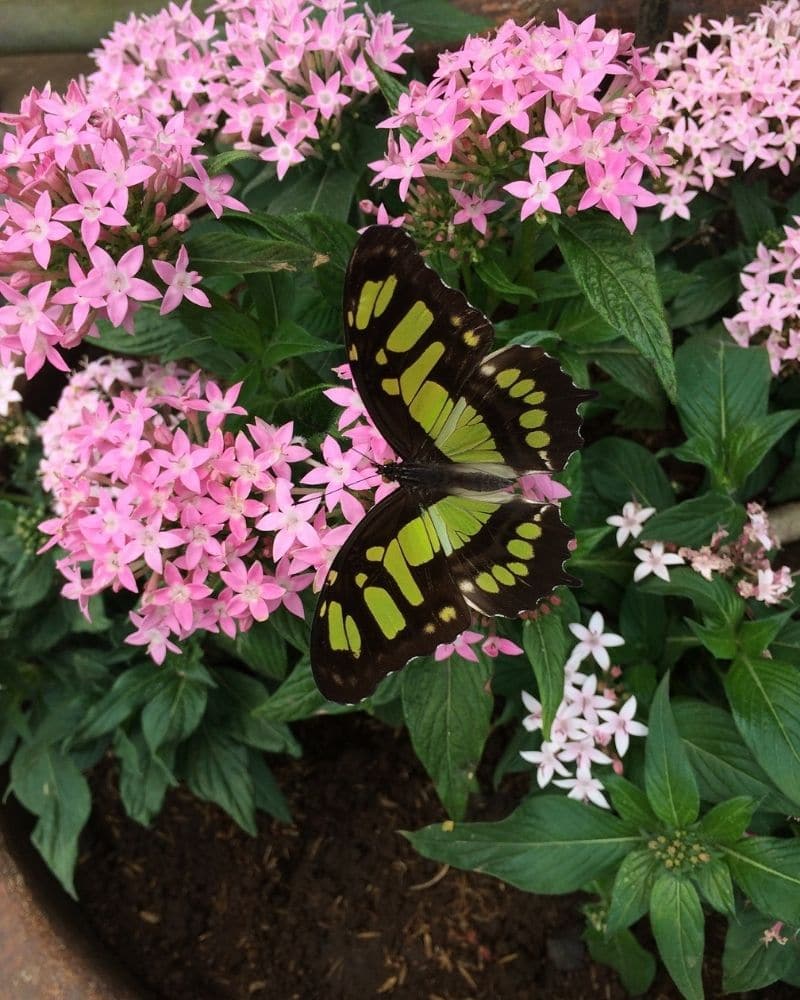 Pentas lanceolata or Egyptian star cluster got its name because of the five-petalled star-like flowers. It is a perennial shrub that originated in tropical areas of Africa.
The flowers come in vivid shades of pink, red, white, and purple. The green leaves are spear-shaped with deep midrib and venations (6).
The plant is a slow grower so it is usually propagated by cuttings. Propagules are obtained from softwood cuttings and dipped in rooting hormone mixed with fungicide. Pentas is treated as an annual plant in temperate regions where it is used as bedding or potted.
Petunia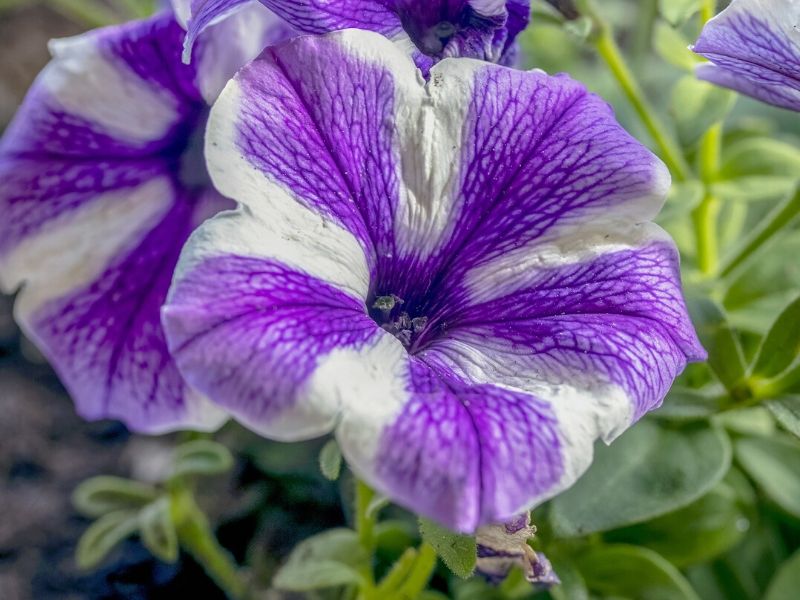 The trumpet-shaped flowers of petunia in a variety of colors make them popular garden plants. Most of the time they are grown as border mounds and beddings, other times they are found cascading in hanging baskets and pots. They are such beautiful and bright flowers, they've become a staple to almost every garden.
These petunias are either 'Grandiflora' or those that have large flowers that are prone to rain damage, hence they are planted in baskets or 'Multiflora' or those with small flowers perfect as border plants. Both species tolerate heat but exposure to extreme sunlight may be too harsh on the delicate flowers (4).
Pineapple lily
As the name suggests, this flower looks like a unique tropical fruit. It's usually called eucomis bicolor or the variegated pineapple lily.
The plant produces a long soft floral stalk called spike peppered with star-shaped, usually yellowish-white and maroon-tinged flowers. On top sits a rosette of pointed leaves that made it resemble a pineapple (4). The basal foliage is strap-like with reddish speckles on the underside.
The pineapple lily is usually planted as a border plant as it gives a vertical dimension to the garden. It doesn't survive frost so it is more convenient to plant it in a pot to be easily carried indoors during the harsh winter.
Plumeria
Plumerias are usually found in tropical areas around the world. They have several common names including 'Frangipani' and 'Calachuchi'. They are known as hardy shrubs and small trees that produce simple fragrant flowers in red, white, pink, and yellow (4).
Plumerias perform well under full sunlight and in slightly acidic, well-draining soil. They cannot tolerate extremely cold weather so they must be protected inside the greenhouse. Small plumerias can be potted but in the open space of gardens allow them to thrive as trees. In Hawaii, their flowers are used in creating traditional leis.
Poppies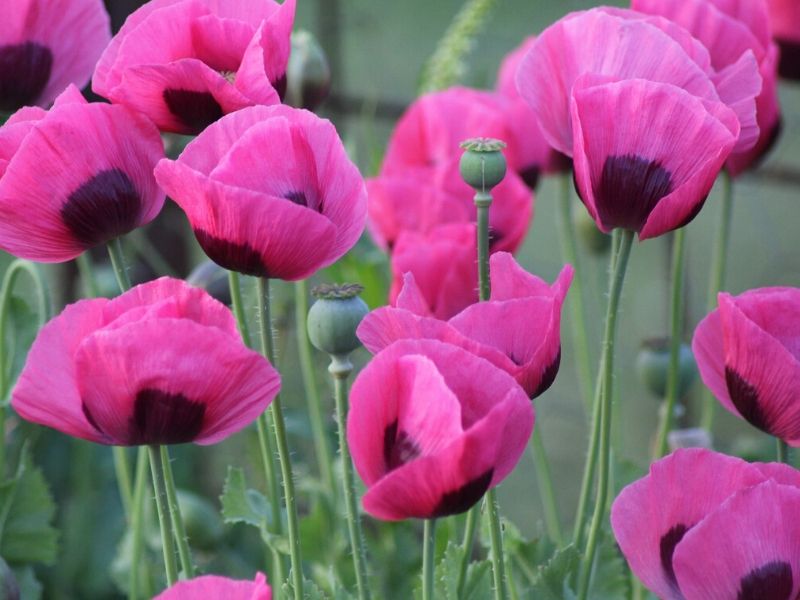 The poppy plant may be known for its medicinal and culinary contributions but they are valued garden plants as well. The bright colors of the simple or double flowers and the plant's tolerance of drought are what makes them effective as landscape groundcover in summer. In the wild, they can be seen covering riverbanks and open meadows (3).
Some of the favorite poppy varieties are compact Alpine Poppy, short Arctic Poppy known for withstanding blasting winds, and Carnation Poppy with textured shaggy petals.
Rose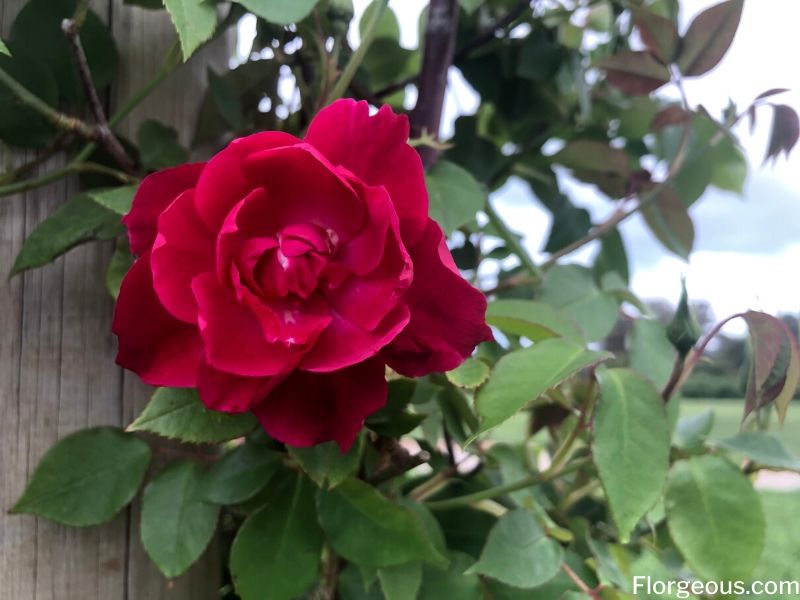 Roses are the perennial woody plants bearing the most gorgeous flowers even our ancestors love. The universal symbol of love, roses are popular cut flowers, especially as wedding flowers, and many gardens are adorned with the plant which has become easier to grow thanks to new improved varieties.
Because roses have been a subject of breeding for many years, varieties today can bloom all year round but they still bloom best in summer when bright light is abundant. They will need pruning to control their growth when the weather becomes milder. Fungal disease is still a problem but many roses have become resistant (5).
To learn more about all varieties, check this list of roses!
Salvia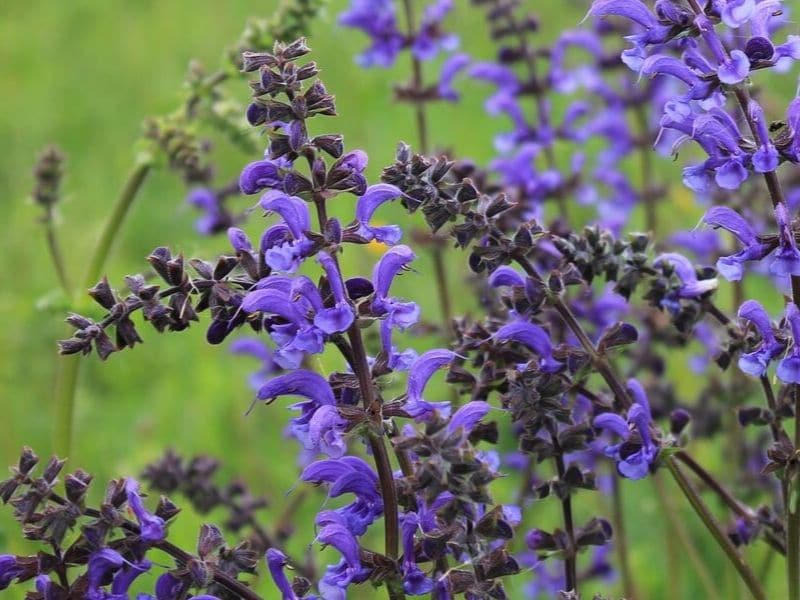 Salvias are the sage plants belonging to the mint family which is collectively known as culinary plants. Sages definitely do wonders in the kitchen but they are also great performers as ornamentals (4). They are tough, low-maintenance plants able to tolerate hot and cold weather, dry soils, and resistant to pests.
The long stalks of salvia flowers come in shades of blue and red and white and in summer, these spectacular blossoms are seen clustered in bedding, containers, and garden borders. Butterflies and hummingbirds are attracted to these flowers and we love the aromatic scent of leaves as well.
Scaevola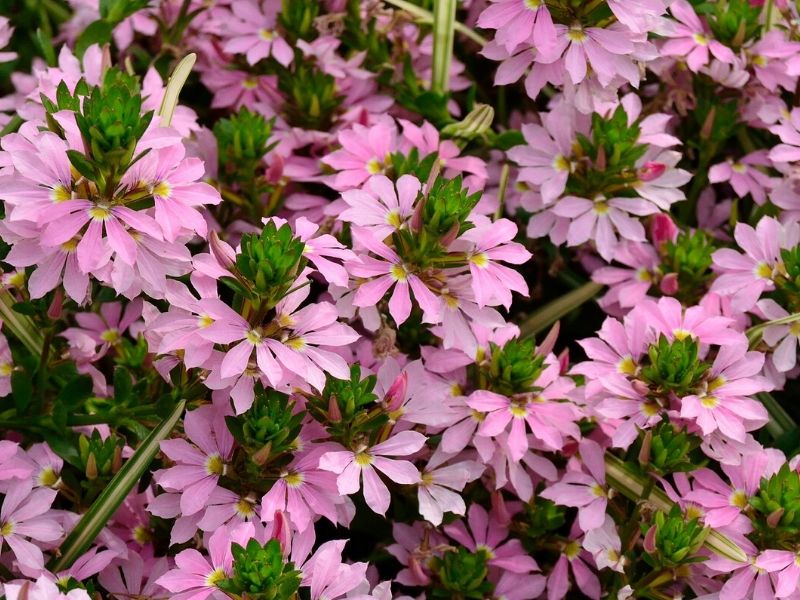 Also known as fan flower, Scaevola aemula produces florets with petals arranged in semi-circle form. These florets are gathered at the tip of the fleshy stems where they create a complete cluster of purple, pink, blue or white flowers. A native to Australia, the plant loves the sun and is a repeat bloomer all summer long.
Fan flowers are trailing so they are usually planted in hanging baskets or directly on the ground for rapid coverage. If they tend to spread fast unintentionally or a manageable bushy growth is desired, pinching can be done. Since most varieties are cool-colored, they are best paired with plants bearing yellow, orange, or red flowers for a colorful summer garden.
Sea holly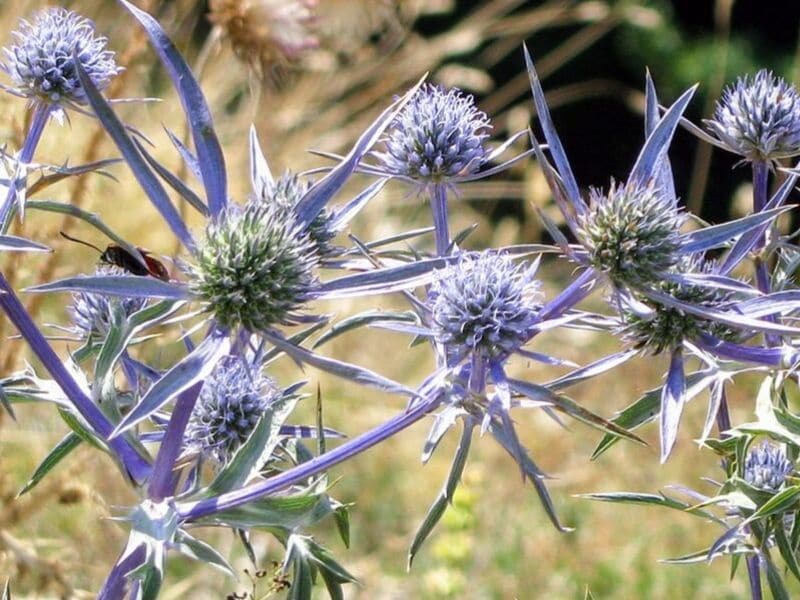 Along the sidewalk or driveway where the sun directly shines is where sea holly will thrive well. It will also provide a unique out of this world bloom throughout the summer. The funky flower is composed of a ball of tiny blue or green florets surrounded by pointed blue, green or gray bracts (4).
Sea hollies love soil with good drainage and they can tolerate drought as well. The true blue color mixes well with other bright flowers such as zinnias and celosias. They are thorny so it is important to wear gloves when dealing with them in the garden but many are actually intimidating at a glance but really soft to the touch.
Spider Flower
Cleome hassleriana is commonly called spider plant because of the thread-like stamens and the seed pods that develop under the flowers. The clusters of blossoms come in white, pink, and purple which makes the plant striking and effective as a mass planting or temporary summer hedge.
The flowers tend to form on the upper part of the annual plant so cleomes are best paired with perennial mixed beds. Since the flower heads appear airy and the leaves are fine, cleomes can be grown with other broadleaf plants with bolder flowers such as hibiscus, cosmos, and even ornamental bananas. Just make sure that they are spaced well as the plant grows as tall as it is wide (6).
Sunflower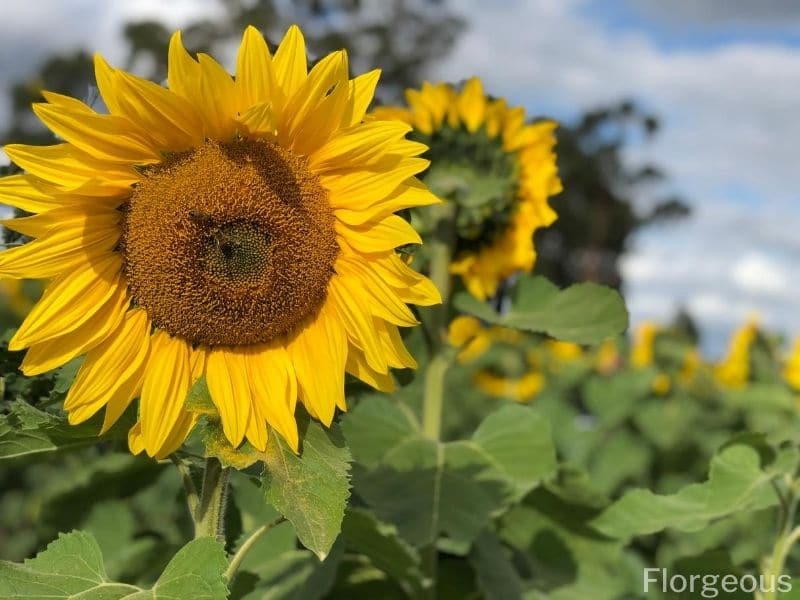 Helianthus translates to "sun flower" hence the common name. The impressive large flower head is known to always face the sun because of the plant phenomenon called phototropism. This plant definitely loves the warm bright sunlight hence they are found blooming profusely in summer.
Many varieties of this plant grow tall making them even more striking when planted in groups. Some farms specialize in growing them and serve as attractions to the public during the blooming season.
Sunflowers are beautiful cut flowers used in bouquets and flower arrangements. When placing them indoors in vases, make sure that the flower heads are well supported as they are heavy compared to most flowers (6).
Surprise lily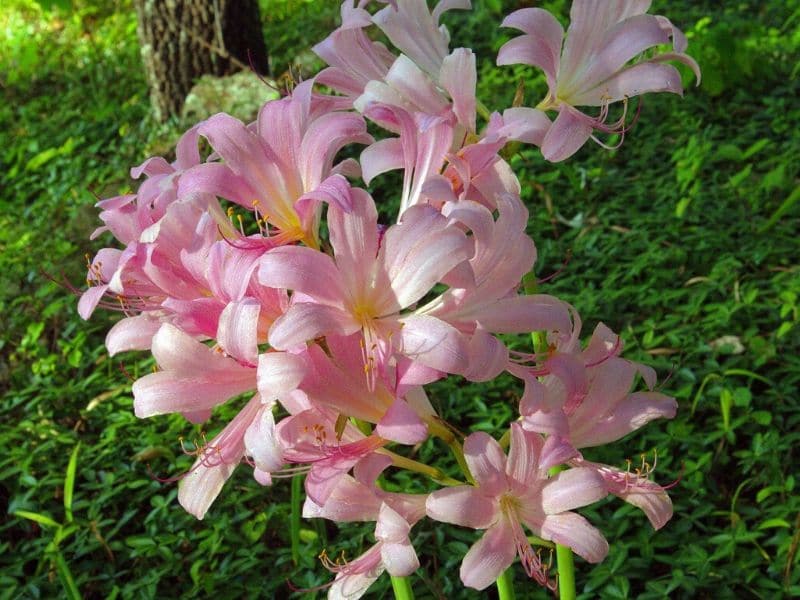 Lycoris squamigera got its common name because in early spring, the plant produces long strap-like leaves and then goes dormant. Come late summer, surprising half a meter long stalks sprout from the ground bearing showy light pink flowers!
Fairly easy to grow, surprise lilies thrive well under partial shade and average soil moisture. It's also a relief to know that they rarely get attacked by pests. Since there are a good few weeks that the plant spends dormant, they should be grown with plants that will cover the bare area until the flowers begin to show.
Stargazer lily
One of the most popular flowers of summer, stargazer lily displays beautiful fragrant flowers that are easy to fall for. It is actually a hybrid true lily developed by Leslie Woodruff and got its name from the unusual upward-facing flowers as if watching the night sky. It became an instant hit upon release in the late 1970s.
The showy flowers are borne on long stalks and tall plants making them a good focal point to the garden. They are also excellent cut flowers as they provide florists with a variety of colors ranging from white, red, purple, yellow and orange.
Related: 100 Different Types of Lilies: Plants and Flowers
Thistle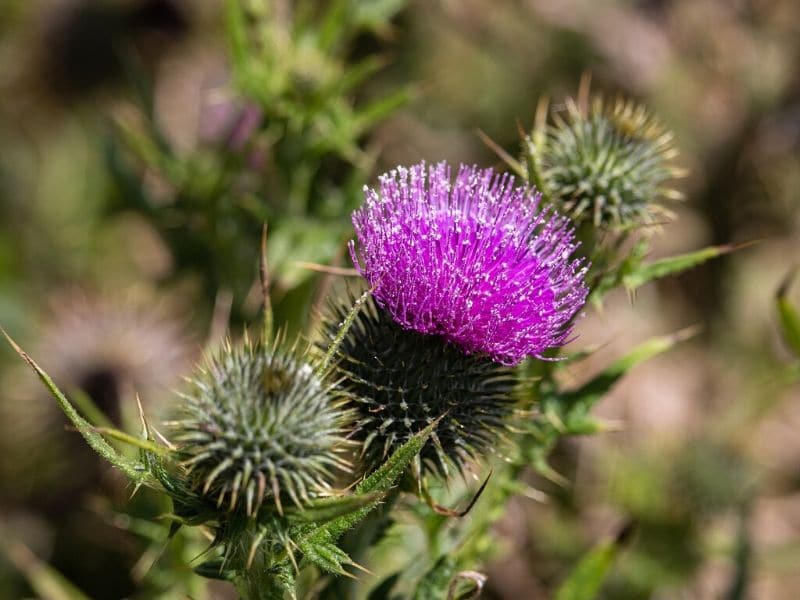 Thistle is the common name given to the plants under the genus Cirsium. Most of them have prickly stems and leaves and showy heads of tubular florets collected by an enlarged base. These plants are native to temperate regions of Europe and Asia and are actually members of the Aster family.
The large purple flowers are very attractive to butterflies, bees, and hummingbirds and in the garden, their dramatic blossoms create a good focal point. Most thistles die after flowering but the self-seed as well so most of the time, new sprouts can be seen in the same spots after the blooming season.
Tithonia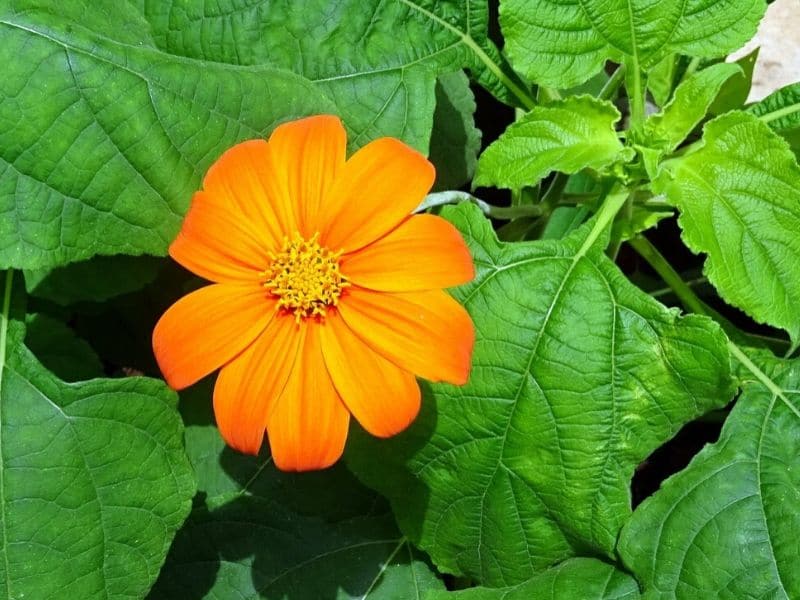 Another lover of the warm weather of summer is Tithonia rotundifolia or Mexican sunflower. It displays a sunflower-like blossom in a simpler form and has orange petals instead. To prolong the blooming period, deadheading is performed where the flowers that have dried and wilted are removed, allowing new buds to emerge.
Mexican sunflowers have coarse broad leaves and since the plants grow tall, they are best planted behind borders or as seasonal screens (4).
Ironically, the plants flower more profusely when fertilizer application is less. They love full sun and poor to average-draining soil.
Verbena
The verbena plant is a traditional treatment to bladder stones from which the Latin name was derived. It became a popular ornamental plant because of the fragrant group of tiny flowers that form on top of the lemon-scented fern-like leaves. It is also quite hardy, loves the sun, and tolerates drought (3).
Recommended varieties include self-sowing annual, V. bonariensis producing small purple balls of flowers, Moss verbena or V. tenuisecta that tolerates frost quite well, and Verbena x hybrid sporting flowers of varying colors that bloom not just in summer but throughout the other seasons as well.
Vinca
Vincas are annuals popular for their non-stop flowering habit from summer to fall. Vincas usually rot in regular garden ground soil so if they are to be planted as a border or edging, it is recommended to add a commercial potting mix. Location is key as well since these plants need sun exposure for healthy growth (6).
Many plants need to be deadhead but not vinca. It naturally gets rid of dry flowers and produces new flower buds for continuous bloom. Despite being a popular ornamental plant, it is considered invasive in Australia, New Zealand, and Canada since the favourable weather helps the plant spread quickly.
Yarrow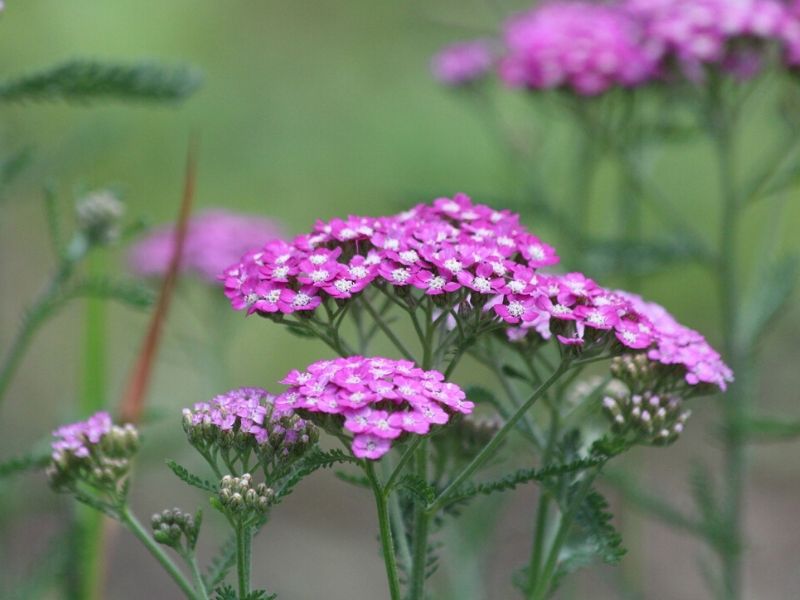 Achillea millefolium or yarrow is an aromatic herb native to the cool regions of Asia and Europe. Known for its feathery foliage that provides a fine texture in the landscape, yarrow produces amazing tiny clustered flowers on stalks thrice the size of the whole plant. The rainbow of colors provided by the flowers stands out against the light green leaves (4).
Yarrows grow from cuttings and are readily available as plants from local plant stores. They like soils that drain well and will tolerate drought. This makes them perfect additions to xeriscape-themed gardens.
Zinnia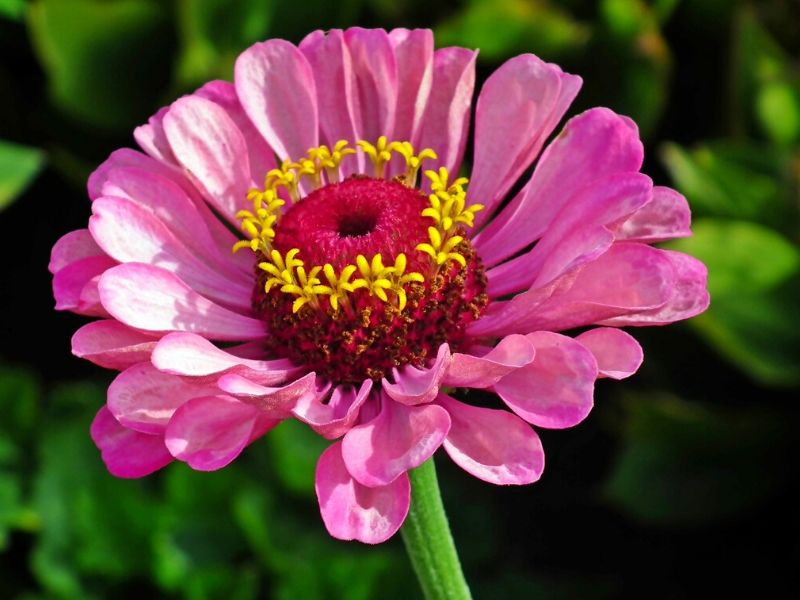 Zinnias may be one of the easiest flowering plants to grow early in spring just in time to bloom for the summer season. Just sow the seeds as winter ends and in a week time, seedlings will start to emerge. A month into growing, you may need to prune them back and then transition to planting them in the garden another month later (6).
By mid-summer, your garden will have an explosion of colors that is bound to attract passers-by and pollinators alike. As they establish in the garden, you will find zinnias needing no more than watering once a week. They are very easy to grow that in Europe they are referred to as "everybody's flower".
Up Next: A list of flower names from A to Z with pictures
References
Reference List:
(1) Das, S. "Amaranthus: a promising crop of future." Springer. 2016. P. 208.
(2) Pleasant, B. "Annual flowers: complete gardener's library." 2000. P. 176.
(3) Cox, J. "Perennial all-stars: the 150 best perennials for great-looking, trouble-free gardens." Rodale. 2002. P. 344.
(4) Brickell, C. "American horticultural society encyclopedia of plants and flowers." Penguin. 2011. P. 744.
(5) Burke, D. "The complete Burke's backyard: the ultimate book of fact sheets." Allen and Unwin. 2005. P. 1103.
(6) Randhawa, S. G. and Mukhopadhyay, A. "Floriculture of India." Allied Publishers. 1986. P. 660.

Close