Autumn is the season that witnesses the transition from the hot summer days to the chilly winter. Lasting from September to December, the days become shorter and winds become cooler. Dawdle walks in parks and streets are more enjoyable and everything else seems to be at ease.
Autumn also signals the trees and many shrubs to lose their leaves and store energy in preparation for the cold, often devastating winter. The remarkable earth tones of autumn is associated with the plant phenomenon called leaf senescence wherein the bright green leaves on the trees turn to warm colors as they prepare to prematurely drop their foliage and become bare.
But not all plants have to lose their parts in order to make the season more colorful. Many flowering plants actually love the cool atmosphere of autumn that they reserve their blooms for this season. These flowers come in all kinds of colors that keep the garden alive and vibrant.
Read on to know more about the amazing plants to grow in time for autumn bloom.
Alyssum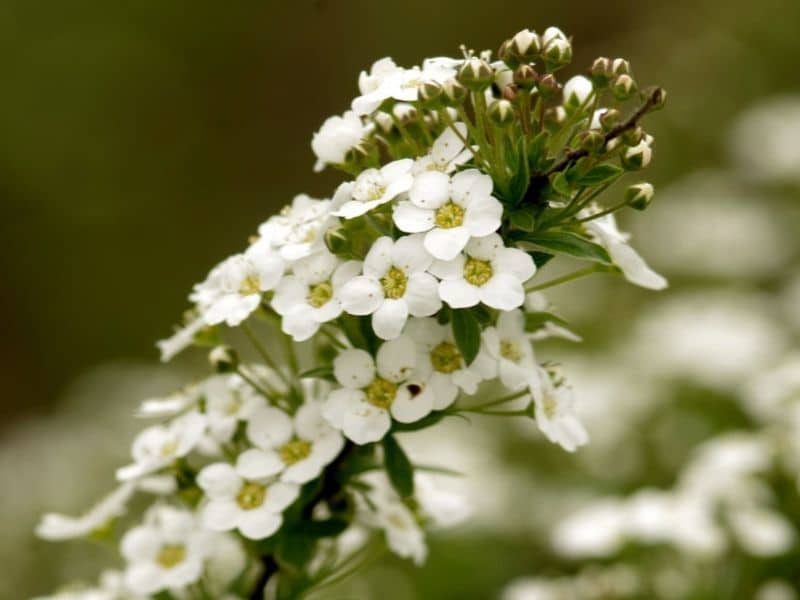 Alyssum or Lobularia maritima is a favorite annual groundcover. On a regular day, it forms a dense carpet made of long gray-green leaves but in the fall, they are totally replaced with delicate and fragrant clusters of tiny 4-petaled white flowers. Other cultivars are in orange, lavender, pink, and red (1).
Alyssum can bloom in spring too. It grows in areas with well-drained soil and full sunlight. It can tolerate drought and partial shade. The delicate flowers tend to decline when temperature is high but as soon as the weather is favourably cooler, the plant will bloom profusely once again.
Angel's Trumpet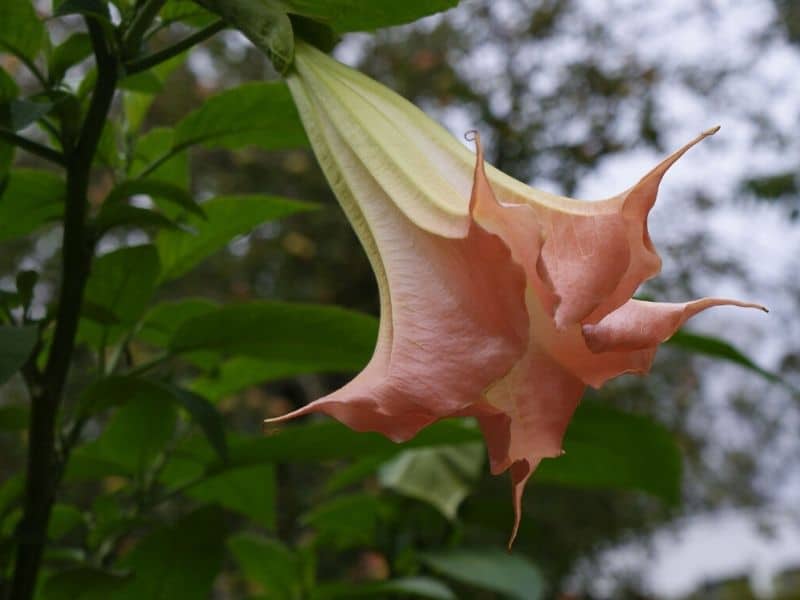 Brugmansia is a genus of the nightshade family commonly known as the angel's trumpet. It certainly creates a focal point in the landscape because of the trumpet-shaped flowers profusely blooming on the small tree-like shrub. This is best paired with low-growing shrubs with small foliage as opposed to the plant's big ovate leaves.
Flowering is sporadic during the first blooming season of the plant but it becomes showier later on. Angel's trumpets don't like competing tall plants as they tend to produce limited flowers. B. knighti is a profuse bloomer with bigger flowers that smell fragrant at night (2).
Ankle-asters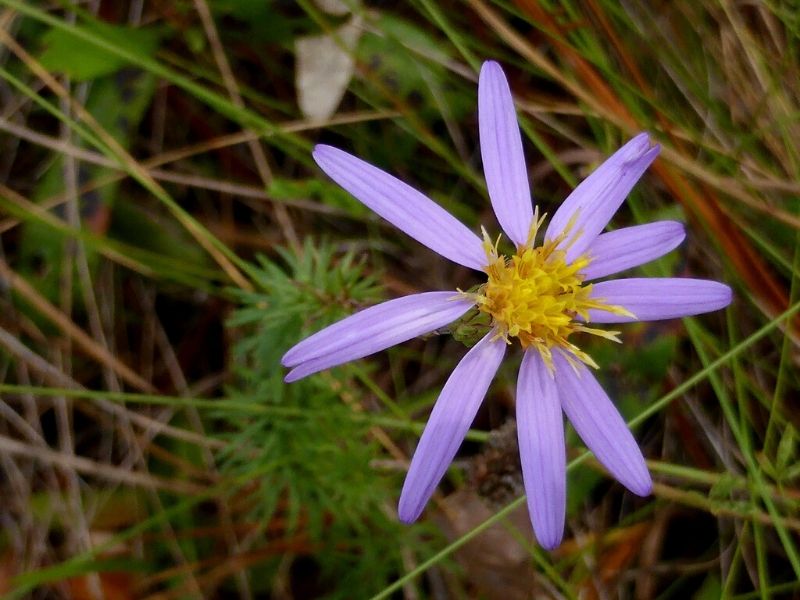 Generally found growing in rocky slopes, ankle-asters, flaxleaf aster or Lonactis linariifolia love a dry soil and full to partial shaded areas, that of the environment in Asia and Europe where they originated. They grow up to a foot high and usually serve as groundcovers in the landscape (3).
Ankle-asters, like many aster species exhibit long thick green stems where leaves branch out. The foliage is tiny, spatulate and rigid, giving the plant another common name, "stiff-leaved aster". Ankle-asters actually produce two kinds of florets in a single plant. The ray florets, usually blue, lavender, or white, are fertile while the yellow disc florets in the center are sterile.
Artemisia Vulgaris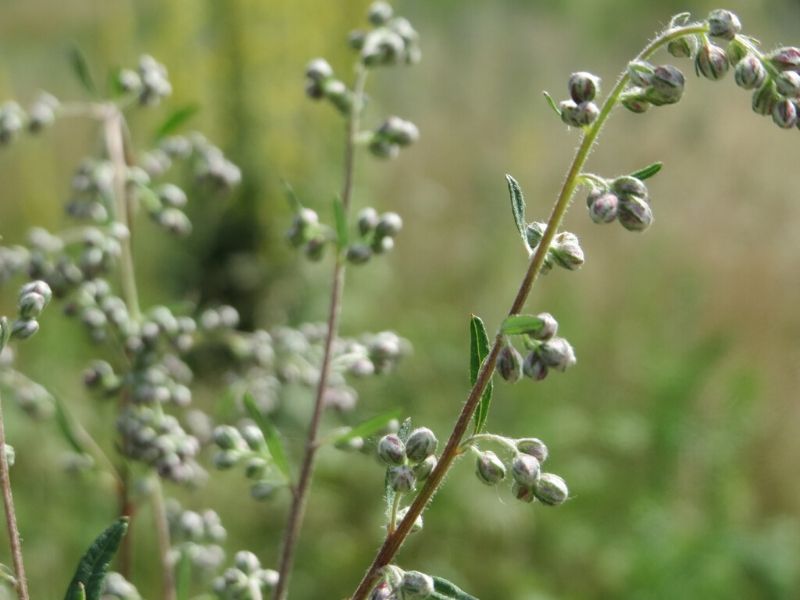 Artemisia vulgaris is more commonly known as mugwort. It is native to Africa, Asia, and Europe and is usually found growing in the wild arid areas or uncultivated land. It grows in semi-shade or full sun and is very tolerant of drought and acidic soil (4).
As landscape plants, mugworts can be used as borders. Although the flowers that bloom in autumn are tiny and unremarkable, the dense and perennial growth habit of the plants make them excellent addition to the garden. They also have known medicinal properties such as anticonvulsant, purgative, and diuretic.
Autumn Snowflake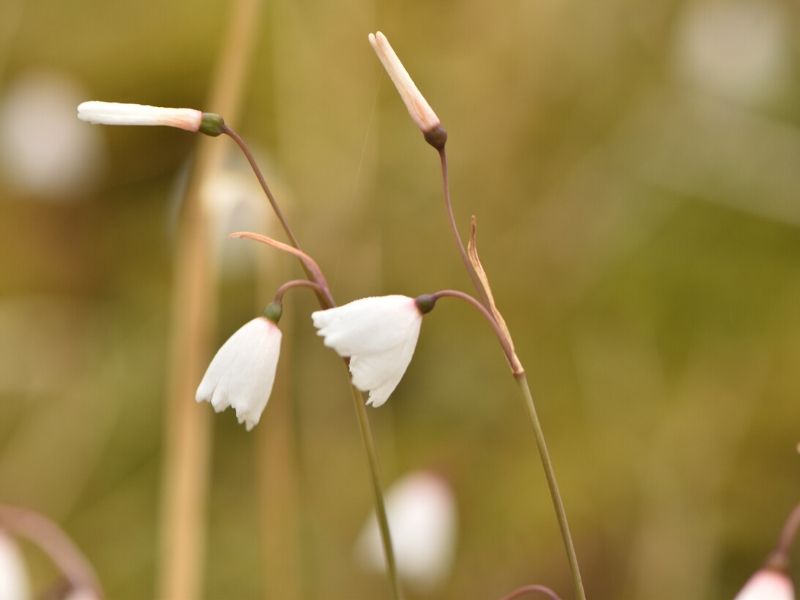 A pretty flower of fall, Acis autumnalis or autumn snowflake look like the winter's white snowdrop and snowflake. They all fall under the Amaryllis family and produce the distinct slender leaves. Autumn snowflake is distinguished by reddish floral stalks that bear droopy flowers before the leaves appear.
Autumn snowflakes are very effective in rock gardens, with the full sun and warm soil and the protection of stones. They are best paired with the low-growing, stout-leaved sedums (4).
Autumnal Blue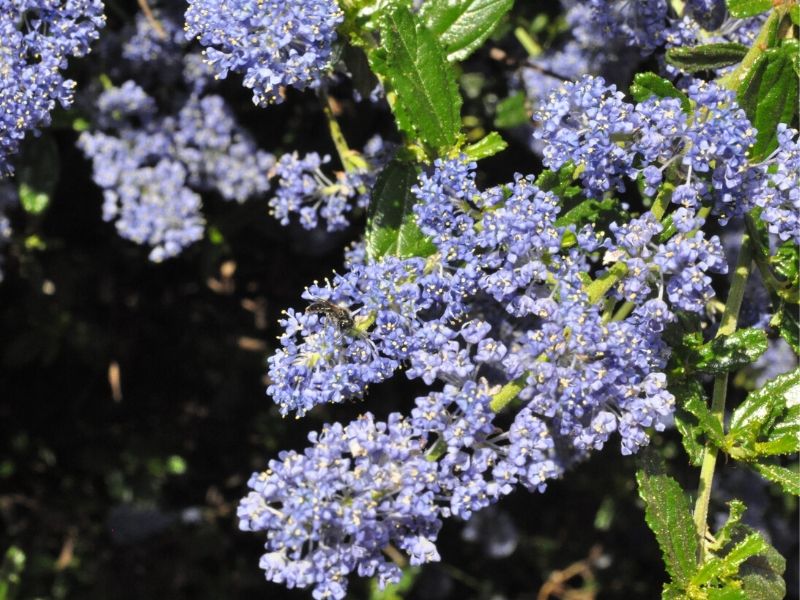 'Autumnal Blue' is a variety of Ceanothus that definitely brings a soft yet striking blue color to the garden. It grows as a bushy tall shrub with small glossy bright green leaves that disappear beneath a breath-taking display of clustered tiny blue flowers in autumn. Award of Garden Merit was given by the Royal Horticultural Society.
'Autumnal Blue' thrives best sunny areas with well-drained soil. It is easily propagated by hardwood cuttings and reach up to 4 meters in left unpruned. It is fairly easy to grow but is susceptible to fungi and scale insects, nothing a mild homemade soap solution will control (1).
Balloon Flower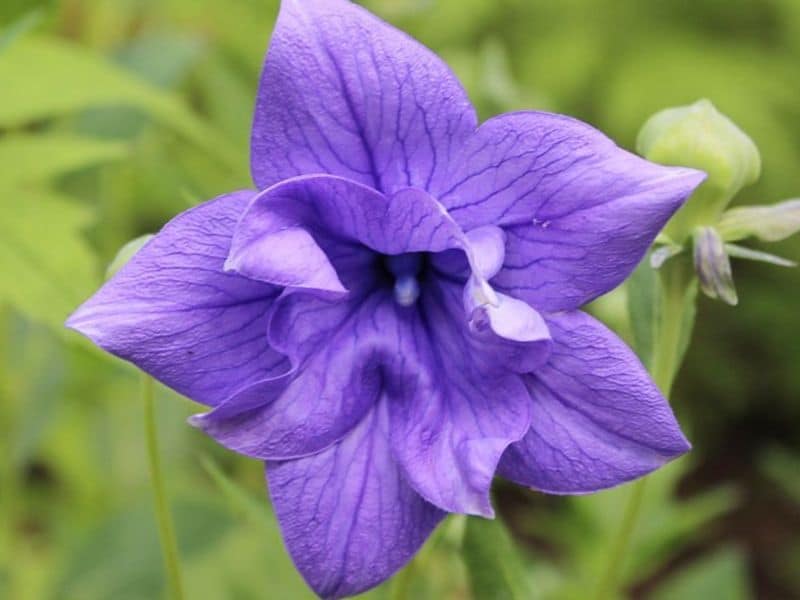 Platycodon grandiflorum or balloon flower is one of the most popular fall flowers among gardeners and florists. It is a hardy perennial plant that produces campanula-like flowers.
The common name was derived from the flower's blooming habit where it forms a balloon shape before the petals open into a star-shaped bell. The flowers come in blue, purple, pink, and white colors (5).
Balloon flowers grow in dry soils. The fleshy roots tend to rot in damp and undrained soil. Like poppies, they are usually planted as bedding or groundcover and have an untidy growth but the spectacular autumn bloom make up for it. Planting them in rocky gardens brings out the wild nature of the plant.
Beautyberry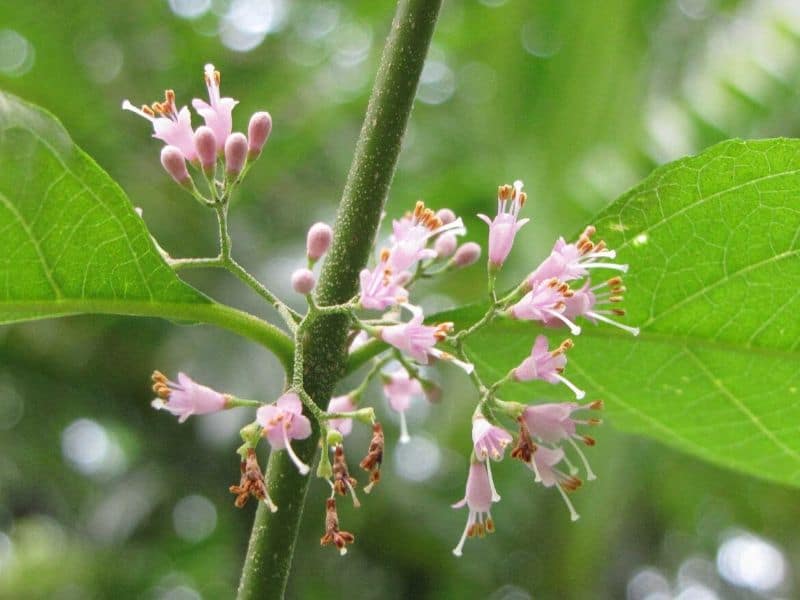 A truly beautiful plant in autumn, beauty berry or Callicarpa dichotoma produces a lavender bloom before the purple berries. The bloom becomes exceptionally striking when the sprawling shrub loses its leaves in the fall and the tiny flowers replace them on the branches.
Beauty berries are effective when planted en masse as borders or foundation plants. An individual plant looks pretty when potted too. Pruning during spring will help the plant develop a bushier growth and will require minimal maintenance as well (6).
Belladonna Lily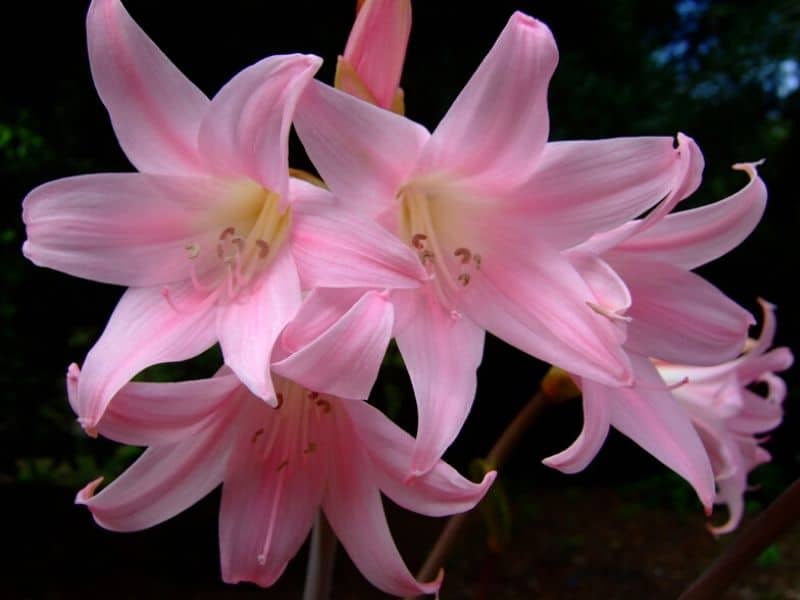 Not to be confused with Atropa belladonna, belladonna lily is a member of the bulbous Amaryllis family that produces a sweet-scented delicate white or pink flowers. It is native in South Africa and upon its introduction as an ornamental plant, the belladonna lily became popular all over the world.
Belladonna lily is otherwise known as 'Naked Lady Flower' or Jersey lily because like the surprise lilies, it bears a beautiful trumpet-like flowers on a long floral stalk without basal leaves. Aside from being attractive to passers-by, belladonna is popular among pollinators such as bees and butterflies (2).
Black Bindweed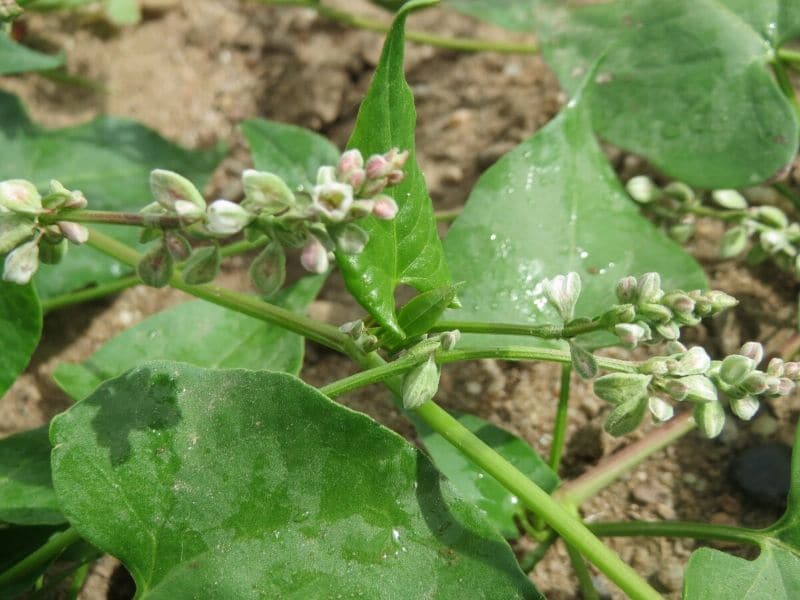 Scientifically known as Fallopia convolvulus, the black bindweed plant is commonly found growing in the wild, along roadsides where it receives full to partial sunlight. It has an aggressive vine growth that made gardeners explore its use as a seasonal climbing screen aside from being an effective groundcover (7).
The flowers are tiny, usually clustered in a raceme form. They don't have petals and the pinkish or purplish color is brought by the sepals instead. The flowers tend to be unimpressive but during autumn, the profuse blooms add a whimsical effect to the cascading heart-shaped leaves of the plant.
Black-eyed Susan vine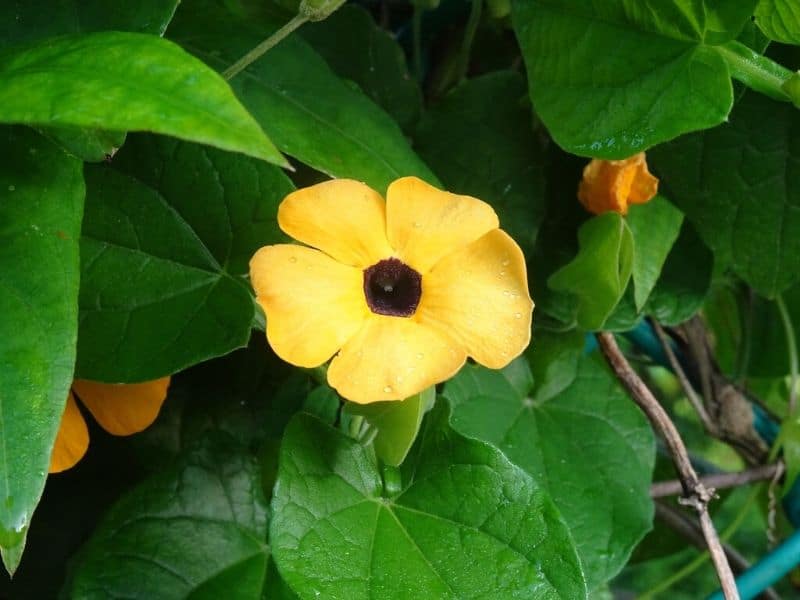 Not to be confused with Rudbeckia hirta, this black-eyed Susan is a vine botanically known as Thunbergia alata. The common name is in reference to the yellow-petalled flower with black hollow center. It is considered an annual in temperate regions producing an elegant string of rough green foliage peppered with the eye-catching flowers in the fall (2).
Black-eyed Susan vine provides a dramatic drape when grown along overhead trellises. The sprawling growth may suffocate other plants in the garden so it is important to trim or prune the plant from time to time. It is a very resistant plant and has few pests like spider mites and whiteflies which can be eliminated by allowing better air circulation within the plants.
Blue Throatwort
Trachelium caeruleum or blue throatwort is named after the dark purple or almost blue color of the bouquet-like cluster of tiny flowers and the medicinal use of the plant to treat sore throats. It is popularly planted as a hedge or border in garden areas where there is ample exposure to sunlight.
Blue throatwort is also an easy option as a cut flower for florists. Because the flowers already come in clusters, they can easily be arranged to serve as the main flower or filler in any formal and elegant bouquet or vase arrangement. The flowers are delicate so it is best to use a floral foam or avoid long exposure to direct sunlight (1).
Butter and Eggs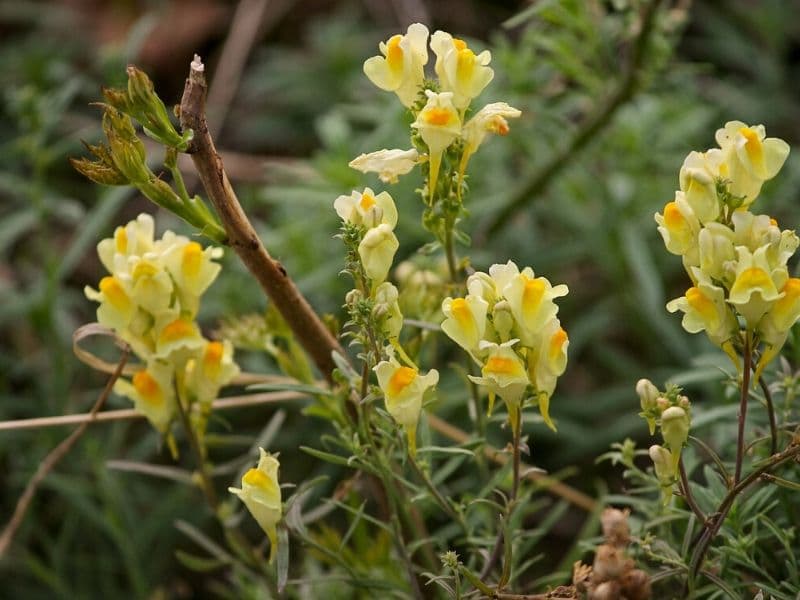 Linaria vulgaris or yellow toadflax got its interesting common name because of the flowers which have buttery yellow petals and yolk-colored center. The contrasting narrow lance-shaped dark green leaves further accentuate the beauty of the clustered flowers (4).
It originated from Europe where it is usually found along roadsides. Although it became a popular border plant, butter and eggs tend to become invasive and outgrow more native plants in gardens.
Some areas in the US have been controlling the use of these plants in the landscaping industry in order to restore prairies. An integrated pest management method is the use of European beetles to feed on the buds of the plant to control their spread.
Closed Gentian
The cylindrical flowers of the closed gentian is one of its peculiar and defining characteristics. The 10-15 deep blue flowers form a compact cluster on top of a light green round stem and thick parallel-veined lance-like foliage. The flowers remain close even at maturity, hence the common name.
Closed gentians or closed bottle gentian are perfect addition to wildflower-themed or rock gardens where they are paired with asters and rhododendrons. They do well in moist soil and partially shaded condition. Gentians are also medicinal plants used to treat malaria and diarrhea (7).
Creeping Jenny
Creeping jenny or lysimachia nummularia creates a vibrant lime green color to the warm autumn season as a ground cover in the garden.
The small round leaves on the long creeping stems create a compact illusion that makes the plant a perfect statement hanging plant as well. The dainty yellow cup-shaped flowers add a sweet touch to the plant upon the arrival of autumn (2).
Creeping jenny is very easy to grow, all it needs is a moist soil and full sun or partial shade and it will continue to extend its stems along its path. When the plant has overgrown, it can be trimmed and the cuttings can be propagated by dipping in water for several days until roots have formed.
Creeping Vervain
This plant loves to grow along streams and ponds where the soil is constantly moist and its roots can readily access water. Creeping vervain is grown in the garden because of the creeping habit that spreads the plant easily, thus making it an effective dark green groundcover.
In the fall, tiny flowers with white petals and dark center appear as if sprinkled to the ground. Despite the being minute, the flowers are frequented by bees and butterflies.
In China, the plant grows almost everywhere that it is considered as a weed instead of as ornamental. But it is also a known diuretic and can treat skin bacterial infections (7).
Crocus Sativus
Crocus sativus is a species of crocuses that bloom in the fall. It bears chalice-like purple flowers and grows on any type of soil as long as there is full sun exposure (3).
The flowers have a sweet fragrance which adds a unique feature in gardens where the plant is used as a border or edging. Aside from its rich contribution to the ornamental industry, this crocus has culinary properties too.
It is also called autumn crocus or saffron crocus, the plant where the famous spice is obtained. The plant produce one flower per bulb and each flower bears 3 stigmas. These stigmas are the source of the expensive culinary spice.
Crossvine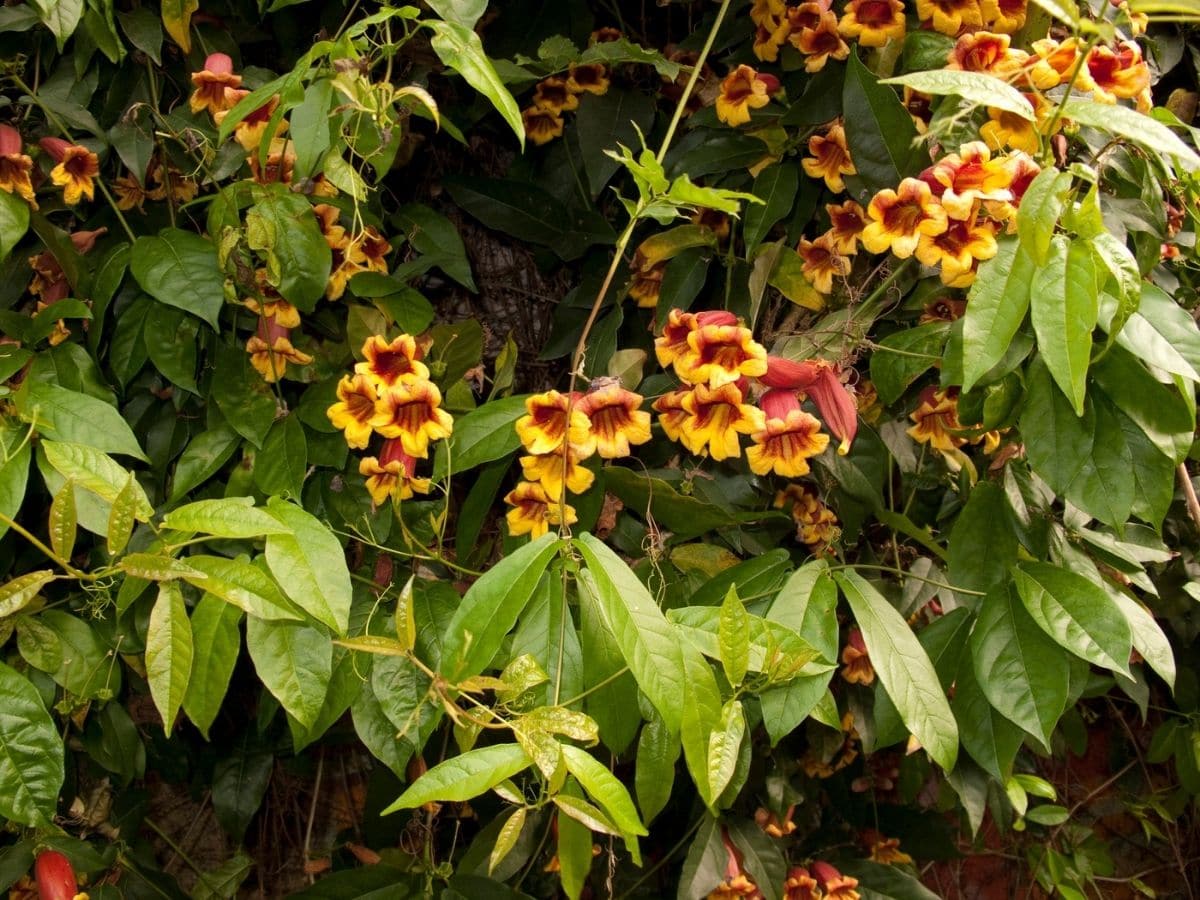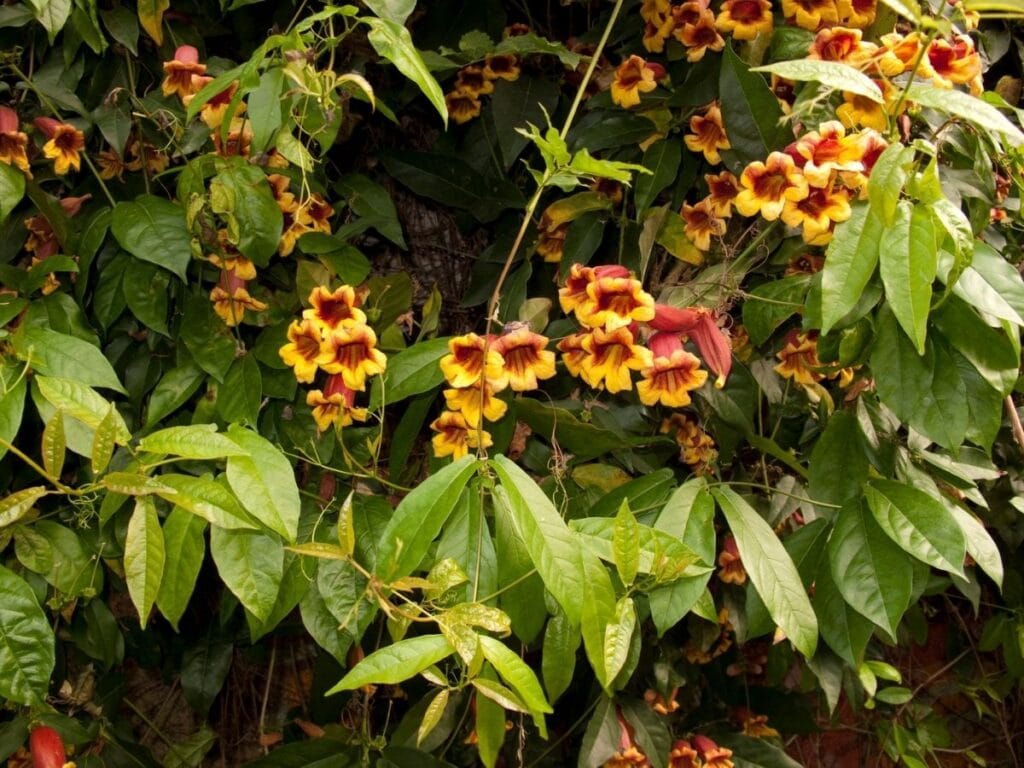 Crossvine, botanically known as Bignonia capreolata, is a true bignonia ornamentally grown for its wonderful cascading effect in the landscape.
The plant has glossy lance-shaped leaves and vine-like tendrils that perfectly grips walls and trellises where the plant eventually climbs. In autumn, this foliage serves a background to the true trumpet-shaped single red and yellow flowers (1).
Crossvines rarely produce a profuse bloom in temperate regions and need the comforts of a greenhouse to thrive but other species like B. capensis and B. australis can tolerate the cold temperatures. They will produce bright flowers as long as there is full sunlight and sheltered growing areas (4).
Cyclamen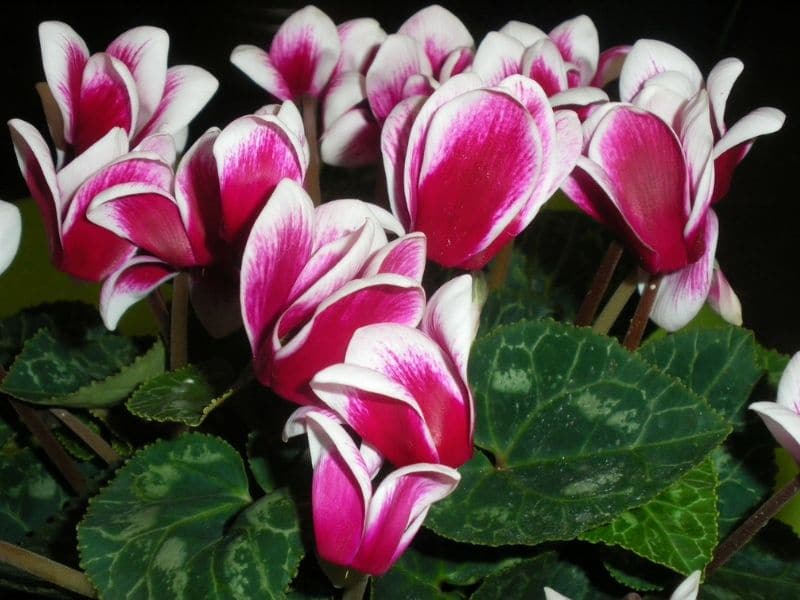 The cyclamen, specifically Cyclamen hederifolium, is a popular autumn flower. It is a hardy perennial that produces stunning pink and white flowers that look like butterflies with closed wings. It also has striking heart-shaped dark green leaves with gray mottling or venations that can be mistaken as ivy (6).
This plant is very easy to grow. It thrives in partially shaded gardens as mass plantings under trees and tall shrubs for along walkways. It tolerates drought and has no serious pests and diseases too.
Dusty Miller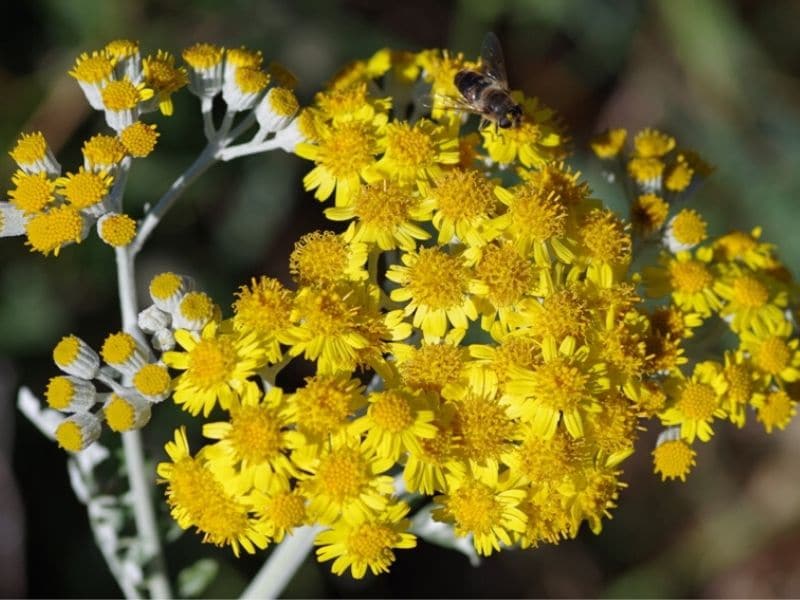 Dusty miller, silver ragwort or Senecio cineraria is grown for its amazing ornamental foliage. The oak-like tender leaves are pale green covered in silvery fine hairs that feel like felt to the touch. The maximum height the soft plant can reach is about two feet and the plant grows as an annual in temperate countries (1).
Come fall, the silvery gray foliage serve as a background to the bright yellow aster-like terminal flowers. Dusty millers definitely brings a character to the garden. They fit well in sunny areas and well-drained soil conditions. The light foliage mixes well with other colored plants like tradescantia and fescue.
False Heather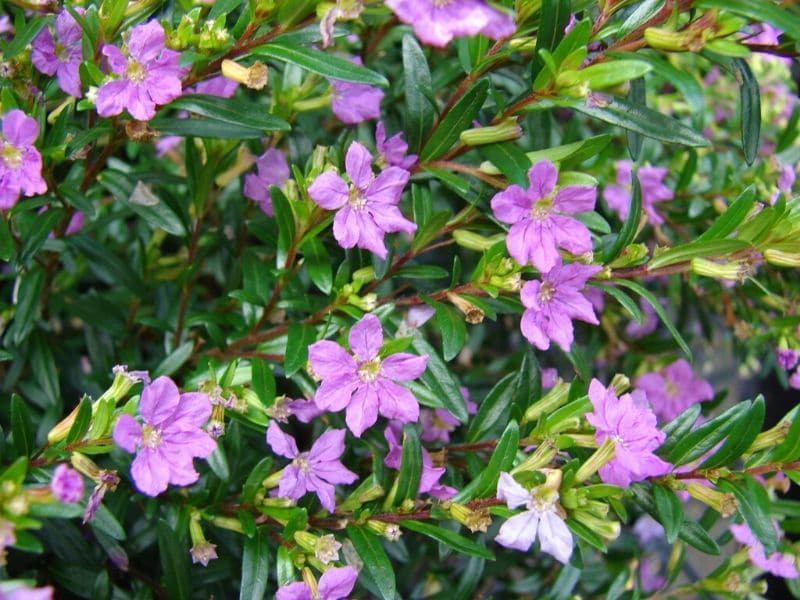 The dainty lavender flowers alternately blooming in between the sprawling long leaves give the false heather (also known as Mexican heather or Cuphea hyssopifolia) the appearance of the heather plant, hence the common name false heather.
This plant actually belongs to the family Lythraceae and makes a good container, low border plants or edging along walkways.
False heathers grow in average to well-drained soil and under full sun. In temperate regions, the plant is an annual but it thrives well in tropical areas, blooming year after year. There are varieties with white and pink flowers and when they are planted together, they make the autumn season more colorful (1).
Forget Me Not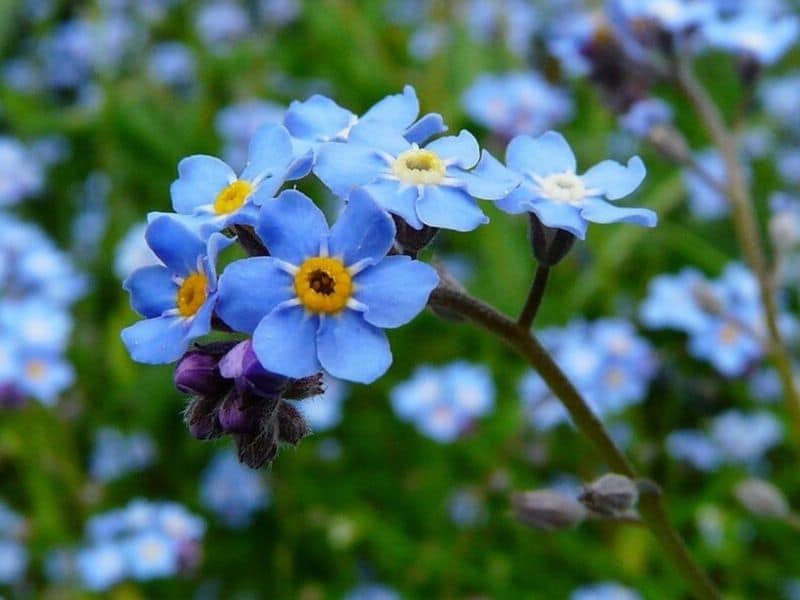 Plumbago auriculata shares the same common name as the Myosotis because of the floral head composed of 5-petaled blue flowers. Plumbagos tend to be more delicate and compact with broader leaves and the plant generally has a sprawling or climbing habit.
This forget me not is an evergreen plant flowering vigorously. The showy flowers serve as an accent or background in gardens. Because of the cascading effect, plumbagos are often planted in raised planters where their beauty can be appreciated at eye's level (8).
Fried Egg Flower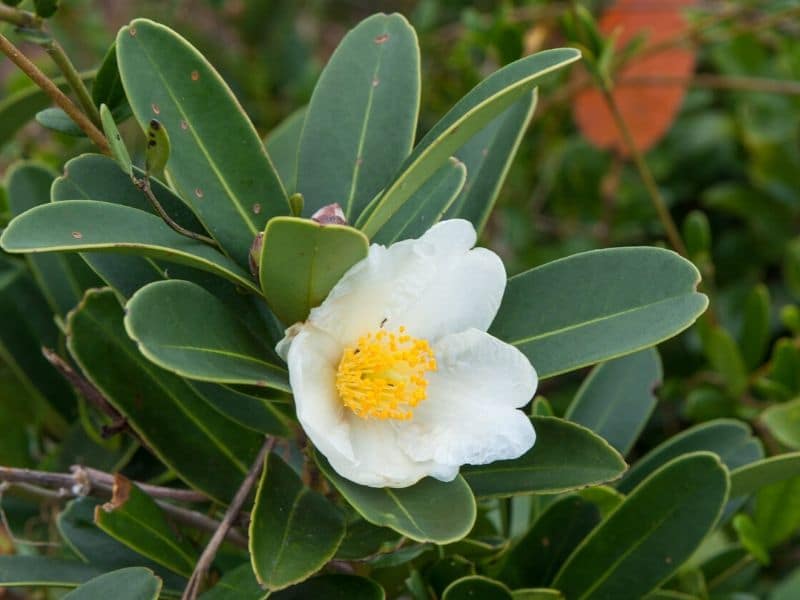 As the name suggests, this plant produces flowers that look like fried eggs cooked sunny side up! The overlapping white petals surround the tuft of yellow stamens and altogether look strikingly classic, at the same time, delightful. These flowers are borne on a tree with glossy green ovate leaves.
Also called Gordonia axillaris, this plant is generally free from pests and diseases although difficult to propagate. It is a very old garden plant usually grown to provide shade and home to birds.
The cuttings are hard to root and the plant is a slow-grower but once established, gardens will always be filled with the beautiful flowers throughout the fall season (6).
Gladiolus 'Autumn Red'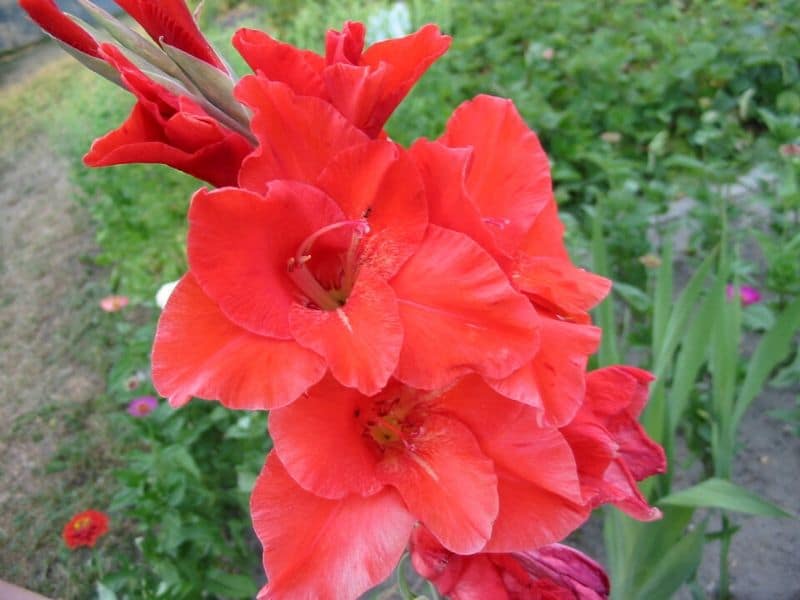 An addition to the reddish hue of autumn, Gladiolus 'Autumn Red' produces tall stalks of deep red showy flowers. The blooms last the whole season attracting bees and butterflies in the garden. This variety of gladiolus is a perfect seasonal screen, edging, and foundation plants as well as mix border (8).
Another species of gladiolus that gives an elegant autumn bloom is the G. murielae. The large fragrant white flowers form at the end of long slender stalks creating a sophisticated garden appeal.
Globe Amaranth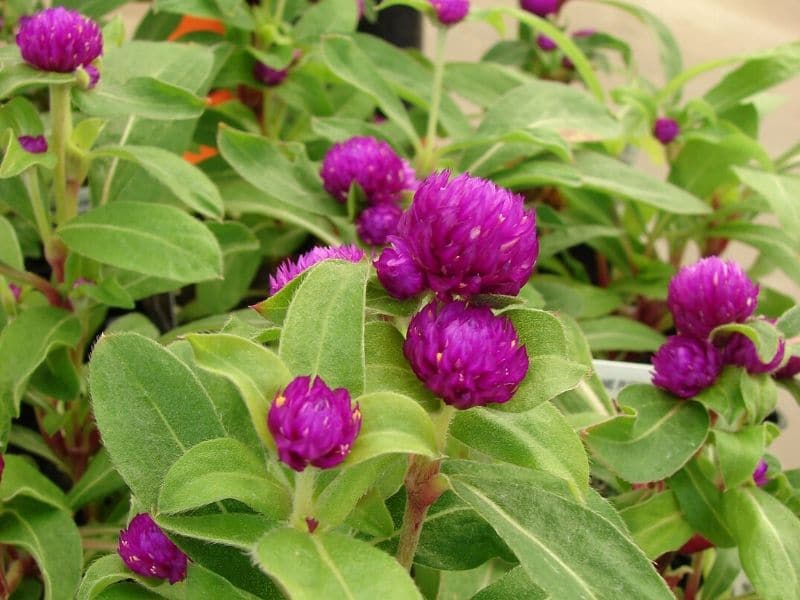 Gomphrena globosa or globe amaranth is a strong addition to the garden as groundcover or bedding plant. It produces small balls of flower heads in deep purple, orange, white, and red that look stunning on the garden floor in autumn (1).
Globe amaranths retain their color and form even when dried which makes them perfect as cut flowers. They are often used in everlasting flower arrangements and in Hawaii, the dried blossoms are used to make leis. The vibrant flowers are also used to make tea that is believed to treat coughs, diabetes and some reproductive problems.
Globe Artichoke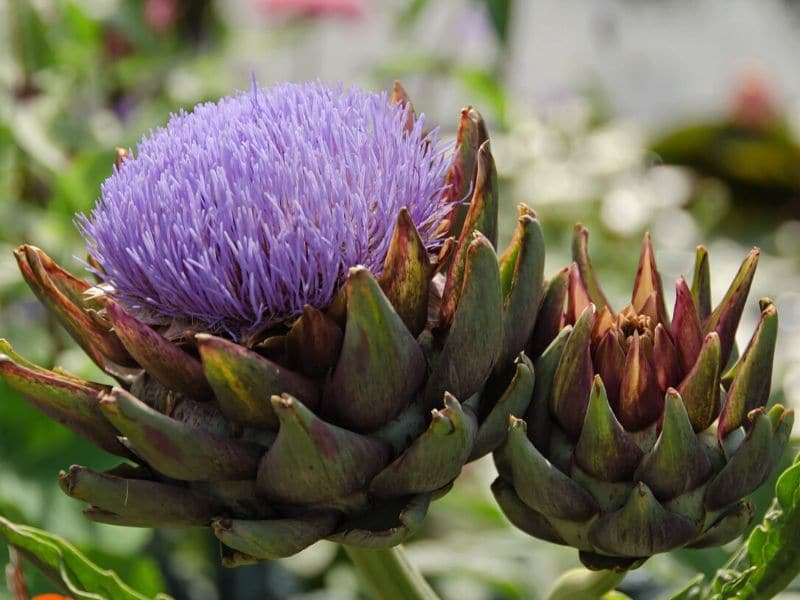 Artichokes are known for their culinary use but they are also some of the plants that bear unique flowers in autumn. The edible flower bud of the globe artichoke looks like a pinecone on top of a thick stalk that grows silvery leaves downwards. In autumn, the buds that are allowed to open produce hundreds of purple thistles that are fragrant too (1).
Globe artichokes are perennial and can last up to 5 years in the garden. They will bloom throughout their lifespan as long as there is full sun exposure and well-drained soil.
The plant is soft like a succulent which makes it prone to attacks of slugs and fungi. Egg shells scattered on the immediate ground and neem oil are effective solutions to these pests.
Golden Eardrops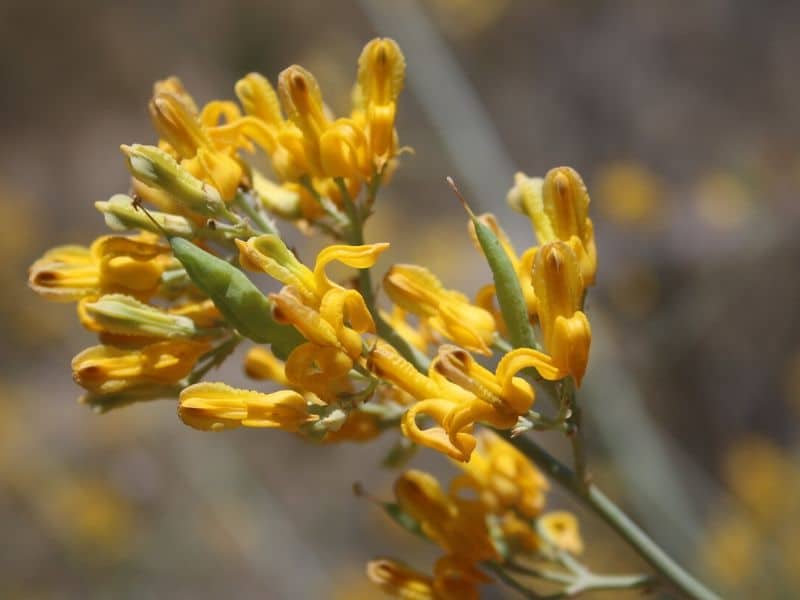 A member of the poppy family, the golden eardrops do not resemble the poppy flowers but they are known to grow in dry, brushy areas like wildflowers as well (7).
This perennial plant can reach up to 1.5 meter high with a leggy growth and patchy grayish-green waxy leaves. What makes the plant worth looking at are the golden flowers that look like the French emblem, fleur-de-lys.
Goldenrod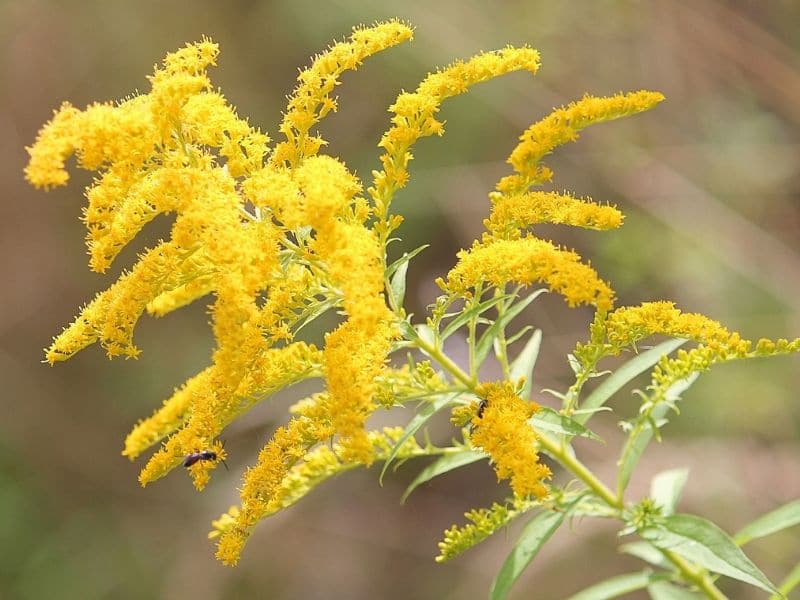 Commonly found in meadows and prairies, the goldenrods or solidagos are wildflowers that love the open space and full sun exposure. It was introduced to the world as an ornamental plant because of the elongated clusters of tiny flowers that gives autumn the golden color. Some people might confuse the goldenrod with ragweed.
Because of its carefree growth, the golden rod may become weedy and overcrowd the garden. It is advisable to contain its growth in pots or if planted as border, the plant should regularly be trimmed.
The flowers produce pollen that may pose allergic reactions so it is best to consider the conditions before using goldenrods in the garden (1).
Golden Shower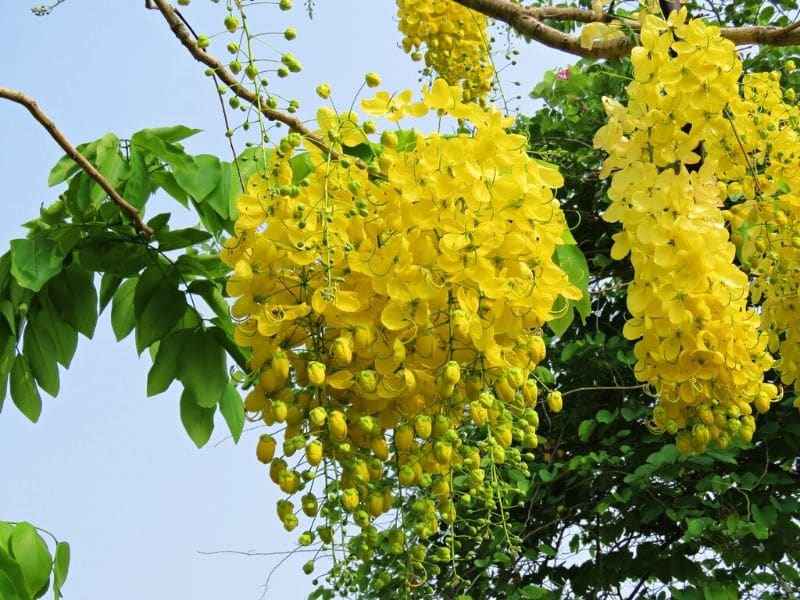 Cassia fistula or more commonly golden shower is a leguminous tree that can reach up to 10 to 15 meters high. The branches are usually seen clothed with dark green ovate leaves but come autumn, the green tree magically transforms into golden hue. Large airy clusters of flowers appear as chandeliers hanging from the droopy branches of the tree (9).
The name golden shower was coined because the flowers sway with the autumn breeze and the falling petals showers anyone who passes by the tree.
They are popularly grown in the center of parks or along sidewalks. In residential spaces, the branches should be regularly prunes as the tree can develop a wide canopy.
Heartleaf Oxeye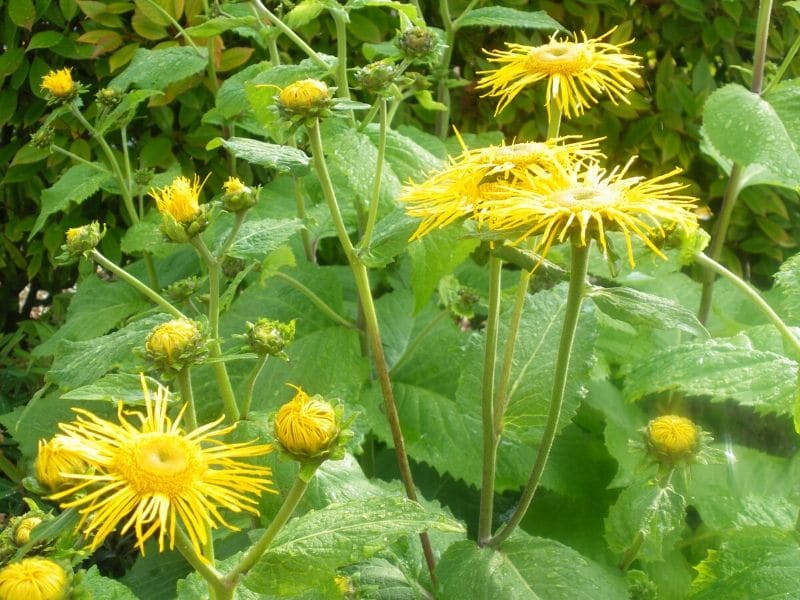 A member of the aster family, the heartleaf oxeye or telekia speciosa produces sunflower like blossoms with spindly petals and yellow-orange center disc instead. The big heart-shaped leaves are thin and aromatic. It originated from Europe where it blooms in partly shaded areas and moist well-drained soil.
Heartleaf oxeye stems can reach up to a meter high and since they are thin and herbaceous, installation of support may be needed. Placing them in the garden will definitely attract bees and butterflies but as soon as the flowers dry, they should be removed to promote vigorous flowering next season (7).
Heather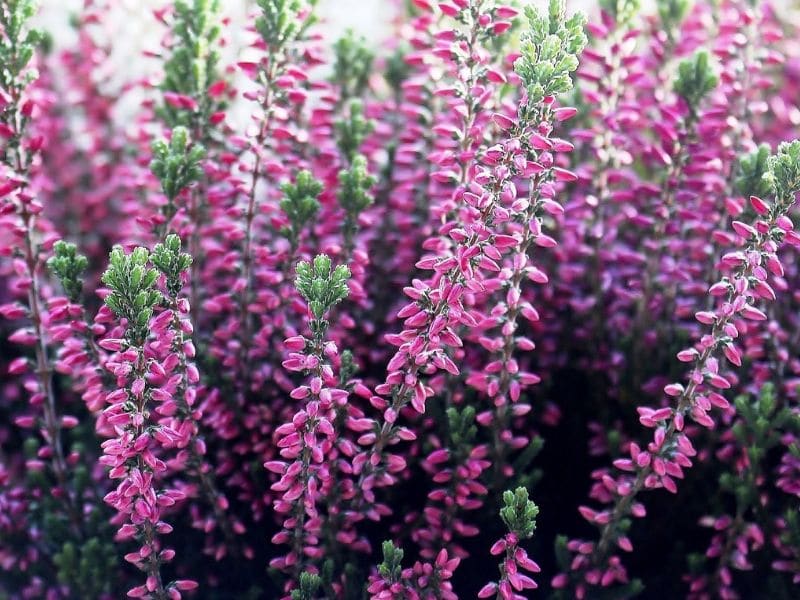 Heather is characterized by the thick mats forming the low-growing shrubs. It is made up of overlapping small leaves on long stems that produce pink or lavender small flowers in mid-fall. The dark green leaves turn grayish during the blooming season which adds to the unique beauty of the plant.
There are around 800 cultivars of heather or Calluna vulgaris and some of the popular ones include 'Alba' with white flowers, 'Aurea' with pink flowers and yellow foliage, and 'Mrs. Pat' with light purple and attractive pink leaves (1).
Hens and Chicks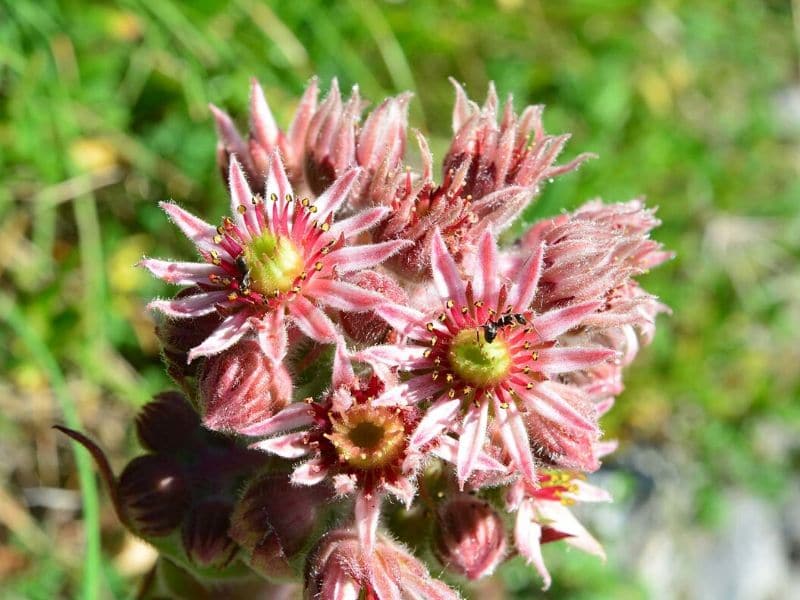 Sempervivum tectorum is a popular easy to grow succulent plant that can be planted in small pots indoors or in rock gardens. It is a very hardy plant that thrives under full sun and has a developed drought tolerance. The scientific name means "live forever" because the plant can endure and remain evergreen even with extreme weather (1).
The fleshy foliage of the plant is arranged in a rose-like form. The green leaves with reddish tips are attractive by themselves but in autumn, the mature plants produce pinkish star-like flowers atop a weird looking thick stalk. The common name was derived from the appearance of the mature plant (hen) with the smaller offsets (chick).
Himalayan Honeysuckle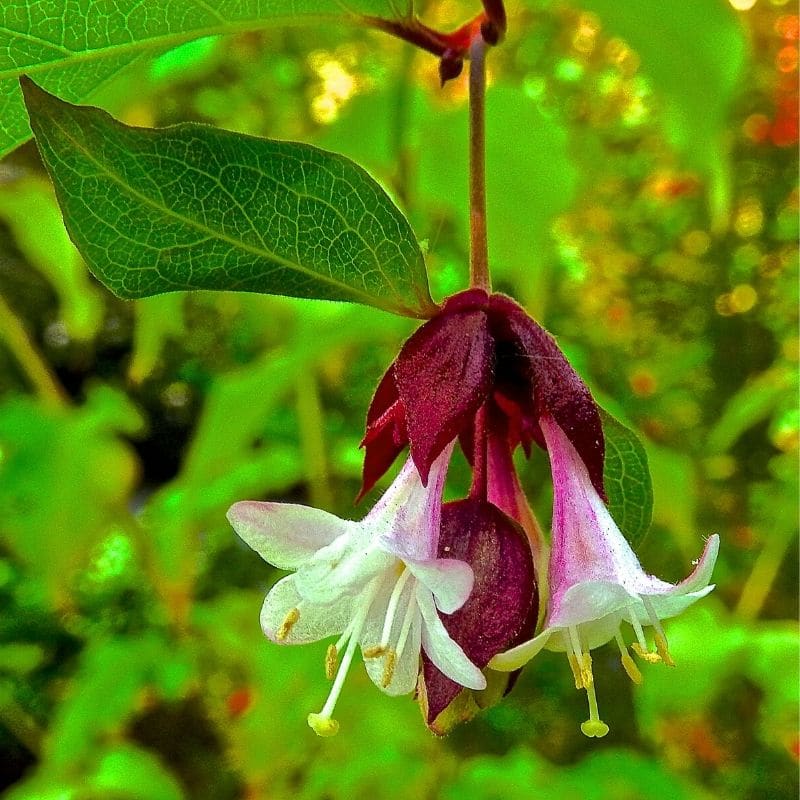 As the name suggests, this honeysuckle species was originally found in the Himalayas. It is a perennial shrub that has heart-shaped leaves forming along the hollow stems. The terminal flowers are drooping with unique scale-like reddish bracts and a white funnel flower at the tip.
The carefree Himalayan honeysuckle is commonly used as a garden screen or hedge because of the multi-stemmed bush that has a compact growth. However, this plant grows rapidly and the berries produced are easily dispersed by birds so it is sometimes considered as invasive. Himalayan honeysuckle can be planted in the garden as long as their growth is controlled (10).
Japanese Toad Lily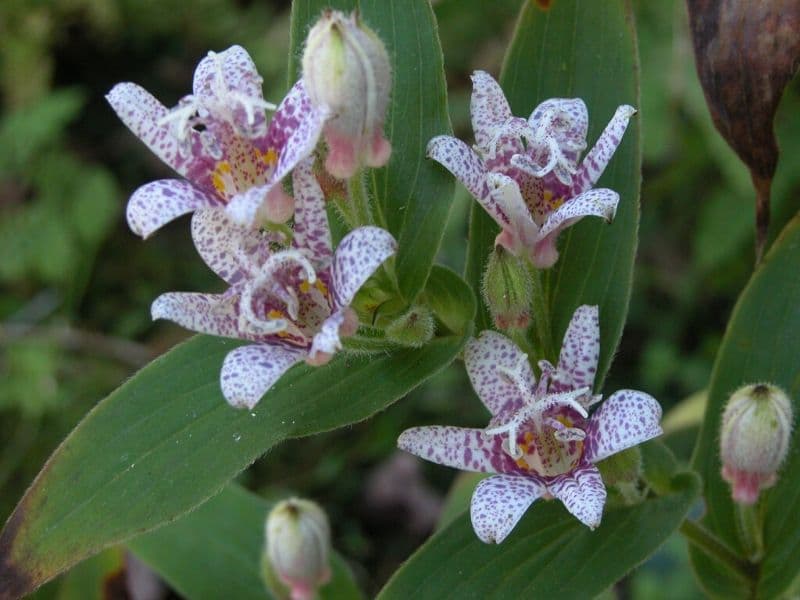 An exceptional autumn bloom, Japanese toad lily or Tricyrtis hirta bears clusters of white with magenta speckles lily-like flowers. They form at the tip of a slender arching stems. All parts of the plant is covered in trichomes or hair-like structures which feels itchy when touched (7).
Japanese toad lilies are oftentimes planted as borders in shaded areas but the beauty of the small flowers is better appreciated when the plant is grown on raised planters.
The common name is said to have originated from the Philippines where the flower is crushed and rubbed on the palms before frog hunting because frogs are attracted to the scent of the flower.
Michaelmas Daisy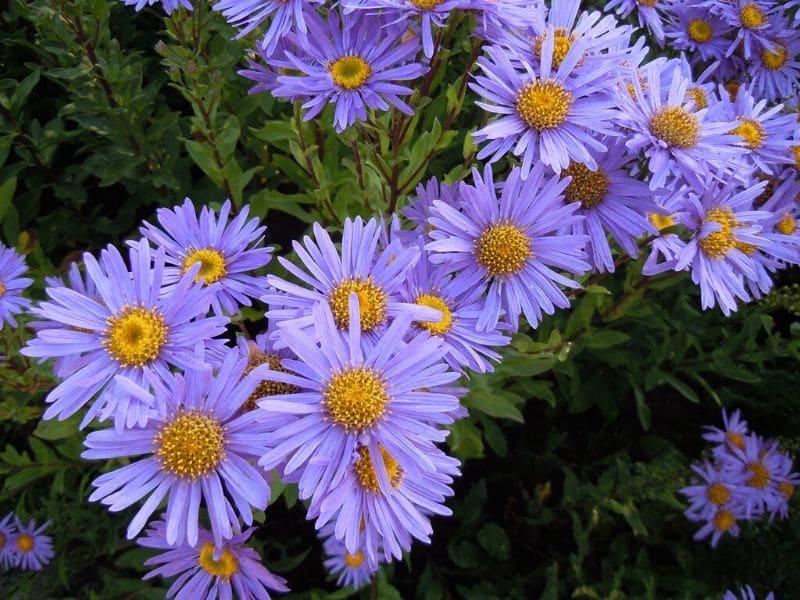 Also called autumn aster or aster amellus, Michaelmas daisy is a star-like purple flower that blooms spectacularly just in time to celebrate the Feast of St. Michael and All Angels. In the wild, this plant grows vigorously along shores and ditches where the soil is fertile and moist and the sun is fully shining.
Michaelmas daisy is actually a cross between the New York aster and the panicled aster. The resulting perennial daisy is used by gardeners as border or edging because of the compact growth (7).
Monarch of The Veld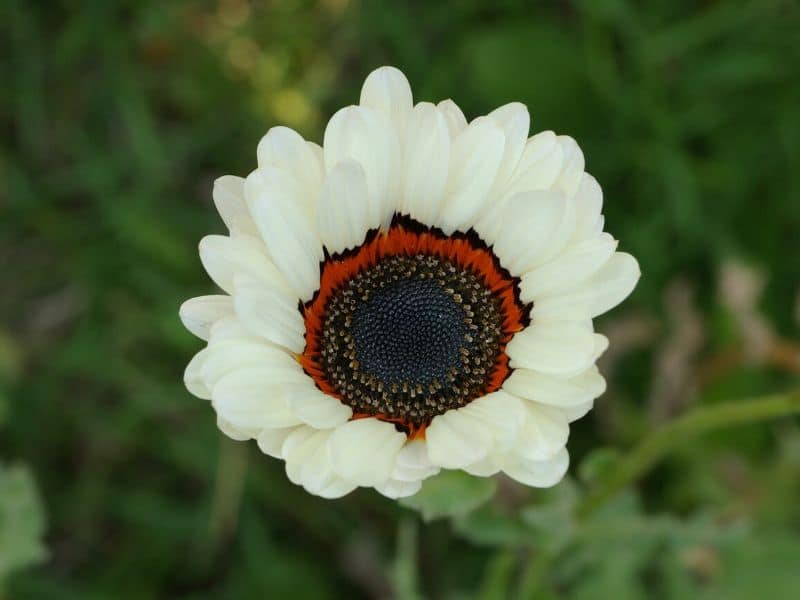 Monarch of the veld or arctotis fastuosa originated from South Africa and upon its introduction to the US and Europe, the flower became an instant hit because of the flamboyant white petals encircling the almost black center disk. The large showy flowers become the accent as garden borders in autumn and they also adorn seasonal floral bouquets (1).
The heady monarch of the veld has been cultivated throughout history and has produced a number of commendable varieties. 'Pumpkin Pie' has strong red-orange petals, 'Wine' has pinkish petals fading to white with white center, and 'Flame' has pointy bright orange petals and golden center.
Monkey Flower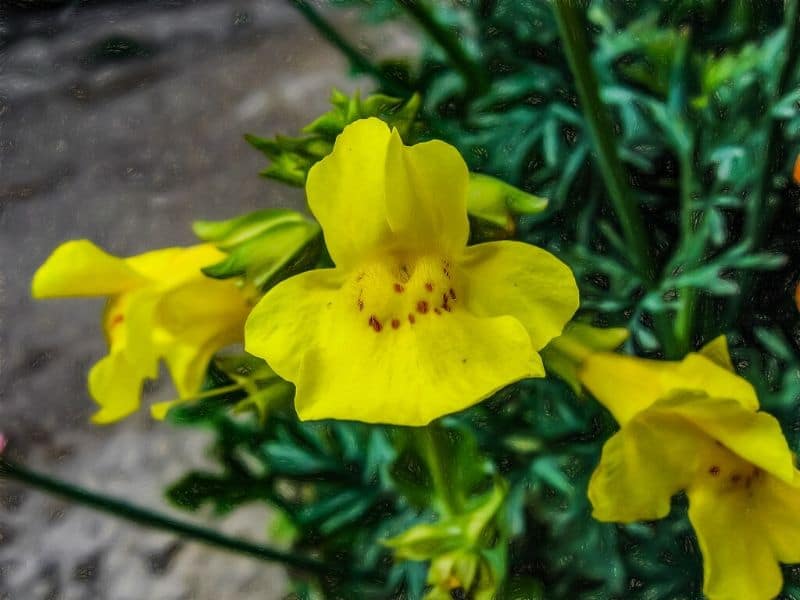 Mimulus is a derivative of mime or the grinning actor. This is a name given to the genus of plants bearing flowers that look like smiling lips. There are over 100 mimulus species which are mostly bright yellow and M. lewisii commonly known as monkey flower can be easily identified for its pinkish-purple flowers.
The monkeyflowers plant was discovered in the 1800s in the western North America by Meriwether Lewis to whom the plant was named after. Upon its discovery, the plant was used to study plant reproduction by pollinators (8).
Mum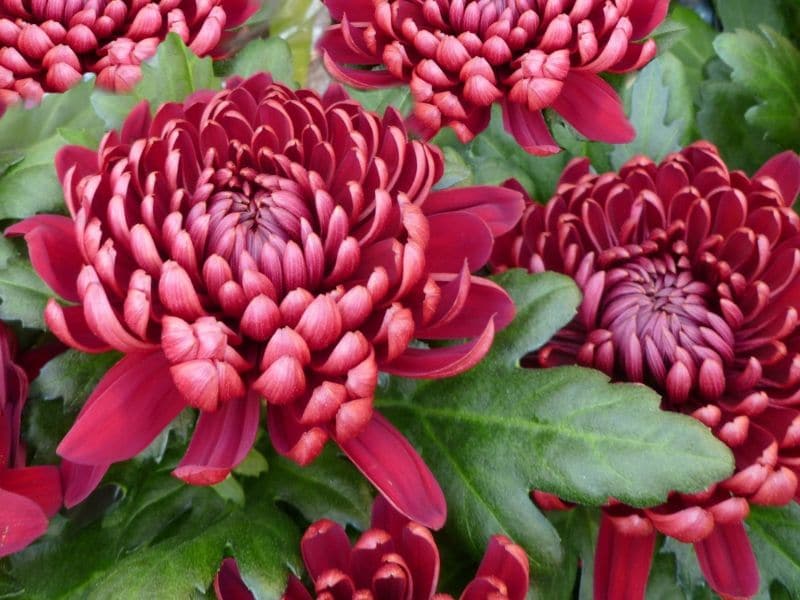 One of the most popular flowers in the floriculture industry, chrysanthemums or mums gives us long lasting colorful flowers. It's one of the best autumn wedding flowers.
There are about 5000 cultivated mums most of their flowers are observed in late summer. A gardening practice called pinching where the emerging new buds are pinched to promote more blooms factors in the abundance of the flower (8).
Mums are some of the symbolic flowers that people use in bouquet making and flower arrangement. There are hundreds of varieties and some colorful and charming ones include peach colored 'Coral Charm', fringed 'Vesuvio' with single row of tubular petals, and bizarre bright yellow-tipped 'Golden Pinwheel'.
New York Ironweed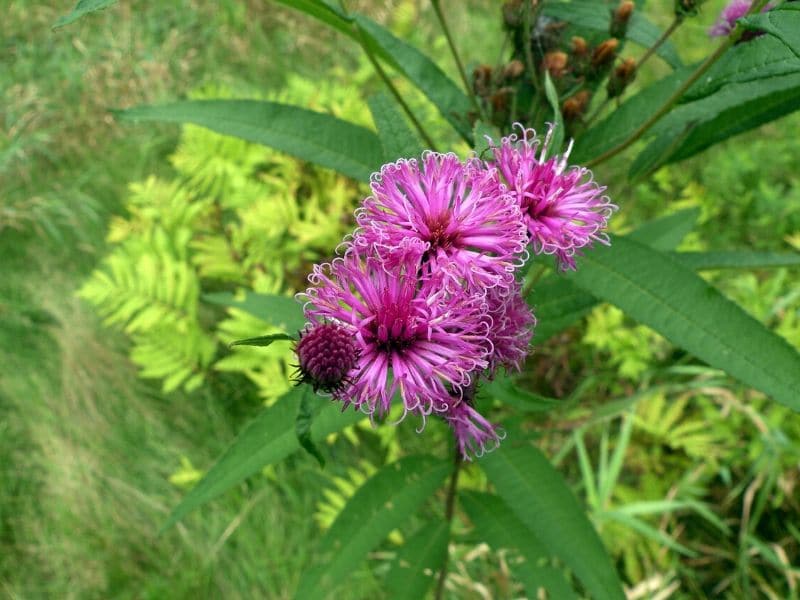 Vernonia is the genus of the plants collectively known as ironweeds. V. noveboracensis is a species also known as New York ironweed called such because it was believed to have been first recorded in New York.
The plant has narrow dark green leaves that are alternately arranged along the branching soft slender brown stems. What distinguished the plant among others are the clustered terminal flowers that blooms into a vivid purple color (7).
The eye-catching blooms can be seen all over the garden from August to October. Some gardeners perform pinching on the plant to make the plant bushier and bloom profusely. New York ironweeds love wet soil and full sun. You can find them in the wild along riverbanks and streams.
New Zealand Flax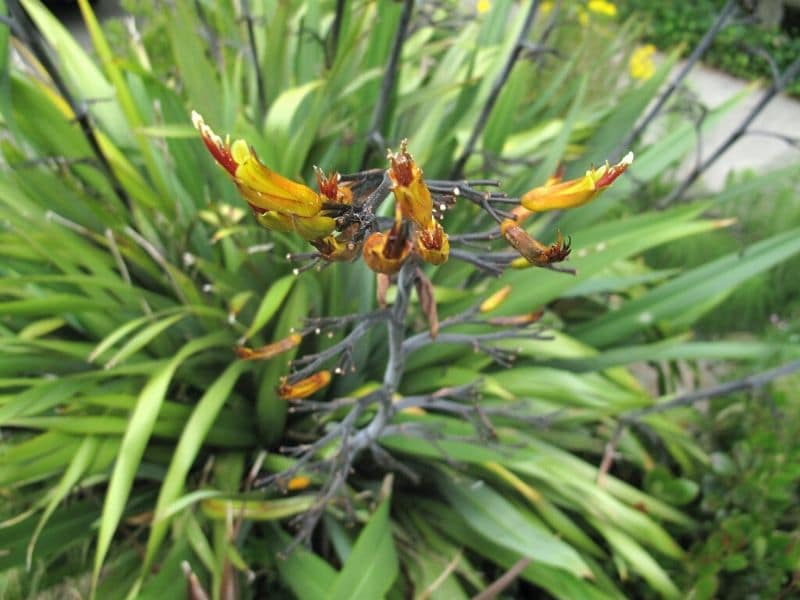 The tall sword-like, oftentimes variegated leaves of the New Zealand flax make the plant stand out in the garden.
When planted in the ground, this plant will grow and reach up to 3 meters tall but smaller ones can be treated as container plants too. Once the plant has matured, long stalks will appear bearing reddish tubular flowers with yellow stamens peeking from the tips.
The plant is scientifically called Phormium tenax and got its common name from its flax-like use as linen or rope in New Zealand (1). In the landscape, New Zealand flax creates a dramatic effect especially when planted with smaller shrubs like geraniums and coreopsis.
Obedient Plant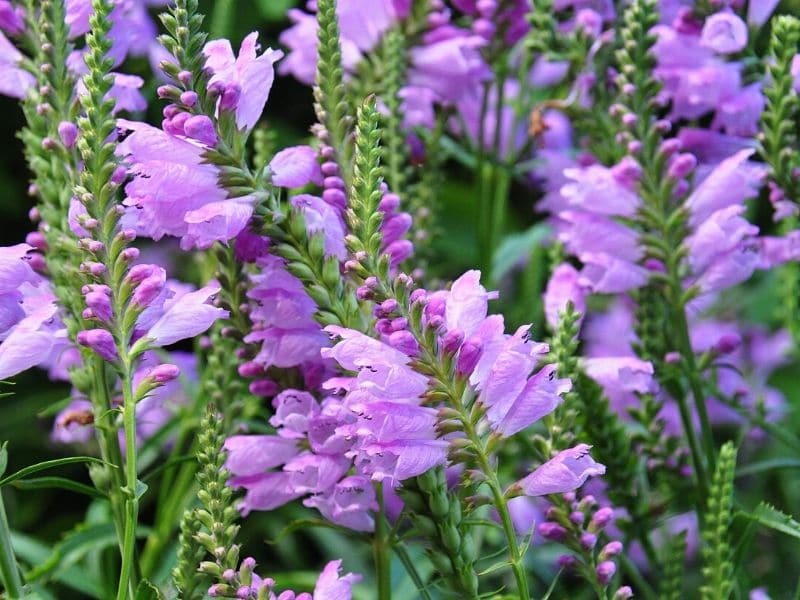 A vigorous perennial plant, Physostegia virginiana is native in North America often found growing in woodland edges, meadows, and prairies where the soil is moist and there is full sun exposure. It is known for its soft lance-shaped leaves forming the base of the plant where long floral stalks of spiky pinkish purple flowers and flower buds sprout (11).
The common name obedient plant came from the tendency of the plant's individual florets to stay in place even after being replanted. Most plants sold in the nursery have purple flowers but the wild species are commonly white.
Parrot Bush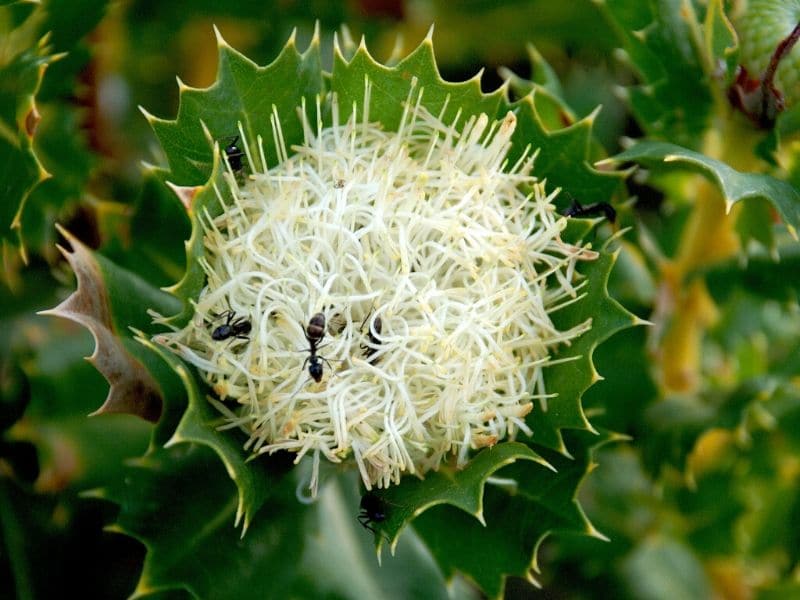 Banksia sessilis is a shrub, sometimes tree species that is endemic to Western Australia. It is a hardy and prickly plant able to tolerate drought and snowy conditions. The thick leaves are holly-like arranged on a circular pattern and in the middle grows a big tufted yellow flower.
The plant is rarely used in the garden, probably because of its difficulty to handle (10). There is actually no known horticultural value to this plant except that the flowers produce a lot of nectar from which bees and parrots feed on. This is the reason behind the common name, parrot bush.
Peruvian Lily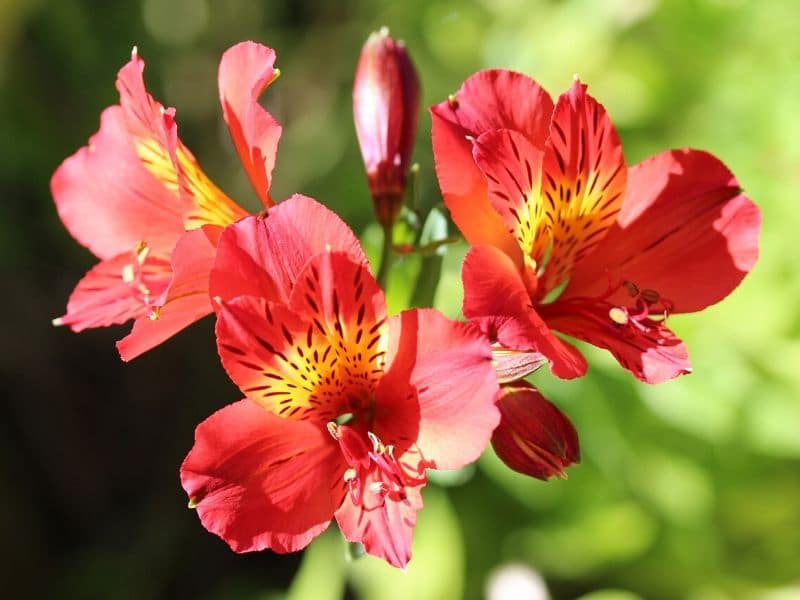 Alstroemeria, commonly called Peruvian lily or lily of the Incas, is a popular cut flower, one that is exotic-looking and long lasting.
The overlapping lily-like petals come in different shades of pink, purple, white, orange, and yellow and two or three of those petals have brown striation. It lasts up to 2 weeks in a bouquet and in the vase (1).
Peruvian lilies are not true lilies. They come from tuberous roots that grow sideways, spreading the plant year after year. They are low-maintenance plants that thrive as bedding, border, or container plants. Among the remarkable varieties are 'Princess Diana', 'Butterscotch', and 'Flaming Star'.
Princess Flower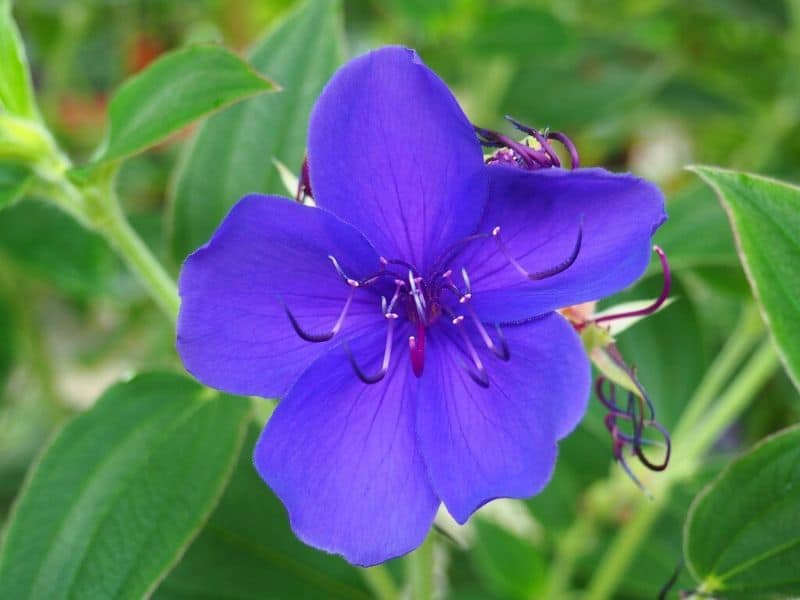 A perennial evergreen plant, Tibouchina urvilleana or Princess flower grows as a tall shrub vigorously producing large hairy oval dark green foliage. In autumn, the plant bursts into a bright royal purple color from the eye-catching 5-petaled flowers. Some use the plant as edging to walk ways and others prefer the plant potted.
Princess flower prefers a slightly acidic, well-drained soil and full sunlight. The plant has soft stems and needs to establish roots during its first growing season to develop a sturdy growth. Common practices are frequent watering and mulch application to keep the soil moist and cool (7).
Purple Fountain Grass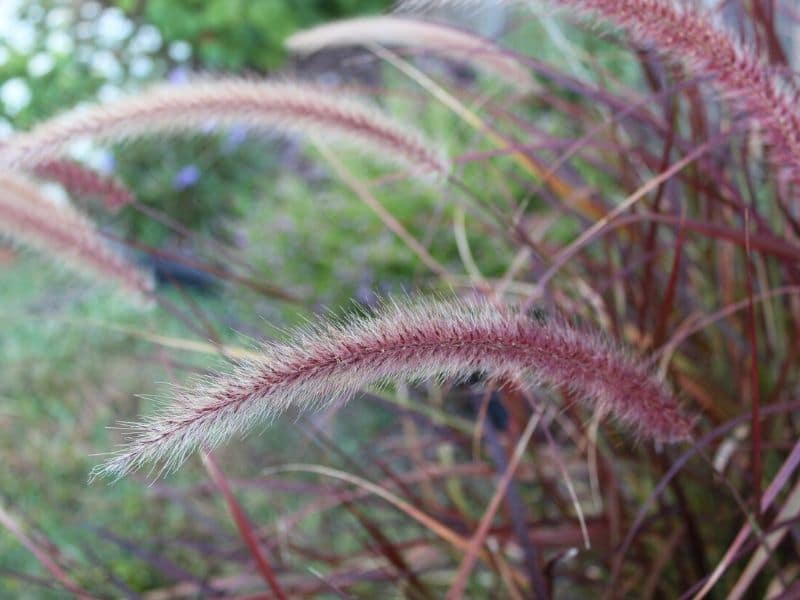 One of the few ornamental grasses used in creating landscapes, the purple fountain grass adds color and wild vibe to the garden. The burgundy grass blades are a striking contrast to the otherwise green garden. The fuzzy tail-like brown flowers grow taller than the grass and sway with the autumn wind (11).
Purple fountain grass is a perennial plant but it does not survive the cold winter. It is better to plant them in more favourable areas if you want to maintain the grass year after year. The grass has a striking soft effect to the garden when planted in masses as border or under tree canopies.
Pitcher Plant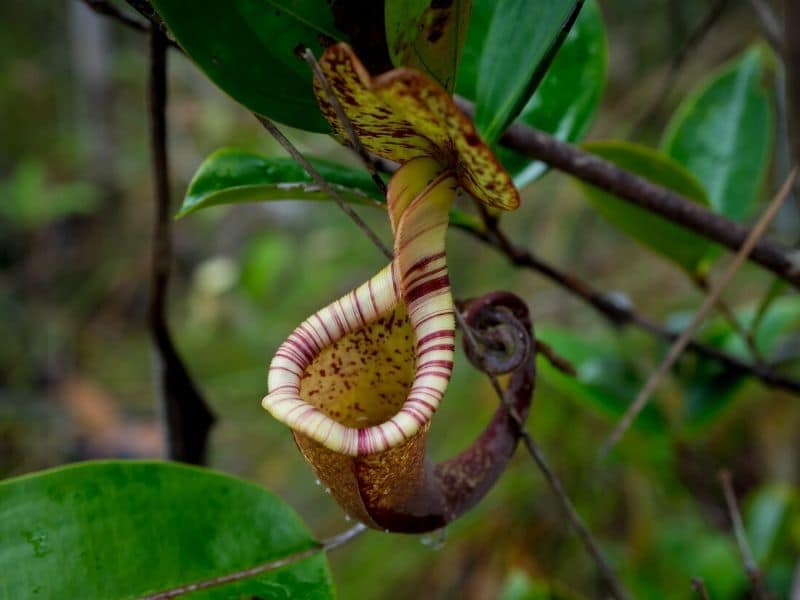 Pitcher plants are known as carnivorous plants. They have distinct specialized leaves that look like pitchers which they use to trap and digest flying or crawling insects. They are usually found near swamps and bogs where the soil is deficient in nitrogen so they obtain nutrients from the decomposing insects trapped in the pitchers instead.
Aside from this amazing plant feature, pitcher plants also produces unique flowers that are eye-catching as well. A globular fleshy green disc surrounded by maroon petals appear at the end of a thick stalk. Pitcher plants are rarely used as ornamentals but collectors plant them in moist gardens where they provide tropical, out of this world effect (8).
Sea Lavender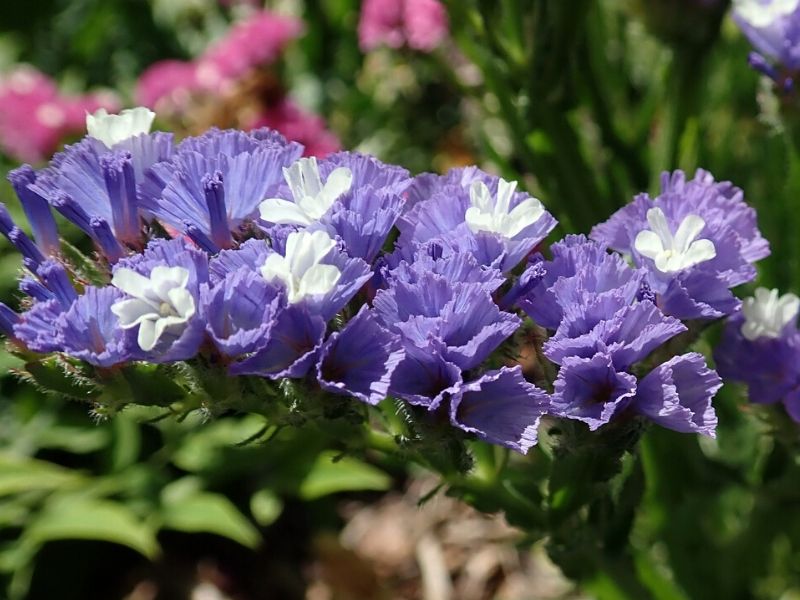 Limonium or sea lavender is an herbaceous perennial that naturally grows by the sea. The plant starts out with basal curled lance-like green leaves and as autumn approaches, slender stalks sprout bearing groups of hundreds of purple, sometimes yellow, and pink florets (1).
These flowers are everlasting, often used to make amazing soft bouquets. They can last up to 30 days in water-filled vases! They do not easily lose their color so the flowers can also be used in dried flower arrangement. Sea lavenders are wonderful as medicinal plants as they can treat chronic laryngitis, pulmonary haemorrhage and diarrhoea.
Sedum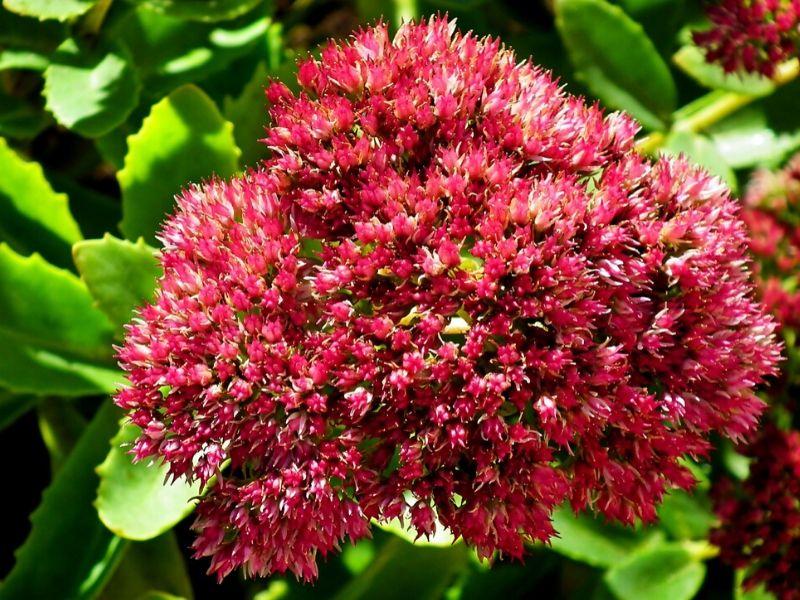 Sedums are succulent plants that last for years even when the weather is unfavourable. They are hardy plants that have been a go to for landscapers in creating trendy roof gardens because they can thrive with little maintenance and still help minimize energy consumption and keep the building cool (1).
Sedum 'Autumn Joy' not only bring lasting green leaves in fall but provides a spectacular show of pink and red flowers too. It is a no-brainer garden border or seasonal edging to path walks. If the plant grows too high, stems can be cut and used as propagules which are easy to root.
Snakeroot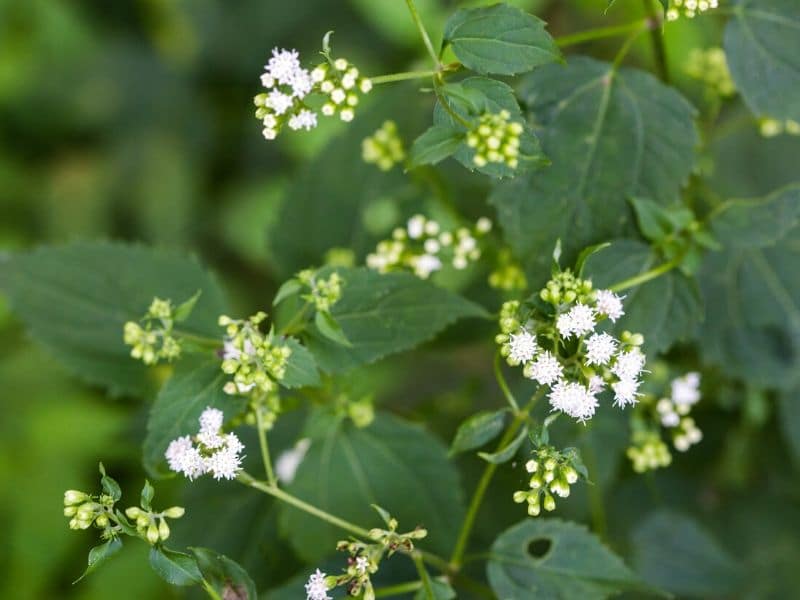 Snakeroot is a traditional remedy for snake bites, hence the name. It is scientifically known as Ageratina altissima and is a member of the aster family. It grows in the wild, usually in rocky areas and was introduced as a garden plant because of the ease of growing and the dainty flowers that make gardens more natural and less man-made.
The fluffy white flowers are tiny but they are very attractive to bees and butterflies. Like dandelions, the mature flowers are easily carried by wind which makes the plant grow weedy in tropical to semi-tropical areas. The plant contains toxins which when eaten by cows will make their milk unsafe for drinking.
Sneezeweed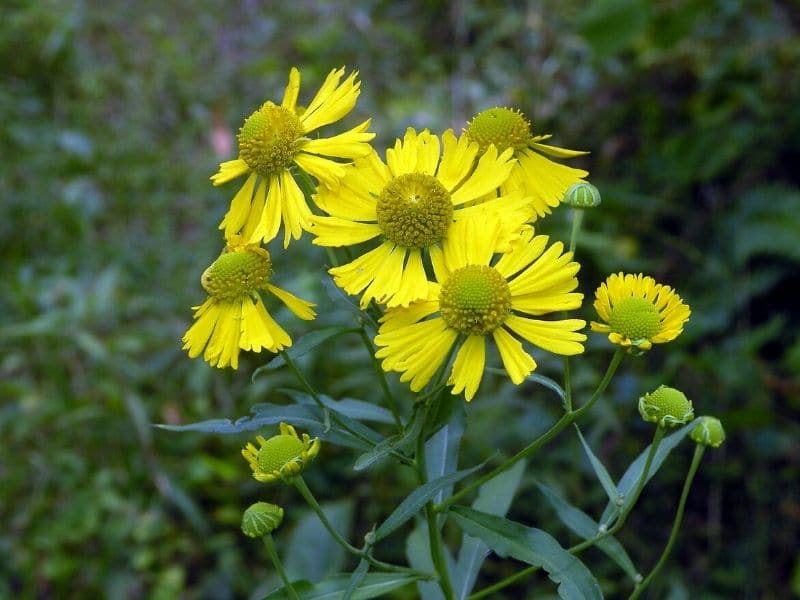 Another member of the aster family, sneezeweed or Helenium provides the garden a colorful bloom in autumn, when the other plants are starting to fade. H. autumnale have wedge-shaped yellow petals surrounding a rounded golden center. Once dried, removing them will extend the flowering period of the plant (1).
Sneezeweeds are named as such because they were used in concocting remedies for sneeze. The scientific name, on the other hand, is a nod to Helen of Troy as a Greek legend tells of how the flowers sprung where Helen's tears fell during the Trojan War.
Soapweed Yucca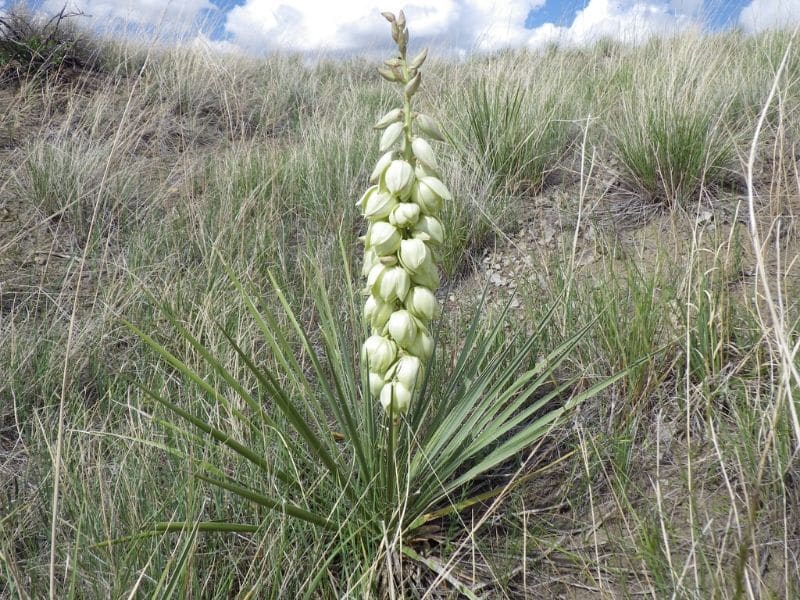 Soapweed yuccas (or Yucca glauca) have many industrial roles such as the use of the hard leaves in producing fibers for baskets and sandals and the use of saponin-rich roots in making soaps and shampoos. They are also excellent specimen plants in the garden with their large dagger-like leaves.
As the plant matures, it produces an elongated cluster of greenish-white flowers that look like closed cups. These flowers are pollinated by moths alone which in turn feed on the resulting yucca fruits (6).
Spindle Tree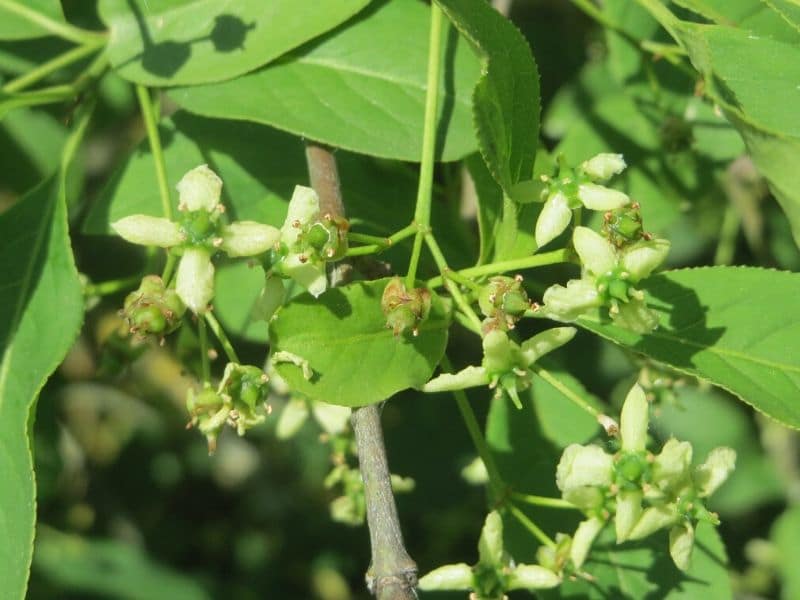 European spindle trees are scientifically called Euonymus europaeus and are actually upright shrubs that can reach up to 3 meters high. The multiple stems produce oval dark green leaves and in late spring, panicles of tiny yellow-green flowers appear.
In autumn, these flowers are transformed into bright pink lobed fruits that give the plant its seasonal striking appearance (1).
The spindle tree is also called 'Mother of the Furies' because all parts of the plant is toxic to humans and when consumed in large amounts, can lead to death.
St. John's Wort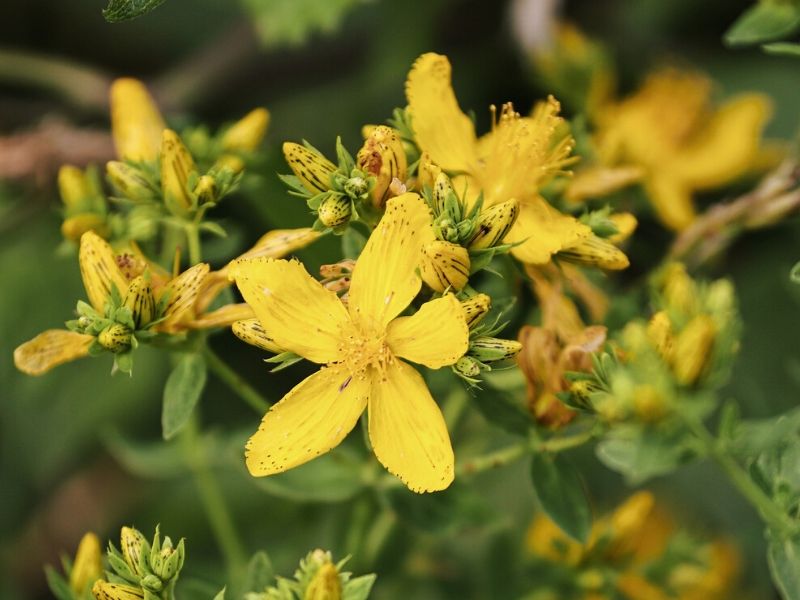 St. John's wort originated from Europe and Asia and spread throughout the globe because of its ideal ornamental characteristics. The stems of the plant are soft and bears alternately arranged ovate green leaves. Single flowers that form at the end of each stems yellow-petalled with black speckles (1).
St. John's wort does not have a lot of pest and disease incidences. They are fairly easy to maintain and very effective as borders in the garden.
Tuberose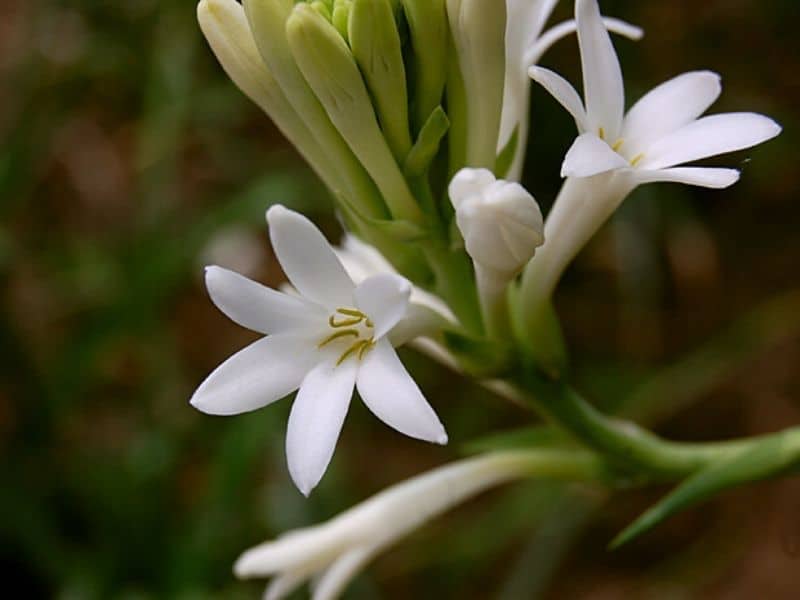 A Mexican original, tuberose or agave amica is suited for warm sunny areas, may it be in the ground or potted. The bulbs establish well in moist soil allowing the plant to produce its narrow sword-like leaves. Come fall, hyacinth like flowers appear and produces a strong sweet fragrance.
Tuberoses do not perform well in winter. As soon as the cold winds are felt, the flowers wither and the leaves turn yellow. This is the best time to dig out the bulbs to be kept in the nursery and replanted in early spring (1).
Turtleheads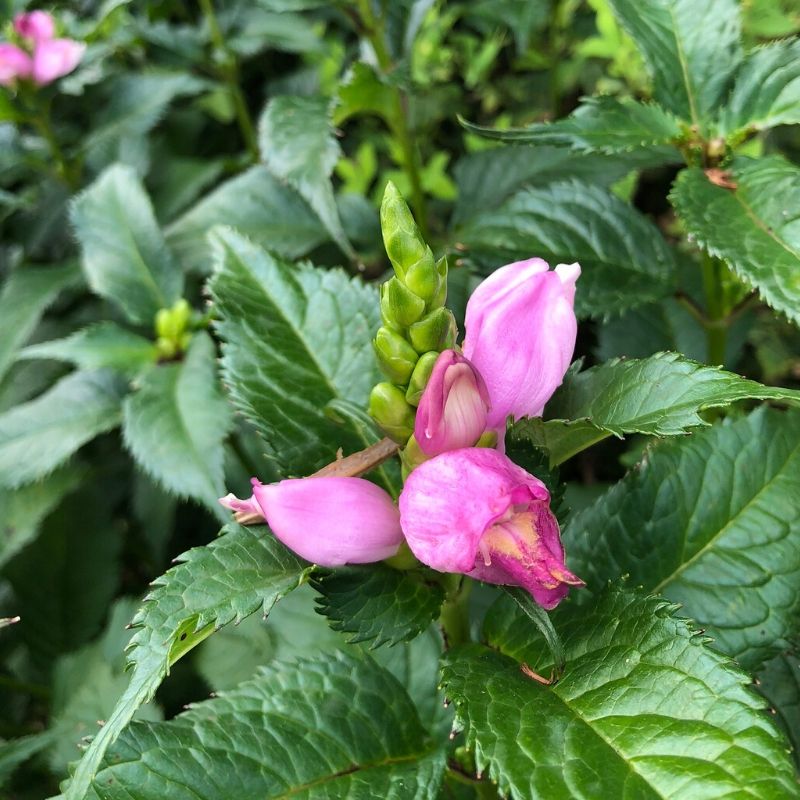 Turtlehead blooms look just like what they are called. The flowers, sometimes in white, pink or purple appear like clusters of turtle heads. This name may also be attributed to a Greek legend wherein a nymph named Chelone refused to attend Zeus wedding which angered the god who turned her into a turtle (7).
Turtleheads (or chelone glabra) love a partially shaded moist site. The dark green leaves provide a contrast to the brightly colored blossoms of autumn and they make a stunning mixed garden bloom with sedums and anemones.
Veronica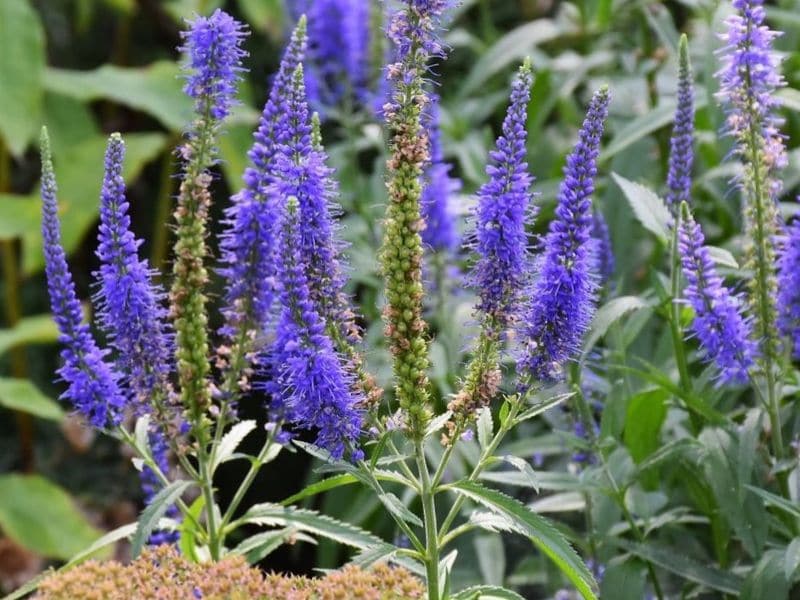 The upright blossoms of veronicas will keep you amazed as you pass by a garden bordered with this plant. The flowers appear sophisticated but the plant actually requires minimal maintenance effort. Veronicas are tolerant of all soil and water conditions as long as they receive ample sunlight for most part of the day (6).
If you want a colorful veronica bloom, here are some varieties to consider. 'Marietta' bears deep blue flowers, 'Charlotte' has a sweet and lovely white flowers, and 'Charming Pink' is what the name suggests.
Wandering Jew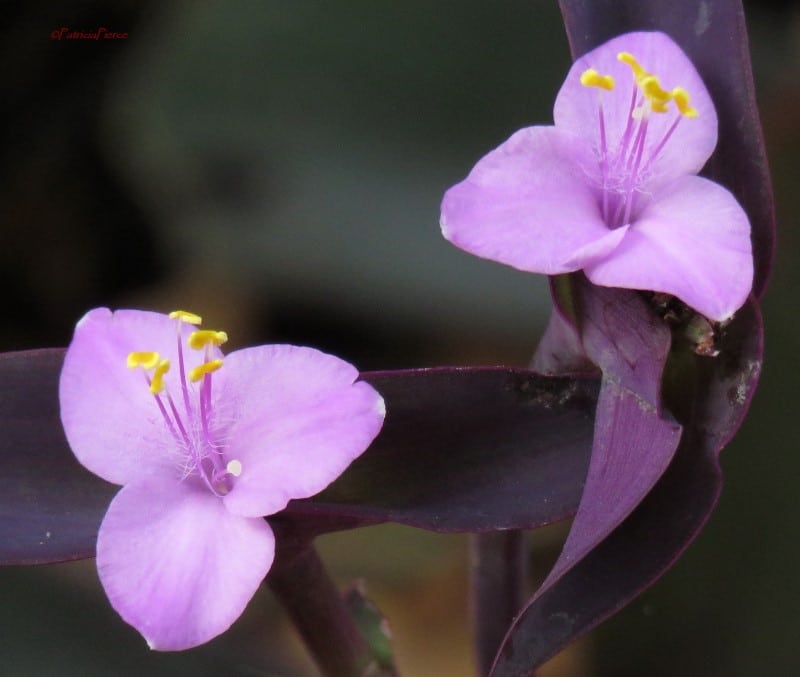 Wandering jew or Tradescantia zebrina is one of those plants cultivated for their colorful foliage. It is also one of the easiest plants to grow both indoors and outdoors.
It tends to get comfortable in almost all kinds of environment that in some areas, it is considered invasive. But they generally like moist soil so you will find them wandering towards bogs or wet roadsides (7).
Wandering jew flowers are minute but upon closer inspection, they are three-petalled lavender blossoms that look delicate and whimsical. They are best appreciated at eye's level when the plant is allowed to grow in hanging containers.
Windflower
Windflowers or Japanese anemones can be seen lining the gardens for an early autumn burst of floral displays. The pink and white flowers mixed with the bright colors of the other windflower species provide a graceful yet vibrant effect to the landscape as they dance with the cool autumn winds.
Windflowers perform best in damp areas often shaded by tree canopies but still receive filtered light (1). The spreading growth habit create masses of this plant so they should be planted in spacious sites. Gardeners often plant them with hostas and monkshood for varied foliage and bloom throughout the year.
Yellow Restharrow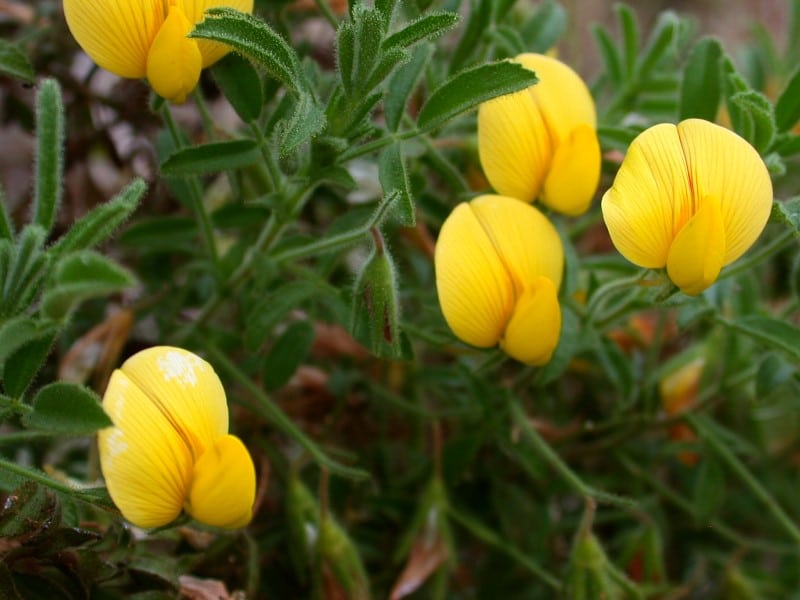 Ononis natrix or yellow restharrow is a leguminous plant originally found in the mountains of the Mediterranean. It has a sprawling growth habit which makes the plant perfect garden borders or hedges when trimmed (1). The small yellow flowers dotting the shrub in spring and autumn are eye-catching to both passers-by and pollinators.
Zephyr Lily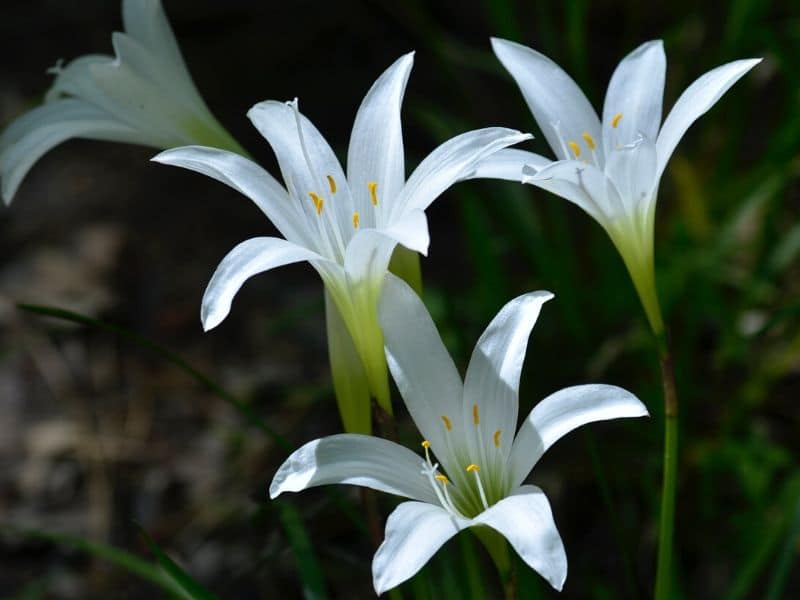 Zephyr lilies came from the tropical to subtropical areas of America. They are hardy members of the Amaryllis family and because of this, they were popularized as garden plants.
Zephyr lilies or Zephyranthes appear as thread-like grasses on a normal day but in autumn and during the rainy seasons of the tropics, beautiful delicate flowers materialize as if out of thin air. The flowers are short-lived but they reappear throughout the season. Because of their love for the rain, they are otherwise called rain lilies (7).
Want to learn more about flowers? Check this complete list!
References
Reference list:
(1) Wright, W. "An encyclopedia of gardening." Books on Demand. 2010. P. 336.
(2) Robinson, W. "Hardy Flowers: Gardening in America." Applewood Books. 2009. P. 356.
(3) Hillier, M. "The book of fresh flowers: a complete guide to selecting and arranging." Simon and Schuster. 1988. P. 256.
(4) Robinson, W. "The English flower garden: style, position, and arrangement…" J. Murray, 1893. P. 751.
(5) Sweet, R. "The British flower garden." Robert Sweet. 1835. P. 208.
(6) Dirr, M. "Dirr's Encyclopedia of trees and shrubs." Timber Press. 2006. P. 952.
(7) Everette, T. "The New York botanical garden illustrated encyclopedia of horticulture". Vol. 10. Taylor and Francis. 1982. P. 3601.
(8) Martin, T. "Old fashioned flowers: classic blossoms to grow in your garden."Brooklyn Botanic Garden. 2000. Pp. 111.
(9) Gilman, E. and Watson, G. "Plant Fact Sheet: Cassia Fistula." 1993. University of Florida. P. 1-3.
(10) Bennett, J. "Island gardens: havens of beauty around the British Isle." White Lion 2. 2018. P. 192.
(11) Cox, J. "Perennial all-stars: the 150 best perennials for great-looking, trouble-free gardens." Rodale. 2002. P. 344.
Close