Discovering the fantastic diversity and beauty of Africa's flowering plants is a journey of intrigue and marvel. Africa is home to a multitude of mesmerizing flowering plants that have unique characteristics and uses.
Whether you are seeking just an amazing look at natural beauty, want to learn about exotic plants, or want to select a cultivar for that special garden or house plant, Africa has numerous flowering species of natural beauty from the South to the West that will fill you with wonder.
Here's our list of top choices:
Bird of Paradise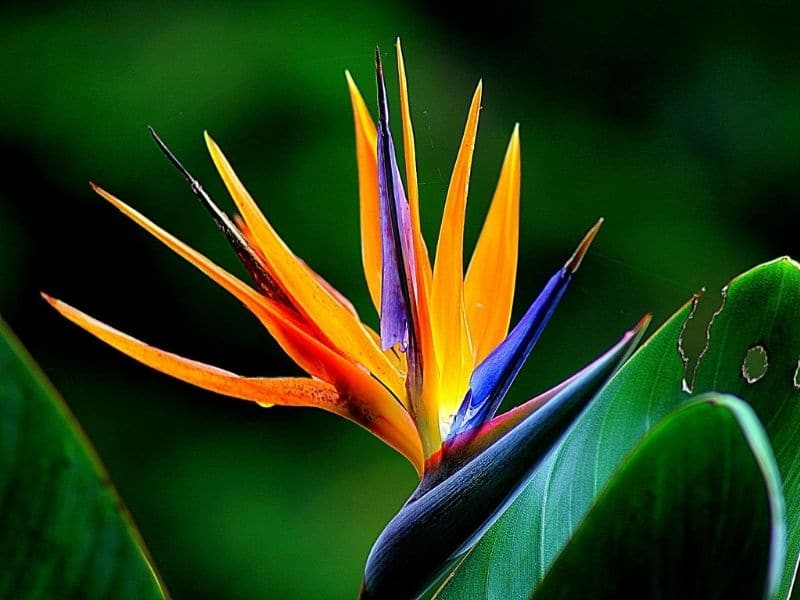 Birds of Paradise are other popular African flowers. The flower heads produce vibrant purple flowers and red flowers and resemble a bird in flight, hence the name.
The Bird of Paradise is native to South Africa and is often found growing near the coast. The plant can grow up to 5 feet tall and produces flowers all year round. It's a popular choice for gardeners as it's easy to grow and requires little maintenance.
Paintbrush Lilies
Paintbrush Lilies are a well known African flowering plant that is often used for cut flowers. They have long stems and produce an array of colors from white, pink, and yellow. The Paintbrush Lily is native to South Africa and blooms from late spring to early summer. The flowers are known for their unique shape, which resembles a paintbrush, hence the name. These lilies are often used in bridal bouquets and floral arrangements due to their elegant appearance.
African Violets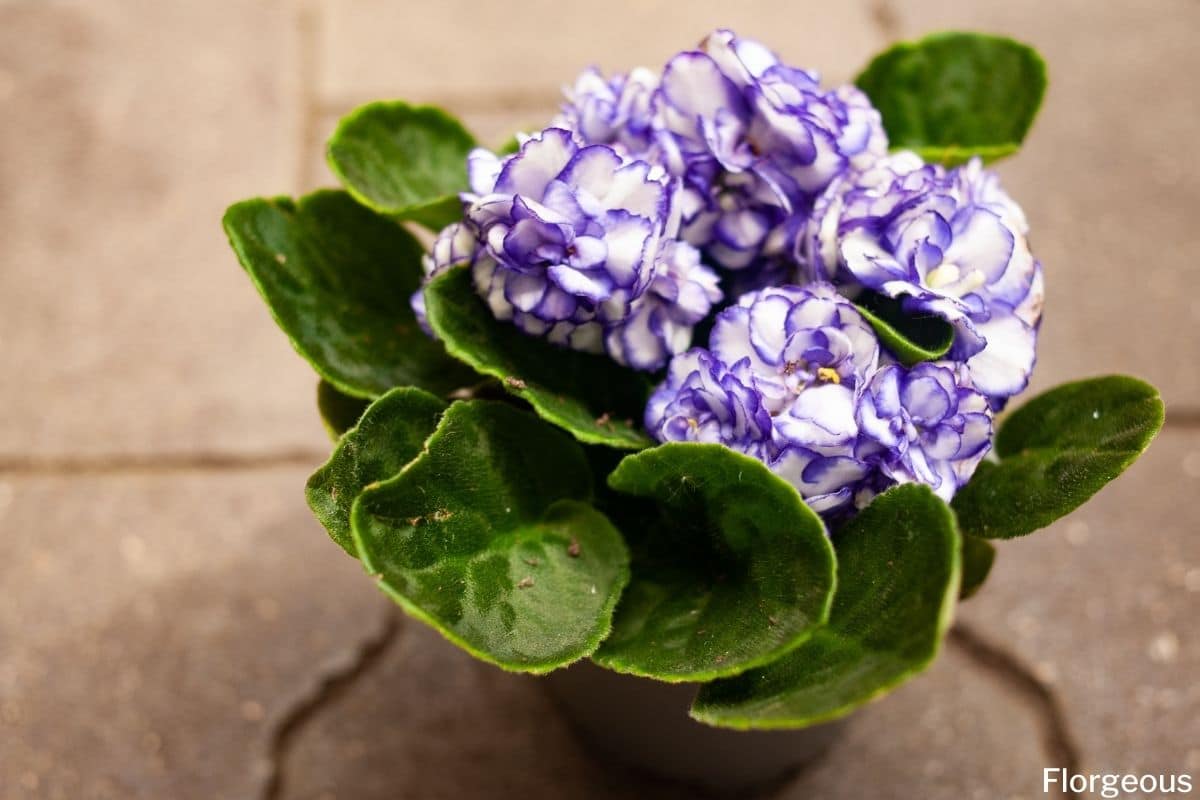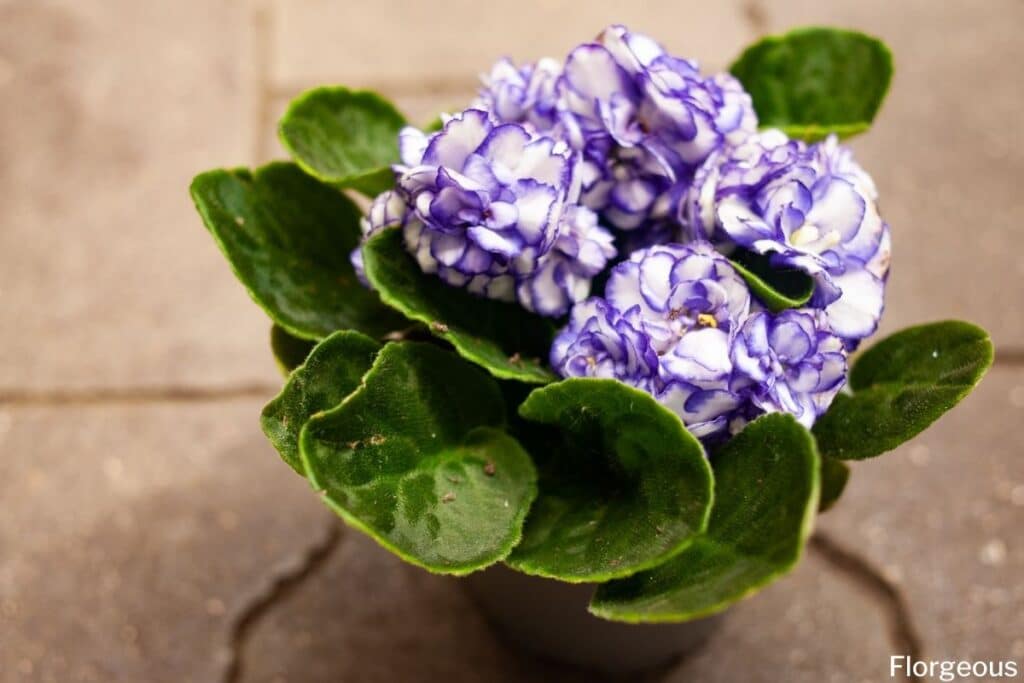 African Violets are perhaps the most well-known native African flowers.
They are native to Tanzania and Kenya and produce stunning purple or white flowers. African Violets are commonly grown as houseplants and thrive in cool, humid environments.
They are easy to care for and bloom all year round. The flowers are small but pack a punch, and their unique color adds a pop of color to any space.
Geissorhiza tulbaghensis
Geissorhiza tulbaghensis is a member of the Iridaceae family and grows from a bulb or cormlet. Also known as the Tulbagh satin flower, this specimen is a great choice in rock gardens or as a potted plant. If you want some stunning South African flowers in your garden, you cant go wrong with this species.
Overall, it has low maintenance requirements. This species grows and spreads easily using seeds or maybe started by separating cormlets from an established plant.
Native to the Western Cape of South Africa, this cupped-shaped flower is showy and comes in shades of white, purplish and brown. It blooms during the end of winter into springtime, creating an eye-catching display with deep-green slender glossy leaves and large blossoms.
Clivia miniata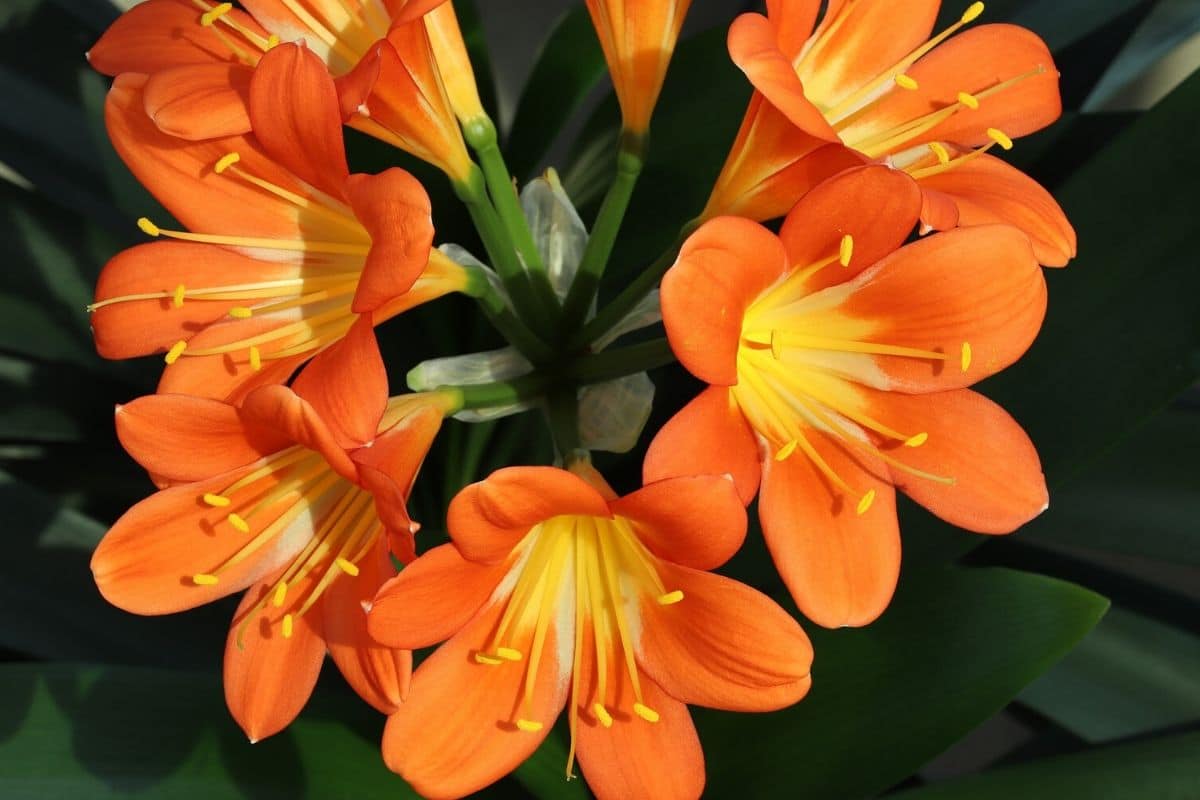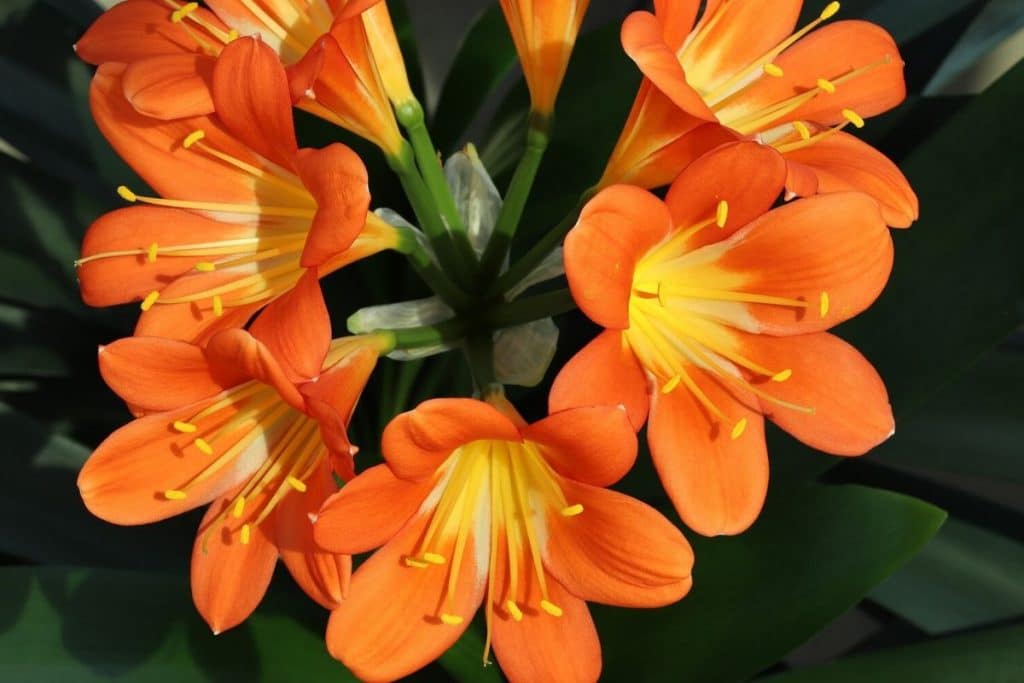 Clivia miniata is an evergreen perennial that sprouts from a rhizome or bulb. Nicknamed the yellow clivia or yellow bush lily, it originates in southern Africa in the areas of Mpumalanga, Eastern Cape, and KwaZulu-Natal.
The plant is low maintenance and grows best in a loamy soil. The yellow clivia should be planted in partial shade or locations with the only pre-noon sun.
The yellow clivia is an excellent container specimen and does well as a houseplant. The blossoms generally appear in springtime to the beginning of summer, but it is known to rebloom intermittently. Foliage is in varying shades of green. The blossoms are sweet-smelling and open in shades of cream, pale yellow and orange.
Amaryllis belladonna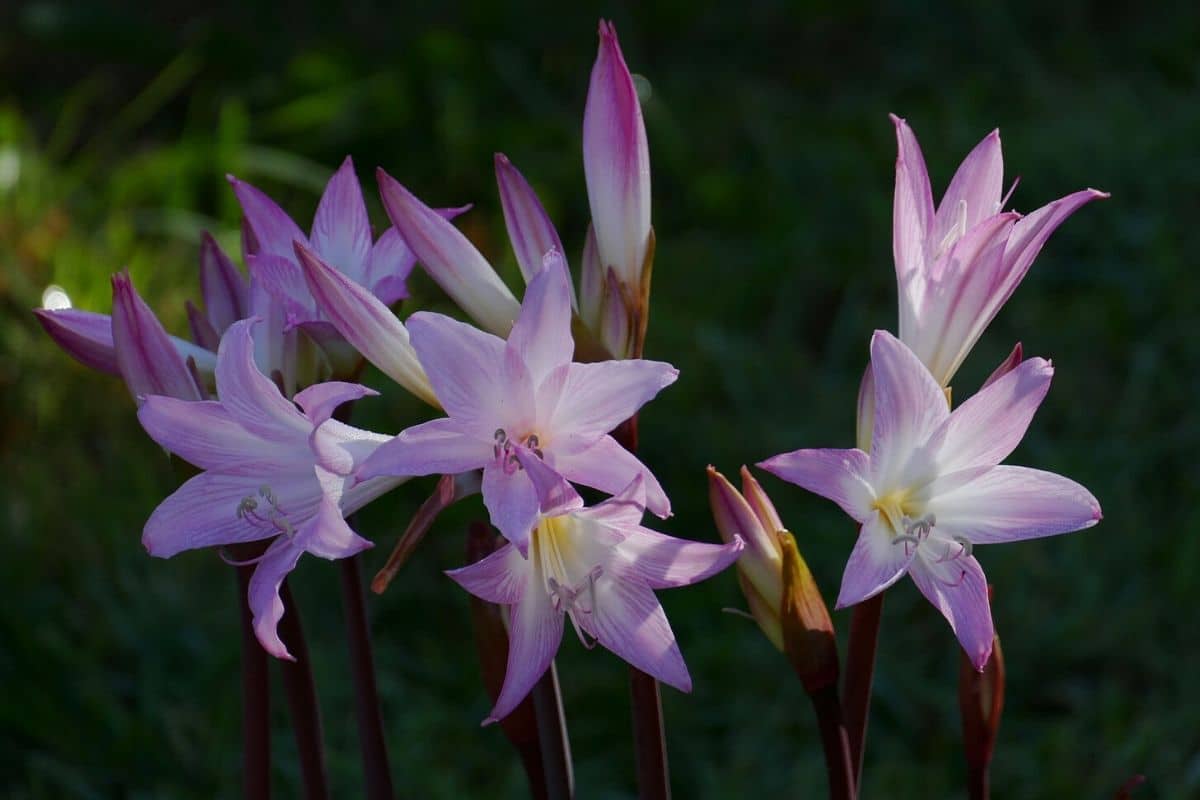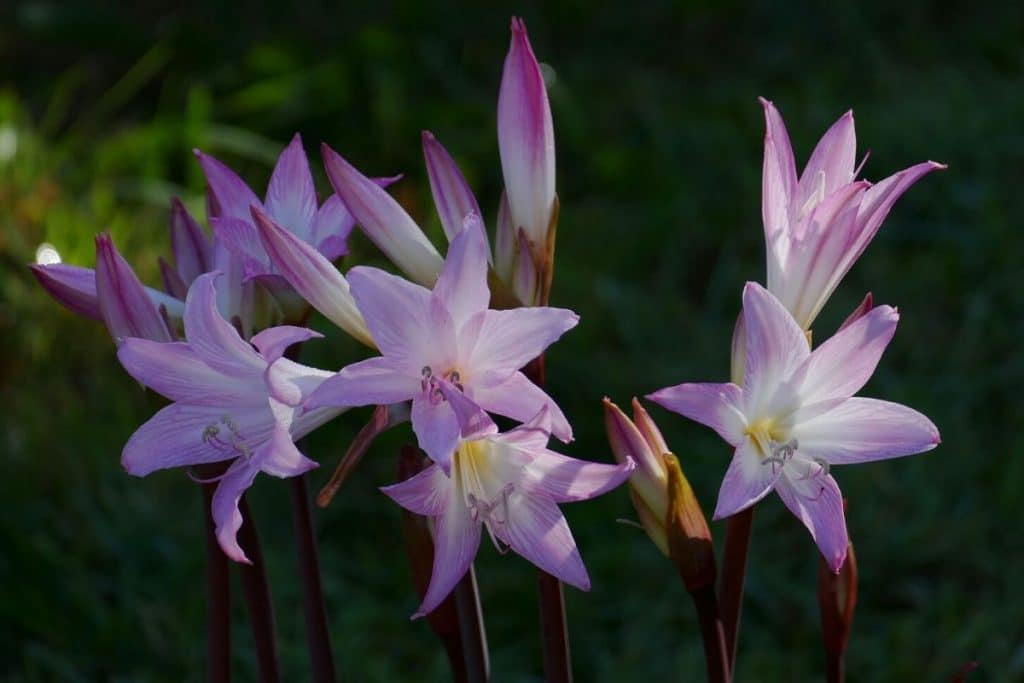 Amaryllis belladonna belongs to the Amaryllidaceae family and is a deciduous flowering plant native to the Western Cape region of South Africa.
Also termed the belladonna lily, Jersey lily, naked lady, or March lily, it may be started from seeds or bulbs. It does well as a potted plant and thrives in rock gardens. Planting locations should be sunny.
The belladonna lily flower is concave in shape, resembling a small trumpet. It grows on a stalk void of leaves at the end of summer and beginning of fall.
Up to 12 showy flowers may appear on a single stem, with blossoms ranging in shades from pale pink, white and dark shades of pink. After flowers have faded, deciduous leaves will grow on the stalk.
Pelargonium album
Pelargonium album is a flowering perennial ground cover that grows in the Mpumalanga region of southern Africa. It is a member of the Geraniaceae family and is commonly called Pilgrim's Rest Pelargonium. This shrublet has pale green foliage that emits a fragrant scent similar to apple-mint. Garden maintenance needs are considered easy.
Pilgrim's Rest Pelargonium grows best in organic-rich loamy soil with a pH of neutral. It should be planted in a shady location. Blooms begin to sprout during winter and continue into early summer. The blossoms are white with varied markings.
Streptocarpus dunnii
Streptocarpus dunnii is a striking member of the family Gesneriaceae and indigenous to the Mpumalanga region of southern Africa. It is a stemless perennial that surprisingly develops only a single leaf over the life of the plant. It is also known as Cape primrose or red nodding bells and doesn't flower for several years.
Red to orange-ish flowers grow in trumpet-like shapes and eventually produce seed pods. Blooms develop during the beginning and end of the summer months. Flowering is the end of the life cycle for the red nodding bells.
Agapanthus africanus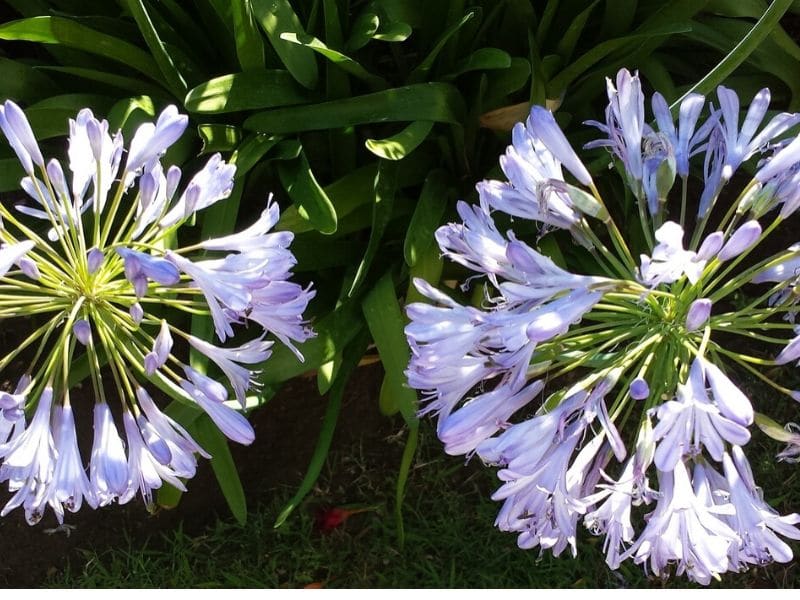 Agapanthus africanus is a bulb plant and a member of the Amaryllidaceae family. It is often called the lily-of-the-Nile or the African lily and grows best in warm areas such as USDA zones 8 to 10.
It may be grown as a container plant or potted plant in other zones. Containers need to be wintered indoors. It has medium care and watering requirements.
The African lily blooms in summer months and prefers sunny to partially shaded growing areas. This perennial has evergreen leaves and is indigenous to South Africa. The foliage erupts in sturdy clusters with blue or white umbel flowers dangling from erect bare stalks of about 24 inches.
Gazania rigens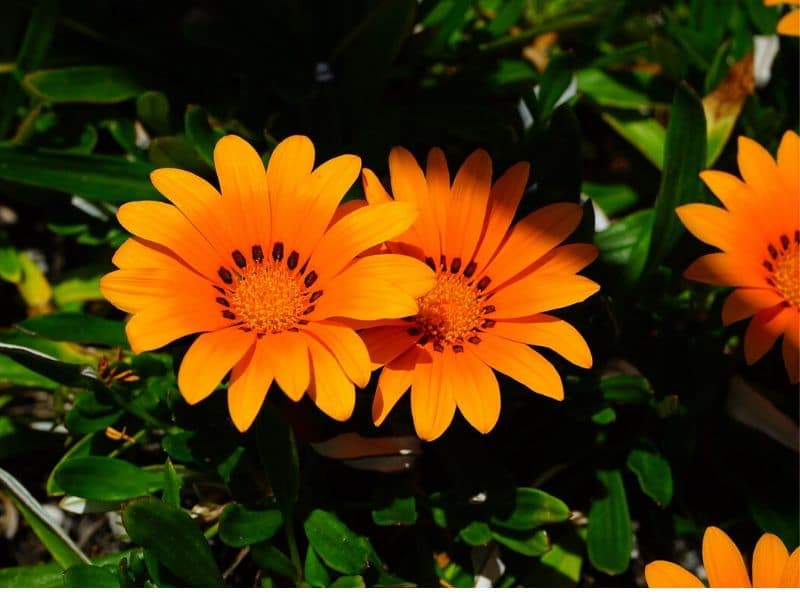 Gazania rigens is an African daisy and member of the Asteraceae family. Originating in South Africa, it is also known as the treasure flower or gazania. It should be planted in locations with full sun and requires moderate watering. Depending on the area of the world you live in, it can grow and flourish as a perennial or annual.
Gazania has vine-like stems and foliage that grow along the ground. The leaves are grayish-green and narrow or blade-shaped. Flowers arise on stems approximately 8 or 10 inches in height.
The blooms are orange in color and grow singularly with brownish to black centers. Blooms reclose during the night and reopen in the sunlight. These blooms appear throughout the summer months.
Protea cynaroides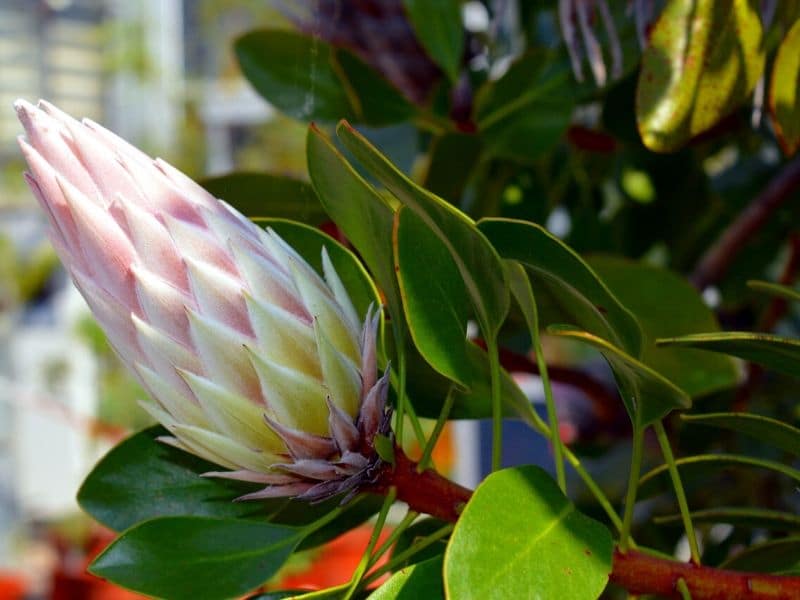 Protea cynaroides is a member of the Proteaceae family and originated in South Africa. This plant is a broad-leafed evergreen bush and typically grows to heights of 3 to 4 feet with a matching spread. The leaves mature about 5 and ½ inches in length with shiny, dark-green color.
Named the national flower for the country of South Africa, the blooms are outstanding in size and composition. Flowers form in 12-inch dome shaped-heads, encircled by brightly shaded bracts.
These flowers range in colors from white, red and pink. These blooms dry well for arrangements and fresh flowers are prized as cut flowers.
Crocosmia 'Emberglow'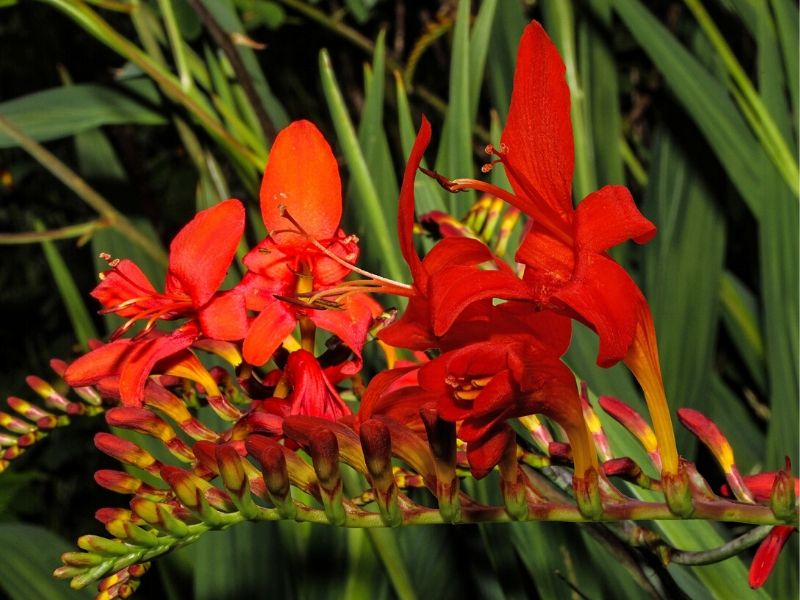 The Crocosmia 'Emberglow' is indigenous to the savanna regions of South Africa and frequently called montbretia. Growing from corms or bulbs, it is a member of the Iridaceae family. It is a flowering plant that makes a significant statement when planted in clusters or groupings.
The 'Emberglow' needs a sunny garden location with a mix of nutrient-enriched soil and ample drainage. Watering needs are moderate.
Grown best in USDA zones 5 to 9, the plant blooms during July and August. Flowers are used in fresh arrangements and for striking garden color. The red-yellow flowers are tube-shaped and drape suspended from crescent stems that sprout above lance-shaped leafage.
Berkheya purpurea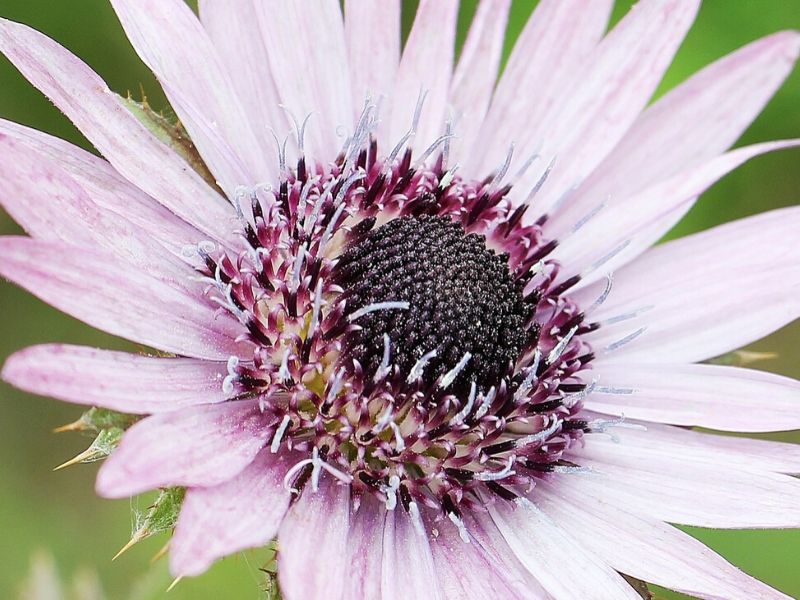 The Berkheya purpurea is a perennial flowering plant native to South Africa. Also known as purple Berkheya, it is a member of the Asteraceae family. This plant is supported by a single taproot and is often found growing on the sides of mountains or waterways in higher altitudes.
The base of the plant has thistle foliage that appears to hug the earth in thick bunches. From this middle of the plant grows a tall, firm stem, covered in thorns. The flower buds will sprout protected by spiny bracts.
The flowers of the purple Berkheya are large and daisy-like. Coloring of the outside petals is pale violet to lilac with a deep plum disc center where seeds form.
Lapeirousia pyramidalis
Lapeirousia pyramidalis belongs to the Iridaceae family and is native to South Africa. It is also known as painted petals or pyramid cabong. The painted petals flowering plant flourishes in desert-like conditions.
The flowers are showy and have a sweet-smelling scent. Coloring of the petals varies from light lavender to white with some purplish splotching.
The painted petals plant does well planted in pots or containers. It grows best planted in the fall using corms. The plants should be watered a couple of times a week when started. This plant may take more than one season to sprout.
Oxalis hirta
Oxalis hirta or hairy oxalis is a plant native to the Western Cape area of Africa. It grows from a bulb in loamy to sandy soil in a variety of sunny to semi-sunny locations. Soil pH levels need to fall in the neutral to the acidic range.
The hairy oxalis is considered easy to grow and maintain. Flowers are ornamentally attractive and open in shades of reddish-purple on stems with multiple branches.
Bergeranthus scapiger
Bergeranthus scapiger is a member of the Aizoaceae family and native to Eastern Cape, Africa. It is commonly termed polvygie and classified as a drought-resistant succulent. The plant is dwarf in size and has thick, shiny leaves and produces aurum-yellow flowers. The leaves of the Bergeranthus scapiger are a real focal point.
Polvygie grows in sandy to rocky areas. It is considered low maintenance and does well as a container or potted plant.
Aloe succotrina
Aloe succotrina originated in Africa in the rugged mountains of Western Cape. It is a member of the Asphodelaceae family and is also known as fynbos aloe or mountain aloe.
The fynbos aloe is a succulent and classified as a shrub, reaching heights a little over 3 feet. As a native plant, it may be found growing singularly or in groupings or drifts.
Young mountain aloe does not have stems. As they become established, the plant will form branches. Dead growth stays on the stems and branches and acts as a protective shield. The fynbos aloe grows erect spikes on which striking deep red-orange flowers appear
Paranomus longicaulis
Paranomus longicaulis, a native African flowering plant, belongs to the Proteaceae family. Also known as an exploding baked apple or woolly scepter plant, it is actually a shrub that originates in the sandy soils of the Western Cape area. The exploding baked apple blooms in spring to the beginning of summer.
The exploding baked apple plant is quick growing and does well in containers or natural settings. This evergreen has few branches which are attached to a thick stem. Leaves near the base are divided and spoon-shaded leaves begin nearer the top of the stem. The flowers bloom in colors of pink, brown or white in a bottlebrush shape.
Freesia leichtlinii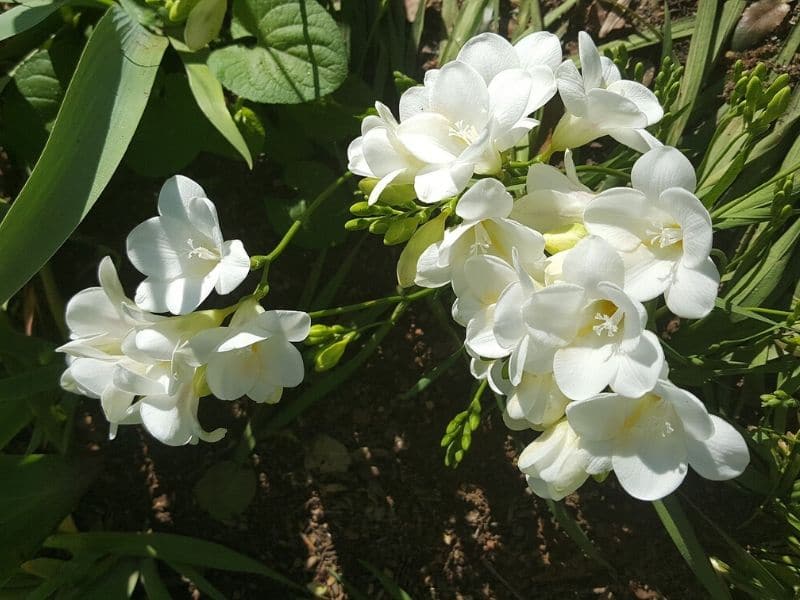 Freesia leichtlinii is also known as white freesia or wild freesia. It is a member of the Iridaceae family and grows from a bulb. It is considered low maintenance, easy-to-grow plant. Native to the Western Cape of African, the white freesia requires either full sun or semi-shade conditions. It grows well in containers.
The leaves of the white freesia are lance-shaped and grow erect. Cone-shaped flowers grow on spikes in groupings of 2 to 8 buds at approximately the same height as the surrounding leaves. Blooms open in a white with a lavender tinted underside.
Eucomis comosa
Eucomis comosa is a member of the Hyacinthaceae family and native to KwaZulu-Natal and the Eastern Cape of Africa. It is also called the slender pineapple flower plant and known for a sweet fragrant scent. The slender pineapple flower sprouts from a bulb and should be planted in a bright sunny area. This plant also does well as a container specimen.
Eucomis comosa grows in warm months, and plant foliage is spear-shaped and a rich, vibrant green tone with glints of purplish streaking on the underside. The flowers grow on a plump, hollowed-out stalk in the late summer. The inflorescence flower arches and resembles a pineapple. Colors vary and include cream, white and purple.
Ammocharis longifolia
Ammocharis longifolia is a member of the Amaryllidaceae family and grown from bulbs. It is a deciduous plant that should be planted in full sun. Native to the Northern Cape and Western Cape of Africa, it is also known as Malgas lily. The flower of this lily blooms in shades of pink and white. The flower is ornate and has an aromatic fragrance.
The Ammocharis longifolia requires the soil pH to be neutral or alkaline. Soil composition should be either clay or sandy. This plant is easy to care for and makes an excellent container plant.
Leonotis leonurus
Leonotis leonurus is resilient to drought conditions and will survive even frost. It is a member of the Lamiaceae family and often termed wild dagga, lion's tail, or lion's ear. This perennial shrub flowers intermittently during the year. Maintenance and care are considered easy for this member of the mint family.
The lion's ear creates an attractive and colorful display in the garden with bright tassel-like flowers. The blooms range in colors from cream, white, orange and yellow.
The Leonotis leonurus has been used in medical applications for a variety of maladies such as asthma, headache, and fever and is also an edible plant.
Dimorphotheca pluvialis
Dimorphotheca pluvialis is native to Africa and a member of the Asteraceae family. It is similar to African daisies and sunflowers. It is also termed the weather prophet or rain daisy. These daisies are easily grown from seeds and make colorful displays in gardens and containers.
During moderate summers and early fall, the flowers bloom almost continually. The blooms are white and like daisies with a center disc that is pale to medium brown.
The plant requires moderate amounts of care and water. The weather prophet may be started in the garden after the threat of frost or planted earlier indoors and then transplanted.
Leucospermum gueinzii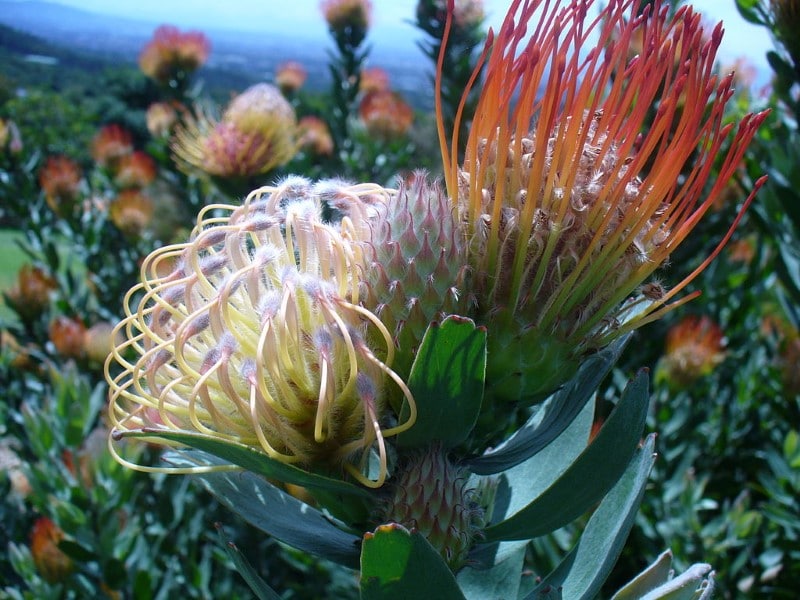 Leucospermum gueinzii is a shrub member of the Proteaceae family and native to southern Africa. Nicknamed the kloof pincushion or the kloof fountain-pincushion, it is a single-stemmed flowering plant. The kloof pincushion also needs a solid sunny location in the garden and requires average maintenance.
The kloof pincushion has an oval flower head with numerous single flowers located on the upper side of the leaves, which creates a dramatic pincushion effect. The blooms start in shades of orange and yellow, turning to a fiery red. The leaves are medium green and edged with red teeth.
Dimorphotheca tragus
Dimorphotheca tragus is an herbaceous perennial with numerous stems covered in narrow elliptical leaves with jagged edges. It originated in the Northern Cape and Western Cape regions of South Africa. It is considered easy-to-grow and care for. Also known as ox-eye daisy, Cape marigold, Namaqualand daisy, and African daisy, it grows best planted in sunny locations.
The Cape marigold blooms in orange, purple, yellow and white with a daisy-like flower with a purple toned center. Planted en-mass, the Cape marigold creates a stunning display. The plant is capable of surviving drought conditions.
Pelargonium cucullatum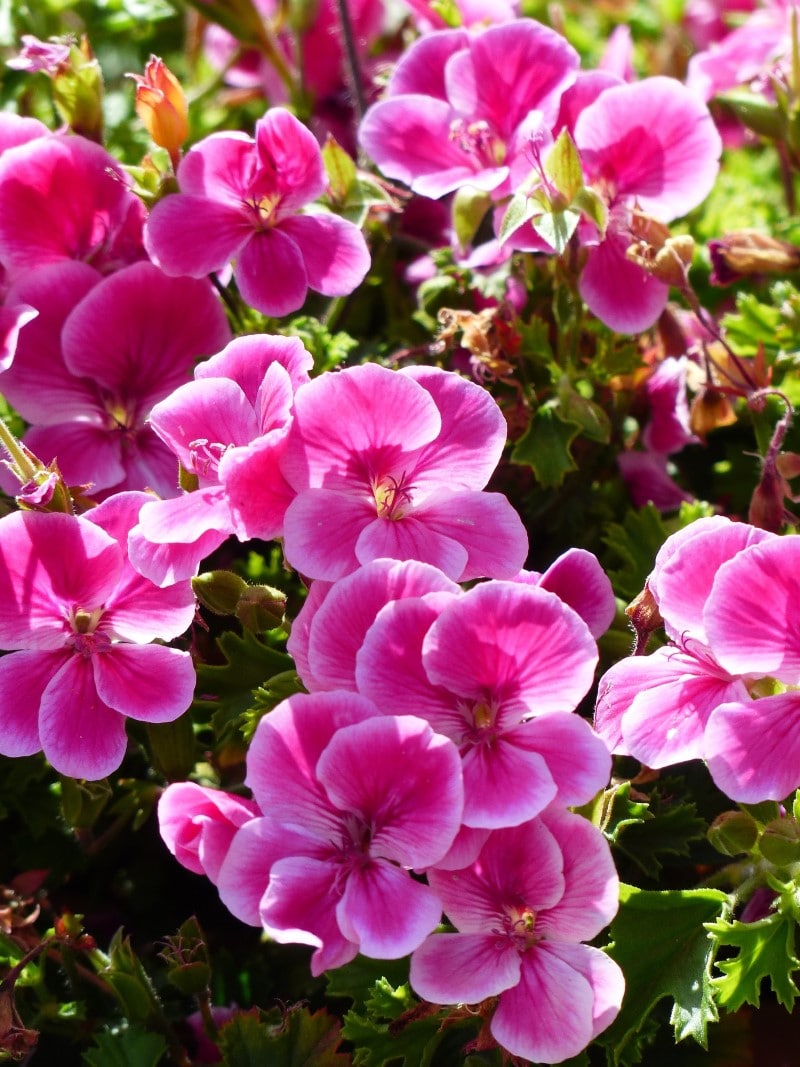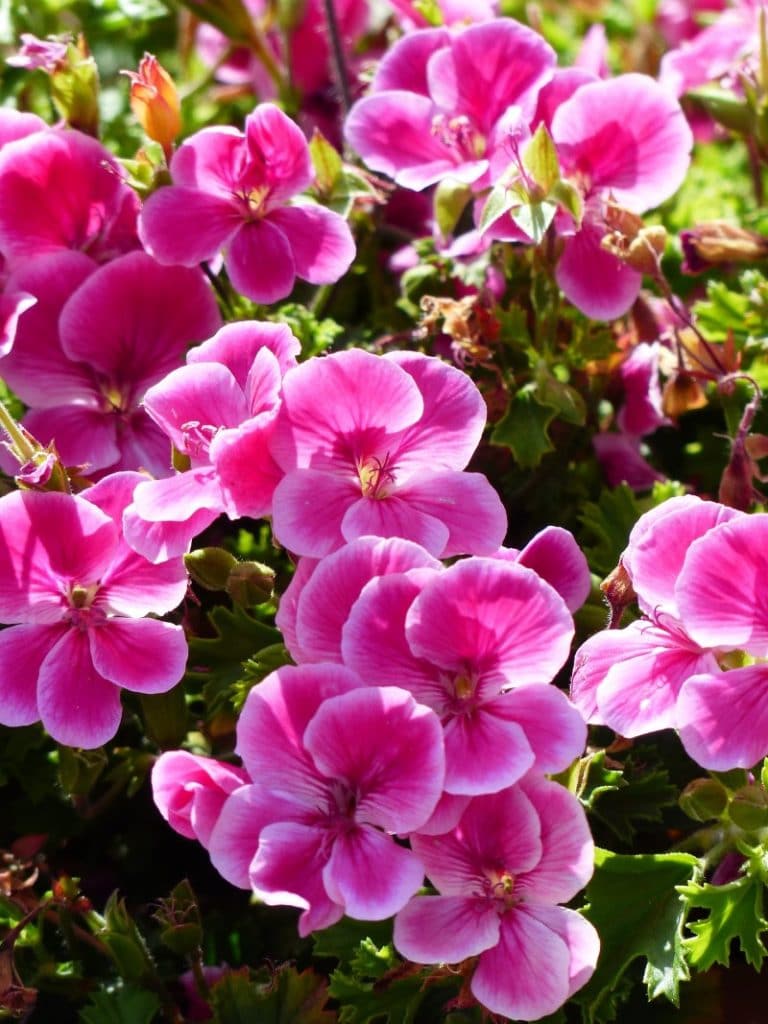 The Pelargonium cucullatum is a lovely flowering plant endemic to Africa. This flowering shrub is also known as the hooded-leaf pelargonium or herba althaea. The flowers themselves are a pink to purple to reddish-purple color, and the stems are hairy.
The hooded-leaf pelargonium has a hallmark scent, which can be identified when the plant is rubbed. The plant can be used in baking, where it lends a pinkish color to foods. It can also be used as a poultice or as a tea to help treat stomach issues.
For similar ideas, popular African flowers you can consider African violets, calla lily, glory lily, african iris and impala lily.
King Protea
The King Protea is one of the most iconic flowers in Africa and its one of the most gorgoues native African flowers as well. It's known for its large flower heads and bold, colorful petals that range from white, pink, and red.
The King Protea is native to South Africa and is the national flower of the country. The flowers can grow up to 12 inches in diameter, and each plant can produce up to 40 beautiful flowers per year.
Due to its impressive size and unique shape, the King Protea is often used in floral arrangements for weddings and special events.
---
Try These Amazing African Flowers Today!
Africa's flowering plants are varieties of miraculous plants that have adapted to terrain and climate conditions like no other place on earth.
These evolutionary plant species stem from growing locations such as forests, rainforests, coastline, mountains, streams, wetlands, deserts and savannas and have developed spectacular adaptations while creating exquisite beauty.
Keep in mind that many of Africa's flowering plants are not only spellbinding, but they also possess the incalculable value of being edible, have medicinal properties, create habitats, or have other therapeutic properties. Africa's flowering plants are breath-taking wonders of nature!
Check our blog for more popular plants and flowers.