Gifting is a challenging task, but when it comes to our mothers we would go above and beyond. After all, Mother's Day is a chance to celebrate their unconditional love on a much deeper level.
Aside from other popular gift ideas such as a photo frame, a box of chocolates, and greeting cards, a floral gift is a delightful way to treat your mom and make her feel appreciated.
But picking random flowers only for their vibrant color or catchy fragrance does not equate to a meaningful gift. So why not allow our mothers to enjoy a flower that matches their personality?
Instead of a monotonous pre-arranged bouquet or planter pot from the florist, choosing a flower that best represents our mothers' character is a thoughtful alternative.
Why Give Flowers on Mother's Day?
Who better deserves recognition for their endless love than our mothers? And yet, the very first official Mother's Day took place only in 1908, led by the West Virginian Anna Jarvis in honor of her mother's passing.
Giving flowers on Mother's Day may not be an age-old tradition, but it is one of the most intimate ways to touch our mother's heart and be thankful for their support and selfless love.
To celebrate one of the most important people in our lives, you do not just want to give your mother a meaningless plant. Instead, you want a flower that delivers a deeper message.
Elegance? Compassion? Appreciation? Protection? A flower will convey your message without pronouncing a single word.
Top Mother's Day Flowers and Bouquets
If a flower arrangement is your go-to gift this Mother's Day, you may feel overwhelmed by the huge variety of options available out there. But it does not have to be this way!
Explore our suggestions to pick the best flower arrangement and make this Mother's Day unique and memorable.
1. Rose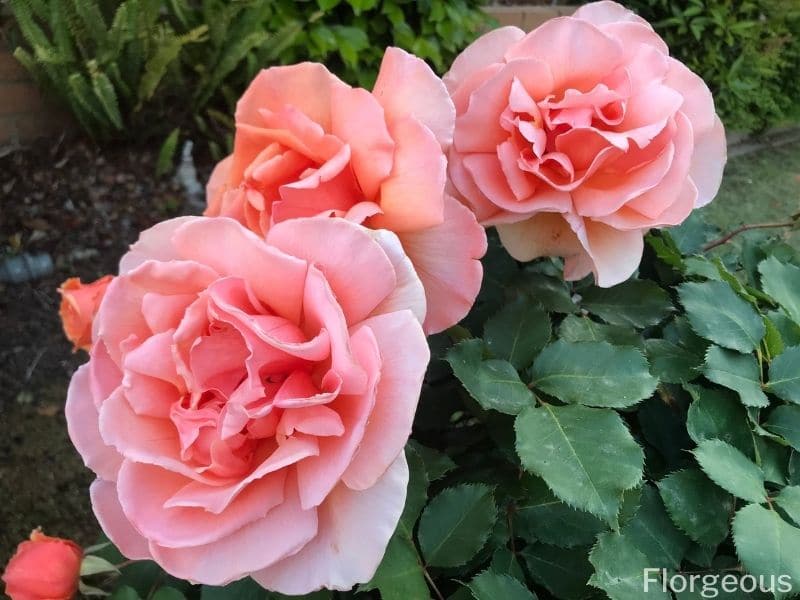 No matter what color or shade, roses are timeless, classic, and iconic.
Red roses are typically associated with romantic love, but you can choose a paler pink color if you want to show your mom how grateful and appreciative you are. You may also want to check out white roses, which signify purity. Instead, pick a tone of yellow to associate with a more caring nature.
For a more traditional and classic mother, roses might be the best gift option. In fact, any combination of roses will make the perfect option for a Mother's Day bouquet, especially when gifted to a more classic personality. Of course, you can always throw other blooms into the bouquet too (baby's breath is a popular choice).
2. Chrysanthemum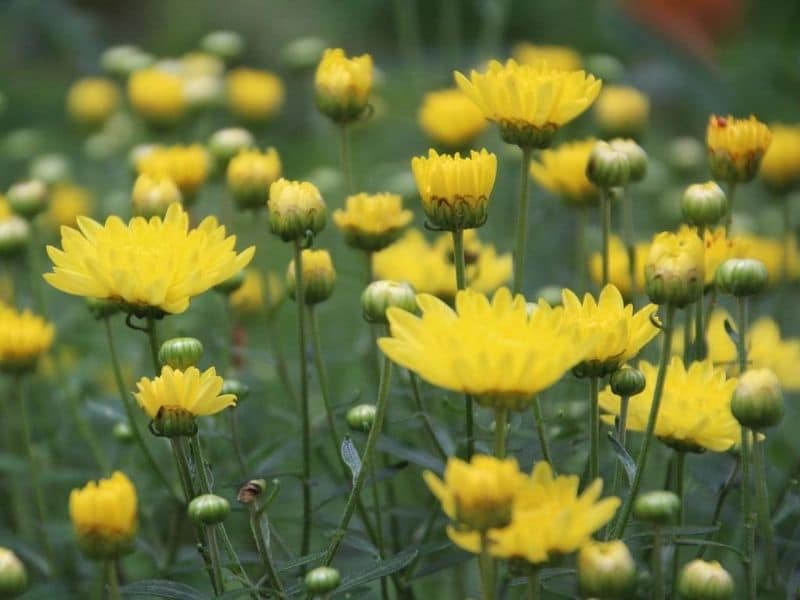 Choosing a flower with mum in its name could not be more spot on when you're looking for the best flowers for Mother's Day!
The chrysanthemum comes with a variety of meanings all across the globe. In Asia, it is the symbol of life and rebirth. In Europe it signifies sympathy. Whereas in America, it is typically regarded as the flower of respect.
The chrysanthemum has high symbolic power, as narrated by writer John Steinbeck. A strong woman named Elisa Allen, frustrated for not having a child nor the attention of her husband, dedicated most of her time cultivating beautiful chrysanthemums. Those flowers were the children that Elisa never had. For this reason, the flower also recalls femininity and sexuality.
3. Tulip
The tulip is a classic flower that was traditionally associated with unconditional love. With time, their fresh appearance has come to represent closeness, relaxation and, above all, joy.
Because of this, tulips are perfect flowers to give to someone with whom you have a deep bond, the perfect gift for Mother's Day. For a mom who is light-hearted and easy-going, the tulip flower should be part of the bouquet.
4. Carnations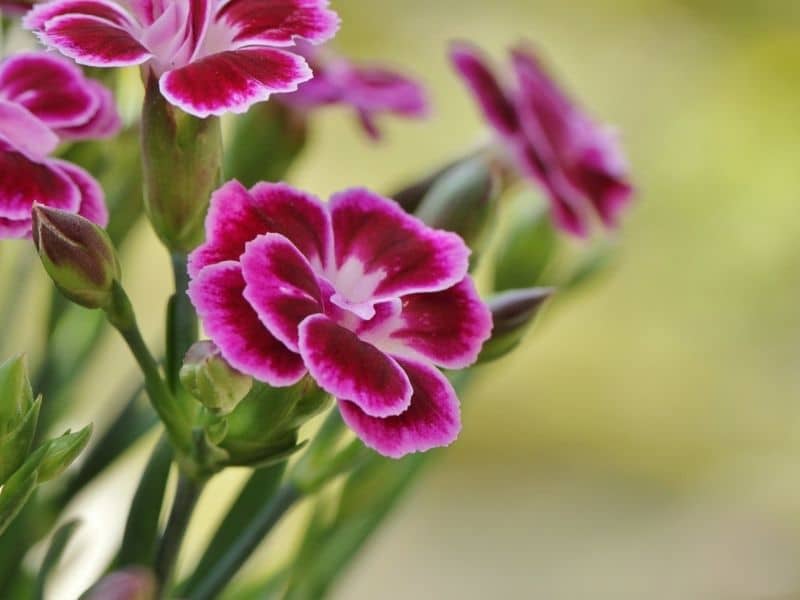 The tradition of Mother's Day began in the United States as a result of the tireless work of Anna Jarvis. In her desire to honor her own mother, as well as the mothers at her church, she sent 500 snow-white flowers (mostly carnations) to her nearby parish. All of the mothers received a flower, recognized for their devotion to their children.
It is no surprise that when we think of Mother's Day, carnations come immediately to mind. This flower comes in light red shades, representing admiration, while a darker red denotes deep love and affection. You can also find white-colored carnations symbolizing good luck.
Since Jarvis's campaign, carnations have come to symbolize so many things, from faith to love, beauty to purity – all of which are core values of motherhood.
5. Azaleas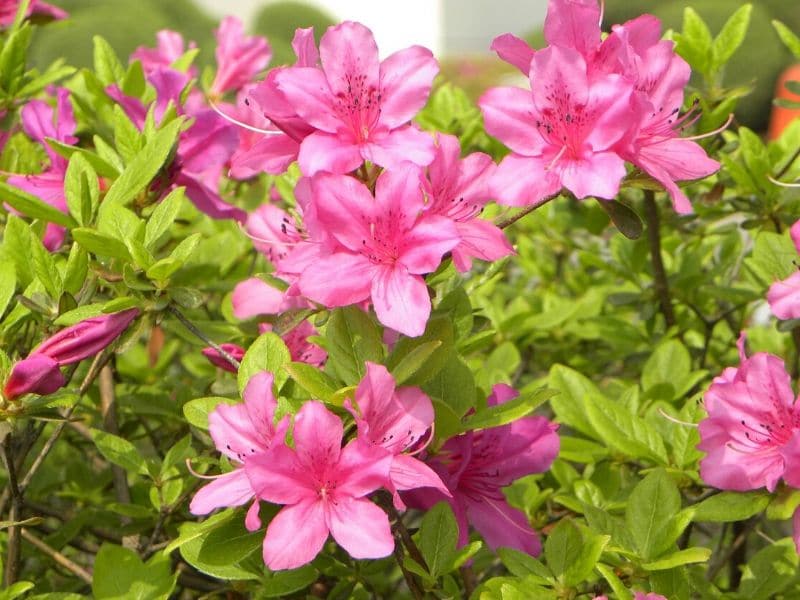 If your mother likes to explore traditions from other places in the world, you might want to consider giving her some azaleas. These flowers are cultivated in just about every country and are therefore easy to find at just about any floral shop or nursery.
The azalea is an emblem of many cultural celebrations around the globe. Chinese societies consider it the main symbol for womanhood and associate it with love and gentleness
6. Day Lily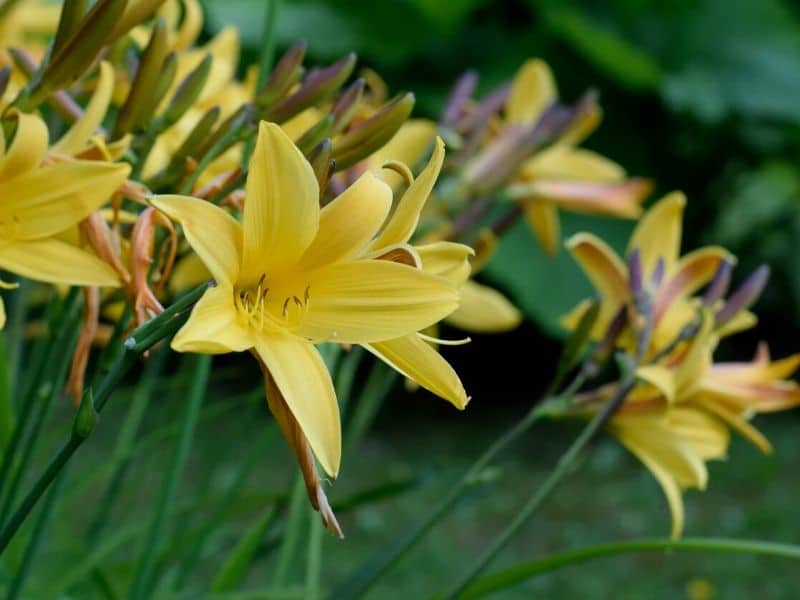 Just like azaleas, daylilies are another Asian flower that is symbolic for motherhood. They represent the sacrifice that a mother makes for her child, which makes the day lily a matronly flower. This delicate bulb also symbolizes filial devotion and gratitude that a child has to their mother.
Daylilies come in a myriad of shades, from vivid orange to yellow. Its gorgeous appearance and classic affiliation with all things motherhood make it a perfect option for your mom's special occasion.
Some daylilies bloom earlier than others, but you can easily find a bulb that perfectly suits your mother's bouquet practically anywhere – even the grocery store!! It will be a great way to show your appreciation and devotion to her.
7. Bluebell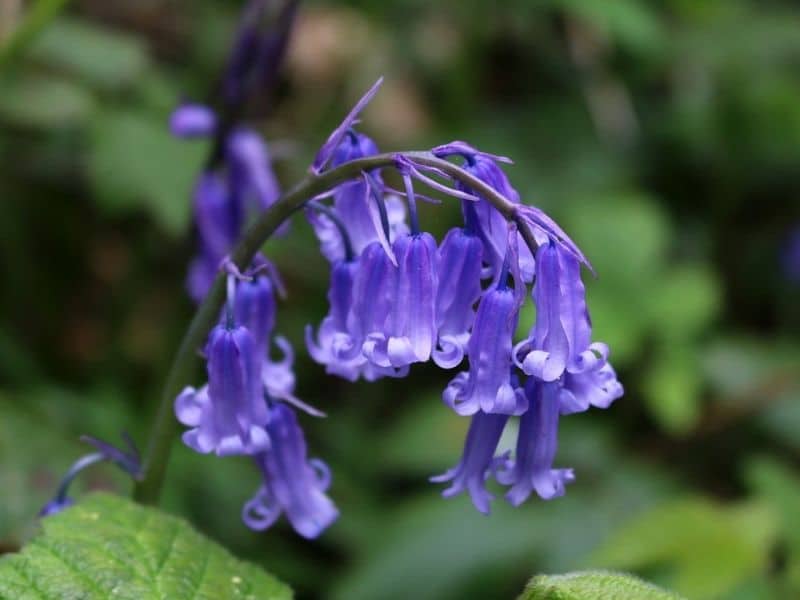 Do you love your mama for her ability to stay calm and offer a soothing, tranquil presence in any situation? If so, you may want to consider giving her some bluebell flowers. These flowers bloom in the spring, meaning the timing will be perfect for a beautiful Mother's Day bouquet.
There is much more to this wildflower than its bizarre shape. In Victorian culture, people used bluebells as a way to communicate their feelings to others.
Their pale, cool blue color and distinctive shape now represent themes like humility and steadfastness, although you will also find some off-white varieties. If you are lucky enough to spot a white sample, just know that this color links bluebells to images of spirituality and purity.
8. Camellia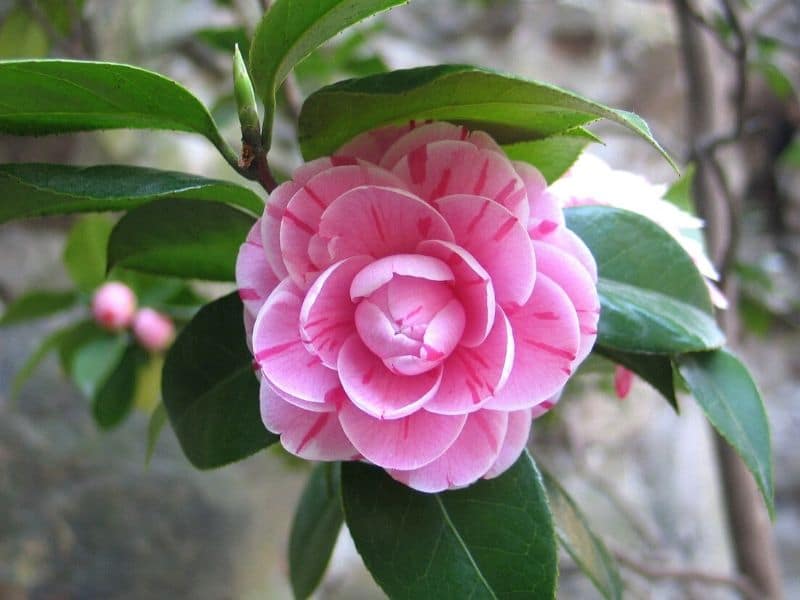 Would you rather give your mother a plant rather than a premade bouquet? There are plenty of reasons to do so – for one, it will last a lot longer, reminding your mother of your love and admiration for her season after season.
While most flowering shrubs are at their peak in the summer, camellia is unique because it primarily blooms in the late winter and early spring months. The camellia can be found in a variety of colors but what all plants have in common is that they emanate a sweet, cloying fragrance.
In Korea, the camellia flower symbolises faithfulness. In Japan, it is often used in religious ceremonies. On the other side of the world, Victorian England societies used camellias to send a message that the recipient was deeply admired.
With over 40,000 registered camellia cultivars, these flowers represent gratitude and undying devotion. What a great way to recognize Mom!
9. Gerbera Daisy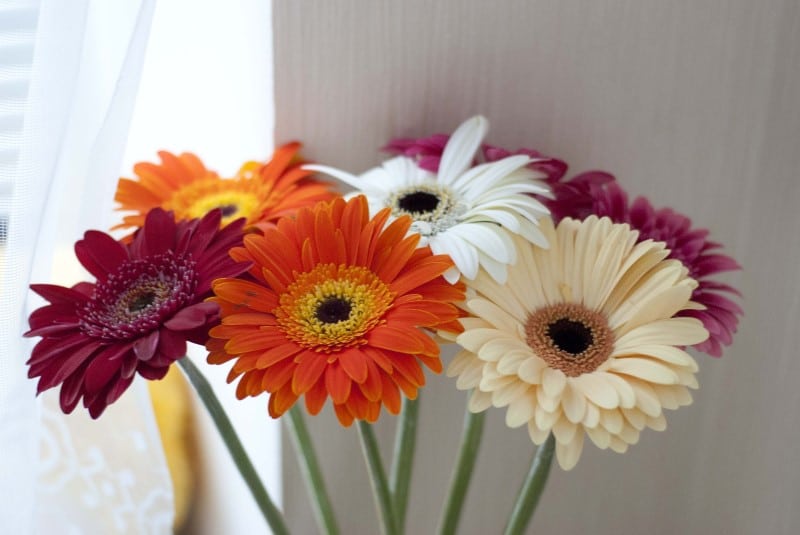 Did you know that gerberas are the 5th most popular flower in the world? They are well-known for a robust flowering head that closely resembles a sunflower.
While they have come to symbolize innocence, purity, and beauty, gerbera daisies primarily represent cheerfulness, stemming from their gorgeous, rich colors. The white gerbera symbolizes the innocent hearts of children and gratefulness for the life they received.
If your mama tends to radiate happiness, gerbera daisies are a guaranteed option for her bouquet. If you gift these flowers, you are sending her a deep and meaningful message that will make a long-lasting impression on her.
10. Orchid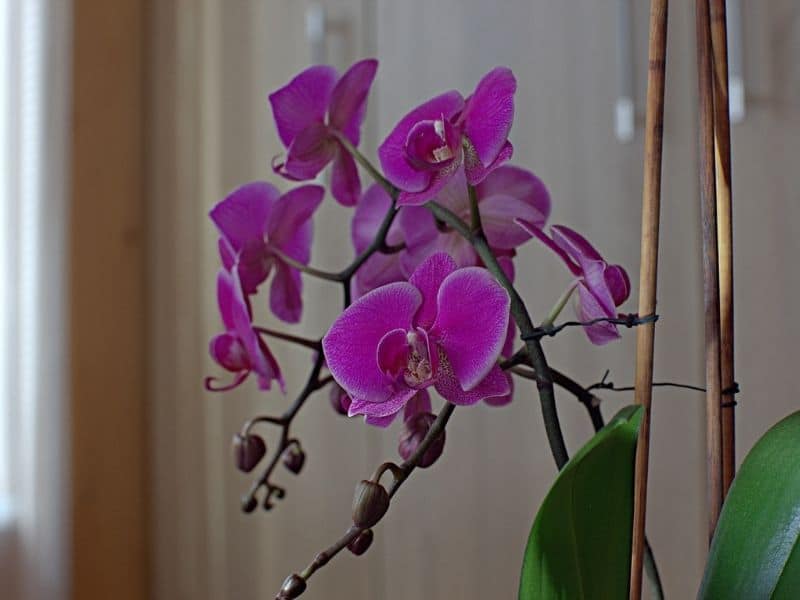 If your mother has a trendy personality, loves new fashions, bold colors, and exotic stylings, orchids will make tasteful gifts. They come in a wide variety of styles and they are easy to care for too!
You can find over 20,000 species of orchids in the world and in a variety of colors. Whether it is sweet peach, sunshine yellow, fuchsia pink, or deep purple, each orchid represents different traits, from white's respect and perfection to pink's beauty and femininity.
What you will like about orchid arrangements is that they will last significantly longer compared to other flower types. Your mom's gift will continue to bloom weeks or even months after Mother's Day has come and gone, reminding her of your sweet gesture every day.
The orchid's impressively robust structure reminds of a mother's love that can withstand the test of time. For this reason, you can never go wrong with a beautiful orchid arrangement. It will make your mother truly feel how much you love and appreciate her.
11. Peony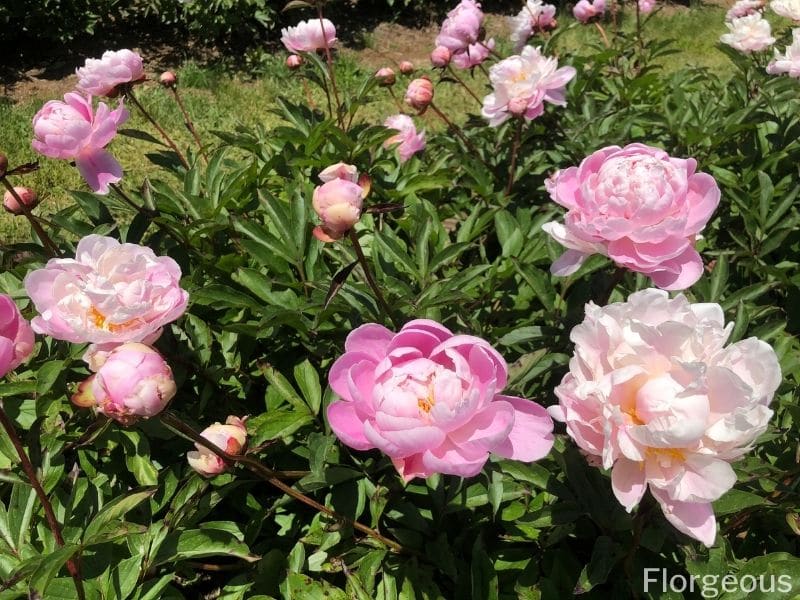 Peonies are symbolic for many reasons. You may consider it as the ultimate emblem of happiness, compassion, and good fortune. In China and Japan, the word peony means king of flowers. It is the emblem of important holidays like the Chinese New Year and other religious traditions.
The origin of peonies dates back to 4000 years ago. They first appeared in Chinese gardens before reaching Japan.
This flower makes a lovely alternative to the traditional rose, and a great gift option to consider on Mother's Day!
Peonies are even associated with happy marriages! So, if you are looking to celebrate your parents' relationship and honor their companionship, this is the option for you. Regardless, the delicate beauty and high fragrance of peony will delight any mom's heart.
12. Carnation, Lily, and Rose
With this sweet arrangement, your eyes will dance across three flowers of unique design. All three work incredibly well together in a bouquet. Once assembled, these flowers' shapes will arrange superbly, creating a combination of dazzling colors and sweet sophistication.
Each variety of lily holds a different meaning. But the most common definition is purity and fertility. Christians associated lilies with the Virgin Mary. The pink shade symbolizes prosperity and abundance, while the yellow lilies are an image of thankfulness.
When you look at Roses and Carnations together, you will immediately see that they are the perfect flower pair, coming together to create a romantic and sophisticated arrangement set elegantly.
If you opt for this trio on Mother's Day, you will make this occasion much more special. This perfect flower arrangement will express your heart's sentiments and will make for a Mother's Day gift like no other.
13. Carnation, Daisy, Hydrangea, Peruvian Lily, and Rose
We couldn't possibly conclude this list without mentioning another marvelous bouquet combination.
The hydrangea represents gratitude, grace, and beauty. Its colors are the symbol of love, harmony, and peace. Due to the extremely high number of flowers and its bountiful round shape, the hydrangea also represents the idea of abundance and prosperity.
Joined by the beauty and sweetness of the lily, this bouquet's vibrant colors and delicate scents will surely impress your mother and will make her day even brighter.
---
Say It With a Flower!
Flowers do not only exist to make our gardens colorful and beautiful. They are also there to represent our deepest emotions. Every time we want to express our feelings towards others, we use nature and the beauty of its floral species.
Now that we delved deeper into the origins and meaning of each flower, you are ready to step into a plant shop with confidence and order the best bouquet combination to celebrate Mother's Day.
Every flower has its particular meaning, and we want to ensure that we gift our mothers something that tells them exactly what they mean to us. Luckily, online services allow you to choose an amazing bouquet without all that florist drama.
Be prepared this Mother's Day – and don't wait any longer. There are also many Mother's Day bouquets you can pick from many flower delivery services and local florists too.
There is nothing better than seeing your mom's personality reflected in a flower. So, regardless of where you are in the world, pick the flowers for mom that speaks her language!
*image by NeonShot/depositphotos