Lilies are members of the genus Lilium, a group that belongs to the family Liliaceae. Originating in sub-tropical and temperate regions of the Northern Hemisphere and prized as flowering ornamentals, lilies rank among the earliest cultivated plants.
Over the centuries, lilies have become engrained in everyday culture including art, literary texts, medicinal uses, food sources and for their astonishing decorative beauty. The loveliness of lilies has made them increasingly hybridized.
Lilies are a name attached to several types of flowering plants with true lilies being upright perennials ranging in heights of 1 foot to 8 feet with spreads of up to 2 feet. They are primarily grown and propagated from rhizomes or bulbs that characteristically lack an outer shield cover.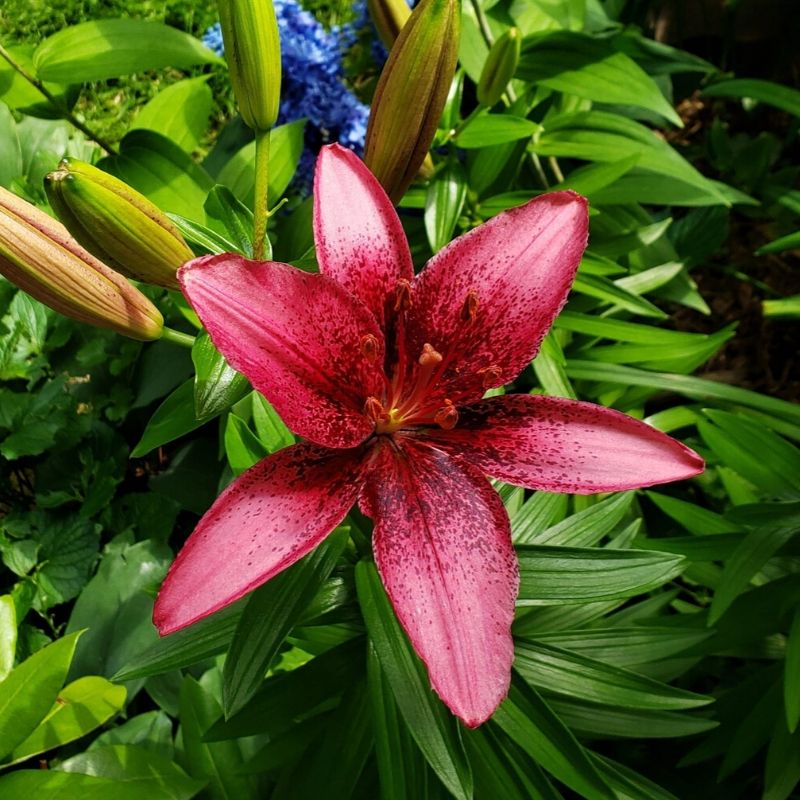 Growing the Many Types of Lilies
Rhizomes or bulbs may be sub-divided and replanted. Lilies may also be grown from nodules, scales, or seeds. Usual planting times are spring and fall. It is suggested that bulbs should be planted in soil enriched with organic matter, about 4 to 6 inches in depth.
Lilies thrive in full sun with increments of shade. They are easy to grow and require little maintenance. Depending on the variety, lilies bloom between the months of May and September.
By selecting mixed types of lilies, bloom time can cover most of the summer and produce striking colors. Lilies are grown in woodland settings, gardens, borders, containers, and pots. Generally, you'll plant lily bulbs in the fall or early spring to make sure your lily bulbs have time to mature before it's time to bloom.
The plants have stiff stems and narrow spear or lance-shaped leaves that cover the stems in differing numbers of whorls. Flowers develop on the ends of the stems in petal-like segments of 6. They may be single blossoms or small bunches.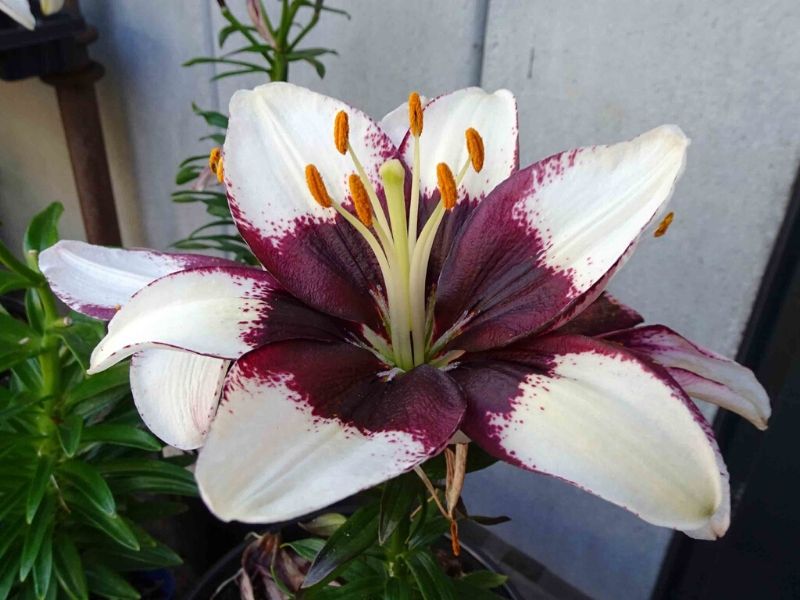 Typical flower colors include plum, red, pink, white, yellow, orange, and lavender. Blooms may show mixtures of striping, freckles, or blotching.
Some types of lilies are alluringly fragrant, while others have no smell. The flowers are ornate, have different shapes and may face in divergent directions. Some lily flowers are seemingly flat. Other flowers resemble bells, cups or bowls, while funnel types and trumpet shapes are also available.
Lilies have been used in Asian medicine and eaten as a starchy root vegetable by humans. Wildlife including deer, mice, and squirrels eat the bulbs. Insects are also attracted to many types of lilies.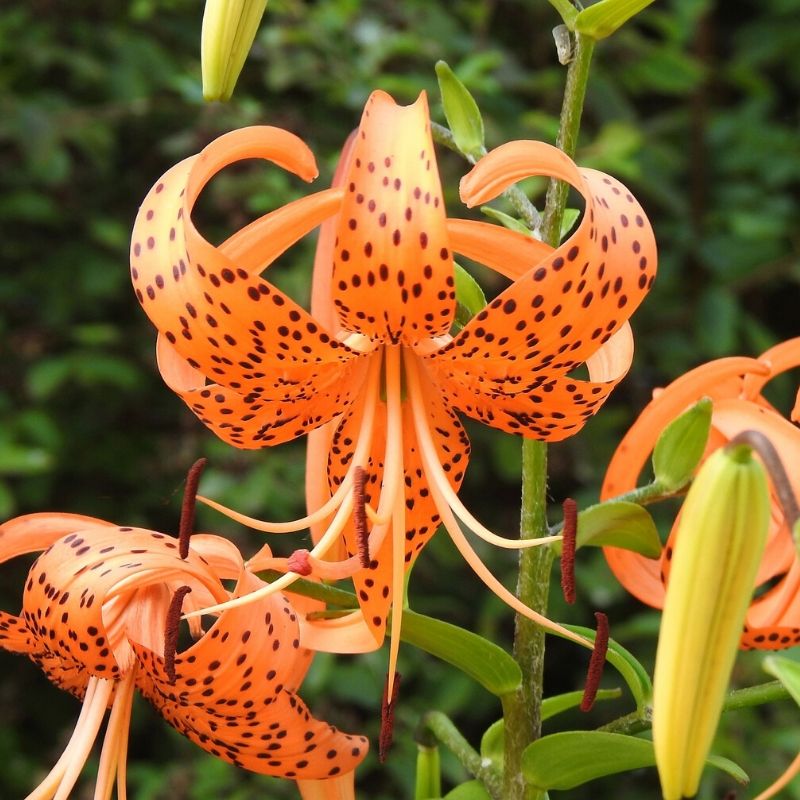 However, it's important to note that some types of lilies are toxic to cats and should be planted where your cat does not have access to them. Lilies like the tiger lily have few pests or diseases but may be affected by gray mold, slugs, snails, red lily beetles or viruses that are spread by aphids.
Due to the wide range of hybridized true lilies, a horticultural system for classifying them has been developed in conjunction with the North American Lily Society and the Royal Horticultural Society, which categorizes the numerous types of lilies into nine divisions comprising of parentage and includes flower structure and habit:
Division 1: Asiatic Hybrids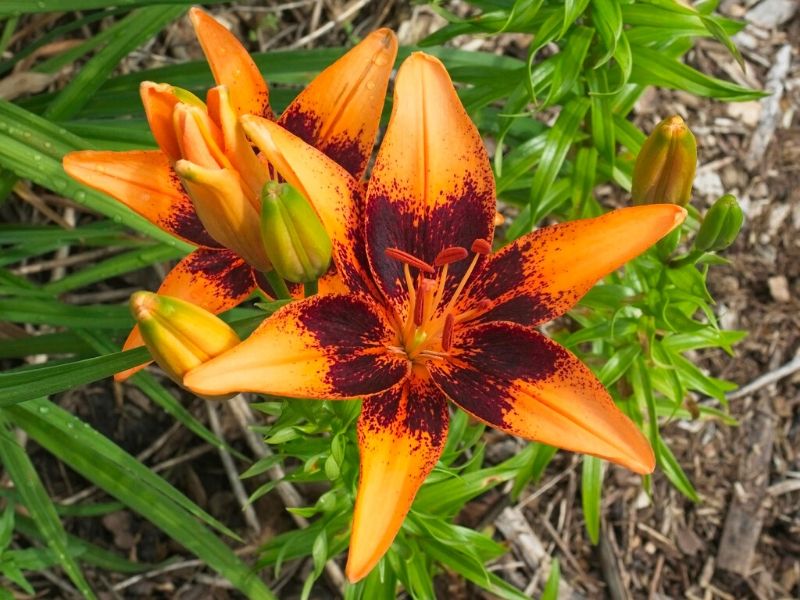 Asiatic lilies are known for large beautiful flowers approximately 4 to 6 inches high atop 2 to 5-foot tall stems. These flowers typically lack fragrance and may hang downwards, face outwards or bloom upright.
A wide range of colors exist for these types of lilies, which include reds, whites, oranges, pinks, and yellows. These types of lilies are simple to grow and do great in sunshine. They are noted to be early bloomers and bring vibrant color to spring.
L. 'Big Bang'
This lily is reminiscent of the expanding cosmos, hence the name. The out-facing flower has six petals and is often creamy white covered in burgundy spots and swirls. The exposed stamens are topped with dark bronze anthers. Big Bang grows up to 4 feet tall and the large summer bloom is a priced cut flower.
L. 'Black Out'
A truly enchanting lily, Black Out produces upward facing flowers in dark red, even the stamens are red. The shiny petals have deep burgundy shading near the center with embossed spots. Clusters of 4 to 5 flowers sit atop the 3 feet plant, usually seen in gardens as border or potted for cut flower use.
L. 'Black Spider'
This lily is an excellent addition to the garden as it blends perfectly with the other plants. The 3 feet high plant bears round-edged ivory white to yellow flowers with solid plum center spreading in spots. Black Spider is a popular cut flower during summer when flowering is at its peak.
L. 'Brunello'
Brunello lily surprises with its fantastic green flower buds that bloom into glossy vivid large heads of flowers. Set against the dark green foliage, the flower is an instant pop of color and despite the lack of fragrance, it is still attractive to both passers-by and pollinators. This Asiatic lily will tolerate all conditions except too much soil moisture.
L. 'Brushstroke'
Brushstroke lily has been in existence for over 30 years. It is a very vigorous plant producing large up-facing yellowish white flowers with amazing dark purple brushstroke-like patterns on the petals. The colors tend to lighten in warm weather. The 4 to 6 feet tall plant was bred by Judith McRae in 1976.
L. 'Crete'
Crete starts out as a cluster of yellow buds on top of a 3 feet vigorous plant and as the summer season approaches, the buds open into upward-facing magenta blooms. The upright and towering form of the plant makes it excellent in mass planting and the showy flowers are always perfect in bouquets.
L. 'Connecticut King'
This clump-forming plant has handsome glossy leaves arranged in a spiral form. It can reach up to 3 feet high and atop the tall upright stems are deep yellow to golden flowers. They come in clusters and upon summertime, the mass planting of Connecticut King creates a dominant feature in the garden.
L. 'Corsica'
This late spring-flowering lily bears upward-facing sturdy blooms. They come in shades of pink blending to yellow with deep pink spots on petals that curve backwards. Corsica loves full sun and moderately moist soil. Like most lily hybrids, it will not come true from seed and propagation is by division of offsets.
L. 'Dot Com'
Dot com lily provides an instant bouquet with large 5-9 flowers borne on a single stem. The bowl-shaped flowers are purplish pink with distinct dark red spots spreading from the center. The striking plant makes an excellent border or tree underplanting especially since they can thrive under part shade.
L. 'Enchantment'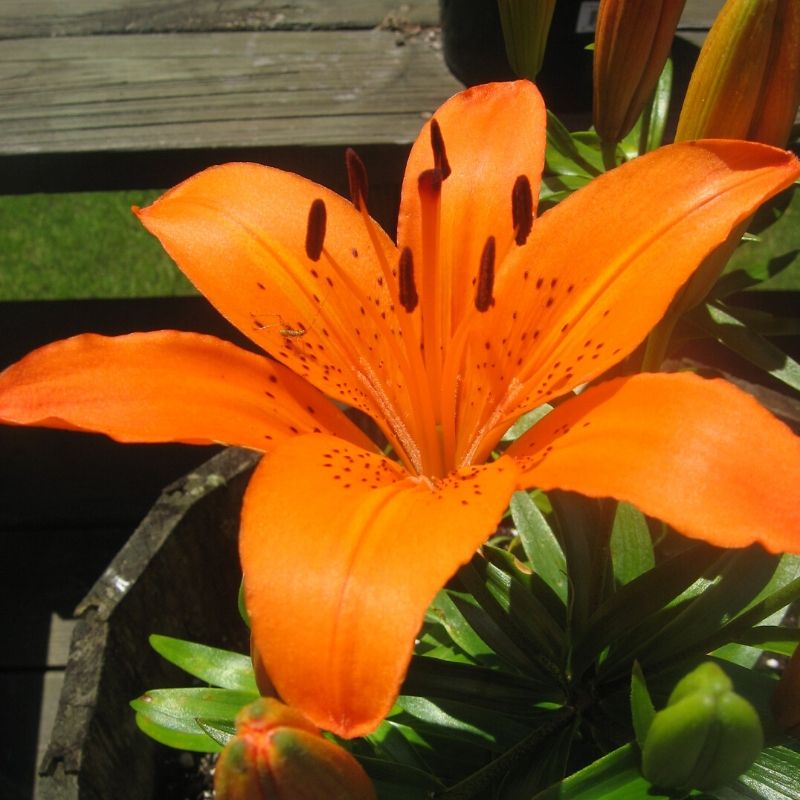 Enchantment features remarkable deep orange flowers, peppered with black spots. The plant can grow up to 3 feet high, one of the early upright lilies known as "mid-century hybrids". Considered as one of the finest lily hybrids, Enchanted remains popular and was a winner of the Hall of Fame by the North American Lily Society.
L. 'Fire King'
Hybridized by Stooke in 1933, Fire King is an Asiatic lily with deep red-orange flowers covered in purple spots. The lightly scented petals curl outward, exposing the orange stamens. Fire King is tall, can reach up to 6 feet high. The pointy dark green leaves definitely provide a contrast to the showy flowers. Also known as the Fire Lily, these types of lilies thrive in well-drained soil and are somewhat shade tolerant as well.
L. 'Gran Paradiso'
The red-orange flowers have wider glossy petals prominently curling at the ends. The center appears brighter orange and the underside have tinges of dark red. The yellow buds also add a pop of color against the big, showy flowers. Gran Paradiso is a great cut flower and is always a smart choice as a garden border. It is shade tolerant, especially compared to other lily varieties.
L. 'Grand Cru'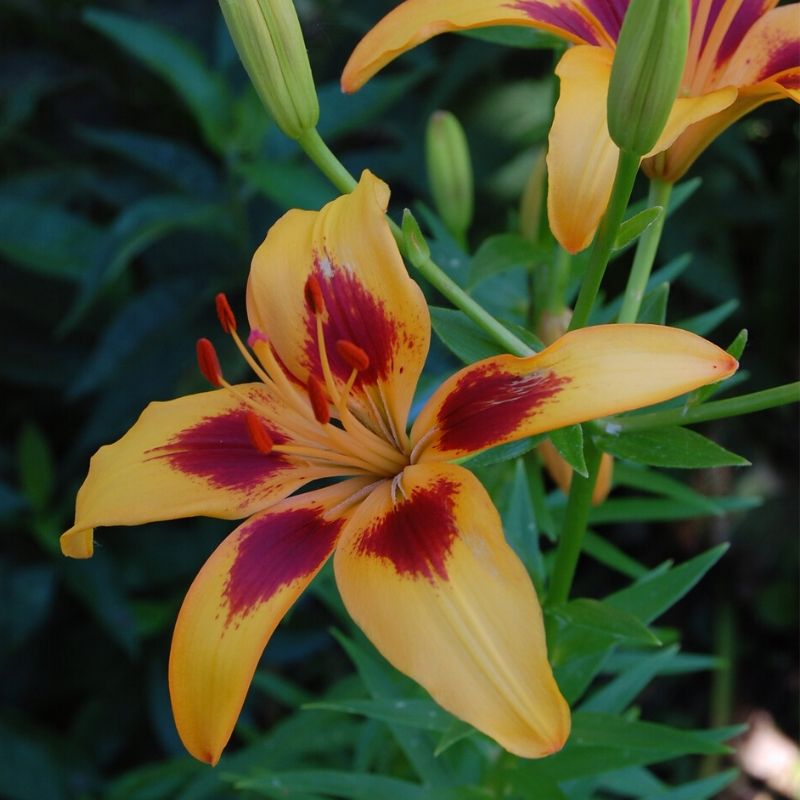 Grand Cru shines bright with its yellow flowers. The dark-colored anthers pop against the bright petals but are complemented by the red markings on the center of the flower. The beauty of Grand Chu has been recognized and it won the Award of Garden Merit in 2002 by the Royal Horticultural Society.
L. 'King Pete'
Another Garden Merit Awardee, King Pete boasts creamy yellow flowers blending to orange in the center and brown spots. The big blossoms are downward-facing and the petals remarkably curl outward. They are showy and long-lasting which are great characteristics for cut flowers.
L. 'Last Dance'
Last Dance is a very attractive lily producing airy flowers that nod with the wind. These down-facing flowers are lemony yellow with curved petals. The plant is tolerant of heat and does not require intensive maintenance. It can reach up to 5 feet tall and pairs well with low-growing summer plants with finer or coarser leaves.
L. 'Monte Negro'
The blooms of Monte Negro are red all throughout and when several plants are grown in mass, they create an extraordinary summer focal point in the garden. While the blossoms last, make use of them as cut flowers. Their bulbs are tough that they can be left in the ground to flower the next blooming season.
L. 'Patricia's Pride'
The gorgeous Patricia's Pride appears as if a star has formed inside a star. This 6-petalled fully open lily is creamy white and the rich plum markings on each petal are together, shaped like a star. The stamens look even more attractive with the green filaments. The flower may appear exotic but its overall appearance can be easily blended with other plants.
L. 'Pixie Series'
Pixie lilies are dwarf lilies grown for their showy and fragrant flowers that create a great show throughout summer. The trumpet-shaped flowers on these types of lilies are smaller but they are brightly colored with charming freckles that make it easy to fall in love with them. Most pixies have a compact growth and look best when planted en masse especially with flowers lasting for weeks.
L. 'Pollyanna'
The airy flowers of Pollyanna are bright yellow with a deep gold flush and sparse brown speckles in the center. These types of lilies grow up to 5 feet high and blooms throughout summer. It performs well in moist soil and under the full sun but can tolerate shade. The blossoms make wonderful cut flowers.
L. 'Push Off'
A fantastic two-toned lily, Push Off offers maroon-red flowers with white tips. These flowers bloom from late spring to early summer. The plant generally prefers to be planted in containers with good drainage where it grows more compact but it will need to be repotted every 2 to 3 years to make room for new root and shoot growth.
L. 'Red Velvet'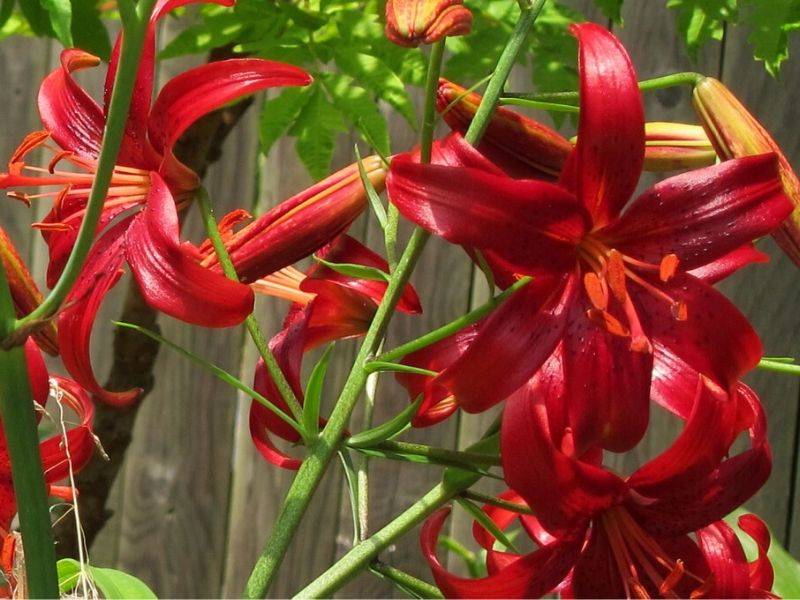 Existing for over 50 years, Red Velvet is considered a classic with its inverted bowl-shape luscious dark red flowers and backward-curling petals. It reaches up to five feet and produces more profuse blooms year after year. Red Velvet was in the Hall of Fame by the North American Lily Society.
L. 'Rosella's Dream'
A truly dreamy flower, these types of liles showcase creamy white petals blending to soft pink by the edges. From a distance, the center looks dark-colored because of the golden to reddish anthers appearing to have showered the center with brown freckles. Rosella's Dream bloom in sunny to partly sunny conditions.
L. 'Royal Sunset'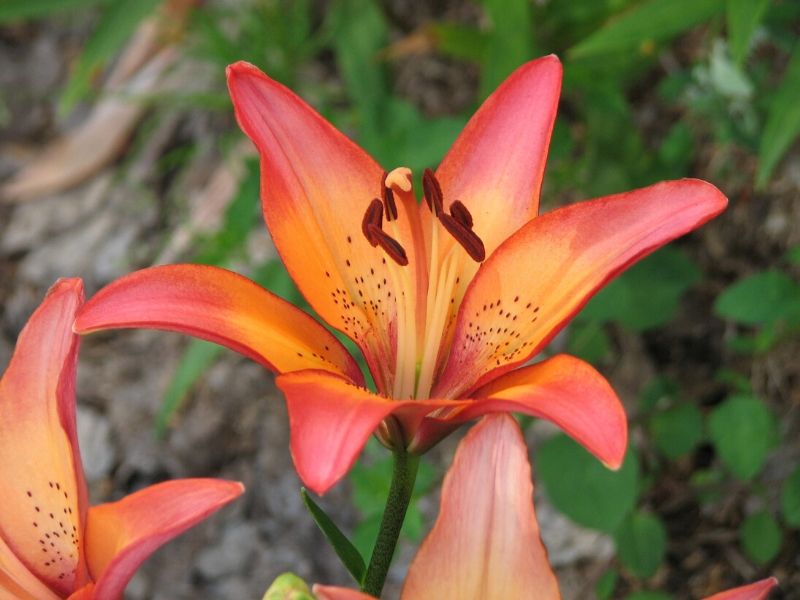 This low-maintenance lily looks as if it only receives the best plant care. Borne on a 3 to 4 feet upright plant, the large showy flowers are orange to gold with maroon spots and red petal tips. The rigid stem, and lovely fragrant flower that reminds of sunset is an excellent choice for a cut flower.
L. 'Salmon Twinkle'
Salmon Twinkle is an adorable decorative flower featuring creamy yellow flowers with salmon pink petal midribs and tips. The down-facing blooms have recurved petals that create a dramatic look on the plant. Adorned with tall leafy stems, these types of lilies will make a wonderful garden feature, solitary or in mass.
L. 'Sundrenched'
This Asiatic lily is tall and slender with narrow green leaves covering the glossy deep green stalks. The flowers are big with six saturated yellow petals covered in reddish brown spots. The flower appears bleeding as fading red runs through the midrib of each petal blushing their tips. These types of lilies bloom best under full sun conditions.
L. 'Tibetan Snow'
As the name suggests, Tibetan Snow bears a raceme of white flowers with creamy yellow color running along the underside of the petal midribs. They start blooming in early June and the abundant pendant-like blooms are such a sight. Flowers do not have pollen and like many lily hybrids, these types of lilies can be reproduced by division.
L. 'Tiny Todd'
Tiny Todd is an early blooming lily that charms with its up-facing white flowers blending with pale pink. It was originally developed in the Netherlands for container planting, usually placed in front of houses for an instant summer bloom but it's a very versatile plant which can be planted along sunny borders.
L. 'White Butterflies'
White butterflies is an Asiatic lily that produces a tall cluster of nodding white flowers with pink underside. The fully open, curling petals expose the contrasting-colored stamens. The plant has tolerance for drought and heat making it a tough versatile addition to the garden. The flowers bloom early and last for up to a month.
Division 2: Martagon Hybrids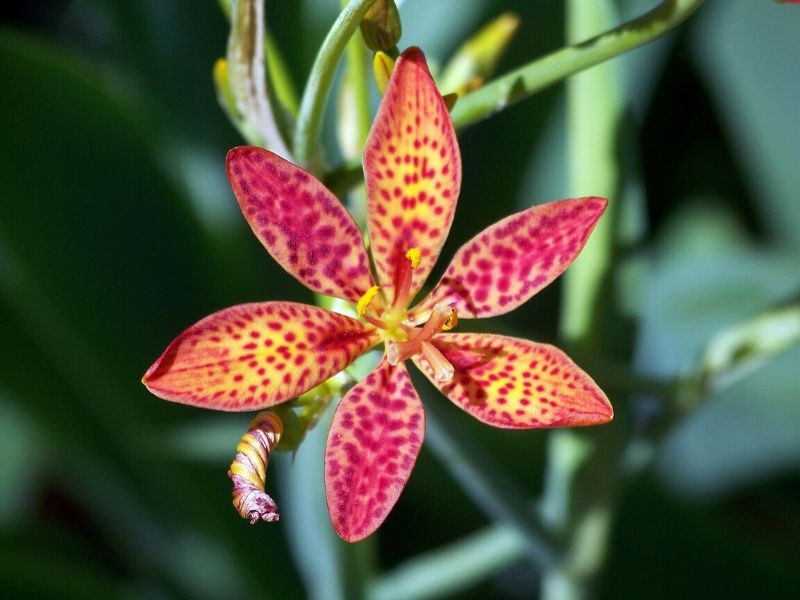 Martagons are also called "martagons hansonii hybrids" and are characterized by down-turned "turk's cap-like" small flowers on 3 to 6 foot tall stems with leaf whorls. These types of lilies bloom at the beginning of summer and have an unpleasant scent.
These types of lilies do best with increments of shade. Colors range in shades of white, light orange, pink, yellow, lavender, and maroon, all of which may be splattered with speckles of color.
L. 'Arabian Knight'
The exotic-looking Arabian Knight lily is all about the small pendant russet-orange flowers sprinkled with matching deep red spots. The look striking clustered atop a smooth slender stalk. The plant prefers well-draining soil and full to part shade areas. Once the roots have established, the plant will produce a profuse bloom year after year.
L. 'Claude Shride'
The airy floral form of this Martagon lily looks amazing both near and afar. The deep maroon flowers have orange edges and orange leopard-like markings complemented by the full exposed golden pollen-covered anthers. Among some of the types of lilies that like partly shaded areas, the remarkable flowers will definitely brighten any shaded garden.
L. 'Manitoba Morning'
A profusely blooming lily, each stem producing 50 pendulum-like reddish pink flowers with golden stamens protruding downwards. The red-speckled flowers bloom as early as June and mix well with equally tall shrubs with contrasting colored-flowers in open gardens or along the edge of woodlands.
L. 'Mrs. R.O. Backhouse'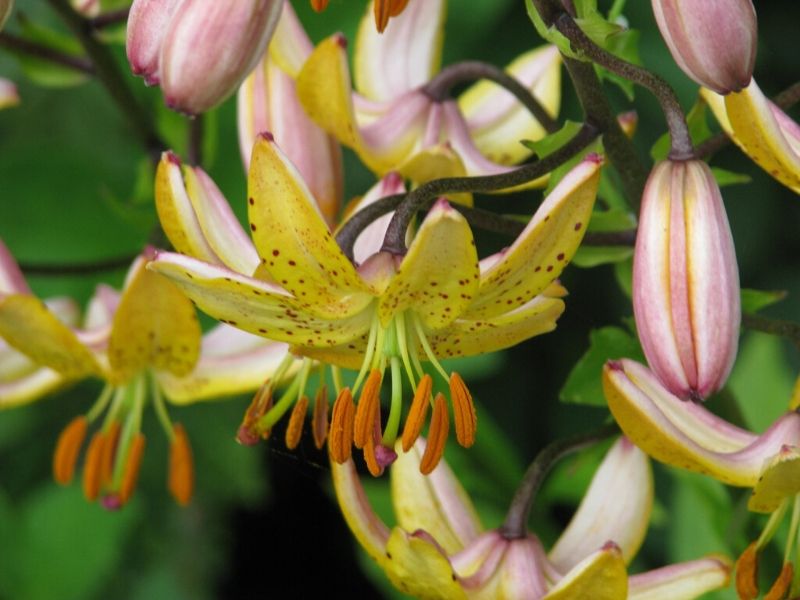 Named after the wife of Robert Ormston Backhouse who introduced the plant in 1921, this lovely lily starts out soft pink and blooms into golden-orange with only the backside retaining the blush. The downward-facing flower is splashed with brown spots. The flowers dangle on long stalks and put on a wonderful show as the mass plantings bloom in early summer.
L. 'Pink Morning'
Pink Morning produces up to 50 pale pink flowers with deep purple freckles per stem. The airy blossoms look stunning in masses and smell amazing as they sway with the wind. Best planted in the fall for timely summer bloom. This lily can be planted in the ground or in containers and will survive as long as there's enough sunlight and moisture.
L. 'Scarlet Morning'
A beautiful lily both at the front and the back. The bright orange flushed deep red flowers face downwards together with its protruding stamens. The exposed underside is deep plum. The remarkable curled petals appear showy to pollinators which feast on the profusely flowering plant.
L. 'Sunny Morning'
Sunny Morning produces a natural bouquet of golden-orange flowers covered in deep red spots. Blooming from early to mid-summer, the flowers attract passers-by and butterflies making the plant perfect when potted or when grown in shaded woodland gardens. The long-lasting thick blossoms are excellent cut flowers too.
L. 'Terrace City'
This 4 to 6 feet high Martagon lily produces many attractive light pink buds with reddish tips that open into golden yellow flowers with petals extremely curved outward. The heavily speckled center matches the rough orange anthers. The plant is a long-lived garden variety that blooms dramatically throughout summer.
L. 'Album'
The martagon Album is a lily hybrid that grows up to 4 feet high. The green stalks and leaves start dark at the bottom and fade to a lighter tone towards the top where the many fragrant turk's cap white flowers are borne. Album likes good sun exposure and well-draining soil. It may not bloom during its first season but once established, each stem will produce up to 30 beautiful flowers.
Division 3: Candidum Hybrids
Candidum hybrids have cone or funnel-shaped flowers that bloom during the early summer on 3 to 4 foot tall stems.
These types of lilies have a pleasingly sweet fragrance. Hybrids in this category are developed mainly from the Madonna lily or L. candidum and other connected European types.
L. 'June Fragrance'
The most notable cultivar in the Candidum Hybrids, June Fragrance lives up to its name and produces mesmerizing fragrant creamy white flowers at the onset of summer. This variety is very successful in that it serves as a parent in creating new candidum varieties.
Lilium x testaceum 'Nanking'
The Nanking lily is the first successful candidum hybrid developed by the German Franz Anton Haagc in 1836. The resulting flowers are delicate yellow with tinges of brown. The plant thrives in calcareous soil and warm humid conditions, just like how the parent Madonna lily, prefers her environment.
Division 4: American Hybrids
American hybrids are hybridized from lily species indigenous to North America. These types of lilies lack fragrance, and the bloom season depends on the planting zone. In warmer zones, blooms appear during the latter parts of spring to the beginning of summer.
In cooler zones, blooms arrive mid-summer. These types of lilies typically hang downwards and fall in the category of "turk's cap-type," while others have more funnel-like flowers. Stems are tall ranging between 4 and 8 feet tall.
L. Canadense/ Canada Lily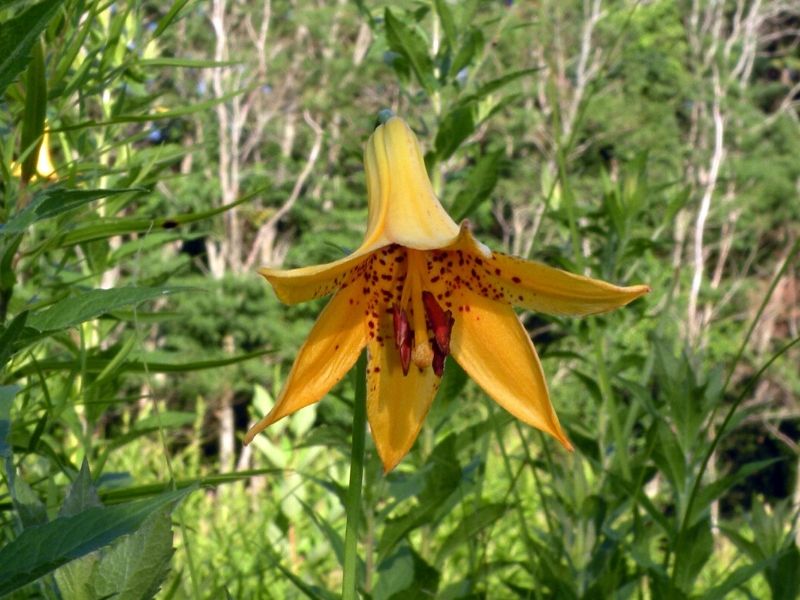 The Canada lily is found native to the Eastern parts of North America. It bears downward-facing speckled flowers with colors ranging from yellow to red. It can reach up to 4 feet high and naturally grows in moist meadows where there is dappled light. The flowers may be borne solitary or in clusters and bloom from June to July.
L. Catesbaei/ Catesby's Lily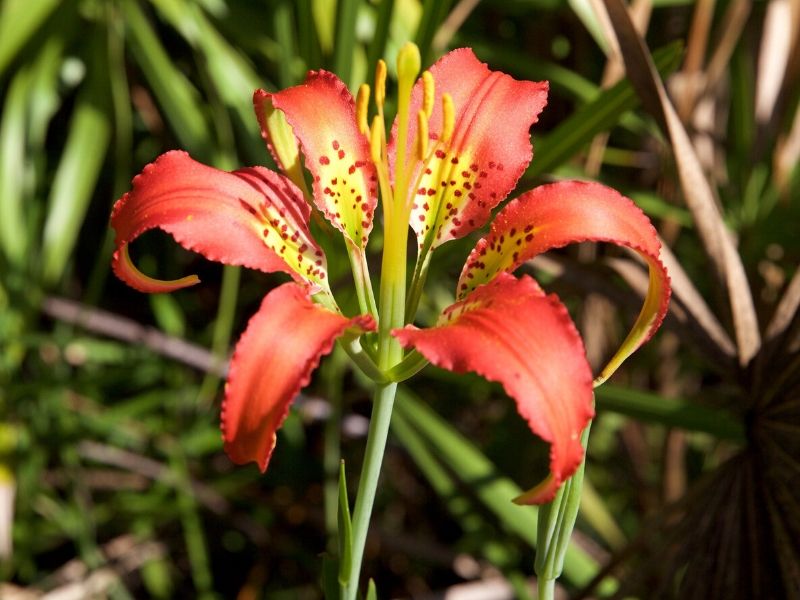 Also called Pine lily, this plant grows in the coastal regions of Eastern South America. The unique orange blending with yellow flowers have pointed frilled petals that are airily spaced. Mahogany red dots appear on the yellow parts of the petals. The flowers are solitary and bloom in summer and fall.
L. Columbianum/ Columbia Lily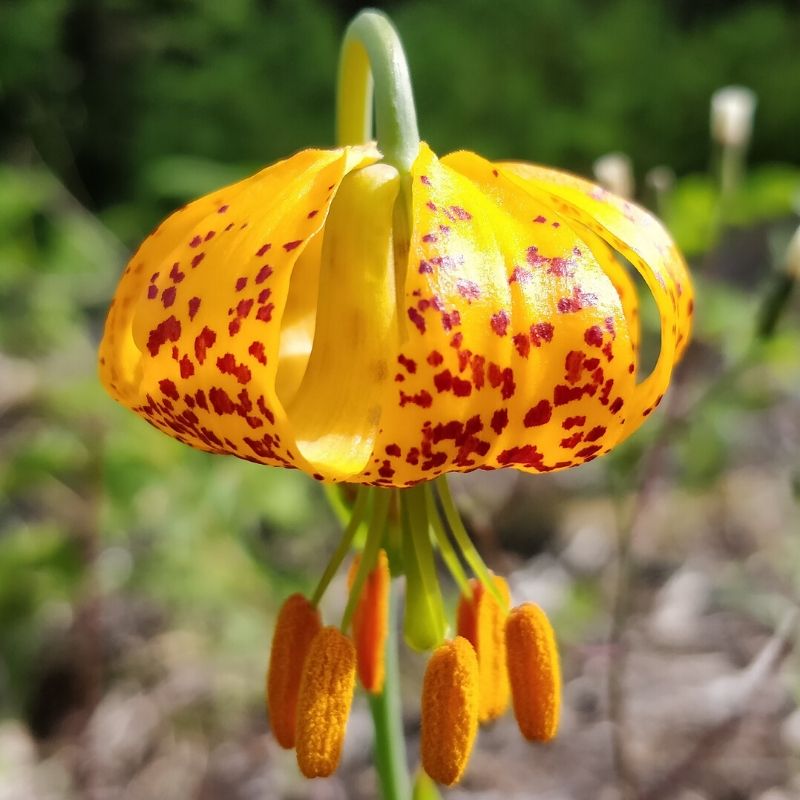 Naturally occurring in forest entrance and open woods of the Western North America, the Columbia lily Columbian lily thrives in moist soil and shaded areas. The lightly scented flowers are orange with dark specks and the petals are significantly curled outward. The plant can reach up to 4 feet tall and whorled leaves are arranged around the long stem.
L. Grayi/ Gray's Lily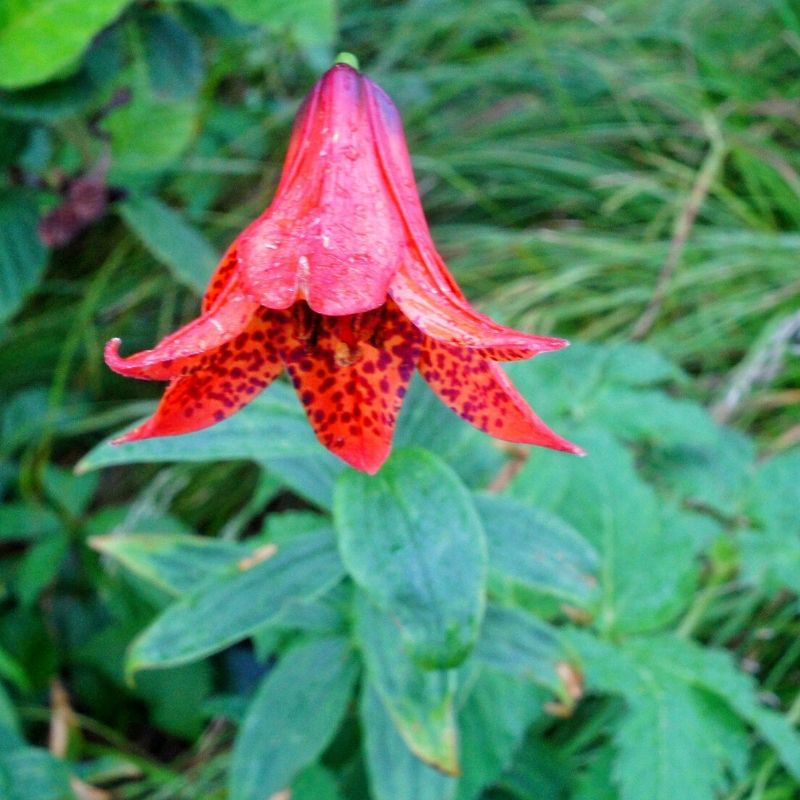 The striking funnel-shaped flowers of Gray Lily have closely overlapping orange petals that are plain on the outside and speckled on the inside. It prefers to grow in elevated areas with moist acidic soil and full sunlight exposure just like in the Appalachian Mountains where the botanist, Asa Gray discovered the plant.
L. Iridollae/ Panhandle Lily
Also called Panhandle lily, the plant was found naturally occurring in the Southeast regions of North America. Mary Henry, upon discovering the flowering lily in 1940 described it as a "pot of gold at the end of the rainbow" because of the golden down-facing blooms, hence the name. This lily plant may be a bit picky and prefers warm but chilly conditions and high humidity.
L. Michauxii/ Carolina Lily
This plant is otherwise called Carolina lily and bears nodding freckled reddish-yellow flowers. The petals are so curved, their tips are almost touching at the back. The exposed stamens are yellow-green with prominent dark brown anthers. The fragrant flowers are frequented by swallowtail butterflies.
L. Michiganense/ Michigan Lily
The strongly curved petals of Michigan lily blooms a red-orange color in summer. The flowers are borne on bent soft green stalks and beneath them are neatly arranged whorls of long leaves with parallel venations. The plant is usually found growing in prairies, serving as perennial borders along running bodies of water.
L. Pardalinum/ Leopard Lily
This lily likes moist soils with good drainage and in the wild, they are found lining river and stream banks. It is known for the half orange half yellow petals with leopard skin-like patterns that's why it is commonly known as Leopard Lily. There are many cultivars of this lily in varying petal colors and shapes.
L. Philadelphicum/ Philadelphia Lily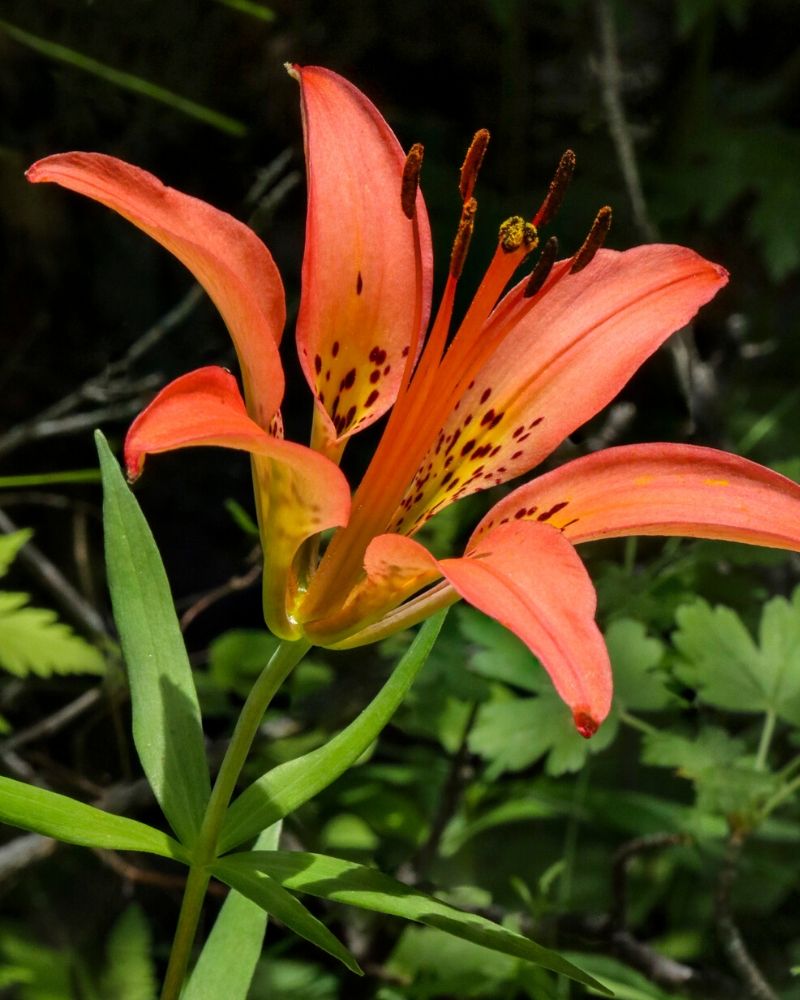 Commonly called Wood lily, this plant is highly variable but most kinds can reach up to 3 feet tall and produce 3 to 5 flowers per stalk. The cup-shaped blooms have equally spaced red-orange petals with purplish-brown spots near the center. Wood lily makes a good pair with plants like turtlehead and violas.
Division 5: Longiflorum Hybrids
Longiflorum hybrids bloom during the middle of summer and are fragrant. These types of lilies are hybridized from the Easter lily or L. longiflorum species.
They can be grown from seeds. Flowers are curved back and bowl-shaped atop 3 foot high stems.
L. 'Deliana'
Bred by De Jong Lelies in 2001, Deliana blooms in summer and produces trumpet-shaped, wide-petalled creamy yellow flowers with tinges of green. The leaves are arranged along the stems in an alternating manner and create a defining dark green contrast for the brightly colored flowers.
L. 'Elegant Lady'
The light purplish-pink flowers with undertones of chartreuse green look amazingly elegant as fragrant cut flowers or as seasonal edging plants in the garden. And it helps that the plant has strong upright stems and attractive dark green foliage. Elegant Lady does not have a lot of pets but is not immune to attacks of aphids and slugs.
L. 'Triumphator'
Triumphator is a bicolor lily mostly white-petalled with rich pink center spreading outwards. The large flowers are set against glossy dark green leaves and rise above the stems that can grow as high as 6 feet. The flowers are very fragrant and add an excellent appearance and scent to a summer flower bouquet.
L. 'White Elegance'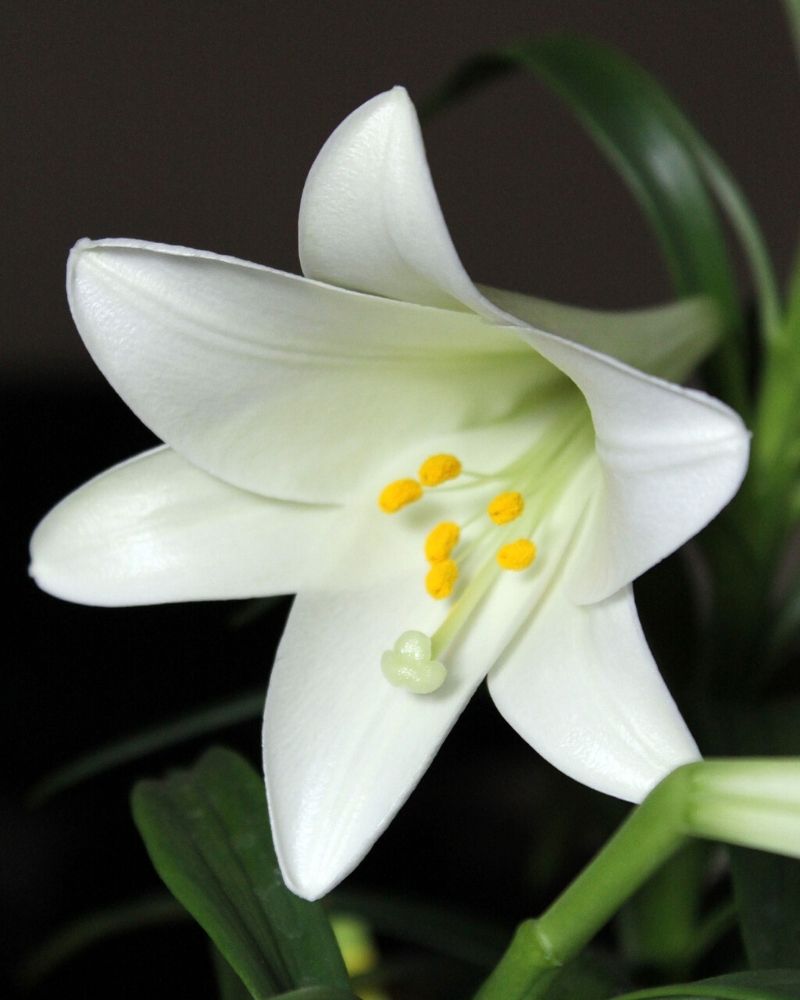 Considered the hardiest of all Longiflorum lilies, White Elegance tolerates heat and humidity and the petals and leaves are thick enough to avoid scorching. The large chartreuse green buds bloom into pure white flowers that lean sideways. These fragrant flowers create a visual drama when used in an assorted flower arrangement.
L. 'White Heaven'
White Heaven provides a truly divine display of blooms with its sweet-scented pure white flowers complemented by delicate green center and yellow anthers. 3 to 6 flowers are borne on narrow vivid green stems. The plant is ideally planted in masses as borders or in patio pots and flowers are always a good option for bridal bouquets.
Division 6: Trumpet and Aurelian Hybrids
Trumpet and Aurelian hybrids are real show stoppers! They brighten gardens from mid to late summer and originate from Asian species such as L. henryi and L. regale. These types of lilies are generally fragrant and bloom on tall stems ranging from 4 to 8 feet tall.
Flowers are large and waxy trumpets in an array of colors to please everyone. They may face in an upward direction or arch downward, while other varieties include flowers that are reflexed, flat or bowl-shaped.
L. 'African Queen'
African Queen is an award-winning lily prized for its pleasantly-scented large trumpet-shaped flowers. The petals are bright orange with hints of burgundy on the underside and along the stamens. Each of the 4 to 6 feet tall stem bears 15-20 blossoms that are long-lasting as well.
L. 'Golden Splendor'
Golden Splendor turned heads upon its introduction in 1957. The golden-yellow showy flowers are trumpet-shaped with exaggerated curling of petals tips. The underside is complemented with maroon and greenish tinges. The plant can reach up to 6 feet tall and the cluster of 12-20 flowers can be heavy so it needs to be supported with stakes during bloom time.
L. 'Goldsmith'
The flared golden yellow trumpet flowers are not only a feast for the eyes but to the olfactory as well. It usually adorns gardens in the form of the border or seasonal accent masses and is always a tasteful option in flower arrangement. The plant appears regal with its upright growth and profuse blooms in summer.
L. 'Ice Caves'
Ice Caves are bowl-shaped white flowers with icy green center spreading towards the petal tips. The petals serve as a light background to the dark red anthers. In the garden, they are best paired with dark-colored plants that will bring out the light beauty of the flowers.
L. 'Madame Butterfly'
Madame Butterfly is a unique trumpet lily that showcases butterfly-looking ivory flowers as if brushed with golden orange paint from the center out. This golden blush is covered in textured whisker-like papillae. Along with these flowers on top of the 5 feet tall plant are greenish white floral buds awaiting their succeeding blooms.
L. 'Midnight'
Blooming from late spring to summer, this lily produces one of the most enchanting flowers. The trumpet flower is deep burgundy with darker undertones and edges.
This color on these types of lilies amplifies the golden anthers which further adds character to the plant. This particular colored variety comes in strain so other varieties may have more intense or toned down colors.
L. 'Moonlight'
Moonlight is reminiscent of the elegant luminescence of the moon. The big yellow flowers have defined midribs with flaring petal ends. The underside of the petals is tinged with light green. The sweet fragrance is hard to miss as one passes by a garden filled with these blooms, especially in mid-summer.
L. 'Paula Marie'
Paula Marie blooms start as banana-shaped green buds that open into 5 inches bowl-shaped yellow-green with buttery throat or center and extremely curved petals. The clustered flowers are striking together and a single plant can stand on its own in the garden.
This lily loves soaking the sun but the defining green tinges are more prominent when under partial shade so best planted when facing the morning sun.
L. 'Pink Perfection'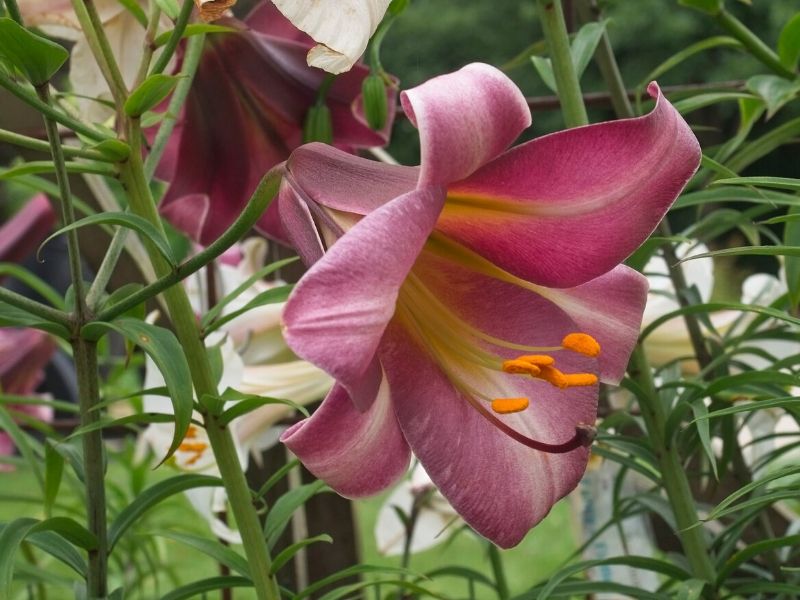 Pink Perfection will definitely make use of the vertical space in the garden as it can reach up to 8 feet high! On top of the slender stems filled with alternating dark green leaves are downward-facing pinkish-plum flowers with protruding golden anthers. These flowers are fragrant and prolific which make good cut flowers.
L. 'Summer Palace'
The creamy pink flowers of Summer Palace come in almost-perfect trumpet form which turns the head of any creature passing them by. Other strains may have varying colors but they are always a delightful shade of pink. The plant's full bloom can be witnessed from midsummer until the early days of autumn.
L. 'Starry Night'
The trumpet blooms of Starry Night looks like that of Madame Butterfly, only with narrower petals that open from late August to September. The widely spaced petals and raceme still create an airy appeal, making them sway as the summer breeze passes them. The plant is clump-forming so they look tidy even when planted en masse.
L. 'White Henryi'
Another Hall of Famer, this lily produces classic white trumpets with flared petals. What makes the flowers more distinct is the golden dust spreading from the center of the flowers on both front and reverse. Red speckles of papillae also accentuate the center of the flower. A very easy to grow lily that can reach as high as 7 feet.
Division 7: Oriental Hybrids
Oriental hybrids bloom late in the summer season. They are characterized by mesmerizing beauty with flowers resembling bowl shapes or practically flat in formation.
These exotic gifts from nature appear on 2 to 8 foot tall stems and possess immense fragrance. These hybrids were developed from East Asian lilies.
L. 'Baferrari'
Looking at Baferrari blooms is refreshing to the eyes. The slightly translucent white flowers with soft to bright yellow highlighting the midrib of the petals look charming against the darker colored leaves. The yellow highlights are textured by the tiny papillae making the flowers more interesting upon closer inspection.
L. 'Black Beauty'
Black Beauty is not black at all but it definitely looks extraordinary. The cup-shape crimson flowers are dramatically curling with green highlighting the center in a pointed pattern. The red petals are peppered with embossed papillae with matching anthers. Each stem can bear up to 150 of these flowers, especially since the plant can grow up to 9 feet high!
L. 'Casa Blanca'
The translucent waxy white flowers of Casa Blanca may be plain-looking but its simplicity is the stunning aspect of this plant. The fragrant large flowers are formed atop 3 to 4 feet tall and sturdy stems and florists always list this flower at top of wonderful wedding flowers. Casa Blanca absolutely deserves the Garden Merit Award from the Royal Horticultural Society.
L. 'Dizzy'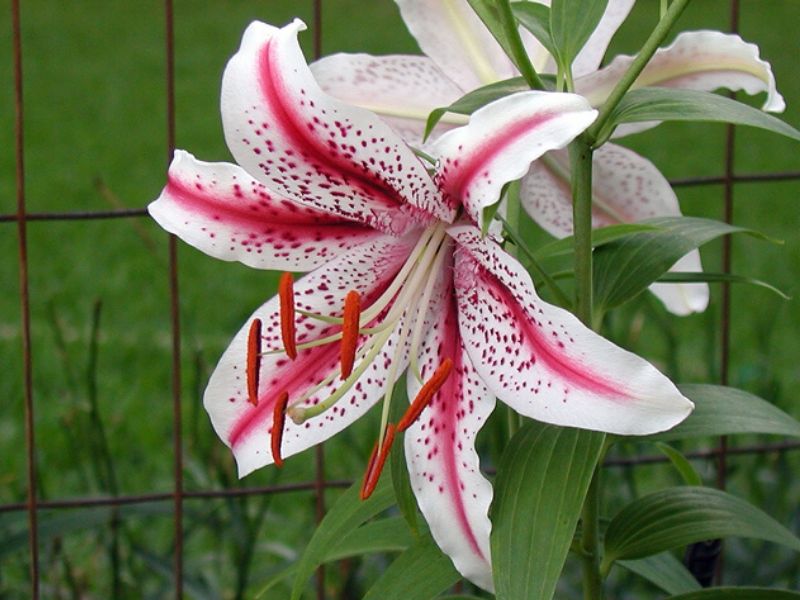 The exotic ruffled white flowers with brownish-crimson stripes and spots and outward curling petals will keep your eyes busy. The plant enjoys almost all kinds of environment and is generally hardy. In winter, the plant will need a good amount of mulch for protection but come summer, it will still burst into a beautiful bloom.
L. 'Garden Party'
The defining characteristics of this plant include the delicate white flowers with a golden throat extending towards the petal tip into a red color. Matching dots are scattered across the petals. The pointed dark green foliage emphasizes the blossoms. The plant only grows no more than 2 feet high which makes it perfect in balcony or patio containers.
L. 'Josephine'
This feminine oriental lily looks charming with its freckled almost flat pink flowers that appear glowing because of the bright yellow center and golden midrib lining. The flowers also emit a refreshing fragrance that florists look for in a cut flower. Butterflies and hummingbirds are addicted to these showy flowers.
L. 'Le Reve'
Le Reve is an absolute dream with its showy and fragrant pink flowers accentuated with yellow highlights and crimson spots. As long as the plant receives ample sunlight, it is fairly easy to grow. They are wonderful in containers and as borders, especially during mid to late summer when the plants are in full bloom.
L. 'Mona Lisa'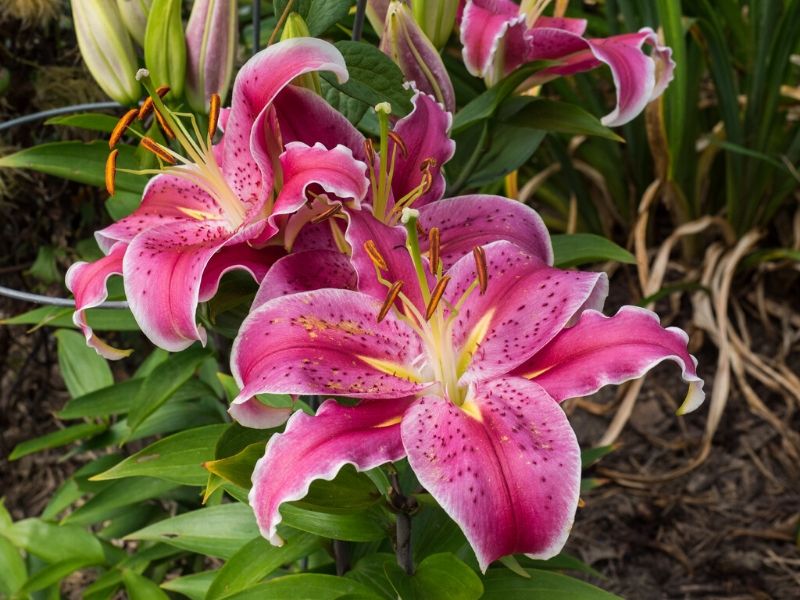 One of the most popular oriental lilies, Mona Lisa is a masterpiece. The huge up-facing flowers display soft-pink petals with white tips, reddish midrib, and matching freckles. It does well in full sun or partial shade and is very hardy. The plant grows low, usually under 2 feet which makes them versatile in the ground or containers.
L. 'Mount Cook'
Not to be confused with the similarly called buttercup species, Mount Cook lily is actually an oriental lily that showcases striking bright pink flowers with yellow highlights and underside. The plant establishes well rich, well-draining soil. These types of lilies also grow best in full sun or partial shade.
Slugs love to feed on the softest parts of the plant and a good solution is to cover the soil surface near the plant's base with coarse sand.
L. 'Stargazer'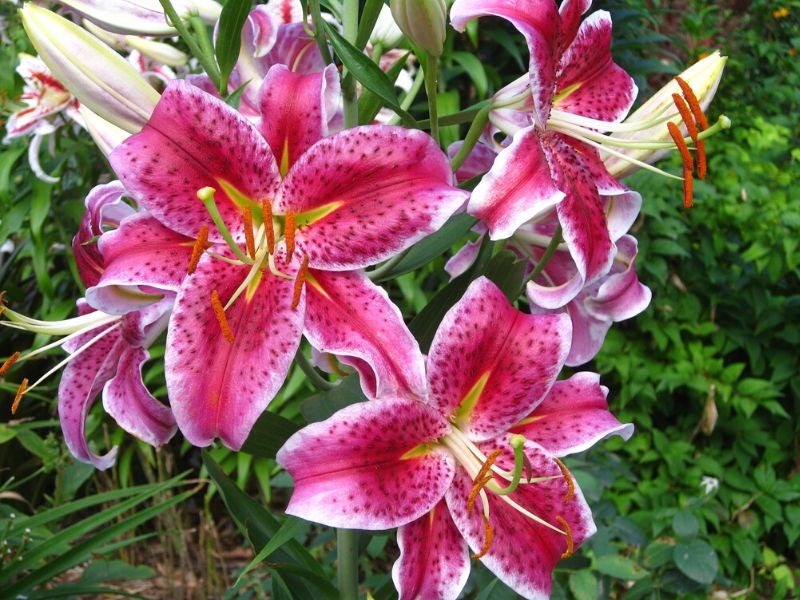 Stargazer lily is cross between L. auratum and L. speciosum and is considered one of the most popular types of lilies because of the showy and fragrant flowers. Like its Alstroemeria namesake, Stargazer lily is pink with undertones of white and red and freckles all over the petals. Although it was developed in the late 2000s, these types of lilies are well received and have become a favorite cut flower.
Division 8: Interdivisional/Other Hybrids
Interdivisional/other hybrids consist of types of lilies whose parents have been listed in additional divisions. These hybrids have been developed by a variety of methodologies including "embryo rescue" and "cut-style pollinations". 
By crossing species in this manner, lily evolution promises new hybrids with stunning loveliness, increased strength and resistance to disease.
L. 'Child in Time'
A result of an Asiatic x Oriental x Asiatic (AOA) cross, Child in Time sports beautiful thick flowers in soft pink with deep shaded center and spots. As the flowers mature, the colors become lighter as if you're looking at a different flower. This lily is not difficult to maintain, it thrives in any good soil and any light exposure.
L. 'Dancing Lady'
Bred by Mak Breeding in the Netherlands, Dancing Lady is a Longiflorum x Oriental x Oriental lily that produces bowl-shaped light pink flowers on top of slender graceful stems. The fragrant blossoms are side-facing that come in pairs per stem. Always blooming from July to August. These types of lilies, like many others, grow best in full sun or partial shade.
L. 'Flashpoint'
Flashpoint is one of the varieties bearing dark red, almost plum flowers blending with creamy white towards the edges of the petals and complementing dark bronze anthers. This is another creation from Mak Breeding of the Netherlands that is a valuable addition to a summer garden.
L. 'Fiery Belles'
Fiery Belles looks just like how it sounds. The large bell-shaped flowers are blazing orange with maroon anthers and undertones. It was a result of breeding Aurelian and Asiatic varieties by Wilbert Ronals in 1997. The August blooms are long-lasting and are resistant to botrytis diseases.
L. 'Fields of Gold'
Another AOA hybrid, Fields of Gold is a 3 feet high lily plant with vigorous glossy foliage. On top of the stems are large soft yellow blooms with maroon spots and edge. The flowers are without pollen and the plant can be reproduced by division. Fields of Gold is best paired with low flowering herbaceous shrubs like daffodils and tulips.
L. 'Fusion'
The result of successfully crossing L. longiflorum of Japan and L. pardalinum of Northern California, Fusion is a superior plant bearing big graceful pendant-like blossoms borne on strong stems. The lightly-scented flower is scarlet red with yellow center speckled in black.
L. 'Gluhwein'
Gluhwein is the result of mixing an oriental hybrid with a trumpet lily. The resulting flowers are pale pink deepening to apricot towards the center with yellow edges. The deep green spirally-arranged foliage provides a contrasting backdrop to these beautiful flowers. Gluhwein lily is fairly tough, experiencing a few occasions of aphid and slug attack.
L. 'Kaveri'
Kaveri is a cross between Asiatic hybrids and Oriental lilies and the resulting flowers are the warm tones, red, orange, and yellow blending from the darkest center to the lighter tips. The plant is compact and the flowers are up-facing, both attributed to the Asiatic parentage while fragrance came from the Oriental side.
L. 'Nightrider'
Probably the most alluring of all hybrids, Nightrider lives up to its name and produces the darkest red, almost black flowers. It has Asiatic hybrids and Trumpet origins and the resulting dramatic satiny flowers are a special addition to the garden and flower arrangements, even the butterflies are attracted to it. These types of lilies grow best in full sun or partial shade.
L. 'Pink Brilliant'
An amazing cross between oriental and trumpet lilies, this plant offers large sweet-scented flowers in a mixture of pink and white and green center. The plant can reach up to 4 feet high and makes a good border or seasonal hedge. The plant loses its leaves in the fall in preparation for winter but will come back again in time for a mid-summer bloom.
L. 'Red Rover'
A Mak Breeding cross between trumpet and Asiatic lilies, Red Rover is a beautiful lily with shimmering up-facing cup-shaped red flowers. Gardens will be frequently visited by butterflies and bees which are deeply attracted to the brightly-colored blossoms.
L. 'Scheherazade'
Scheherazade showcases big curly maroon petals with golden edges and center. The protruding anthers are deep red as well. It is not just the beauty of its bloom that made this an award-winning lily hybrid but its successful growth in almost all kinds of growing conditions. A very vigorous plant that reaches 6 feet high on its first year of being planted.
L. 'Silk Road'
The Silk Road lily displays clusters of large side to down-facing white flowers with crimson throat and speckles. The flower-bearing plant can grow 7 feet high and spread up to 3 feet wide so staking or support installation may be necessary. It is low-maintenance, thriving under full sun to part shade and well-draining soil.
L. 'Viva la Vida'
Viva la Vida is an AOA hybrid offering clusters of extremely dramatic flowers in yellow to golden with deep red blush running along the petals' midribs. The lily plant can reach up to a meter height and the green foliage will blend well when the plant is used as a backdrop to lower flowering plants.
L. 'Yellow Power'
Bred by the Lily Company in Netherlands using longiflorum and Asiatic hybrids, Yellow Power sports arresting bright yellow flowers with overlapping petals. The deep maroon anthers and freckles add a simple, yet stunning character to the flowers. They make wonderful cut flowers and one can never go wrong growing masses of this lily in the garden.
L. 'Zeba'
Zeba is a cross between L. nepalense and an oriental lily and the result is an outstanding creamy yellow flower with a slight tinge of green and maroon center in brushstroke pattern. The down-facing flowers bloom throughout the summer. It thrives well in well-draining slightly acidic soil and full to dappled sunlight.
Division 9: Species Lilies
Species lilies are those that are found in nature, thus termed "wild lilies." Most of these lilies originated in Europe, North America, and Asia. These species lilies are the building blocks for the hybrids found today.
True lilies of any hybrid variety are magnificent and breathtaking additions for gardeners everywhere. Their popularity over the centuries has even given rise to their colors having a specific meaning.
So, whether you are new at gardening or a seasoned pro, these types of types of lilies offer avenues of aesthetic beauty found in a multitude of possibilities that can be just right for you.
L. Auratum/ Golden-rayed Lily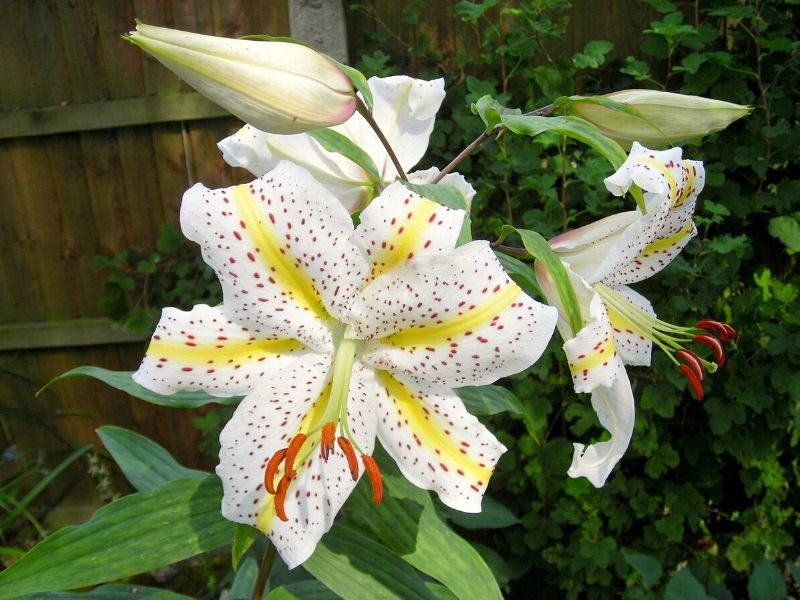 Golden-rayed lily originated from Japan and became an instant hit upon its introduction to America. The upright plant grows up to 5 feet high with lance-shaped dark green leaves covering the unbranched stems. On top of these stems are the sweet-scented bell-shaped white flowers with yellow-green stripes.
L. Bulbiferum/ Orange Lily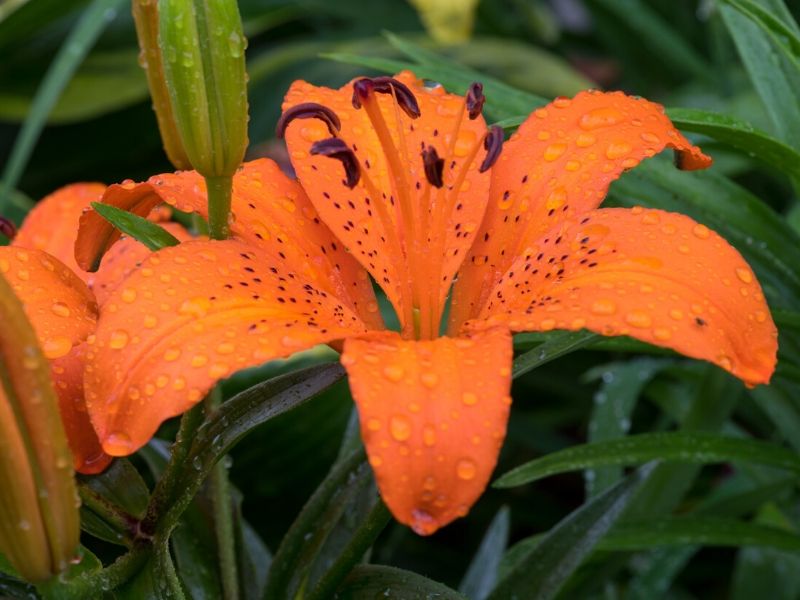 As the name suggests, the flowers borne on this bulbous plant are deep orange with the center slightly brighter. Although scentless, the flowers are attractive nonetheless to both human and insect audience. Orange lilies naturally grow in meadows and on sloped hillsides. They prefer sunny places where their blooms are more vibrant.
L. Candidum/ Madonna Lily
The mother of Candidum Hybrids, Madonna lily has long upright stems with spirally-arranged elongated leaves. It is known for the scented bowl-shaped white flowers with embossed midribs and significantly curled petals. Madonna lily is hermaphrodite and is pollinated by bees. It performs well in woodland gardens where light is dappled and the soil is moist but well-draining.
L. lancifolium/ Tiger Lily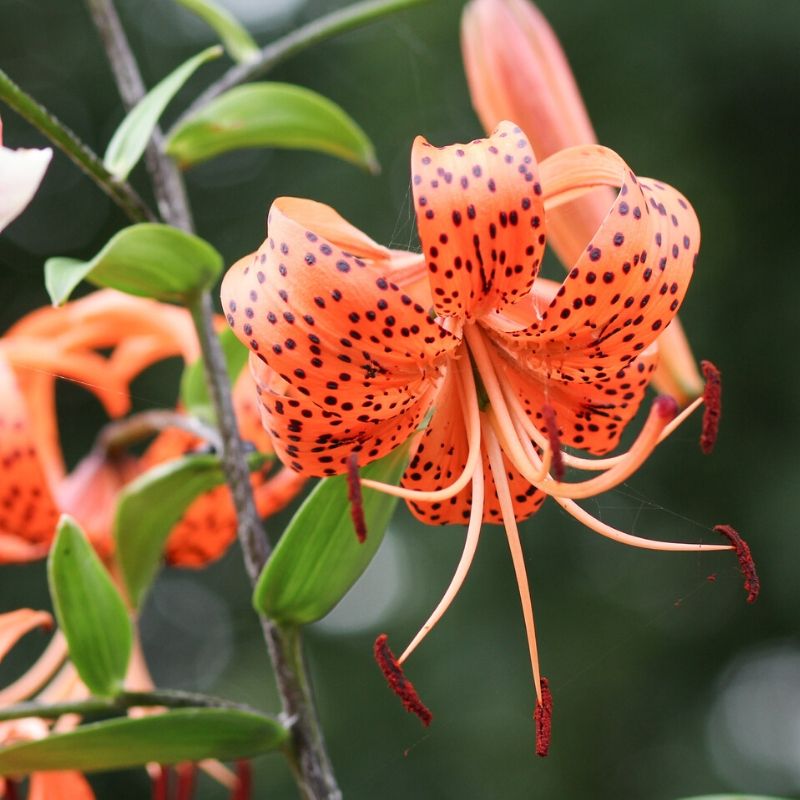 The famous Tiger lily is native to Eastern Asia and Far East Russia. It bears exaggeratedly curling deep orange petals covered in dark brown to almost black spots, like the appearance of a tiger's coat. The tiger lily plant is highly ornamental, often planted as a focal point in gardens and is popularly utilized as cut flowers. These types of lilies grow extremely easily – almost to an invasive nature. You don't need to dedicate hours if you want to plant lily bulbs – these types of lilies often spread on their own.
L. Leichtlinii/ Leichtlin's Lily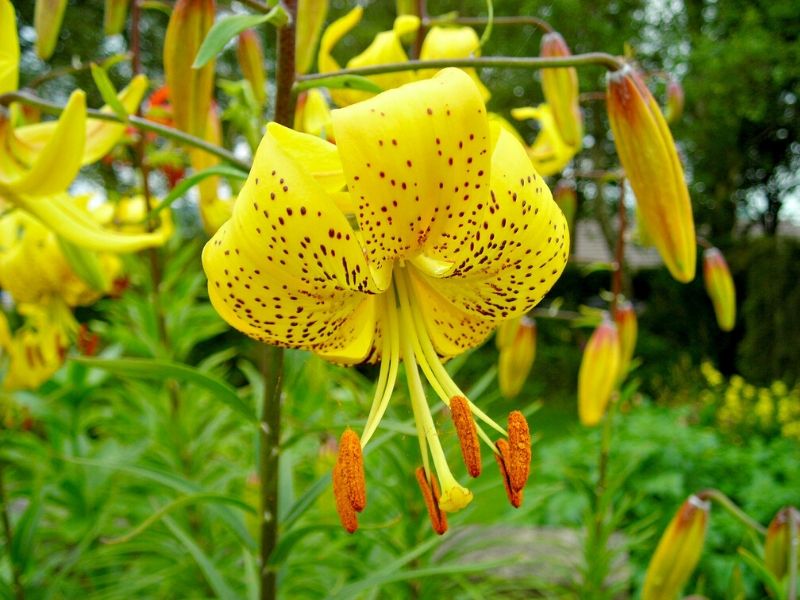 Another species hailing from Japan, Leichtlin's lily showcases pendulum-like freckled yellow flowers with overexposed stamens. The month-long bloom is much-awaited by the bees and butterflies that feed on and pollinate the flowers. The natives of Japan utilized the roots of this plant in their culinary traditions.
L. Pumilum/ Coral Lily
Coral lilies naturally grow in Northern China, North Korea, Siberia, and Mongolia. They became popular ornamental plants because of the spectacular airy racemes of scarlet-red pendant flowers. When planted in compact masses, the flowers create an instant pop of color in the garden throughout the summer.
L. Regale/ Regal Lily
The Regal lily is the classic example of trumpet lilies. Blooming in early summer, the plant produces white flowers with the reverse plum-tinged and the inner throat golden. These majestic blooms sit on top of a 6 feet high plant covered in dark green lanceolate foliage. Pollinators of this plant include bees, butterflies, and hummingbirds.
L. Speciosum var. rubrum/ Species Lily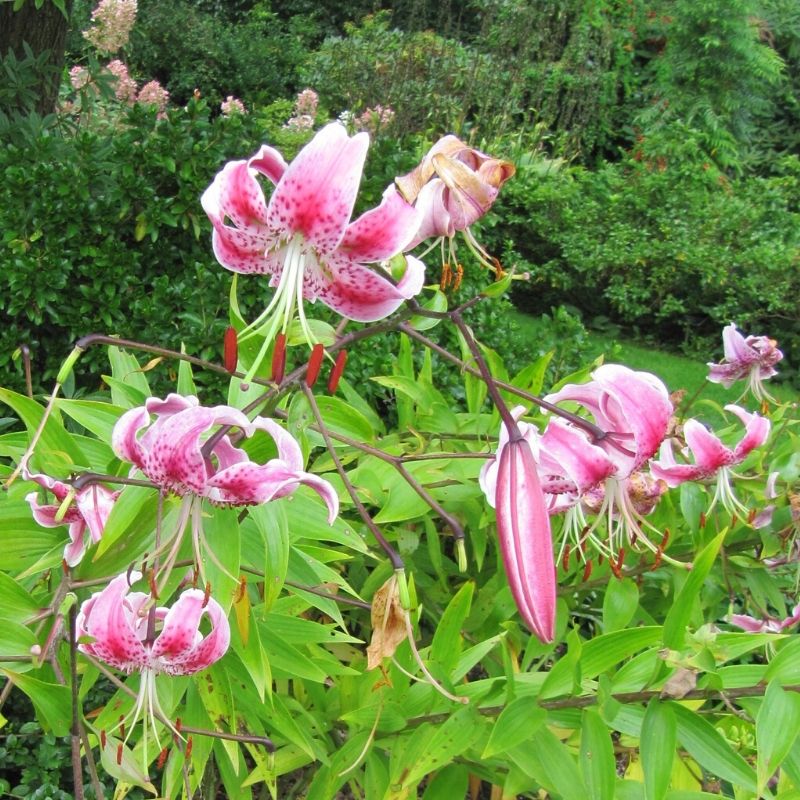 The Species lily made way for the cultivation of the modern oriental hybrids. It is characteristically late-blooming, usually from August to September, but the showy flowers are magnificent and fragrant, the wait is always worth it. The nodding flowers are a combination of bright red and pink with significantly extended stamens.
L. Superbum/ Turk's Cap Lily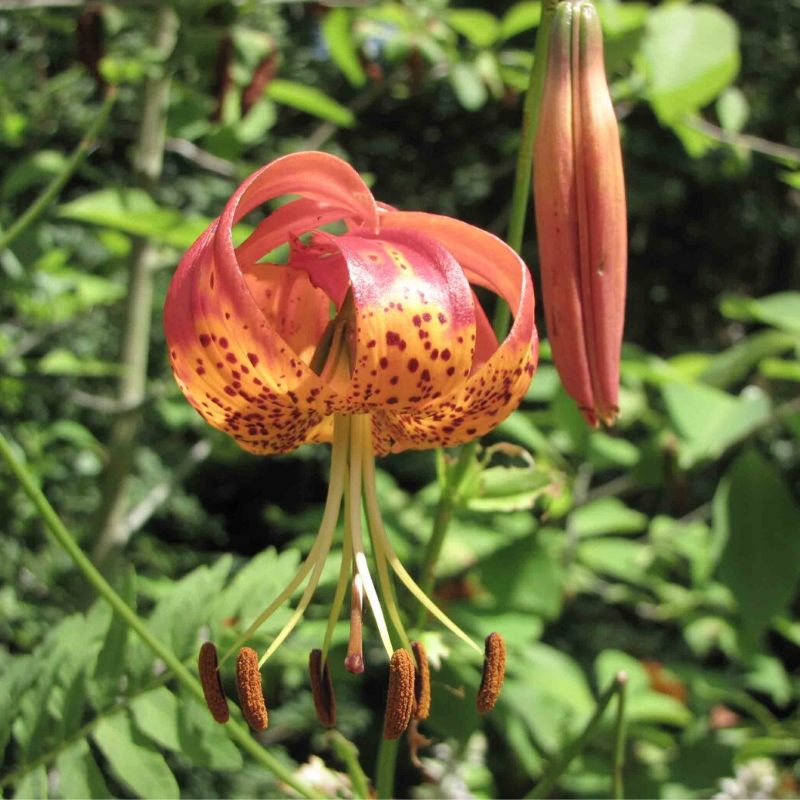 The original Turk's Cap lily, this plant is found naturally growing in wet meadows and woodlands of the eastern and central regions of North America. The plant can reach up to 7 feet in the wild and on top of the dense foliage are long racemes of red-orange and maroon-freckled curled petals that resemble a Turk's cap.
From trumpet lilies to oriental lilies, asiatic hybrids and everything in between, there are plenty of types of lilies out there for everyone. So which of these fragrant blooms will you grow in your garden?
Up Next: Lily Flower Meaning and Symbolism
References
Resource List:
"Plants Database". The National Gardening Association. 2019. www.garden.org.
Tenenbaum, F. "Taylor's Encyclopedia of Garden Plants." Houghton Mifflin Harcourt. 2003. P. 447.

Close