There is always something intriguing about flowers that appear in rare colors, such as black flowers. Black flowers are exceptionally unique in their appearance, but it's actually impossible to see one as the color black doesn't really appear in natural foliage.
What many recognize to be black, is, in fact, a deep shade of purple. Because they're so extraordinary, dark-colored blooms add instant intrigue to a bouquet or garden arrangement and suggest thriller, sophistication, and power.
So if you're looking to add something extraordinary to your floral display, here are a few of the most fascinating black and dark flowers out there.
1. Queen of the Night Tulip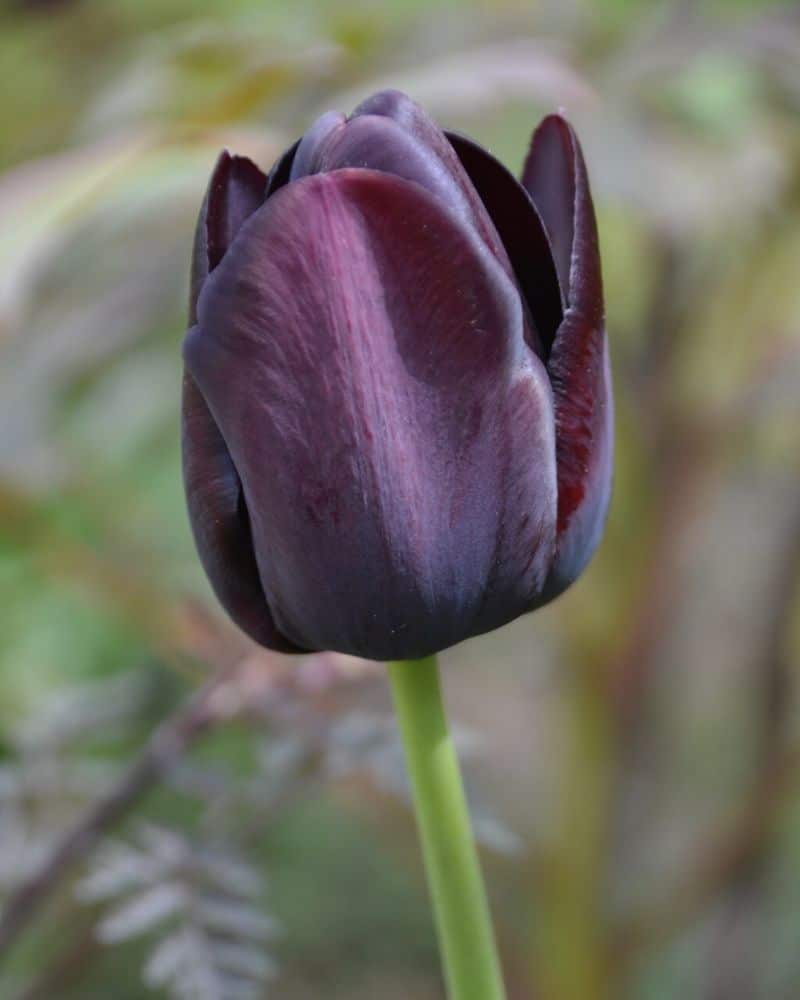 The darkest of all the tulips, the Tulipa 'Queen of the Night' ranges from a plum shade of purple to deep-purple that looks almost black. In fact, it is considered one of the flowers with color closest to black, and the acclaimed blackest tulip ever bred.
Depending on the light, this breed surprisingly creates a range of blooms – from deep maroon to mahogany blossoms; and in pitch black when under the shadows. An added elegance is its long stems that emphasizes the beauty of the flower and at the same time withstands rain and wind.
Additionally, this flower tends to do well under the full sun but not in too much moisture as its bulb may rot. Many gardeners usually prepare garden containers in advance for the spring where tulips bloom well.
On top of its elegance, this flower symbolizes power and strength just like royalties, hence the name Queen.
2. Calla Lily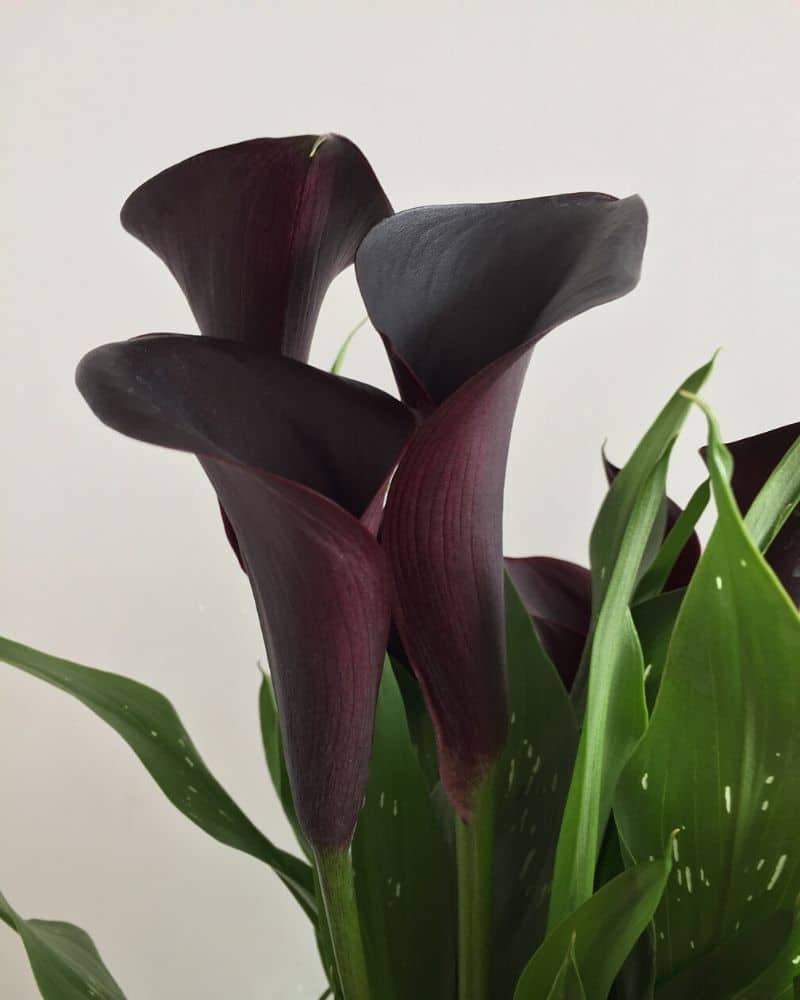 Zantedeschia species or Calla Lilies are the most traditional and ideal flowering plants you can have in your garden. This is probably one of the few plants that can thrive in wet or even soggy, potting mix. Usually taken care of as a houseplant, this can also be placed outdoors, especially during summer as it flowers best when exposed to full sun.
While most people think of Calla Lilies as white flowers, this species also comes in deep-purple blooms that sometimes appear to be black. Zantedeschia 'Odessa', the black Cally Lily, features a trumpet-shaped flower in striking dark purple, almost-black shade. Just like other calla lilies, this one is also relatively easy to grow even when placed in a pot.
3. Black Hellebore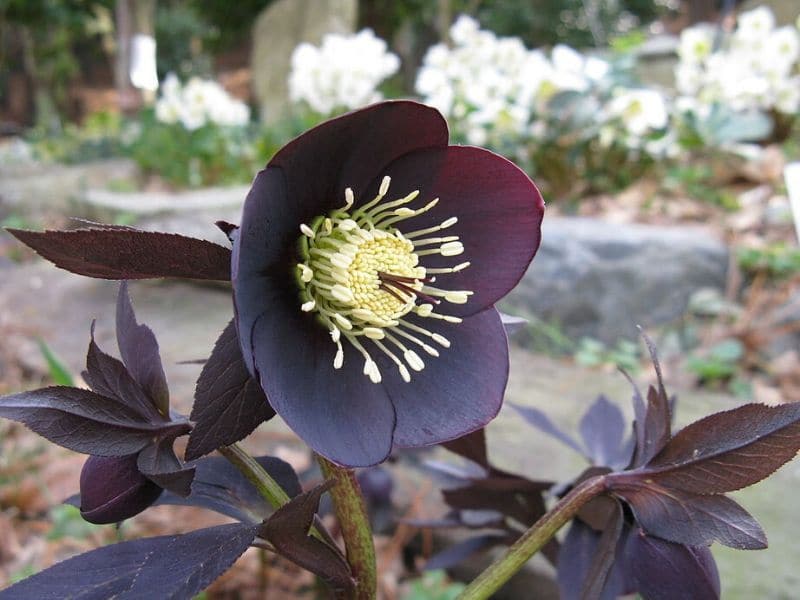 Once known as Melampode or helleborus niger, the black hellebore was recognized by folk medicines as poisonous and highly toxic as its roots may cause fatal vomiting. This is contrary to the etymological meaning of the name helleboros meaning "to injure" and "food".
Although this flower comes in various colors, the black hellebore is not what its name implies but rather a dark purple variation of the flower.
This can be a great addition to a garden because of being an easy-to-grow perennial. However, gardeners are advised to wear gloves when handling these plants as a measure of avoiding irritations it may cause.
4. Bat Flower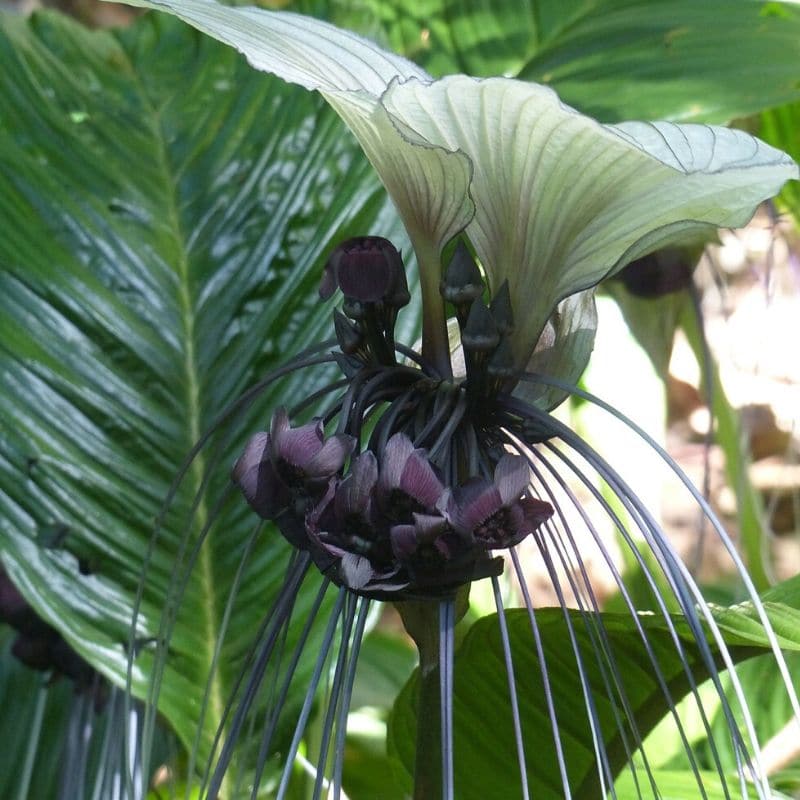 Tacca chantrieri, or the Black Bat Flower, also goes by the name of devil flower and cat's whisker which belongs to the Yam family of Southeast Asia.
Gardeners consider this as a very unusual plant because of its peculiar flower that usually measures up to six inches across. Its flowers have two black bracts that resemble a bat's wings from which the name was derived.
Though it flowers in any season, in North America, it is expected to be seen often during late summer, fall, and early winter.
The great thing about black bat flower is that it can be grown as a houseplant during the winter and an outdoor plant during the summer.
5. Pansy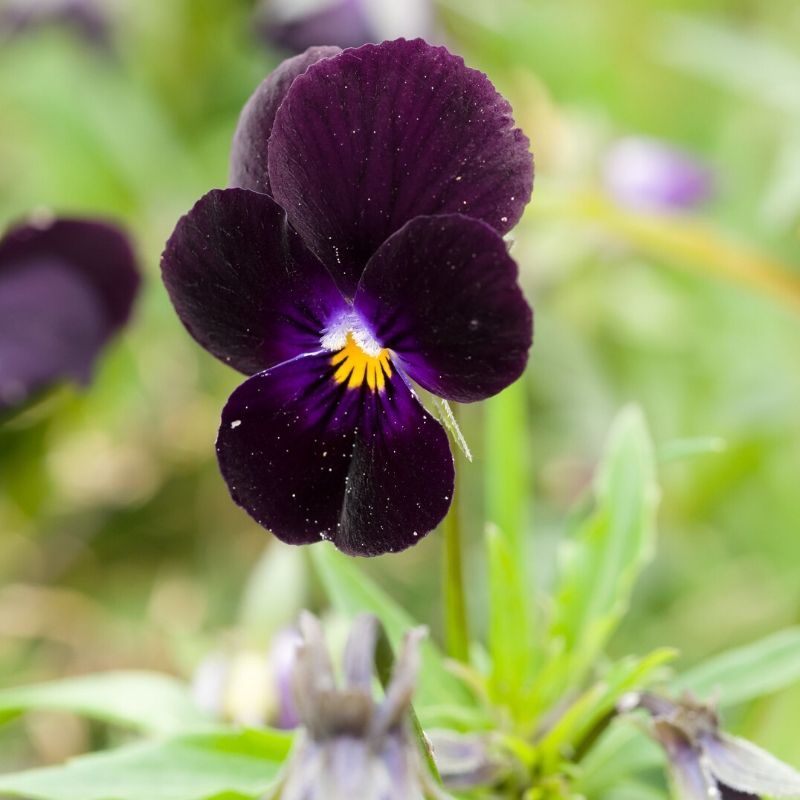 A common favorite among gardeners, Viola or Pansy is a short-lived perennial known for its pretty flowers that bloom from spring until fall. The flower is notable for its almost heart-shaped, overlapping petals that come in various lively colors as red, yellow, orange, white, blue, etc.
However, one species draws the attention of many gardeners and even visual artists – the Viola x wittrockiana 'Black Devil', or the Black Pansy.
Black Devil Pansy is a very dynamic viola with its near-black petals and small yellow eyes. Unlike other pansies, this one has relatively larger blooms and is best grown as a half-hardy annual.
Black Devil Pansy also makes a great pair to white flowers as its petals are true black with little to none trace of maroon or purple common to many black flowers.
6. Dahlia
Black dahlias have approximately nostalgic elegance that makes them a favorite of gardeners and flower enthusiasts around the world. It can make a spectacular addition to an outdoor garden, certain floral arrangements, and can be a staple flower in a Gothic garden motif.
Some black dahlias demand more water than others. It's also imperative that you have the exact type of soil to expect a healthy plant.
There are varieties of Black Dahlia to choose from namely, Black Jack Dahlias, Black Wizard Dahlias, Fidalgo Blacky, Lights Out Dahlias, Tamburo Dahlias, Burgundy Black Dahlias, Karma Choc Dahlias, and Arabian Night Dahlias.
7. Petunia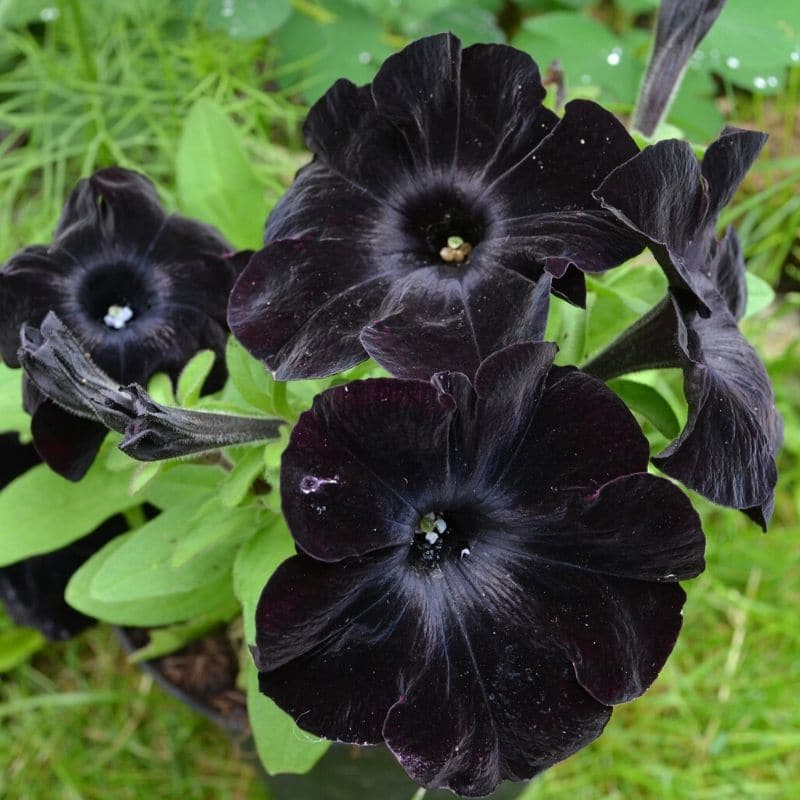 One of the things that can absolutely catch your attention in terms of flowers is the Petunia 'Black Velvet'. This cultivar of Petunia comes in a spectacular deep black, not purple, trumpet-shaped flower.
Is 'Black Velvet' petunia really black? Black Velvet Petunia can change the color pattern under stress circumstances. The flower may grow into more purple, but once located in a stable setting with steady light levels and no large temperature swings, the flower coloring will maintain.
Interestingly, some gardeners have observed that the flowers grow into more purple if exposed to the direct bright sunlight when others say it developed in low light.
The great thing about this stunning flower is it is relatively easy to grow, both in the garden and in containers.
8. Chocolate Cosmos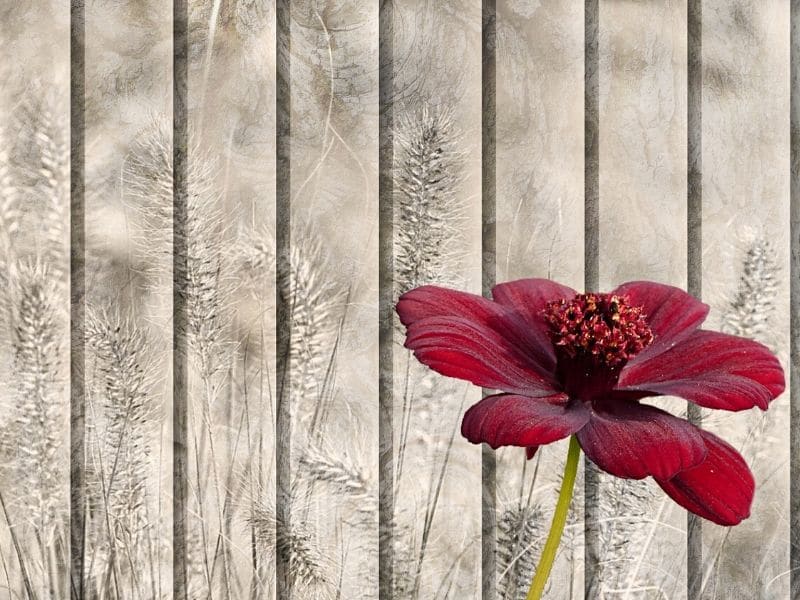 How much do you love chocolates? Well, some flowers can be very chocolatey in color.
Cosmos atrosanguineus or Chocolate Cosmos look like red velvet cakes. Notable for its deep-red petals and almost black centers, its flowers can grow up to 2 inches in diameter, and usually blooms from midsummer to fall.
Although it cannot really withstand winter, it can be a great addition to your garden as it has the vitality to be cultivated for several years, at least.
9. Viola 'Molly Sanderson'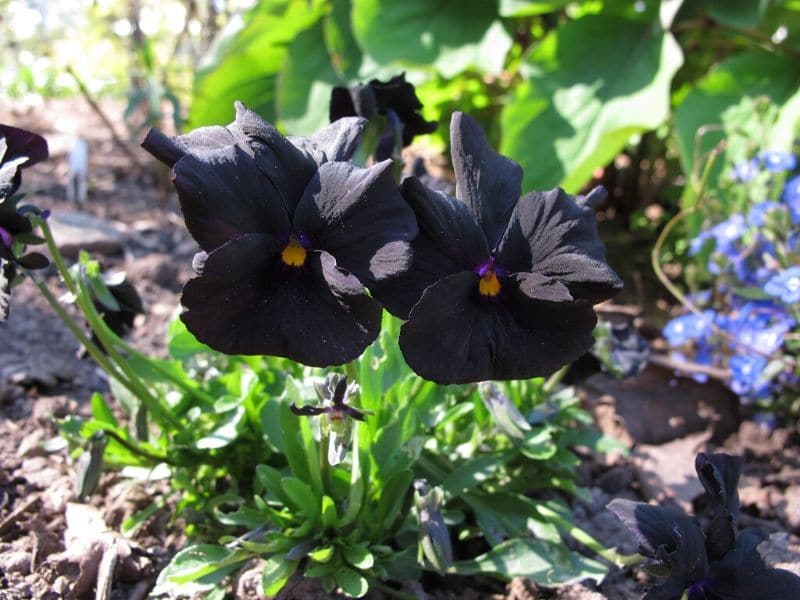 Viola 'Molly Sanderson' is one of the rare plants with black flowers. Its flower blooms in a range of colors from deep purple to true black with bright yellow eyes. The ruffled and velvety blooms are mostly seen during summer just like other Violas.
Sometimes called Black Molly, this perennial will keep blooming once well-watered. One interesting fact about this flower is its petals are edible.
10. Black Baccara Rose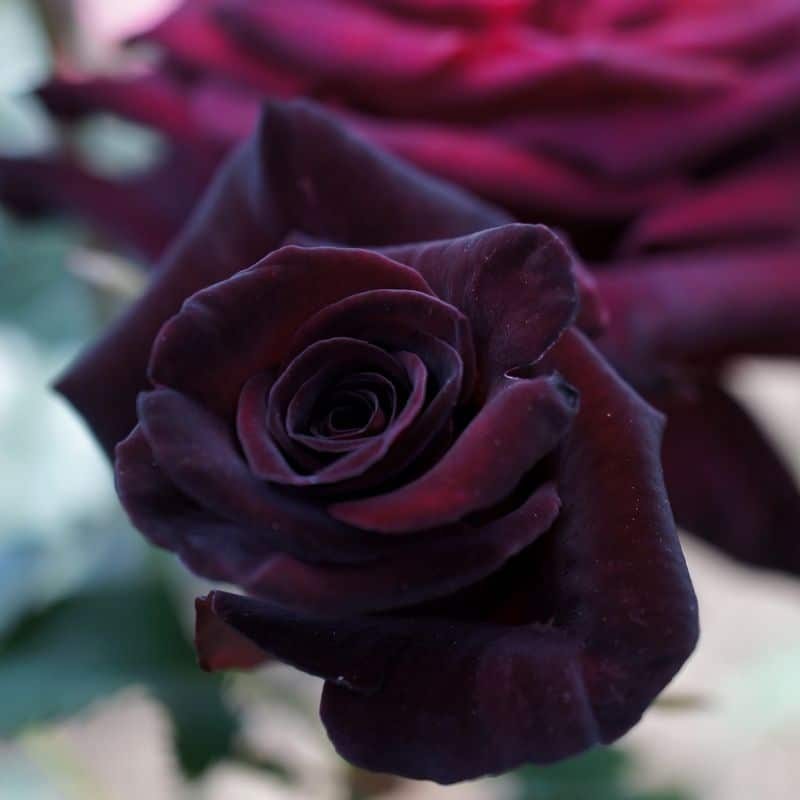 Black Baccara Rose is a charming Hybrid Tea Rose that features a dark red-burgundy and almost black flower.
A result of crossing between Rosa 'Celica' and Rosa 'Fuego Negro', Rosa 'Black Bacarra' was initially intended as a cut flower but grew as an ornamental plant with its flowers growing repeatedly and lasting especially during the end of spring.
It can be challenging to add this in a garden, as it will require a lot of effort to establish the right environment for it especially when there's frosting in your area. However, with rich, organic loamy soil, full sun, and proper care this cultivar can surely survive and give you maximum yields.
Black rose has many different meanings including love, power, and good bye. For a more in-depth guide, check our black rose meaning article.
11. Black Magic Rose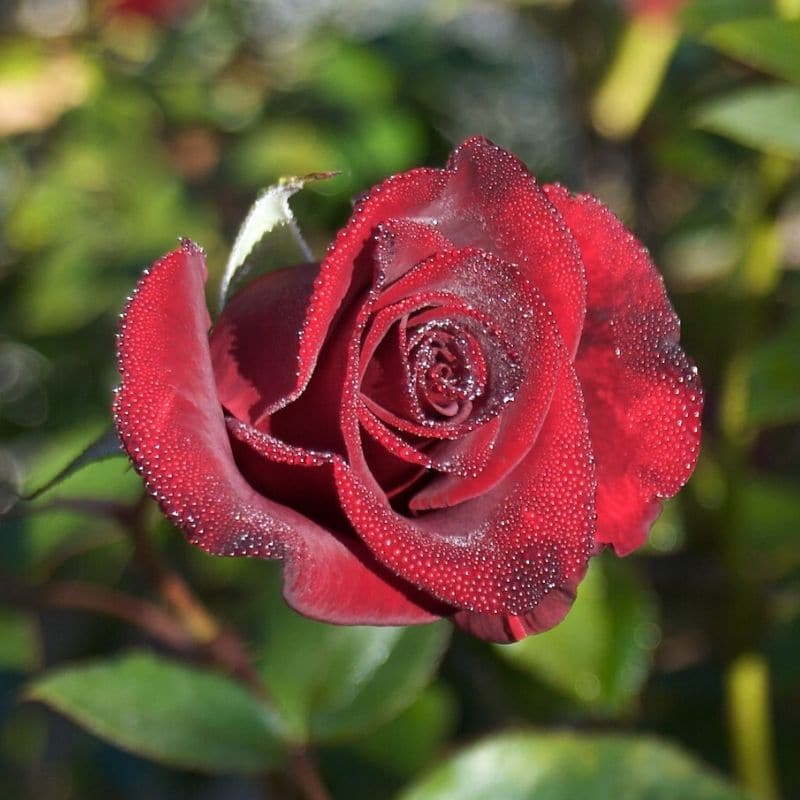 Rosa 'Black Magic' or Black Magic Rose is another hybrid tea rose with very deep red blooms. Its flowers are initially revealed by almost black buds most especially during early summer to mid-fall.
Just like other hybrid tea roses, this one makes a great choice for cut flowers but will require high maintenance, including regular and proper care, to expect its maximum yield.
However, Black Baccara Roses are commonly considered to be darker than Black Magic Roses.
12. Iris 'Before the Storm'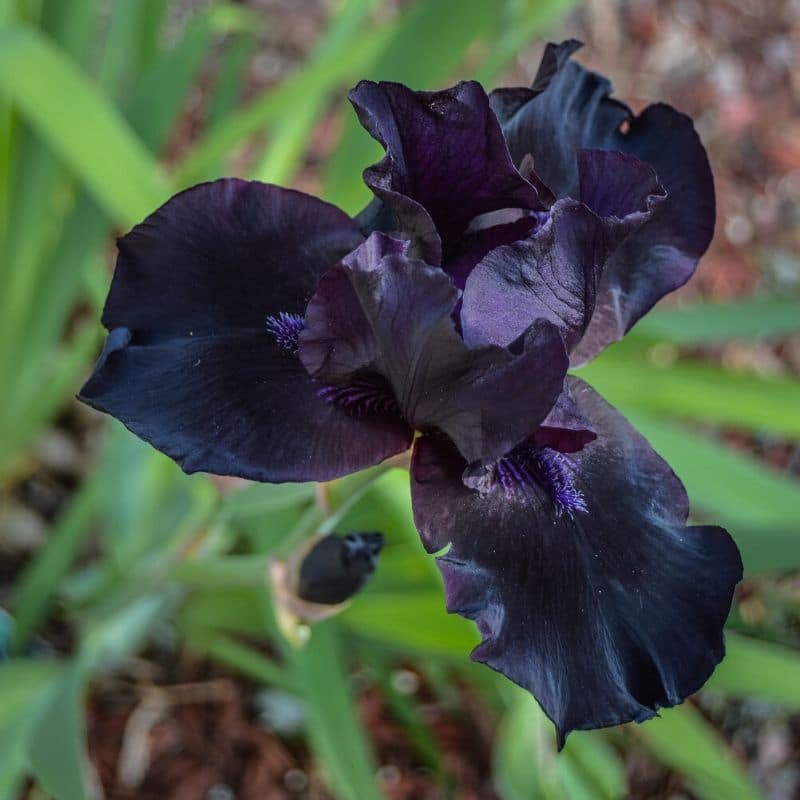 Irises are commonly planted in gardens and are available in almost every color sensible, along with chocolate and this new variety 'Before the Storm' of black color. This kind of perfumed iris needs full sun and well-drained soil in order to grow.
It is extensively heralded as one of the darkest of the dark. Before the Storm's fairly sized flowers are evenly tailored with highly flaring falls. This dark style is gifted with a slight fragrance and perfect growth habits.
13. Geranium Phaeum
Geranium phaeum also goes by the name of 'the mourning widow', 'black widow' or the 'dusky crane's bill.' It blisters rich, dark-colored flowers and blooms in shady, damp fields.
The petals of the flower are pointed and have crinkly edges, while the leaves are drenched with a brown tone.
This plant demands to be cut back after blooming to boost fresh new foliage. It tolerates dry shade and most soils making it a perfect choice for a woodland garden.
14. Chocolate Lily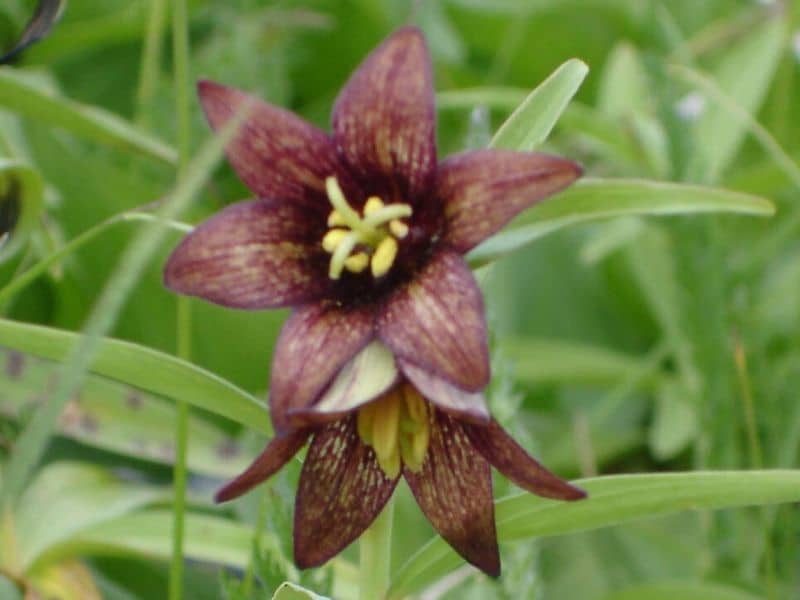 Fritillaria camschatcensis, also known as Chocolate lily, is a member of the lily family, Liliaceae. This usually blooms between May and July and is remarkable because of its chocolate-colored flower, originally dark-greenish brown to brownish-purple, and sometimes streaked with yellow.
Contrary to its name, the flower has a somewhat foul odor that is attractive to flies.
Natives of Coastal America also makes use of its bulbs that look like rice grains as food, hence called rice root. The bulbs, which are soaked in water to remove its bitter taste, are cooked in oil, added to stews or soups or eaten after being boiled. Some store the dried bulbs in oil and pound it into flour.
15. Black Hollyhock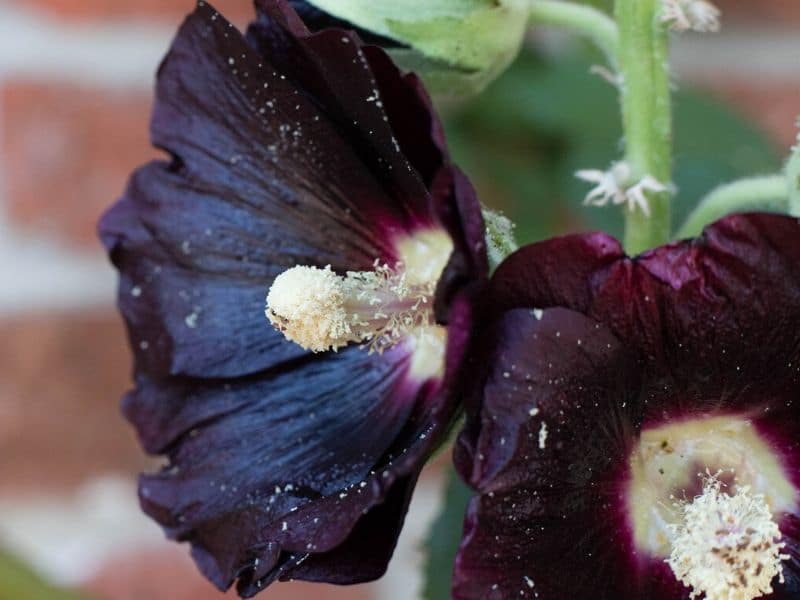 Alcea rosea 'Nigra', or Black Hollyhock, is remarkable for its round flowers in bold black and white eyes that rise above the foliage. It usually blooms from mid to late summer in various soil conditions and light shade, making this an old garden favorite.
With its towering nature, this herbaceous perennial rigidly grows from four to six feet and its flower from five to eight inches tall which normally doesn't need staking.
At a closer look, its flower is actually deep maroon but looks almost black.
16. Aquilegia viridiflora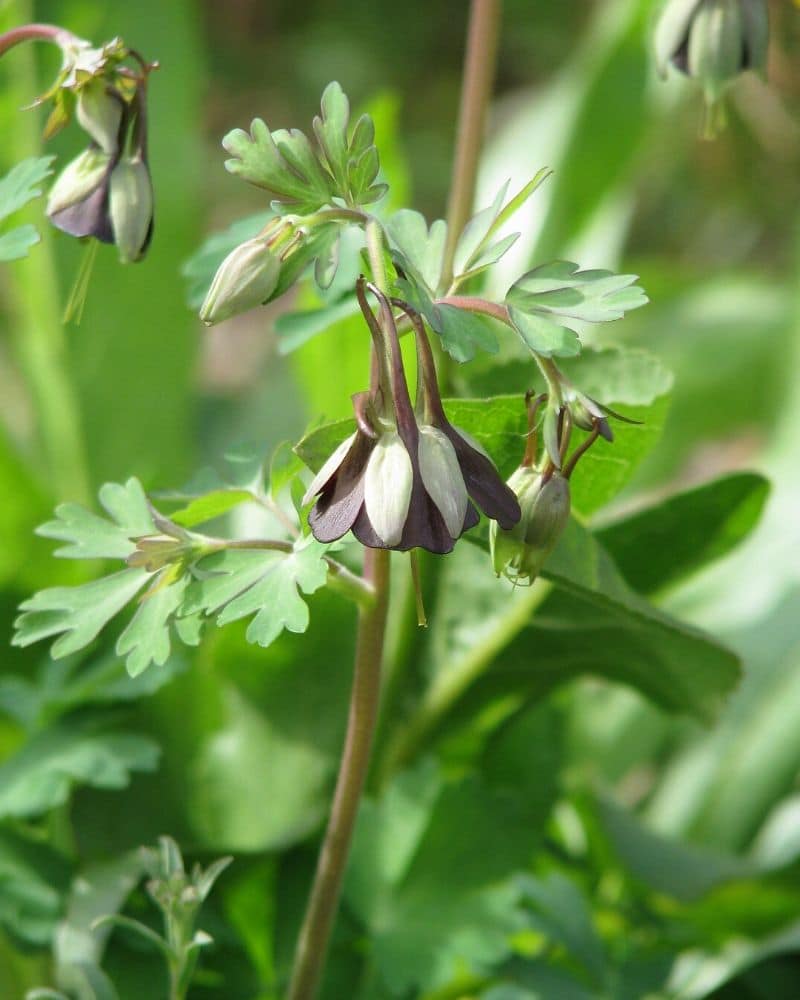 Aquilegia viridiflora 'Chocolate Soldier' is greatly alluring to hummingbirds and butterflies, and these easy-to-grow columbines are a wonderful attraction to the summer line.
Columbines are one of the handy and most productive of all perennials. They are accustomed to many various kinds of climate and sun conditions.
Chocolate Soldier is remarkable for its delicate, chocolate-brown flowers that appear to be nodding. It usually blooms during late spring, especially when grown under full sun with moist, well-drained soil.
17. Arum Palaestinum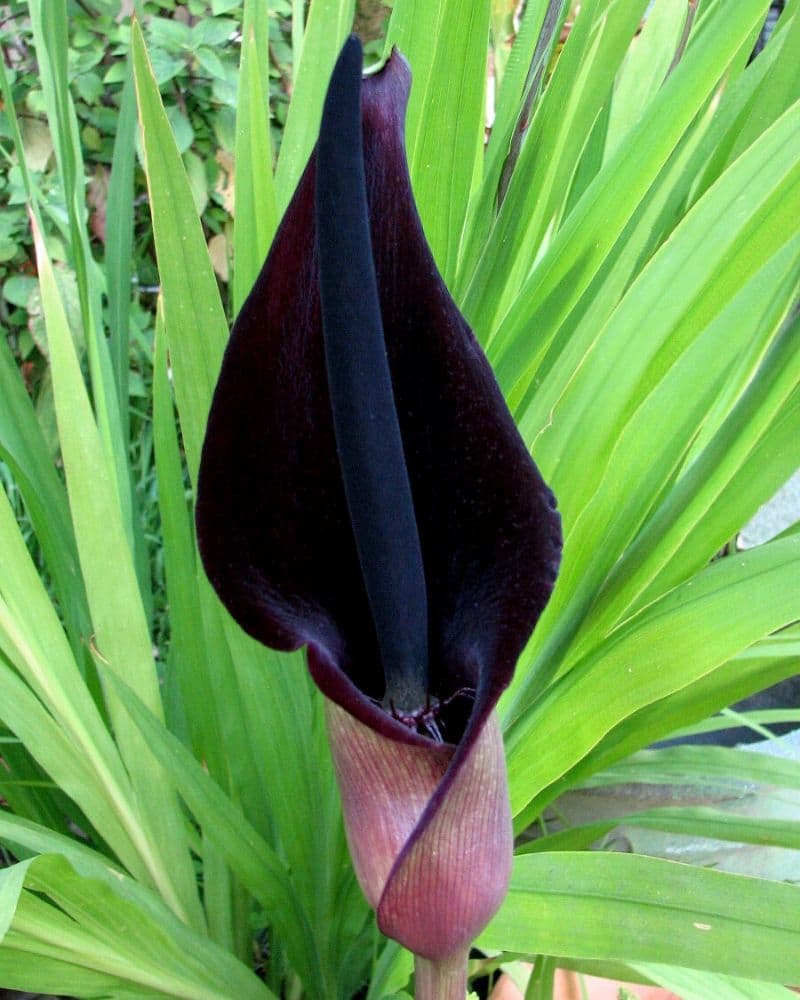 Arum palaestinum, also known as Black Calla Lily, is a herbaceous, perennial plant remarkable for its dark purplish-black spadix in a red near brown spathe, mostly seen during spring.
Just like other Arums, this one is also relatively easy to grow, with moist soil and partial light shade.
A. Palaestinum is edible and considered by folk medicine as a cure to many chronic diseases like cancer and diabetes.
18. Black Magic Daylily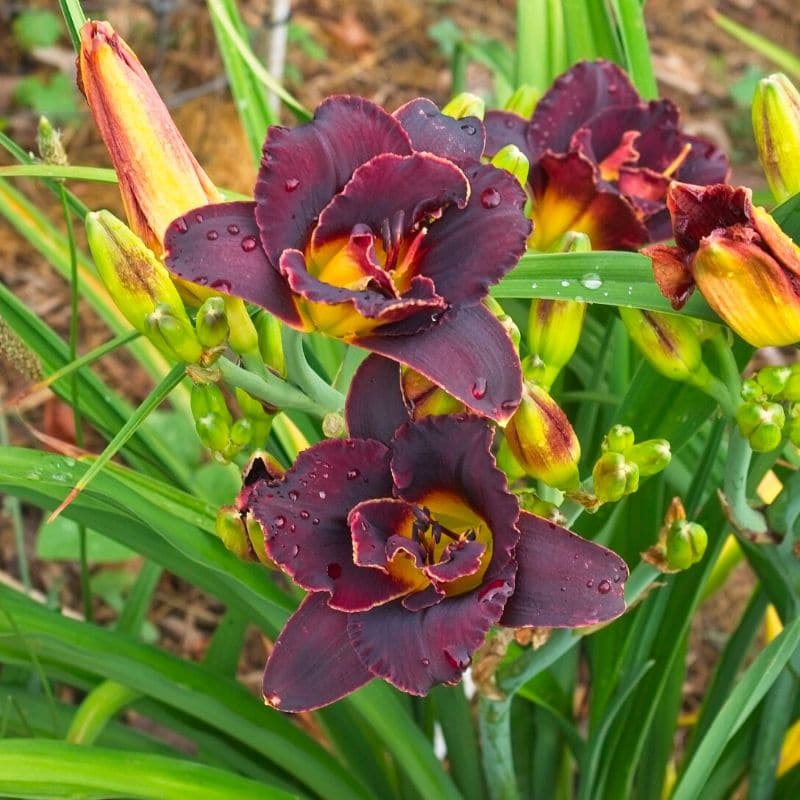 Widely acclaimed as one of the finest black daylilies, Daylily Hemerocallis 'Black Magic' is a unique daylily that produces deep black-looking ruby-mahogany flowers and a contrasting lemon-yellow throat. These wonderful daylilies are judged by the sunfast coloring, beautiful branching, and high-bloom bearing.
What's interesting with this cultivar and the other daylilies is they only tend to open during day time, thus called daylily, and usually withers when the night comes. However, new flowers bloom again the next day especially during flowering season, normally during early fall or early spring.
19. Black Gladiolus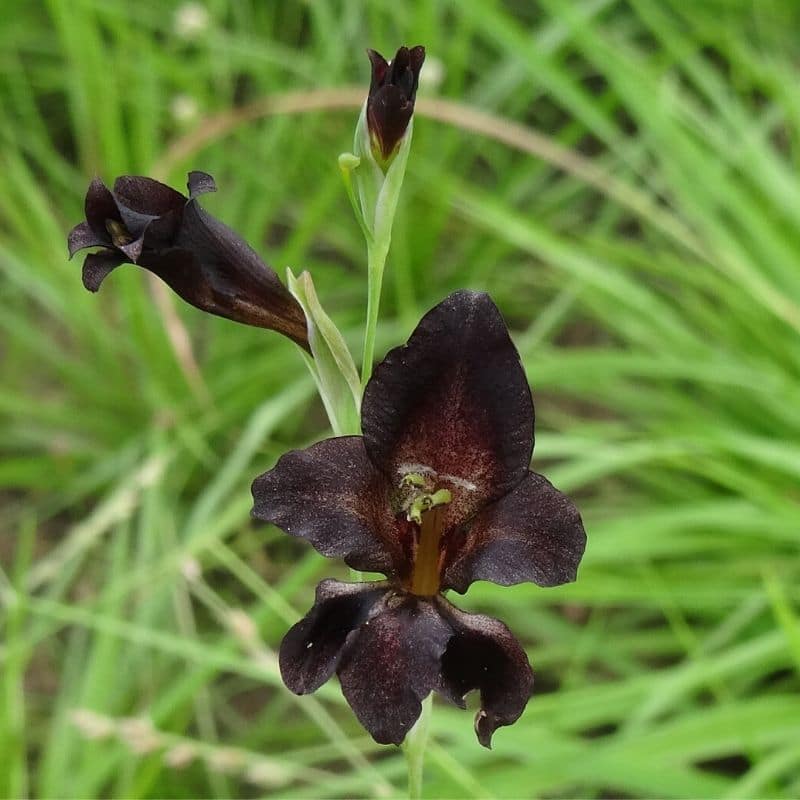 Gladiolus x hortulanus 'Black Beauty' or Black Beauty Gladiolus features a double row of trumpet-shaped florets that ranges in the depth of color usually from dark purple, deep red, maroon, or burgundy to black.
Even the appearance in which Black Gladiolus flowers grow from the stalk is contrasting from most flowers. The petals themselves bloom in a billowing arrangement.
20. Butterfly Bush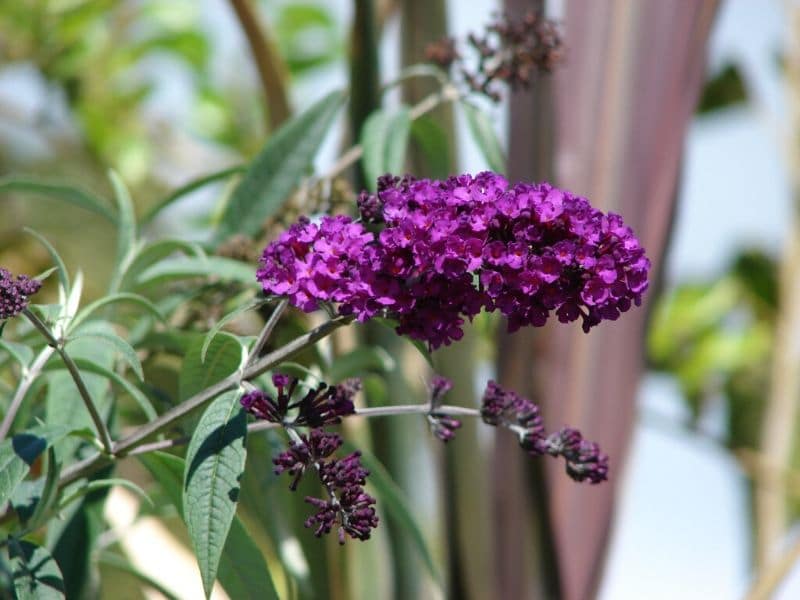 Buddleja davidii 'Black Knight' also known as Butterfly Bush is one of the easiest to grow from seed and a low maintenance plant. Its deep purple-colored blooms in elongated clusters are almost black and are highly fragrant that they attract butterflies, birds, and bees.
With the tendency to grow from 5 to 6 feet tall and wide, flowers are expected in the first year. It can be planted indoors in winter and can be transplanted outdoors in spring or can be sown directly into the ground spring, summer and fall.
21. Chocolate Vine
Akebia quinata or Chocolate Vine is an invasive deciduous and evergreen climbing or trailing vine that can grow up to 40 feet. Planting this in a garden is relatively easy as it grows in ordinary, well-drained soil but will require much space as it tends to invade the whole area and overtake other shrubs.
Chocolate Vine is remarkable for its fragrant, cup-shaped, chocolate-purple flowers that usually bloom during spring and a sausage-shaped fruit that reveals an edible white flesh and tiny black seeds most especially during fall.
22. Moulin Rouge Sunflower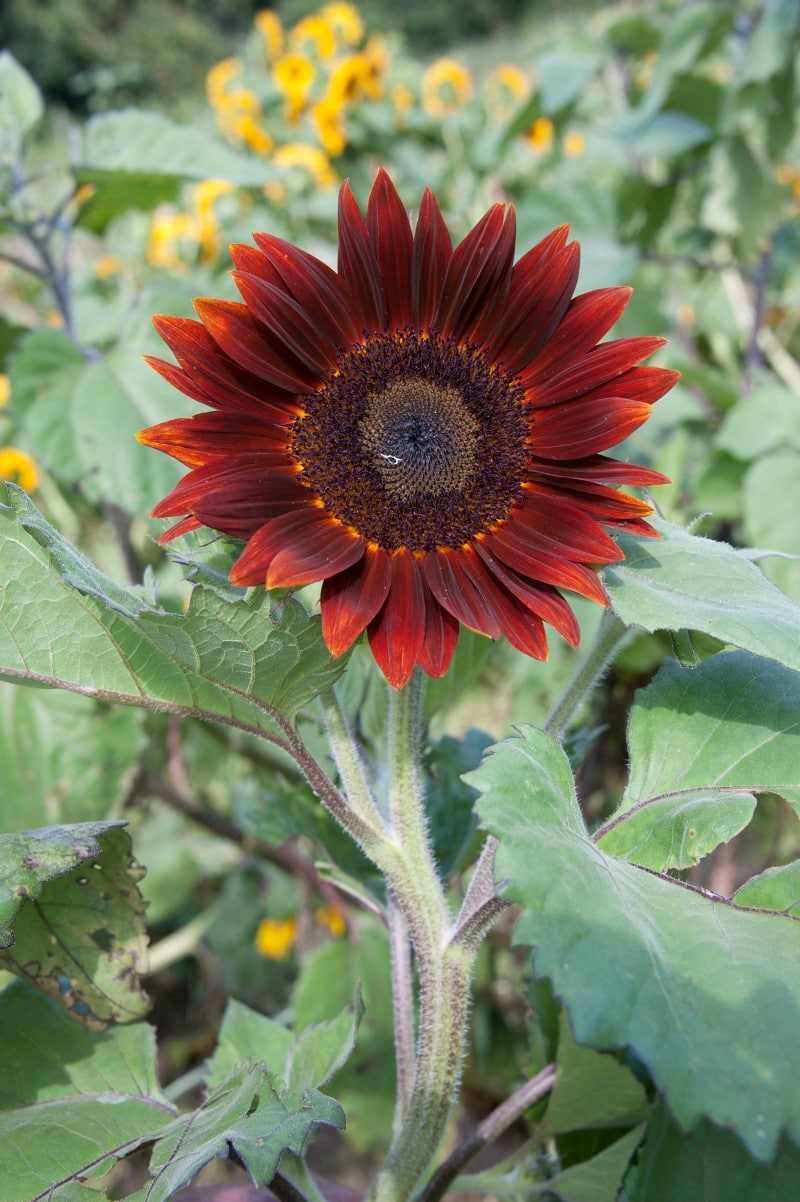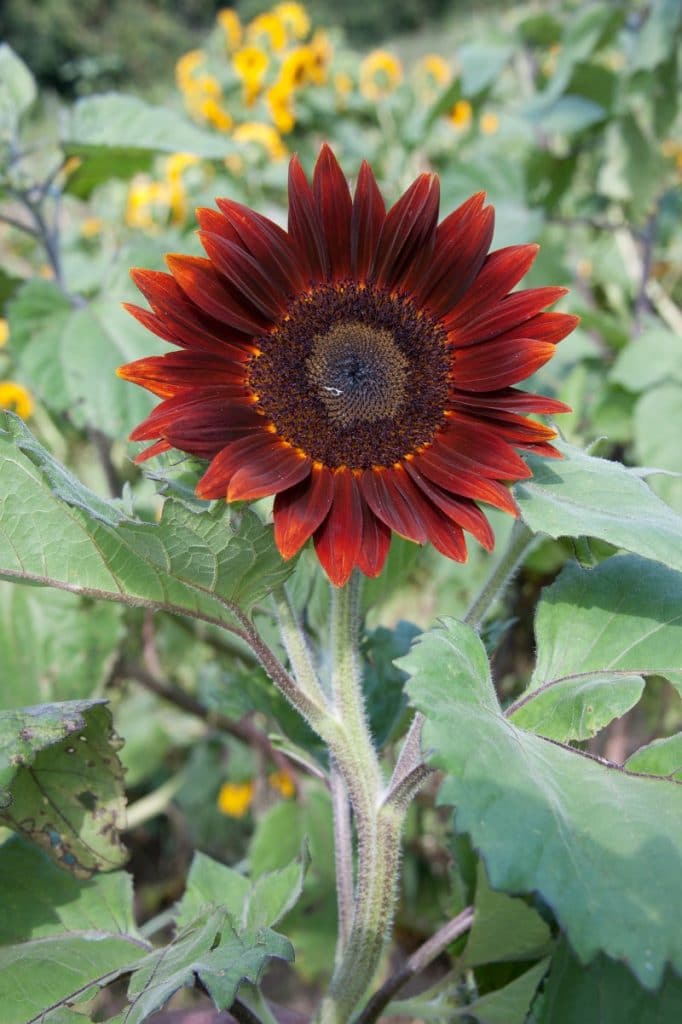 Sunflowers are among one of the effortless flowers to grow from fresh flower seeds. They are also seen as one of the most popular and sought after assortment when it comes to gardening.
This flower will still produce seeds if pollinated by pollen-carrying insects. Deep in color, the burgundy red petals become near to black close to the disc which is a rare focal point in any garden.
23. Black Pussy Willow
Salix gracility 'Melanostachys', commonly called Black Pussy Willow because of its almost black furry catkins or flower clusters, is one of the most unique willows that usually bloom during late winter and early spring. Just like other willows, this one is also dioecious where the male flowers are on one plant and females on another.
Native to Japan, China, and Korea, this variation is almost the same with Pussy Willow (Salix discolor) native to the eastern part of the United States, but in a different color.
Contrary to its name, Black Pussy Willow is actually not black but very dark, red-purple with deep-red anthers. The name melano is originally a Greek word which means very dark, and stachys meaning catkins.
24. 'Green Wizard' Coneflower
The 'Green Wizard' Coneflower features a prominent black cone emphasized by the long green sepals at its bottom. The yellow rims that go along with the cone also make a remarkable feature of the flower, making it perceivable by passersby.
This usually blooms from mid-summer to fall and is considered a dazzling perennial which is excellent for the back of the border in a sunny or partly shaded garden. It is also great for mass planting and can attract bees and butterflies too.
25. Aeonium Arboreum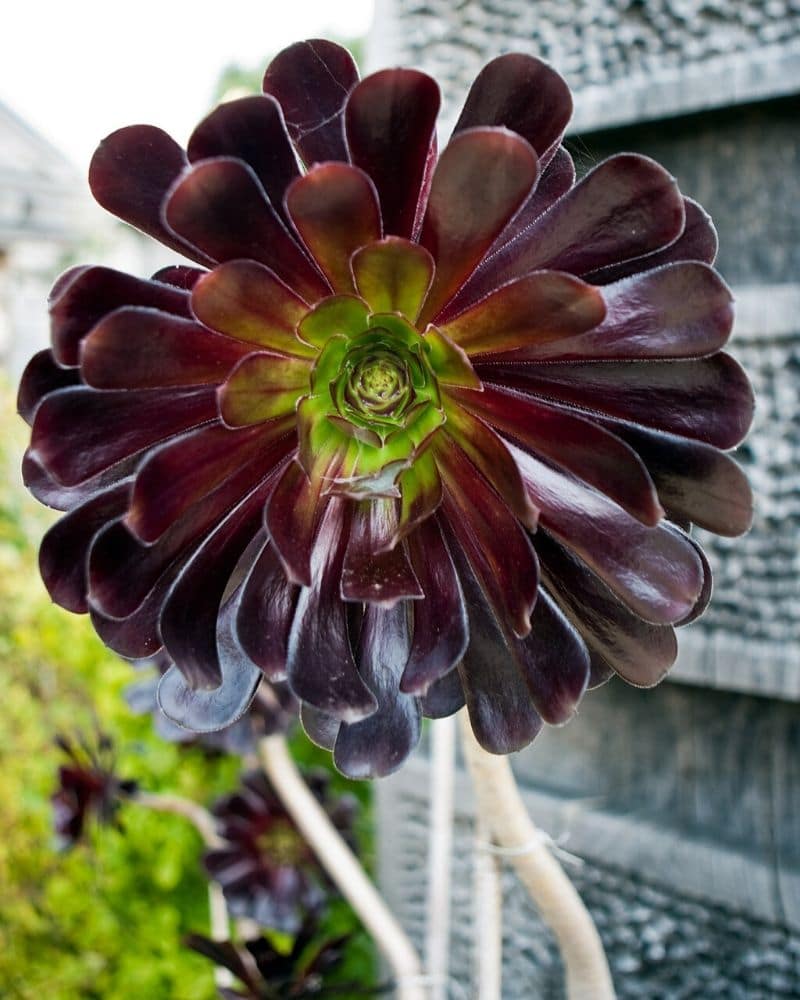 Aeonium arboreum 'Zwartkop', commonly called Black Tree Aeoniums and sometimes 'Black Rose' is a succulent notable for its deep purple to almost black foliage.
Its rosettes of leaves look like a flower and waxy in appearance. When exposed in a hot, full sun position, its leaves become darker and almost black, imitating the look of a black rose.
26. Coleus 'Black Prince'
The Coleus 'Black Prince' is one of the most all-over-the-place species and most famous when it comes to choosing striking foliage plants for the garden.
Coleus 'Black Prince' can be grown for its strange solid black foliage and tiny flowers, either as a perennial in sunny subtropical or tropical regions. It is a number one choice of plant for borders and can be used in blending with other plants in containers.
27. Silver-Laced Primrose
Primula 'Victoriana Lace Silver Black' or Silver-Laced Primrose is a favorite among gardeners having been grown for centuries already. This cultivar produces flowers in deep brown-black color with a perfect petal lining in silver-white and a golden center.
Ideal for cutting, its flowers come ready with a light scent that can be a great addition to your floral arrangement. Silver-Lace Primrose can be grown under the partial shade of the sun and a moist soil condition.