There's a saying that goes ''Once you grow a dahlia, you would like to grow more''.
Learning to identify all types of dahlias can be difficult, mainly because there are thousands of them. However, with this guide, you'll start learning everything you need to know about dahlias, this way you will now be able to say which one is your favorite type of flower and why.
Dahlias are one of the most beautiful flowers in nature because they have vibrant colors, they bloom elegantly, and they are fairly easy to maintain in any garden.
They belong to the Asteraceae family and they are distantly related to daisies, sunflowers, and even chrysanthemums (1).
This type of flower is native to Mexico this is why they prefer full sun and a combination of sandy and moist soil in order to thrive (2).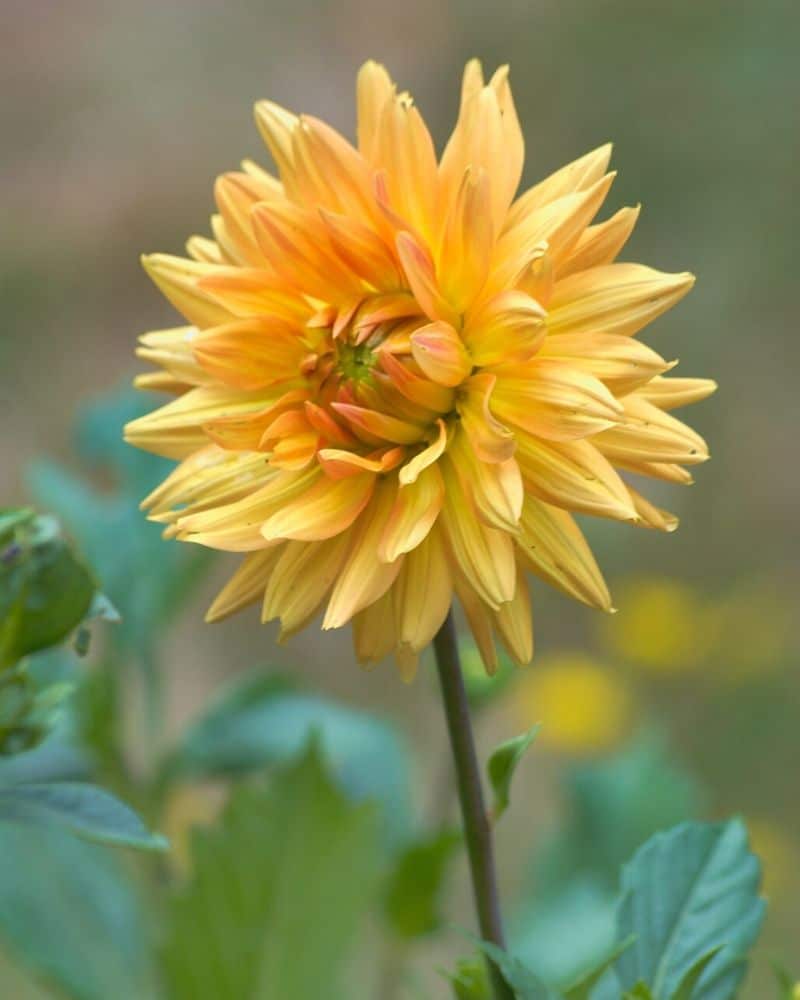 Basic Facts about Dahlia Plants
Would you like to have a colorful garden filled with flowers that attract bees and butterflies? Then you definitely need to have some dahlias!
These flowers tend to thrive during warmer months, and once they bloom you will not be able to stop looking at them!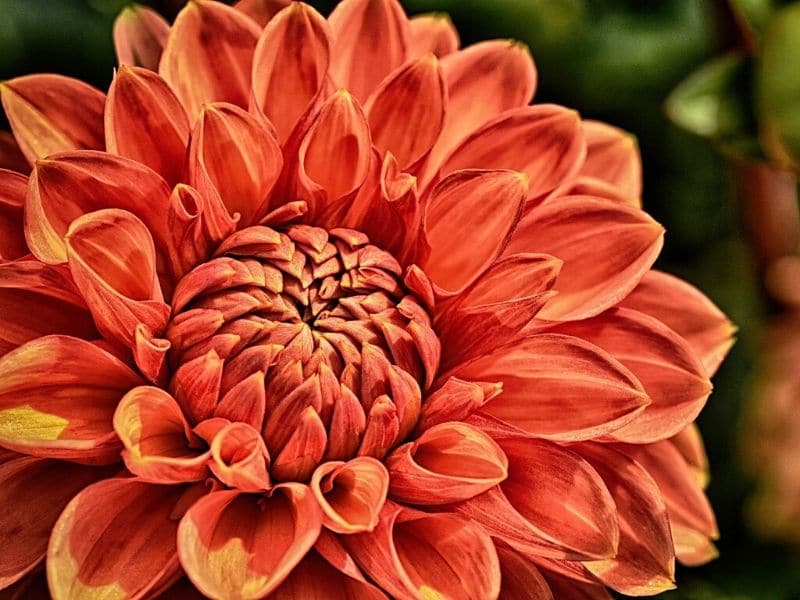 Here are some interesting facts about these plants:
According to horticulturists, dahlias are divided into at least 11 different classifications, which, in turn, have numerous subcategories (3).
All dahlias can grow in any corner of the world and they have been bred throughout the years (4).
Dahlia flowers are edible. In fact, the tubers' taste is like a combination of radish and potatoes.
They are also known for having a wide range of colors, different textures, and various sizes and shapes (5).
Comparing to other flower species, dahlias love moist soil and thrive best in moderate and warm climates, but they cannot stand too hot climates either.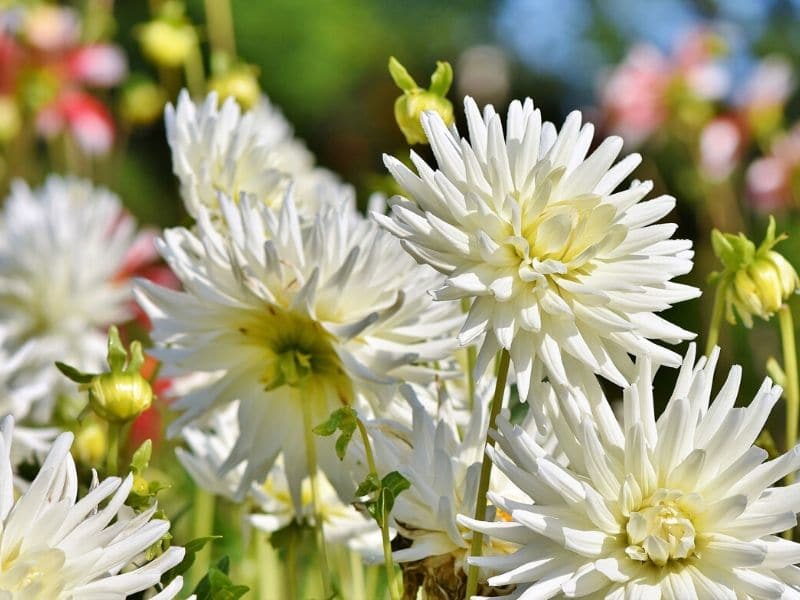 How To Plant Dahlias
Are you ready to start planting dahlias? You first need to make sure it's the right time of the year where there aren't any more frosts around where you live, otherwise your dahlias will suffer from this harsh climate.
Follow our steps below and you will soon have some dahlias growing in your garden.
You first need to choose where you are going to plant your dahlias. Do you have enough space outdoors or would you prefer to plant them indoors? Luckily, we'll cover these two types of locations for you.
When to Plant Dahlias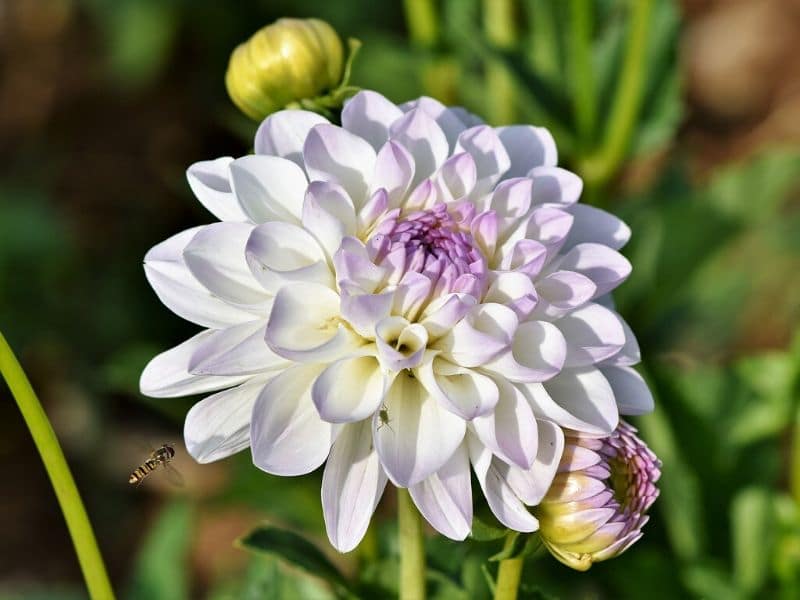 If you live in the Northern Hemisphere you should plant dahlias in spring, more specifically in April or May.
On the other hand, if you live in the Southern Hemisphere you should plant dahlias in spring as well, more specifically in September or October.
---
Planting Dahlias Outdoors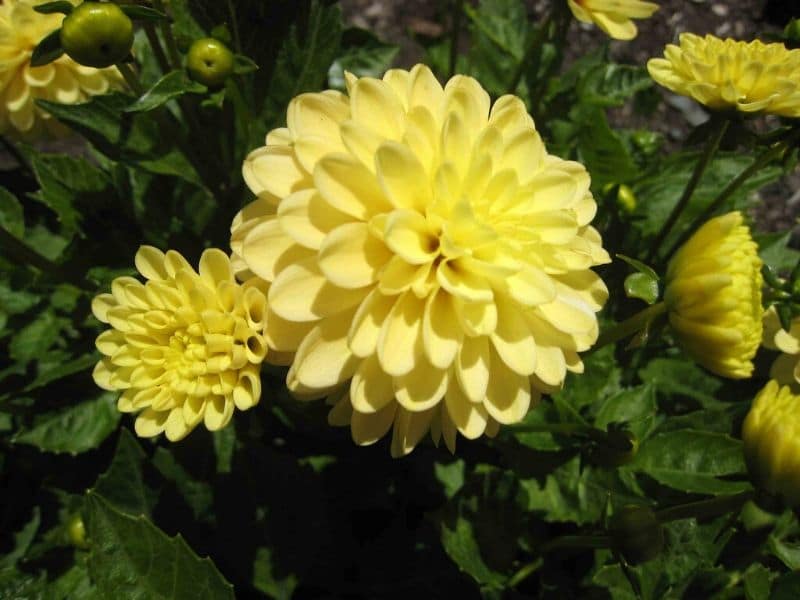 Choose a location
The most basic requirement for this site is that it needs to receive good light from the sun. In fact, dahlias require to be fully exposed to the sun for at least six hours a day. If they receive less than the required amount then they will not flower as much.
When selecting companion plants for dahlias, you need to make sure that these plants have similar growing conditions.
Prepare the soil
If your soil is acidic, sandy, and or loamy then great news! These types of soils are ideal for growing dahlias. They will also need to be grown in well-drained soil, and they love compost.
Once your soil is in perfect condition, you will need to dig a hole and start setting aside the soil that's there, this way you will create a soil bed for your flower. Also, make sure your dahlias are protected from the wind.
Seeds or tubers
If you have seeds then check what the package says regarding how many you should place in a hole. If you are planting your tubers from last year's summer then you only need to place one per whole.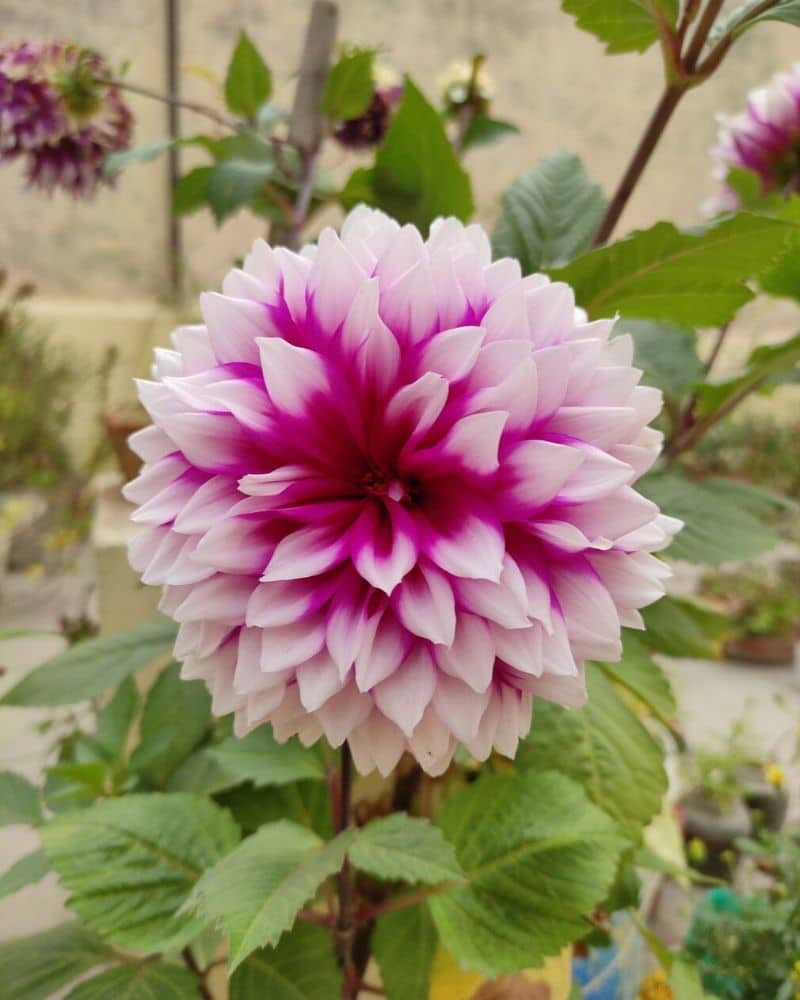 How to water
Remember to water them. You will not need to water them every day to help them grow properly because this does the opposite effect and it will make them stop growing.
After two weeks, you will start noticing how the foliage starts appearing (if you use a tuber), and if you use a seed then you will notice how the plant is slowly trying to make its way up.
Starting off
If you are eager to start planting your dahlias you can do this inside of your home if the weather is still too cold outside. You can start a month or a month and a half ahead and do so before the official season starts. You can use containers where you place seeds or you can use bigger containers with your tubers.
Don't mulch
Usually, mulch is really good for plants and flowers, however, dahlias prefer to have the soil where they are fully exposed to the sun. So, don't mulch them!
---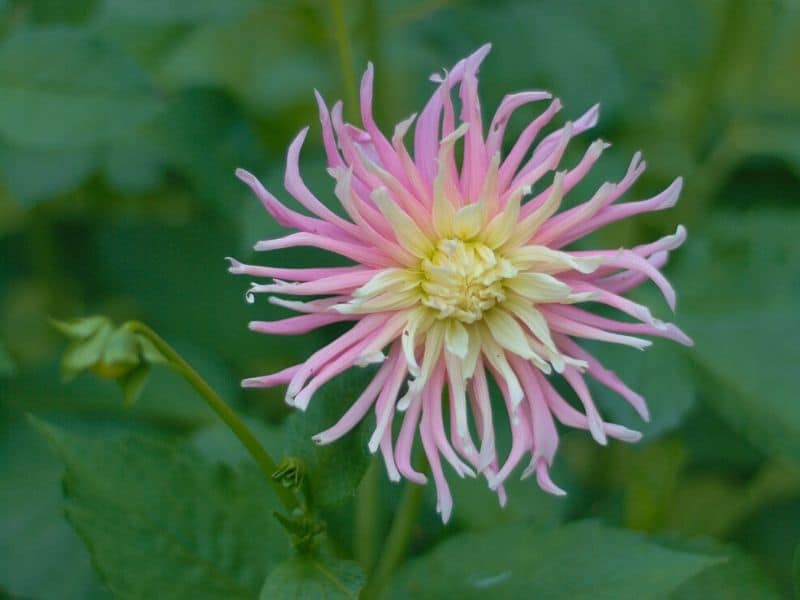 Planting Dahlias Indoors
Where to plant
Because you are planting indoors, you will need to be extra careful with the site you choose for your dahlias to grow. You shouldn't place them directly next to a window, because they can get the wind directly towards them, or they can get cold.
However, you do need to put them in a place where the sun will get to them completely, as they will need every inch of sunlight they can get in order to thrive.
Choose the correct pot
When dahlias are growing they are sometimes referred to as bulbs, however, their roots are tubers, because they look like brown carrots and because they have stems that come out directly from the tubers.
So, be aware of this whenever you are about to choose your pot for the dahlias, as you will need a medium-big size pot (6).
Water and Moisture
Don't water them a lot. As stated before, dahlias thrive best when their soil is not too wet. So, don't water them until you see them popping up the soil.
---
How to Choose the Best Tubers?
If your tubers are rotten or some parts of it are wrinkled then you need to either cut these bits off or discard them, unfortunately. However, if you see that they are growing a little bit on either side of them, or they have small pink buds, then these are good signs, and you can still use them.
Also, don't water the tubes immediately after you plant them, because this will encourage them to accelerate their growth and they will end up rooting. You need to wait for the sprouts to slightly appear above the soil and then you can water them.
---
Tips for Growing Dahlias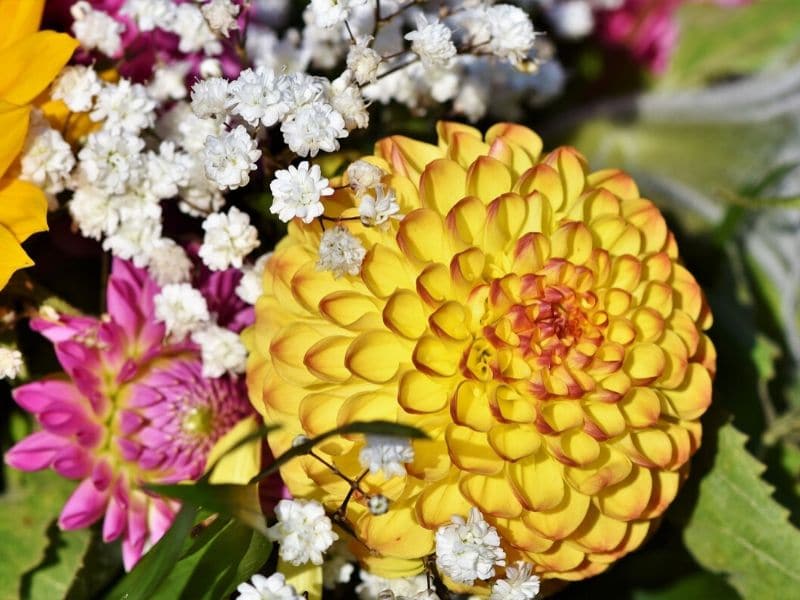 Always choose the correct location for your plants. Consider whether they need to be fully exposed to the sun or not.
When necessary, and if plants start to grow too tall, you will need to start staking them so they can grow up and maintain their correct shape.
Also, try disbudding if you are looking into growing larger dahlias. This will help the plant to pull its energy up.
Try to deadhead them regularly as this will allow your plants to invest their energy in growing.
How To Care for Dahlias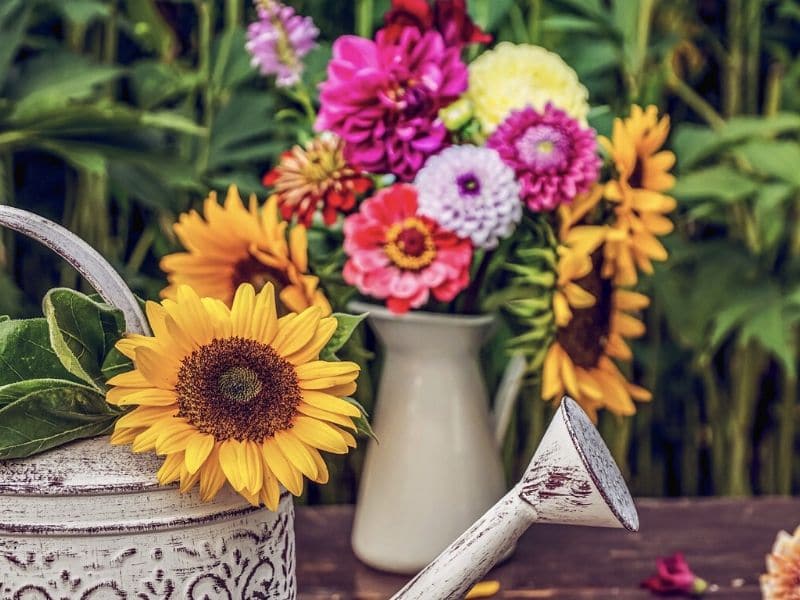 One of the good things about dahlias is that they tend to grow quickly and they can even flower during their first season.
As explained before, you will need to water them regularly and when doing so, you will need to do a deep watering. On the other hand, you will need to avoid overwatering them as they dislike soggy soil, as this can lead to rotten tubers, and you definitely don't want this to happen.
Dahlias respond well whenever you feed them something external, this is why they don't really like mulch around their soil. However, you can use natural fertilizers that will help their roots to be bigger, which, in turn, will make the leaves, the flowers, and the overall tuber look bigger.
Also, be aware that dahlias attract slugs and slugs love dahlias too! But, it's also fair to say that these types of flowers are free of most pests that will invade any other flowers.
Cutting Dahlia Flowers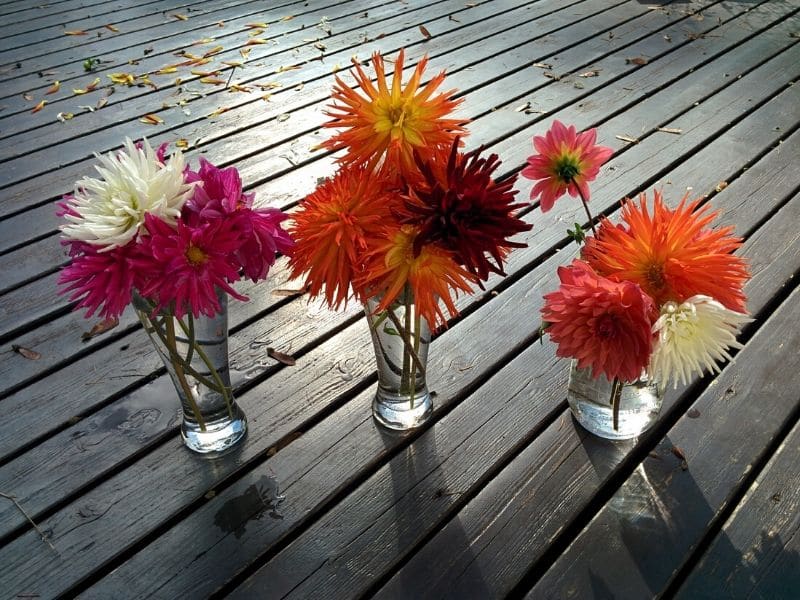 If you would like to cut your dahlia flowers (either to make bouquets or to give them to another person), you should cut from whole stems while trying to maintain the shape of the flower intact.
Doing it this way means that your flower will replace the branch you have removed and it will generate new buds.
What Are Some Varieties of Dahlia Flowers?
There are many ways in which dahlias are divided and classified. For example, they can be divided into flower forms which indicate how the shapes of the dahlias are and how petals share some basic characteristics.
Another way of classification is by the flower's size, which is when the blooms are observed in order to be divided into sizes. There are at least 42 species of dahlias, but there are thousands of hybrids that horticulturists have created throughout the world. Lastly, there is a third way of classifying dahlias according to their colors.
Here are some of the most common types of dahlia flowers you will ever see. We have classified them in accordance with their shape:
Single Dahlias: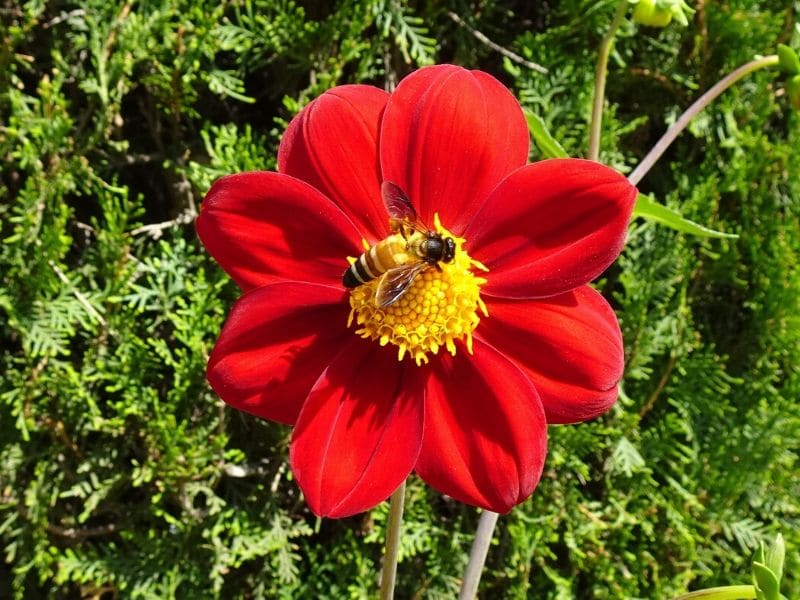 As their name suggests, these types of dahlias are single-flowering. They can grow up to two inches in diameter, and they have almost flat petals that overlap one another. They are loved by bees and butterflies, and they are sometimes paired with the Mignon types of dahlias due to their similarities.
Waltzing Matilda
Its petals are peach-coral and they have a red blush on some parts of them. They are also slightly pointed at the tip, and it's one of the most beautiful types of single dahlias. They can grow up to two feet in height, and they look great in vases or pots.
Magenta Star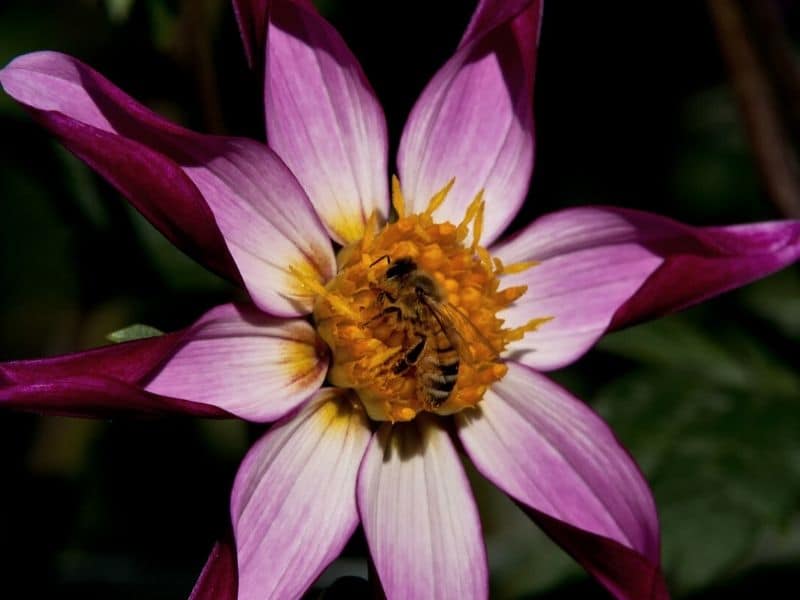 It has magenta and pink flowers, it is a very tall and sturdy dahlia. It prefers warm climates, and it will bloom for a very long time. It is also one of the most beautiful flowers to put in a vase. You can still plant it if you live in a very hot area, however, you must place it in a location where she also receives shade. Usually, gardeners plant this type in rows of five, because it gives a great visual effect.
Happy Single First Love
It has yellow-apricot petals and it also has a small red ring in the center of the flower, which is dark-brown, making this dahlia a very pretty one indeed. They can grow up to two feet in height. They prefer being exposed in full sun and it is better if they have a light shade. Also, when growing this type of dahlia it's best to protect them from harsh wind.
Mystic Illusion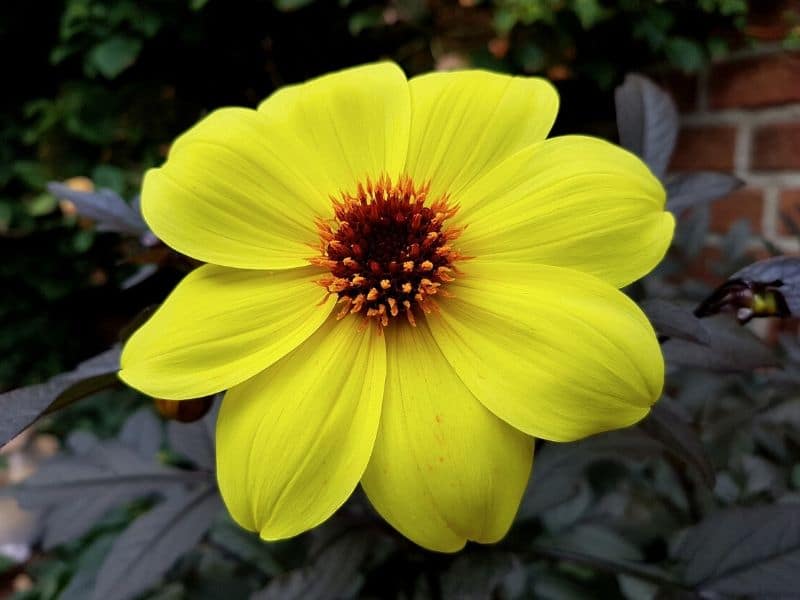 One of the hybrid dahlias, it prefers an average soil, and it thrives in moderate climates. It has star-shaped petals and they are usually yellow. They can grow up to 36 inches in height. And they attract butterflies due to its light scent.
Joe Swift
It has white flowers that turn into pale pink as they mature. They prefer well-drained soil and need to be trimmed carefully to develop fully. Many types of pollinators are attracted by these types of dahlias.
Moonfire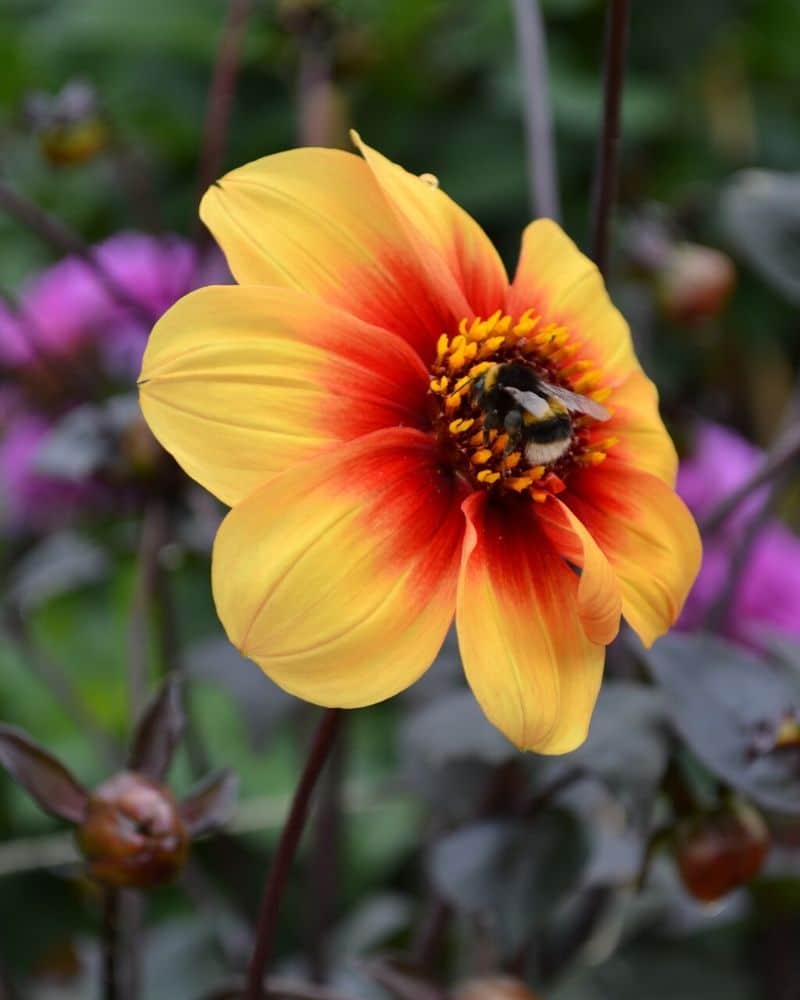 They are very similar to the dahlia above, however, instead of having a yellow petal, these have an orange petal with orange-red tones. They too have a dark-brown center and a yellow spiky stamen, making them look very impressive. They grow up to three feet in height and should be placed in a secluded area where no harsh weather can hit them.
Bishop of York
They can grow up to three inches in height. They have dark leaves and orange and yellow flowers. They have a light scent that attracts many pollinators.
Paeony Dahlias:
The Peony dahlias have a large center surrounded by more than two rows of large petals. What's more, these petals have a unique shape which makes the Peony Dahlias look even better!
Bishop of Oxford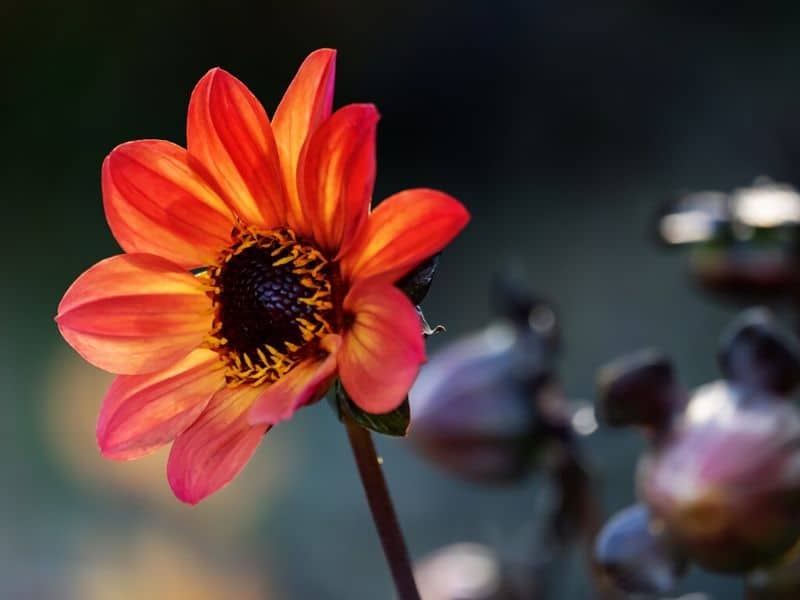 This dahlia can grow up to 36 inches in height this makes them one of the biggest dahlias to bloom. They have coppery orange flowers and add a lovely color to any garden. They are great as cut flowers – this means that you can decorate your house or any interiors with this type of dahlia.
Fascination
It's one of the most-eye-catching dahlias out there! It has bright violet and pink petals, semi-flowers, and can grow up to 36 inches in height. They prefer well-drained soil and thrive in warm climates.
Bishop of Llandaff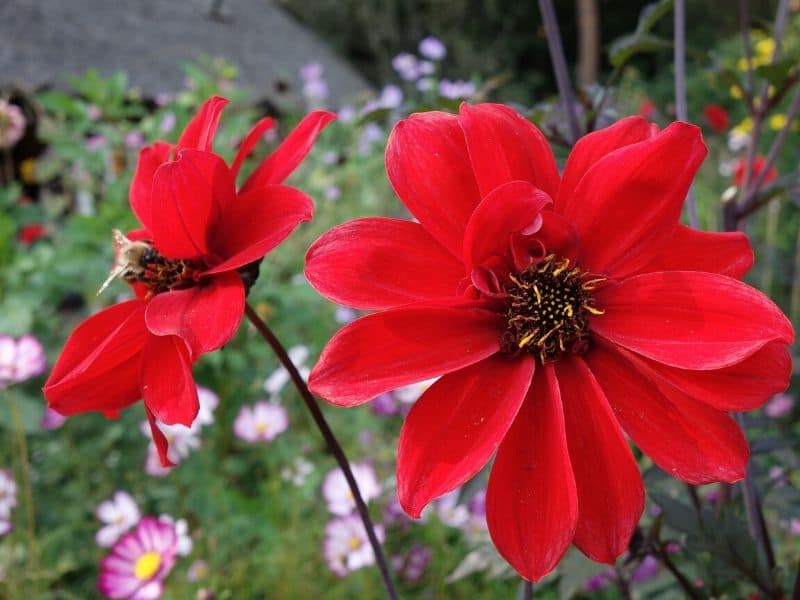 It has red petals with dark foliage. They also have semi-double flowers and they can grow up to 40 inches in height. They should be planted in sheltered areas if you live in a hot climate. Also, the soil where they have been planted should be well-drained.
Mignon Dahlias:
Sometimes Mignon Dahlias are paired with Single Dahlias due to their size. However, there are some differences to these two types of dahlias: firstly, the petals of the mignon flowers tend to be rounded, and, secondly, the Mignon Dahlias can grow up to two inches in diameter.
Sunshine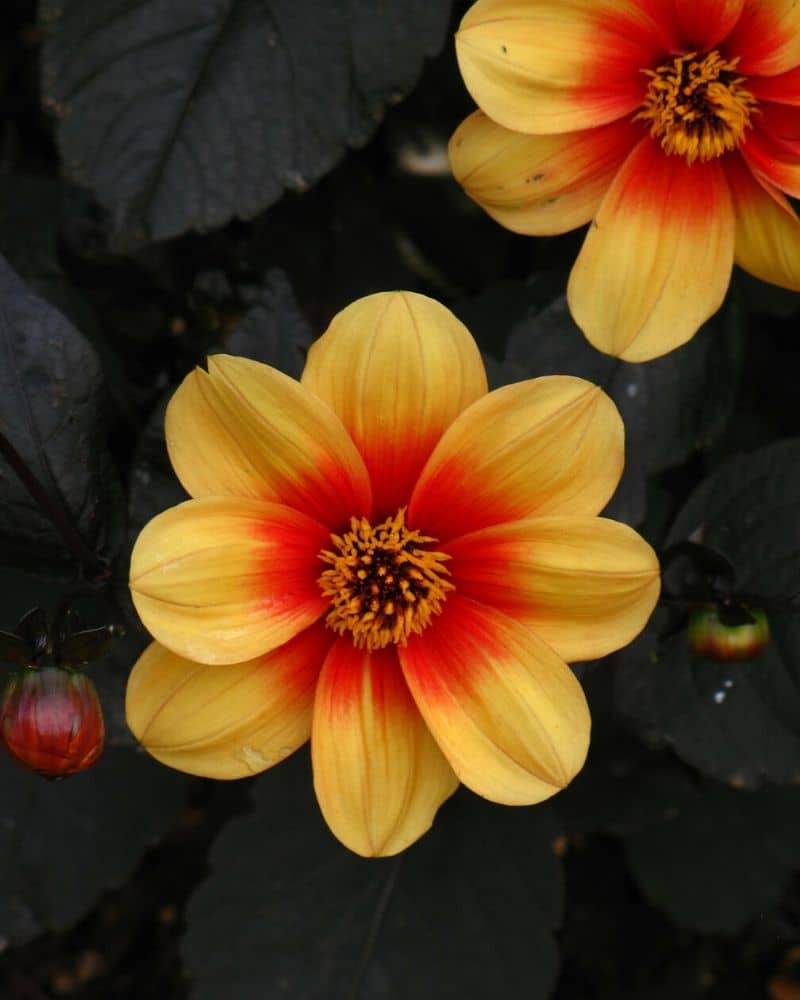 They have golden yellow petals with an orange center. They can grow up to 20 inches in height and are very easy to maintain.
G.F Hemerik
It's one of the most delicate types of dahlias mainly because of their size. They can grow up to 18 inches in height and they have coppery orange petals with a very bright yellow disk in the middle. They are considered dwarf dahlias.
Scura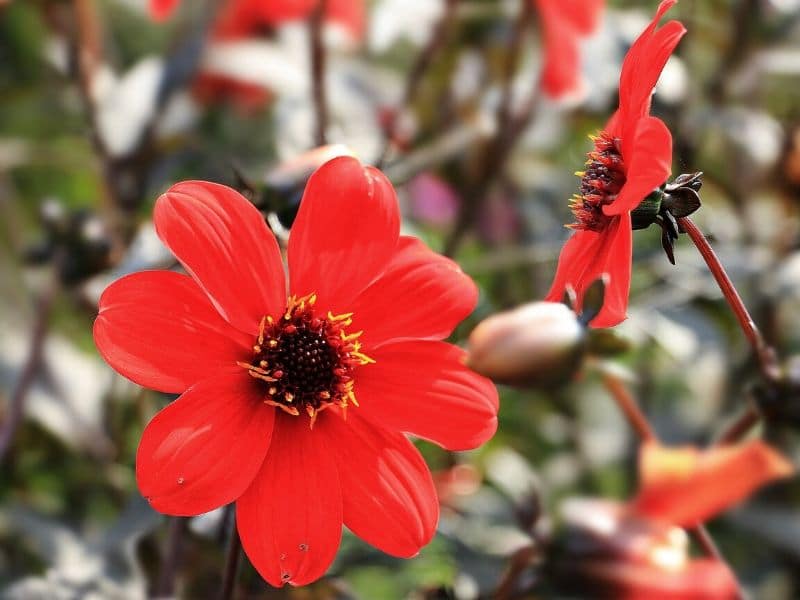 Another type of dwarf dahlia, this plant has bright tangerine flowers that also have a darker orange center. They can grow up to 17 inches in height and are a great type of flower to have in a container and or vase.
Anemone-flowered Dahlias:
These types of dahlias are known for having tubular florets that are surrounded by two (or more) rows of petals. They tend to thrive in warmer climates and they are prolific bloomers if they are taken care of properly. Another important characteristic is that they come in vivid and bright colors and can reach a height of up to 4 feet. Usually, gardeners and flower enthusiasts choose these types of dahlias for creating bouquets.
Purpinka
Another type of dwarf dahlias, this variety is known for being a compact plant, which means it can only reach 15 inches in height. It has deep-plum flowers and is perfect for those areas where there isn't a lot of space. Depending on what zone you live in, this dahlia should be planted in April.
Boogie Woogie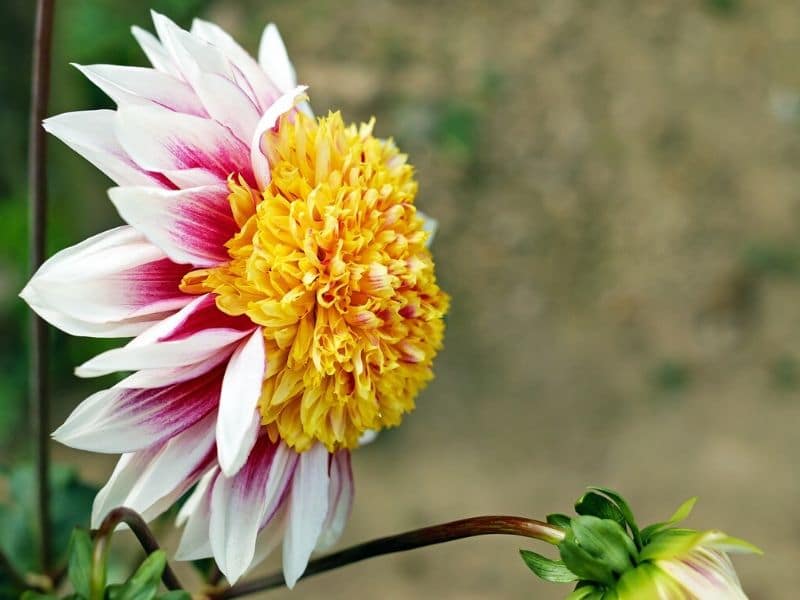 One of the most exuberant plants out there, its flowers have a mixture of several colors. They have a yellow center but it's surrounded by pink petals that, in turn, have hot pink outer petals. They will grow up to 24 inches in height and they tend to bloom for a long time.
Totally Tangerine
As the name suggests, this dahlia has a wonderful and very vibrant tangerine color. It's a hybrid dahlia and it has gained a lot of attention due to its appearance. They have a big center which is useful since they attract lots of bees and butterflies.
Orchid Dahlias:
They are single-flowering plants that have a big and open center. These types of dahlias are classified as a single orchid dahlia or a double orchid dahlia.
Single orchid dahlias only have one row of petals, whereas double orchids have two rows of petals.
Despite its name, the only similarity of these types of dahlias to a regular orchid is, sometimes, the colors. They are very different types of plants and flowers.
Fragile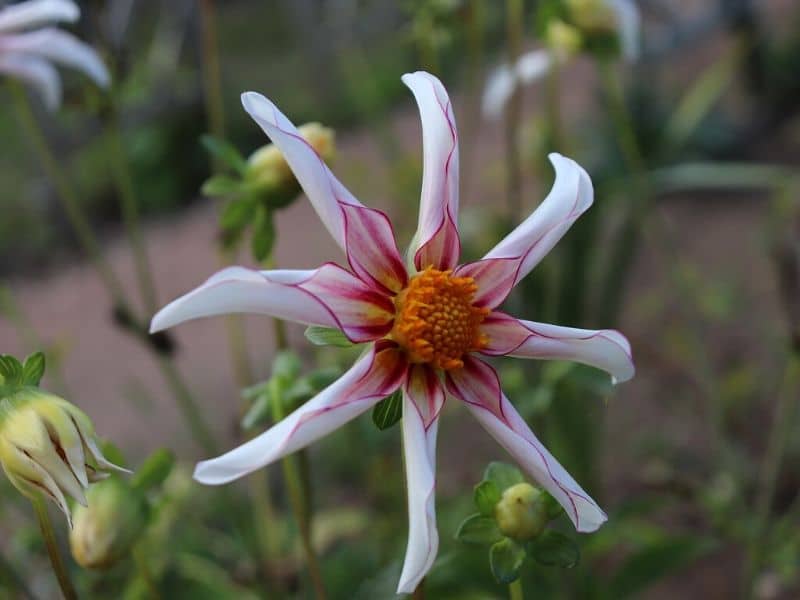 This type of flower is everything but fragile! They have long and separated petals which can be pink, yellow, or white. They also have a big and yellow center that helps attract pollinators. They will reach their peak blossoming at the end of summer and beginning of fall.
Honka Surprise
Its petals are pink and white and it has eight of them. They also have a bright-gold big center which is very convenient since pollinators are attracted to this. They can bloom for a long time and it is very easy to maintain, although they do need a trim at times.
Honka Red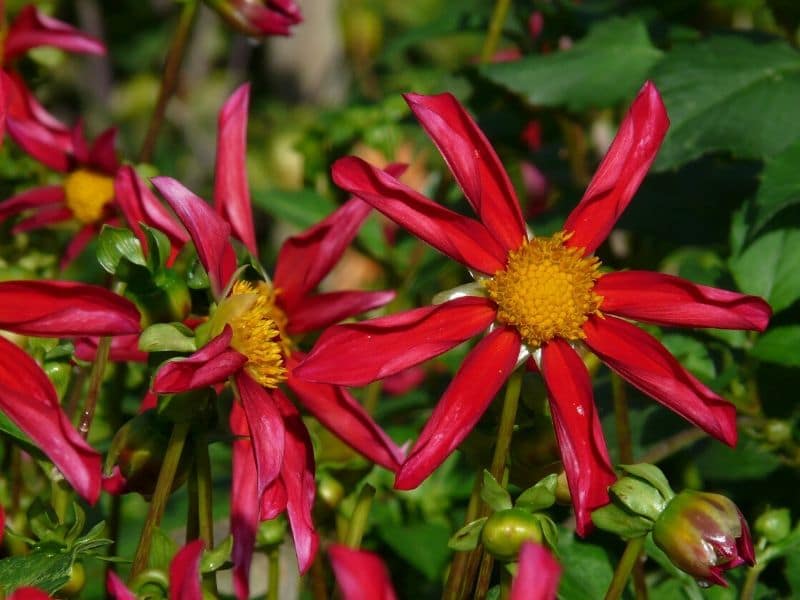 They can grow up to 27 inches in height. They have a bright scarlet-red color, and also have a yellow center. All its petals are separated from one another.
Pink Giraffe
It's one of the most beautiful double-orchids ever! They have red-pink and white petals and its center is usually white and pink but it can often be yellow. They can only grow up to two feet in height and if you are really into making a beautiful garden then you should plant at least five of these together.
Collarette Dahlias:
They have large petals that surround a short ring of another set of petals. They usually have two different colors, which is why and how they received their name because these colors form a type of collar in the bloom. Thanks to its type of center, pollinators are often attracted to this type of dahlias.
Teesbrooke Audrey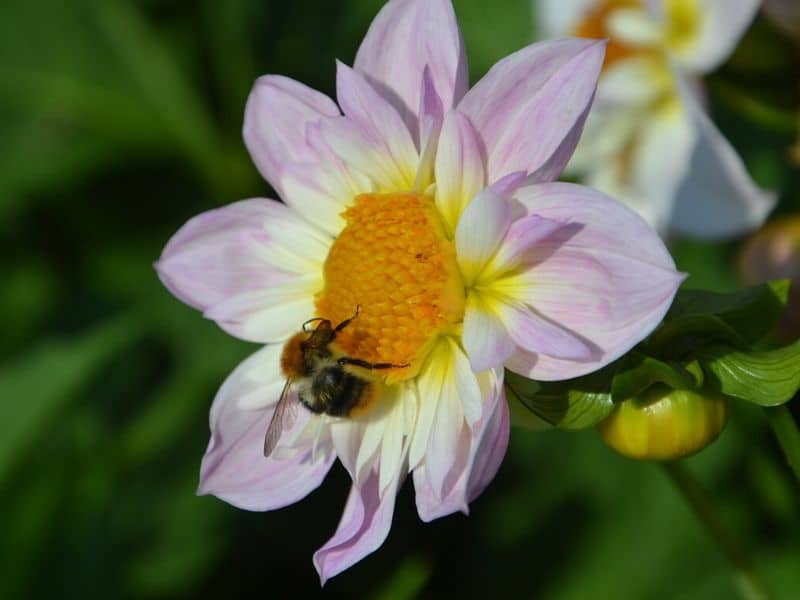 They can grow up to three feet in height, and they are great in existing borders or when you would like to have a colorful container. They have lilac and white petals and are prone to thrive in the United Kingdom. They also attract pollinators.
Night Butterfly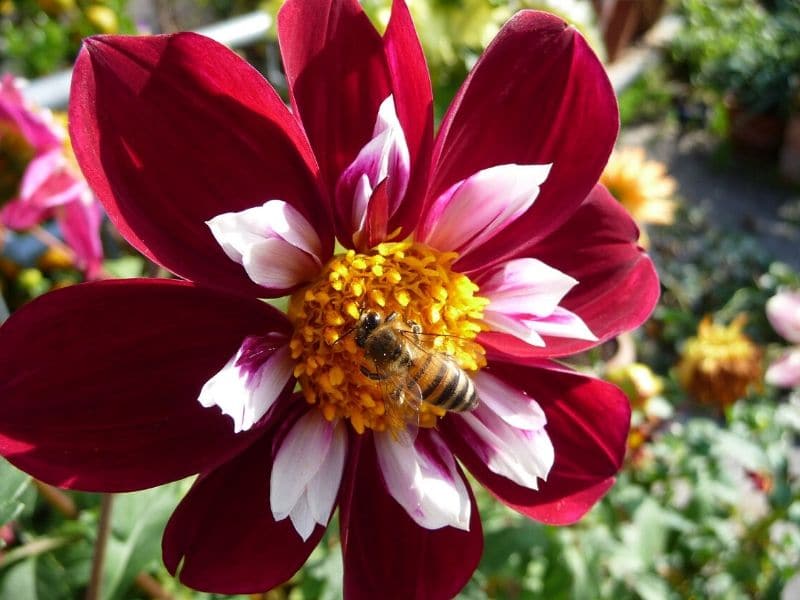 This type of dahlia has burgundy-dark red petals which are very large and they also have some smaller red-and-white petals on top of the burgundy ones. They really stand out everywhere they are! They can grow up to ten inches in height.
Pooh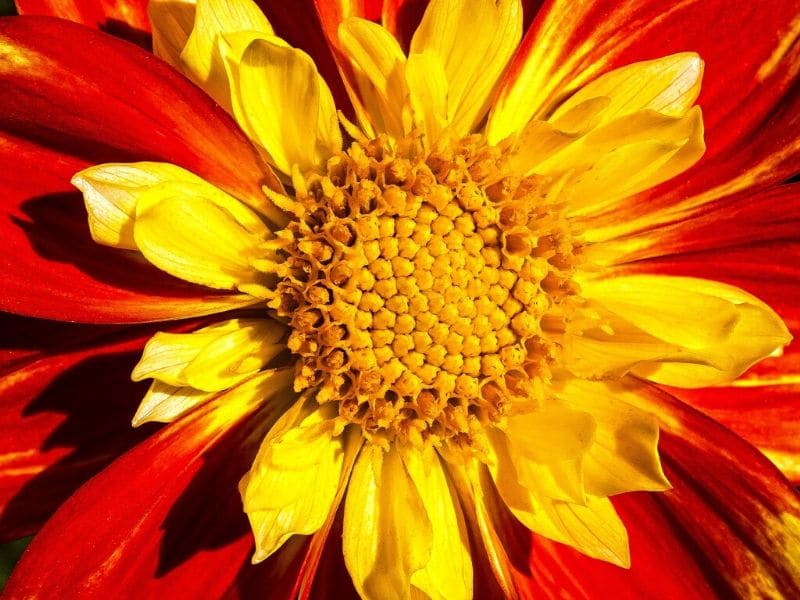 It's a hybrid dahlia. It has bright orange petals that bloom for a long time. They also have a bright yellow center with a yellow collar. They look great indoors and are fairly easy to maintain.
Fimbriated Dahlias:
This type of dahlias has blooms that are very striking because each bloom has a tip, and this tip is split evenly into at least two more divisions forming a great pattern. They are also known as laciniated dahlias.
Apache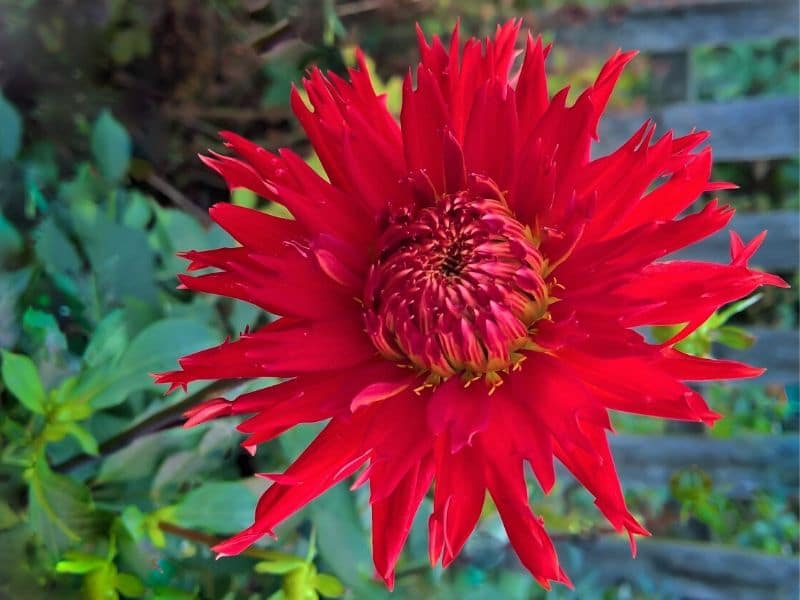 Very elegant type of flower. It has vibrant red petals which are very thin. They can grow up to three feet tall and have been considered as one of the longest types of dahlias.
Jean Ellen
The petals of this type of flower are yellow. They are also very long and pointy. They prefer acidic soil and being exposed to the sun. They can grow up to 50 inches in height.
Kenora Frills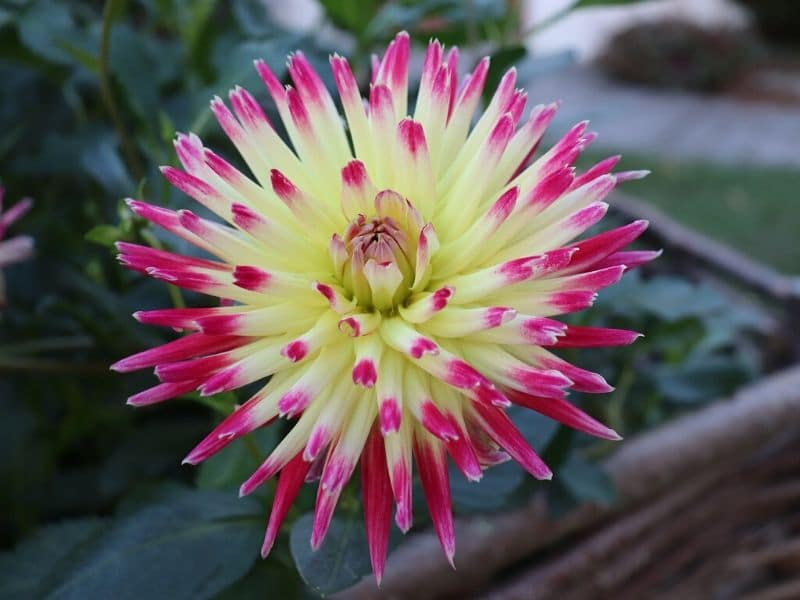 This flower's petals are very bright. They can be either pink or purple and have a white and yellow center. They need to be fully exposed to the sun and are deer resistant.
Waterlily Dahlias:
This type of dahlia does have a striking resemblance to waterlilies. They also have striking colors and patterns, which makes this type of flower very unique and special. They also have double blooms and sparse petals which are rounded, so they are very eye-catching.
Pearl of Heemstede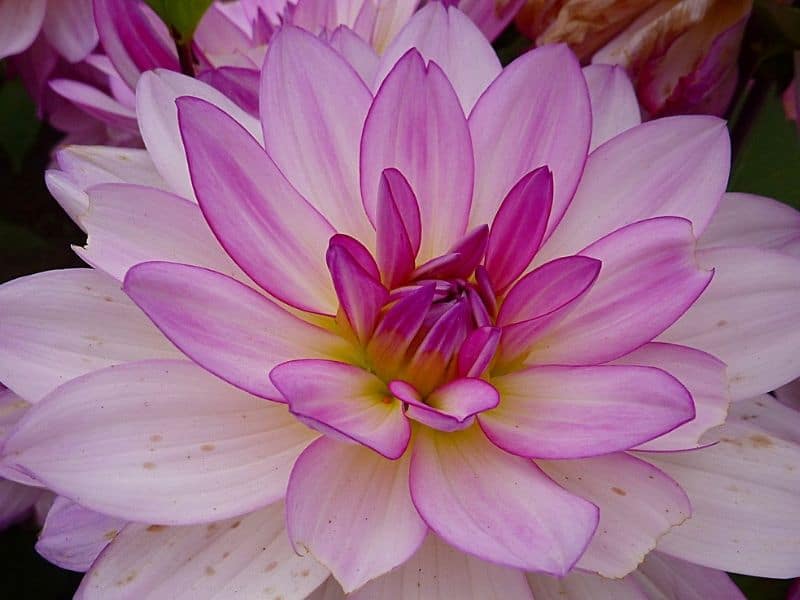 Another type of elegant dahlia, they have pale pink petals. They can grow up to five feet tall. They also have long stems and very dark foliage and prefer being exposed to direct sunlight.
Caballero
It has stunning red petals that are pointy. It also has a gold trim that surrounds the petals. They grow up to four feet in height and tend to bloom for a very long time.
Karma Choc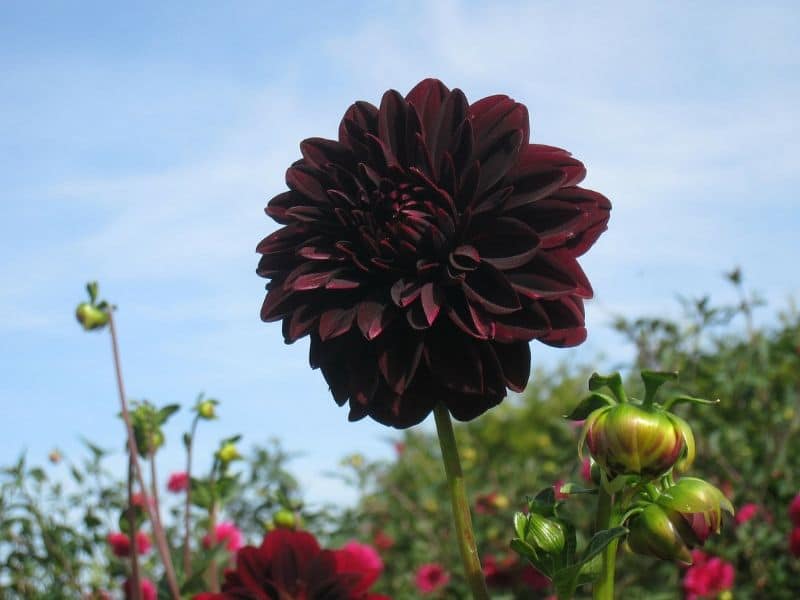 If you ever see a Karma Choc Dahlia you will never forget about it! It is a beautiful flower with dark red petals that have a brown circle in the center. They are one of the darkest flowers in the dahlia family that have ever existed. They are hybrids and last a long time.
Miscellaneous Dahlias:
These are the types of dahlias that cannot be placed in any other category. They have all sorts of colors and sizes. They usually need well-drained soil and tend to prefer being exposed to the direct sun.
Akita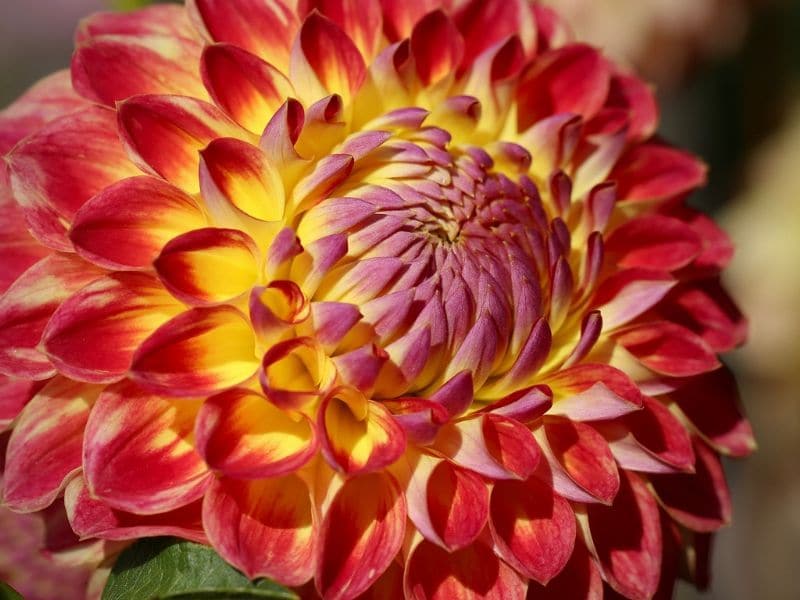 They have red petals that have a white tip. The center of the flower is yellow. They are very impressive and look good in any garden. They have petals that curve inward and are unique.
Gallery Art Deco
They have coral-pink petals that grow beautifully. It's a small flower in comparison to others. It also prefers full sun and moist soil.
Vancouver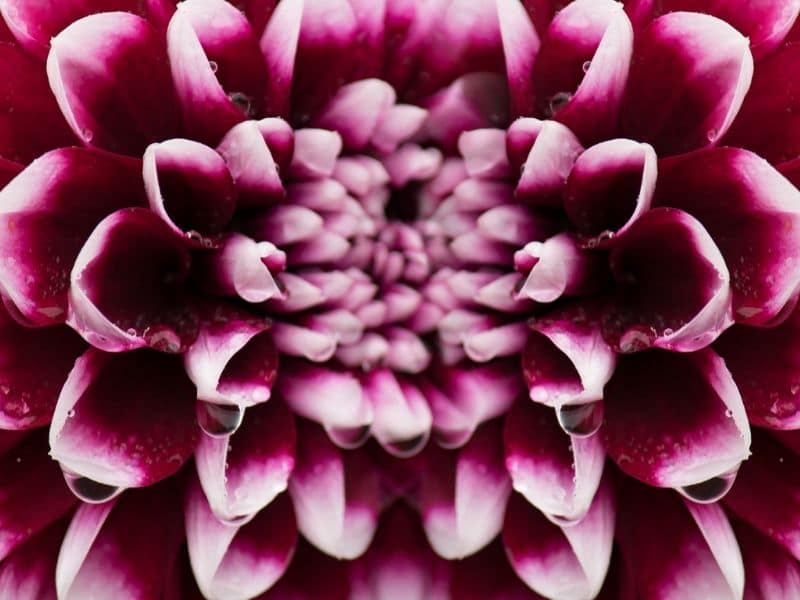 They have long petals that tend to be violet or pink. They also have double flowers and can reach up to 40 feet tall, making them very long flowers. They love sandy and or acidic soil.
Seattle
Its petals are golden-yellow and have white tips that make them look longer. They also have an orange and white center that attracts bees and butterflies alike. They prefer damp and moist soil and need to be in a sheltered location as they cannot thrive under the sun.
Gallery Rembrandt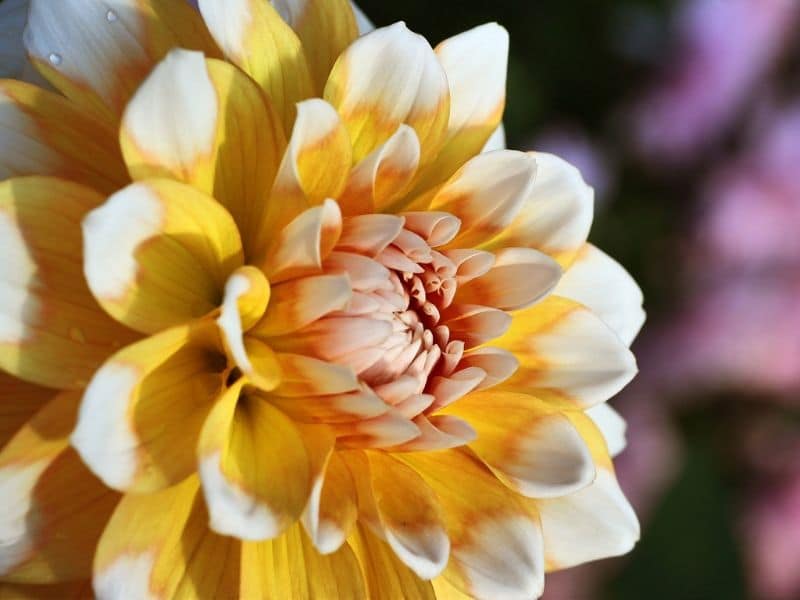 They have lilac-rose flowers that turn into light-pink once they mature. They can grow up to 16 inches in height and prefer to be exposed in the full sun.
Impression Fantastico
They have magenta and purple petals with yellow centers. They also have another set of petals that are magenta and white. They need to have moist soil and they look great indoors as a cut flower.
Duet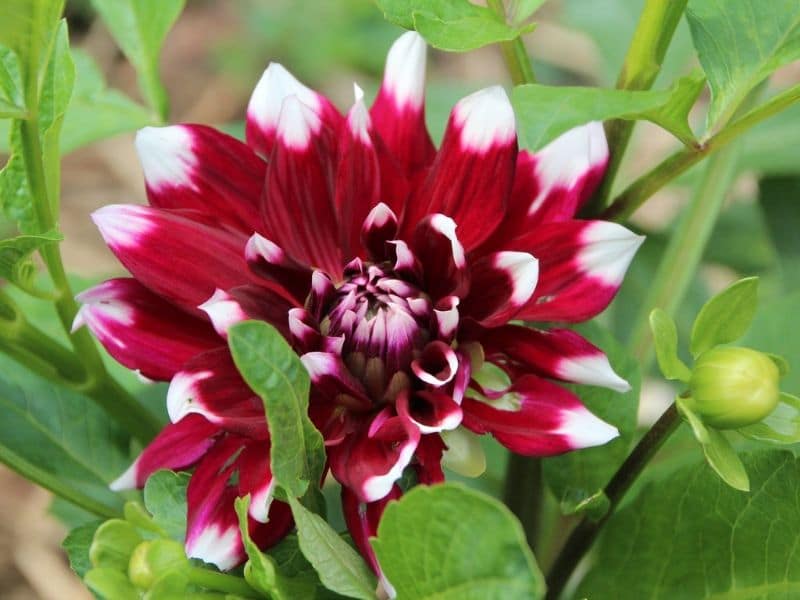 They have dark-red petals and they then have white tips. Very beautiful types of dahlias tend to get everybody's attention due to the shape of their petals. They also have a wide bloom that can reach eight inches in width. However, they can only grow up to three feet in height.
Gerrie Hoek
It has soft-pink petals that grow very fast. They are very unique and have dark-green foliage that catches everybody's attention. They tend to thrive under the full sun.
Peaches and Cream
It has a beautiful peach-and-cream flower with white tips. They usually grow up to eight inches in height and are a very good choice if you would like to place them inside a vase. They need to be protected against hard climate conditions.
Decorative Dahlias:
They have a wide range of colors and shapes and have broad and flat petals that are nothing like the other types of dahlias. They have double-flowering blooms and can be subdivided into formal or informal. The Formal Decorative Dahlias have evenly placed petals whereas the Informal Decorative Dahlias have petals that are placed irregularly.
Arabian Night
They have dark burgundy-red flowers and they should be planted in full sun and fertile soil. They tend to grow a lot.
Melody Dora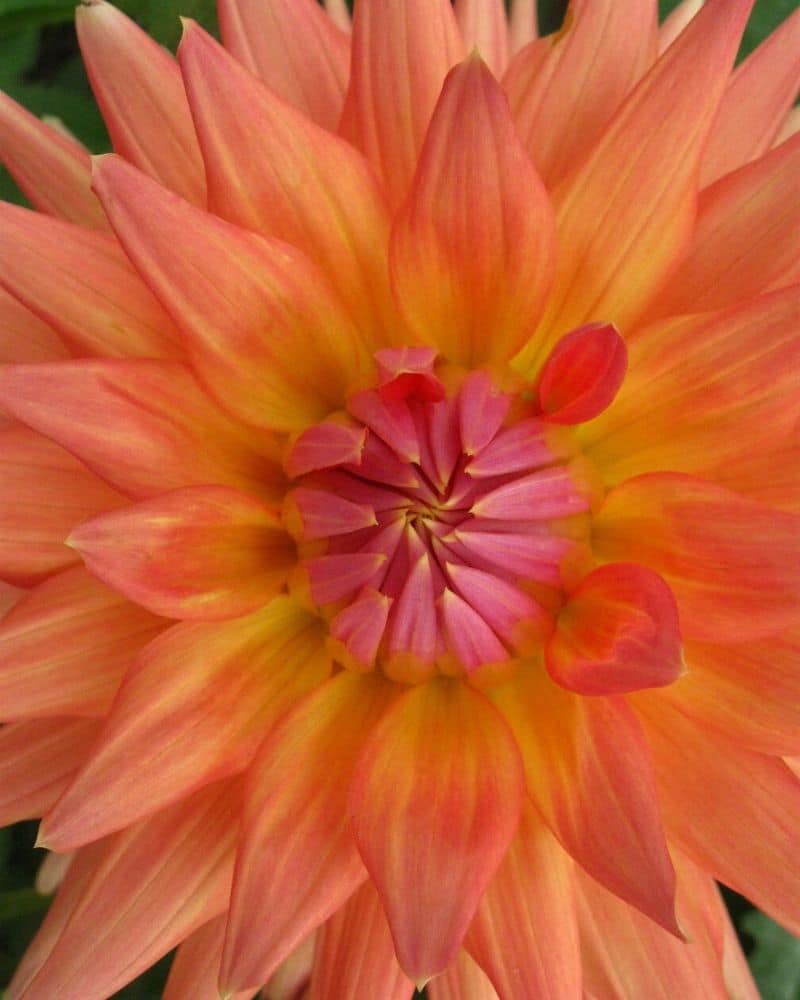 Their petals are pink-salmon and have an orange-yellow center. They can grow up to 26 inches in height and their soil needs to be moist. They are very hardy and can withstand even the hardest of weather.
Kelvin Floodlight
Striking and very bright yellow petals that are very pointy. They get everybody's attention because they are simply beautiful!
David Howard
They have an orange-apricot color and have very dark foliage. They can grow up to three feet in height and are very striking flowers.
April Dawn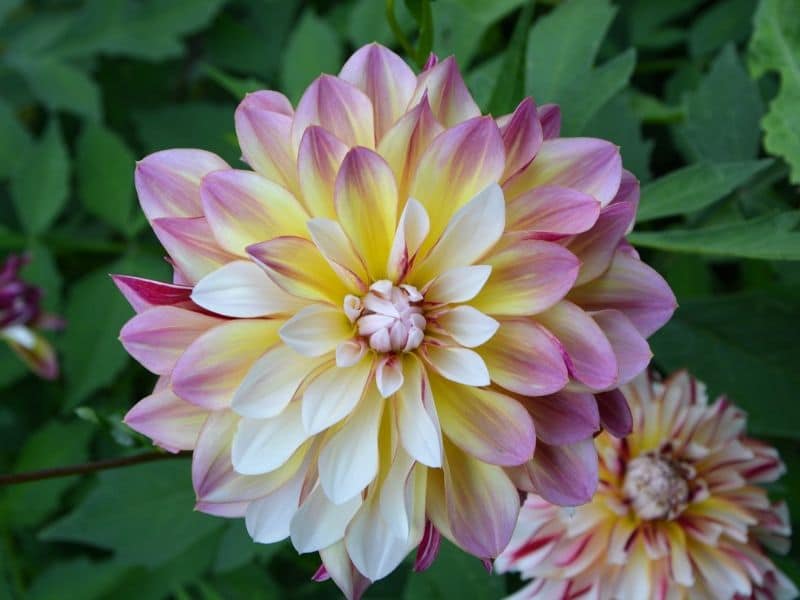 They have white and pale-pink petals and the interesting thing about this type of dahlia is that the center is also white and pale-pink. They can grow up to six feet in height. They prefer moist soils.
Cactus Dahlias:
These types of dahlias have a double-flowering characteristic that makes them unique. They come in different colors and sizes. They are subdivided into incurved cactus, straight cactus, and semi-cactus.
Doris Day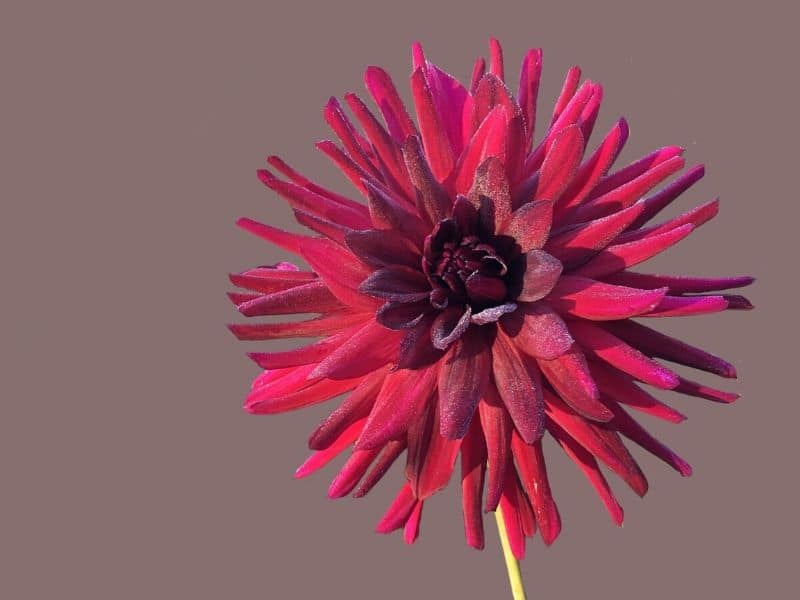 It has spiky and curled petals that curve outwards. They have bright red flowers and need to be planted in fertile and well-drained soil.
Frigoulet
It has bright red petals with white tips and very-dark green foliage. They are very fragile so you will need to plant them indoors or in areas where there aren't strong winds.
Pianella
They have pink petals with white tips. They have a very unique shape as they are tightly rolled. They need to be deadheaded regularly in order to help them thrive.
The Dutch Explosion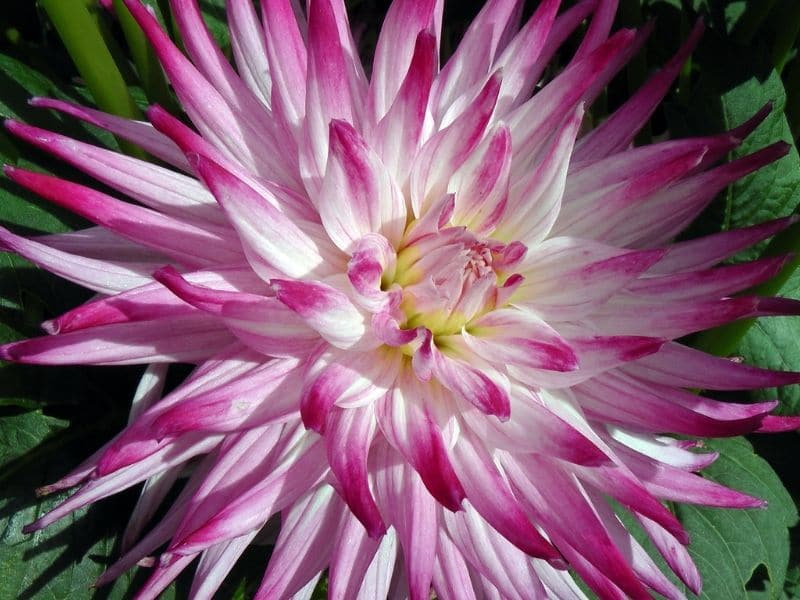 They have white petals with purple tips and are very beautiful. The petals are very long and they are spread apart.
Bora Bora
They have pink-coral petals and have a gold center. They can grow up to three feet in height and prefer well-drained soil.
Ball Dahlias:
They are called like this because they have a shape that resembles a ball and some others look similar to a sphere. They tend to grow very fast and have a bigger diameter than some other types of dahlias.
Wizard of Oz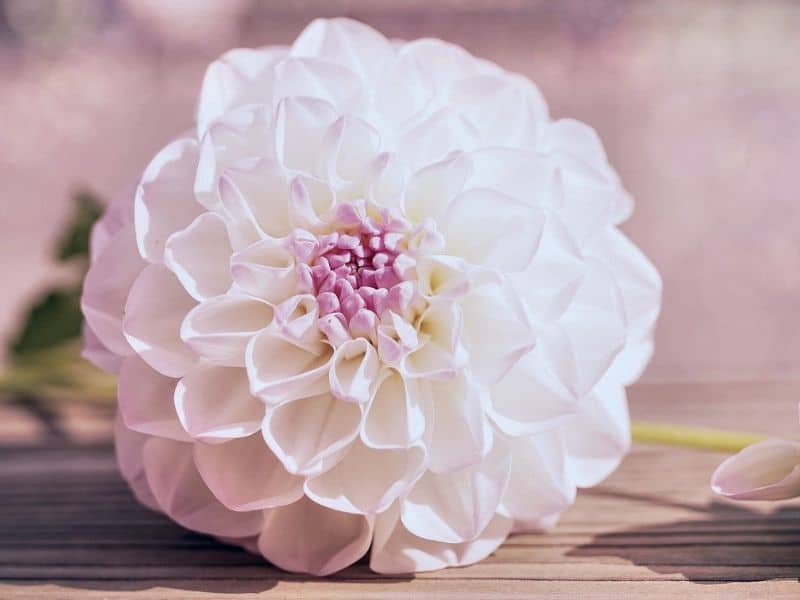 They have pale-pink petals and can grow up to 32 inches in height. They also have a very bright green foliage.
Aurora's Kiss
They are miniature and have dark red blooms. They are high-maintenance and need moist soil.
Jomanda
They have orange-pink petals, they prefer to be exposed to the full sun and are long-lasting. They need well-drained soil.
Cornel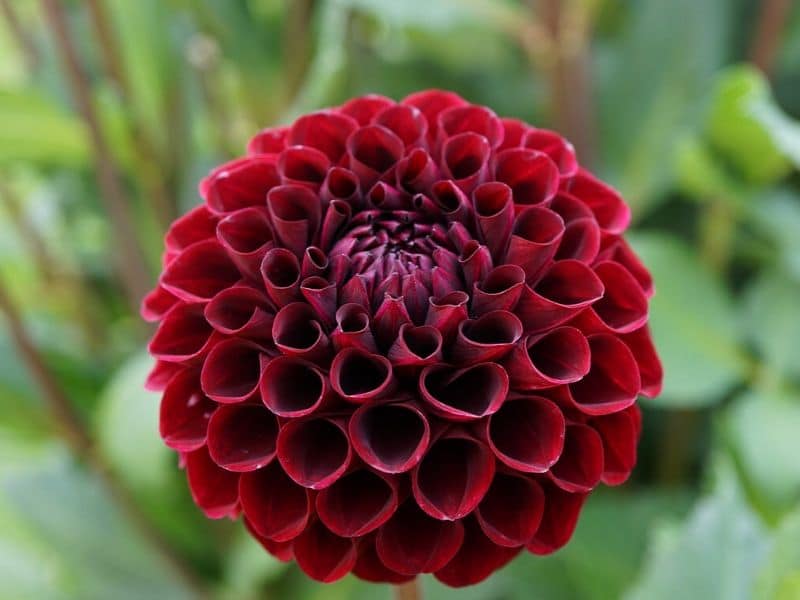 This type of dahlia has bright red petals. They have long and strong stems that do not need a lot of maintenance. They prefer full sun and can grow up to four inches in height.
Pompon Dahlias:
They are usually very small and have a double-flowering characteristic that is very eye-catching. They also have flat petals that are arranged in a spiral manner and they form a perfect circle.
Moor Place
Very small flowers, they require a moderate level of maintenance. They have dark-burgundy flowers and have very long stems.
Franz Kafka
It has dark pink flowers that are very cute. They are also small and can grow up to 36 inches in height. They tend to propagate easily and bloom from midsummer until the first frost.
Common Questions About Dahlias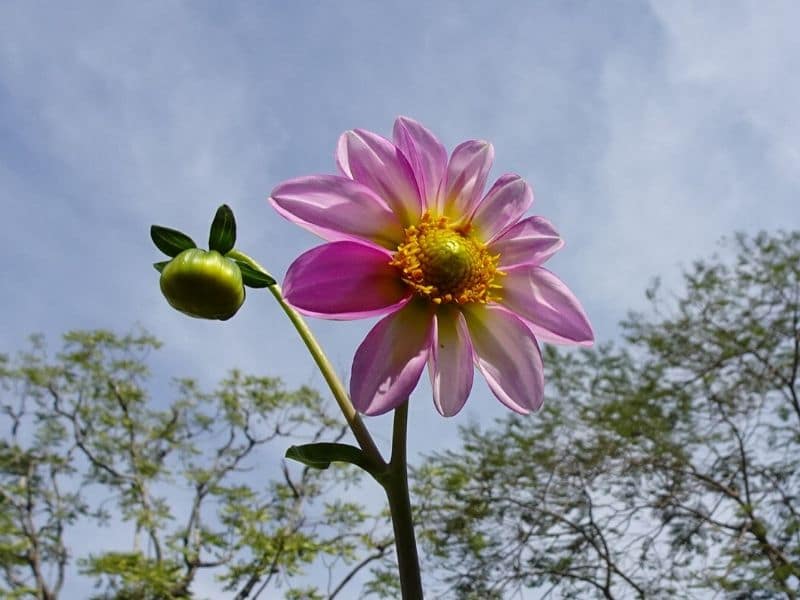 What do dahlia flowers symbolize?
When it comes to dahlia flower meaning, they are often considered as a symbol of everlasting union and this is why they are given to couples during their engagement and wedding reunions.
They also symbolize creativity, change, and inner strength. In addition, in some cultures, they are also seen as an incredible plant because it's an edible type of plant.
What are some of the uses of Dahlia flowers?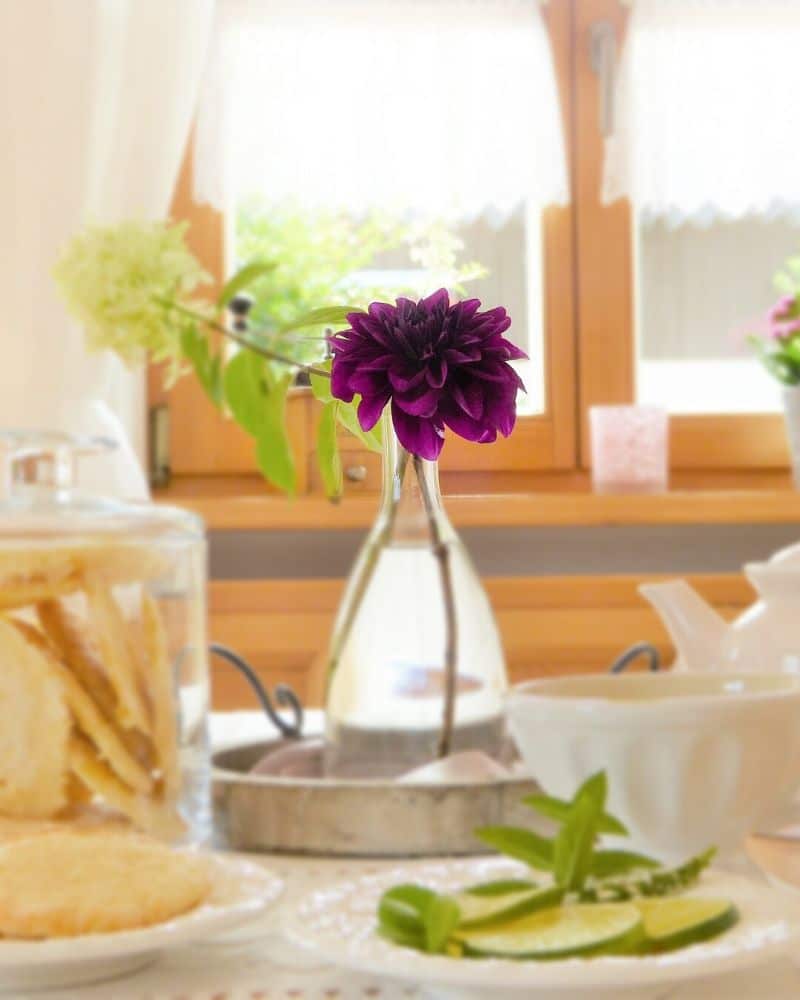 Throughout the years, dahlia flowers have been used to treat illnesses and any other health-related problem, in many different cultures (7).
Many hundreds of years ago, the Aztecs used dahlias to treat epilepsy. Moreover, the Europeans also used it as a food source, especially after the French potato crop went really bad in 1840 and a major part of the continent was almost destroyed.
Also, before insulin was discovered, many natural remedies were used such as the inulin that comes from the dahlia tubers (8).
Lastly, dahlia flowers are edible and they are thoroughly eaten in Mexico and many other Central American countries.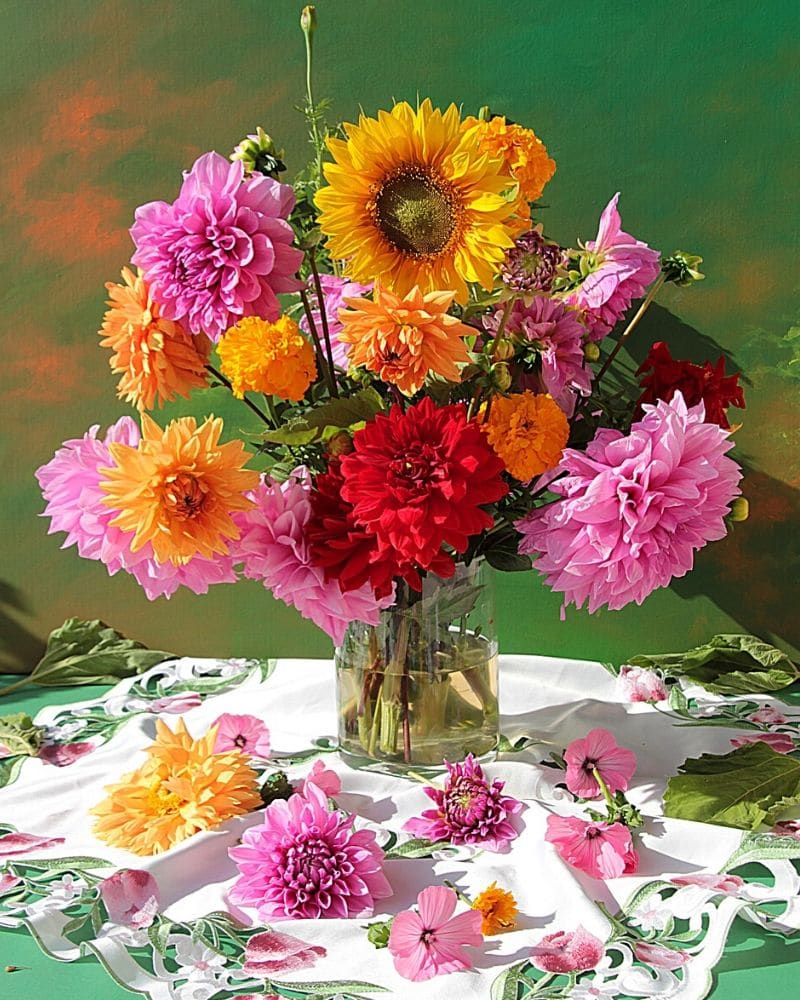 Conclusion
All this information about dahlia flowers is for you to understand the differences between these types of plants, but also for you to be able to grow them. Now that you are aware of the maintenance that they require and the specific types of soil they all need, you are able to see which one works best for you and where you live.
Dahlias are great flowers to have in any garden but they also look good if you would like to grow them indoors or if you simply put them in a vase.
These exotic flowers will surely bring lots of colors, scents, and life to your home, garden, event, or even present!
References
Reference List:
Bergi, Urooj-Ul-Nissa & Khan, Faheem & Neelofar, N & Khan, Dr & Nazki, Imtiyaz & Dar, MA. (2015). Physiological and Flowering Response of Dahlia (Dahlia variabilis Desf.) cv. Pink Attraction to Growing Media. Journal of Plant and Pest Science. 2. 33-42.
Panda Sujogya Kumar, da Silva Luis Cláudio Nascimento, Sahal Dinkar, Leonti Marco. Ethnopharmacological Studies for the Development of Drugs With Special Reference to Asteraceae. Frontiers in Pharmacology. Volume 10, 2019. Pages: 955. https://www.frontiersin.org/article/10.3389/fphar.2019.00955 DOI=10.3389/fphar.2019.00955
Jour, Tadesse, Mesfin. 2015/10/14. How to study the Asteraceae. Ethiop. J. Biol. Sci.
Villaseñor, Jose & Redonda-Martínez, Rosario. (2018). A new species of Dahlia (Asteraceae, Coreopsideae) from the state of Oaxaca, Mexico. Phytotaxa. 362. 239-243. 10.11646/phytotaxa.362.2.11.
Thill, J., Miosic, S., Ahmed, R., Schlangen, K., Muster, G., Stich, K., & Halbwirth, H. (2012). 'Le Rouge et le Noir': a decline in flavone formation correlates with the rare color of black dahlia (Dahlia variabilis hort.) flowers. BMC plant biology, 12, 225. https://doi.org/10.1186/1471-2229-12-225
Frey, D., & Moretti, M. (2019). A comprehensive dataset on cultivated and spontaneously growing vascular plants in urban gardens. Data in brief, 25, 103982. https://doi.org/10.1016/j.dib.2019.103982
Sengul Uysal, Ismail Senkardes, Adriano Mollica, Gokhan Zengin, Gizem Bulut, Ahmet Dogan, Jasmina Glamočlija, Marina Soković, Devina Lobine, Fawzi M Mahomoodally. (2019) Biologically active compounds from two members of the Asteraceae family: Tragopogon dubius Scop. and Tussilago farfara L.. Journal of Biomolecular Structure and Dynamics 37:12, pages 3269-3281.
Bryan Tungland, Chapter 8 – Nondigestible Fructans as Prebiotics, Human Microbiota in Health and Disease, Academic Press, 2018, Pages 349-379, ISBN 9780128146491, https://doi.org/10.1016/B978-0-12-814649-1.00008-9.
Close
*Featured Photo by swisshippo/depositphotos