When you're trying to say, "I care," what better way is there to do it than by sending someone a dozen roses?
Maybe roses aren't in your budget. That's ok! You don't have to resort to a cheesy card or a quickly-discarded box of chocolates.
Sending someone flowers – of any kind, be it roses, peonies, lilies, or something a little more outside of the box – is a great way to show your affections and to spread love. However, if you're new to a city, it can be tough to find local flower delivery options that don't break the bank.
If you live in Arizona, you need to read more about the ten best flower delivery services in Phoenix. 
1. Arizona Florist
Arizona Florist offers a ton of affordable options with unique offerings that can reduce your overall expenses when shopping. While classic bouquets start around $40, you can buy individual bunches from Arizona Florist for just $5 apiece.
There are a number of other budget-friendly dish gardens, gourmet baskets, houseplants, and other options available, too. 

Delivery is available, with prices calculated at checkout.

Website: https://azflorist.com/
2. My Little Posy
My Little Posy is more than just a flower shop with a cute play on words! Based out of Scottsdale, My Little Posy offers a hassle-free shopping experience for buyers who are less than decisive. You can shop online via their convenient website or you can stop by their actual storefront.

Here's where this store is unique, though – you will only be able to choose from one select style per day. There are no substitutions, and all flowers are first-come, first-served.

However, you'll only pay $30. Daily arrangements vary, with features including sunflowers, posies, and more. You can purchase a bouquet with a vase for an extra $10.

Delivery is included in the purchase price, so you won't have to pay any extra to have your flowers sent around to the city of Scottsdale or metro Phoenix.

Website: https://mylittleposy.com/
3. Whitehouse Flowers
Whitehouse Flowers offers the classic stems you might want to buy for Valentine's Day or another occasion but also features living designs and luxury arrangements. Based out of Biltmore, this florist can work with you to customize a design that's perfect for an every-day or one-of-a-kind occasion.

Delivery is available for orders that exceed $75. Although the shop is only open Monday through Saturday, you'll find plenty of options to choose from while browsing the accessible website.

Website: https://www.whitehouseflowers.com/
4. Community Florist
Community Florist has a gorgeous, eclectic storefront that begs visitors to come in and take a peek at all the beautiful stems. However, you don't even have to step foot in this florist if you want to send flowers to your loved ones. You can schedule a delivery online or give this company a call.

They're only open during normal business hours on Monday through Friday – and until noon on Saturday – but local delivery is available.

Website: https://www.communityfloristaz.com/
5. Payne & Morrison Florist
Payne & Morrison is best known for its extensive collection of boutonnieres and corsages, but this florist also sells a variety of customized bouquets and floral arrangements for delivery, too. You can also choose from an assortment of gifts, floral designs, and other products for any event – be it an anniversary, a wedding, prom, or just because.

Prices start as low as $10, and delivery fees vary from $10 to $20 depending on the ultimate destination.

Website: https://payneandmorrison.com/
6. Arizona Flower Shop
Right in the Scottsdale area, Arizona Flower Shop has everything you need to meet your floral desires. Their arrangements are incredibly long-lasting, as the company specializes in hybrids that can last much longer (up to 10 days!) when properly cared for.

You'll get all kinds of information about how to keep your flowers alive when you buy – you'll learn everything from how to keep the flowers healthy and when to change the water. Local delivery is available, but keep in mind that holidays (like Valentine's Day) tend to be a bit busier.

Bouquets start at just $45, with delivery fees coming in around $13. The florist takes all kinds of payment methods with delivery available to Phoenix, Scottsdale, Tempe, Paradise Valley, GLendale, and Ahwatukee. They also provide delivery to hospitals, retirement communities, and nursing homes.

Website: https://www.azflowershop.com/
7. Camelback Flowershop
The name might sound funny, but Camelback Flowershop is one of the best when it comes to gorgeous flowers in Phoenix. It sits just outside the city limits, in Arcadia, and is open weekdays from 8 am to 6 pm. Same day delivery is available.

Prices are affordable at Camelback, where you'll pay just $35 for the most basic arrangements. Delivery fees can be a bit steep depending on where you need to go – up to $40 in some cases – but the option for same-day delivery gives this flower delivery service a serious competitive edge.

You can even purchase premade gift boxes that are ready to order at a moment's notice. There are also options to build our own gift box with add-ons like stuffed animals, chocolates, toiletries, and more.

Website: https://camelbackflowershop.com/
8. Pueblo Life
Pueblo Life is a florist to consider if the recipient of your flowers has a hard time keeping plants alive. Pueblo Life is a hub for unusual and low-maintenance plants, so you'll have plenty of options when it comes to bequeathing that perfect (hardy) token of your affection.

This florist is known as Phoenix's specialty plant shop, a unique project located in downtown Phoenix. Established only in 2015, Pueblo Life is located in the Historic Garfield NEighborhood and is open daily – yes, even on Sundays!

Website: https://pueblo.life/
9. Cactus Flower
With an endearing name like Cactus Flower, it's easy to have high expectations for this small local florist. Cactus Flower florist is one of the best floral delivery services in Phoenix if you're looking for a quick, last-minute drop-in option.
With five storefronts around the city area, from Valley to Chandler, there are plenty of locations to make picking up flowers or scheduling a delivery quick and easy. 

While the store's best selling product is the classic bouquet of a dozen red roses, that's not your only option here. You can also choose from garden roses, peonies, and other options for local delivery.
Cactus Flower is best known for its contemporary arrangements, but this flower delivery service has plenty to offer besides that. 

Prices are low, starting at just $12 for the simplest bouquets, with delivery fees starting at $16. Since the company opened its doors in 1972, it has done well to earn its reputation as one of the best flower delivery services.
It's highly ranked by Teleflora (one of the best ten florists in North America, in fact!) and offers same-day delivery as long as you place your order by 1 pm.

Website: https://www.cactusflower.com/ 
10. Phoenix Flower Shops
With more than 40 years of service, Phoenix Flower Shops takes its name from the city of Phoenix itself. However, it now has a whopping nine locations, including those in Tempe, Glendale, and Sun City.

That's right- you'll be able to enjoy Phoenix Flower Shops even if you don't live close to the city! This florist has a ton of options for every size and budget with gift selections available for unique categories like "pet lovers," "children," and more.

Phoenix Flower Shops has a large assortment of choices, with prices starting at just $49.99. Delivery is available, with fees calculated at check-out.

Website: https://www.phoenixflowershops.com/
---
Conclusion
When it comes to sending flowers to your loved ones, doing so is definitely much easier said than done. Flowers are a thoughtful way of showing someone that you care, but you might not have the time to shop in person at a local florist.

Therefore, choosing bouquet deliveries in Phoenix is a smart choice. You'll save time and enjoy a low-pressure shopping experience right from the comfort of your own home. 

When you choose a florist, think about what size bouquet or arrangement you want. There are plenty of sizes available, in most cases, and many florists provide pictures and allow you to customize the size of your bouquet.
Delivery fees are often included in the online price, but it's important to be discerning here – because sometimes, they aren't, and you'll need to factor that into your overall costs. 

Also decide whether ad-dons like holiday-themed vases, chocolates, or stuffed animals are available. Although these aren't mandatory, they're a great way to accentuate the meaning of your gift.

Finally, make sure you check customer reviews before you buy them. It's important to read customer testimonials so that you can make an informed decision about the service, quality, and freshness of the blooms at your local flower delivery company.

The best place to start? Our list of the ten best flower delivery services in Phoenix, of course! Once you've armed yourself with this information, you'll have plenty of options to choose from.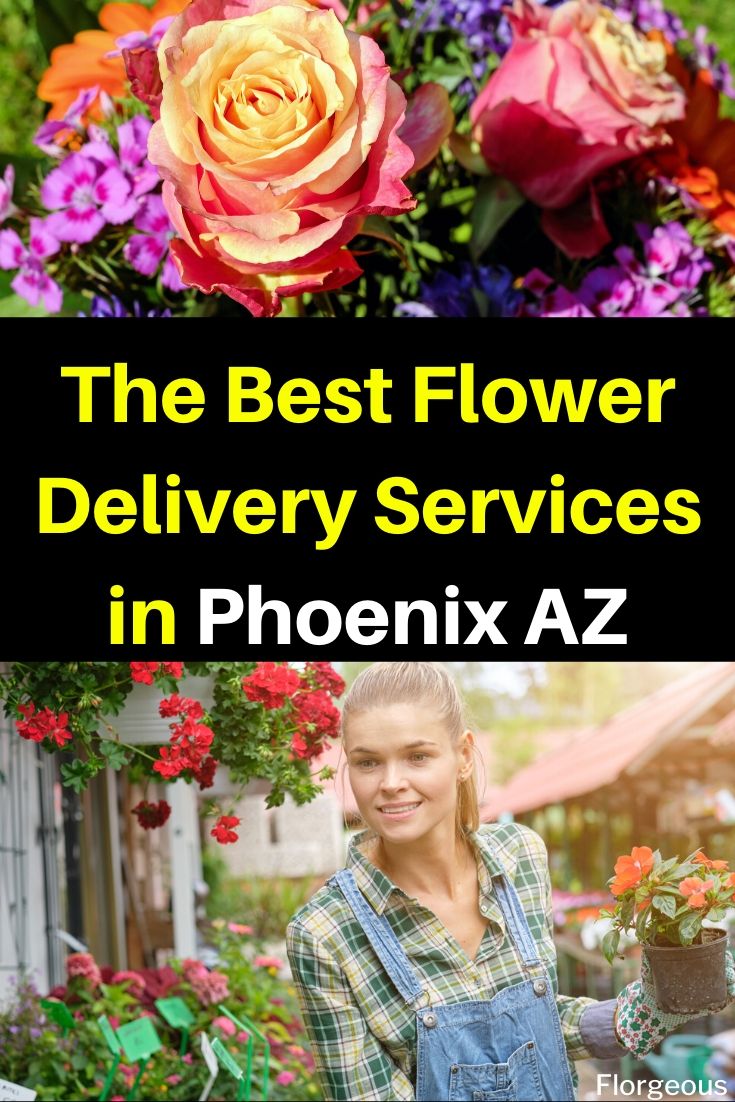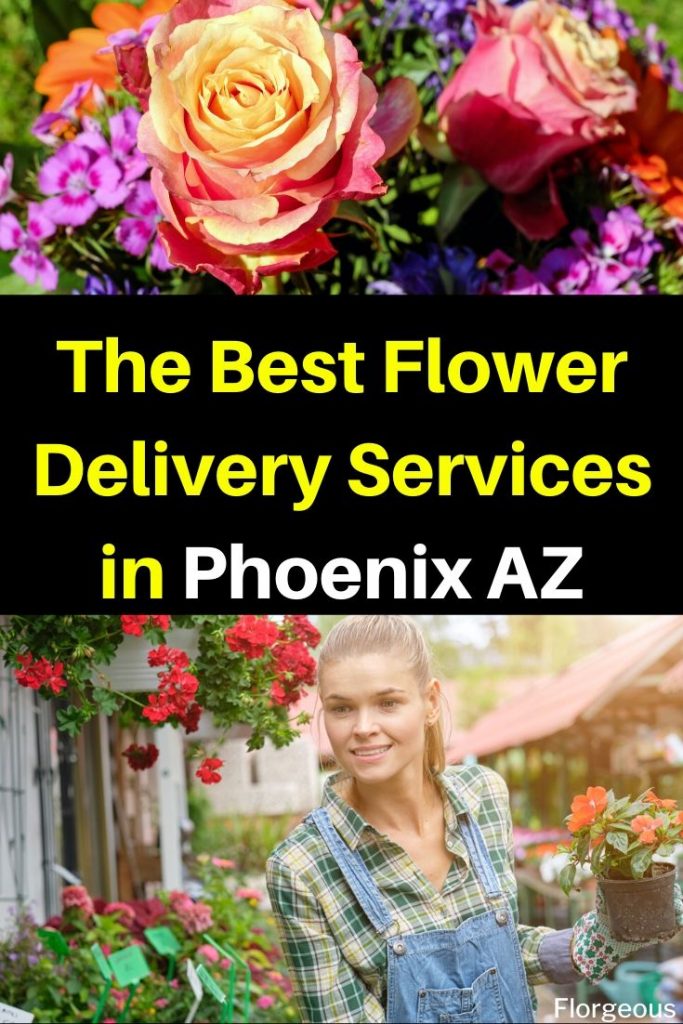 *Featured Photo by zoomteam/depositphotos