Green flowers are very loved and valued by many because not often a flower will completely bloom in this color. In fact, some of them even tend to be fairly difficult to plant and maintain.
However, there are some green flowers, such as the Jack in the pulpit, Chrysanthemums, or the Gerbera Daisies, that are easy to grow for an amateur or even average gardener.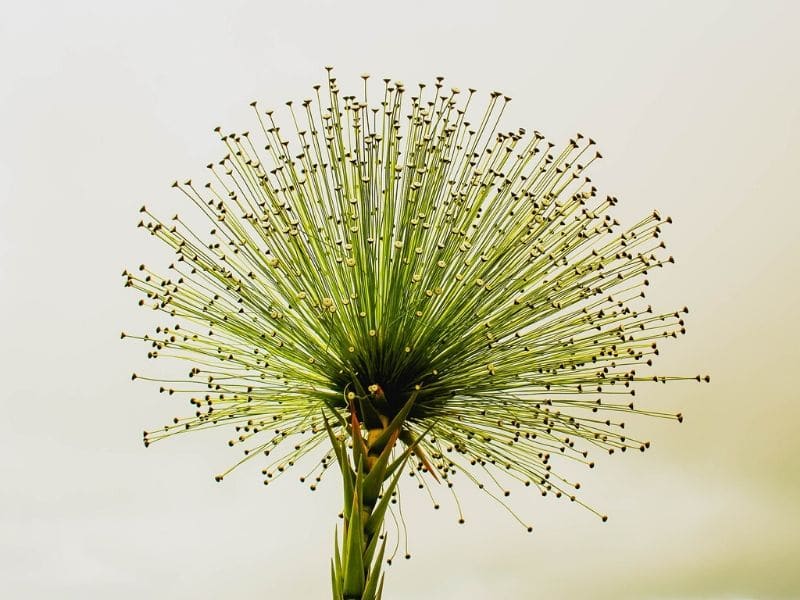 Overall, pollinators are often more attracted to bright colors, hence why nature has not created many green flowers in comparison to other shades such as pink or yellow.
As a result, some of the following flowers have been hybridized or genetically modified for them to produce vibrant green blooms.
To learn more about these green flowers scroll through this guide because there are 21 varieties of green flowers that you should consider for your garden: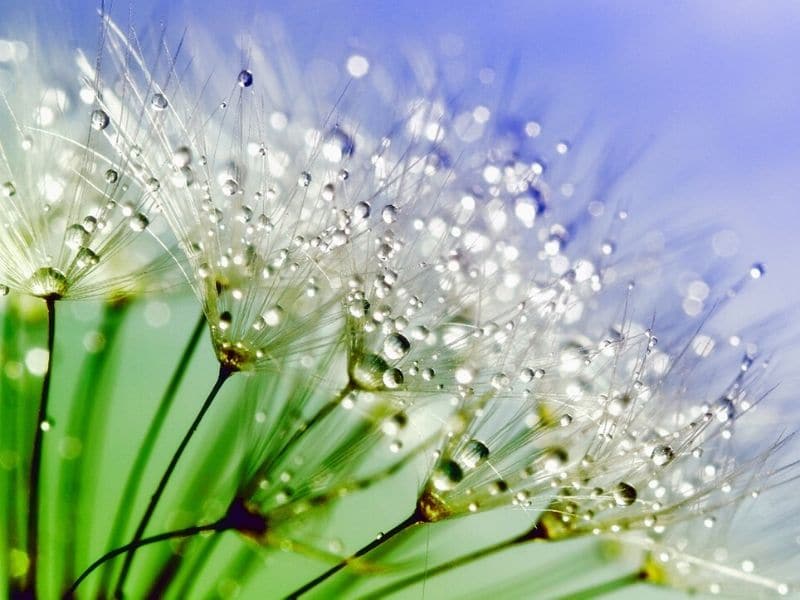 Even though the color green is commonly associated with the color of foliage, many flowers bloom in a unique shade of green. For example:
Zinnia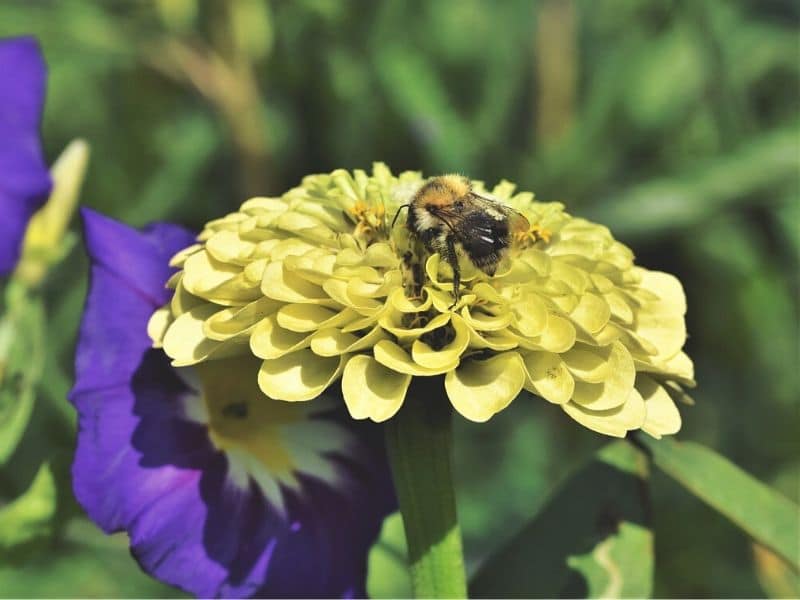 They are fairly easy to maintain, and they will grow quickly after you plant them. They can bloom heavily as well, as they tend to be single-flowered zinnia, double-flower zinnia, or semi-doubled zinnia.
They come in different colors, but the green zinnia is one of the most beautiful flowers you will ever see.
Zinnias are annual plants, so they will grow for one season only and you should consider this if you are landscaping your space. Zinnias are very drought-tolerant, which is perfect for those gardeners who always forget to water their plants!
Chrysanthemum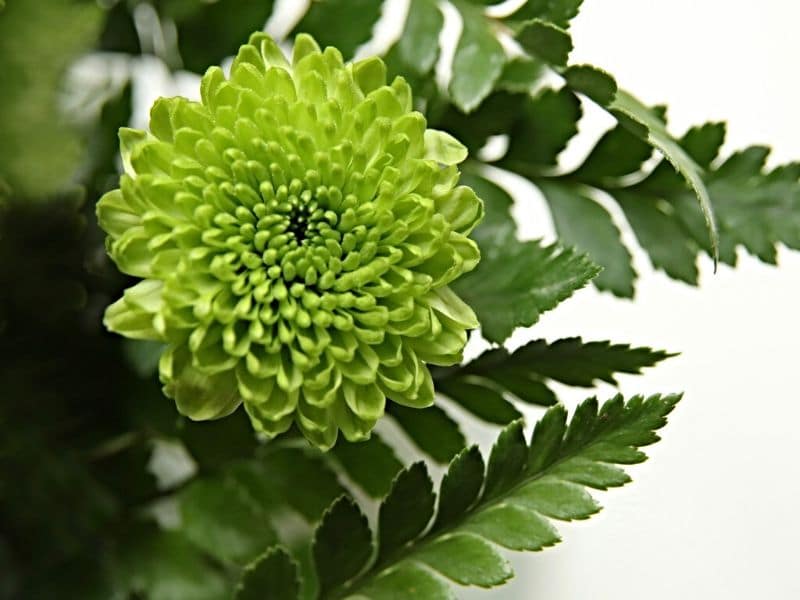 This type of flower comes in a variety of colors and shapes, but none of them can compare to the beauty of a green chrysanthemum. They are perennial plants, and they are also very easy to grow and to maintain.
You will need to plant them at the beginning of spring, as soon as the weather starts to warm up, so they can take full advantage of this season.
Cymbidium Orchid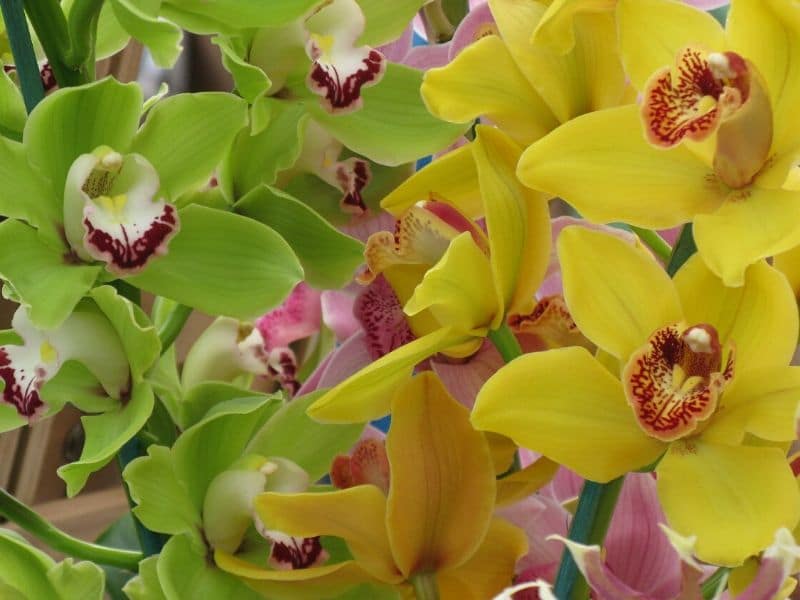 All orchids are beautiful, but cymbidium orchid is out of this world! It looks like a very tropical plant because of its colors.
They are often used as ornamental plants, and they will look perfect in any bouquet or a table's centerpiece.
They prefer cold weather and do not tolerate well when placed underneath the direct sun.
Gerbera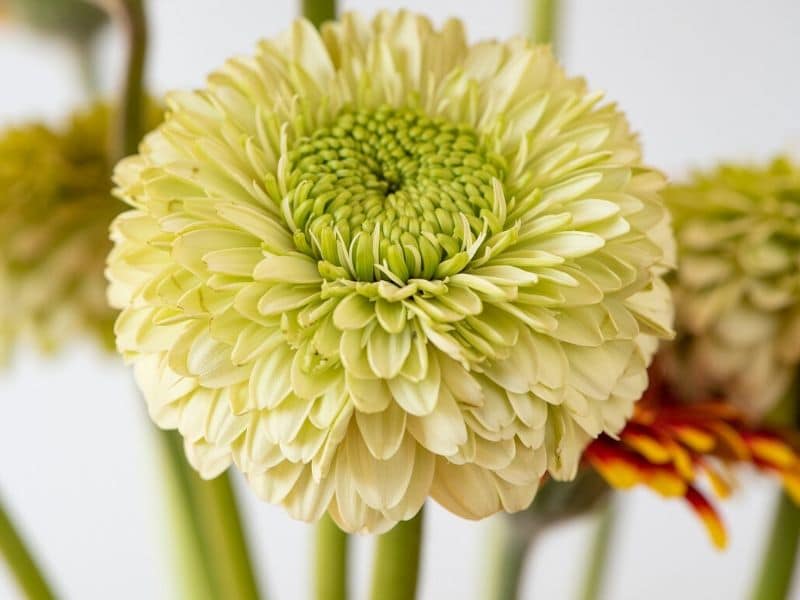 If you ever see a full-bloomed gerbera, then you will never forget about it! It is one of the longest-lasting flowers in the world, hence why they are often used as an ornamental plant.
They look great in any garden, and they attract many pollinators. They could be either perennial or annual plants, it will all depend on the area where you live.
Carnation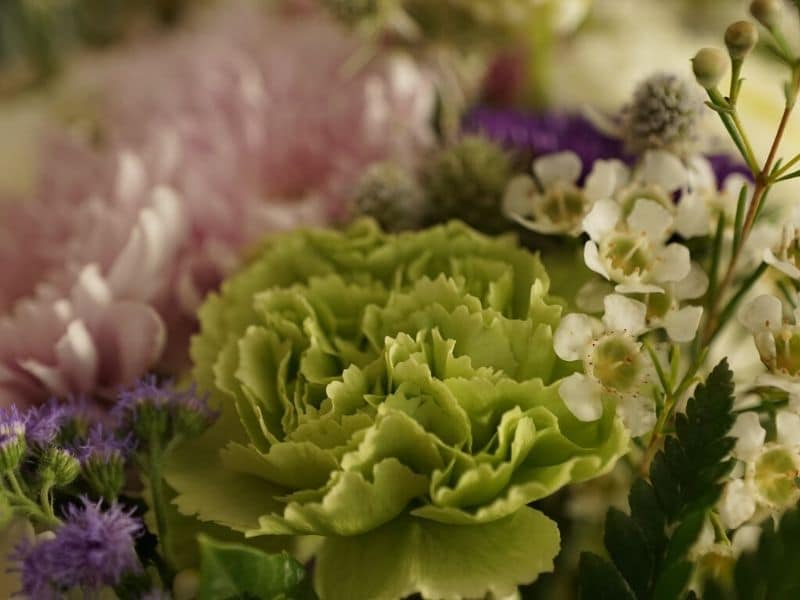 Another great ornamental plant that is spectacular, carnation flowers are very popular all over the world, and they are also one of the oldest flowers to have existed these days.
They release a beautiful, strong, and peculiar scent which is usually very attractive to pollinators.
See more: Carnation Flower Meaning
Jack in the Pulpit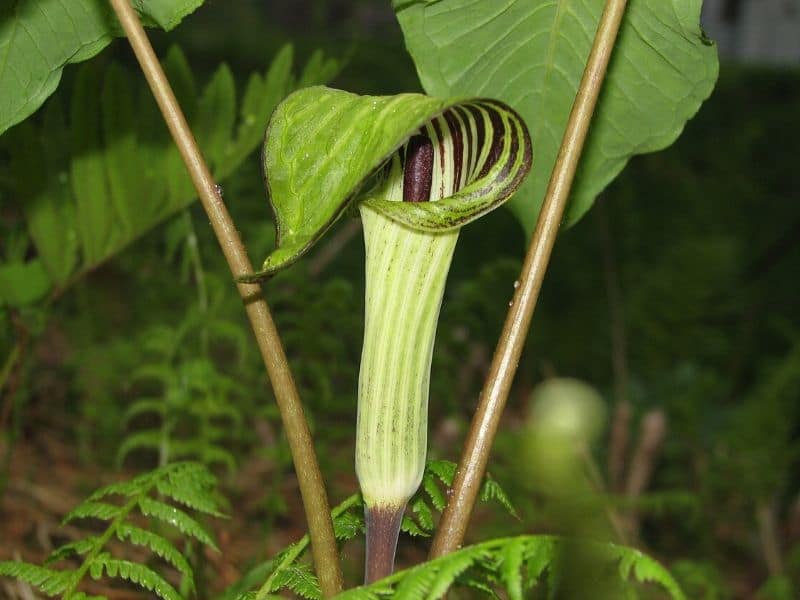 Definitely one of the most interesting looking flowers in this list! Jack in the Pulpit flowers tend to grow in woodland gardens, and they can reach up to 3 feet in height.
They are very elegant plants that catch everybody's attention. You could also plant them indoors in a container, however, they will need acidic soil to thrive.
Flowering Tobacco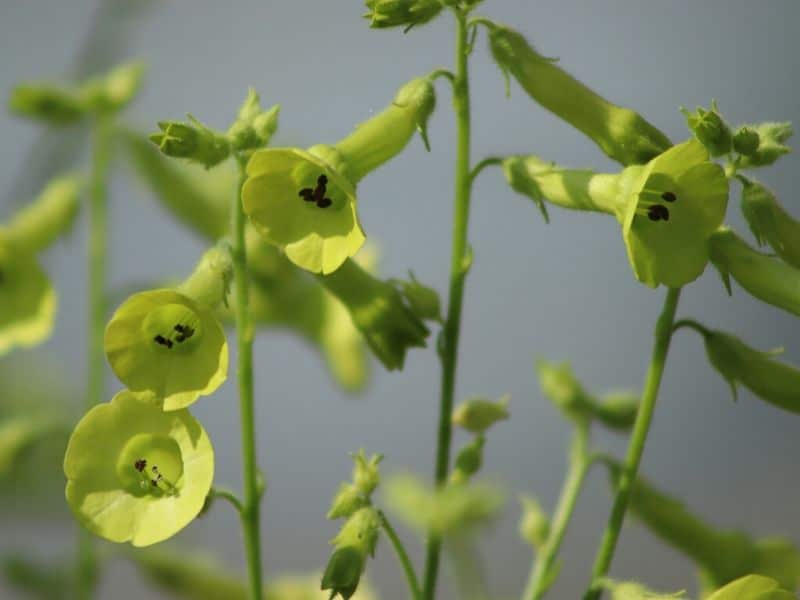 The flowering tobacco plant has green big stalks that are the base for the small flowers they have on top.
They are very hardy and beautiful, however, they are also very toxic. So, be aware of children and pets if you have any flowering tobacco plants nearby. They have an intense smell that is difficult to forget.
Dahlia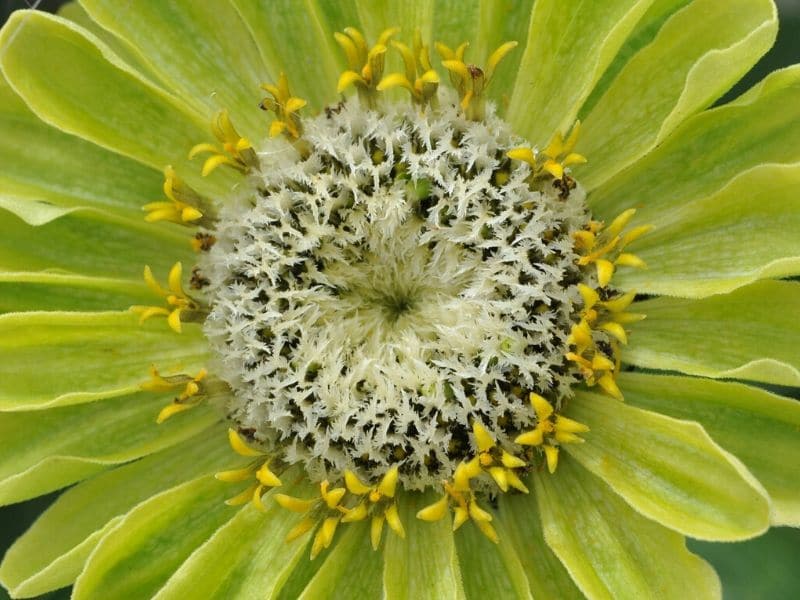 Dahlias come in many different colors, and there is a lime-green version that is stunning!
Dahlias will show off their full size from midsummer to fall. Although they are resistant they do need to be watered constantly and you should protect them from intense sun and heat.
Lady's Mantle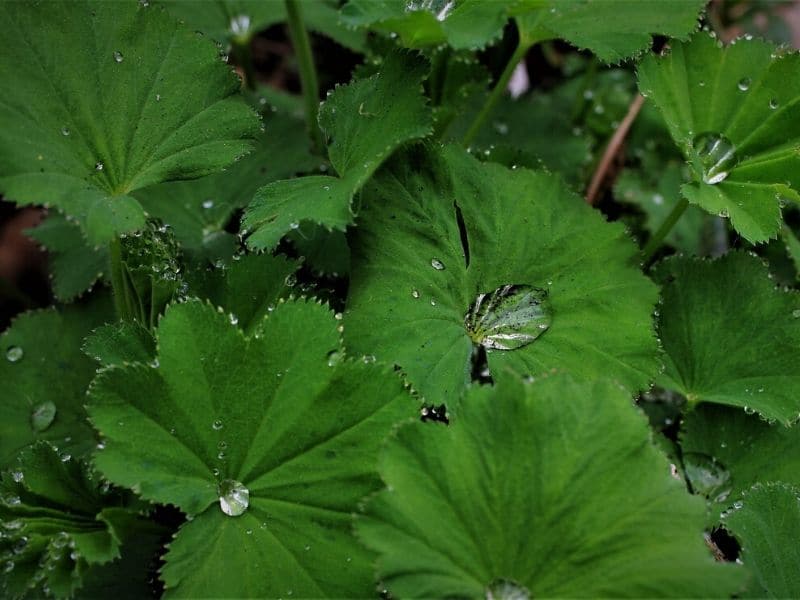 It is a low-growing border plant that will surely catch your attention, especially when they start flowering.
They are often considered as a weed plant in several areas of the world, however, they are ornamental plants in some other parts. They are very beautiful when they grow in large quantities.
Cockscomb
This flower has a very unique shaped bloom and once you see one you will like to fill your garden with lots of cockscombs!
They are also known as celosia cristata, and they are fairly easy to maintain. However, they need to be in an almost shaded area, as they do not tolerate heat well.
Tulip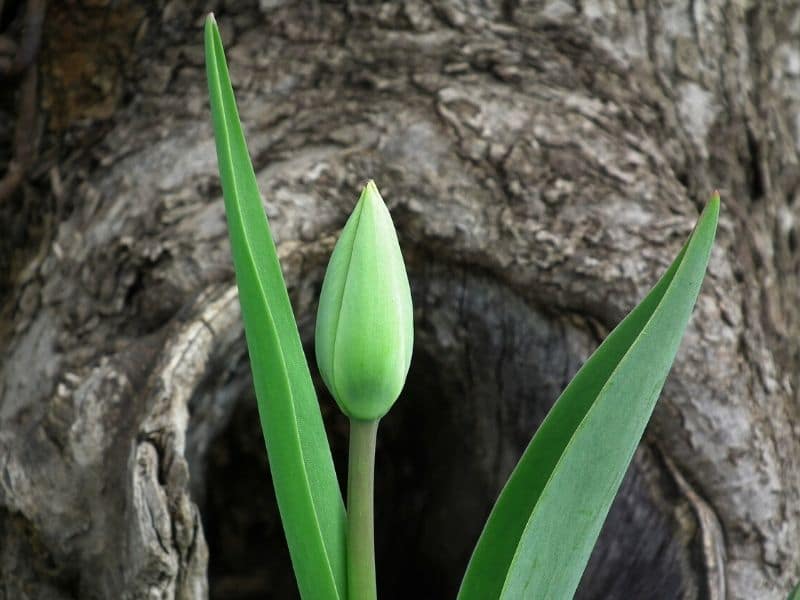 Tulips tend to bloom for a very long time, which is why it is a favorite flower for many. There are many types of tulips you can grow in your garden.
If you are thinking about planting tulips you must do so in well-drained soil. Make sure their roots are not flooded otherwise they will root and die. Tulips can reach up to 28 inches in height and their petals are very symmetric. 
Tropical Lady's Slipper Orchid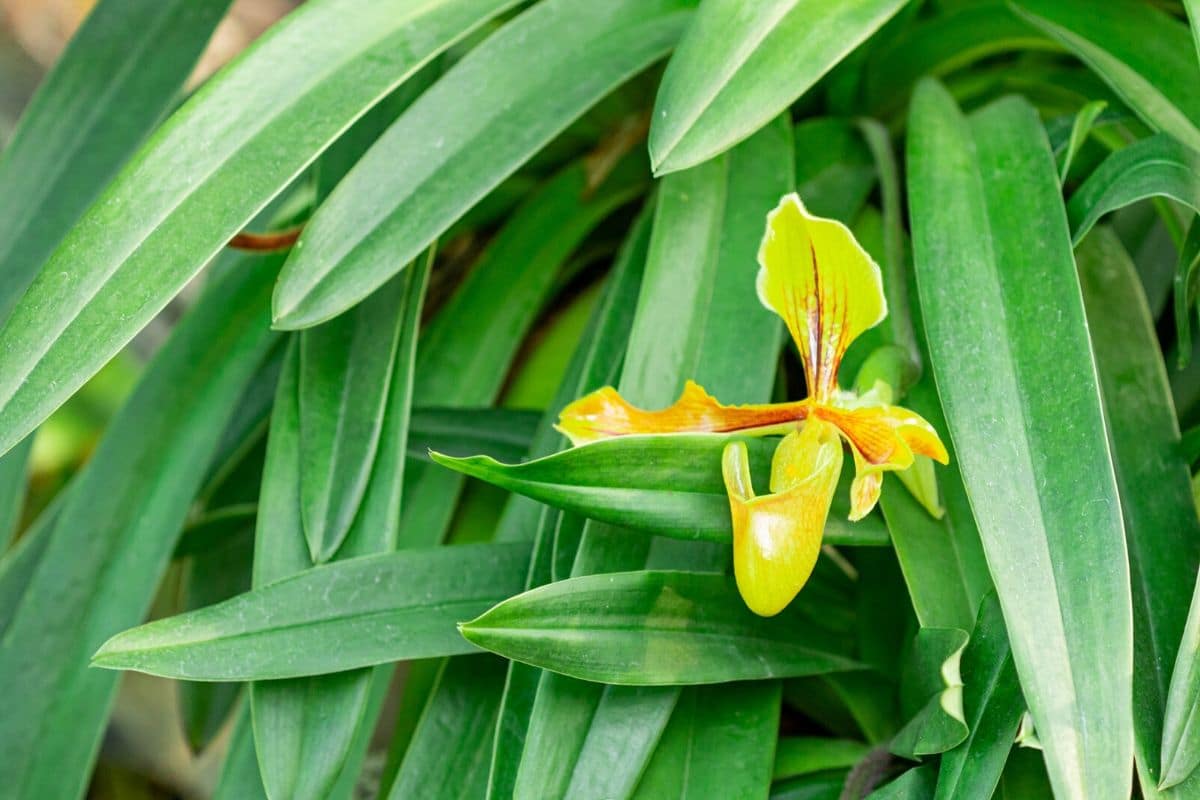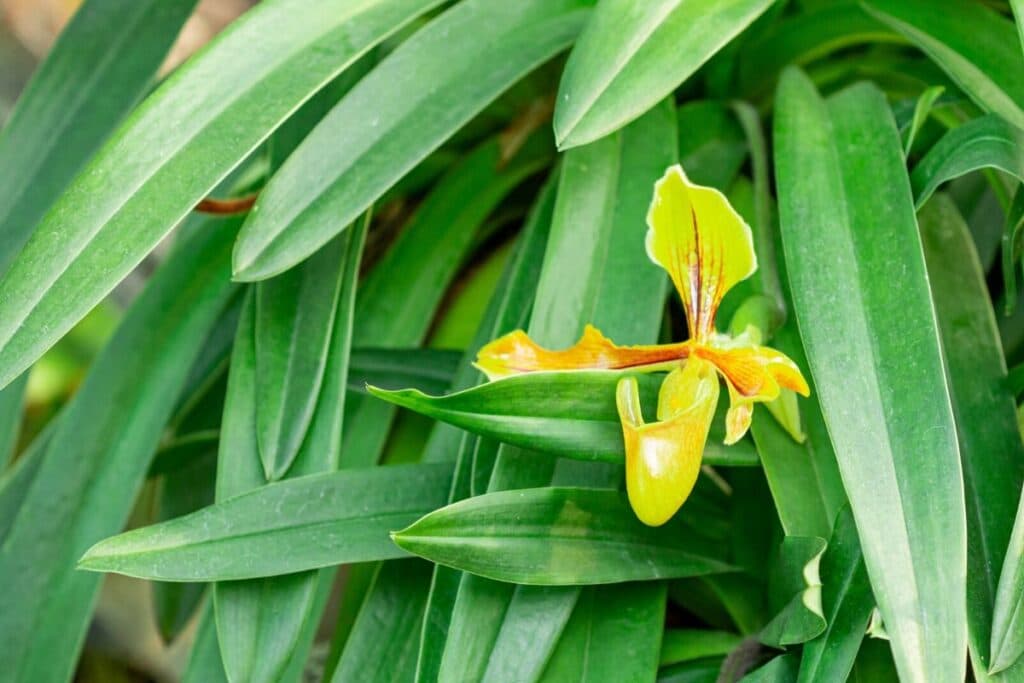 Lady's slipper orchids are a very special type of orchid because as the name suggests, it looks like, well, a lady's slipper!
It is fairly easy to maintain, which is something unusual as most orchids require lots of maintenance.
They tend to grow big and require plenty of water to thrive because they lack pseudobulbs, so they cannot store moisture nor water.
Hellebores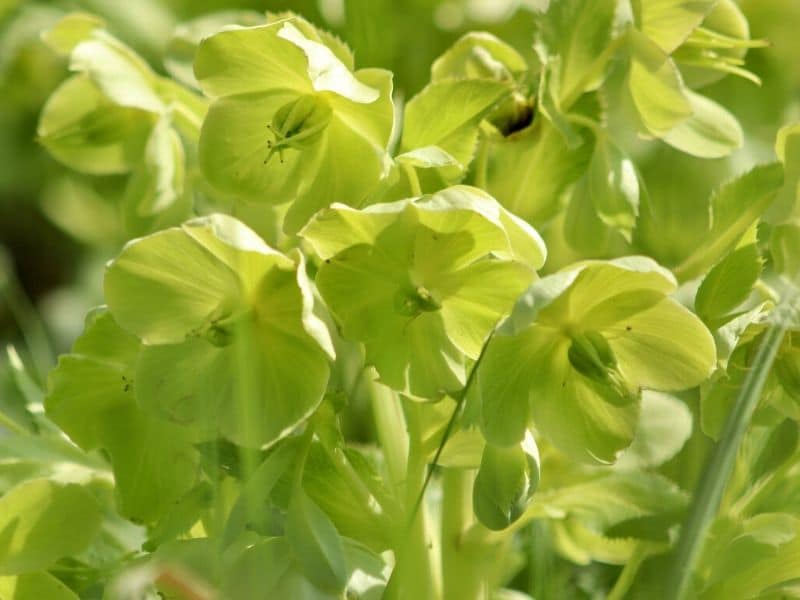 They are sometimes referred to as Lenten Roses; this flower is very easy to plant and to maintain.
Hellebores start appearing in early spring, and they are one of the first perennial flowers to bloom during this time.
Green hellebores are very common to find, in comparison to other flowers in the list.
Bells of Ireland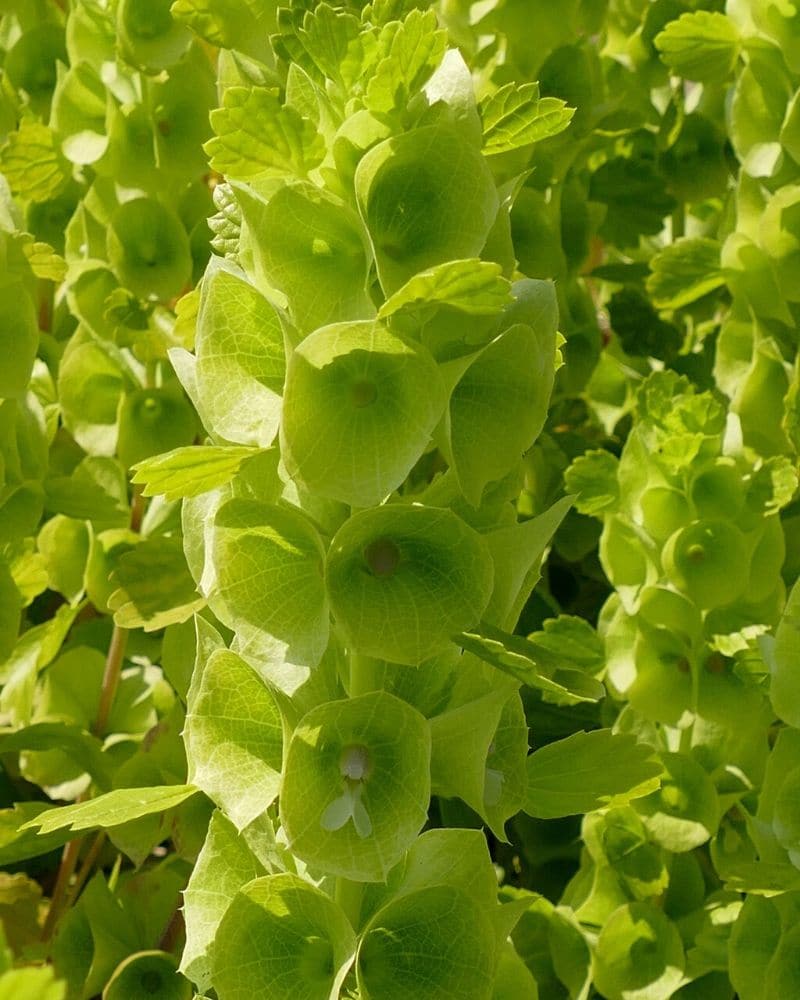 This flower has one very thin stalk that feels like paper. They are very long and have cup-shaped blooms that are easy to grow.
Bells of Ireland are a favorite ornamental plant because they add length to any bouquet.
Dianthus
There is a type of Dianthus called green ball, because of its color. They have blue-green foliage and its flowers are very fragrant.
Dianthus are perennial plants and are very common around.
Mediterranean Spurge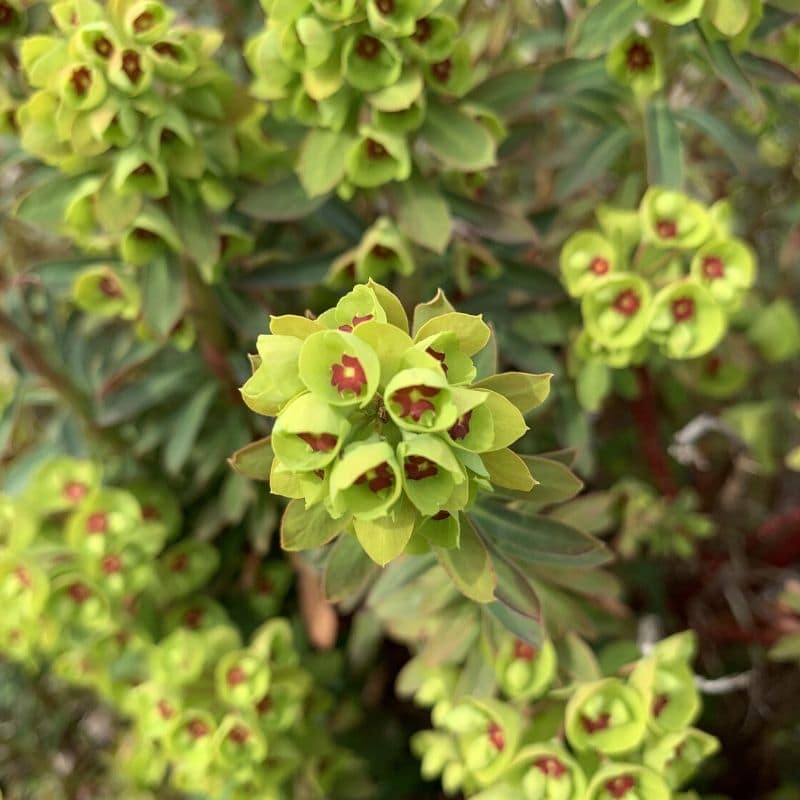 This shrub is fairly easy to maintain mainly because it is very tolerant of different climates. They take advantage of the final winter rains, thus Mediterranean Spurges will start fully blooming in the early spring.
They have a very unique color, which makes them very appealing to pollinators.
Calla Lily
These lilies have a simple and single trumpet-shaped flower, and they come in many different shades of green!
You could either plant them indoors and outdoors as they tend to adapt well to diverse atmospheres. Green calla lilies are very unique but they are not unusual to see around in some areas.
Hydrangea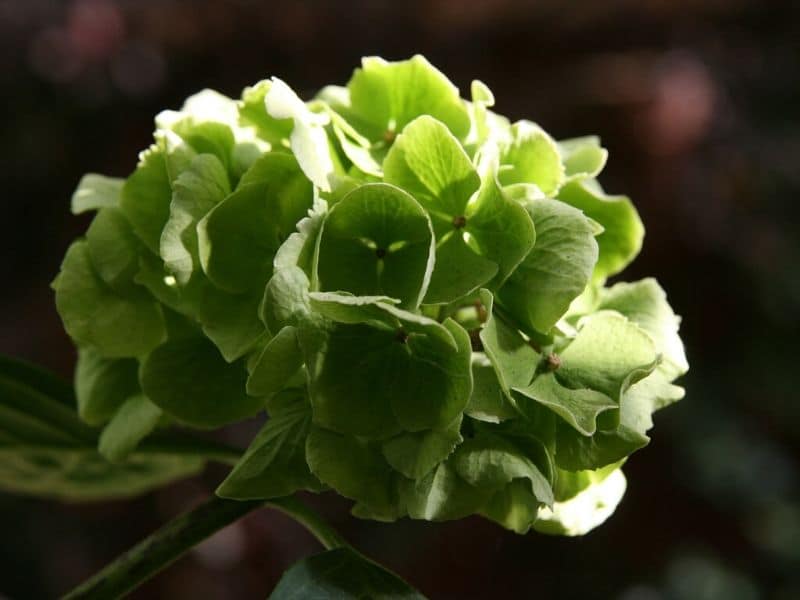 These pom-pom-like flowers are well known all over the world precisely because of their shape!
Usually, these are the chosen flowers for many bridal bouquets, however, they will look amazing in any garden. The lime shade of hydrangeas is not as common as other flowers on this list.
Roses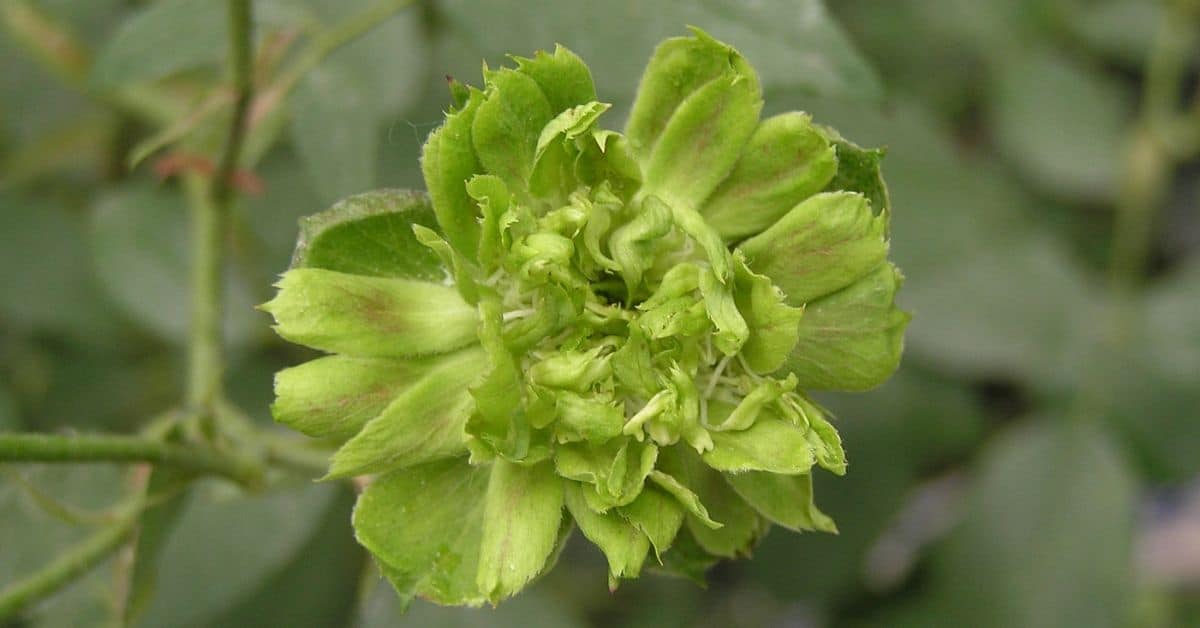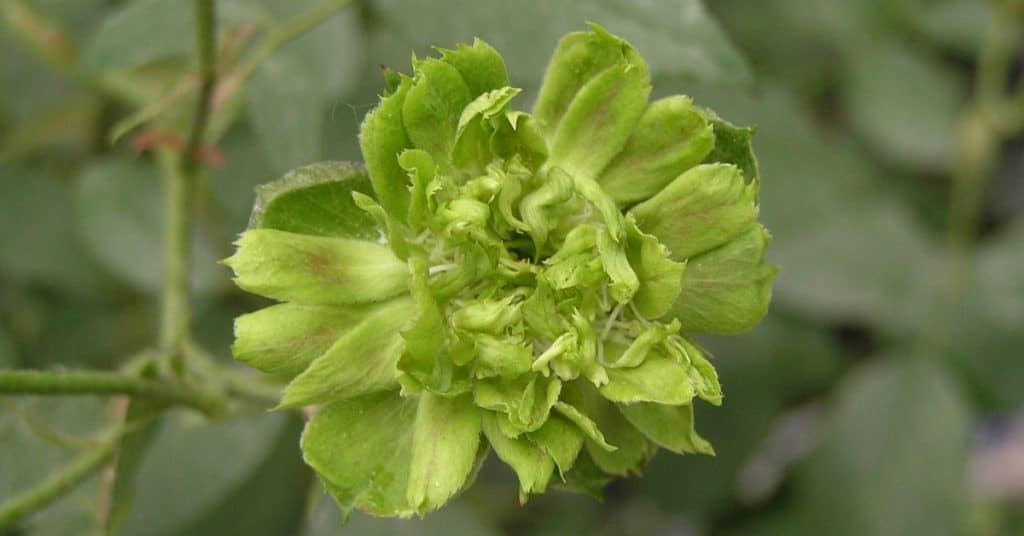 Many individuals are amazed when they find out that roses can be green. They tend to think that roses and red and violets are blue!
However, there are vibrant green roses that will sure catch everybody's attention. Green roses are a perennial plant, however, they are also very low-maintenance.
Ranunculus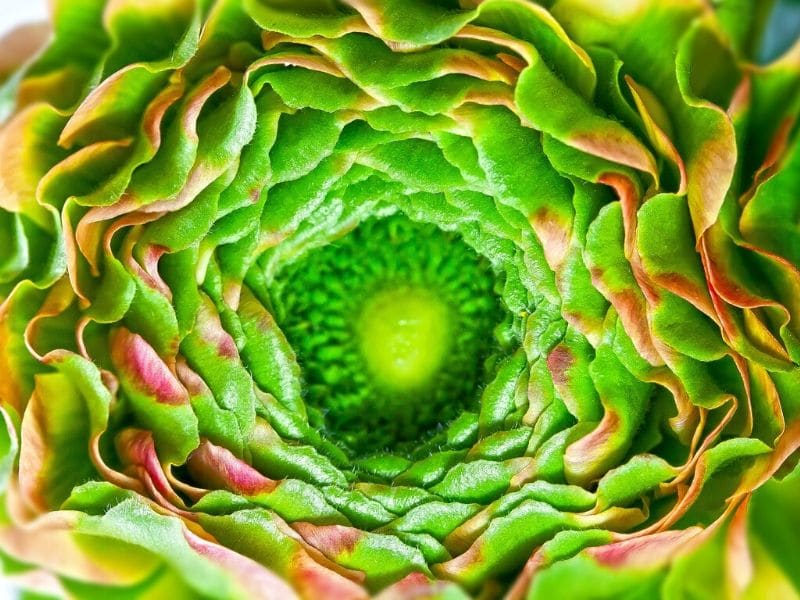 They are very popular flowers although not many people know their name. They can be planted outdoors if you live in a warm climate.
On the other hand, if you live in a cold climate, then you could easily plant them indoors until there is no more chance of receiving frostings. Ranunculus have very large roots, so make sure you plant them in a suitable container or space.
Gladiolus
They are a very classy, very sophisticated type of flower. They will fully bloom during the summer and their bright color will surely catch your attention. Gladiolus are perennial flowers, and they are very easy to maintain.
See more: Gladiolus Flower Meaning
---
Frequently Asked Questions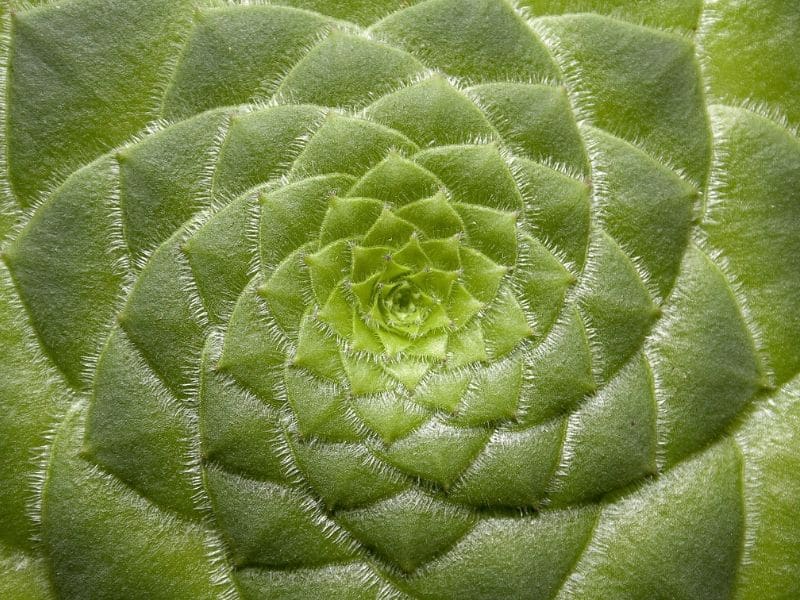 Here are some of the most frequently asked questions about green flowers:
What does a green flower symbolize?
Green flowers are associated with good fortune and renewal of energies. This is why a green flower is always a great gift because you will be wishing those things upon your friend or a loved one.
Why are green flowers not as bright as other shades of color?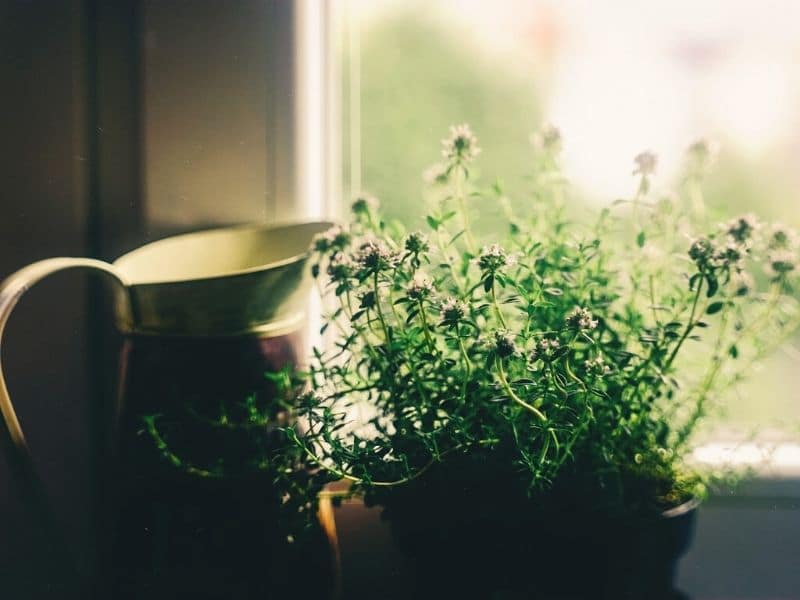 Green flowers are usually not as bright as other shades because they naturally have a lighter side to them. Usually, red, pink, or yellow flowers are inundated with sun rays which, in turn, potentiates the petals' pigments. Green flowers are often surrounded by many different shades of green as well, so we will not receive nor perceive them as strong as pink or orange flowers.
Why are some flowers green?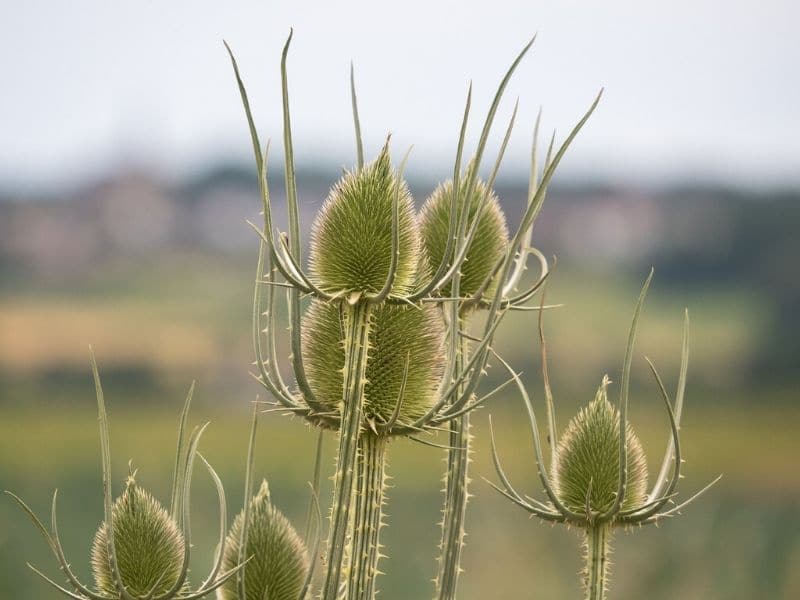 Some flowers are green because they need some energy to survive. They obtain this energy through a chemical called chlorophyll, so, they are able to take that energy and convert it into more chemical compounds than they can feed on and use in order to grow accordingly. This whole process wherein flowers make and take chlorophyll is called photosynthesis.
At the same time, throughout this process, chlorophyll is only able to absorb red and blue light, which, in turn, will be reflected as a green light.
In other words, we only get to see the appearance of a color or what we think that color is.
---
Conclusion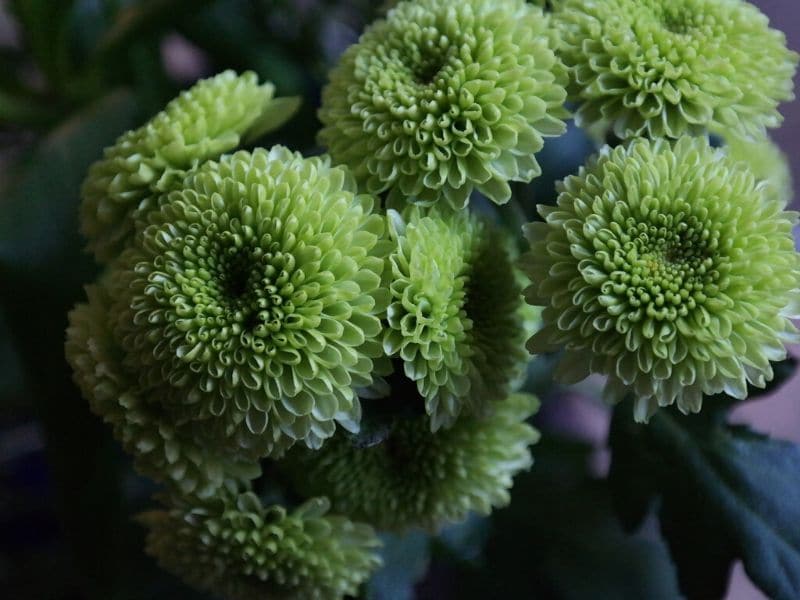 Most plants and flowers in nature will go through a process of producing colorful flowers in order to attract pollinators, which, in turn, will go from one flower to another one and drink the nectar from them. They will also continuously fertilize them all, so they can propagate as well.
Usually, pollinators are more attracted to vibrant colors such as yellow, pink, or purple, and that is the reason why there are many flowers of these colors because thanks to the natural selection they have made they are also keeping a steady chain in which the pollinator is attracted to these flowers while it also keeps helping them to reproduce.
Many pollinators miss out in a green flower's nectar because either they don't see the flower or they are simply not attracted and do not want to continue fertilizing those flowers.
In addition, almost all of the green flowers that made an appearance on this list have – at least- two things in common: one is their color, and the second one is that they are fairly easy to plant and to maintain. These are all beautiful green flowers in the plant kingdom and hopefully, you will be able to grow them as well!